Maya Bay is potentially the most iconic beach in Phi Phi Island. It is after all the beach that was made famous from Leonardo Dicaprio's Movie 'The Beach'.
But is it really worth your time to see this iconic beach? Sure, the beach is crowded but it is still certainly worth your time to visit (here's why in pictures plus everything you need to know about visiting Maya Bay).
Maya Bay Thailand Travel Guide
Maya Bay is probably one of the reasons you ventured to Thailand's Phi Phi Island. It is an absolutely stunning beach that is totally worth the hype.
Here is everything you need to know about visiting Maya Bay.
What Maya Bay tour to choose?
The most common way to visit Maya Bay is by tour. You can alternatively go by private long tail boat but the cost will be much more.
There are three main Maya Bay tours you can select: a long boat (600 Baht), a larger boat (700 Baht) or a speed boat (1,200).
We opted for the 'cruise ship' option as it offers the best sun protection. It is also the only option that is large enough to transport kayaks on the tour.
If money & shade are not a factor, the speed boat is definitely the best as it is faster and provides the most time on Maya Bay.
The long tail boat is not ideal (unless you are a true backpacker) as it is the slowest option.
Lunch and snorkeling equipment are included on all tours.
Fees to enter the National Park?
On top of all these prices, there is a 400 Baht National Park fee that you need to pay.
Many tour operators will not tell you about this additional fee however, it is necessary on all tours.
Make sure you have some cash available on you as the National Park fee is collected when you board your boat for the tour.
What other places are visited on the 'Maya Bay Tour'?
You can choose between a full day or half day tour of Maya Bay. We would recommend the full day tour as you simply do not see enough in the half day. It really is one of the most beautiful places to see in Thailand so we fully recommend doing a full day.
The full day tour also includes snorkeling off Long Beach, Bamboo Island & Monkey Island.
The snorkeling in this area was fantastic – you see hundreds of beautifully coloured fish. If you bring a few biscuits they will swim right up to you and feed out of your hands.
And if you are wondering about the rest of the day, Bamboo Island certainly does not disappoint.
Bamboo Island is definitely paradise found and could rival Maya Bay for the best beach in Phi Phi.
Lastly, let's to forget monkey island, an island where monkeys rule the world. These monkeys are quite aggressive (unlike others we have seen including at Zhangjiajie National Park).
We are still unclear how people manage to get photos posing with these aggressive monkeys (as seen on Instagram).
We would avoid getting up too close & personal for your own safety!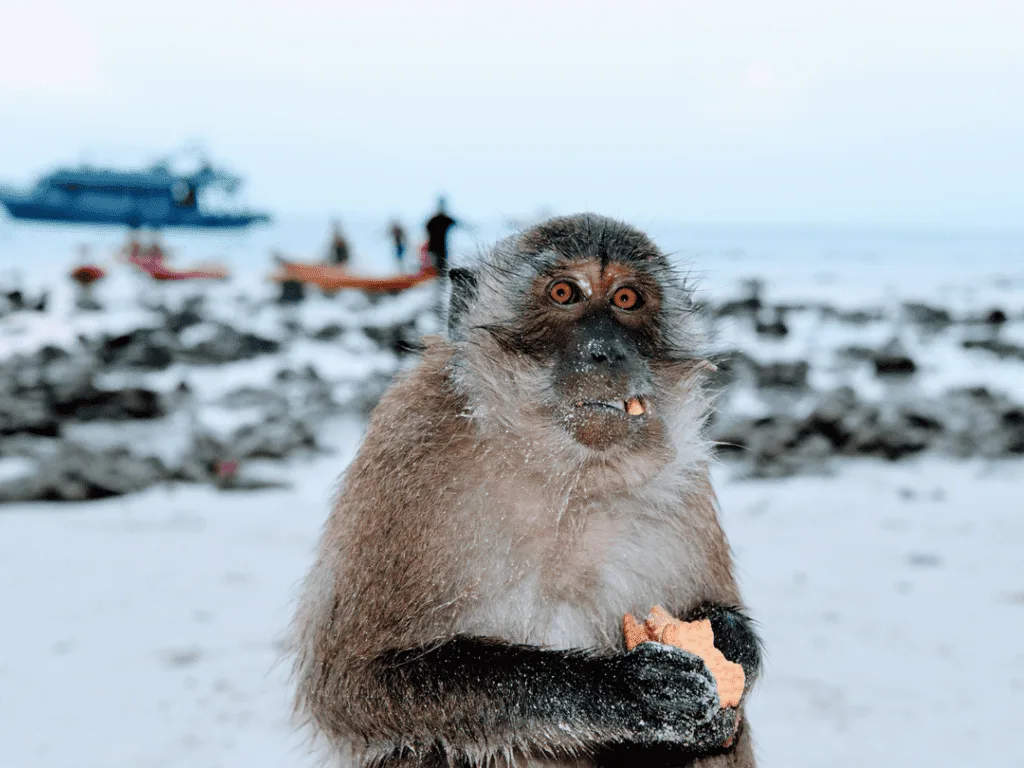 Where to purchase the 'Maya Bay Tour'?
There are places to buy the Maya Bay Tour all over the island. Take note of the above prices as you may need to barter.
We purchased ours at the vendor at Phi Phi Bayview Resort as it was extremely convenient and no more expensive than the rest of the island.
Maya Bay closed?
In order to preserve the area, the Thai government closed Maya Bay off from tourists from June 1 to September 30, 2018 as part of a four-month rejuvenation program.
It is unclear whether this will be a yearly closure but it appears likely.
In order to avoid disappointment, if you really would like to visit Maya Bay, plan your travels around these dates.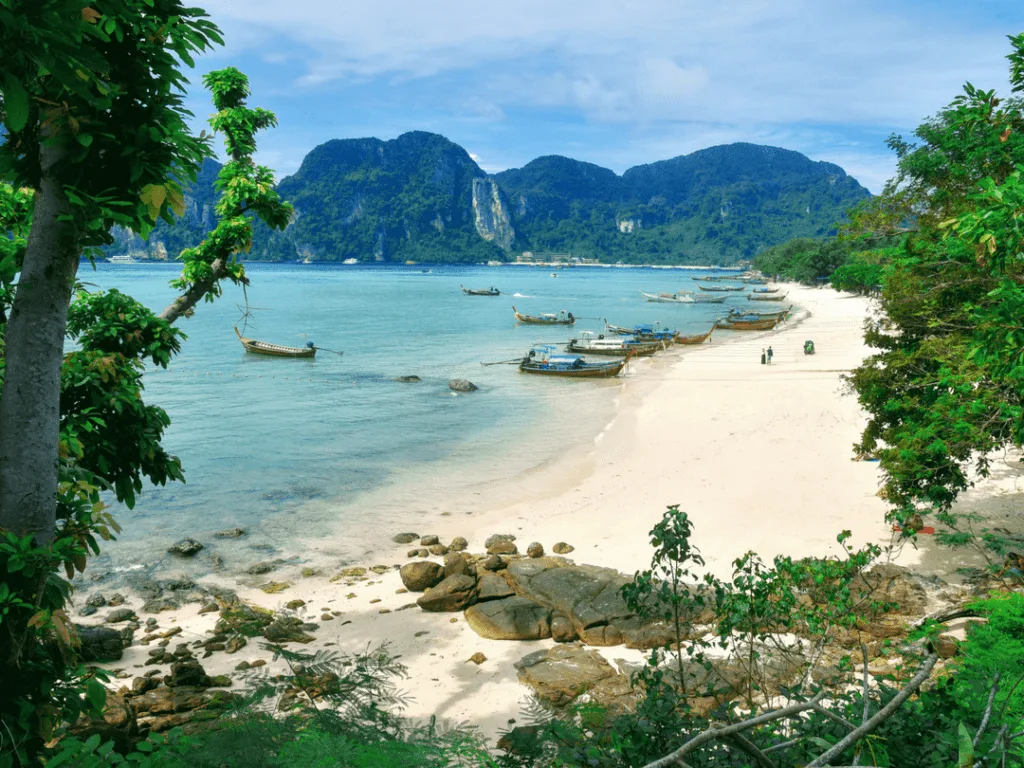 What to bring?
Lunch & snorkel equipment is included on every tour.
We would suggest bringing water, sunscreen and a sun shirt or long sleeve t-shirt to protect your skin from the sun.
We have witnessed tourists coming home with some nasty sunburn after a day trip to Maya Bay – don't let this be you!
Alternative Beaches to visit in Phi Phi Island
If you decide against a Maya Bay Tour, there are a lot of other beaches to explore on Phi Phi island.
Our favourite beach on the mainland is Long Beach which can be reached by a short walk from Phi Phi Bayview Resort.
While not exactly a beach, the Phi Phi viewpoint also showcases an amazing bird eye view of all the beaches of the island.
Where to Stay on Phi Phi Island?
There some fabulous places places to stay on Phi Phi Island.
Every time we return to Phi Phi Island we stay at Phi Phi Bayview Resort.
We particularly love this resort because you stay in mini villas with a fabulous view of Phi Phi Island. There is nothing quite like rolling out of bed to the amazing blue water of Phi Phi outside.
It is also situated down one end of Phi Phi Island with a great strip of pristine beach.Lots of people choose to go swimming in the beach near Bayview as there are no long boats docked in the vicinity.
You can also walk directly to one of our favourite beaches of the island, Long Beach from Bayview.
Bayview also has an absolutely delicious buffet breakfast with a great selection of local Thai dishes as well as cereals, fruit, juice and eggs made to order.
If you want to hear more & see more pictures of our stay at Bayview click here.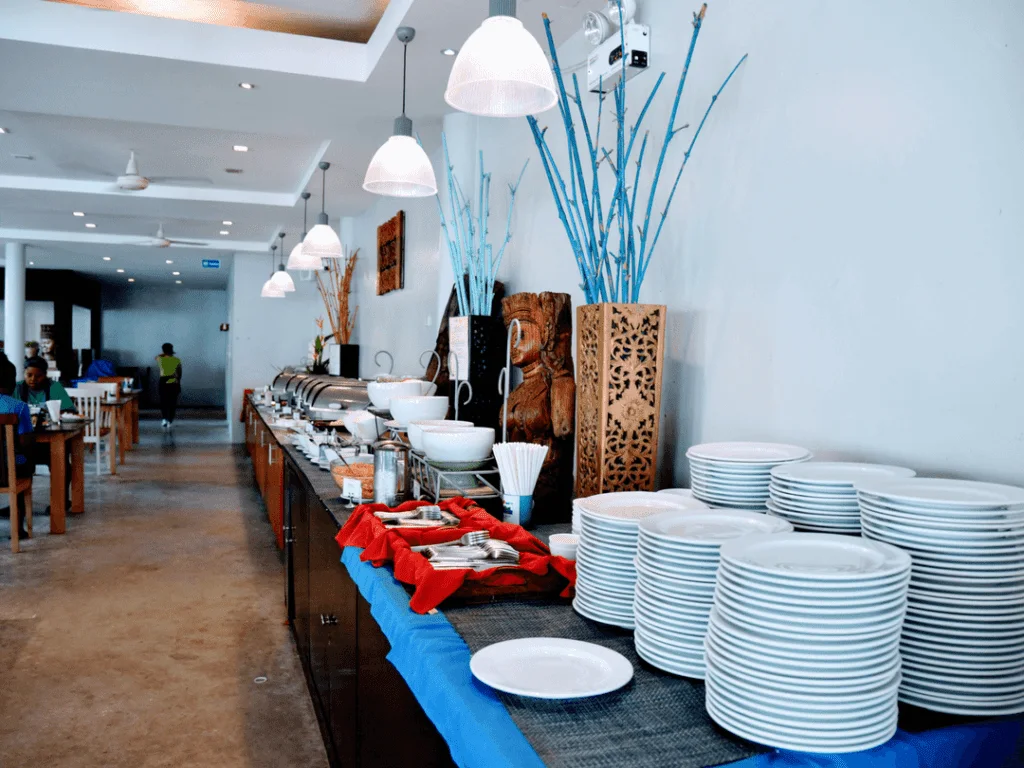 To ultimately answer the question of this article, is Maya Bay the best beach? Possibly but in our opinion no. Bamboo Island is EVEN more beautiful than Maya Bay.
In saying this, Maya Bay is stunning and certainly is up there with one of the best beaches in Phi Phi Island. For this reason (and to pretend you are Leonardo Dicaprio for a day) it is certainly worth not to be missed on Koh Phi Phi island.
If you have any questions about visiting Maya Bay, we would be happy to help, leave a comment below!
Save this 'Maya Bay Guide' to Pinterest so you can find it again later.
Disclaimer – We were guests at Bayview. However, it does not in any way influence our views or opinions of the experience. Our review is 100% honest and a true reflection of our experience.