One of the things we liked best about Seoul was the weird and wonderful cafes in the city. There is a poo cafe (yes really a poo cafe) a raccoon cafe, tonnes of cat and dog cafes (pretty ordinary these days) and one cafe that really took our fancy – a Meerkat Cafe.
Turns out you don't need to visit Africa to see Meerkats after all!
Meerkat Cafe Seoul
The rumors were true – there really is a cafe in Seoul where you can cuddle a meerkat! The cafe Meerkat Friends is located in the Hongdae area of Seoul where for 10,000 Won ($10 USD) you can spend 15 minutes playing with Meerkats. You can easily reach the cafe by metro from Sangsu Station or Hongok University.
By its own right Hongdae is an area well worth spending some time in even if you don't have a big interest in Meerkats.
This is a super hip area of Seoul with lots of shopping, yummy food and yes, quirky cafes such as the Meerkat Cafe.
We aren't ones normally to spend money on just any quirky activity but believe me when I say, if you love cute cat videos on YouTube, this cafe will blow your mind.
If Khaleesi is mother of dragons then I am mother of the meerkats!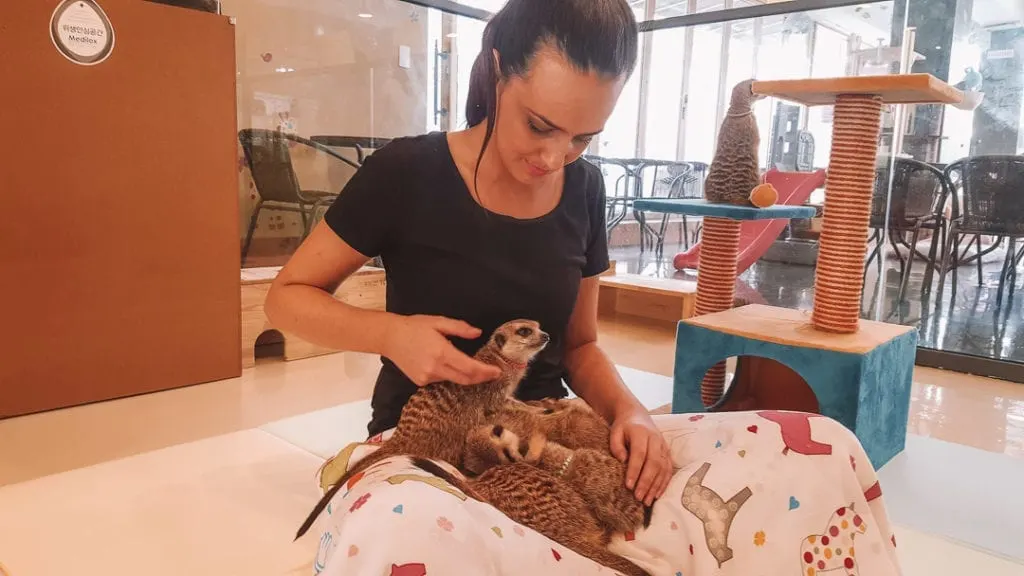 About the Meerkat Cafe in Hongdae
The cafe's owner first ran a shopping mall for pet products. She hand raised squirrels and porcupines before developing a love for Meerkats and opening a fully fledged Meerkat Cafe.
The owners love of all animals really shone through as along with the 18 adorable meerkats you can also see a wallaby, an arctic fox, a silver fox and two cats.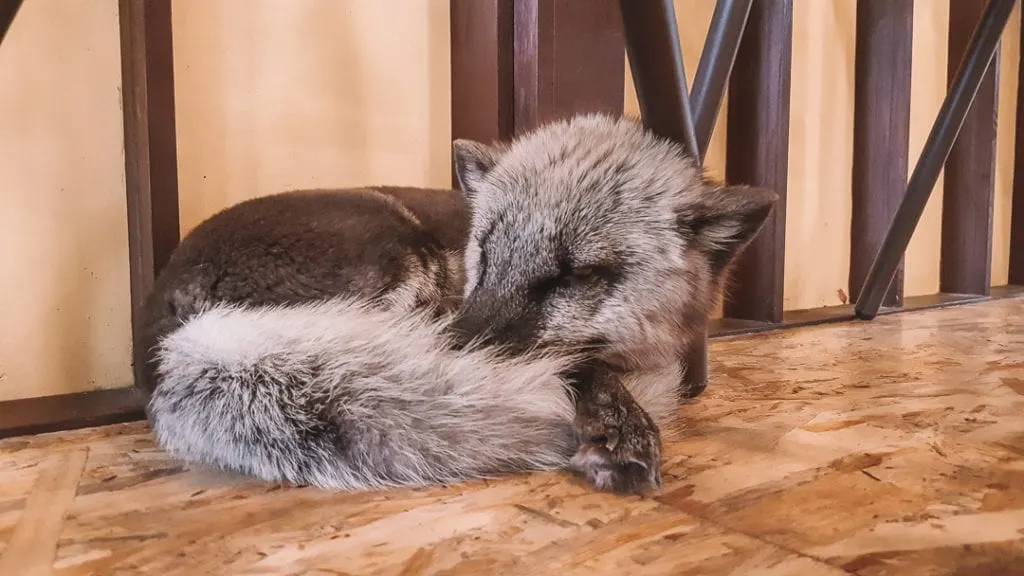 What to expect at the Meerkat Cafe?
When you first arrive, you are asked to place all your belongings in lockers. You are also asked to empty all your pockets as meerkats have a tendency to be very cheeky.
Shoes also needed to be removed before entering so make sure you are wearing socks. Instead of shoes, the cafe provides you with slippers to wear during your time with the meerkats.
You can choose to purchase a drink in addition to the entrance fee. This is not required to enter.
At the time we visited, no hot beverages were being served. We were a little disappointed as we were quite looking forward to a hot beverage in the morning. But, the meerkats definitely made up for the initial loss of caffeine (oh and the awfully cute raccoon!)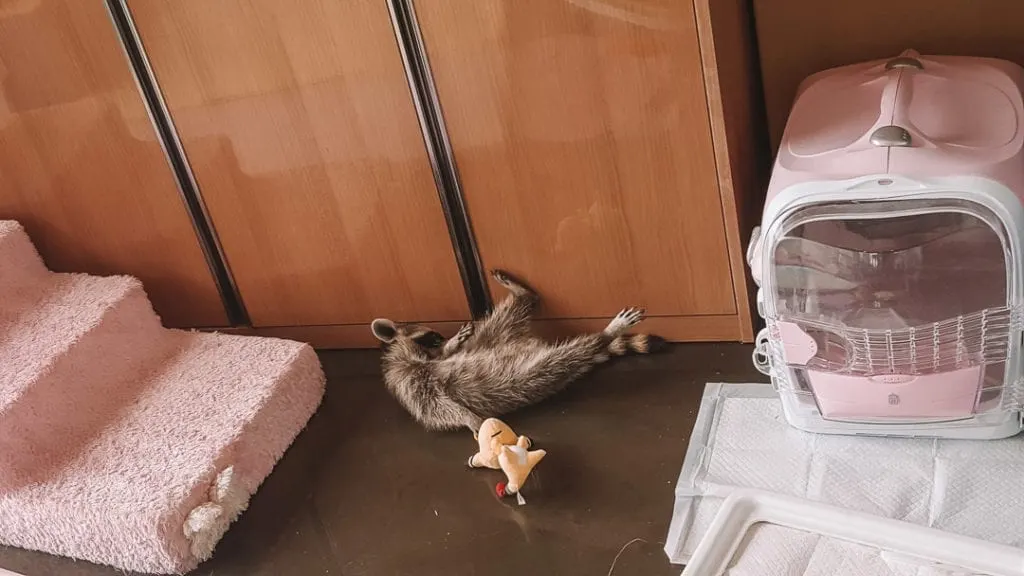 When you first enter the Meerkat enclosure, blankets are placed on your laps. This is for two reasons, firstly so they do not crawl up your skirt if you are a girl and secondly so they don't bite.
Embrace the blanket, believe me you won't regret it!
We expected the cafe to be quite smelly, other cafes such as the husky cafe we visited in Melaka were quite smelly but we are happy to report that the Meerkat cafe did not have a particularly bad odour.
How much time do you get with the Meerkats?
Initially we were a little hesitant to visit the cafe as you only get around 15 minutes in the pen with the meerkats.
However, what we can reveal now is that this is ample time to get enough Meerkat action!
We expected the meerkats to be playful but we didn't fully appreciate the little creatures would be running around like crazy, jumping on your head and cutely cuddling in our laps (cue the oohhs and ahhhs)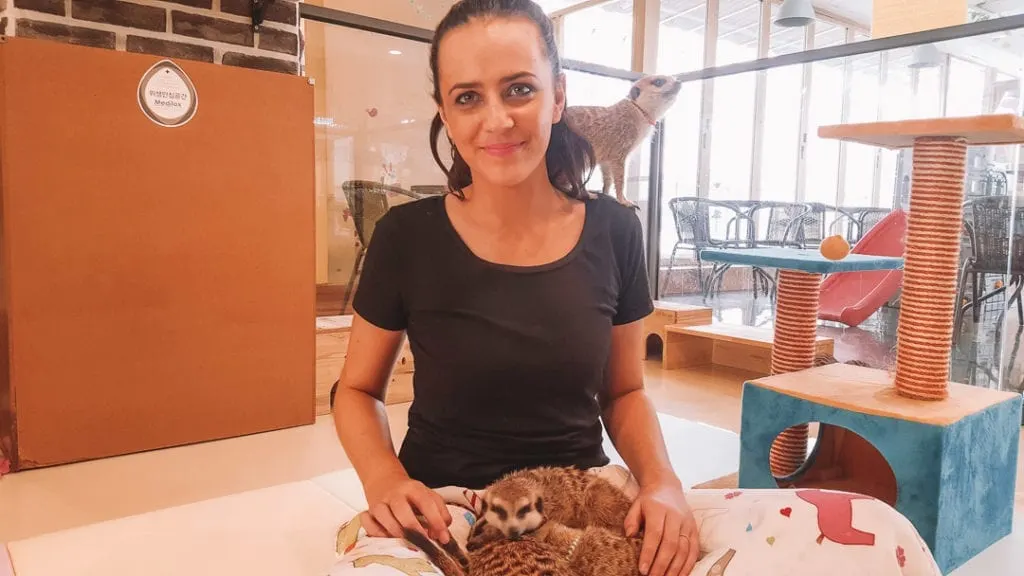 The staff at the cafe were absolutely delightful.
Despite the fact that normally guests are only allowed 15 minutes in the pen with the meerkats, as we came early in the morning on a weekday, we were allowed extra turns with the meerkats, provided other guests were not waiting to enter the pen.
If you think you might like some more time with the meerkats, we would recommend to arrive as soon as the cafe opens for this reason.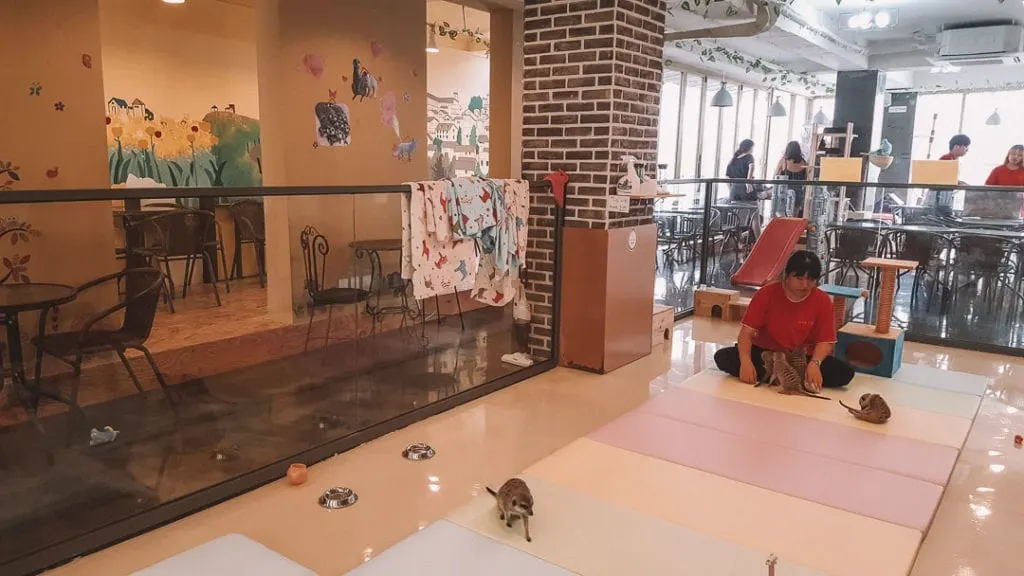 Meerkat Cafe Rules?
The cafe has quite strict rules that you must read and agree to before you are allowed to enter the meerkat enclosure. These rules are quite understandable as they are all in place for the promotion of the meerkats.
Before you enter the pen, you are required to sanitise your hands.
Sadly, you are not allowed to pick up the meerkats as they become frightened. However, it is not too much of a problem as the meerkats will happily run and jump all over you anyway!
It should also be noted that if you have children younger than 15, they aren't allowed at the cafe.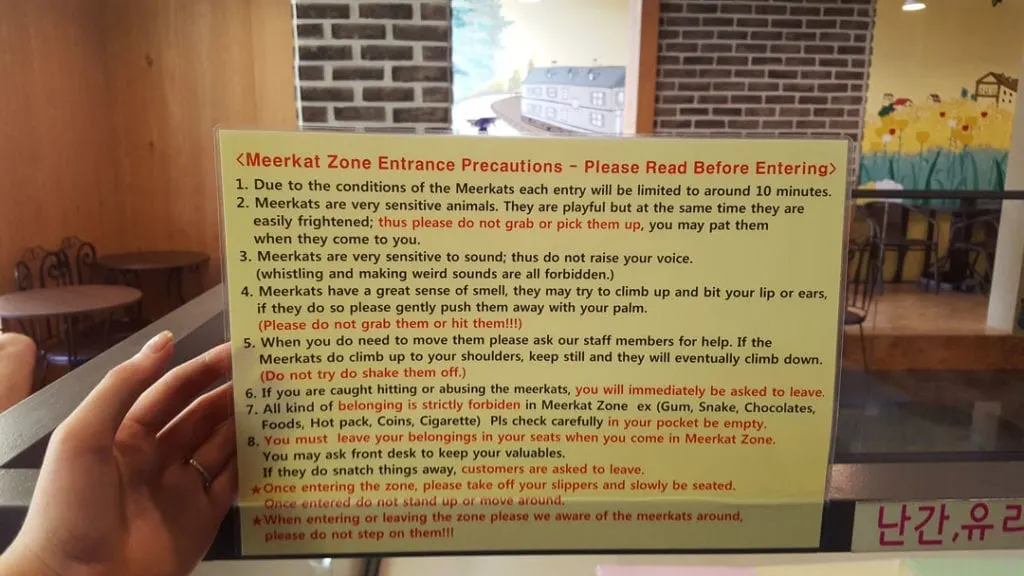 How much to visit Meerkat Cafe?
Expect to pay between 10,000 to 15,000 Won entry ($10 USD). At the time we visited, we paid 10,000 Won but prices can fluctuate in accordance with seasons and popularity.
Our entry fee did not include a drink. Others have reported it did, but we were required to pay extra.
As we noted above, you have to be 15 years and older to visit the cafe. It is really a place where adults can be kids again and not feel sorry about it!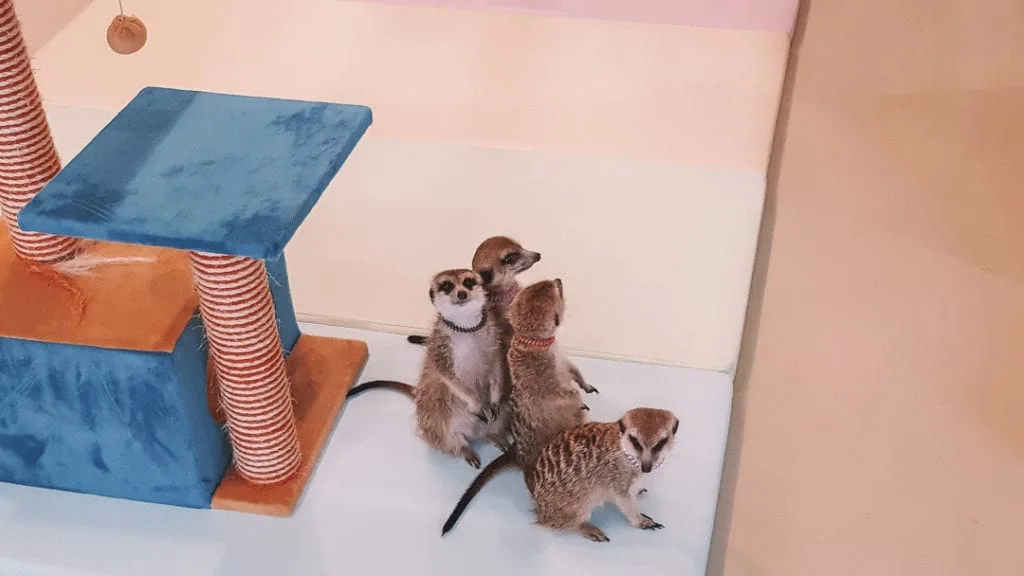 How to get there | Meerkat Cafe Seoul Directions
Meerkat Friends is located in the heart of Hongdae. The closest metro stations to the Meerkat cafe Seoul are:
Sangsu Station on the brown line
Hongok University on the green line or blue line
Walking from either station takes less than 5 minutes which may take longer if you are easily distracted by interesting shops.
The location is marked on the map below which you can use for bus directions which may save you some walking.
Further Information on the cafe
The Meerkat Cafe is open daily between 12pm – 9.00pm at night.
You can see more information on the cafe on their Instagram.
If you're sharing a picture with your adorable Meerkat friends on Insta, consider adding one of these travel quotes for Instagram and use a creative hashtag to get noticed!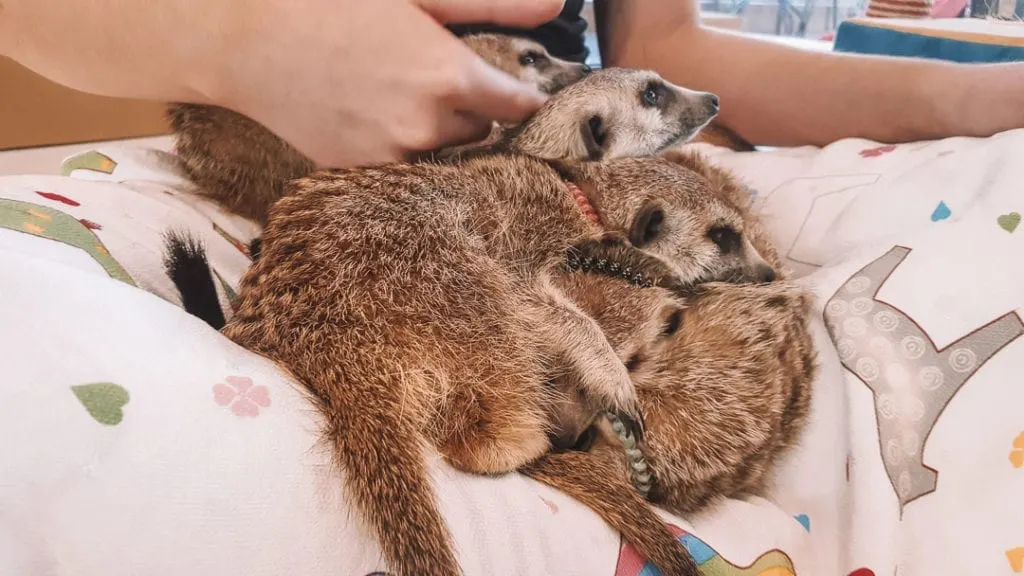 Other animal cafes in Hongdae
One of the cool things about Seoul is the variety of quirky animal cafes there are. If you are interested in quirky animal cafes there are a variety of other quirky animal cafes in the area of Hongdae:
Sheep at Thanks Nature Cafe
Never have I ever heard of a sheep cafe until I came across the Sheep at Thanks Nature Cafe in Hongdae.
Two resident, well looked after sheep known as Tom and Jerry live at Thanks Nature Cafe.
There is no entry fee, just the cost of the food and drink which is reasonable, 8- 10,000 Won will get you something nice at the Sheep Cafe. Bingsu, the traditional shaved ice desert of Korea will cost you 8-000 Won.
This cafe even does cute little sheep ice cream and food and drink is served with little sheep decorative figures. The waffles at the sheep cafe are highly recommended.
Interestingly, the cafe was set up by a popular Korean reality tv contestant.
Hongdae Raccoon Cafe
If raccoons are your jam, make at stop at the Raccoon Cafe in Hongdae.
The raccoons at the cafe are quite friendly and will jump on your leg or give you a little hug.
Again you are required to take your shoes off to enter this cafe, so bring nice socks!
There is an entry fee of 10,000 Won ($10 USD). Purchasing a drink is optional.
Cats at Cat Living
Cafe cafes are a pretty normal type of animal cafe to visit these days. However, if you don't have your own cute cat you might like to check out the Cats at Cat Living Cafe.
If you would like to visit the Cat Living Cafe it costs 8,000 Won entry. You are required to take your shoes off before entering so wear some cute socks.
Included in the entry price is a drink of your choice.
We briefly stuck our head into this cafe and it was rather smelly so you may want to bring a nose plug haha.
Hey, it's all for the love of the cats!
Save this to Pinterest (so you can find it again later!)