Planning an epic Mexico road trip? Here's our detailed breakdown of the perfect two-week itinerary in Mexico.
While a Mexico Road trip may not be the first thing that springs to mind when you think of a holiday to Mexico, after several trips to Mexico, we believe a road trip in Mexico is the very best way to see all the amazing things the country has to offer.
Our good friends are from Mexico (we met them on an exchange in our university days in Norway!) so we often venture back to Mexico to visit them. This time we opted out of the Collectivos and Group Tours in favour of renting a car in Cancun to explore the incredible Yucatan peninsula.
If you are visiting Mexico for the first time, here is what we would recommend seeing in a 2 week Mexico road trip itinerary of the Yucatan peninsula for first-time visitors.
Road Trip
Mexico
Itinerary – Plan a Trip to Mexico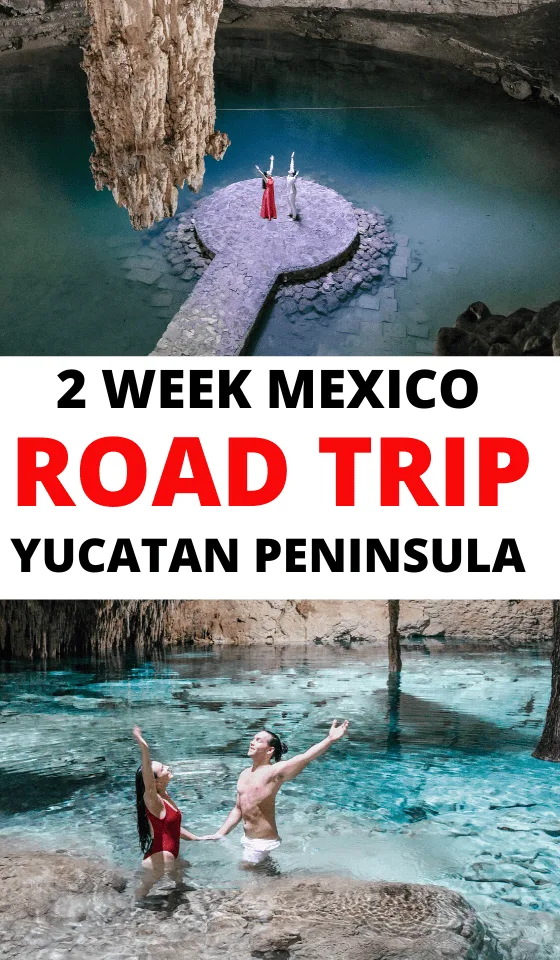 How to Get to Mexico?
There are numerous great airports to fly into Mexico. The best airport to fly into for a Yucatan peninsula road trip are either MEX (Mexico City) or CUN (Cancun).
If you are coming from the United States, flights into Mexico can be very affordable due to the abundance of low cost carriers frequenting these airports including Interjet, Volaris, SouthWest and Spirit.
You can fly from Miami to Cancun for as little as $100 (2-hour flight). For discounted flights, we use Skyscanner to search for the cheapest flights available.
The best way to access Mexico from elsewhere in the world including Europe may be to first fly into Miami and get a connecting flight to Mexico. Recently, we took a flight with Norwegian Airlines for $220 one way including baggage from Europe to Fort Lauderdale.
We would not recommend driving from the US to Mexico. While it is *usually* safe border towns have the worst reputation in Mexico for crime. For that reason, we advise to fly from the US to Mexico and rent a car on arrival.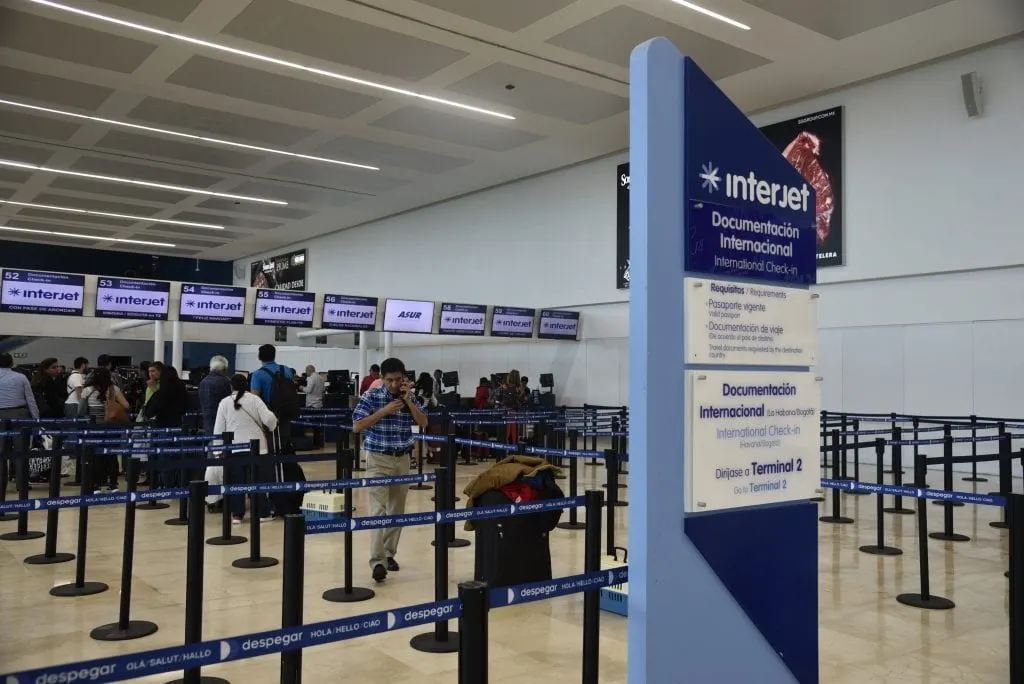 How to Get Around Mexico
By Car
Recently, we hired a car in Cancun and it was by far our favourite way to get around Mexico. We have also done road trips with our Mexican friends (Mexico City – Cuernavaca) & (Leon – Guanajuato, San Miguel) and it was definitely the better choice to get around.
The good news is car hire is very affordable in Mexico. Provided you are not traveling directly in the holidays you should be able to get an affordable car hire from any major airport in Mexico.
For example, our last car rental in Mexico cost us $75 for a week including full insurance, which is just over $10 a day.
Driving in Mexico is super easy, especially in the Yucatan peninsula where we would recommend a road trip for first timers in Mexico. If you would like a little extra help, you can see our exact directions from Cancun Airport to Tulum.
There are also no problems to drive with a foreign driving license in Mexico. However, if it is in a language other than English or Spanish, it is always best to have it translated.
Gas is a little more expensive than most places in the US, 20 pesos or $1 USD per litre (around US$4 per gallon (3.78L) however, considering car hire is about a third of the price of most places in the US, a little extra on petrol doesn't make much difference in the budget.
Tip: If you have a choice between a toll road or a toll free road in Mexico, for safety reasons it is always best to select the toll road.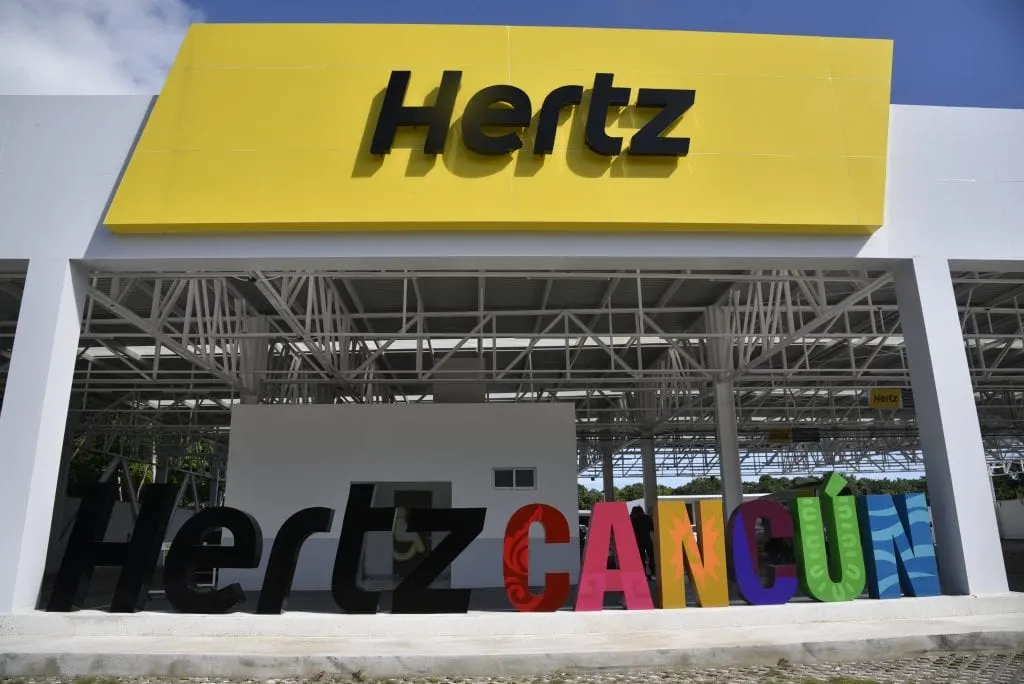 By Day Trips
If you prefer not to drive, Mexico is a great place for tours. There is a tour to just about every major tourist spot in Mexico so you won't have trouble getting around Mexico by doing day trips.
There are loads of tours with pricing and reviews at GetYourGuide. We personally love this site as they have free cancellations and mobile vouchers – our plans are always changing so it is nice to know you can change your travel plans on the go.
There are tours from Cancun for as little as $45.
When to Do a Mexico Road Trip?
Mexico is a warm and sunny destination year round so it is always a good time for a road trip!
While it can become light jacket weather in North Mexico including Mexico City during winter (Dec-Feb), in Yucatan (where we suggest you do your first road trip in Mexico) it is 'summer' year round. Yippee!
The coldest Cancun gets is around 68°F (20°C) in January. Temperatures can rise to up to 95°F (35°C) in July in Cancun.
As a tropical destination, the heat can be unbearable in summer in Mexico. For this reason, our favourite time to visit Mexico is in winter between November to February.
If you want to avoid peak prices, avoid Christmas and New Years. It is low season until December and after New Years when people head back to work after Christmas break.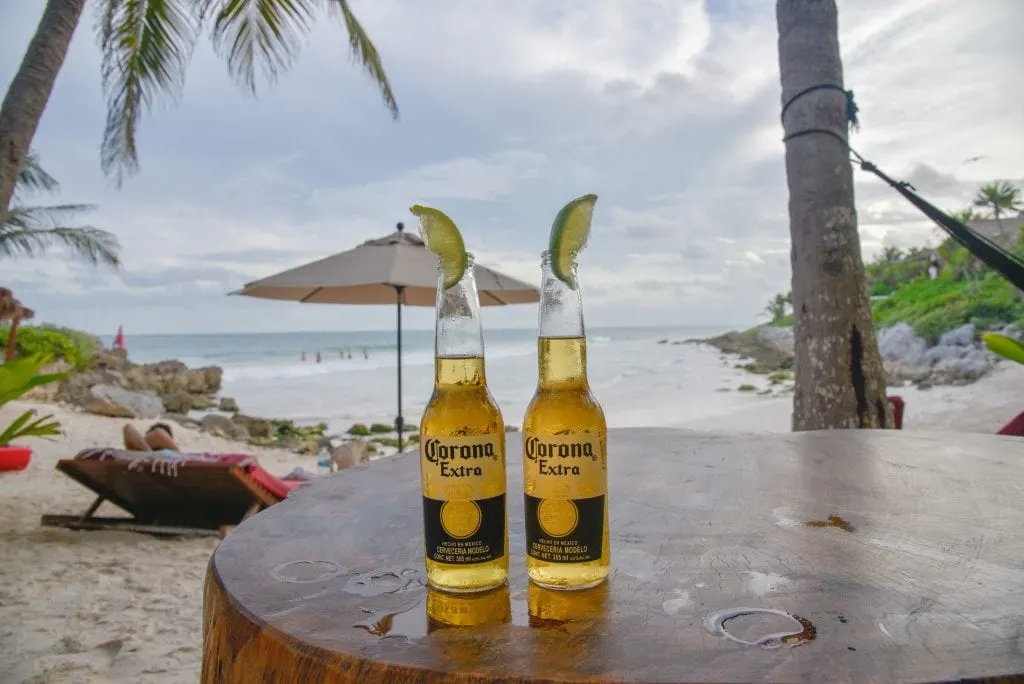 How Much Time for a Mexico Road Trip to the Yucatan Peninsula?
You could spend a lifetime in the Yucatan Peninsula and still not see every amazing beach, Mayan ruin and cenote the region has to offer.
If you want to cover the best of this area of Mexico well, without needing to check every single attraction off the list, we would recommend at least two weeks. If you have less time, you can focus on less towns. A possible combination might be (Cancun + Playa del Carmen) OR (Tulum + Valladolid.)
If you want to stretch out your trip and make it a little more relaxing, you can schedule more time in Cancun or Playa del Carmen.
Recommended Two Weeks in Mexico itinerary summary:
2 Days in Cancun – to explore epic beaches and the famous Cancun beach strip
1 Day in Isla Mujeres – to swim with Whale Sharks, see turtles and drive around on golf carts.
2 Days in Playa Del Carmen – to explore more pristine beaches in a more traditional environment
2 Days in Cozumel – to visit one of the best islands in Mexico
5 Days in Tulum – to swim in amazing cenotes and see epic Mayan ruins
2 Days in Valladolid – to explore a quintessential Mexican small city and hunt for hidden cenotes.
How Much Does a 2-Week Mexico Road Trip Cost?
Many people choose Mexico as a travel destination as it is an incredibly affordable place to vacation.
As tourism increases, we have noticed that the prices in Mexico have increased over the years however, it is still an incredibly affordable place to vacation in comparison to the US or Europe.
While using collectivo (shared van, local transport) is probably the most affordable way to travel Mexico (costing around 30 pesos a ride), it can be unreliable and leave you waiting in the hot sun for hours.
Other than collectivos, hiring a car is the next most affordable way to complete a Mexican road trip from Cancun. Expect to pay around around US$150 for a 2-week car rental and another $200 for gas.
The hotel strip in Cancun is notoriously an expensive place to stay where (seriously amazing) all inclusive accommodation in Cancun can set you back US$200 + for a 4 star hotel with everything including drinks included.
If you want to keep costs down, you can stay with the locals in downtown Cancun (totally safe) but it will take you 25 minutes per day in the car each day to access the beach.
Outside of the hotel strip in Cancun and other all inclusive hotels scattered across the Yucatan peninsula, accommodation in Mexico is more affordable than most places in the United States and Europe.
Outside of peak times, you can get a comfortable 3-star budget hotel for as little as US$40-60 per night and around $60-80 per night for a 4-star hotel. During school holidays, Spring Break and annual breaks like Christmas, prices in the area increase as much as double.
Food and drink in Mexico is as cheap or as expensive as you want to make it. You can dine locally for as little as $10 for two people or there are fancy Western style resorts which will cost you as much if not more than dining in the United States.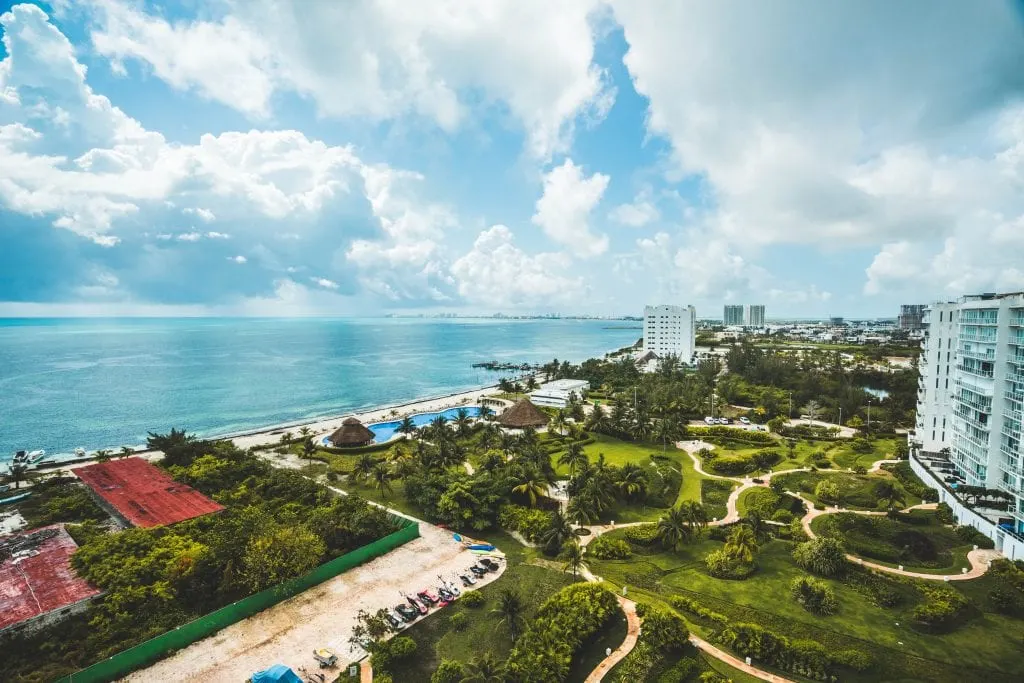 Our 2-Week Cancun Mexico Road Trip Itinerary
Itinerary Day 1-2: Cancun
Cancun is the airport that you will likely be flying in and picking up your car hire so it makes sense to spend a few days relaxing in and around some of the most beautiful beaches in the world.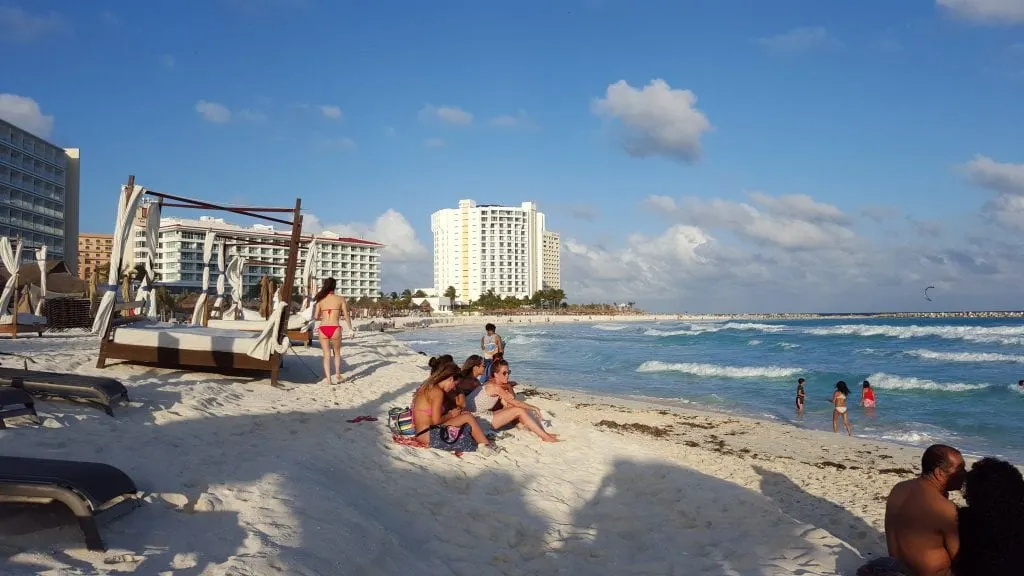 The Hotel Zone or Zona Hotelera in Cancun (where majourity of people stay on the 15-mile strip of sand in beachfront properties) has a reputation for hosting first time American travelers to Mexico, who are nervous to venture out and explore uncharted territory (these people certainly aren't thinking to hire a car for example)
The Hotel Zone IS a very Americanised experience, it is much like being in America really, there is little to no cultural value here, and while it is probably not our favourite place in Mexico we would recommend spending a few nights for 2 reasons: 1. the beaches are possibly our favourite on the coast (BIG call) 2. an all inclusive resort is a pretty cool experience – like being on a cruise ship, but on land…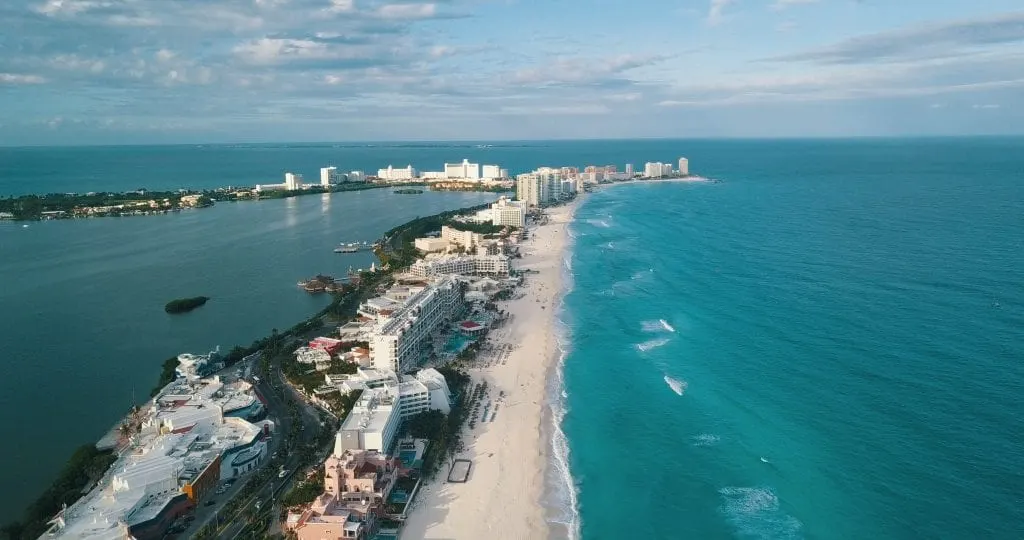 If you like nightlife and partying you will also LOVE Cancun as you can find interesting bars and restaurants lining Kulkukan Boulevard, the only road on the Hotel Zone beach strip. One of the most famous shows/nightclubs to visit in Cancun is Coco Bongos which includes a Vegas style show followed by a night club (ending at 3.30am)
If you feel like adding a little culture into itinerary OR you want to save money, we would suggest either visiting or staying in Downtown Cancun. Prices in Downtown Cancun are about a third of the cost of the Hotel Zone.
Our favourite place to visit in Downtown Cancun is Parque Las Palapas, a local park which often hosts local performances and is lined with very affordable street food. If you want to pick up a cool Mexican souvenir, the best and most affordable place to do so is downtown at Mercado 28 (get ready to barter).
If you want to do some interesting and unique snorkeling in Cancun during your few days staying there, we would recommend going on a snorkeling or diving tour (starting at $47 for a snorkeling tour) with the Underwater Museum of Art.
The cool thing about this tour is that it is dedicated entirely to conservation. The museum has a total of 500 sculptures which were pioneered for the creation of artificial reefs to prevent mass tourism damaging the eco-system at the Manchones reef. The statutes are a new technique for coral to grow on and a way to save the oceans for generations to come which is pretty cool.
If you are are an adventure junkie, Cancun has some of the best adventure parks in the world including Xplor Adventure Park which for $120 per person includes all inclusive zip lineing through the jungle, ATV rides, underground caving and rafting.
An activity that totally peaks my interest in Cancun is the Lucha Libre (traditional Mexican fighting in masks) which are held in downtown Cancun every Tuesday, Friday and Sunday. For 250 pesos ($12) you can get front row tickets including a beer!
It is possible to visit Cenotes and the famous Chichen Itza Maya Ruins from Cancun but we would recommend doing these things from Tulum and Valladolid.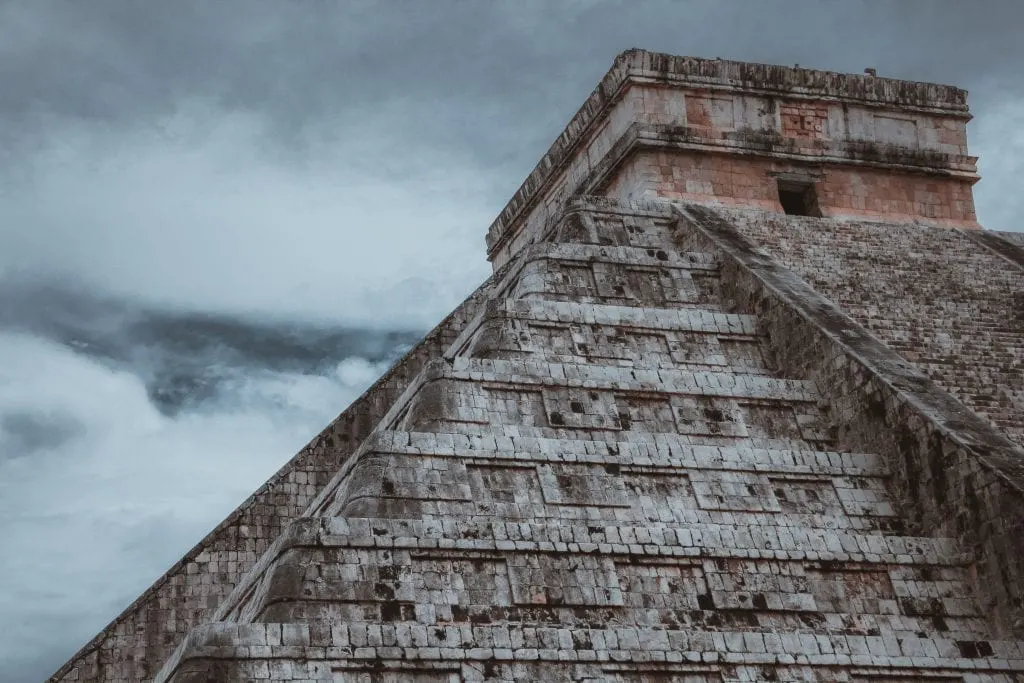 If you want to check out some ruins close to Cancun we would recommend the El Meco ruins which are located only a 20 minute car ride from Cancun.
In 1-2 days, you would not be able to do all the activities in Cancun. If you love everything we listed here, you may want to extend your time in Cancun out a bit.
Where to stay in Cancun?
There is accommodation in Cancun to meet a variety of budgets.
For budget conscious travelers, it is best to stay in the downtown Cancun area and make trips to the Hotel Zone and any other place you might like to visit in Cancun.
Parking can be a little tricky in the Hotel Zone. If you want to stay in Downtown Cancun, there are a few good free parking spots including Playa Ballenas which is free to park in the hotel zone.
Here are our top picks for where to stay in Cancun:
Downtown Budget Conscious Traveler: Hotel Suites Gaby
We have personally stayed at Hotel Suites Gaby while in Cancun. It is clean and comfortable accommodation with free parking in downtown Cancun. You can easily walk to Parque Las Palapas from the hotel. Oh, and wifi works which is always nice. Wifi in hotels can be unrealiable in Mexico so when the signal is strong it is a big thumbs up from me!
Best Budget All Inclusive Hotel Cancun: Melody Maker Cancún
Pros: Modern decor, pools appealing to adults not just for kids, nice white sand beaches on the Cancun hotel zone strip, rooms look super fresh and tidy, some rooms have a nice outdoor spa on the balcony, indoor dining areas a sophisticated – looks high-end with leather seats, breakfast room has nice high ceilings and extends right onto the sand, nice day beds with umbrellas, Beautiful symmetry,
Cons: not much entertainment at night if you don't want to watch a movie. Reportedly limited options on food
Best Budget All Inclusive Hotel Cancun: Villa Del Palmar
Another good choice for a budget, all inclusive in Cancun is the Villa Del Palmar hotel.
Pros: hammock on the balcony, clean – not modern but not old decor, good room size at 50m2, free wifi, nice infinity pool with daybeds overlooking the beach. Good variety of restaurants: 6 including Buffet & à la carte: International, Japanese, Mediterranean, Mexican, Steakhouse cuisine.
Cons: Located near Isla Mujeres but a little far from Cancun. The beach doesn't seem as nice as the hotel zone beaches. People report lots of seaweed.
Best Luxury All Inclusive Hotel Cancun: Hyatt Viva Cancun
If you are coming to Cancun on a honeymoon or a special occasion we would recommend a stay at the Hyatt Viva Cancun, one of the best rated all inclusive hotels on the Hotel Zone of Cancun.
Pros: The hotel is located on one of the most beautiful strips of Cancun where you can enjoy white sand beaches and clear-blue waters. There is also a lot to do at the hotel from theater shows to water sports to tequila tastings and even a microbrewery.
Cons: The price is high but for the luxury you receive we think it is quite good value.
Itinerary Days 2-3: Isla Mujeres
Only a 15 minute ferry ride from Cancun is the beautiful island of Isla Mujeres. The ferry leaves every half hour from 5:00 am until 9:30 pm. See here for the ferry website with more information.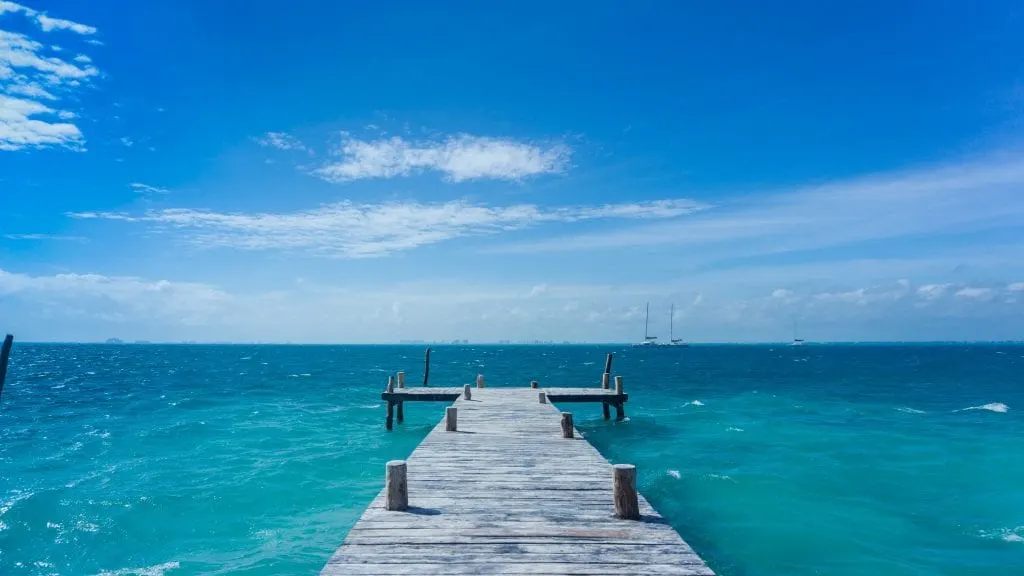 One of the biggest draw cards to visiting Isla Mujeres is the ability to swim with whale sharks. You can also swim with them at the nearby Island of Isla Holbox, which is an alternative spot to Isla Mujeres to swim with whale sharks.
If you want to have a chance to swim with whale sharks you will need to visit between May – September. If you want to swim with whale sharks between this time, it is best to book a tour in advance. Here is a eco-friendly small group tour to swim with whale sharks. It is best to pick a small group tour to protect the whale sharks.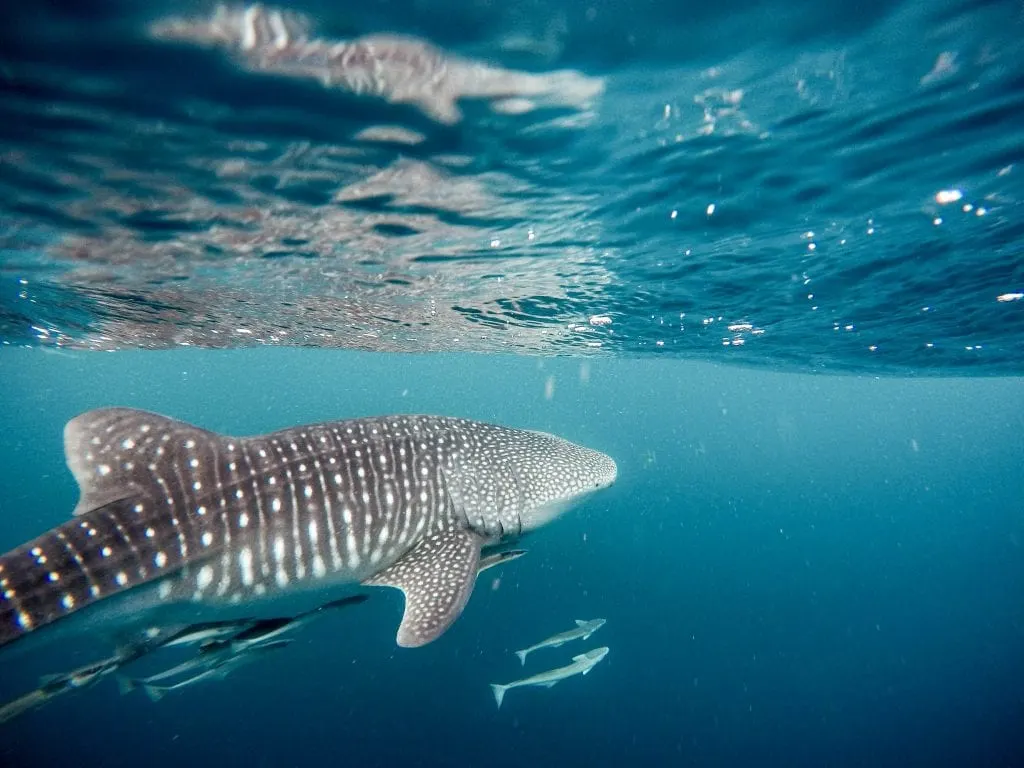 If your visit to Isla Mujeres doesn't fall within whale shark time of year (BOO!) there are still tonnes of fun things to do on the island – the water and sand on the island is stunning so it would be worthwhile to make a visit to the island for the stunning surroundings alone.
One of the most popular beaches on the island is Playa Norte which is a stunning strip of beach lined with resorts and cool beach bars. It is also a great place to watch the sunset. If you are choose to stay on the island for a few nights, Playa Sol is a great alternative sunset spot on Isle Mujeres. It is also known as being less commercialised as Playa Norte so as a general rule it is a cheaper place to go for food and drink.
One of the quirky things to do on Isla Mujeres is to hire a golf buggy and travel around the island on that as it's not recommend to bring your car over to the island. This is probably the most fun way to get around the island but it isn't particularly cheap. Golf Buggys can cost up to 1500 pesos or $80.
If you hire a buggy drive your buggy to the beautiful beach and cliffside of Punta Sur. Punta Sur is worth the trip for the spectacular views it provides. There used to be Mayan ruins here but sadly, there have mostly been destroyed now by hurricanes.
If you are not in season for whale sharks but you love animals like us, we would highly recommend a visit to Tortugranja, a turtle sanctuary for endangered sea turtles. It is very affordable for entry, only $3 per person. You can also buy some food to feed the turtles.
If you love turtles, between May – July you can see loggerhead turtles laying eggs on some protected beaches in the island. A good spot is Casa Sirena Hotel where if you are lucky you can spot the turtles at night. Book in advance as this hotel is popular and often books out.
On the island there are a few water parks where you pay a fee to use their facilities for the day. One of the most popular is the Garrafon Natural Reef Park which includes luxury beach loungers, kayaking an infinity pool, ziplining and a pristine place for snorkeling. It costs $70 per person to enter the park.
If you are coming from Cancun and don't want to stay on the island, an alternative is to get a tour which includes entry & ferry transfers. We would recommend this tour which isn't a whole lot more expensive.
If you would like a more budget experience, next to the reef park is a cheaper alternative for budget travelers at Garrafon de Castilla. For 100 pesos per person ($5 USD) it is a great no frills snorkel spot with beach chairs and a restaurant where you can purchase reasonably priced food and drink.
You can also access the MUSA, underwater musuem from Isla Mujeres so if you didn't get a chance to do so from Cancun, this is your chance. It is necessary to book a tour to visit MUSA as the underwater art is a while off shore so it is necessary to have a boat.
Where to stay in Isla Mujeres?
There are great options for both budget and luxury travelers in Isla Mujeres.
Here are our top picks for where to stay in Isla Mujeres, depending on your budget:
Posada Paso Del Sol is the perfect place for budget travelers on Isla Mujeres. The rooms are clean, beautifully decorated and each feature their own ensuite bathroom.
Mid Range Comfort Traveler: Hotel Kinich
Hotel Kinich is the perfect place for mid range travelers on Isla Mujeres. The 4 star accommodation is located in a great spot on the Island and each modern room has air-conditioned rooms with free WiFi.
This luxury beachfront hotel is our pick for a luxury stay on Isla Mujeres as it consistency gets great ratings for its clean, modern and comfortable lodging at an affordable price. The hotel includes 2 pools including a rooftop pool and a restaurant on premises.
Itinerary Days 3-5: Playa del Carmen
We have visited Playa del Carmen quite a few times as it a less expensive and more authentic Cancun. Of course there are still the commercialized parts of Playa Del Carmen (it also has a CoCo Bongos for example) but as a whole it is more authentic Mexican experience than Cancun.
1-2 nights here is plenty as there is not a whole lot of fun things to do here that you cannot do in our preferred town on the Yucatan peninsula, Tulum.
The beach trip at Playa del Carmen is filled with fancy hotels and beach clubs that often have a cover charge or minimum spend to buy something there.
If you would like to spend a day on the beach, Lidos Beach Club is one of the better and more affordable options. It has only a $200 peso ($10 USD) minimum spend and the seats and loungers are very comfortable.
If you prefer a more local beach, you can head to the free and local preferred beach of Punta Esmeralda, a 15 minute drive from downtown Playa.
We would also recommend a few hours wondering around Playa Del Carmen's 5th Avenue, La Quinta as there is a lot of interesting restaurants and shops to explore.
Playa Del Carmen has some great and very affordable Mexican cuisine so make sure you eat lots while in Playa del Carmen. Our favourite is El Fargon, which sell authentic and delicious tacos for 15 pesos each.
In Playa del Carmen you will come across a lot of street vendors, especially around Parque Fundadores. Don't miss the opportunity to try some Elote (grilled Corn with mayonnaise) – Mike loves it, Im not so much of a fan and a Marquesita, essentially a nutella and cheese crape. You can also buy tacos and tortas from street vendors at better prices than the surrounding restarants.
If you want to splurge a new and interesting dining experience one night, Alux Restaurant offers cool cave dining in Playa del Carmen. A main meal in a cave will set you back 500 pesos + ($26 USD). For budget travelers they have a 150 peso special which includes one drink and a cave tour.
If you are one for a bit of adventure, you can do a cave swim at Rio Secreto while in Playa. You will need a guide for this. You can book your tour here.
On your journey between Playa del Carmen and Tulum we would recommend stopping at Xpu-ha Beach for a bit of secluded paradise without the hoards of tourists. It is well worth the 100 pesos entry ($5 USD). If you would like a sun lounger or food and drink, it costs extra.
There is a cenote located directly across the beach called Cenote Azul if you feel like visiting a cenote while at the beach. The cenote costs 120 pesos entry ($6 USD).
Further along from Xpu-ha Beach, on your way to Tulum or as a day trip from Tulum is Akumal where you have the chance to swim with sea turtles. The best time to show up at the Akumal beach is early morning, when the turtles are more active. As it gets later in the day, crowds show up at the beach and scare the turtles away.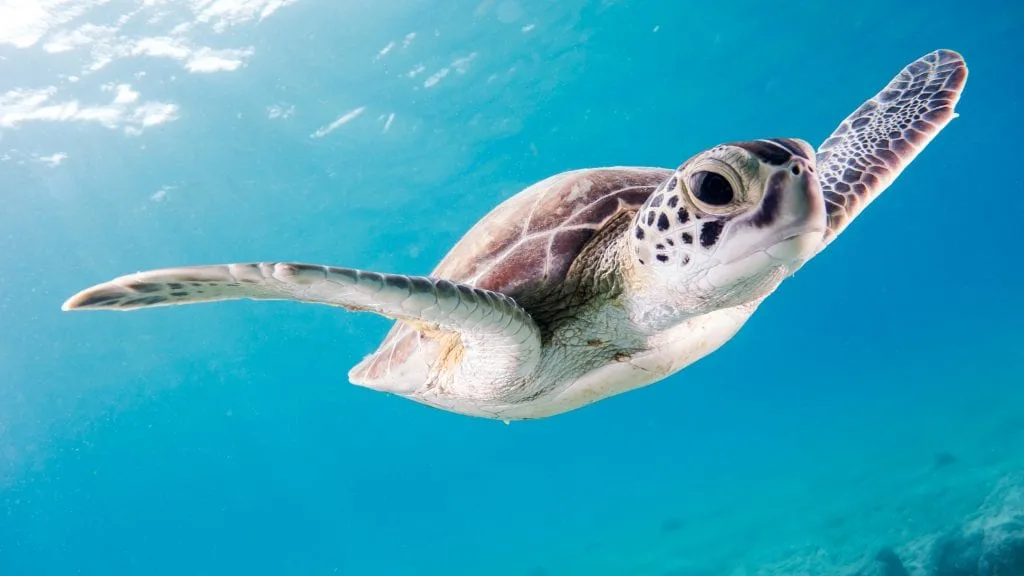 Where to stay in Playa Del Carmen?
We have stayed in Playa Del Carmen a few times in the past and have found some fabulous places to stay!
Here are our top picks for where to stay in Playa Del Carmen, depending on your budget:
Budget Conscious Traveler: Wabi Hotel
We have personally stayed at Wabi Hotel before and would highly recommend it. It is a clean and comfortable hotel in Playa del Carmen with free parking. We would recommend spending a few extra dollars on the Superior room as it is well worth it.
If you want a mid range accommodation in Playa in an international brand name where you really cantgo wrong we would suggest the Wyndham Garden Playa del Carmen. For what you get it is a great rate.
We just booked a stay at the Ocean Riviera Paradise El Beso with our parents who are visiting us in Playa del Carmen. We are very excited. It looks fabulous and it was the best value for money we could find in the luxury all inclusive category in Playa de Carmen.
Itinerary Days 5-7: Cozumel
Cozumel is another nice island you can access from Playa Del Carmen. The ferry takes around 30 minutes to reach Cozumel.
There are two options with your car on Cozumel. Firstly, you can bring your rental car on the car ferry, this is a different ferry to the passenger ferry and costs 500 pesos per car.
Having a car is really necessary on Cozumel so you either take your rental car or rent a car on Cozumel– a popular rental car option in Cozumel is to rent a jeep, which is a bit of fun.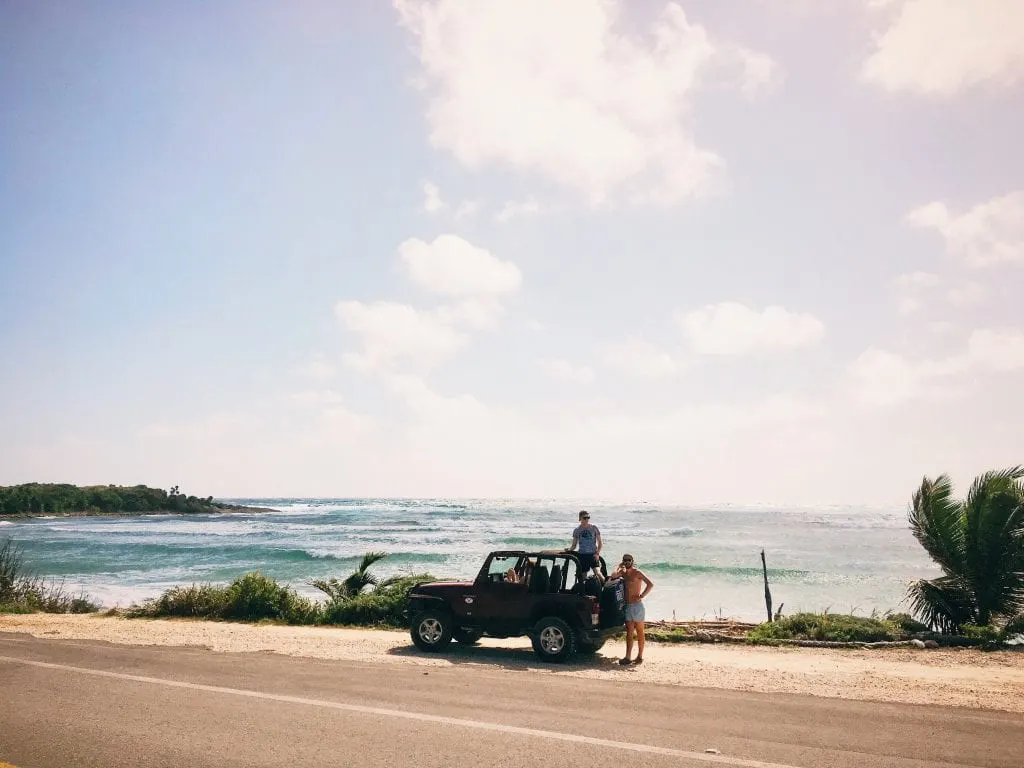 If you decide to rent a car over in Cozumel, you can take a regular passenger ferry. There are a few companies that make the route. You can check prices and book via their websites – Barcos Caribe, Ultramar & Mexico Waterjets.
Note: The ferry ride can be a bit bumpy so if you are susceptible to sea sickness you may want to take tablets with you.
The island of Cozumel is known for its incredible snorkeling and diving opportunities so it is highly advisable to take a reef trip while you are on the island. For this you have a few options. The best option is to take a reasonably priced boat tour from Cozumel boat tours are the best way to experience the amazing reefs of Cozumel which cannot be accessed on shore.
If you are on a budget conscious trip, we recommend visiting the Money Bar in Cozumel for snorkeling. It is free entry, remember to BYO your own snorkel. Naturally, they do expect you to buy at least a drink. Note, there is a happy hour between 5-7pm for 2 for 1 drinks!
Being a stunning island, it will come as no shock to you that some of the best things to do in Cozumel include exploring the incredible beaches. As a general rule, the west side of Cozumel, facing Mexico as calmer waters and more alive coral than the east size of the island which has much stronger currents.
Playa Corona is one of the closer beaches to downtown Cozumel but it is not the prettiest beach ever. For a prettier beach head to Playa Chen Rio, Playa Palancar or Sunset Beach.
In true Yucatan peninsula form, there are a number of beach clubs and adventure parks on Cozumel. One of the more popular ones being the Chankanaab Adventure Beach Park. For 400 pesos or 23 USD you can enjoy swimming pools, pre-Hispanic Replicas, tropical gardens, a picturesque beach with hammocks and lounge chairs.
The alternative and equally popular adventure park on the island is Punta Sur Ecological Park which includes its own lighthouse in the entry cost ($16).
There is also a chance to see crocodiles and a marine seal show. Mind you, why would you merely want to see a crocodile when you can swim with one at The Carwash Cenote in Tulum (not even joking).
For those who love history, there are some small Mayan Ruins in Cozumel known as the Ruins of San Gervasio worth checking out on Cozumel Island. Mayans lived in the Yucatun peninsula until Spanish settlers arrived, and due to disease and other factors, resulted in the ultimate demise of their population.
What is left behind by the Mayans is amazing ruins for us to discover including San Gervasio on Cozumel, the Tulum Ruins, Coba and Chichen Itza to name a few.
The Ruins of San Gervasio are far from the most popular ruins in the area but they are worth checking out if you are in Cozumel. To fully appreciate the history behind the ruins, it is always advisable to get a guide. We would recommend this beach and ruins of San Gervasio tour if you would like to visit.
If you decide to visit the ruins, bring some bug spray with you as the mosquitoes are rife! Whenever we travel to Central or South America we always bring mosquito bracelets with us.
For fishing fanatics, there is great deep sea fishing off the coast of Cozumel. Of course, a tour is required to go deep sea fishing. We would recommend this one if deep sea fishing tickles your fancy.
Where to stay in Cozumel?
The great thing about Cozumel is it is not a stupidly expensive island. Sure, it has luxury accommodation options but there are also some great places to stay for the budget conscious traveler in Cozumel.
Here are our top picks for where to stay in Cozumel, depending on your budget:
The Casa del Mar is a reasonably priced resort on Cozumel for the budget minded traveler.
The hotel is our pick for a budget hotel in Cozumel as it has an outdoor pool and also offers free access to the Nachi-Cocom Beach Club.
Hotel B Cozumel is our pick for a stunning 4* hotel in Cozumel as it has an amazing infinity pool overlooking the sea. The rooms are clean, comfortable, have air-conditioning, wifi and a private terrace which is always nice.
This hotel is the perfect for a stunning luxury stay in Cozumel as it has a private beach , 2 outdoor pools, 2 tennis courts and is close to attractions such as Chankanaab National Park.
Itinerary Days 7-12: Tulum
Tulum is our favourite place to go on the Yucatan peninsula.
Tulum has really changed over the years. Five years ago, we visited Tulum and it was very much a hippy eco-friendly town, there was no air con in any of the hotels and definitely no Starbucks. Not to say i don't think eco-friendly is great BUT its darn hotel in Tulum so ya girl needs air-con, just sayin'.
So, five years ago I only had a day trip to Tulum and on our most recent trip we got to stay in Tulum and it was fabulous. If you need to cut anything from the trip, here a tip, don't cut Tulum.
Okay so why is Tulum so great? Well, in my opinion it has the best cenotes in the Yucatan peninsula. If you are short on time, wait to visit a cenote until you get to Tulum.
The best cenotes to visit in Tulum include: Gran Cenote (around 350 pesos), Cenote Dos Ojos (price changes based on season but can be 600pesos +), Cenote Calaverra (150 pesos), Cenote Carwash (100 pesos BUT you can try to argue to get in for 50 pesos).
There is also some great Mayan ruins called the Tulum Ruins directly overlooking the beach in Tulum which are pretty nice. It is very hot walking around the Tulum Ruins so make sure you bring an umbrella.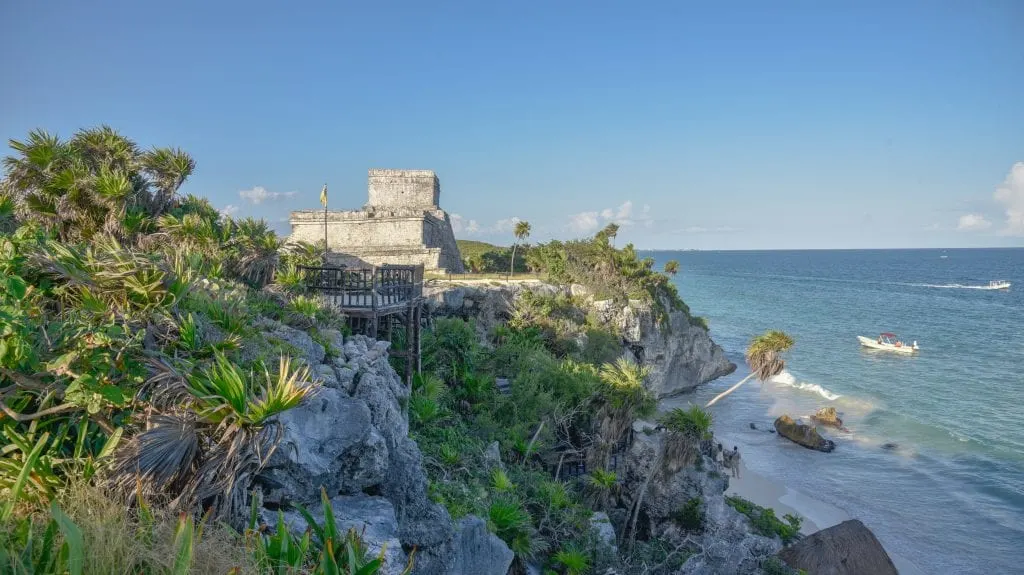 Most people choose to do the hippy thing and rent a bike in Tulum but I personally think having a car is so much better. While they all sweated it out in the sun, we drove in air conditioning and were able to access many attractions such as Tulum's Natural Mud Bath Laguna Kaan Lum which isn't possible on bike.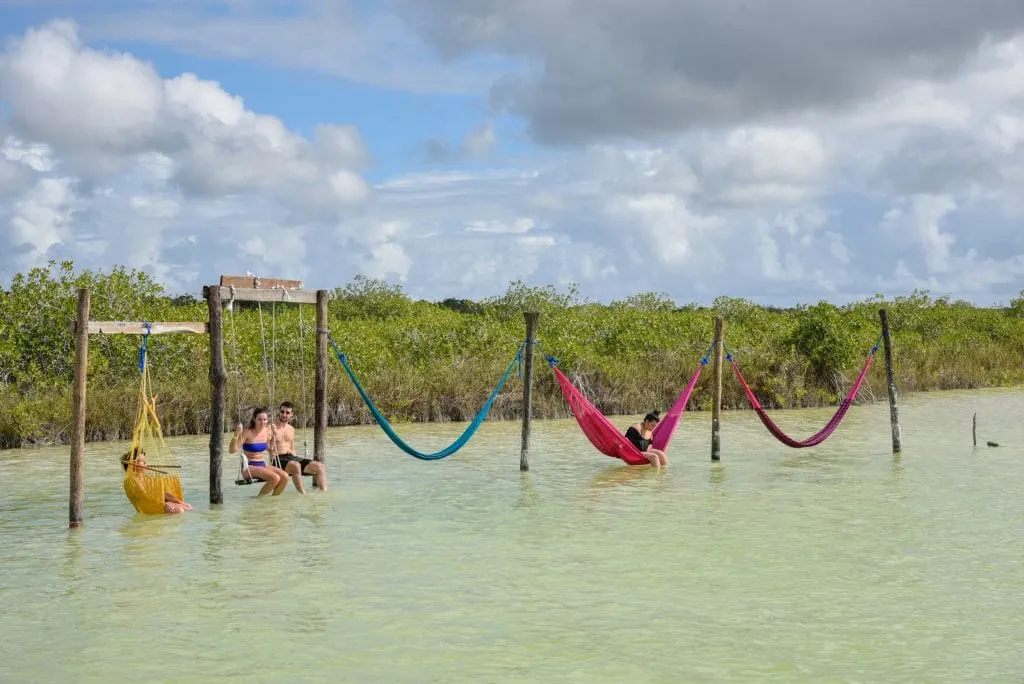 If you decide you want to rent a bike for a bit of fun in Tulum, you can get one for around 10 USD a day. Bike rental companies are everywhere and how much you pay depends a lot on how well you can negotiate.
Many people use their bike to access the free beaches in Tulum including Playa Paraiso (you can also get free parking here). Our favourite bar near Playa Paraiso is Casa Maria Mexican Grill which have a great happy hour 4-7 with half price beers.
We would also recommend taking a trip to Tulum Luxury Hotel Zone which is the opposite direction to Playa Paraiso. Here you can shop till you drop in gorgeous bohemian clothing stores and visit fancy instagrammable cafes and bars including Matcha Mama , I Scream Bar and Raw Love.
If you want an iconic picture on an instagrammable white swing in Tulum, head to Coco Tulum Bar.
Azulik Tulum have amazing instagrammable birds nests will amazing views of the Tulum jungle. Alternatively Casa Malca, the home of notorious drug Cartel leader Pablo Escabar. There is a minimum spend of $50 for people who are not hotel guests.
If you are happy to forgo the instagrammable cafes and restaurants, stop at the hippy bar called, Taqueria La Eufemia. Despite the fact that most places are quite expensive on the Tulum Luxury Hotel Zone this bar has very reasonable prices.
Where to stay in Tulum?
We found Tulum to be a little more expensive than Playa del Carmen but overall not to bad. In our opinion, it is worthwhile to pay a little more money to stay here.
Here are our top picks for where to stay in Tulum, depending on your budget:
Budget Conscious Traveler: Hotel Arco
Hotel Arco is a great option for a budget conscious traveller in Tulum. The hotel includes a fitness center, terrace and restaurant as well as an outdoor pool and air conditioned rooms.
The Central Park Tulum is our pick for a mid range comfort hotel in Tulum with a beautiful outdoor pool. Something quirky, some rooms even come with an oven for those who like to cook at home.
We stayed at a new hotel in Tulum (not in the above list) it had pros and cons.
Let's start with the cons, as it was new, in one room we had problems with wifi and another room we had problems with aircon. They did move us to a room with 0 problems in the end.
On the plus side, for what we paid it was dirt cheap, in a perfect location and brand new with all modern appliances which was great. I do like modern and luxury.
Also, maybe our experience was an anomaly as it has a 9 review score on booking.com. If you would like to check it out and decide for yourself, it is this hotel.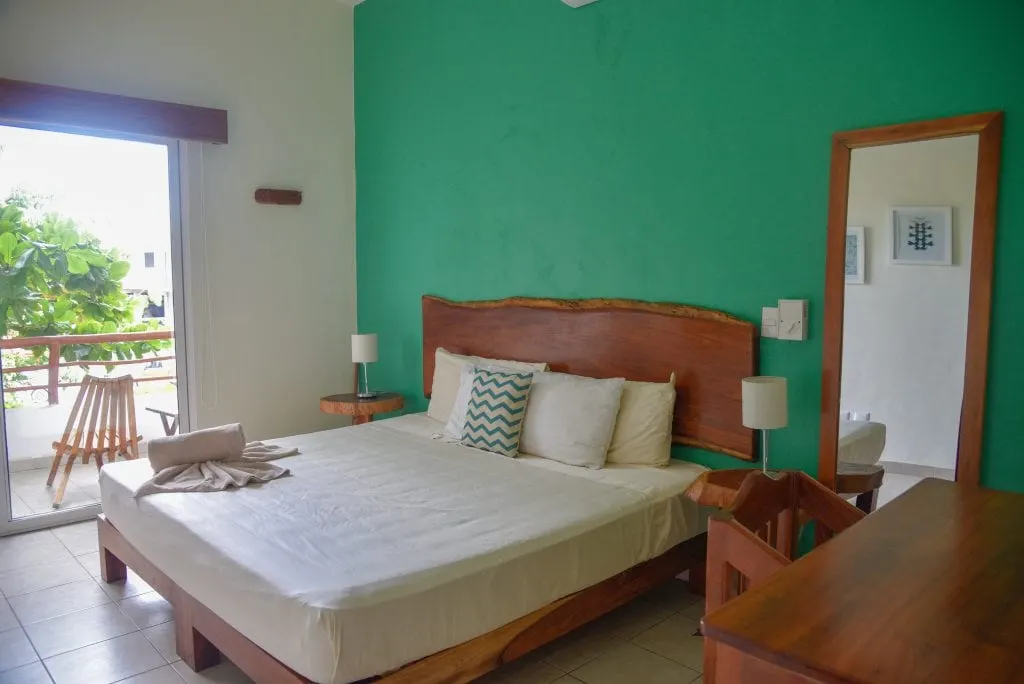 Note: There is an option at this point to make a trip to the stunning Lagoon Bacalar. It is a 2.5 hour drive from Tulum. If you choose this option, it is a 3 hour drive to Valladolid. Alternatively, skip Valladolid and just go here.
Itinerary Days 12-13: Valladolid
It is a 1.5 hour drive from Tulum to Valladolid. When we first arrived we thought "What on earth are we doing here!?" The outskirts of the town are not very nice but give it time, the very centre of Valladolid is super cute and well worth your trip.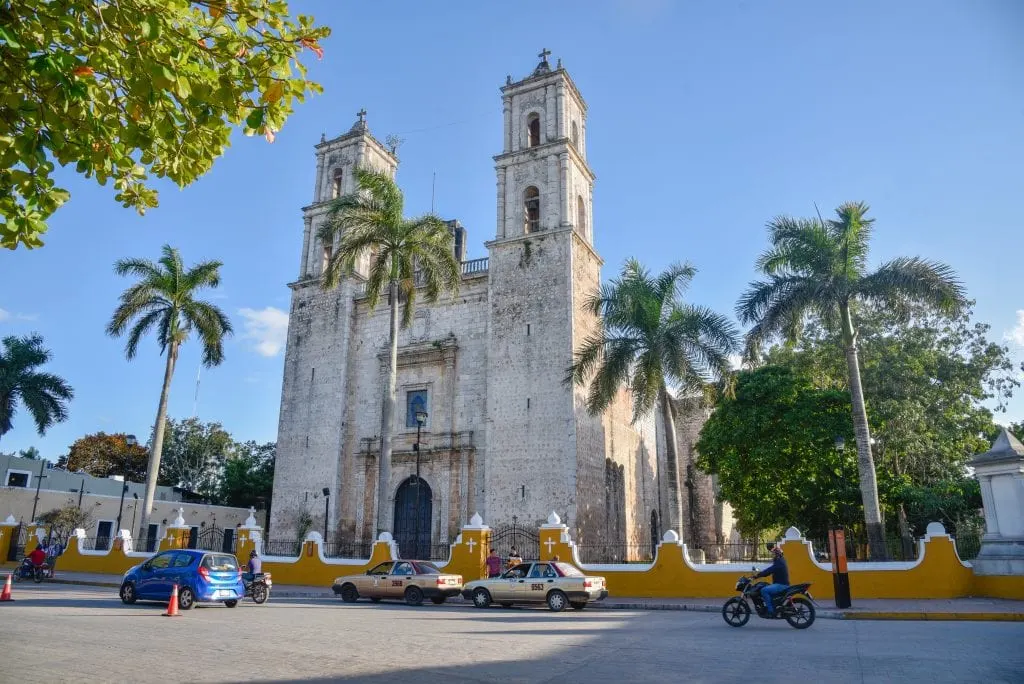 On your way from Tulum to Valladolid you might like to make a stop at the Coba ruins, Mayan ruins in the middle of the jungle in Mexico. They are also the only Mayan ruins in Mexico where you can climb to the roof. There is an amazing view of the jungle from the top of the Coba ruins.
If you are not cenoted out by the time you visit Valladolid, Valladolid is the town of Cenotes. The best cenotes in Tulum include Xkeken, Samula, Zaci, Oxman, Hibiku, Palomitas, Xcanche, Dzitnup, Suytun.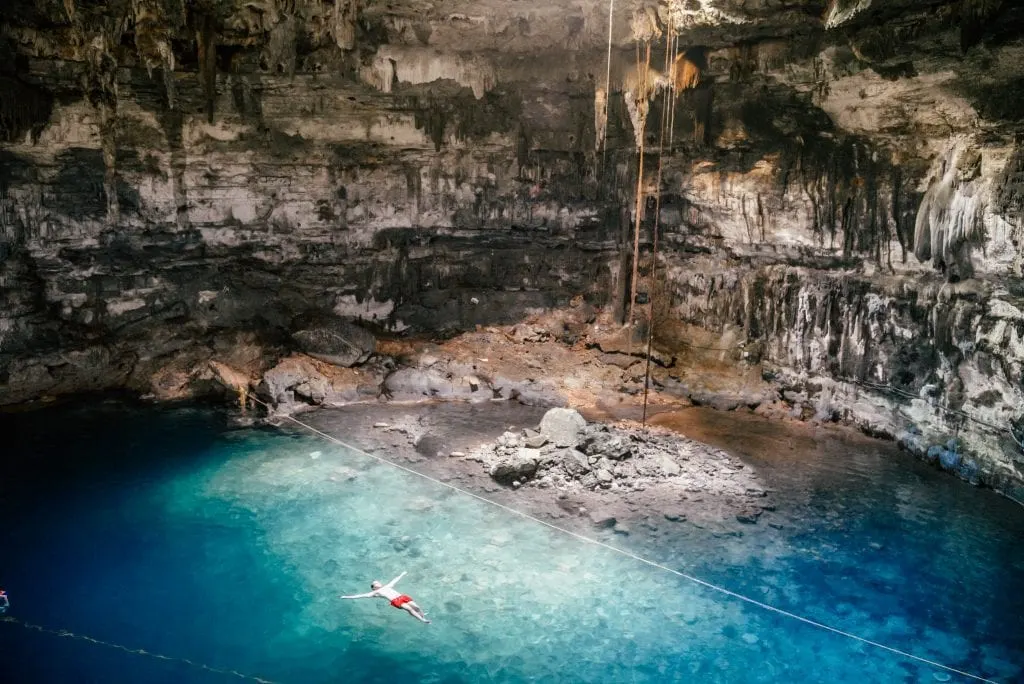 Arguably, the most impressive cenote to visit is Suytun, a cenote in cave with stalactites. The only natural light is from a hole in the roof which lets a beam of light in.
If you want to visit this cenote, arguably, the most popular cenote in Valladolid, it is absolutely essential to arrive at the opening time of 9am otherwise the magic of the cenote will be lost as you will be sharing the space with a lot of tourist buses.
Stroll around the colonial downtown area of Valladolid and stop to marvel at the beautiful Convent of San Bernadino.
For dinner, eat at our favourite restaurant in Valladolid, La Selva. It serves great food and is very budget friendly. It costs 13 pesos (about 75cents) for pretty much anything on their menu.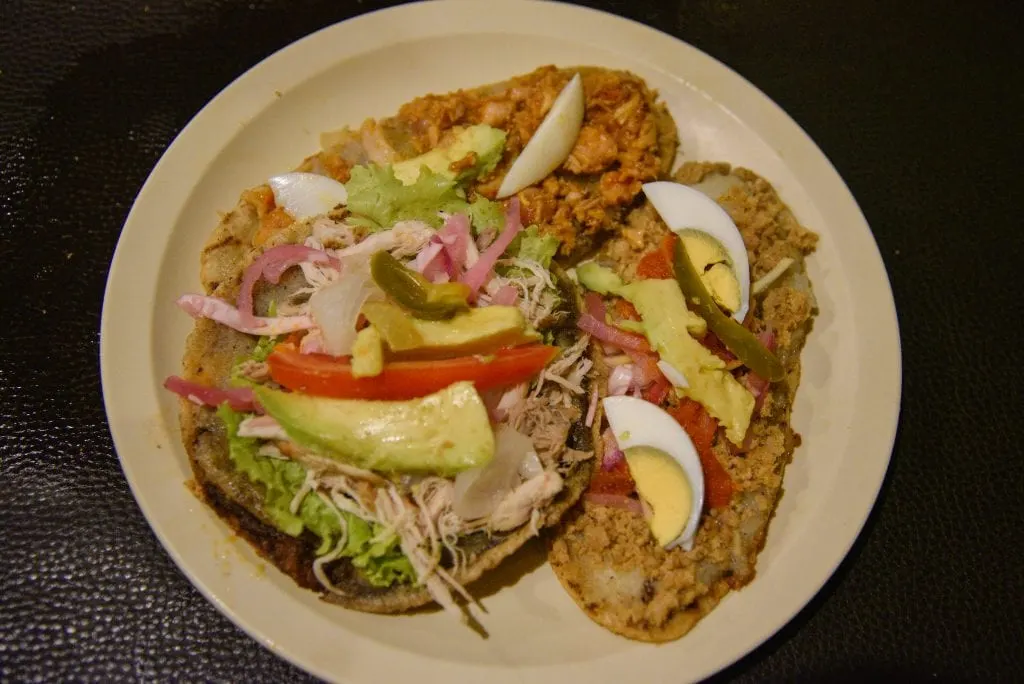 From Valladolid, drive to the most iconic Mayan ruin in the area, Chichen Itza.
Where to stay in Valladolid?
For a small town, there are surprisingly a lot of good options for places to stay in Valladolid.
Here are our top picks for where to stay in Valladolid, depending on your budget:
Budget Conscious Traveler: Casa Sisal
We stayed at Casa Sisal and we would highly recommend it. It was cheap and comfortable. The only downside, they did have internet but it was average quality.
Mid Range Comfort Traveler: NH Valladolid
For a comfortable, yet not too pricey stay in Valladolid, we would recommend the NH Valladolid.
The great thing about this hotel is it is just a 10-minute walk from the main square of Valladolid.
We would recommend this hotel for its comfort and the fact it has a lot of facilities son premises including a hot tub, sauna, fitness center and outdoor terrace with sun loungers.
One of the few 5 star hotels in town, and the only one we could find is the AC Hotel Palacio de Santa Ana
One thing that stands out to us about this hotel is that it is located in the historic Los Jerónimos Monastery, which dates back to the 18th century, on the banks of the Pisuerga River which is pretty cool. If we are going to splurge on 5* accommodation we always like it to have something pretty special and unique about it.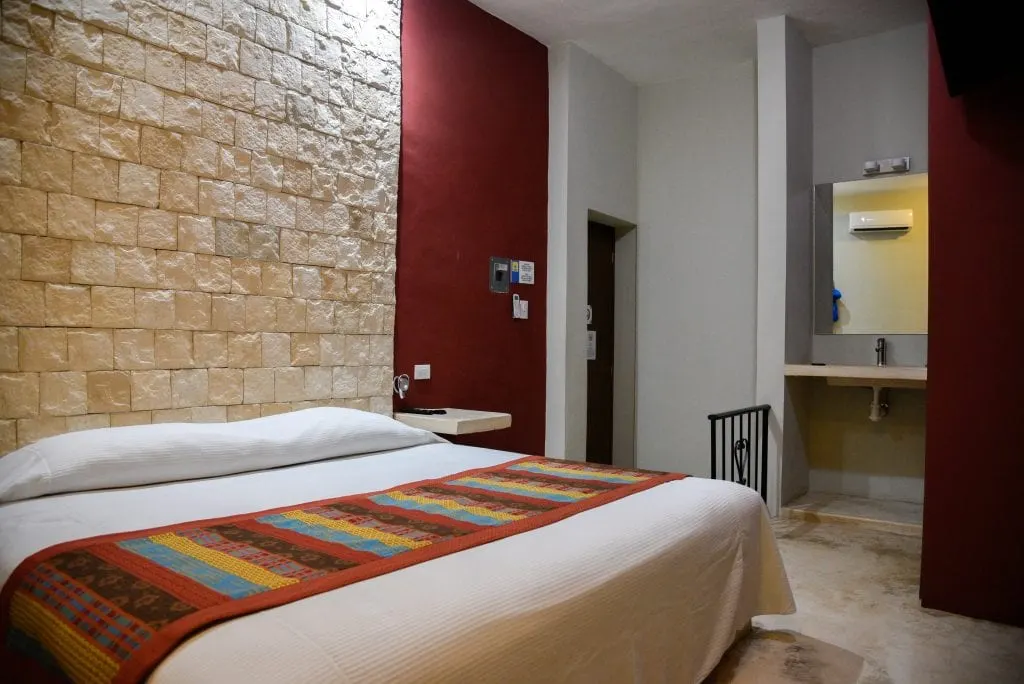 If you have more time at this point?
If you have some more time at this point and are wondering what else to explore, you may like to schedule a trip to the Las Coloradas Pink Lake.
We have never been to this lake because of the mixed reviews it gets. On one hand, you can see some pretty pink flamingos at the lake on the other hand, people claim the pink in the lake is oversaturated and not really that pink at all.
If you go to the pink lake, let us know what you think!
Itinerary Days 13-14: Cancun
From Valladolid, head back to Cancun. There are two options:
You can take a toll road which takes 1 hour 50 minutes to Cancun and costs 185 pesos; or
You can take the coastal route you came back through Tulum and Playa del Carmen. There is no toll but the journey takes 3 hours, 15 minutes
As you are probably exhausted from your long road trip, we would suggest getting a comfortable airport hotel for your last night in Cancun before flying out. We would recommend Fairfield Suites by Marriott.
***
Well that's it folks, an epic Mexico road trip! We hope you have an amazing time in Mexico, we are sure you will. If you have any other great tips we didn't mention or want any other advice, we are always happy to help so leave a comment below.
Wondering where to go on your trip from Cancun? May we suggest Cuba? There are great cheap flights from Cancun to Cuba and it is a pretty interesting place to go!
Inspired? Pin this Mexican Road Trip to Pinterest!