Michelstadt is a hidden gem in the middle of the Odenwald Nature Park. Germany has so many cute, fairytale villages and Michelstadt certainly is no exception. You will be amazing how many fun things to do in Michelstadt there truly are.
Michelstadt is not just an ordinary, cute town but one with a very interesting history. It is one of the oldest towns in the Odenwald area with history dating back to the Roman days.
Michelstadt Odenwald – A Fairytale Town in Germany
Another one of Germany's fairytale towns, Michelstadt is filled with the most adorable little streets, water fountains and half timbered houses everywhere you look.
If you are interested in history, this town should be added to any tourist itinerary in Germany. The town itself has been occupied for a very long time. Interestingly, it is one of the best preserved towns in Germany with churches still standing from the 9th century.
If you are a fan of all things fairytale you simply need to visit this town. As the town is located only about an hours drive from Frankfurt, it is the perfect day trip or overnighter from one of Germanys largest cities and tourist hubs.
Michelstadt is also a great starting point to explore some of Germanys most adorable and romantic little towns.
So, with no further adieu, here are 17 unmissable things to do in Michelstadt which must be checked off in any Michelstadt Odenwald trip.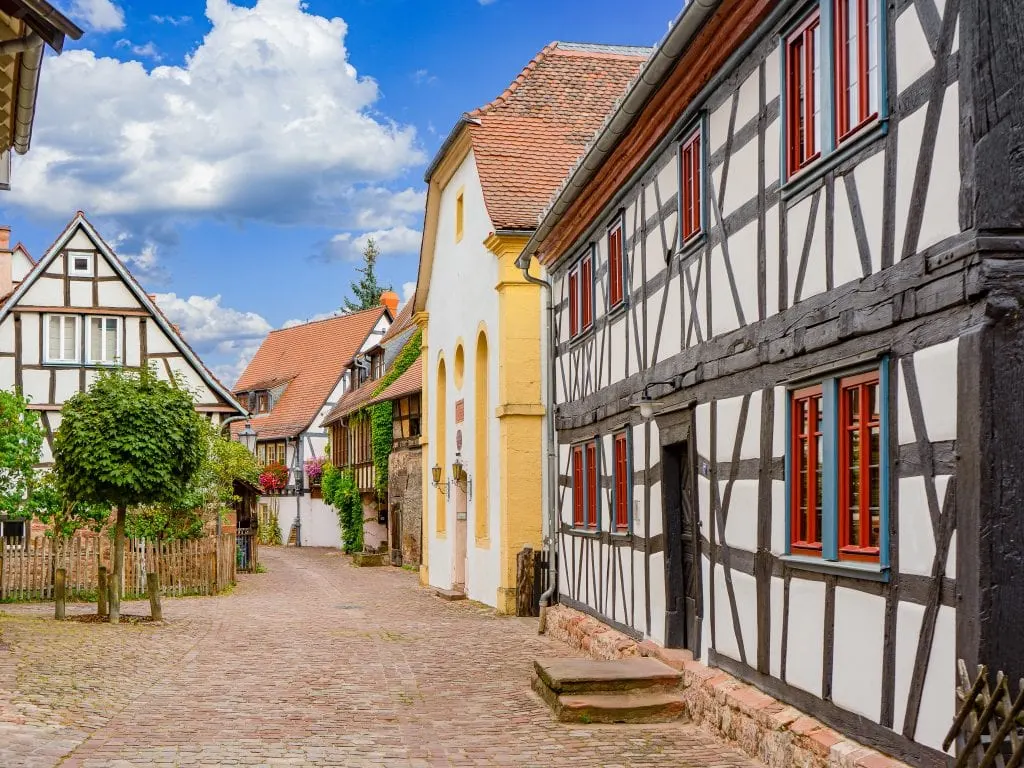 Michelstadt Map
All the things to do and see in Michelstadt mapped. Click here to view and save it on Google Maps for offline use.
Click the star button to save all the locations to your phone.

1. Historisches Rathaus
The town centre of Michelstadt is super easy to explore by foot. As a big fan of walkable cities, Michelstadt gets a huge thumbs up in this regard.
As you walk around the town centre, take a moment to admire all the gorgeous half timbered houses, medieval buildings and cobblestone streets dating back to the 1400s. If you are from an area outside of Europe you will really appreciate this aspect of the small town of Michelstadt.
As well as amazing buildings, dating back hundreds of years, there are numerous quaint cafes and restaurants in the historic centre as well as a few retail shops to get into some much needed retail therapy.
Don't miss the Historic City Hall otherwise known as the Rathaus. This darling building provides the ideal backdrop for a photo opportunity. Where are my Instagrammers at?
2. Schloss Furstenau
As a kid I loved visiting castles and nothing much has changed as an adult.
If you are a castle lover, definitely plug Schloss Fürstenau into your Michelstadt itinerary.
This moated, medeival castle dates back to 1250. In the 16th century it was converted into a Renaissance palace. Therefore, the castle/palace boasts numerous different styles of architecture which is very cool and unique to see.
Nowadays, the castle is inhabited by a wealthy family in Germany known as the Erbach-Fürstenau family.
The lovely gardens of the Schloss Fürstenau are still able to be visited by the public touring Michelstadt.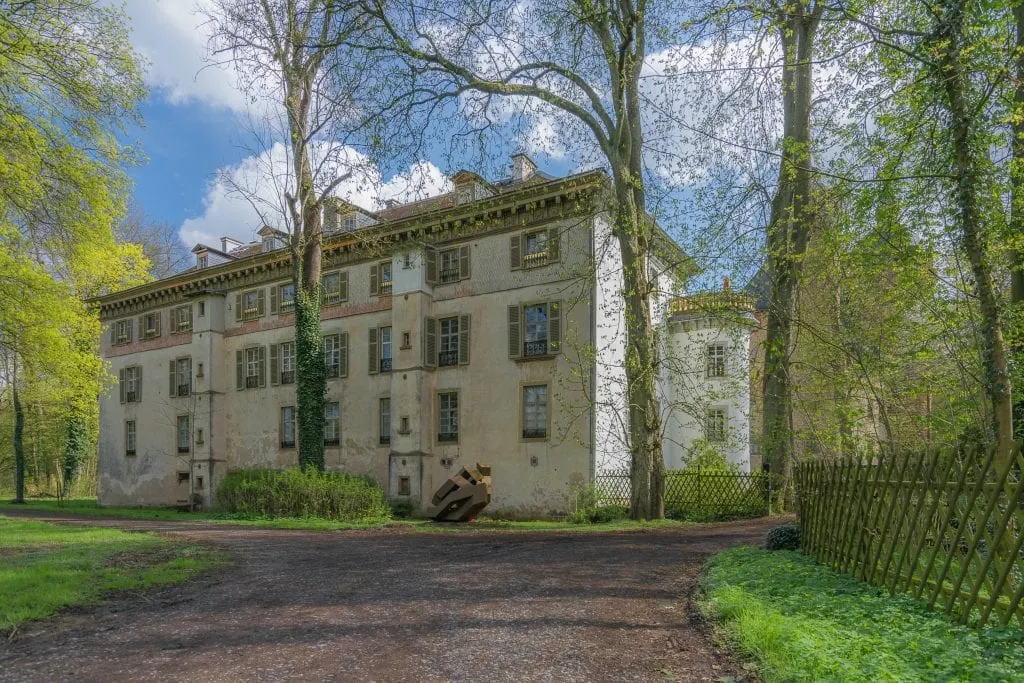 3. Englischer Garten Eulbach (English Gardens Michelstadt)
Another of the best rated activities in Michelstadt is the Englischer Garten Eulbach. It is located on a hill, slightly outside of town.
While the 'English Garden' is nothing like a traditional English garden you might find in the UK is it highly worthwhile to visit nonetheless especially if you are traveling with children.
The English Garden only costs €5 per adult and includes a myriad of animals the kids will love including red deer, boar, bison, and goats. It is possible to buy some food to feed them if you are game.
If you are traveling with pets you will be happy to know that they are welcome to enter the Englischer Garten Eulbach too.
If you are looking for a low cost activity with the whole family will enjoy the Englischer Garten Eulbach includes a children's playground , lunch benches and a small cafe so you can really make a day of it.
If you are traveling to Michelstadt by car, there is free parking at the entrance.
4. Einhardsbasilika
The Einhardsbasilika, a name in English that is impossible to pronounce, is another must see in the fairytale town of Michelstadt.
This church dates back to the 9th century. It was built by Einhard, an advisor of Charlemagne.
If you are an architect or interested in historical building styles you will be interested to know that it is one of the only remaining Carolingian buildings left in Germany.
Most recently Einhardsbasilika has been used as a church, monastery and hospital.
5. Kainsbacher Getreidemuhle (Flour Mill)
Kainsbacher Getreidemuhle is a very interesting flour mill in the town of Michelstadt.
If you are interested in the technology and workings of a very old mill, we highly recommend a visit to the Kainsbacher Getreidemuhle.
A very old mill is something you just don't often see these days with the advancement of modern technology so it is very interesting to see in Michelstadt, especially if you have children.
The mill was working to create flour from 1426 until modern times as recently as 1956 which is particularly interesting.
If you in Michelstadt on a Wednesdays, Saturdays or Sunday it is worth stopping by as the flour mill is free to visit.
6. Landesrabbiner Dr. I.E. Lichtigfeld-Museum (Jewish Synagogue of Michelstadt)
The Jewish Synagogue otherwise known as the Landesrabbiner Dr. I.E. Lichtigfeld-Museum is a very interesting place to visit in Michelstadt as it is one of the very few synagogues that survived the WW2.
Nowadays, it stands in dual purpose – it is a museum and also remains a place of worship for the Jewish people of Michelstadt.
If you are lucky enough to enter (outside of worship times) inside is a small exhibition dedicated to Odenwald's Jewish population which details their history in photographs.
7. Römerbad Würzberg
If you love visiting Roman Baths, definitely add Römerbad Würzberg to your Michelstadt itinerary.
The baths date back to 100 AD.
Interestingly, each "Kastell" has his own bath which is a pretty unique of this Roman Bath. The whole bathhouse would have housed about 100 men back in Roman times when it was in operation.
8. Explore The Old Town of Michelstadt
The old town of Michelstadt is one of the prettiest little towns in Germany.
Don't forget to spend some time exploring the laneways around the town – you never know what you'll discover in the nooks and crannies around the town.
9.
Weihnachtsmarkt Michelstadt (

Christmas Market of Michelstadt)

If you find yourself at Christmas time in Michelstadt you are a very lucky ducky as this town has one of the very best Christmas Markets in Germany.

Despite the fact that it isn't a large town, there are over 100 Christmas stands in December selling Christmas decorations, bratzwurst, chestnuts, lebkuchen (gingerbread) and Glogg (warm mulled wine) to name a few things.

A oversized Christmas tree is also erected in the town centre in December each year adding to the Christmas cheer and making it an ideal time to visit.
10. Visit the German Ivory Museum
If you are a jeweler or have a general interest in Ivory you might like to stop by the German Ivory Museum while in Michelstadt. The Ivory Museum is a short 10 minute drive from the town centre.
In the 18th century, Germany was a big producer of ivory until the ivory trade became banned in 1989.
At the musuem you will learn about the history of ivory in Germany as well as see ivory from around the world dating back to the middle ages.
11. Admire the Stadtkirche Church
Don't leave Michelstadt without admiring the stunning Stadtkirche Church.
This church is designed in Gothic style architecture but it particularly unique due to its pink facade. Inside you will find stained glass windows and impressive floor to ceiling organs with white and gold trim.
The exact date the church was built is unknown but it is believed to be built in around 1450.
12. Burg Michelstadt Castle
Make sure you see the Michelstadt town castle otherwise known as Burg Michelstadt before you leave Michelstadt.
The 10th century castle was destroyed in 1307. A reconstruction of the castle (as you see it today with a cute bridge) subsequently took place.
Wine lovers will be happy to know that since 1532 it has been used as a winery.
13. Explore the surrounding mountains from Michelstadt
Just outside the town of Michelstadt there are some particularly beautiful mountain ranges that are waiting to be explored.
Interestingly, the area surrounding Michelstadt has a volcanic history so the terrain is very diverse making it the ideal condition for hiking. No wonder Germans are such avid hikers.
One popular route is the Einhardsbasilika Loop from Michelstadt. This hike is best suited to intermediate hikers, takes around 3 hours to complete going at a moderate pace.
Another popular hike is the Rathaus Michelstadt Loop from Michelstadt. A good level of fitness is required for this hike as it takes over 4 hours to complete. Make sure you start early in the day if you want to complete the the Rathaus Michelstadt Loop.
14. Visit the Odenwald Nature Park
If you love nature, you may want to make a stop at the Odenwald Nature Park while in Michelstadt.
The Odenwald Nature Park is a 30 minute drive from the town.
The Odenwald Nature Parks claim to fame is that it is one of the largest nature parks in Germany at 1520 km² in size.
It is a fabulous place to go for a hike in nature.
15. Explore Miltenberg (30 minutes drive from Michelstadt)
If you are looking for a cute town near Michelstadt we would highly recommend the town of Miltenberg which is only a short 30 minutes drive from Michelstadt.
Miltenburg is a really small but yet very cute town in Germany with just 9,000 inhabitants.
Like Michelstadt, the town includes half timbered houses and gorgeous water fountains. Insert love heart eye emojis here!
While in Miltenburg take the time to stroll about, enjoy a beer and pretzel, and admire the absolutely stunning iconic Bavarian architecture.
Outside of the iconic Bavarian architecture, one of the best things to do in Miltenburg is to explore the 12th century castle which sits high on the hill of Miltenburg and overlooks the town.
There are two ways to reach the cute little castle on the hill in Miltenburg – by stairs or by a forest hike.
16. Explore Wurzburg (1 hour drive from Michelstadt)
Another cute town to explore is the town of Wurzburg which is only a 1 hour drive from Michelstadt.
Wurzburg is an underrated yet very beautiful city in Germany. Many people pass through Wurzburg to visit the fairytale town of Rothenberg, the most visited tourist town in Germany, but I think it is worthwhile to visit Wurzburg its own right.
The town features the Marienkapelle church, a Gothic church with distinctive red facades and Marienburg fortress which is perched high up on the hill overlooking Wurzburg.
The best views of the Marienburg fortress are found from the Old Main Bridge.
17. Visit
Frankfurt

(1 hour drive from Michelstadt)

Frankfurt is likely where you started your adventure to Michelstadt but if it is not, you may want to drop into one of the largest cities in Germany, Frankfurt. The 5th largest city in Germany to be exact.

Frankfurt is only an hours drive away from Michelstadt.

While Frankfurt is not our favourite city in Germany there are a few very cool areas of Frankfurt that are worth exploring such as Römerberg – the historical market square which in our opinion is the most beautiful place in Frankfurt.

If you want to enjoy it very traditionally order Apfelwein with a Frankfurter and top it off with Frankfurt green sauce – a light, Greek yogurt based sauce with fresh herbs including parsley, cress and chives.
Where to stay in Michelstadt?
To really soak up the ambience of small towns in Germany we recommend staying overnight.
Crowds start to appear in the small German villages around midday so it is always nice to have a few hours in the morning to wander around the town with the locals.
You can also take some great photography in the early hours of the morning with not too many people around.
Here is where we would recommend staying in Michelstadt:

Where to eat in Michelstadt?
There are some fabulous restaurants in and around the town centre of Michelstadt.
These are the best rated restaurants in town according to tripadvisor are:
Michelstaedter Rathausbraeu
Die Traumerei
Elefantenhaus Michelstadt
Forsthaus Eulbach
Traditional food to try
While there are no notable dishes which originate in Michelstadt, traditional dishes from Hessen, the German State it is a part of, include:
sauerkraut (fermented raw cabbage which really compliments the solid meat, veg and bread of traditional German dishes)
boiled or mashed potatoes (Hessen is known as potato land)
fried potatoes with schnitzel (a personal favourite) and
roast meats (make sure to try "Ahle Wurst" which is an air-dried or smoked sausage which looks like salami)
Make sure to try one or more of these dishes and local foods in Michelstadt! Don't forget to wash it down with apple wine which is a traditional Hessian drink which is now popular all over the country.
How to get from Michelstadt?
Michelstadt in the Odenwald is located in southern Hesse, a German state which borders Bavaria which is the state most recognisable to non-natives.
The capital of Hesse is Germany's major banking and insurance center, Frankfurt, which is less than 2 hours from this charming town.
As the town is located in the central part of Germany, Michelstadt can be reached from nearby European countries including the Netherlands, Belgium and Luxembourg.
From Frankfurt
Frankfurt is an international hub featuring the largest airport in Germany and the 3rd largest in Europe.
If you're arriving in Germany, there's a good chance it will be in Frankfurt and Michelstadt is the perfect place for a day trip.
Here's a run down on what you need to know about getting to Michelstadt from Frankfurt:-
Driving from Frankfurt to Michelstadt is 71km (45 miles) via the B45 and takes about 1 hour. If you have your own car or a rental car, driving is the quickest way to travel to Michelstadt from Frankfurt.
The train from Frankfurt to Michelstadt takes less than 1.5 hours without any changes. Expect trains in Germany to run like clock-work so this is a really easy way to get to Michelstadt. Return tickets start at €20
If you're travelling in winter time, you'll want to leave by 10am to ensure you get a few hours to see the best sights in Michelstadt as the sun sets before 5pm.
In summer time days in Europe are long so you can easily set off in the early afternoon and still have plenty of daylight to explore Michelstadt.
From Wurzburg
This charming student city in northern Bavaria featuring the oldest university in Germany is just over an hour's drive from Michelstandt.
Driving from Wurzburg to Michelstadt is 98km (61 miles) via the B27 and takes around 1 hour, 24 minutes. This is the fastest way to get there.
The train from Wurzburg to Michelstadt takes as little as 1 hour 47 minutes (remember German trains are incredibly efficient) which includes transferring a few times around Aschaffenburg Central Station.
From Brussels
It's perfectly possible to visit Michelstadt from Brussels on a day trip, or ideally for a weekend break. The fastest way to travel is from Brussels to Frankfurt to Michelstadt.
No surprise that Frankfurt is also conveniently connected to Europe by train too. The train from Brussels to Frankfurt takes as little as 3 hours and is super comfortable and convenient. Check out our post for more details about the train ride.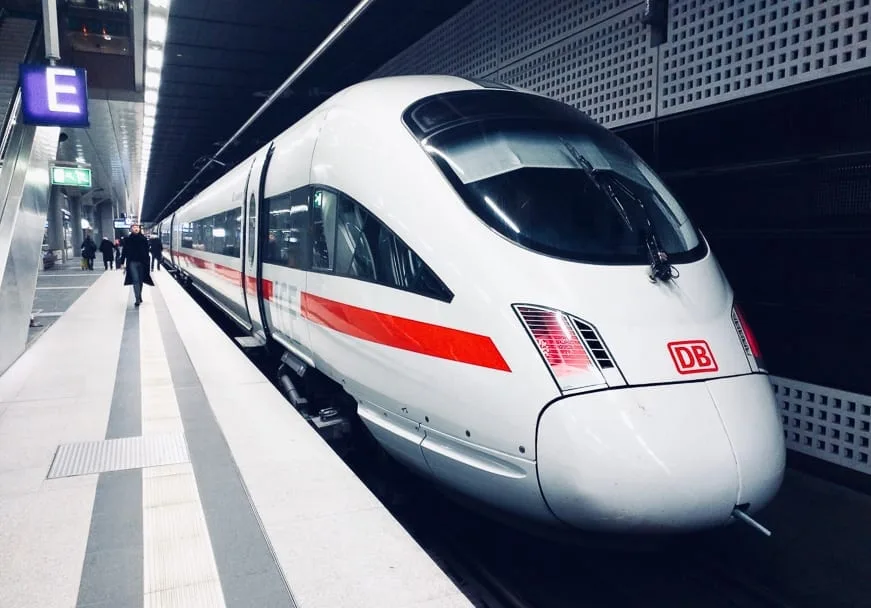 From Heidelberg
Another cute student city to visit in Germany is Heidelberg, which is within an hour's drive of Michelstadt
the drive from Heidelberg to Michelstadt is 56 km (36 miles) taking 1 hour along the B45.
the train from Heidelberg to Michelstadt takes 1 hour 15 minutes, departing daily from 5:55am then every 2 hours afterwards. The journey involves a short transfer at Eberbach. Tickets start from €10 each way
From Mainz
The Capital of the Rhineland-Palatinate State is located just over an hour away.
the drive from Mainz to Michelstadt is 86 km (54 miles) along the B45 and will take around 1 hour 15 minutes.
the train from Mainz to Michelstadt takes over 2 hours as you must travel first to Frankfurt. The journey from Mainz to Frankfurt by train is short, taking just 30 – 40 minutes.
From Breuberg Castle
A notable attraction nearby is Burg Breuberg (Burg meaning castle in German) which can be reached in 20 minutes by car.
Other Fairytale Towns to Visit on a Road Trip from Michelstadt (Further away)
Here are some other fairytale towns in Germany that you may like to visit on a longer road trip. These towns are located 2-3 hours drive from Michelstadt.
If you do not feel like so much driving, another option may be to explore Germanys cutest towns on a River Cruise.
We have done both a road trip and a river cruise and both are fabulous options to explore the cutest towns in Germany.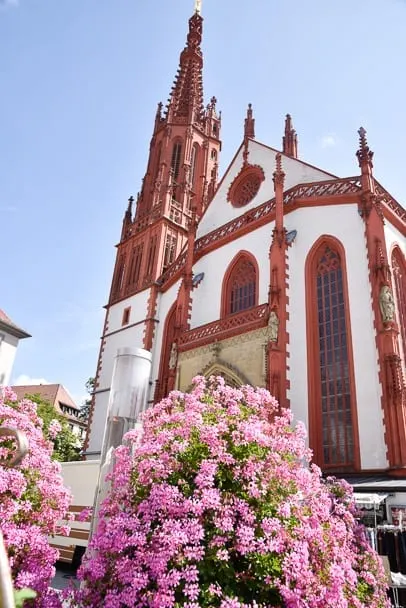 Regensburg (3 hours from Michelstadt)
One of the most beautiful fairytale towns in Germany is Regensburg.
If you are thinking to visit from Michelstadt it is a 3 hour drive to Regensburg.
Regensburg has a total population of 150,000 making it the fourth largest city in Bavaria. Germany has over 45,000 churches and St Peter's Cathedral in Regensburg is one of the more spectacular.
Despite German towns like Michelstadt being so darn cute, many of them have a very dark history, Regensburg included.
Regensburg was home to many 'interesting' characters during medieval times including the Executioner, Grave Digger, Night Watchman and prostitutes.
To this day, tall towers dot the Regenburg skyline which are symbolic of the city's history.
While the towers appear to have been built to defend the city, this would be incorrect.
Regensburg was a flourishing city of trade. Wealthy merchants returning from Italy constructed these towers in the city as a sign of their wealth.
If you visited the city in the medieval times you immediately understood the wealth of the city due to the towers that were constructed.
Rothenberg
(2 hours from Michelstadt)
While Rothenberg could at a stretch be visited as a day trip from Michelstadt, as it is located 2 hours away, it is best kept for a longer trip of the fairytale villages of Germany.
Rothenberg is possibly the cutest town and Germany and definitely one of the most visited.
Despite the fact that a lot of Rothenberg was damaged in WWII, donations were given from around the world to restore Rothenberg to its former glory.
Don't miss the Plönlein house in Rothenberg. This is the most photographed house in Germany and you are probably going to line up to have your picture taken here.
The yellow half-timber house built on an uneven fork-road in the shadows of Kobolzeller Tor – a 65 metre tall tower which dates back to the 13th century.

****
We hope you enjoy your trip to Michelstadt, one of the very cutest towns in Germany. Do you have a favourite fairytale town in Germany? Let us know in the comments below
Save Michelstadt – A Fairytale Town in Germany to Pinterest so you can find it again later!