Sitting in a coffee shop we retreated to during rain, we wondered if a hike up Mount Phousi would be a worthwhile venture while in Luang Prabang.
With little to do in the afternoon, we decided that we would make the hike up to watch the sunset. In the end, it was a very worthwhile use of our afternoon.
Whether you're visiting Laos as a family, backpacking with friends or as part of a romantic getaway, a hike up Mount Phousi is always a good idea.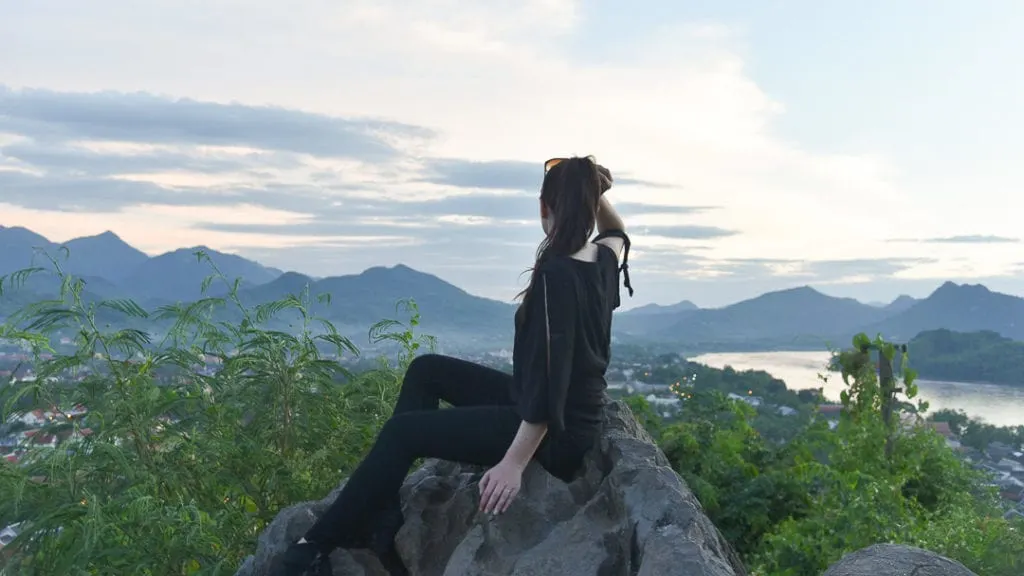 It does not take long to climb Mount Phousi
The name Phousi Mountain evokes images of an epic 2-3 hour relentless hike.
In reality, it is only a 15 minute hike uphill. It doable for people of most fitness levels and ages.
On the way up, you also get a fabulous view of Luang Prabang including the night markets and the Royal Palace.
There is also the possibility of buying a small bird to set free at the top of the mountain.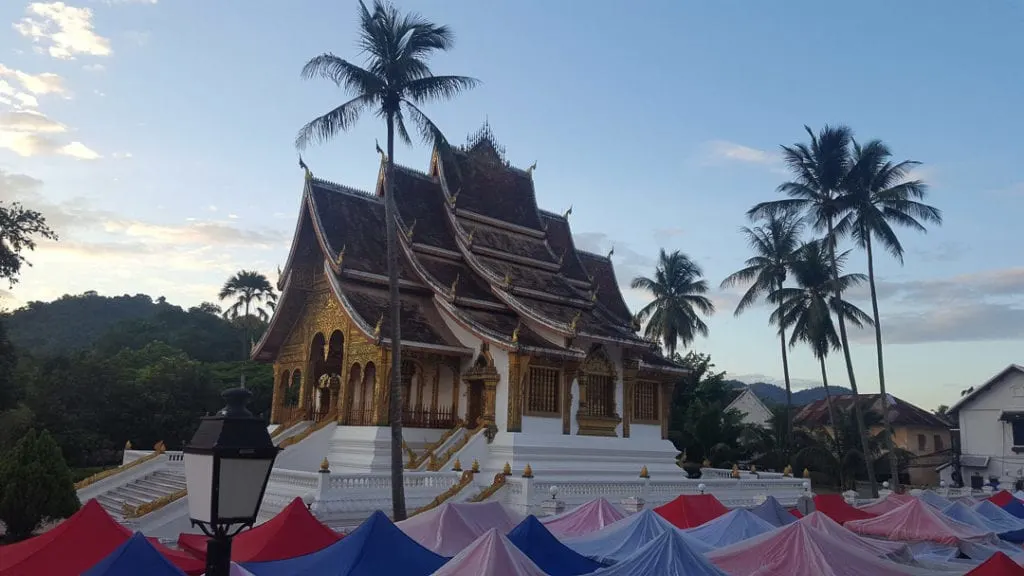 Phousi Hill is a fabulous spot to watch the sunset
Mount Phousi is probably the best spot in town to watch the sunset.
From the top of the mountain you get a fabulous view of Luang Prabang and the Mekong Delta.
It is even more beautiful during the sunset.
You might just spot a monk on the way up
Monks are a very important aspect of Luang Prabang life and are very dearly respected around town.
One way to get a glance into the life of a monk is by attending the traditional Alms service at 5am in the morning, where locals donate food to the monks.
If you are not a morning person, another way to get a insight into monk life is by hiking Phousi Mountain as they can often be seen traveling up & down the mountain to visit the temple at the top.
You can see a small temple at the top of Mount Phousi
In addition to the amazing view, there is a small temple at the top of Mount Phousi.
It is always great to find not only an amazing view but an awesome mini temple as well.
If you would like to visit a larger temple you should not miss Wat Xieng Thong.
Phousi Mountain is a great Instagram spot in Luang Prabang
If you like taking Instagram shots like us, Mount Phousi is definitely a top choice!
There is a rock that you can sit on to get some of the best Instagram shots in town!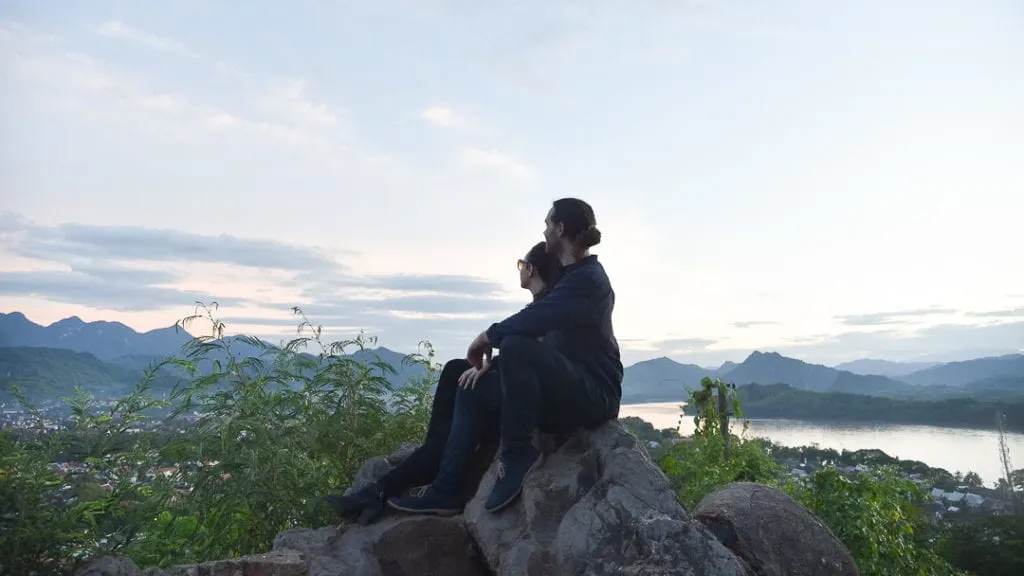 Phousi Mountain advice & entrance fee
It is only necessary to allocate around an hour or so of your day to the hike.
As of 2018, the entrance fee to hike Phousi is 20,000 Kip.
When you are finished, or before the hike as we did, why not grab a coffee at Indigo House. They also serve very yummy cakes & brownies!
Looking for a place to stay? Check out our Luang Prabang hotel.
Save this Phousi Mountain Guide to Pinterest (So you can find it again later)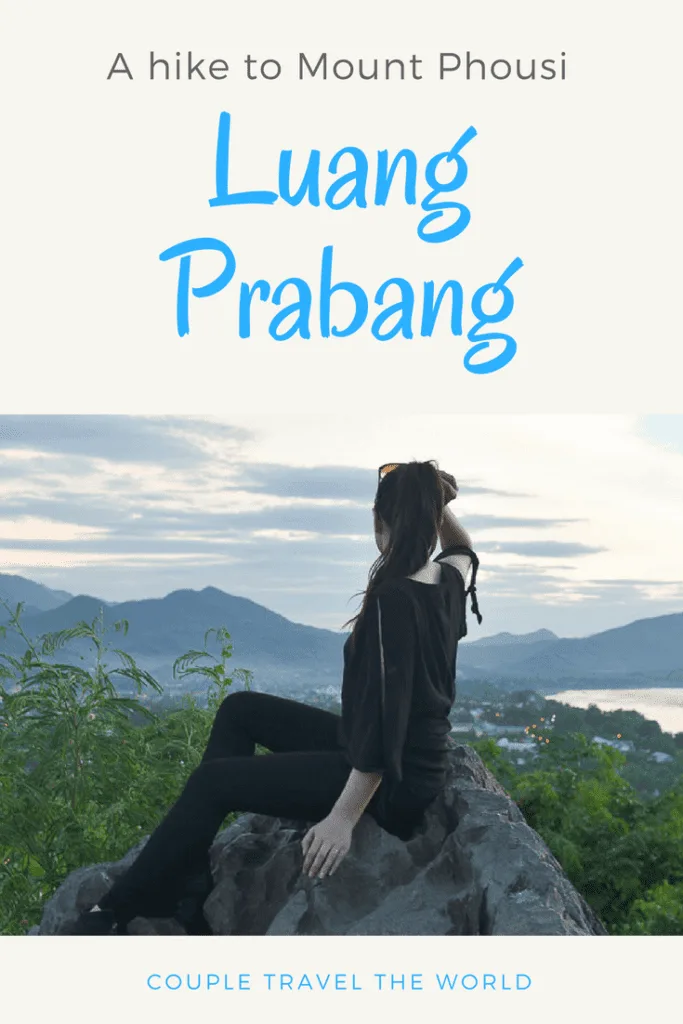 The trip to Luang Prabang was supported by Mekong Moments however, as always, all opinions are our own.