Are you planning an epic New Zealand Honeymoon itinerary?
Great idea! New Zealand is the perfect place to go on a honeymoon for a couple who loves an action packed vacation full of adventure.
If you are considering a honeymoon in NZ, we would highly recommend doing it as a 2 week road trip adventure as we had the best ever time roadtrippin' New Zealand. You really don't require a New Zealand honeymoon package as you can DIY with our simple guide and honeymoon ideas.
New Zealand Honeymoon Itinerary: South Island
I'm sure you will agree, New Zealand is a pretty romantic place for a honeymoon as there are so many romantic things to do in New Zealand for couples.
From waterfalls to Hobbits, to where to stay, here is the best places to visit in New Zealand for a honeymoon.
Christchurch
You will probably fly into Christchurch which makes it the perfect place to start your romantic vacation. Check here to search the best deal on flights during your dates.
Christchurch is a beautiful city however, sadly it has still not completely recovered from the devastation of the earthquake. You can still see the effects of the earthquake in the main church in Christchurch.
Despite this fact, we really loved Christchurch and there still is quite a bit to do and see for couples exploring the city.
We would highly recommend spending some time punting on the Avon River. If you think this sounds a lot like Cambridge, you would be right as the city is modelling on Cambridge which is pretty cool. The Botanic Gardens are also a nice place to spend a romantic afternoon in Christchurch.
We choose to spend the afternoon eating and drinking along one of Christchurch's most popular streets New Regent Street. New Regent Street has very cute instagrammable houses.
If you are an ice cream fan like us, get a scoop at Rollickin Gelato – a local hotspot for delicious New Zealand ice cream.
Where to stay in Christchurch?
We stayed at the Christchurch Novotel, a great mid range option for travelers right in the centre of the city.
There are a great range of accommodation in Christchurch in accordance with your budget. Here is our recommendations:
Budget – A great option for a budget traveler is Breakfree on Cashel
Mid Range – Aside from the Novotel, another good option is Ramada Suites
Luxury – For a stunning luxury stay in the city, you can't go past The George.
Akaroa
Definitely one of the most romantic places in New Zealand is none other than the gorgeous seasisde town of Akaroa.
This is a pretty cool spot – you can even swim with wild dolphins here if you want to make your honeymoon extra exciting. Another cool place to see in the city is Barry's Cheese Factory.
The Wharf is a nice place to eat lunch in the area as it has a beautiful view of the waterfront.
Another fun activity in Akaroa is to visit a winery. In Akaroa we visited Meniscus winery. The winery itself was beautiful and the wines delicious however, the owner was rather gruff and unfortunately hurried our tasting experience along.
He also wasn't a big fan of people using his winery as a backdrop for beautiful photos. If you would like to visit the winery it is $10 a person for tasting or free if you buy a bottle.
Finally, we would suggest a visit to Akaroa Heritage Park for stunning views of the whole region.
Where to stay in Akaroa?
Here are the best places to stay in Akaroa during tour honeymoon: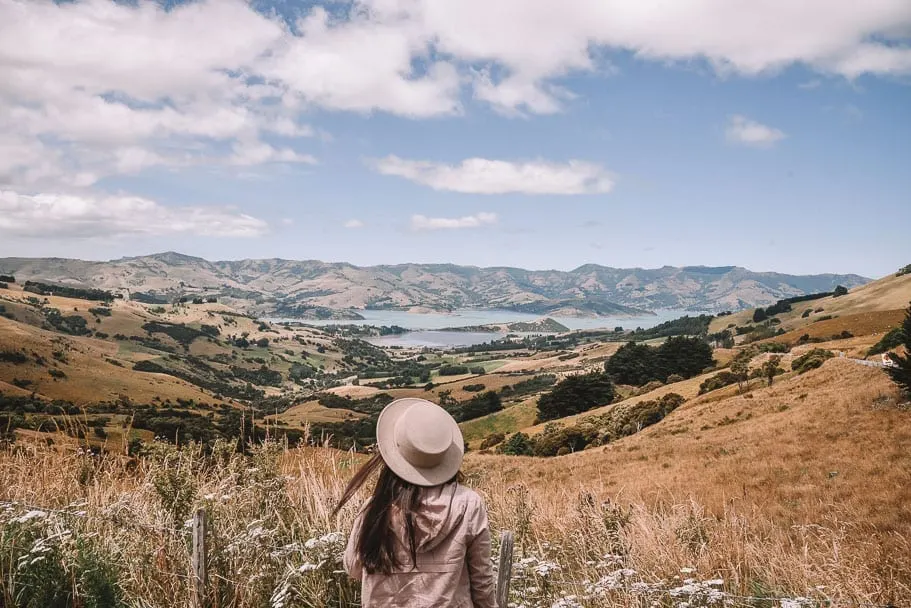 Franz Josef Glacier
If you choose to travel by car. It is a very picturesque 4.5 hour drive from Christchurch to Franz Josef Glacier. it sounds a long way but it is a really beautiful drive, passing through Arthur's Pass.
The reason we visited Franz Josef is to take a helicopter flight to visit a glacier. This was seriously such a cool experience which we would highly recommend if you ever get a chance.Seeing the deep blue glacier from the sky was one of the most scenic experiences of our life. For the best views, a morning flight is recommended.
Another cool place to visit in the area is Alex Knob to see glow worms in the tartare tunnel.
Where to stay in Franz Josef Glacier?
There is seriously no choice of where to stay in Franz Josef you simply have to stay in the Rainforest Retreat in the 2 bedroom deluxe treehouse. Our deluxe rain forest tree house included 2 amazing modern bedrooms with 2 private bathrooms, a very large plush lounge room.
The Rain Forest Retreat is home to the most popular bar in Franz Josef, the Monsoon Restaurant – this restaurant goes off every night.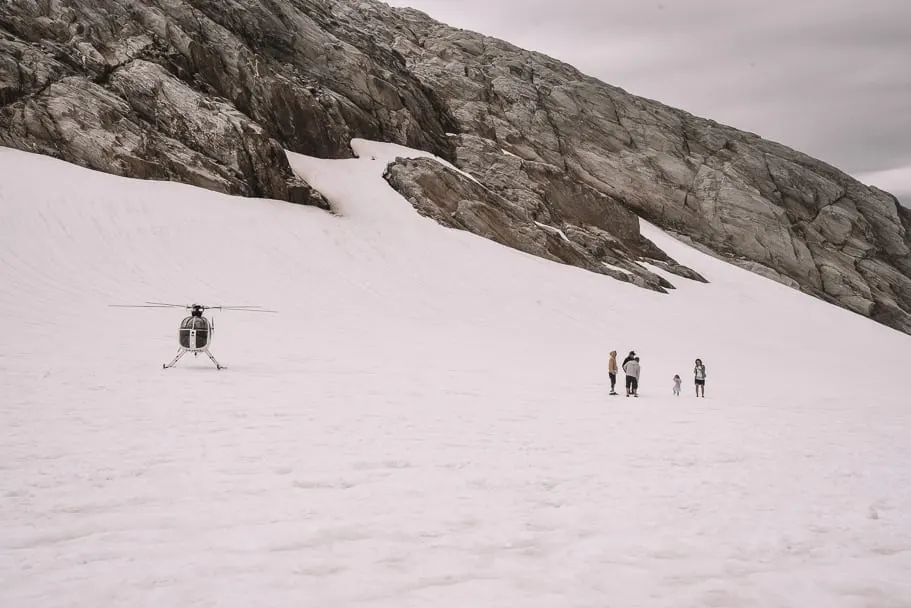 Lake Wanaka
Another beautiful place in Zealand that you should definitely visit on your honeymoon is Lake Wanaka.
If you are after a hidden gem on your honeymoon with hardly anyone around, this town probably is not it was was the most popular town we experienced in the South Island of New Zealand.
Busy towns are busy for a reason so its not to say its not worth visiting as the lake is filled with cafes, bars, restaurant and boutique shops. Some of the best cafes and restaurants in the area include Relishes Cafe and Speights.
If you are a couple who likes to keep active, we would highly recommend taking a hike to Roy's Peak, a 6 hour hike to one of the best views in New Zealand. Another great (short) hike in the area is to the Blue Pools, picturesque blue pools about an hour's drive outside Wanaka.
We also loved seeing One Tree Lake in Wanaka, a sole lone tree in the middle of Lake Wanaka.
Queenstown and Glenorchy
Probably my favourite of all the places we visited in NZ was Queenstown & Glenorchy.
Queenstown is the adventure capital of the world so if you love action-packed adventure, this is the place for you. There are so many fun activities to enjoy in Queenstown including buggy jumping and sky diving.
One of the most famous activities to try in Queenstown is the shotover boat, a speed adrenaline pumped boat ride full of twists and turns.
From Queenstown you can take an incredible drive to Glenorchy which has been dubbed one of the most picturesque drives in the world – a statement which proved very true. Glenorchy is also famous for being one of the filming locations for the Lord of the Rings.
After a day of action packed adventure, don't miss a stop at Miss Lucys, a yummy wood fire pizza restaurant.
Lake Ruataniwha, Lake Pukaki, Mt Cook & Lake Tekapo
This region of the South Island of NZ is also really pretty and a "must do" for any honeymooners who appreciate nature. The views in the area are absolutely breathtaking.
Tip – In the area, near Lake Pukaki, there is an awesome lavender farm called NZ Alpine Lavender. It costs $5 to enter per person. If you are into photography, we would highly recommend a visit. There are also many lavender products available for sale.
This area is all about the beauty of the countryside and you will find driving to Mt Cook that there are many viewpoints to stop and admire the scenery.
Lake Tekapo is famous for lupins flowers. Unfortunately they were out of season at the time we visited in early February. Despite the absence of the lupins, the area was still very picturesque!
Kaikoura
If you would like a honeymoon by the seaside, Kaikoura is the perfect place to go as it is a quiet seaside village at the northern point of the South Island, just before the ferry across to the North Island. This beautiful beachside town is simply picturesque.
This is a village for nature lovers as you can spot whales & dolphins off the coast of Kaikoura.
It is also a popular fishing holiday destination in NZ so if you are keen to go fishing on your vacation, this is a great spot. There are also many stunning walks in the area.
New Zealand Honeymoon: North Island
Most people go to the South Island for a holiday however, the North Island is just as cool and let's face it after all, it is home to Hobbiton!
If you want to do both islands you can get a ferry from one island to the other. The Interislander Ferry makes this journey a few times a day. Onboard is a mini cruise ship complete with multiple bars and restaurants to boot.
Bay of Islands
We recently visited the Bay of Islands in the North Island and would really recommend it, especially if you love nature.
There are some stunning waterfalls to visit in the Bay of Islands as well as an awesome dolphin boat tour you can take through the islands which we would highly recommend. Seeing wild dolphins was amazing.
We have made a list of the best luxury accommodation in the Bay of Islands including the awesome place we stayed so if you are looking for great accommodation there, definitely check it out.
Wellington
Wellington has a very San Fransisco vibe to it. If you prefer a city to a country or beach honeymoon you might like to spend some time in Wellington.
There are lots of fun things to do for couples in Wellington including the Wellington Cable Car, Zealandia Sanctuary and Pinnacles Track nature walk.
Click here for accommodation in Wellington during your dates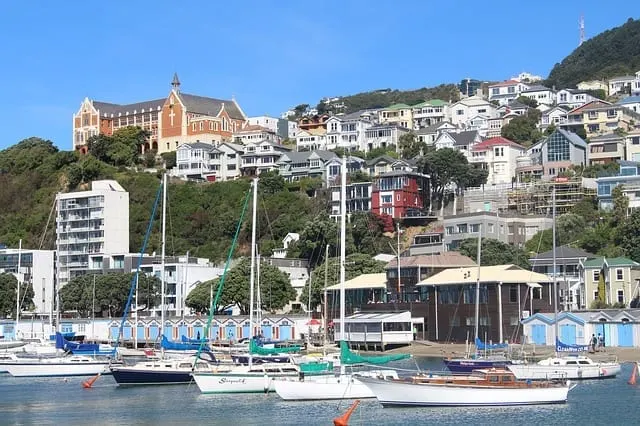 Rotorua
If you are planning a honeymoon in the North Island of New Zealand, you simply must include a visit to Rotorua.
Rotorua is the Queenstown of the North. It is a place full of things to do and adrenaline pumped activities. This area of New Zealand is very comparable to Yellowstone National Park if you have ever been there due to the hot springs and geysers.
You could seriously spend a week in Rotorua and not get bored. As a priority, we recommend visiting Wai-O-Tapu Thermal Wonderland a park of many different colourful hot pools/geysers.
We also did OGO Zorb balling & White Water Rafting in the area. If you like a bit of adrenaline, these are seriously action packed activities.
Fun Fact: Zorb was invented in Rotorua so if you are going to give zorb balling a go anywhere in the world it really should be Rotorua.
Rotorua is also home to the stunning Redwood Forest – a perfect way to relax after an adrenaline pumped day of activities.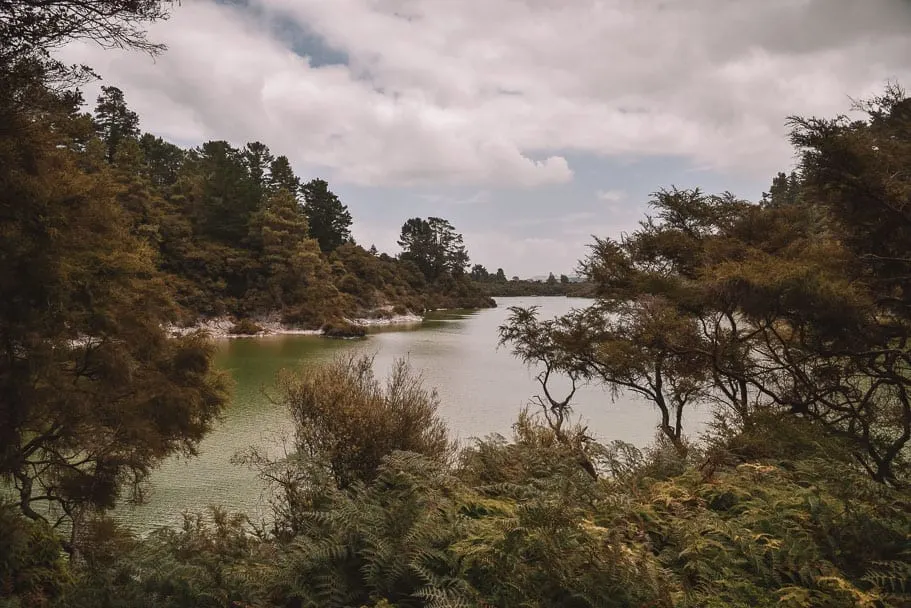 Matamata/Hobbiton
One simply cannot visit the North Island of New Zealand without making a stop at Hobbiton which is located in Matamata. If you are visiting the North Island, Hobbiton may well just be the highlight of your trip.
Hobbiton is an absolutely magical place which we would highly recommend visiting in any North Island itinerary.
The set of Hobbiton was much larger than we expected. There were many different hobbit holes.
The set was actually dismantled after filming for the Lord of the Rings wrapped up. When producers came back to ask to use the property again to film The Hobbit, the entrepreneurial farm owner agreed only on condition it was reconstructed in permanent form.
At the end of the tour, you will be treated to a cup of beer or cider in the Green Dragon bar which is a really nice touch.
There are lots of good places to eat in the area. One of our favourites was The Wooden Farmer as they have fantastic muffins and chocolate brownies to enjoy. The Redoubt Bar and Eatery is also a nice choice.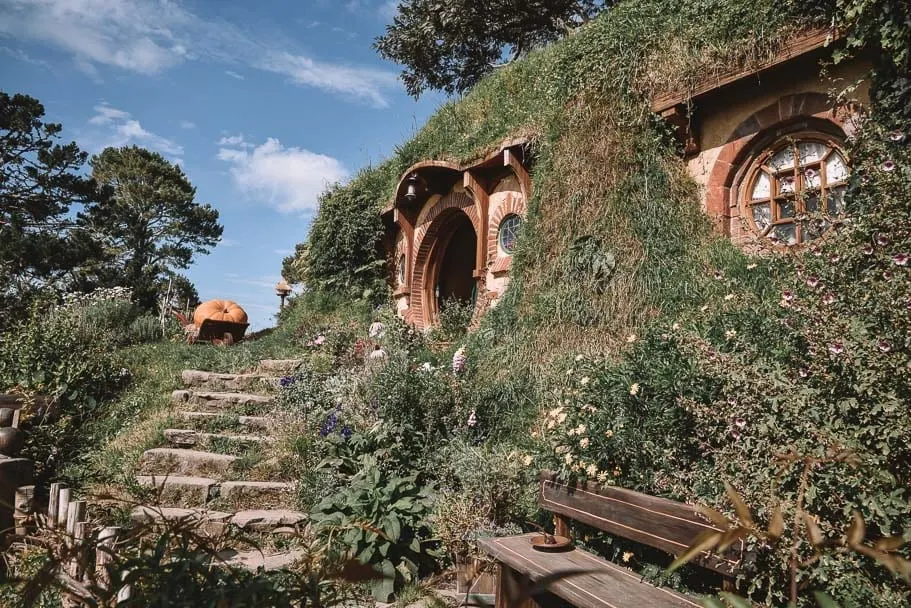 Auckland
From Matamata or Hobbiton it is only a 2 hour drive back to Auckland. Many people choose to start their trip in Auckland so you might like to do it the other way around.
Like any big city, there are many things to do in Auckland to occupy your time. One cool thing to see in Auckland is a kiwi bird at the Auckland Zoo.
Another cool adventure to have from Auckland which is really nice for honeymooners is a helicopter flight over Waiheke Island to stop at a local winery Tantalus. It is possible to do a wine tasting or eat lunch there. You can also visit the island using the the Fullers Ferry service – a quick and easy option to return from Waiheke Island. You can get a taxi or a local bus around the island of Waiheke.
***
So that's it folks, the best things to do on a New Zealand honeymoon. This truly is an epic place in the world to spend a special honeymoon, anniversary or event so we are sure you will not regret your decision!