Looking for a Norwegian Getaway review? You have come to the right place!
We took a Western Caribbean Cruise on the Norwegian Getaway to Roatan Bay, Honduras, Belize City, Belize, Costa Maya, Mexico & Cozumel, Mexico. The itinerary of the Norwegian Getaway constantly changes which we really love about this cruise line so it is likely you will not be going to the exact same destinations as us.
Built in 2013 at a cost of $840m, the Norwegian Cruise Line Getaway is one of the largest in the NCL fleet weighing 145,655 Tons and has capacity for 3,963 passengers. There are only a few ships in the NCL fleet which are bigger than this one like the Epic and the Encore.
The ship is adorned with artwork by popular local artist David Le Batard 'Lebo' in a Miami theme. From the hull to dining rooms you'll see the Miami native's impressive and distinctive artwork.
Read on for more about what we loved and loathed in our Norwegian Getaway Review.
In a nutshell: We loved the food in the complimentary restaurants. There was plenty of variety and the quality was good – especially the New York strip steak.

Our room was small, which we expected. When cruising NCL we prefer to take advantage of the activities on board, of which there are plenty on the Getaway.

Ropes course, extreme slides and hot tubs – we did them all and loved it.

We would recommend a Western Caribbean cruise on Norwegian Getaway to couples but there's really something for everyone from families, to singles, to retirees.
Norwegian Getaway Rooms (Inside Stateroom)
We chose the inside guarantee stateroom. The inside rooms were a little smaller than those on other Norwegian ships (For instance, the Norwegian Pearl has larger inside staterooms).
We also felt the Norwegian Star had bigger staterooms too. The Getaway is newer than both those ships and has newer, updated staterooms (which is great) but it seems they have made them a bit smaller – maybe to squeeze more rooms onto the ship?
The rooms didn't have any drawers for your belongings (other Norwegian ships like the Star do) so you only had the choice of placing your suitcase under the bed or hanging your ironed items in the cupboard. In saying this, it wasn't that much of a problem for us. We aren't people who really mind living out of our suitcase on vacation but if that is a problem for you, I would suggest booking a bigger room, like a balcony stateroom.
There are 14 decks on the Getaway. People generally prefer to be higher up but we've never had a problem with any cabin aboard the Norwegian Getaway cruise ship. We should note that if you are susceptible to seasickness you want to be midship as the cruise will rock way less if your cabin is located in midship. Norwegian charges a premium if you want to guarantee a midship room due to their popularity.
We also paid $15USD per person per night (excluding taxes, $60 including taxes) so we weren't picky – we got an insanely cheap deal. You can check out the best rates on Norwegian getaway here.
If you are willing to wait and book your cruise closer to the time, you tend to get a better deal. The only issue with this strategy is that cruises can and do sell out. We have missed out on cruises we have wanted to take playing this game so be careful trying to "bottom the cruise market" as you might miss out on your vacation!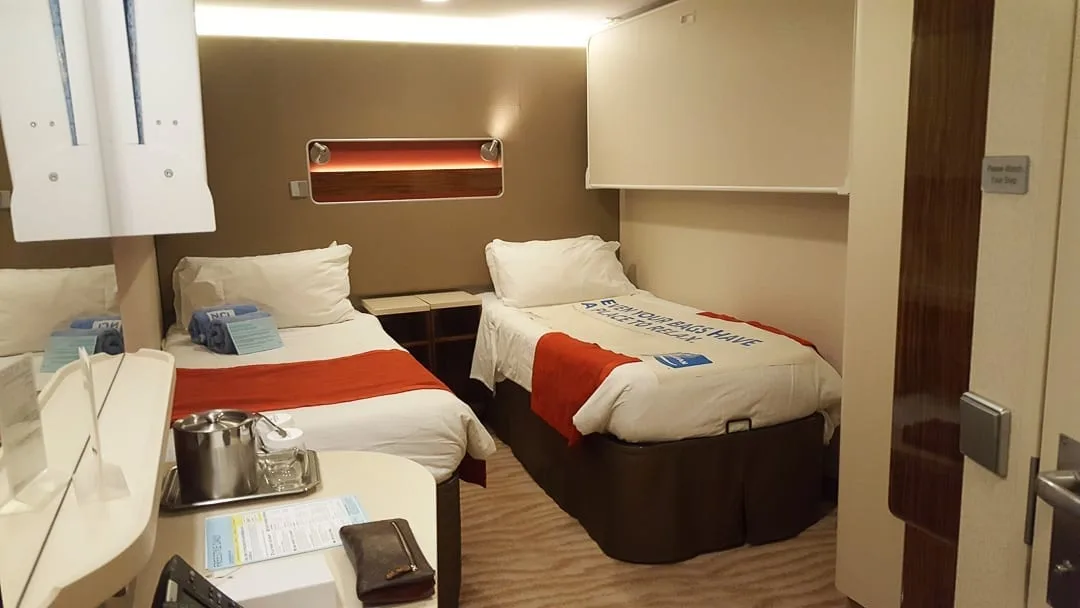 Getaway Dining
The food on the ship is fantastic. There are six restaurants on board the Norwegian Getaway in the complimentary dining category: The Tropicana room, Savor, Taste, the Garden Buffet, O'Sheehan's Pub & Shanghai's Chinese restaurant.
One thing that Norwegian cruise line consistently does well we have found is onboard dining. What we love about NCL is that they offer "Freestyle Dining" which means you don't have to book a time at the free restaurants onboard, you can just show up whenever you feel like it. Personally, I love not having to plan when I am going to eat.
The only downside to this is that if the ship is busy, they give you a buzzer and you have to wait to be buzzed to get your table.
Note: Freestyle dining isn't the same for the paid speciality restaurants onboard, where you do need to book a time due to their popularity.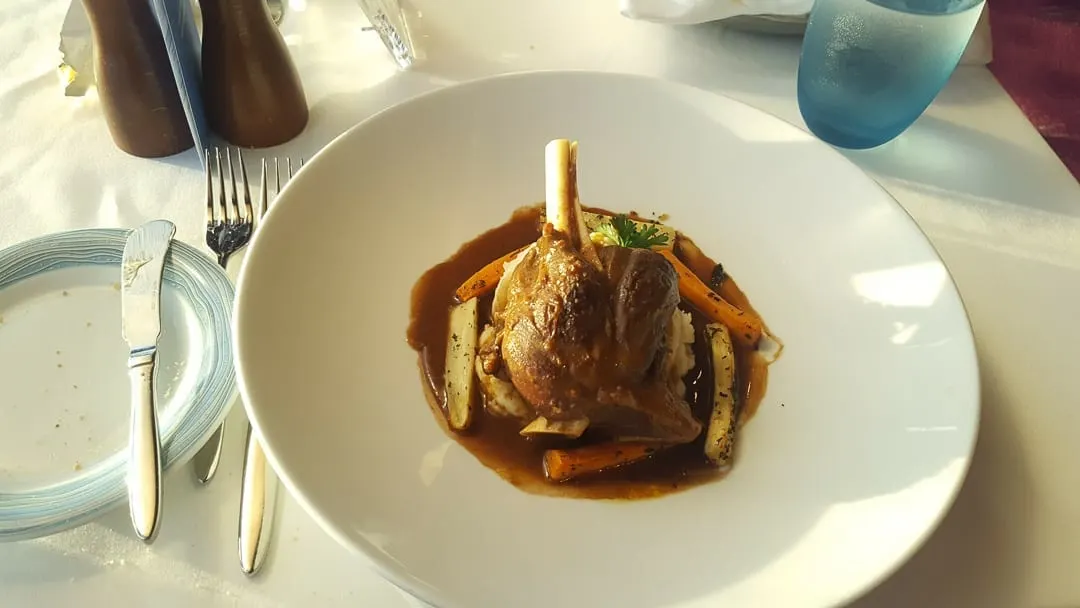 Tropicana, Savor & Taste
Like other Norwegian ships, the same menu is served in the Tropicana room, Savor & Taste ('the Main Dining halls').
The Main Dining halls offered a varying menu each night with some old faithfuls appearing on the menu every night including the New York strip steak & the chocolate lava cake.
Cons: One thing I will mention is that service is pretty poor in all the Getaway's complimentary dining restaurants – you will wait a long time to be served dinner. I have written an article – Are Norwegian cruise line good? – and although (spoiler alert) I conclude that they are good, the service overall across their fleet is a negative for Norwegian.
However, in the Tropicana room this wasn't too much of a problem if you were seated near the entertainment.
The Tropicana room offered nightly entertainment while you dine including dance performances & live music which provided great value for money as it would be very expensive to replicate a similar experience outside the cruise.
This level of entertainment at a free restaurant is not the same across all Norwegian ships (for example, the Norwegian Star did not have entertainment in any restaurants – free, speciality or otherwise) so it is a big plus for traveling on the Getaway.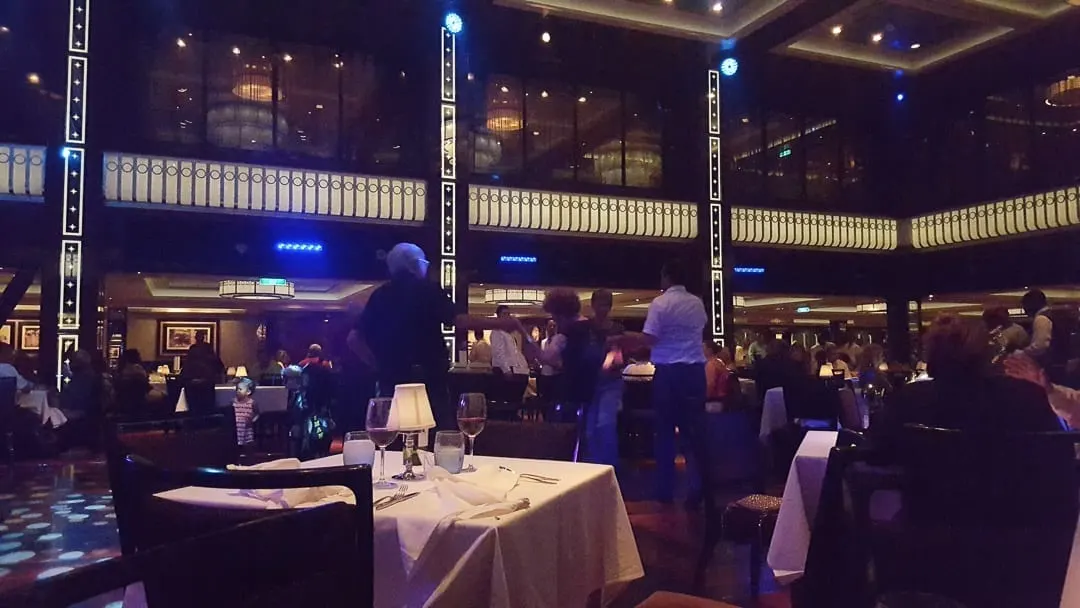 Shanghai Chinese restaurant
The Shanghai Chinese restaurant was also a particularly popular choice for dinner due to their mouth watering dumplings. The fried 'pot stickers' as the dumplings are called are by far the best item on the menu in my opinion. They are something you can order on pretty much all Norwegian ships at the Chinese restaurant and something we really look forward to eating while on Norwegian.
Food is made fresh and made to order. Just mark your selection on the order form and your order will be whipped on by the chefs.
Norwegian Getaway Tip #1: be warned there are limited seats at this restaurant.

The venue opens at 5.30pm but people are lining up to be seated there at 5.00pm sharp.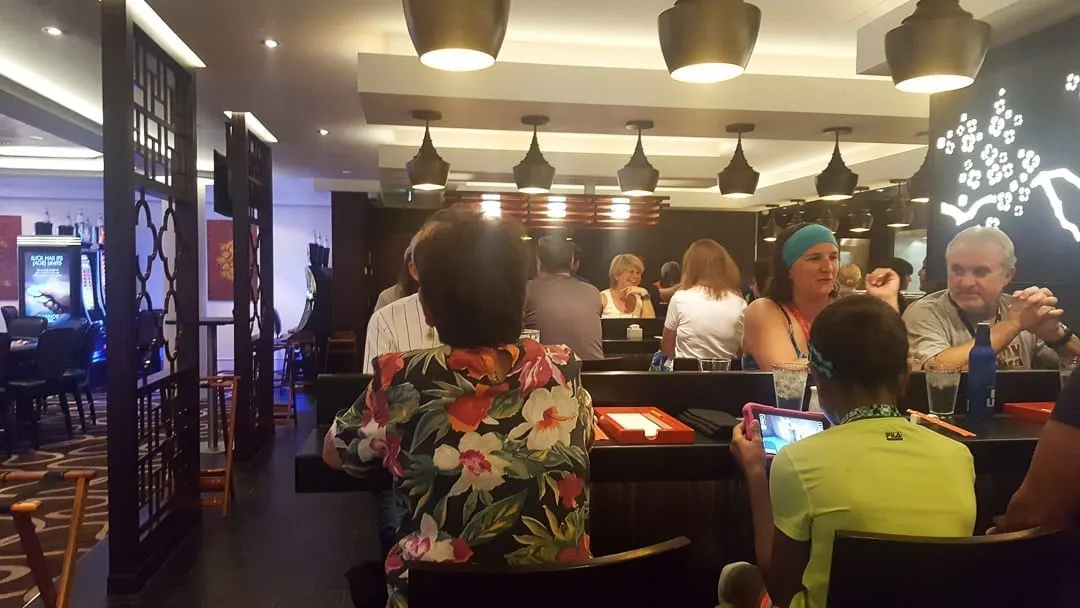 O'Sheehan's pub: 24/7
For anytime dining the cruise also has O'Sheehan's pub which serves pub style food and fantastic chicken fajitas.
Norwegian Getaway Buffet
In terms of the buffet, there was a large range of food available and it was of a pretty good standard for a cruise buffet.
This included a salad bar, ice cream bar, meats, pasta, pizza and much more.
Norwegian Getaway Tip #2: The highlight of the Norwegian Getaway buffet was most definitely the crepe bar.

I would highly recommend the Nutella & banana crepes made to order on the Norwegian Getaway!
Dining Package
A lot of people indicated that Norwegian's paid dining options were fantastic but we were quite content dining at the complimentary ventures & felt like we had enough variety without spending extra money.
However, I will say, the decor of the specialty dining restaurants looked fantastic!
Sometimes Norwegian offers a free upgraded dining package so look out for that package if you are a foodie!
Bars & Lounges
On the Getaway you'll find 20 unique bars, lounges and areas to buy a drink. If you are considering whether you should purchase a NCL Beverage package to enjoy your favorite alcoholic treat at one of these bars, we wrote a guide comparing all NCL's beverage packages on offer that you might like to check out.
On days at sea the most popular by far are the pool-side bars on board.
Norwegian Getaway Shows
The entertainment on the Norwegian Getaway was top notch. From their fantastic Broadway shows to their hilarious comedy shows to the outrageously entertaining signature Norwegian competitions, the entertainment on the Norwegian Getaway really could not be faulted.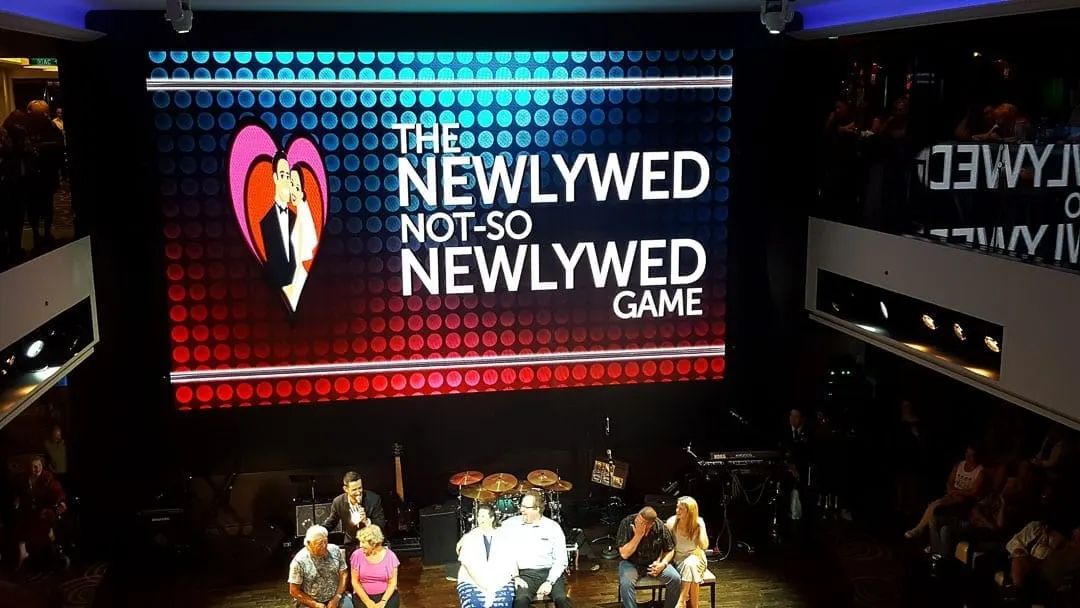 The broadway production on the Norwegian Getaway, Million Dollar Quartet, a musical which is inspired by the recording session that brought together Elvis Presley, Johnny Cash, Jerry Lee Lewis and Carl Perkins was of a very high quality and were very impressed!
If alternatively, you are more of a fan of dance, the Getaway also has this dance performance called Burn the Floor.
While we didn't go to a performance of Burn the Floor we did watch them perform a mini show while we ate dinner one night at The Tropicana Room and that was very good.
I'm not a huge fan of dance performances usually but I was a little disappointed we didn't take the time to see them perform after watching the mini-show at dinner.
The Norwegian Getaway cruise ship also offered some paid shows including Wine Lovers the musical & the Illusionarium Magic Show.
We didn't elect to go to either of these shows but if you are interested they cost around $30 a ticket.
Getaway Ship Show Tip #3: Most of the shows on the Getaway need to be booked in advance.

Tickets were limited to around 300 tickets (out of a ship holding 4000 passengers) so book in early on one of the big touch screens around the ship or on your Stateroom tv to avoid missing out!
We also particularly enjoyed the signature Norwegian competitions on the Getaway including the 'Mr Sexy Legs' competition where guys compete to be awarded with the sexiest legs on the ship.
We also loved the Celebrity dance off where passengers signed up with a team member of the Getaway to see who has the worst/funniest dance moves on the ship.
This is a great cruise for young adults so if you are in your 20s/30s and thinking to book this cruise we would say, go for it!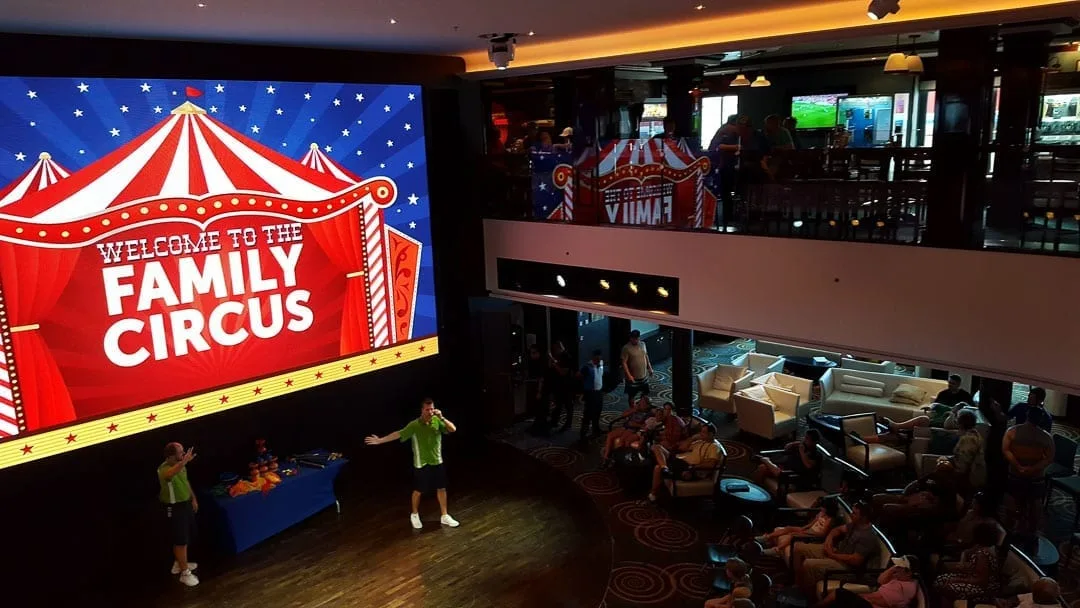 What's On the Norwegian Getaway
Aside from the restaurants, shows and casinos, there's tonnes more activities on the ship to keep everyone from families to couples entertained. Here's the run down.
Norwegian Getaway Tip #4: If you want to avoid the queues for all the activities, wait until dinner time.

The most popular time for the water slides, pools and ropes course is just as the ship is leaving port for the day.
Pools & Slides
The Norwegian Getaway has an an aqua park featuring five multi-story water slides, two swimming pools (one for adults only), and four hot tubs.
Our favourites were the two high adrenaline theme park style free fall slides.
We found the cruise decks and the recreational areas to be of an extremely high standard on the Norwegian Getaway.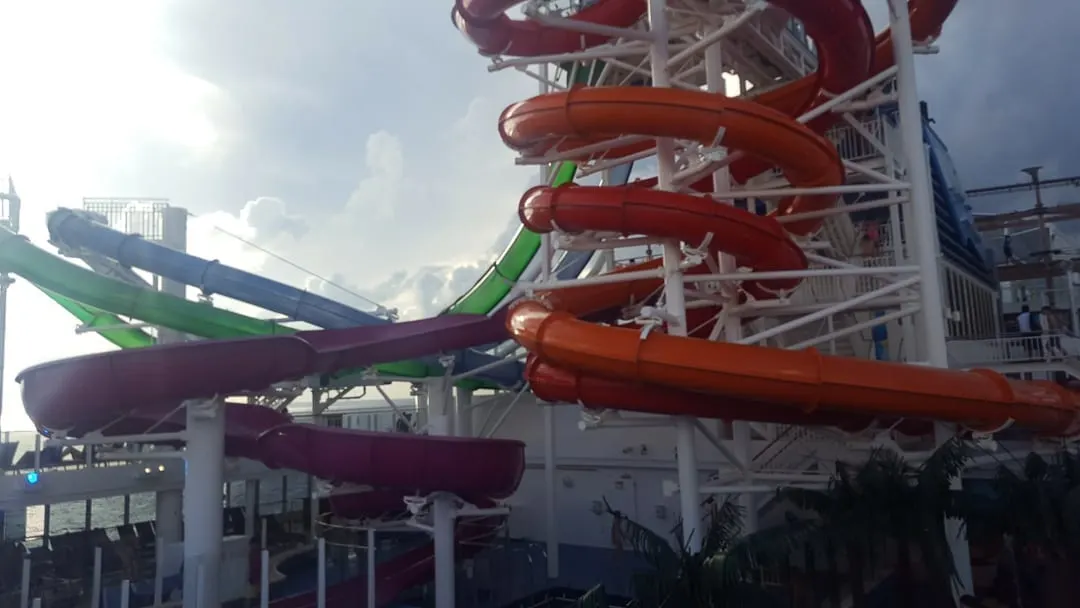 Ropes Course
The Norwegian Getaway ropes course is made all the more exciting by the fact you're traversing the course 16 stories above sea level.
Even if you aren't put off by heights, the course was sufficiently entertaining for these 2 sober 20somethings.
The ropes course – the largest currently at sea – was clearly a winner for families, kids and teens too.
More Activities
There's plenty to do on board including a rock climbing wall, mini golf and basketball.
All the recreational areas on the cruise were complimentary including the large fitness centre.
Western Caribbean Itinerary
We though the itinerary on the Norwegian Getaway was pretty good. We actually really enjoy the days at sea because it's an opportunity to enjoy all the activities on board.
This was our Western Caribbean itinerary and what we did at each port:
Miami, FL – hit the buffet, eat way too much, and book shows for the week
At Sea – time to explore this behemoth. Restaurant hop, check out the Mr Sexy Legs competition and take on the slides
Roatan, Bay Islands, Honduras – Visit the incredible West Bay Beach. Forget paying over $100 to get there on a tour. We're doing this DIY on local transport to get a better feel of island life (at a fraction of the price).
Belize City, Belize – A tubing tour is the way to go here. Otherwise, you can do your own walking tour of the city and take in all the best sights
Costa Maya, Mexico – Nothing to do here but enjoy the beautiful Mahahual Beach and drink cheap Coronas all day. Nothing wrong with that!
Cozumel, Mexico – We've stayed on Cozumel before so we knew what we wanted to do there. Snorkel and drink a tower of cheap ice cold beer!
At Sea – Time to tick off any restaurants we haven't eaten at yet, watch some shows and relax
Miami, FL – Home! We loved it so much we booked an Eastern Caribbean cruise on the Norwegian Escape departing the next week!
Norwegian Getaway Tip #5: Save hundreds (and getting a better feeling for local life) by doing a DIY shore excursion.

We show you exactly how, step by step in photos, in our NCL Getaway Western Caribbean DIY shore excursions guide.
More Norwegian Getaway Pictures
Book the Norwegian Getaway from as little as $15 per night
If you are flexible with dates, you can search Cruisedirect by month for all sailings. Here is a direct link to the Norwegian Getaway on cruisedirect.
Norwegian Getaway Tip #6: As we booked in September / October – just after school holidays finished – we got an awesome rate of $15 per person per night excluding tax.
Even with tax, our total of $60 per night is incredible value.
We booked our cruise through Cruisedirect and we recommend you do the same because they consistently have the best deals.
Another good option to check out for great cruise deals is expedia which we find offers from great prices. Click here for the Norwegian getaway on expedia.
What we like is that the site is quite user friendly and you can search cruises by price.
7 Night Caribbean Cruises from $469 on Norwegian, only at Cruisedirect.com. FREE Open Bar & Shore Excursions, Plus Up to $500 to Spend On Board!
***
See more:
Best Couples Cruise to the Bahamas
If you liked our Norwegian Getaway Review please share it on Pinterest!