From the moment we stepped foot in the Novotel Phuket Resort Karon Beach, we felt the fun, energetic vibe of the place.
It it is definitely one of the best accommodation options in Phuket for families & couples alike.
Did you know there are several Phuket Novotel Resorts?

You might want to consider trying Novotel Surin Beach too. We stayed at both in one unforgettable week.
Novotel Karon Beach Review
We were lucky enough to stay at the amazing Novotel Phuket in Karon Beach which exceeded our expectations on all fronts.
The hotel is very family friendly (we were greeted by a large mascot Novotel animal) however, we also found it perfect for couples looking for rest & relaxation in luxurious accommodation in Karon Beach.
When we arrived we were greeted with a big smile by the friendly staff who provided us with a cool refreshing welcome drink.
Superior Plunge Room
We stayed in a superior plunge room, the best option for a couple in Novotel Phuket Karon.
As one would image with a plunge room, as we entered the room, we were greeted with the WOW factor – something you really hope to achieve when on a romantic getaway with your significant other.
The superior rooms at Novotel are very spacious (28 sqm) with an additional lounge room, a private balcony with a comfy outdoor lounge chair and of course how can we forget – the private plunge pool!
The decor of the bedroom was very inviting – the furniture was fresh & new. We are also big fans of towel animals and appreciate the little extra touches such as this when entering the room.
We loved that the room had not one but 2 large flat screen tvs with many channels to choose from to indulge in your favourite tv shows.
One of our favourite aspects of the room was the spaciousness. The room included a separate living area which we loved. There is nothing worse than coming on a holiday to discover a small, stuffy hotel room.
The rooms at the Novotel were large, comfortable, modern & spacious – it felt more like an apartment than a hotel room (minus the kitchen).
Upon our arrival, we were greeted with a delicious spicy, thai appetiser & fresh fruit drinks in room.
We are always impressed when hotels go the extra mile and provide a welcome snack upon arrival as it makes you feel very special & welcomed to the hotel.
The bathroom was equally tasteful, modern & elegant featuring a his & her sink, a large bath tub & a spacious walk in rainfall shower.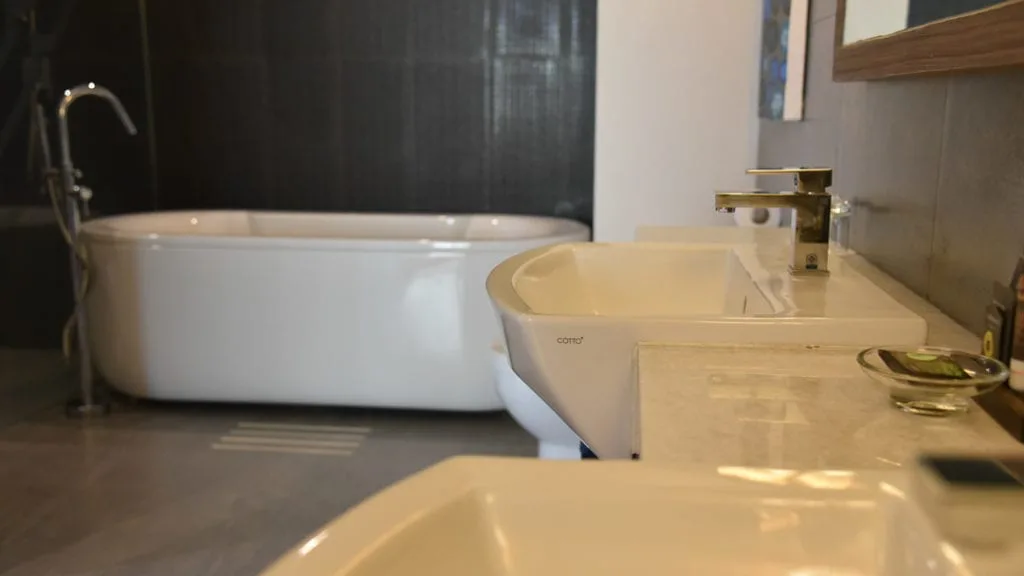 And, when you stay at a Novotel (anywhere around the world) you can always feel rest assured that you will receive quality toiletries including their signature Novotel shampoo, conditioner, moisturiser (very important!).
Our favourite part of the room however, was the large, private plunge pool attached to our room!
Who doesn't love their very own private plunge pool?!
The plunge pool is perfect for couples as it is the perfect private retreat if you want some private, quiet time outside the main pools in the premises.
You can also order a ping-pong table to your private plunge pool – a very cool touch!
Along with daily cleaning, the Novotel offers a nightly turn down service.
It always feels extra special to have your bed turned down at night. In addition, we were pleasantly pleased to find a fruit basket waiting for us in the evening! Woohoo!
The Pools & Premises
In addition to the amazing rooms, the Novotel Karon also has including resort faciilties including not one, not two but THREE pools.
Yes, it is a very large complex (we were delivered to our room on a buggy) so there is no shortage of things to do in the resort.
If you are looking for a holiday with an amazing resort that you could lounge around in all day and not get bored – this certainly ticks all the boxes.
The first pool pool, the main pool, is where the action happens – this includes a swim up bar & water sports including a water polo net.
At the main pool, the hotel even organises a Zorb ball for kids (so they can try their kind at running on water!)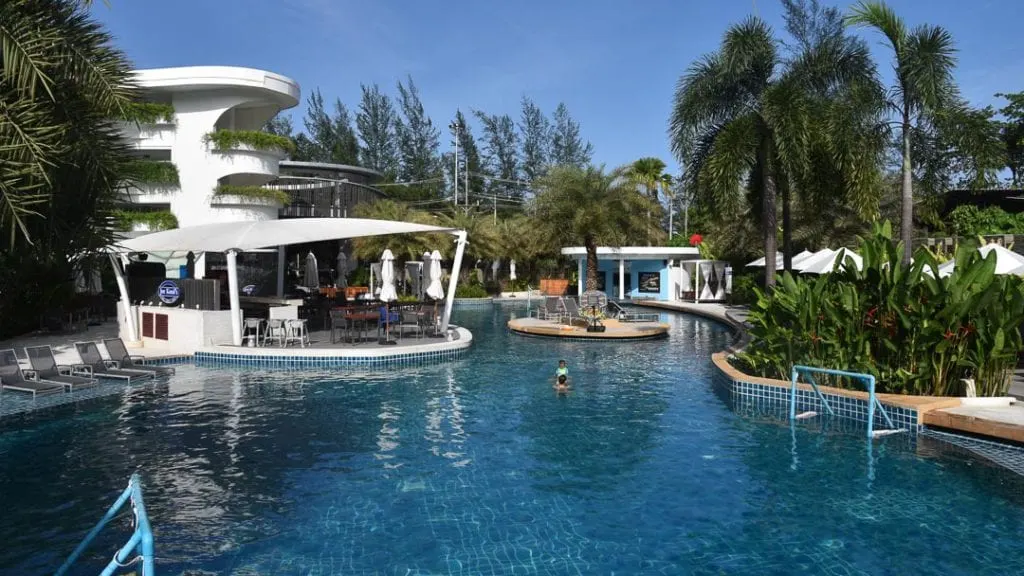 The hotel also features a second pool with a water slide that kids staying at the hotel throughly loved.
If you are traveling with a family, the Novotel is a perfect place to take the kids as they are entertained all day with pools, water slides & water sports!
And because two just never is enough – the hotel also features a third pool (designed to be a tropical oasis).
This pool is ideal for couples like us who don't have children as it is less popular with children than the aforementioned pools.
The hotel also has a great gym with all the equipment necessary to get a good sweat going.
The hotel gym boasts a fabulous view of the main pool and with a view like that working out never felt better!
Dinner @ Novotel Karon
There are plenty of dining options to choose from when staying at Novotel Phuket Karon. We loved the variety of food availability including Asia & Western cuisine.
The hotel offers: poolside dining at Joe Kool's Grill, Tai Asian Restaurant (which features the fabulous Novotel Fire & Ice Dining) and the Champions Sports Bar for a more casual dining experience.
Novotel Fire & Ice experience
One of the best experiences we had at the hotel & one which we would highly recommend to others is the Novotel Fire & Ice dining.
Fire & Ice dining is a great way to add a theatrical experience to dining (much like a teppanyaki food experience).
We started our fun theatrical food journey with "Sashimi in the Mist": a premium sashimi boat floating on a dry ice haze.
The 'haze boat' was not only fresh & tasty but we loved seeing it appear amongst the mist as the staff brought it to the table.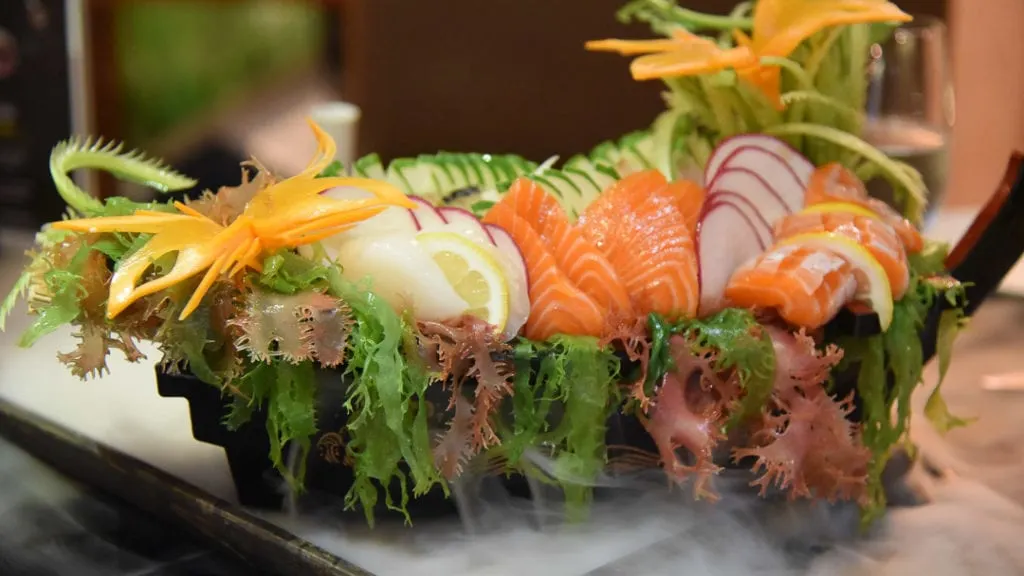 This 'ice dish' was followed up with an absolutely delicious flaming cocktail.
All of the cocktails served at the Novotel are extremely easy to drink with premium liquor & the just the right mixer/ alcohol balance.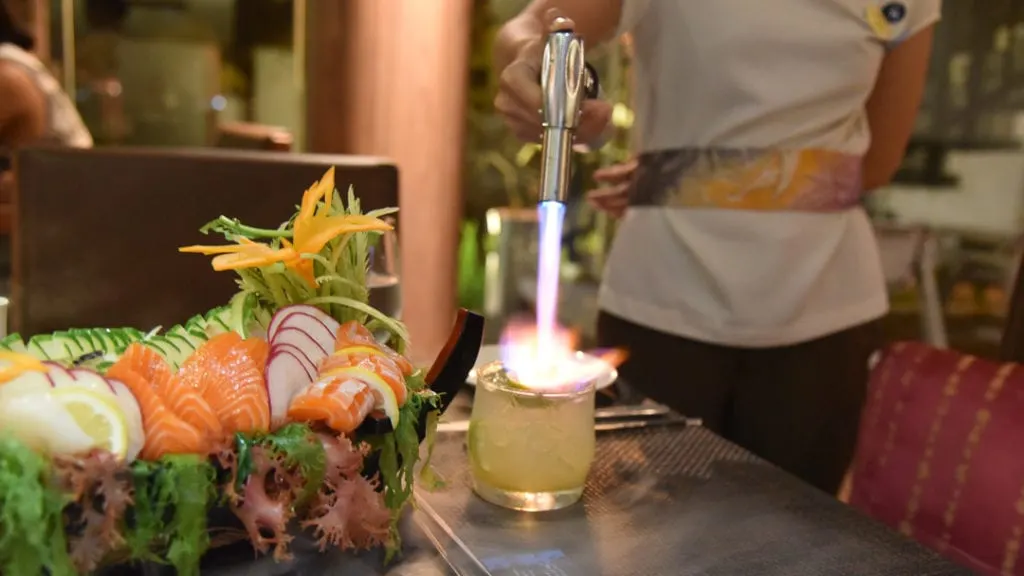 And to think the massive seafood platter was just a starter!
Next we tried the Novotel's famous Flame Burger which was not only a theatrical treat but piled with yummy & fresh ingredients including ciabatta, rocket, onion jam & truffle mayo & sided with french fries, a personal favourite.
I mean, how fabulous does this flamin' burger look?!
Ever seen a flaming cocktail in bowl before? No, neither had we before dining at the Novotel.
This cocktail was not only a visual masterpiece but so easy & smooth to drink.
We are a firm believer that one cannot retreat for the evening without desert.
For this reason, we indulged in the charcoal chill ice cream – yummo!
The charcoal chilli ice cream flavour was very interesting (a thick chocolatey flavour with a kick) and included a delicious macaron candied orange & ginger and a super cute chocolate pickaxe.
And of course no desert would be complete without the smoking Milky Way cocktail.
This cocktail is the perfect smoky combination of vodka, kahlua, caramel & milk, served in a lightbulb glass.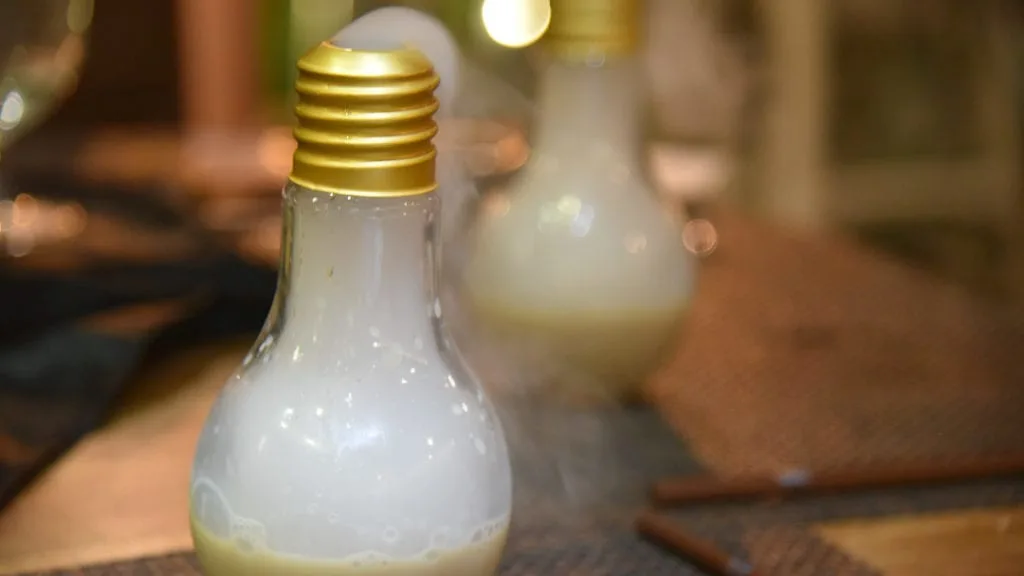 Breakfast @ Novotel Karon Beach
The breakfast at the Novotel is full & plentiful including a wide range of favorite Asian and international food options.
Breakfast items at the Novotel include:
Continental breakfast items include pastries, bread, brioche, muffins, yoghurts, cereals, fruits, salad, cheese, pancakes, crepes;
Asian dishes include sushis, congee, stir fried noodles, fried rice;
Eggs live cooking station – have your eggs the way you like time;
Western Hot section including gourmet sausage selections, cook ham, crispy bacon, potato hash
In Balance Spa Treatments
The spa at the Novotel was a very relaxing experience which we would highly recommend to others staying at the hotel (we tried the oil massage)
The spa really lets you kick back from the real world for a while for a completely relaxing and rejuvenating experience.
In Balance Spa is located on the Ground Floor, near Champions' Bar.
We had such a fabulous experience, we would love to return to stay again at the Novotel Phuket Karon.
We would recommend this hotel to couples and families for a fully equipped and luxury stay in the heart of Karon Beach.
Book Novotel Karon Beach | Get $25US OFF
Use our special Booking.com discount code to get $25 off your booking.
If our review helped you, please let us know in the comments below.
Save this to Pinterest (So you can find it again later)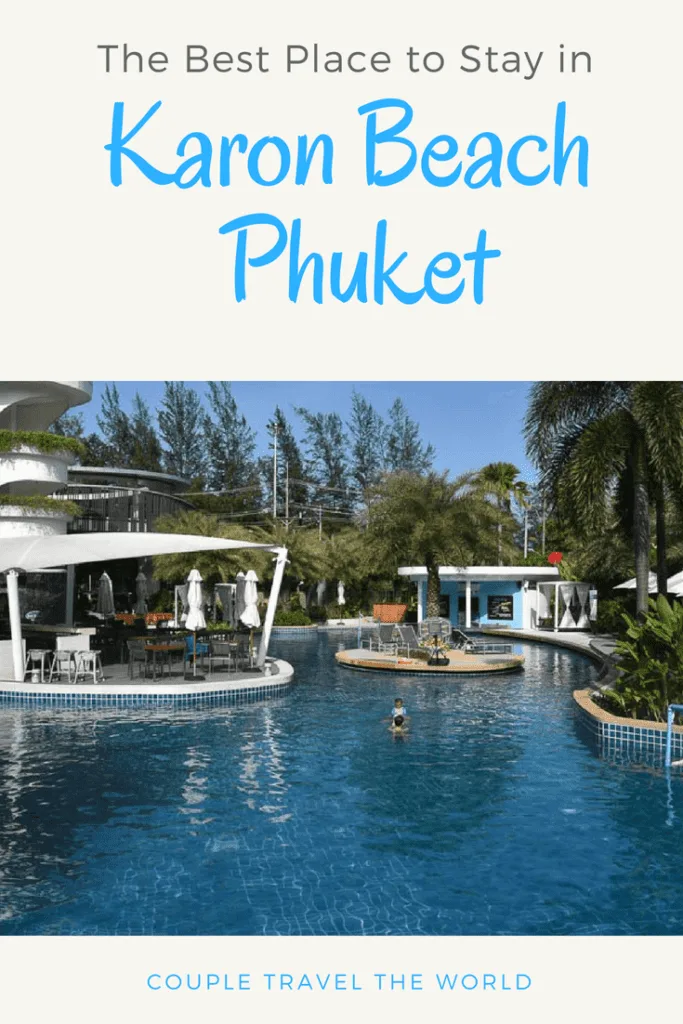 We were guests of the Novotel. However, as always, all opinions are our own.