Pailon del Diablo (Devil's Cauldron) is a legendary waterfall in Banos, Ecuador. The falls are the top rated attraction in Banos and for good reason.
This guide doesn't just cover how to get there by bus, car, hike, bike, tour and taxi. It's packed full of information about the Devil's Cauldron including which entrance you should take to get the best view of the falls (there are two paths).
Read on to learn all about El Pailon del Diablo Waterfall.
The Devil's Cauldron Waterfall
The Devil's Cauldron is just one of many waterfalls along the ingeniously named Waterfalls Route (to English ears it sounds more dramatic in Spanish: Ruta de Las Cascadas).
But there is no disputing it is by far the most spectacular, dramatic waterfall near Baños.
Altitude: The falls are 1,410 metres (4,626 feet) above sea level.
Height: Pailon del Diablo is a massive 80 metres tall and a mightily impressive sight when this powerful waterfall is in full flow, which is often because it rains all the time in this region of Ecuador.
History: The legend goes the Virgin Mary was discovered hanging out by the falls and she now protects locals from volcanic activity. This is an impressive spot given that Christianity was not introduced to South America until the 1400s. Clearly the Incas knew there was something about Mary.
Food / Restaurant: There is a small restaurant at the bottom of the falls you can use to recharge. The restaurant is really cosy with a fireplace to dry off and very reasonably priced beers. A bathroom is available here too. There are also several little restaurants in Rio Verde village.
Flowers: Along the trail you will find all kinds of beautiful flowers including orchids and hydrangeas.
Entry fee: It costs $2 for the ticket to enter Pailon del Diablo Ecuador. Tickets are purchased from the ticket booth on your way in (don't worry you won't miss it). No need to buy tickets in advance.
Souvenirs: There are several souvenir stalls along the way. We recommend buying any souvenirs on the way back so you don't have to carry your shopping the whole trek.
Stairs: Yep, there's a lot of them. But there is a second entrance where you don't have to take the stairs at all.
Which Canyon Steps to take?
There are two ways to visit the falls: the original route down steps to reach underneath the falls and a newer, shorter route to a long suspension bridge with panoramic views of the entire falls.
We explain how to get reach each entrance, what to expect on each hike and then discuss which is the better option.
Pailon del Diablo Waterfall Steps – Bottom Up View (the Original Entrance)
You will find the entrance in the small village of Rio Verde. From there you can follow the well signed path to reach the falls.
How many steps to Devil's Cauldron?
The trail to to the bottom up view of Pailon del Diablo is down a staircase which is a relatively easy walk, though do take care on the slippery and often muddy steps.
The hike from the falls is back up steps, which is when you will appreciate how steep they are and how far you walked on your way in.
Expect to get a little wet from the falls and precipitation in the thick rain forest. If it also happens to be raining, expect to get muddy (maybe wear or bring a pair of old shoes with good grip).
After about 30 minutes you will reach the ticket office / restaurant where you can buy tickets for $2.
From the restaurant there are more options: up more stairs to get a first row experience of the deafening roar of the waterfall, or across a suspension bridge with spectacular views from further afar. It's possible to do both and we cover how to do it.
How to get Underneath the Waterfall
From the ticket office hike up to the top of the falls using a staircase impossibly carved from the rock where you will reach a rocky impasse.
To reach the highest point of the trail and get a closer look of the falls you will need to crawl through a cave-like space around 10 metres (40 ft) in length carved from the rock.
This point is known La Grieta del Cielo which roughly translates to the crack of the sky.
If you suffer from claustrophobia this probably won't be for you.
[box type="warning"] Full disclosure – you will definitely get wet crawling through here, though a raincoat or poncho might provide some protection.
If you have bad knees this might be uncomfortable. We recommend bringing a towel to provide some relief to help you make it through if you have bad knees.
Check out our packing checklist below for more tips to make sure you make the most of your trip.[/box]
The reward for crawling through the cave is a small viewing platform where you can walk behind the side of the falls and marvel up close at the power of the falls.
Some people find the hike back up the staircase to the entrance is challenging (remember you are still at high altitude).
Take your time and rest along the way and you will be fine. But before you walk up …
Suspension Bridge Viewpoint
After feeling the power of the falls up close, head down the path to a suspension bridge with spectacular views up to Devil's Cauldron.
If you are really afraid of heights, this will be a challenge but the bridge is perfectly safe.
If you don't want to get too wet then skip the Grieta del Cielo viewing point and head straight to this bridge instead.
The views from this bridge are magnificent, but the views from the bridge accessed from the new entrance are arguably even better.
Natural Path – Top Down View (New Entrance)
If you want to avoid the steps or don't want to get really wet, there is a newer path which offers great views of the falls and iconic staircase from above.
The walk is also much shorter and less strenuous. You can reach a view point of the falls from a suspension bridge in only 10 minutes.
Before you even reach the falls your path will take you across a couple of suspension bridges over deep gorges with views of the cascades.
This route also offers arguably better photo opportunities so it would be better for photographers.
From the long suspension bridge you can capture panoramic photographs of the entire waterfall.
You fill find the entrance to this route near the soccer field in Rio Verde. Find the soccer field and the rest is simple as there is a well signed path.
Which Entrance is Better?
The new entrance is better for families with young children or people who would prefer a shorter hike.
It is also the best place to go if you want to get a great bird's eye photo of the waterfall and iconic steps (check out our pins below for the view).
Personally, we prefer the adrenaline rush of getting up close and personal to the cascada.
But it's possible to visit both entrances in the same day. No matter which path you take you will be impressed.
The entrance fee is $2 for the natural path and for the original steps.
How to get to Pailon del Diablo from Banos
The waterfall is located 30 minutes drive from Baños, Ecuador near the tiny town of Rio Verde.
Here is the pinpoint Google Maps location: https://goo.gl/maps/xUyPCsvDXsz
This is an iconic stop on most South America itineraries. Most southbound routes reach the country catching the bus from Ipiales to Quito.
If you are visiting the Devil's Cauldron from Quito first make your way to Baños. The journey takes about 3 – 4 hours by car or around 6 hours by bus.
If you are driving a car, parking near the falls in Rio Verde is $1.
There is also free parking if you take the hike to the Top Down view.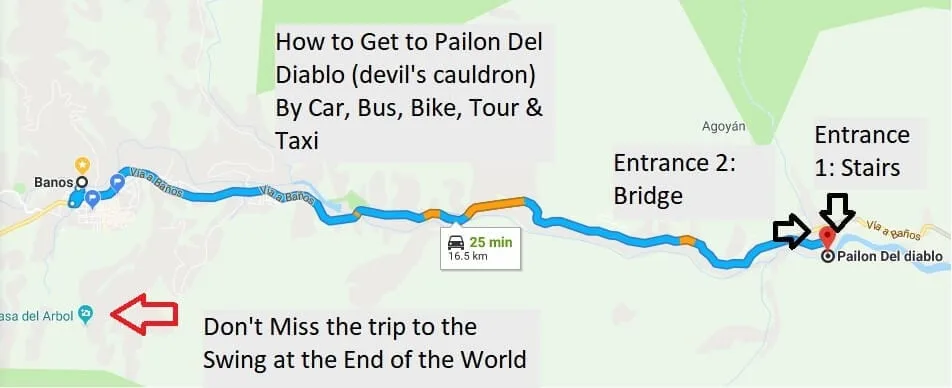 Bus
The bus to Pailon del Diablo from Banos is the easiest and most common way to reach the cascada.
The bus to Devil's Cauldron costs less than $1 and leaves regularly every 30 minutes.
If you catch the bus from Banos you will be dropped at the entrance to the trail to the bottom of the falls.
Find the bus to Pailon del Diablo on Google Maps: https://goo.gl/maps/R7L58n5ho9S2
Look out for Dulce Carbón and you will know you're at the correct bus stop.
Baños waterfalls Tours
Tours to the waterfall and back only start from around $7 USD.
There are also a host of day trips on offer if you are short of time. Ziplining + Pailon del Diablo tours are very popular.
A visit to the waterfall and Baños de Agua Santa – a tourist resort famous for effervescent natural hot springs – is another popular tour.
The Swing at the End of the World is nearby and a tour covering both attractions would easily occupy your whole day (though we show you easy it is to DIY).
Bike to Pailon del Diablo
From Banos take the Baños-Puyo road east along the cliffs of the Pastaza Valley.
This description makes the bicycle ride seem quite dramatic. The reality is the road is well-paved and safe to cycle on.
The ride is very simple, just follow the river as it snakes its way downstream.
Don't forget to enjoy the dozens of waterfalls along the way which add a sense of occasion.
The ride from Banos to Devil's Bowl is 32 km (20 miles) return.
If 16km (10 miles) is enough cycling for you, ride one way to the falls and catch a truck back from the town of Rio Verde.
Don't be embarrassed – it's extremely popular to just do the ride one way!
Ruta de Las Cascadas
If a 20 mile cycle sounds so easy you won't even break a sweat, you're in luck.
There is another popular cycling route from Baños to El Pailon del Diablo known as the Ruta de Las Cascadas.
The route is almost double the distance, a tick under 60km (40 miles), and stretches from Baños to Puyo.
Riders are rewarded with even more time to enjoy spectacular views (and more than 12 waterfalls for those keeping count)!
If this sounds exciting to you then read a first hand account about cycling the Ruta de Las Cascadas.
How to rent a bike in Banos
Renting a bike in Banos is simple. Literally every tour company will rent you a bike (there's lots) .
Bikes cost $5-6 for a day. Remember to bring some form of ID to leave as a deposit.
Hiking in Baños, Ecuador
Getting to Pailon del Diablo is very simple even if you plan to hike. Just follow Baños-Puyo road east from Banos.
Unless you plan to devote your whole day to hiking to Devil's Cauldron from Banos, you should first catch the bus to Rio Verde by following the instructions above.
There are two walking trails starting from Rio Verde. If you are walking then cross the bridge to the east of the village to get to the iconic Devil's stairs route (bottom up view).
If you are exhausted from your hike and don't feel your legs can handle monstrous staircases, then head for the soccer field and follow the well signed path.
Taxi to Devil's Cauldron
Personally, we avoid taxis as it causes us anxiety. Basically the only times we've ever been ripped off in two decades of travel is by taxi drivers.
Of course, for some people they have little other choice so we've investigated your options thoroughly so you hopefully don't get ripped off.
The regular tourist price for a taxi is around $20. Keep in mind this quote is only for around 2 hours.
The falls are half an hour drive from Banos so don't expect to pay a one way fare.
The driver will need to wait around for you (unless you've previously agreed otherwise with the driver).
Budget at least 4 hours to allow yourself time to safely navigate the stairs up and down to the falls, take a few photos and maybe grab a meal or drink from one of the cute restaurants in Rio Verde.
[box type="warning"] Common Banos Taxi Scams
A common technique is for taxi drivers to tell you that every additional 30 minutes costs $10.
Of course, this is after you are in the taxi. If you take this option don't be surprised if your driver stops at every zip line, restaurant and minor waterfall along the way[/box]
If you are absolutely stretched for time, theoretically you could visit the falls in 2 hours, but you will be pressed for time.
You will want to take the left path (top down view above) as this walk is only 10 minutes to a beautiful viewpoint.
The falls are spectacular and easily the best you will find in Ecuador, so we won't discourage you from visiting by over-estimating how long it takes to visit Diablo Falls.
What to pack to help you get ready for an unforgettable day
Pack these items and you'll be well prepared to make the most of your trip to Pailon del Diablo:
rain jacket or raincoat – whether it's rain, mist or the waterfall directly, you're going to get wet during your visit
waterproof phone case – usually vendors sell these cases around such tourist spots but we can't recall being spruiked in Banos. We did buy a waterproof phone case in desperation at Iguazu Falls in Argentina and it cost $20!!
sunscreen – it can get hot when the weather is not overcast or rainy. Pack some sunscreen and you'll be ready to enjoy the falls for much longer
insect repellent – you will hike through a tropical rain forest in South America so bring some insect repellent to avoid getting any nasty mosquito transmitted diseases
towel – not only can you use it to dry off but you can also use it to provide some relief for your knees when climbing through the crawl space at the top of the falls
waterproof camera case – even if it's not raining the sheer power of the waterfall creates constant mist anywhere near the falls. Don't miss any important Instagram photos by bringing a waterproof case
Where to Stay nearby?
Cabañas Pailon del Diablo is the closest hotel to the Devil's Falls.
If you want to visit the falls at sunrise or sunset, this accommodation is the perfect option.
If you're looking for a place which will make the trip even more memorable, Aldea Real guesthouse overlooks the mighty river which snakes through the region. Watch white water rafters from the comfort of your private jacuzzi! It's a great opportunity to visit Ecuador because there are bargains to be found.
Got questions? Let us know below & please pin this Guide to Pinterest!