We have previously visited Phi Phi Island however, we have never had the pleasure of visiting the iconic Phi Phi Viewpoint.
So, when we returned to visit Thailand again we knew it was something that we did not want to miss!
Koh Phi Phi Island Viewpoint
One of the highlights of any trip to Phi Phi Island is a trip is see the amazing view at Phi Phi Viewpoint.
Despite the name being 'Phi Phi Viewpoint' there is actually three different viewpoints you can view at the top of the hill.
The iconic photos you see of Phi Phi are also taken at no other than the Phi Phi Viewpoint.
How to get to the viewpoint?
There is two ways to reach the Phi Phi Island viewpoint: by stairs or by road.
Initially we did not know where the stairs were located and started trying to reach the viewpoint by road (DO NOT DO THIS – it is long 2 hour walk which can be done in 10 minutes by stairs).
Climb the Stairs
We found it difficult to locate the exact spot where the stairs started (and heard other travellers had the same difficulty).
We can save you this trouble!
Use Google Maps to head to 'Phi Phi Dream Hotel'. From here you will see the signs/steeps to proceed to Phi Phi viewpoint. See map below!
Once you reach the stairs, it is a tough 10-15 minute walk to the top (but believe us, the view is totally worth the hike!).
We have read that the distance to the top is just over 1km when taking the stairs.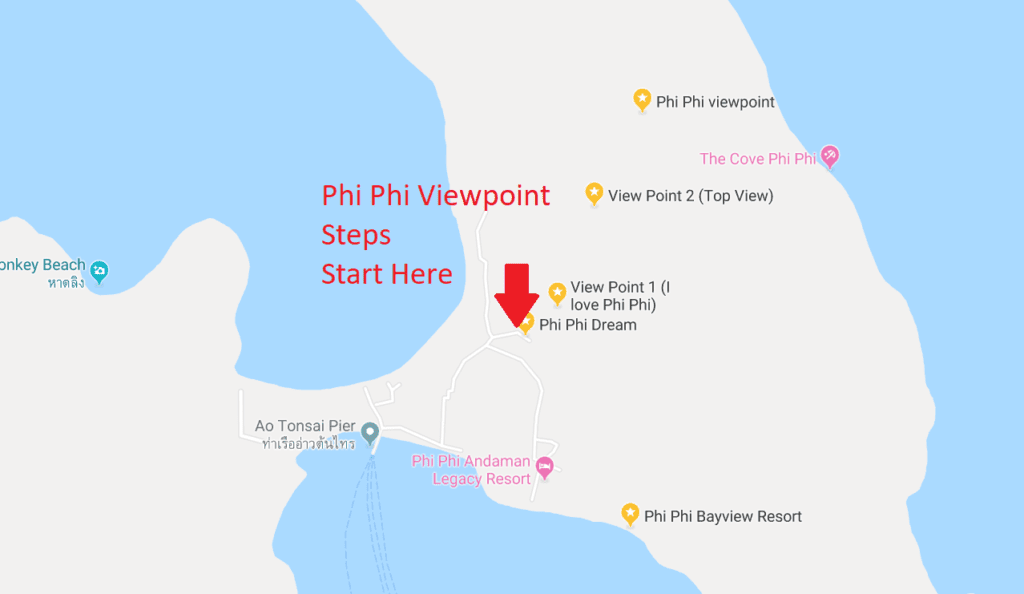 By Road
An alternative way to reach Phi Phi Viewpoint is via a long walk by road.
We started this hike (accidentally as we were unable to locate the stairs) and would not recommend it. It takes around 2 hours by road and there is little signage.
After around an hour of walking we turned back as we missed sunset and it started getting dark.
There is also little signage so it is very difficult to know if you are going the right way. We heard others also turned back unable to find their way.
The below photo is one of the few we saw on the road.
Note: If you are disabled or don't feel like a hike, it is possible to pay a motorbike to take you to Phi Phi Island by road. It will cost around 400 Baht.
Entrance Fee
As of 2018, there is a fee of 20 Baht per person to enter the viewpoint(s).
The justification of this fee is to conserve the area and keep the viewpoint beautiful and trash free.
This is probably justifyable as backpackers seem to congregate at the viewpoint and leave trash lying around.
Remember to bring cash with you or you will be denied entry otherwise!
Best time to visit: Sunrise or Sunset?
We hiked Phi Phi viewpoint by sunset and it was an absolutely magical time to visit and you see the golden sun set over the Island. However, it is also the most crowded time of day.
Midday is not ideal due to the heat. However, it is the best time for seeing the perfect blue water on the island.
We believe the best time for both beauty & to avoid crowds is early morning to catch the sunrise.
What to pack?
Phi Phi Viewpoint is a muslim zone so unfortunately you are unable to bring a beer to enjoy while watching the sunrise or sunset. Any alcohol will not be permitted on the viewpoint.
There is 2 shops at the top of the viewpoint where you are able to buy a light lunch or snack but we would recommend bringing at least water with you for the hike up.
In addition to water, make sure you apply plenty of sunscreen as it can get very hot while hiking the mountain. We would recommend wearing runners and a closed in shirt to avoid getting burnt – be sun smart kids!
If you plan to make a sunrise hike, you may wish to bring a flash light with you.
Phi Phi Viewpoint or Viewpoints?
Technically there is 3 viewpoints to enjoy. All are covered by the same entrance fee.
Make sure when you reach the top of the hike you don't miss to Phi Phi viewpoint #3 – this is the most iconic viewpoint and the one people are referring to when they are talking about Phi Phi Viewpoint.
Where to Stay on Phi Phi Island?
There are lots of places to stay on Phi Phi Island.
We stayed at Phi Phi Bayview Resort. We have actually stayed at Bayview twice while visiting Phi Phi and would highly recommend staying there.
We particularly love Bayview because it is located on one end of the Island with a great strip of untouched beach which is absolutely perfect for swimming.
Much of the island isn't able to be used for swimming due to long boats docked however, Phi Phi Bayview has a little untouched piece of paradise.
It is also very close to Long Beach – in our opinion – the best beach on Phi Phi Island.
Bayview also has the most super cute villas with a picture perfect view of the ocean and scrumptious breakfasts.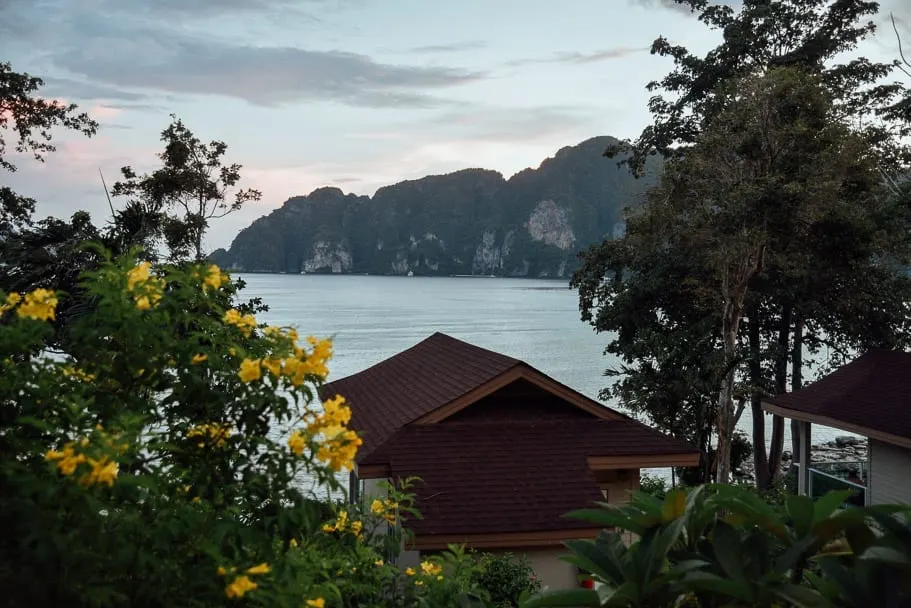 Things to Do After Admiring the View?
There are so many great things to do on Phi Phi Island. If you are only staying a few days here are the things that should not be missed:
A Day Trip to see Maya Bay (Famous for filming the movie The Beach);
Monkey Island – Where crazy wild monkeys rule the world;
Long Beach – The Most Beautiful Beach on Phi Phi Island; and
Watching Drunk Backpackers Fight at Reggae Bar.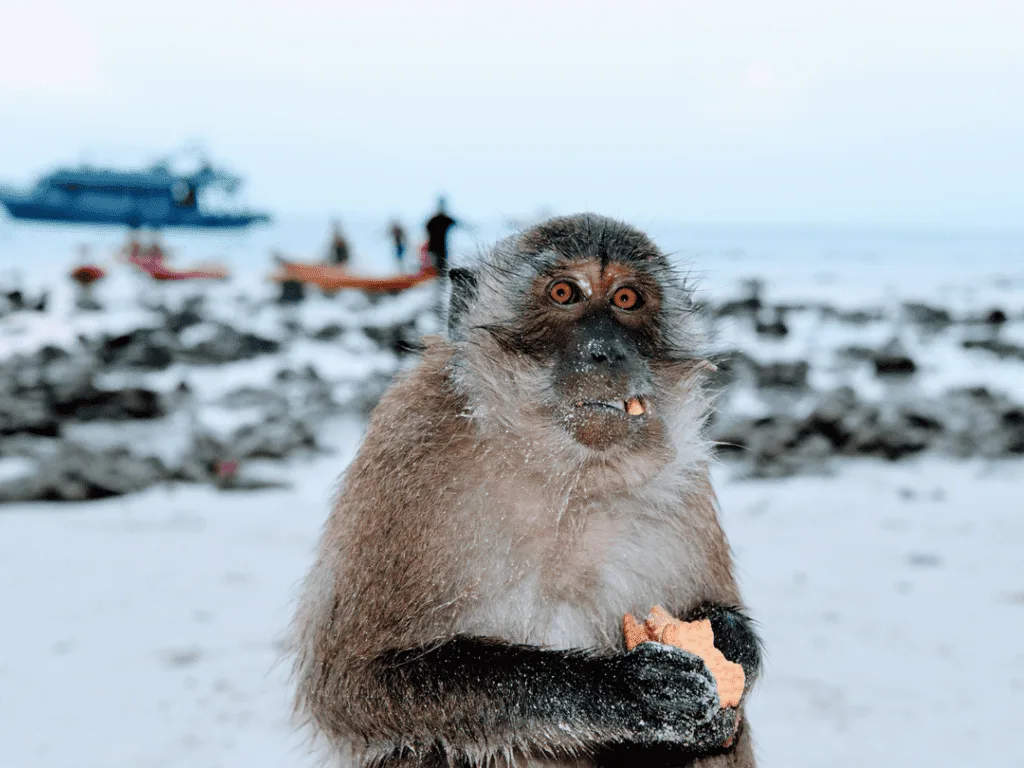 We love Phi Phi Island. While it is a backpacker's paradise (and we are not backpackers) the beauty of the place draws us back every time.
Have you been to Phi Phi Island or are planning to go? Let us know in the comments below!
Save this Phi Phi Island Guide to Pinterest (So you can find it again later)
Disclaimer – We were guests at this hotel. However, it does not in any way influence our views or opinions of the experience. Our review is 100% honest and a true reflection of our experience.