Looking for a Phidias Piraeus Hotel Review?
Here is why I would personally never recommend staying here – the staff are just so bad and unhelpful.
They have no empathy and if you ever think that you may need to change your travel plans due to COVID-19 or anything and need to cancel – think again, the hotel won't let you and will charge you for a room you never showed up for.
Phidias Piraeus Hotel Review – Why I would Never Recommend it!
It all started for us when we booked a hotel room at this hotel the next day. We booked super last minute and unfortunately slipped up and made a mistake on our dates which meant we could no longer visit this hotel.
We rang the hotel straight away and got onto the receptionist who was a little on the rude side. We told her our situation and asked if we could cancel our booking for the next day, without being charged. She said she didn't know and the hotel would get back to us.
Now, it is not like we had this hotel room booked for months and months and prevented many other bookings. We wished to cancel within mere hours of making the booking.
The receptionist never got back to us….
We ended up ringing booking.com and they said they would try to deal with the hotel for us.
While waiting for booking.com, we also rang the hotel again and again, they said they would speak to a manager and ring us back. Again, no they failed to reply to us.
Eventually, after hours of waiting, booking.com emailed us back with a rejection. They hotel wished to keep their money.
We rang the hotel again to try to explain we made a slip up on dates and again, they were very rude and dismissive.
I know it is their policy not to give refunds but do you seriously want to stay at a hotel with no empathy for guests' mistakes? What if you miss your plane or get COVID-19 – Well this hotel quite frankly doesn't give a damn…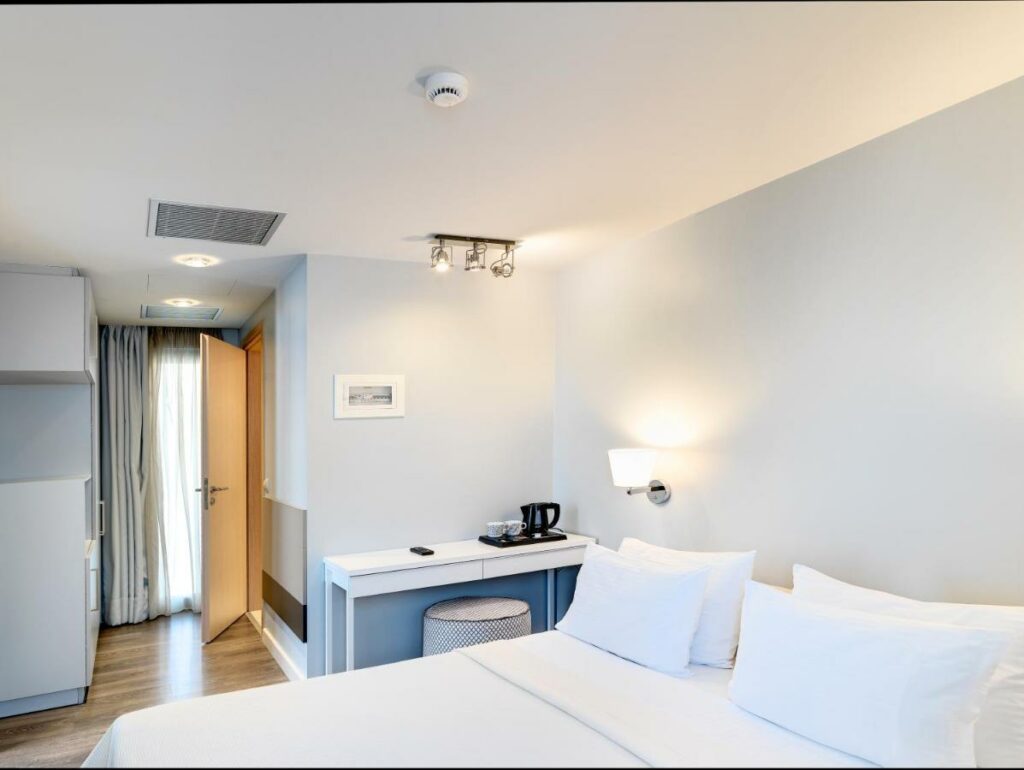 Guess what I'm not the first this has happened to..
I found a review from a Kate Wilford online and she had similar problems with this hotel….
Kate Wilford

A Hotel with no heart 😢
After the few years we have all had with Covid!!. I decided to book a family holiday back to the UK and a cruise leaving from Athens. After a lot of reading reviews I decided to book this hotel through Expedia. Yes I decided to book, late at night and unfortunately did not double check my dates and accidentally booked March instead of May. Within 5 mins of my booking I realised and contacted Expedia straight away, who tried to assist in asking the hotel to change my dates. However to my surprise the hotel were happier keeping my money and not assisting with a change. I did call the hotel on several occasions and found the front desk lady to be very abrupt.
It's sad that an Australian family have decided to support this hotel, to which you think they would be ever so grateful as times have been hard for us all. But instead I have been left with no accomodation and loss of my money.
Where has human kindness gone ?? I have travelled the world and have never experienced a hotel that would not even try and accomodate us. Apparently the hotel is full but there are rooms available though numerous hotel companies.
So I guess I cannot comment on the hotel as I have not been there but I guess from how I have been treated, you may want to think twice about booking and maybe find another hotel that has a heart.
Where I would stay in Pireaus instead?
There are a lot of good hotels in Piraeus which we found to be a lot more understanding and responsive. We personally hate hotels who have 0 reasonable cancellation policies and would not be recommending any hotels of this nature. Buyer be-aware!
A world of difference from the above hotel, this hotel is soooo much better.
Clean and comfortable rooms, a great location and dare I say it – actually nice and helpful staff.
When something goes wrong in our travels we always like to advise our readers as we don't just advise Couple Travel The World of amazing places to stay but we like to tell you about the really sh*t ones too because we don't want anyone making the same mistakes we do along the way, especially if you are making one holiday in a year and don't have time for mistakes along the way.
****
Happy travels!
****
More Greece: