Looking for a pigeon forge itinerary?
As we drive through Pigeon Forge to reach the Smoky Mountains National Park, we could not believe our eyes, a mini *dry* Vegas with lights, lights, lights everywhere. Did someone say *BLING*!
We thought it might just be a Christmas thing but no, Gatlinburg-Pigeon Forge, TN is a destination in its own right and definitely one to add to the bucket list. As we drove through the town, I couldn't help but say "WOW" and "Look at this Mike!", my eyes nearly popped out of my head as we passed by a life size Titanic and a giant King Kong hanging from a building.
Now, we have been traveling non stop for the past 4 years and it is not too often that I find my eyes popping out of my head, nose pressed against the glass of the car window as we enter a new city.
I don't want to spoil all the excitement for you but let's just say that the Pigeon Forge/Gatlinburg area is certainly worth a visit, especially if you are planning a trip to the Smoky Mountains National Park. It is the PERFECT place to base yourself for the National Park and a destination in its own right.
If you are headed to this part of Tennessee, here is the ultimate Pigeon Forge Itinerary to help plan an epic vacation to the Pigeon Forge Gatlinburg area.
Tip: Make your stay in Pigeon Forge by staying in a hotel with a hot tub. We have complied a list of the best hotels in Gatlinburg with Jacuzzi and Pigeon Forge in room for your reference 🙂
What is Pigeon Forge?
Clearly, I have been living under a rock as I knew nothing about Pigeon Forge before visiting the city, except for the fact that it is the gateway to the Smoky Mountains National Park, the whole reason for our visit.
But, it is so much more than that! And boy, am I glad we stumbled across this place.
Pigeon Forge always had a theme park in the city but it wasn't until the 1980s when Dolly Parton bought the old, run down park and transformed it into Dollywood that this town really came to life and attracted mass tourism.
Suddenly, more and more blinged up buildings and attractions starting popping up on the streets of Pigeon Forge cultivating into what it is today – a Disneyland style street of fun!
If you are a Dolly Parton fan you will need to make a trip to Dollywood while in the area but even if you aren't really a Dolly fan, there are so many more things to do in Pigeon Forge than Dollywood.
Okay, let's now talk about the dry part of the equation. Until just recently, Pigeon Forge was a dry town meaning you could not buy an alcoholic drink in the area.
Nowadays, you can buy a drink in the area but it is definitely not an alcohol or gambling driven town like Las Vegas. In virtually every other way though – the lights, the attractions, the bling, it is exactly like Vegas.
Pigeon Forge is actually one of 2 towns that people chose to stay in to visit the Smoky Mountains National Park, the other town is Gatlinburg which is also a good option to stay for visiting both Pigeon Forge and the Smoky Mountains National Park.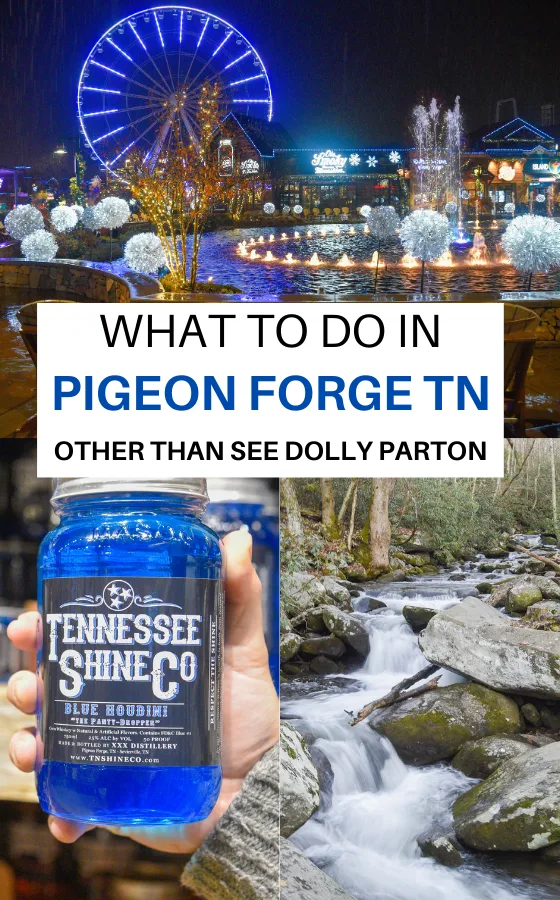 Pigeon Forge
Gatlinburg
3 Day Itinerary
If you are wondering what to do in Pigeon Forge during your trip, here is a 3 Day Itinerary to help you make the most out of your visit.
Day 1
Your first day in Pigeon Forge should be about exploring all that the very interesting city has to offer. You can really just drive up and down the main strip at Pigeon Forge and see what takes your fancy.
I would suggest starting with the attraction that caught my eye as we drove into Pigeon Forge, The Titanic Museum.
If you are fascinated with the Titanic, this really is a must do in Pigeon Forge.
The Titanic Museum is a 2 story museum built half-scale to the original ship. It was opened in 2010 as a celebration of life of the passengers and crew of the infamous ship which sunk.
The titanic is kinda tragically romantic, or is that just me? If you are on a couples getaway, you might also like to check out our list of romantic things to do in Pigeon Forge.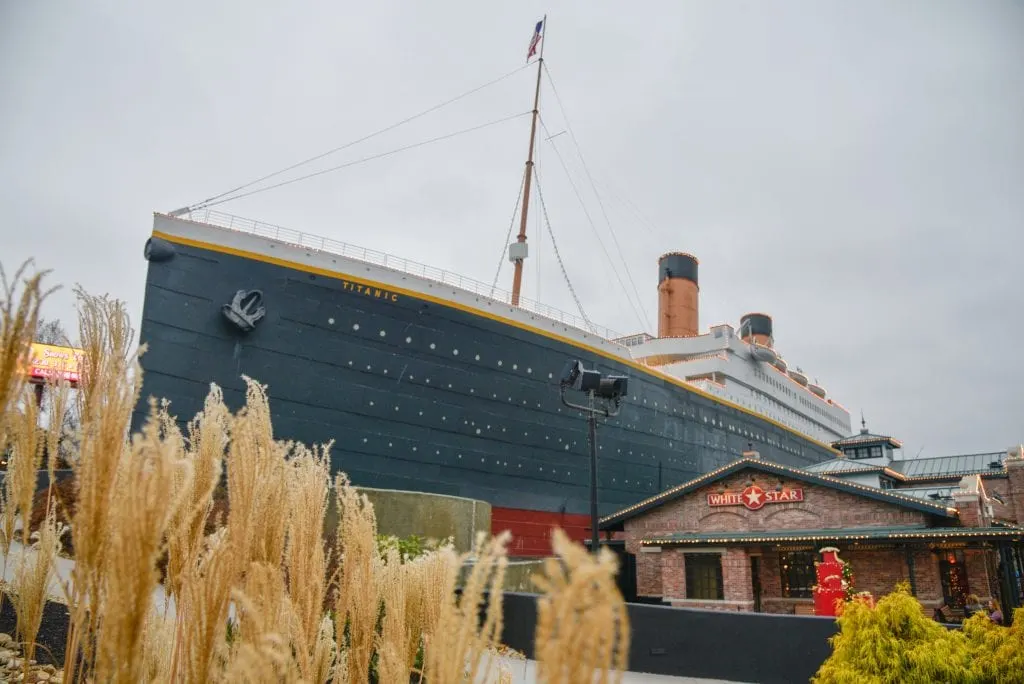 As you step into the musuem you are treated like a real passenger on the Titanic, even given a boarding pass as you enter and allowed to experience what it was like to be on the Titanic first hand.
Inside the Titanic includes reconstructed hallways, parlors, cabins and Grand Staircase in exact likeness of the original ship.
It is $31 for entry and if you are organised you can book your tickets in advance which is always helpful to skip the booking line.
If you are on a couples getaway like we were, head to the Ole Smoky Tenessee Moonshine shop for some moonshine tasting. It costs $5 for moonshines samples which can be redeemed when purchasing some jars of shine in the store.
If you want a completely free moonshine tasting experience in the Pigeon Forge/Gatlinburg area we would suggest going for a drive (about 20 minutes into the country) to the Tennessee Shine Company – Sevierville which has fabulous free moonshine tasting.
You receive 5 moonshine tasting tokens and can order 5 shots of the famous moonshine from their extensive menu. My personal favourite was the chocolate moonshine as you couldn't even taste the alcohol, it was just like a chocolate milkshake.
We drove ourself, the negative being you have to hold back on the moonshine shots. If you want to make a day of it, it would be fun to take a Moonshine Tour, where a driver takes you around. The Wine Me Shine Me Tour is a pretty popular choice.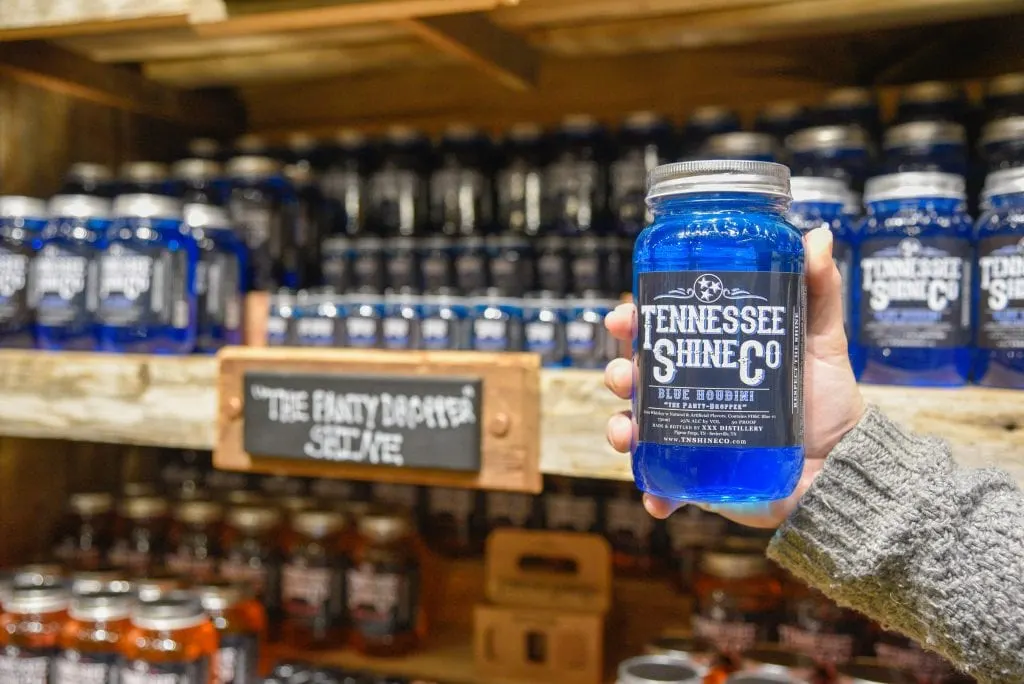 If you are traveling with kids, you may like to opt out of moonshine tasting in favour of a more adventurous activity along the Pigeon Forge strip. Two of the popular activities for the whole family in Pigeon Forge are go carting and mini golfing.
There are various different themed go carting and mini golfing to choose from. Take a drive down the main strip and make your selection – will it be Pirates of the Caribbean today or Hello Kitty.
Finish the day with a stroll around the Island in Pigeon Forge. The Island is one of the most popular, if not THE most popular things to do in Pigeon Forge so if nothing else, make sure you schedule a visit to the Island in Pigeon Forge while you are in the area.
The Island is one of the few activities in Pigeon Forge that is free to enter. Inside, there are various shops and restaurants that you can explore as well as rides payable on a per ride basis, the most popular being The Great Smoky Mountain Wheel, a 200 foot ferris wheel providing amazing views of the Smokies.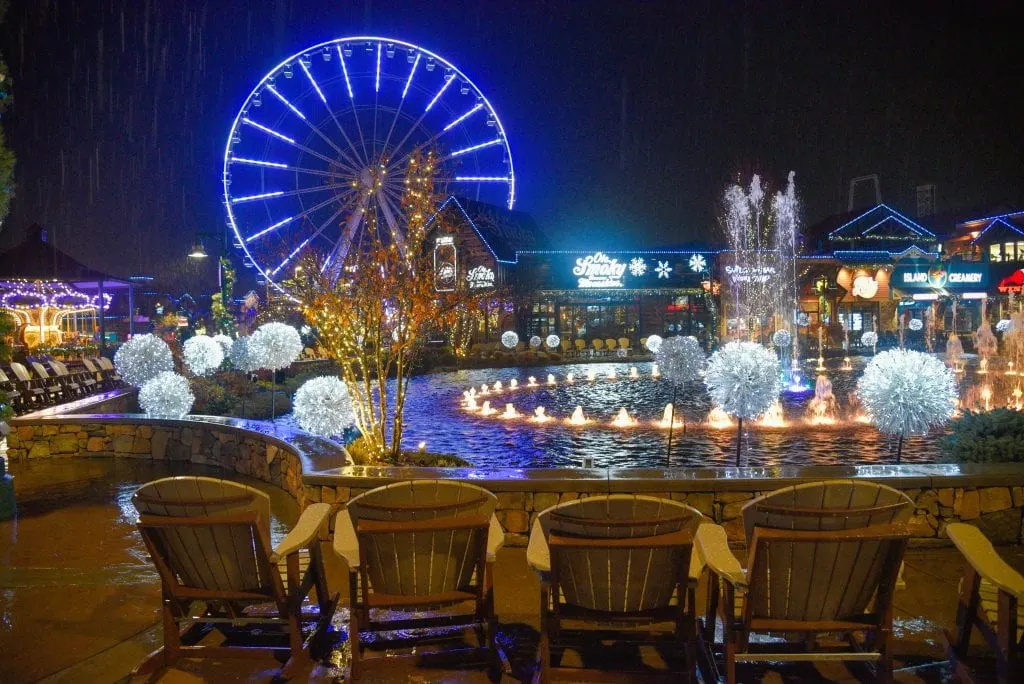 We would suggest having dinner somewhere that takes your fancy at the Island. Margaritaville with Burgers and Mexican cuisine is a popular choice for dinner at the Island.
Note: Due to the popularity, parking can be difficult at the Island so you may want to park elsewhere and walk in.
Day 2
With the initial excitement of the Pigeon Forge area over, we would suggest spending the second day explore the beautiful Smoky Mountains National Park.
The Smoky Mountains National Park is only a 20 minute drive from Pigeon Forge or a 15 minute drive from the closer town of Gatlinburg where you may prefer to stay.
Interestingly, the Smoky Mountains National Park is the most popular National Park in the whole of the United States even more popular than the Grand Canyon National Park, and Zion National Park. We were a little surprised to find this out but there is a good reason for its popularity – it is the only National Park in the United States that is free!
If you aren't much of a hiker and just want to do a few short walks/hikes in the park, there are some nice short walks in the National Park including Laurel Falls, Grotto Falls and the Gatlinburg Trail.
There are lots of great spots for a picnic lunch while exploring the Smoky Mountains for the day including the Chimneys Picnic Area so we would suggest packing a light lunch to enjoy with you after your walks.
Tip: There are Walmarts close to both Pigeon Forge and Gatlinburg where you can buy some food before entering the National Park.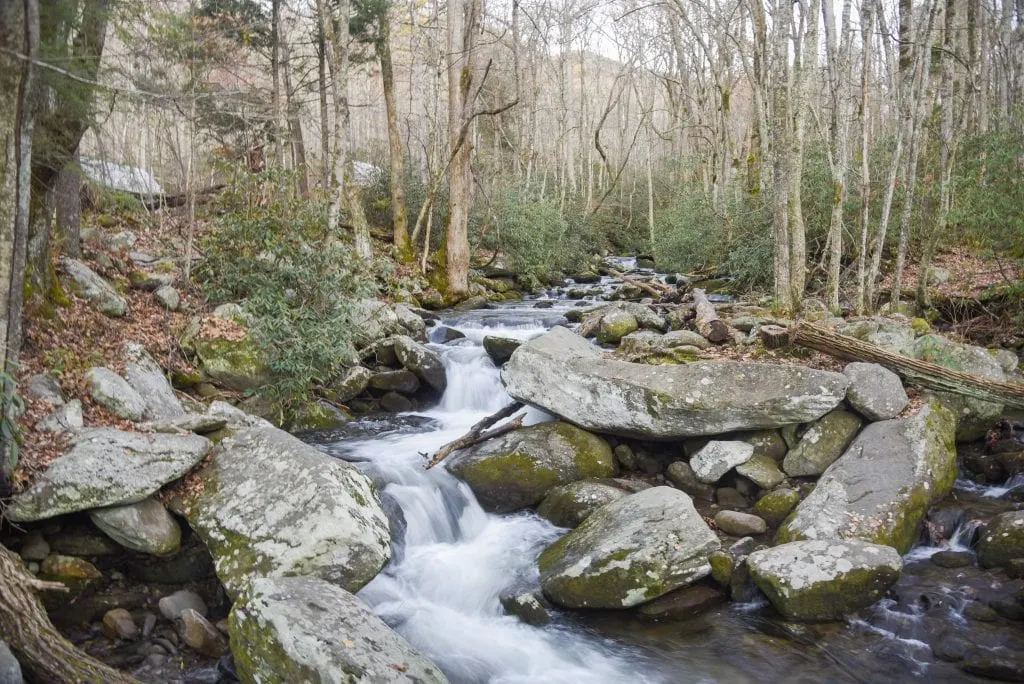 If hiking and national parks aren't really your jam you can alternatively choose to spend the day at the place that made Pigeon Forge famous in the first place, Dollywood.
We were told in town that a lady in Australia once won the lottery and when asked what she was going to do with it she replied, "The first thing I am going to do is fulfil my life dream of going to Dollywood". If someone is willing to fly half way round the world to go there, you know it must be pretty special.
Inside is a full Dolly Parton inspired theme park complete with rides, shows and entertainment. For an all inclusive theme park, it has relatively competitive pricing at $79 (about $40 saving on a ticket to Universal Studios in Florida for instance).
After freshening up at your hotel, finish the day at the most popular dinner and comedy show in Pigeon Forge, Hatfields and McCoys Dinner Feud. The show includes comedy as well as singing, dancing and stunts.
The dinner includes an all you can eat feast of traditional Southern American cuisine including fried chicken, pulled pork BBQ and Buttery Corn on the Cob.
Pretty good bargain if you ask me at $55 per person for full dinner and meal entertainment.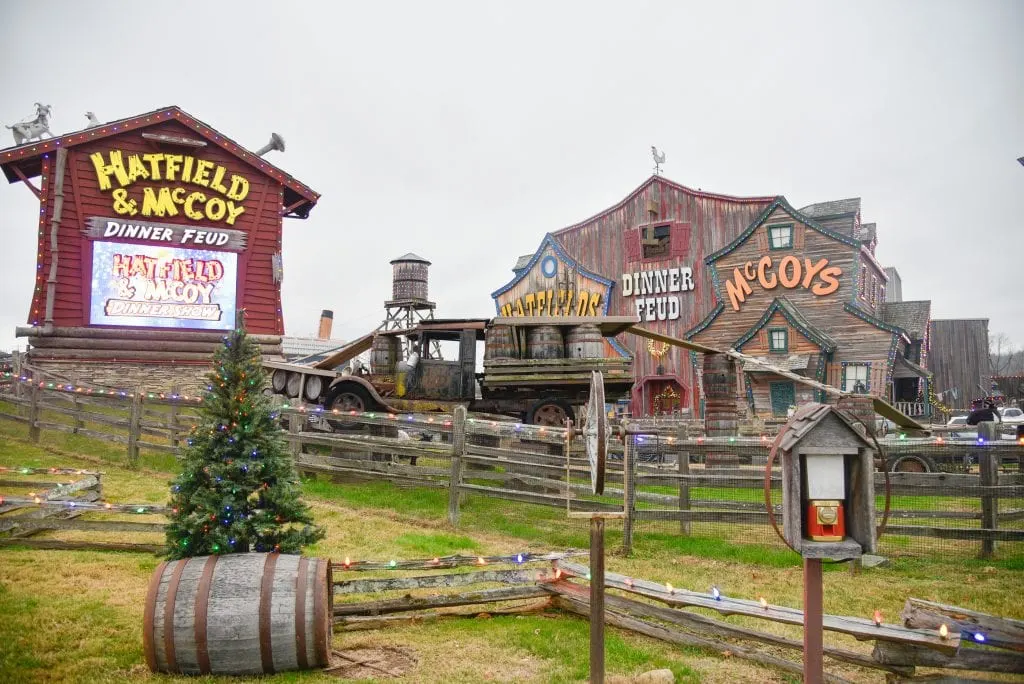 Day 3
On your final day, we would suggest having a relaxed day in the Pigeon Forge and Gatlinburg area, exploring more of the attractions the city has to offer.
One of the best rated attractions in Pigeon Forge is the Hollywood Wax Museum. You really can't miss it as it has a life-size King Kong hanging from the building. Here you will find real to life wax figures of Hollywood Stars.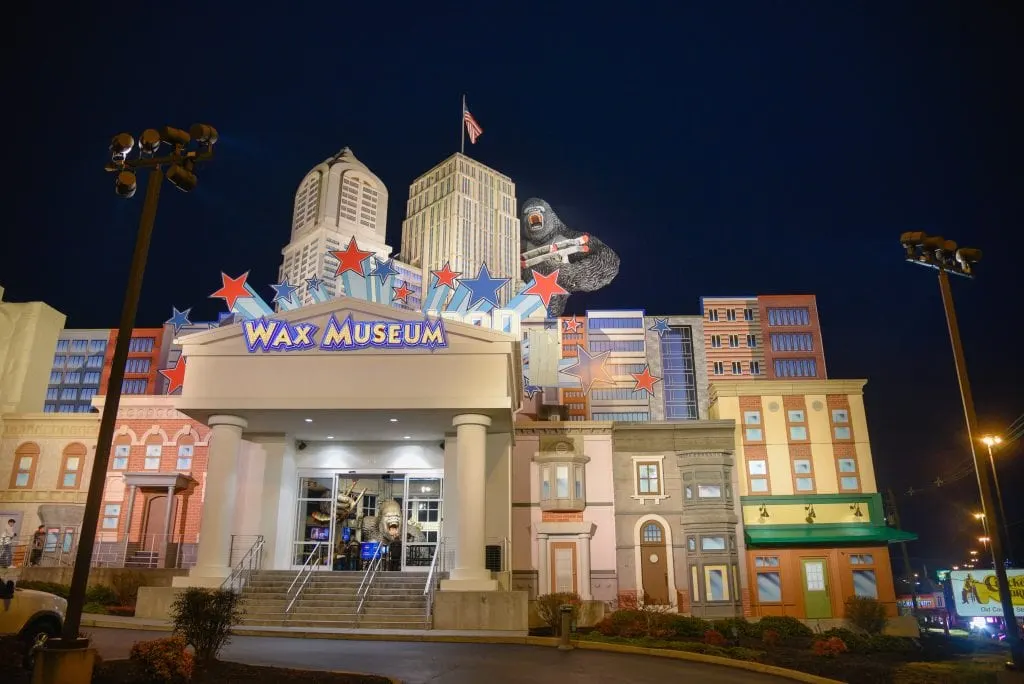 There is everyone from Drew Barrymore to Taylor Swift brought to life at the Museum. Of course, being in the land of Dolly Parton she features in there too.
If you would like to visit the wax museum, it is $32 entry per person.
Follow up a visit to the Hollywood Wax Museum with some of the other quirky attractions in town including the Jurassic Jungle Boat Ride or the Alcatraz East Crime Museum.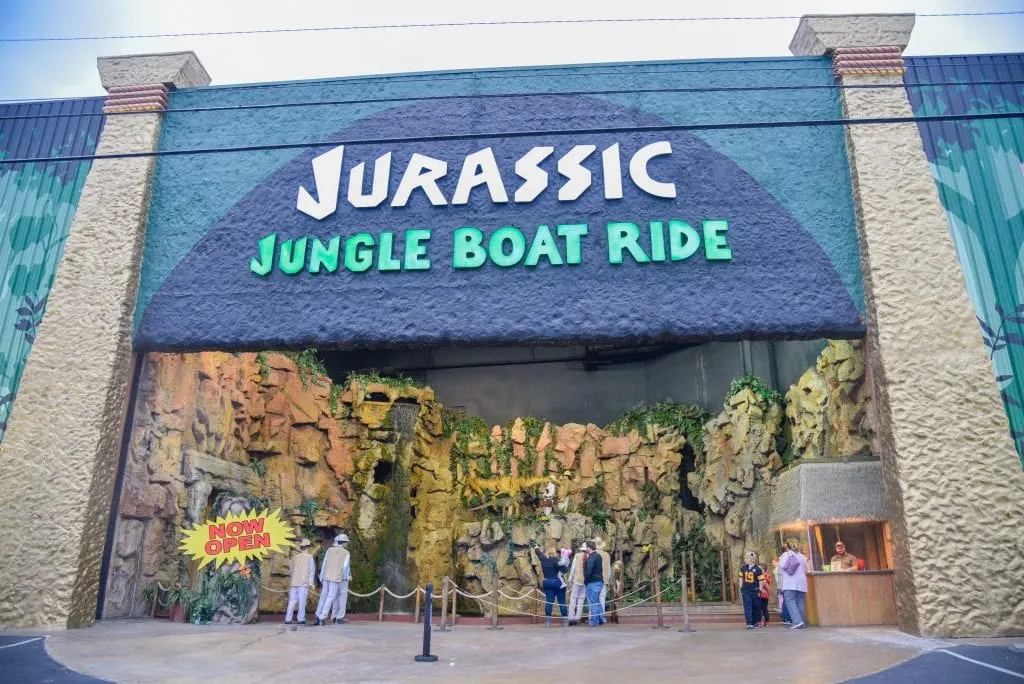 If you have kids, you might like to spend the afternoon at the very popular Pigeon Forge Snow Park where you can go tubing year round in an indoor snow park.
On a couples drink to Pigeon Forge and Gatlinburg you may prefer to do some outlet shopping as we did Tanger Outlets Sevierville, here they have some great deals on brand name clothing.
Visiting a winery is also a very popular thing to do for couples in the area. There are numerous wineries in the Pigeon Forge and Gatlinburg area. The Smoky Mountain Winery is a popular choice for wine tasting in the area. The Tennessee Mountain Winery (pictured below is also a good choice)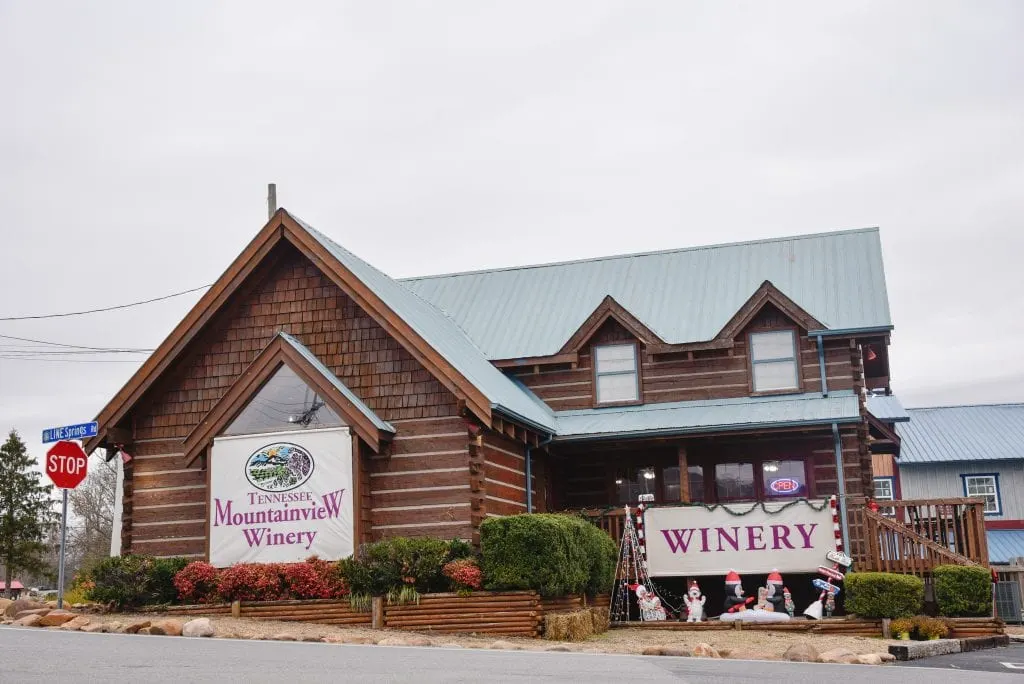 For lunch or dinner, we would suggest a new 50s style diner which just opened in Pigeon Forge called the Sunliner Diner. It is a little pricey at around 10USD for a shake but it is a cool novel experience and fits perfectly into the quirky town of Pigeon Forge.
****
That's it folks – 3 fun filled days in Pigeon Forge, Gatlinburg and the Smoky Mountains!
We hope you enjoy your short trip to Pigeon Forge, Gatlinburg and the Smoky Mountains. We had a fabulous time. If you need any additional assistance, we are always happy to help, leave us a comment below and we will get back to you!
Where next on a USA Vacay? Why not consider heading to Chattanooga, one of the best outdoors towns in the USA, only 2 hours drive away!
Save this to Pinterest so you can find it again later