Looking for paid lounge access in Heathrow terminal 5? Plaza Premium lounge in Heathrow Terminal 5 could be a good option.
We had a 6 hour wait in Heathrow terminal 5, waiting for a British Airways premium economy flight from London to Milan and wanted somewhere to wait, and get some work done while we sat around.
We asked a British Airways employee about getting paid access to the British Airways lounge and was told this was not possible, unless you were traveling in their business or first class, but she suggested a paid lounge access, which we were already considering if we couldn't get into the BA lounge through paid access.
There are 2 paid lounges in Heathrow terminal 5 – the Plaza Premium Lounge and the Club Aspire Airport Lounge. She recommended the Plaza Premium Lounge as she said she has been into the Club Aspire Airport Lounge and did not find it very good.
Plaza Premium Lounge Heathrow Terminal 5 – Honest Review
The airport lounge was pretty easy to find without too much effort.
When we arrived, we were very surprised it was so popular – there was a line to go in and the hostess appeared to be directing people to scan a QR code and join the waiting list.
We decided to try out luck and ask her anyway if we could go in.
At first, she told us that there was a maximum of 3 hours permitted in the lounge and we should scan the QR code to buy the permit and come back 3 hours before our flight (at the time we arrived it was 5-6 hours before our flight was scheduled for departure – we were on a connecting route from Dallas).
She told us a 3 hour permit into the lounge would cost us 55 pounds per person.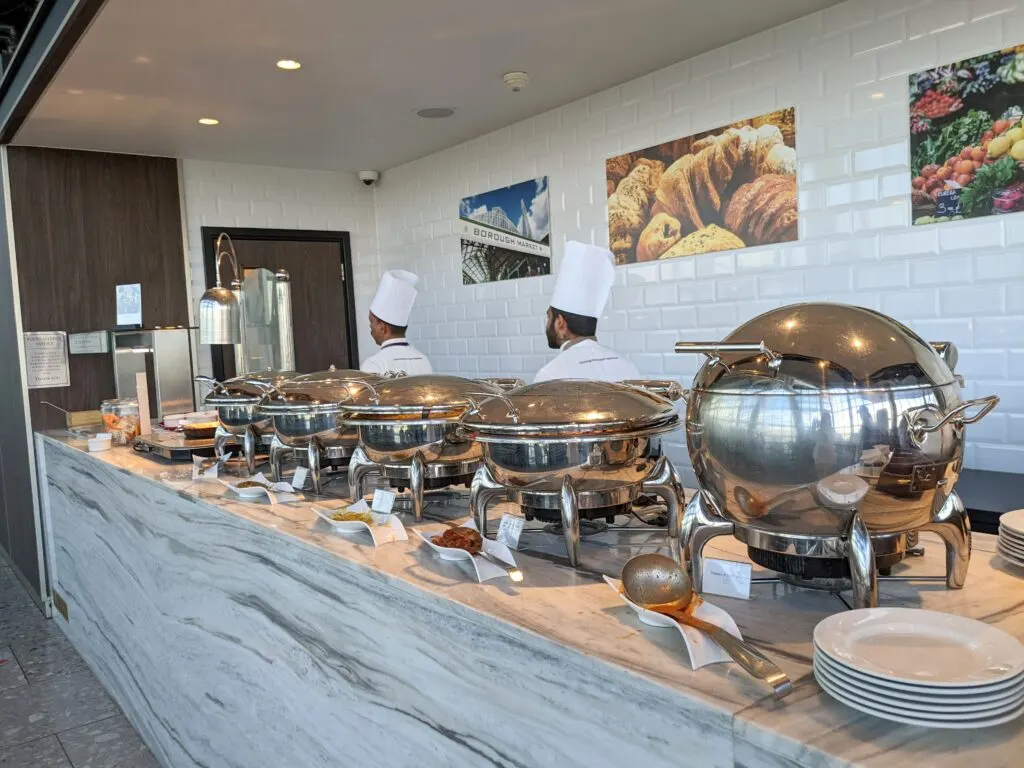 I think because we looked a little bewildered at how we use the QR code, she suggested another option. We could pay her direct for a 6 hour access to the lounge for the price of 77 pounds per person.
To be honest, I thought this price was a little steep but we decided to go ahead and pay right away anyway and enter the lounge as the airport was particularly busy the day we were there and the idea of finding a cafe or restaurant to sit in for 5-6 hours just wasn't very appealing.
We had just finished a leg of premium economy with British Airways and having saved money on not flying business class (we tried to get an upgrade at the gate but were denied due to ticketing issues – bad luck!), we decided we could splurge on lounge access as it is afterall, just a fraction of the cost of actually flying business class to get lounge access included.
The hostess informed us that showers were not included in this price. As we did not require a shower, this was fine but I found that a little rich… Not even showers for 77 pounds a person?!
She did throw in 2 free premium drinks in our price however.
If you want to access the lounge, I subsequently found it cheaper online here.
Plaza Premium Lounge Seating
There are a variety of different seating options available within the lounge.
Although I will mention I found the lounge to be a little on the small side so be aware of that, especially if the hostess lets you know it is busy.
She actually took us through the lounge before we purchased our passes to make sure we were happy with how busy it was inside prior to purchase. It did clear off a few hours into our visit.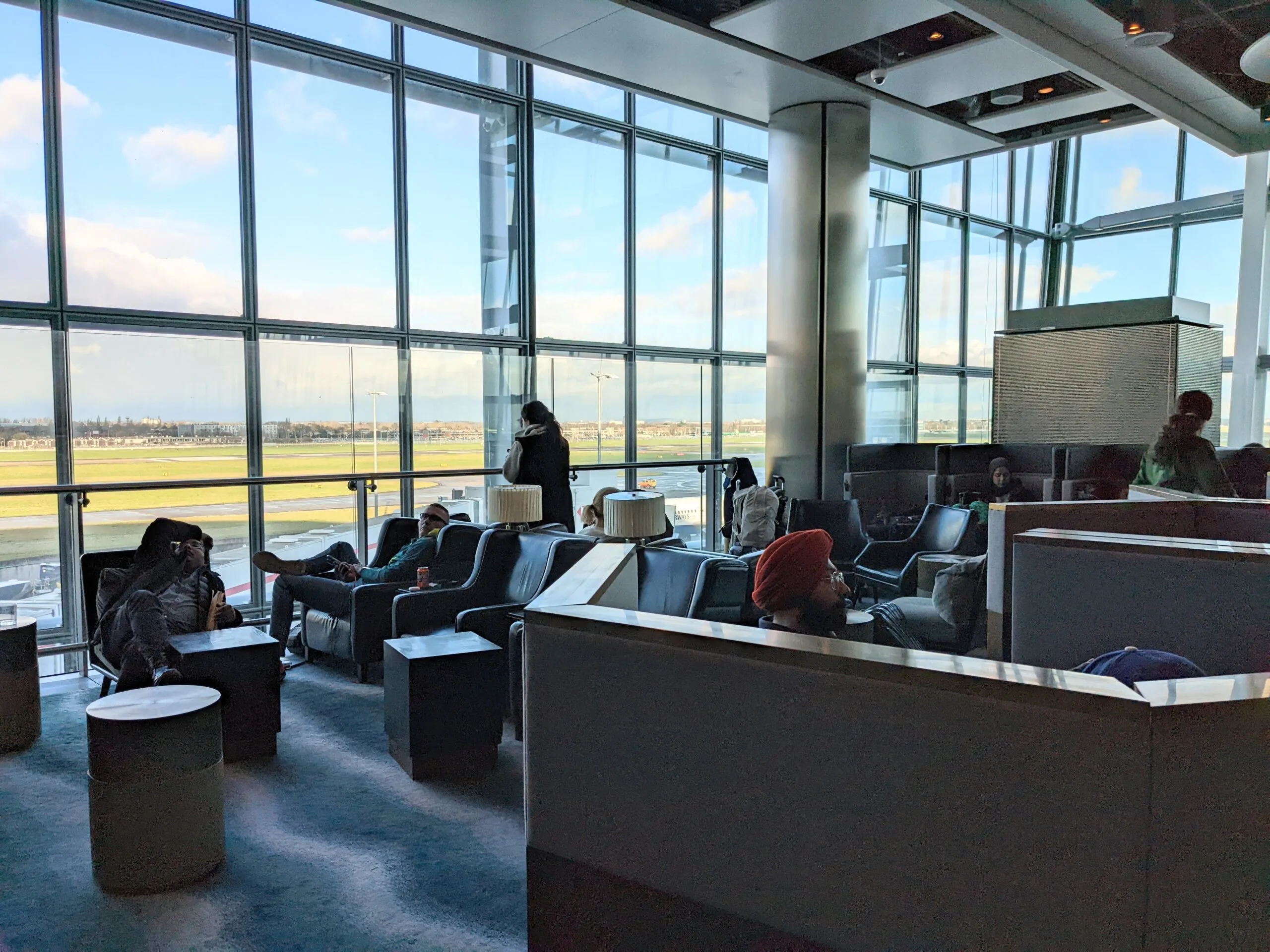 There are more or less 4 seating options available within the lounge – comfy individual booth seats, table and chairs, bar seating and a long work bench.
We choose to sit at the long work bench and there was ample plugs to charge our laptops and mobile phones.
The lounge seating is the most popular as it is the most comfortable option so this is sometimes unavailable at busy times in the lounge.
Note: There are no beds, daybeds or options where you can have a sleep in the lounge. I have seen this in photos of other terminals.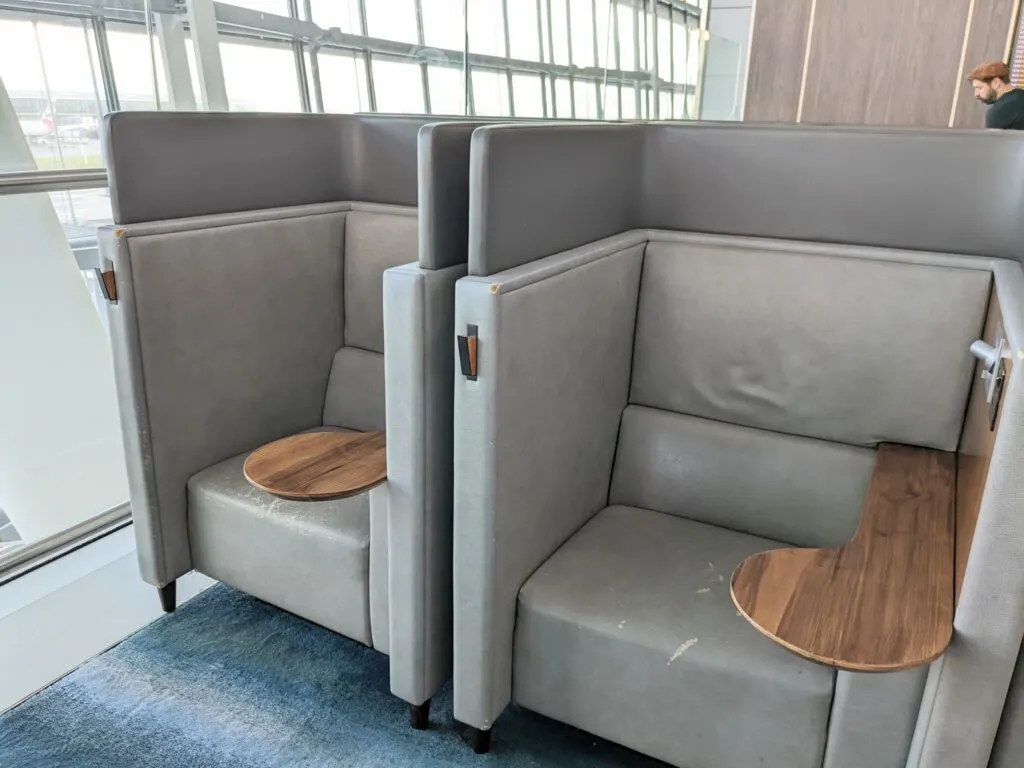 Wifi
There is free wifi in the lounge which was a real blessing as the free heathrow airport wifi is pretty bad.
The wifi at the lounge was not the best but it was useable. I doubt you could stream a movie with the speed however so take note of that.
The password when we were there was myairportmoment.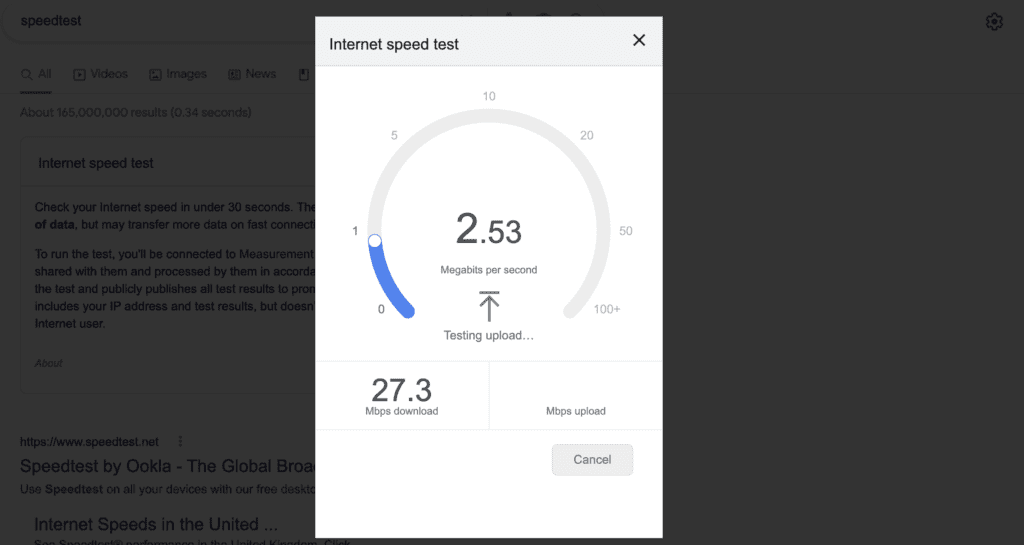 Food Menu
I wasn't expecting that much when it came to the food in the lounge but I was pleasantly surprised by the quality. Each day the lounge offers a seperate breakfast, lunch and dinner service.
We just missed breakfast and were there for the lunch service. There were about 4-5 hot dishes available including penne pasta, a chickpea curry, an African chicken and a tomato soup.
They also had really delicious chicken sandwiches (which left the buffet table like hot cakes), bread rolls, a few cold salads, apple crumble, some muffins and cookies, among other things.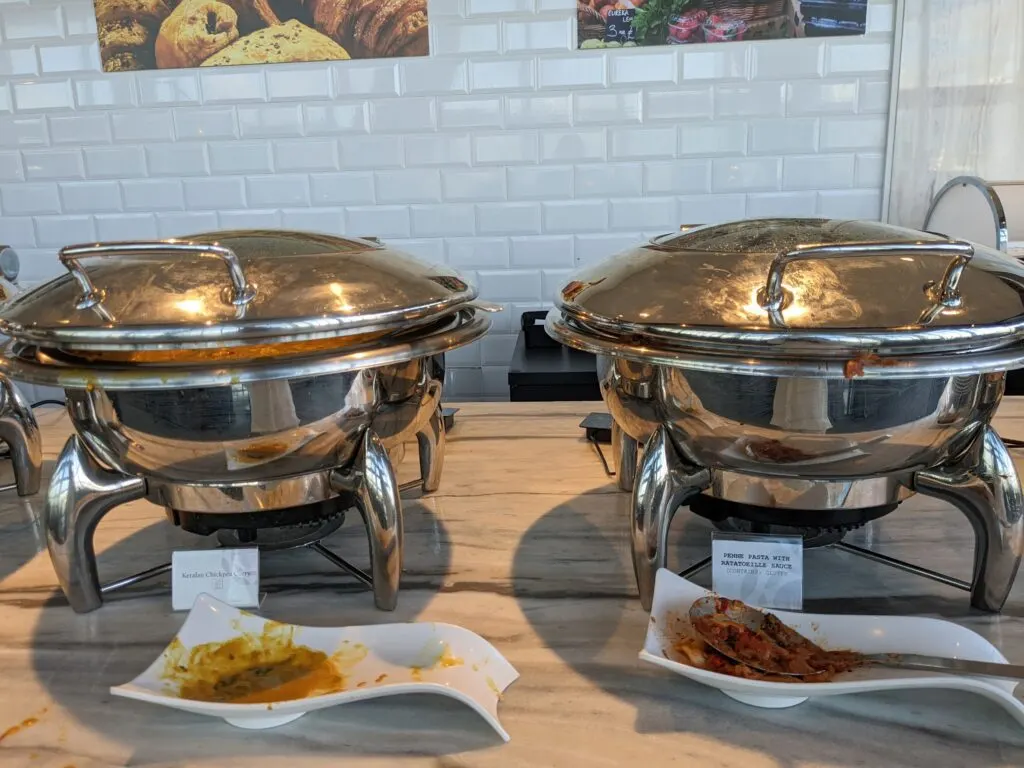 As I mentioned, all the food I had at the buffet was of a really good quality. The tomato soap was a highlight as was the apple crumble.
It might have actually been the best apple crumble I have tasted in my life which seriously surprised me for an airport lounge. Some of the emirates business class lounges I have been in haven't had as good food so this was a win.
Beverages
There is a bar in the lounge which serves basic alcoholic beverages included in the entry fee, as well as soft drinks, juice, soda water etc. Premium beverages are charged, at an additional fee.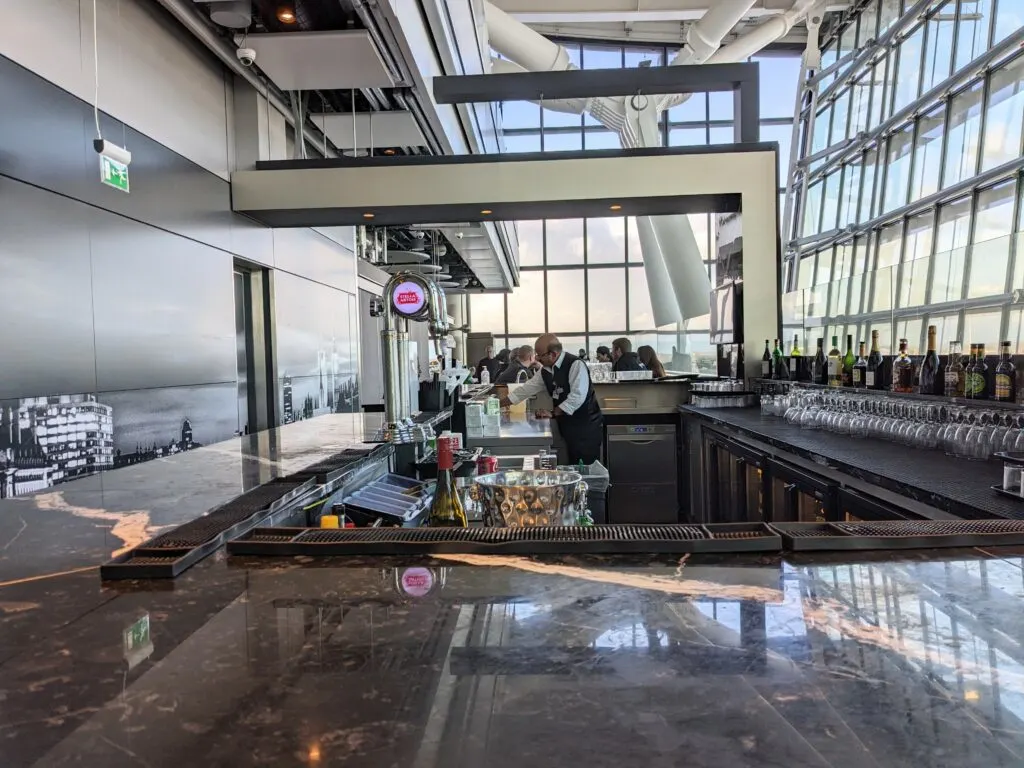 Stella beer was served off tap and particularly cold which I appreciated.
There is also a tea and coffee machine which is DIY in the lounge.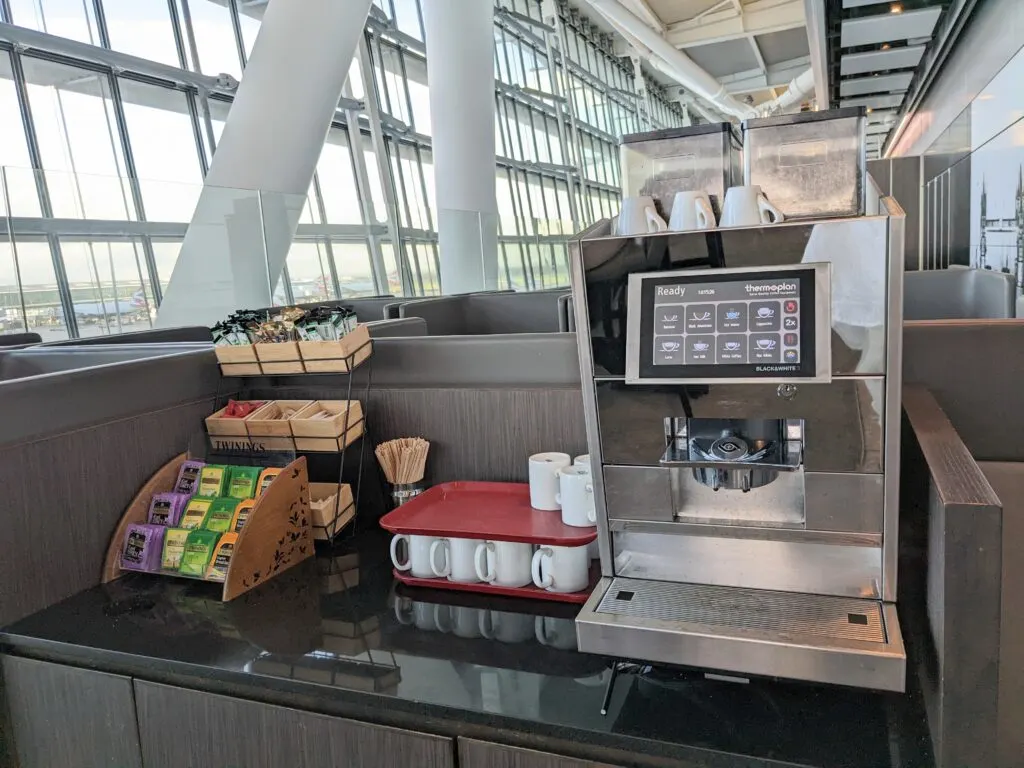 Free Access to the Lounge
With certain credit cards you can actually gain free access to the lounge. American Express I believe is one of those cards. They were pretty good and asked us if we had any of the free access cards prior to entering.
Toilets & Shower
The toilets seemed okay and reasonably clean. There was a cleaning attendant there when I visited.
I tried to use the provided sanitizer in the toilet and it hadn't been replaced, which I thought was a little poor. The toilets also didn't flush too well.
We did not use the shower as you had to pay extra to access it. We only had 2 hours to fly to our final destination so we did not need it.
Would I recommend the Plaza Premium Lounge Heathrow Terminal 5?
Despite the price being a little steep, we would recommend the lounge, especially if you are on a long connection and need somewhere to go. The food is good and it's far better than 6 hours of pure boredom.
Keep in mind, the lounge is pretty small and it can get quite busy. People don't seem to respect personal space either so expect a new friend to sit right next to you (hello COVID!)
***
See more flight reviews: