Looking for the best Puerto Rico all inclusive resorts?
When life gets you all wound up, you've got to take the reigns, and unwind yourself. There are a million ways to accomplish that, but one of the best ways is to find an All Inclusive Resort to melt your cares away. Whether you're a novice traveler, or a jet-setter, Puerto Rico is a magical land that has more to offer than you could possibly predict. Beach, and tropical rainforest alike, create an unforgettable atmosphere, with phenomenal weather, oodles of wildlife, and adventures for every mood.
This small island in the Caribbean Sea offers an array of both outdoor, and indoor activities, including cultural learning, physical exertion, observation platforms, the study of nature, ways to spend money, local flavors, and more! You'll find luxury at its best here, yet be close enough to take advantage of the local lore as well. You can have a playbook vacation, or play it by ear- it's your choice! No escapade is too big or small for this island.
Here is our list of the 8 Best all inclusive resorts in Puerto Rico for couples, nestled in the amazing land of Puerto Rico. No matter your budget or interest, you'll find what you're seeking. We've done all the research for you, so all you need do is book your favorite, today!
See more: The best all inclusive resorts for couples in the world!
Does puerto rico have all inclusive resorts? YES! Are there many? No. But there are some good ones.
8 Best Puerto Rico all inclusive resorts for Couples
First up is the Wyndham Grand Rio Mar Beach Resort and Spa. To start with the basics, this elegant resort offers an array of room sizes to fit all budgets. But that's where the basics end! This resort offers a variety of "room views", including ocean, rainforest, pool, or resort.
They also offer junior suites, family suites, and jumbo suites, for those with their own entourage. There are promotions and packages available, which include such items as: a free night stay with minimum nights met, a food and beverage credit to a local restaurant, discounts on purchases at stores or restaurants on property, a breakfast in bed options, their coveted "Stay In Love" or "Pure Bliss" spa packages, room rate discounts for AAA and AARP members, as well as Wyndham member rewards.
If you're into golf, they've got two lush courses; one at the ocean, and another at the river. Looking for the ideal destination wedding? Their ocean view, or garden view matrimony locales will astonish all in attendance, and their packages can help you keep your sanity, by assisting you with all the details.
They have an incredible pool with cabana rentals, a tennis court, and an exciting casino, for when you're feeling lucky! For those feeling tense, try out their reposeful spa treatments, such as facials, body wraps, or their relaxation room.
Additionally, they have full salon treatments too, like manicures, and hair styling. If that isn't enough, they also have numerous tours to choose from, like a rainforest tour, snorkeling with sea life, and horseback riding near the beach. And let us not forget the incredible food, from ten phenomenal restaurants on the property, or even in your own hotel room!
You also might like s'mores by the fire pit, yoga, rum tasting, or even, feeding a local iguana. Just watch your fingers on items one and four. If you're desperate enough to get out of town, they also have meeting rooms available, so you can get a two-fer for your troubles!
Because the remodel of this hotel took place right before COVID-19 brought the world to a halt, operations and reservations may be easier to get now, than in the future. You have the opportunity to get in before others get back to traveling again!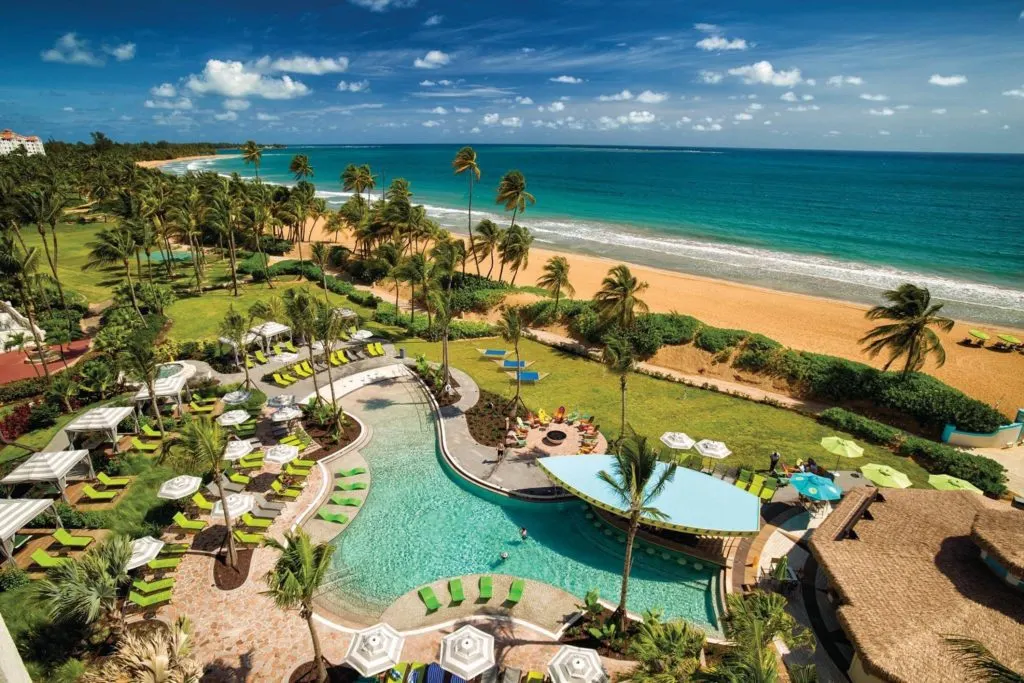 When you think of the colorful world of the Caribbean, you might just be thinking of Las Casitas Village! Emerald green golf course, spectacular azure sky with white clouds, a palette of colorful casitas, and magenta bougainvillea, just to name a few stand-outs.
Perched more than three hundred feet above the ocean, this exclusive, all ability access village, feels more like home, than a hotel. Each of the one, two, and three bedroom villas is equipped with a state of the art kitchen, for those who love to cook, and has the choice of ocean, or mountain view. But that's just the beginning of this exploit!
You'll find countless on-site amenities at this exquisite locale. For those on vacation or business, those amenities including: a swim-up bar, mini-bar, and pool-side drink service; concierge, butler, laundry and dry cleaning services; rental car service desk, business center and internet access; meeting/conference rooms, and fitness center; currency exchange and safety deposit boxes; barber shop and beauty salon.
For families, you'll love access to: the game room/arcade, supervised kids activities, babysitting services, kids club, children's pool, and kids allowed adventures. Everyone can enjoy the infinity pool, with the virtually endless view of the ocean horizon.
When you're ready to step out of the village, you have your choice of a dozen adventures, including: golf and golf lessons; water and land sports; shopping excursions; exciting casino; beach fun; phenomenal restaurants for every price range; water and land tours; relaxation spa; and even, a water park, for the kid in us all! Whether you prefer land or the sea, there's something for everyone.
The longer you're there, the more you'll discover. Even without trekking out to sea for a water sport, or into the rainforest for zip-lining, you'll become engrossed with the sheer beauty of the land. With an abundance of wildlife, from sea turtles to iguanas, as well as flora and fauna, found in a rainbow of vibrant colors, you'll find your shoulders relaxing as you become more at one with the world. Some would say that there's no better place to heal, than the tropical climate, like in Puerto Rico.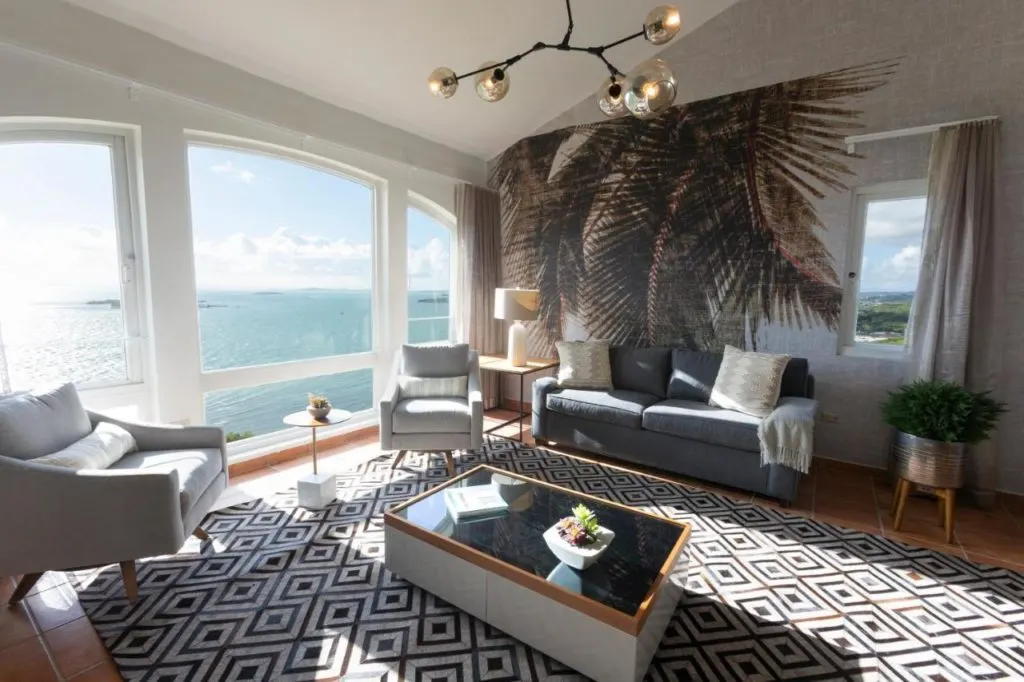 If you're seeking a contemporary spot to relax, look no further than the Wyndham Garden at Palmas Del Mar. This bright an airy hotel has everything you need for a vacation of relaxation. When you're hungry, check out Trova Narrative Cuisine, the restaurant rooted in a seasonal menu, with historical storytelling throughout your meal.
Or maybe you're in the mood for a Japanese flare, through sushi and hand rolls, created from locally caught seafood, at Kintsugi. But perhaps you're just interested in a few nibbles and a touch of imbibing. If so, catch the exotic flavors of tapas and cocktails, made with care, at Botica. For more relaxed dining, try the Costa Pool Bar, or some famous island coffee, at Cafe 1736. No matter what you choose, you'll be satisfied with the tried and true flavors of your choice.
Once your hunger and thirst have been sated, you'll be ready to explore a bit. Luckily, there are plenty of activities to keep you happy. The obvious choice the the beach. Who doesn't love a little sand and surf? Grab the sunscreen, and hit the salty shores for some fun in the sun. Want a bit more structured activity? This resort has access to not one, but two, world-class golf courses.
Hit the back nine, and be back for dinner! Still need more exercise? Check out the local hiking trails at the Pterocarpus forest. You can commune with nature, get away from the hustle and bustle of the modern world, and become friendly (although, not too friendly) with local wildlife. There's also tennis, a family and adult only pool, and a fitness center.
If you're interested in enjoying company with horses, there's an equestrian center. For those who want to go a bit fancier, check out the Yacht Club and Marina, where you can rent a boat for the day. If you'd like to explore the island a bit, but getting around is a bit challenging, you can rent a golf cart! Let us not forget one of the most classic pass times- shopping! And so you don't have to lug those packages all the way home, the resort has a shipping service. If you choose to rent a car, your options open up, including a short fifteen minute car ride to the Humacao Nature Reserve.
One of the best puerto rico all inclusive resorts.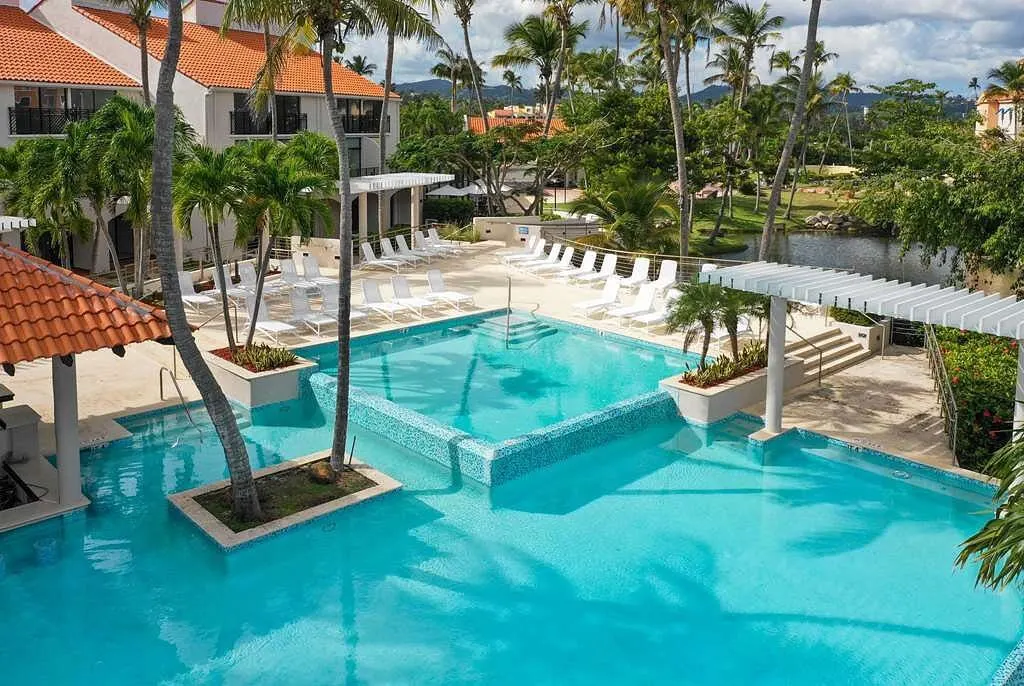 The newly renovated Dorado Beach, a Ritz-Carlton Reserve, has truly outdone itself and is definitely one of the best all inclusive resorts in puerto rico.
The gilded location name gives meaning to the spectacular all around. The abundance of nature abounds, and brings you into a comfortable embrace, upon arrival. So impressive are every space you walk through, that you almost feel like you've walked onto a movie set. Rich colors, and fabrics excite the senses, as the glories of nature engage your eyes.
Let's start by mentioning an amazing amenity, provided by the resort, at no cost: a forty-five minute photo-shoot! That's right, Elemento, the resort's studio, will professionally photograph your vacation, anywhere on the resort grounds. But this is just the start of the perks.
This location also provides complimentary bicycles, and has numerous bike paths around the property. It's a great way to see everything, but leave energy for all of the other activities! And those other activities are plentiful. If you're staying on property, there's the spa, with indoor and outdoor treatments, from healing hands massages, to powerful custom botanical concoctions, to scrubs and baths. They have two fitness centers: the Reserve Fitness Center is built into the feeling of the locale, offering lots of light, and even yoga. The second offers a more traditional interpretation of a fitness center, providing classic fitness apparatus and boasts a tennis court, as well.
If you're searching to connect with land, sea, or air, this resort has you covered. They offer everything from sailing and windsurfing, to cave exploration and zip-lining, to team building and helicopter experiences.
Hungry for something more? Try one of their exquisite on-site restaurants, such as the upscale COA, or the more down-to-earth Encanto Beach Club and Grill or Posi+ivo Sand Bar. Perhaps you'd like to grab something quick at the La Cocina Gourmet, plus something from the shelves for later. Or you could go all out and try the hands-on cooking class and meal, at the Culinary Center.
Lastly, when you choose to venture outside of the property, you'll find no shortage of engaging activities, from local flavors of coffee and rum, and second-to-none architecture, to historical locations, sacred archaeology, and inviting natural wonders.
If you're looking for an "Earth Responsible" resort, then you need to check out Parador Costa del Mar. This location created their very own green team, before it was even in style. They've even been awarded the highly coveted, "Green Suites Green Hotel Certification", and do their best to maintain an environmentally friendly atmosphere. While the list of ways they accomplish this is long, you can find comfort in knowing that they are on the cutting edge of green habits, for the property as a whole, and within individual hotel rooms.
While this resort may not be quite as glamorous as its local counterparts, it is likely the best hotel in terms of value. Their All Inclusive Package includes all meals, with tip and room tax, and the parking is free. The resort is small, relieving you of the stress generally associated with unmet needs, and ordering wait times.
On-site, you'll find a sparkling clean pool, overlooking the teal colored Caribbean Sea. The all ability access area combines swimming, with a small children's play area. Just outside your hotel room, is a covered, and simple spot to enjoy the ocean and palm tree view, or relax with a good book. You have your choice of room service, or joining the other guests in the informal hotel restaurant. When you need some down time, you can relax in one of the hammocks set up on property, check out the rainforest trails, or walk down to the beach.
Just a short distance from Parador Costa del Mar, is the full service restaurant, for when you want a heartier meal. And around local town of Yabucoa, otherwise known as "The City of Sugar" for it's sugarcane plantations, you'll find a rich local history, new and exciting flavors, and shops for every interest. With every new stop, you'll find something fresh to enjoy, whether it's music, or an interesting cocktail.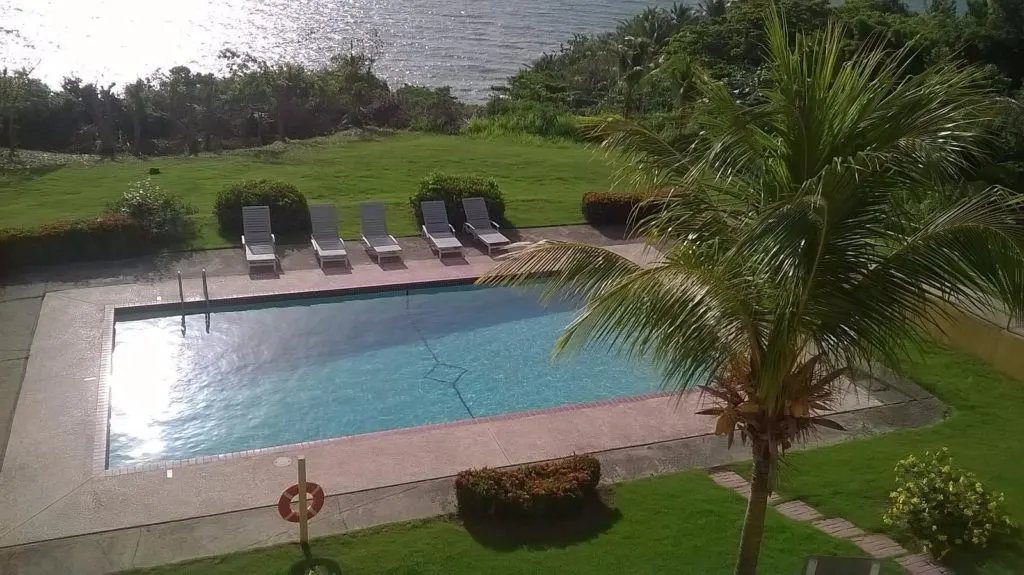 One of the sister sites in the Tropical Inns hotel family, Parador Palmas de Lucia offers a delightfully colorful scenery, made with nature in mind. Tamed landscape, ocean views, and exciting, yet old world appeal, meet in the middle of this resort. The bold mosaic mural above their sparking pool, offers a glimpse into the culture. It uses images of their country's flag, typical PR views of sea and palm trees, and a nod to the important work of The Puerto Rican parrot recovery program, for their efforts to get parrots off of the endangered species list. Best of all, this locale is also a green hotel.
With roughly double the rooms of her sister property, Parador Palmas de Lucia has more to explore. Their extra large, Tetris shaped pool, comes with streaming water, and plenty of pool side room to take in the sun. You'll also find both a volleyball court, and a basketball court to play with new friends. Or you can simply hang out on one of their many hammocks across the property.
With numerous options available withing a short distance, you can visit the coastline just outside of the property, or head the other direction to visit the luscious forest. For even more choices, go to downtown Yabucoa for a variety of shops, restaurants, and excursions.
You can choose to be served meals in-room, or sit inside or outside, at their on-site restaurant. It offers vegetarian choices, locally sourced seafood, customary flavors of the Caribbean, and daily specials.
Depending on the needs and budget of your vacation, you can't go wrong with the all-inclusive package at this resort. There are enough things to do on-site, that you'd never need to leave the property, but if you wanted more adventure, there are plenty of affordable ventures just a bit down the road.
When you think of Parador Guanica 1929, the first words you'll think of are: Old World Charm! This hotel is nearly 100 years old, is oozing with personality, and can boost that it hosted the American President Roosevelt! And who would be enthralled with the sheer historical representation of such a landmark, whose walls have stood through many changes across time. This property is part of the prestigious Touristic Alliance, in which all properties keep to current tourism trends for maximum benefits to both trade, and tourists alike.
Take a step back in time, and enjoy the friendly staff, there for your every need. Beginning with the water fountain at the entrance, you can find simple joys in just wandering the age-old property, and enjoying the richness of nature. Or hang out on the veranda, and watch the sunset, as the birds settle in for the night.
During your stay, you'll enjoy Caribbean Gastronomy to your heart's delight. Their in-house restaurant offers a variety of choices for its all-inclusive guests. Both traditional Caribbean cuisine, and standard American fare are available. As well as simple meals, such as hamburgers, to more authentic Puerto Rican food, like Mofongo. Regardless of your choice, you'll be certain to have a happy tummy at the end.
For those looking to stay close by, there's a gym, swimming pool, pool bar, and playground for the kids (big and small). Just a few minutes away, you'll find the Guanica Dry Forest (the only one of its kind in the Caribbean), the sunflower farm, the Lighthouse and Fort Capron ruins. A bit further still, are the Murals of Guanica, the pier and local fishing town, kiosks, night spots, and numerous beach-fronts, including (we kid you not) Gilligan's Island.
This non-smoking resort is available for weddings, events, and corporate meetings, for a large number of guests. They also note that their hotel characteristic includes LGBTTIQ identity, indicating that all guests should feel welcome. With personalized service, a homey atmosphere, and all the relaxation or adventures you might want, this resort should be on your radar.
Last, but not least, is a final Tropical Inns Puerto Rico resort to consider: Parador MaunaCaribe. Perhaps the most lush and swanky property of the chain mentioned on this list, the MaunaCaribe combines value, with a more upscale feel. Whether you're traveling as a family, couple, friends, or for a group event, you'll find everything you need to make the trip a success.
The most notable attraction of the property is the infinity pool, and bar. The appealing trick of the mind gives you the feeling that you're swimming in the warm Caribbean waters, without even having to leave the resort! And for those adults who like to indulge in libations, they're available with the flick of a hand, at the poolside bar. The pool is open to both adults and children.
A couple of other amenities on-site are the fitness center, which offers the basics for a quick cardio and weightlifting workout; a game room, which offers the latest video games available, and an XBox 360 with kinetic capability, for those serious about their video games! They also have a large, air-conditioned, meeting space, with a capacity up to 100 attendees, for any type of function.
As with all resorts in this chain, they offer free high speed internet, free parking, daily maid service, in-room microwave, refrigerator, and complimentary toiletries. Let's not forget their 80 seat restaurant, overlooking the infinity pool, which serves up breakfast, lunch and dinner, Caribbean style. They have both traditional local dishes, as well as an array of seafood choices. There are also a few other restaurants less than a mile away. This is also the property in the chain which allows pets under a certain weight, to stay with you.
**
See more all inclusive:
Adults only all inclusive resorts in Cancun
Best all inclusive resorts in Hawaii