Believe it or not, you probably don't live in one of the rainiest cities in the world or one of the wettest places on earth!
I know that might be hard to believe if you're currently in the middle of a rainy week of weather in London, Glasgow or Seattle.
But, yes. Things really could be worse if you lived elsewhere. Don't believe us? Check out the list of rainiest cities in the world for yourself.
By the by: If you love rain like we do, make sure you check out our top ideas for rainy day dates and the best rainy day quotes to use later for Instagram captions!
Wettest Places on Earth
According to the boffins at the World Bank of Data the 10 wettest places on earth are located around the equator.
10. Emei Shan, China
China is notoriously known for rainfall. While Zhangjiajie National Forest Park was absolutely beautiful, it rained A LOT.
Zhangjiajie is not however the wettest place you can visit in China. This award goes to Emei Shan in China.
Emei Shan is located in the Sichuan Province of China. It is known for being the biggest of the Four Sacred Mountains of Buddhism.
At the top of the mountains you will see a sea of clouds which are responsible for extremely heavy rainfall.
The rainfall in Emei Shan averages 8,169 mm annually. This makes it the rainest city in China and the 10th most rainest city in the world!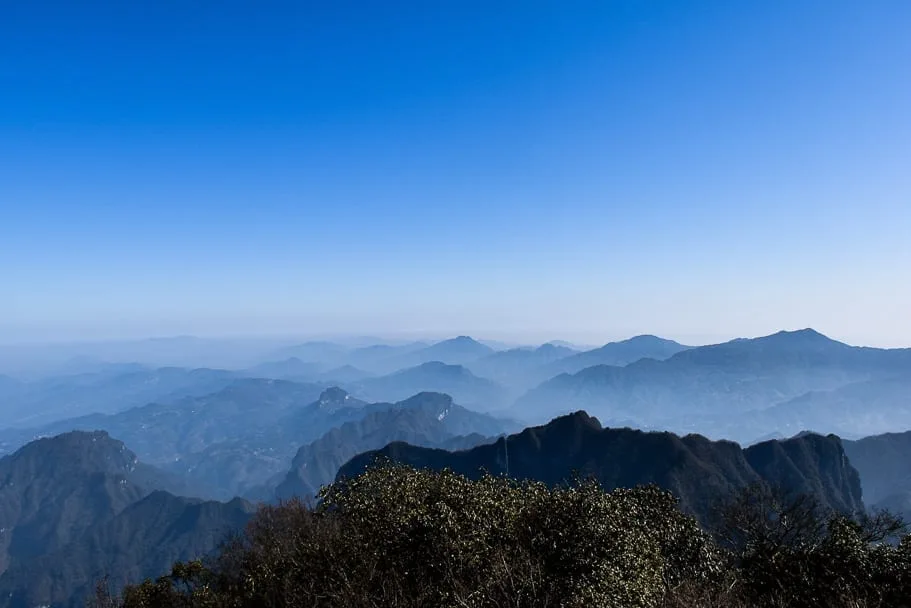 9. Kukui, Maui, Hawaii
There is no coincidence that Hawaii is so green – it so happens to rain a hell of a lot here!
The phrase "trapped in paradise" springs to mind here.
The upside of being in a place which receives 9293mm of rain each year?
When it's not raining you're situated on one of the most beautiful, iconic islands in the world.
8. Mt Waialeale, Kauai, Hawaii
This remote location receives a staggering 9763mm of rainfall per year. The highest record for Mt Waialeale was in 1982 with 683 inches.
Mt Waialeale in Kauai, Hawaii is located in the centre of the island. It receives one of the most rain on earth due to the cloud coverage the mountain receives.
In the Hawaiian language Waialeale is translated to overflowing water.
Keep this in mind when visiting local attractions like the Kawaikini mountain peak.
7. Big Bog, Maui, Hawaii
Another very rainy spot is Big Bog in Maui, Hawaii.
This area of Hawaii certainly earns its spot as one of the wettest places on earth with yearly rainfall up to 10,300 mm.
The highest recorded rainfall in Big Bog is 13,995 mm (551 inches).
It is said that even when it isn't raining in Big Bog it is either cloudy or foggy.
While Mt Waialeale's summit may hold the wettest place in Hawaii records, Big Bog boasts a higher 30-year average (if that is something to be proud about).
6. Debundscha, Cameroon
Debundscha, Cameroon located in the south west part of Cameroon also makes the cut for one of the rainiest cities in the world.
It is seriously always raining in Debundscha, Cameroon. Just look up the weather forecast for there right now and you'll see what I mean.
Rainfall averages 10,299 millimetres annually in Debundscha. Like the other rainy locations, the terrain is quite mountainous, Debundscha is located at the foot of Mount Cameroon.
5. San Antonio de Ureca, Equatorial Guinea
San Antonio de Ureca, Equatorial in Guinea is another one of the world's rainiest places to visit.
San Antonio de Ureca is located South of Malabo on the island of Bioko.
This city holds the record for the wettest place in Africa. Bioko is also no doubt one of the wettest islands in the world.
The village receives around 10,450 millimeters (418 ins) of rainfall annually.
4. Cropp River, New Zealand
Little did we know but when we drove from Hokitika to Franz Josef on our incredible road trip of New Zealand we actually passed the 4th wettest place in the world.
We didn't directly drive through Cropp River, as it's located inland in a fairly remote stretch of the South Island.
We did, however, notice that it rained a lot during this leg of our trip and also on the way from Christchurch to Hokitika.
It didn't impact our journey though as we had an incredible 2 weeks in New Zealand.
3. Tutunendo, Colombia
Tutunendo, Colombia also makes the list of rainest places in the world.
Due to its massive 11, 770 mm rainfall each year only 1,000 are stealth enough to live in the tiny city of Tutunendo.
The reason that Tutunendo is so rainy is due to the fact that it is located near the equator.
Even in Tutunendo's 'non rainy season' it is very rare to have a dry day!
Could you live here?
2. Cherrapunji, India
With India being such a vast and varied landscape, it is no surprise that India has a few of the rainiest cities in the world.
Cherrapunji, India experiences an average rainfall of 11,777 mm per year.
It rains nearly every day of the year in Cherrapunji, India. Don't believe us? Check out the weather there now to find out for yourself.
Cherrapunji experiences so much rainfall that it holds the coveted spot for the second most rainiest place in the world!
The city is also the current world record holder for the highest rainfall recorded in one year. Between 1861 – 1862 Cherrapunji experienced 26,471 mm of rain!
Interestingly, if you visit Cherrapunji you will find 500 year old bridges still standing through all the torrential rain! Amazing!
1. Mawsynram, India
The infamous title of wettest place on earth goes to Mawsynram in Meghalaya state in north eastern India.
Mawsynram rains an outstanding 11,871 mm per year.
It rains so frequently in Mawsynram that people who live in the city of Mawsynram really can't imagine a day without rain. I'll bet they all have squinty eyes when the sun shines.
As one would expect, the town is well built to withstand the large downpour each year.
Like Tutunendo, the large rainfall is said to be due to Mawsynram's very close position to the equator and the Bay of Bengal.
Moisture is collected from India's notorious monsoon seasons and rains cats and dogs all over Mawsynram due to its elevated height.
***
So there you have it! The rainiest cities and places in the world. And you thought London was bad?
Save Rainiest Cities in the World to Pinterest so you can find it again later!