We just love rainy days and subsequently we are obsessed with rainy day quotes.
They are the perfect opportunity for cozy, at home date night!
Rain makes things grow and is very peaceful and pure. In our opinion, the rainy season makes for the best pictures on Instagram and therefore they deserve beautiful and witty Rain Quotes to spice them up!
And, If you love Instagram we developed some kick ass Instagram presets (filters) so you can edit your photos in 1 click!
Rainy Day Quotes
Here are 100+ Rainy day Quotes for Instagram captions. Go through the list and pick out some of your favorite quotes to use.
Wondering if you live in one of the rainiest cities in the world? The list might surprise you.
Funny Rain Quotes
So it's a rainy day? Want to be outside enjoying life but you are stuck inside? The best thing to do is find something to laugh about. These funny rain day quotes will entertain your friends as you watch the rain fade away.
"The best thing one can do when it's raining is to let it rain"
"There are many things I do for amusement, but for happiness, I like to gather up my memories and go for a walk in the rain – Robert Brault"
"Do not be angry with the rain; it simply does not know how to fall upwards" – Vladimir Nabokov
"Some people walk in the rain, others just get wet"- Roger Miller
"The sun did not shine. It was too wet to play. So we sat in the house. All that cold, cold, wet day" – Dr. Seuss
"Do you want to know what the best part about the rain that I really like, honestly? It stops soon"
"Why do people run from the rain but yet dance in the shower"
"I've never seen anyone so excited for it to rain"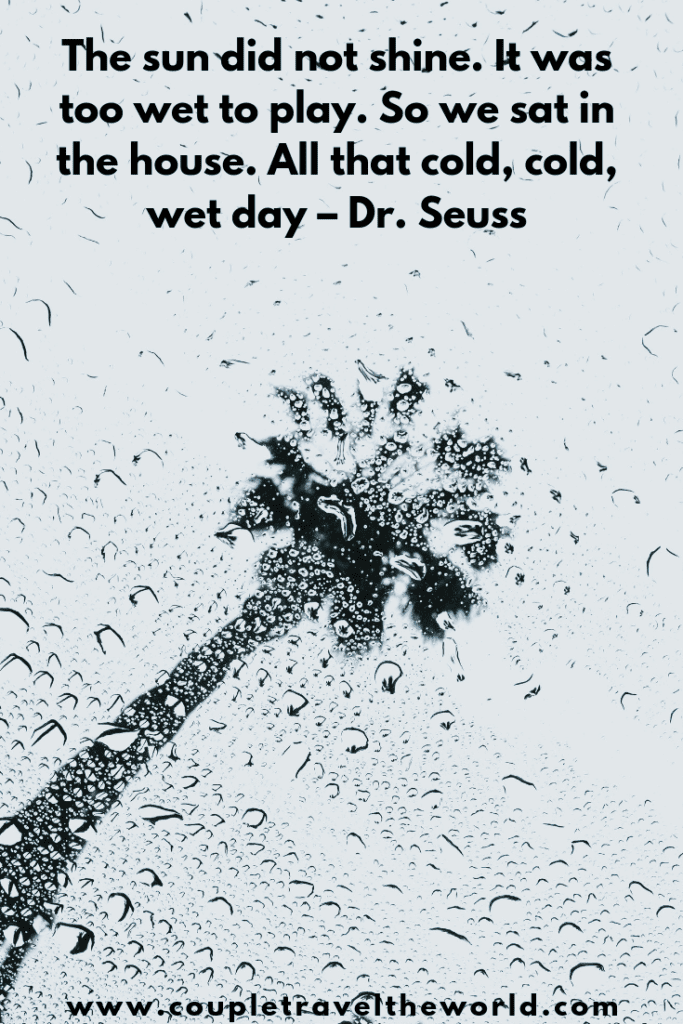 "Dehydrated Raindrops will be the next craze. Just add water." – Anthony T. Hincks
"I like to walk in the rain because it makes me laugh when I walk under it. And not many things in this life can make you laugh just to be touched by it." – C. JoyBell C
"When I was young I would look at the raindrops during the window and pretend they were racing"
"Rain is just confetti from the sky"
"When they try to rain on your parade, poke them with your umbrella"
"Storms remind me that even the sky can scream"
"Let us all agree that we should not go to work when it rains"
"Dance in the rain together, walk the storm as one"
"People will run away from the rain but sit in a bathtub full of water for an hour"
"People like watching sunsets, I like watching rain and lightning"
"If you think that the sun is pure happiness, you have clearly never danced in the rain."
"In London, the weather would affect me negatively. I react strongly to light. If it is cloudy and raining, there are clouds and rain in my soul." – Jerzy Kosinski
"If you hear on the weather report that it's going to rain tomorrow, rather than reminding yourself to bring your umbrella, set the umbrella by the front door – now the environment is reminding you to bring the umbrella." – Daniel Levitin
"The mother-in-law came round last week. It was absolutely pouring down. So I opened the door and I saw her there and I said, 'Mother, don't just stand there in the rain. Go home." – Les Dawson
"I love the ending of a movie where two people end up together. Preferably if there's rain and an airport or running or a confession of love." – Taylor Swift
"In rainwater, I observed a small red worm and two other kinds of very minute insects; of those of the larger size, I judged that 30,000 together would not equal coarse sand." – Antonie van Leeuwenhoek
"I don't care where I live, so long as there's a roof to keep the rain off my books and high-speed Internet access." – Eliezer Yudkowsky
"I don't consider myself a pessimist. I think of a pessimist as someone who is waiting for it to rain. And I feel soaked to the skin." Leonard Cohen
"I'm just waiting for people to start asking me to make the rain disappear." – David Copperfield
"I've learned that you can tell a lot about a person by the way they handle these three things: a rainy day, lost luggage, and tangled Christmas tree lights". – Maya Angelou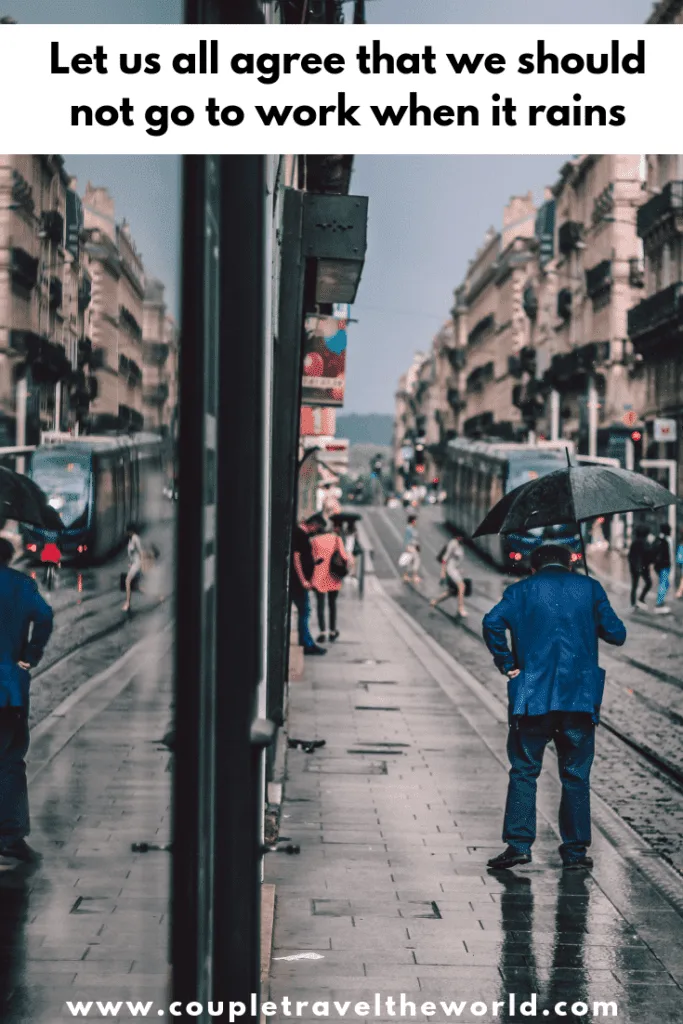 Enjoying Rain Quotes
Do you enjoy the rain? Do you get lost in the sound of the rain? Does watching the raindrops give you some kind of peace? These are the quotes for you!
If you're in a couple and don't love rainy days, you should really read our post about things to do on a rainy day for couples. Snap a photo of you sharing an awesome rainy date with your partner and come back here for your rainy day caption for Instagram.
These rainy day quotes are perfectly selected for every rain lover (they are also ideal for rainy day captions for the gram!)
"Rainy days should be spent at home with a cup of tea and a good book" – Bill Watterson
"A single gentle rain makes the grass many shades greener" – Henry David Thoreau
"Rain is grace; rain is the sky condescending to the earth; without rain, there would be no life" – John Updike
"Rain hangs about the place, like a friendly ghost. if it's not coming down in delicate droplets, then it's in buckets; and if neither, it tends to lurk suspiciously in the atmosphere" – Barbara Acton-Bond
"Life is not about waiting for the storm to pass. It is about learning to dance in the rain"
"The sound of the rain needs no translation" – Alan Watts
"Sunshine is delicious, rain is refreshing, wind braces us up, snow is exhilarating; there is really no such thing as bad weather, only different kinds of good weather" – John Ruskin
"I love the smell of rain, and I love the sound of the ocean waves" – Amy Purdy
"Rain makes flowers grow"
"The richness of the rain made me feel safe and protected; I have always considered the rain to be healing—a blanket—the comfort of a friend. Without at least some rain in any given day or at least a cloud or two on the horizon, I feel overwhelmed by the information of sunlight and yearn for the vital, muffling gift of falling water." – Douglas Coupland
"If you truly get in touch with a piece of carrot, you get in touch with the soil, the rain, the sunshine. You get in touch with Mother Earth and eating in such a way, you feel in touch with true life, your roots, and that is meditation. If we chew every morsel of our food in that way we become grateful and when you are grateful, you are happy." – Thich Nhat Hanh
"Look at the rain long enough, with no thoughts in your head, and you gradually feel your body falling loose, shaking free of the world of reality. The rain has the power to hypnotize." – Haruki Murakami
"Eyes so young, so full of pain … Two lonely drops of winter rain … And no tear could these eyes sustain … For too much had they seen." – Shaun Hick
"At last, it was raining. Water was streaming through gaps in the window frames and trickling into our laps. "Smell it! Smell it! God, how wonderful! How beautiful!" we shouted over and over." – Mark Owens
The rain only means the sun is close by to shine brighter and brighter
I don't see the desert as barren at all; I see it as full and ripe. It doesn't need to be flattered with rain. It certainly needs rain, but it does with what it has and creates amazing beauty. – Joy Harjo
One thing I love about being back in English rain. Looking out of the window now, it's raining, and the sky is dark; I love it. To me, those are reassuringly English things. I love it when it rains. – Kate Winslet
Rain is good for me. I feel like I achieve clarity actually when it rains. The longer I have to sit and wait, the clearer my game becomes to me. – Venus Williams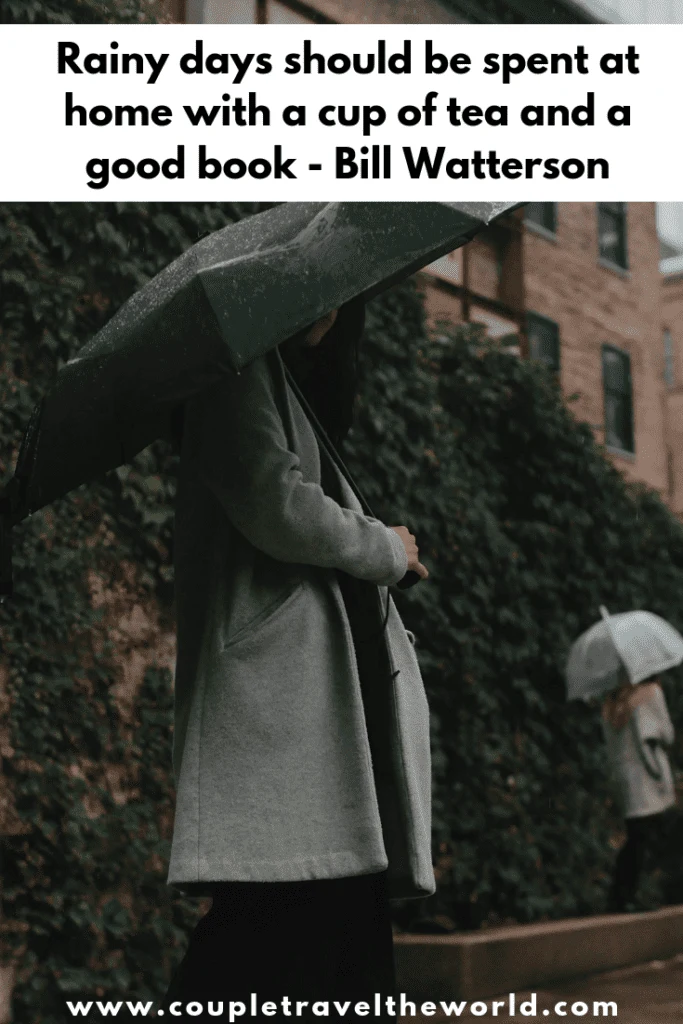 Cute Rain Quotes
Raindrops, drizzles, little splashes upon your face are the cutest moments in the rainy weather. Below are some cute rainy day quotes to caption along with your photos. Be sure to take a cute photo under the umbrella.
Let the rain kiss you. Let the rain beat upon your head with silver liquid drops. Let the rain sing you a lullaby – Langston Hughes
I love you because no two snowflakes are alike, and it is possible, if you stand tippy-toe, to walk between the raindrops – Nikki Giovanni
The three great elemental sounds in nature are the sound of rain, the sound of wind in a primeval wood, and the sound of outer ocean on a beach – Henry Beston
Being soaked alone is cold. Being soaked with your best friend is an adventure – Emily Wing Smith
People can survive with water alone so I think the rain is as much of a blessing as fire is
Life is full of beauty. Notice it. Notice the bumble bee, the small child, and the smiling faces. Smell the rain, and feel the wind. Live your life to the fullest potential, and fight for your dreams – Ashley Smith
Rain makes me feel less alone. All rain is, is a cloud- falling apart, and pouring its shattered pieces down on top of you. It makes me feel good to know I'm not the only thing that falls apart. It makes me feel better to know other things in nature can shatter. -Lone Alaskan Gypsy
The best thing about the rain is that it makes you feel so clean, makes you feel as pure as is
A rainbow is a rare flower of love from the rain and sun as a gift of hope for enduring the storm. – Debasish Mridha MD
She had a beautiful laugh which was like rainwater pouring over daffodils made from silver. – Richard Brautigan
Rain knows the earth and loves it well, for rain is the passion of the earth. – Estela Portillo Trambley
There is a way of walking through rain without getting hit by a single drop – you just have to find what it is. – Stewart Stafford
Rainy days are perfect for cuddles and movies
I don't know why, but rain comes into my head the minute I think of my childhood. – Dhanush
Who am I that I have to sing under an umbrella? These people are my fans, and if they can stand in the rain to hear me sing, I can stand in the rain. – Bobby Darin
The sudden appearance of mushrooms after a summer rain is one of the more impressive spectacles of the plant world. John Tyler Bonner
The rain always makes me wonder. What is it that the clouds ponder? Will I write something tonight? But I don't want to miss the thunder! – Avijeet Das
Umbrella is the comfort, rain is life! You must often leave comfort to touch life! – Mehmet Murat ildan
Let a smile be your umbrella on a rainy day
The way I see it, if you want the rainbow, you gotta put up with the rain. – Dolly Parton
The best thing to do on a rainy day is to get a cup of tea and ask friends to have tea time
A rainy day is a perfect time for a walk in the woods. – Rachel Carson
Millions long for immortality who don't know what to do with themselves on a rainy day. – Susan Ertz
There are many things money cannot buy, and one of them is the pleasure of a rainy day. It is on such days, that you can connect to your inner child once again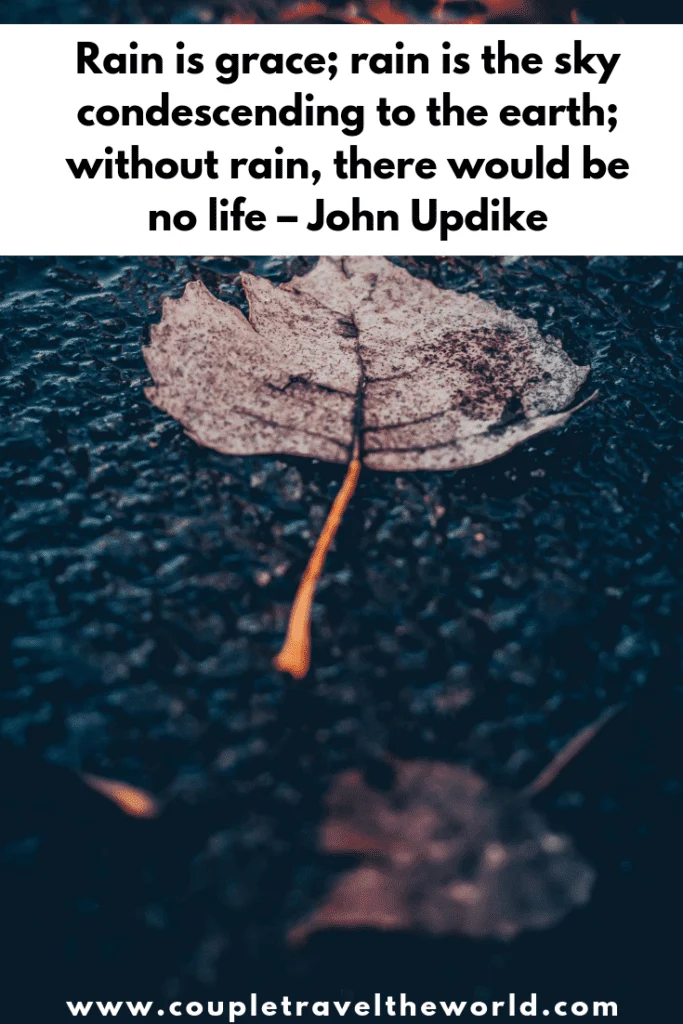 Sad Rainy Day Quotes
Rain can bring sadness especially if you associate it with a past event in your life or it is a time where you reminisce your childhood. You may also just not like rainy seasons and crave for the hot summers and that is perfectly okay! If you are feeling low feel free to use one of these rainy day quotes below – pick one that speaks to you.
I always like walking in the rain, so no one can see me crying – Charlie Chaplin
Are the days of winter sunshine just as sad for you, too? When it is misty, in the evenings, and I am out walking by myself, it seems to me that the rain is falling through my heart and causing it to crumble into ruins – Gustave Flaubert, November
After the rain, the sun will reappear. There is life. After the pain, the joy will still be here – Walt Disney Company
It didn't rain for you, maybe, but it always rains for me. The sky shatters and rains shards of glass – Tablo
Waiting for you is like waiting for rain in this drought. Useless and disappointing – Hilary Duff
The unwelcome of November rain had perversely stolen the day's last hour and pawned it with that ancient fence, the night. – F. Scott Fitzgerald
The rain fluctuates between drizzle and torrential. It messes with your mind. It makes you think things will always be like this, never getting better, always letting you down right when you thought the worst was over. – Susane Colasanti
The rain speeded like the train. My feelings drain into my own heart. Why is it so hard to refrain from myself? – Suyasha Subedi
1. Sipping hot tea 2. A fluffy blanket 3. Getting lost in a book 4. Wearing cute wellies 5. Watching old movies 6. Caramel corn 7. Finding rainbows This is what I love about rainy days
Rain slips through your fingers as easily as words blow away in the wind, and yet it has the power to destroy your whole world. – Karen Maitland
Rain amplifies your mistakes, and water on the track can make your car handle unpredictably. When something unpredictable happens you have to react to it; if you're reacting at speed, you're reacting too late. And so you should be afraid. – Garth Stein
The rain understands me, it soothes my soul, it is the music inside of me waiting to come out
Criticism, like rain, should be gentle enough to nourish a man's growth without destroying his roots. – Frank A. Clark
Being alone on the moors is scary; as the rain clouds settle in, it makes you realize your place in nature. – Dave Davies
Life is about choices. Some we regret, some were proud of. Some will haunt us forever. 'Black Rain' was very much about choices. The message – we are what we chose to be. – Graham Brown
I look out of the window again. The rain is trickling down silently, evenly, like the tears that cover my face. Perhaps God is in the water, in the raindrops. I put my hand against the cold pane to be close to Him. To be as close as I can without imposing. – Hanne Ørstavik
Let the rain wash away all those feelings that you have, all the pain, all the sadness inside
Everybody wants happiness. Nobody wants pain but you can't have a rainbow without a little rain.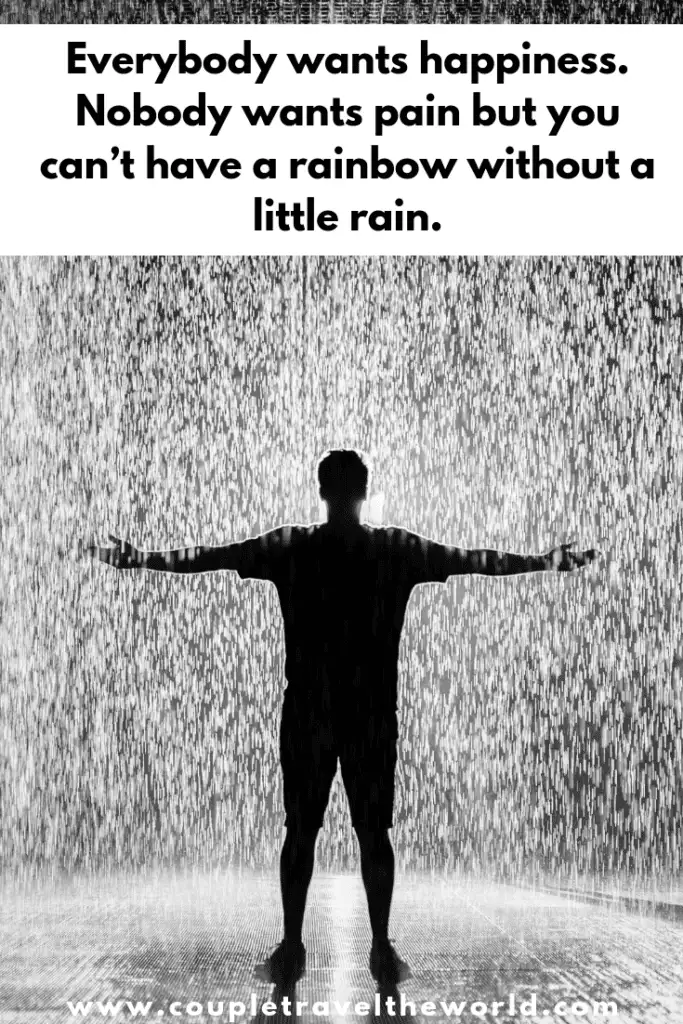 Romantic Rainy Day Quotes
Rain brings forth romance – it is a perfect time to stay indoors and binge watch movies with your loved ones or go outside and play in the ran. Here are romantic rainy day quotes to use on those rainy winter days. They are perfect to spice up your photos and make your loved one feel special.
I yearn for flowers that bend with the wind and rain -Tso Ssu
Without rain, there is no life – Jerry Yang
I think that the best kind of love is the one that has survived a thousand of pouring rains
If I were rain, That joins sky and earth that otherwise never touch, Could I join two hearts as well? – Tite Kubo
Love like rain can nourish from above, drenching couples with a soaking joy. But sometimes under the angry heat of life, love dries on the surface and must nourish from below, tending to its roots keeping itself alive – Paulo Coelho
Rainy days mean cold lonely nights and I believe that I could remedy yours if you let me
I don't just wish you rain, Beloved – I wish you the beauty of storms… – John Geddes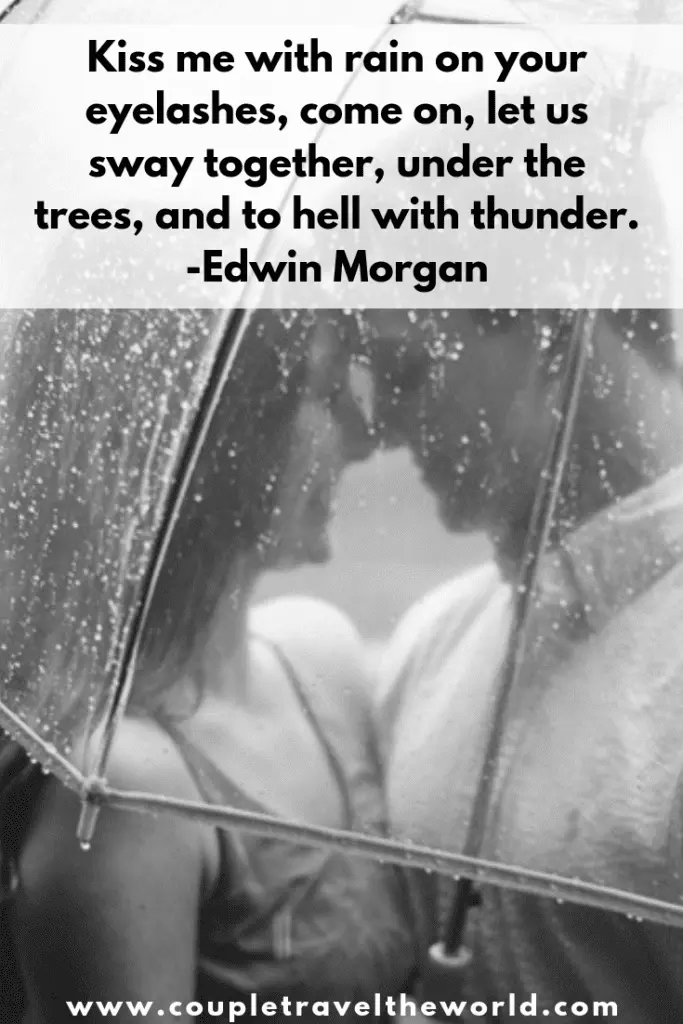 Kiss me with rain on your eyelashes, come on, let us sway together, under the trees, and to hell with thunder. -Edwin Morgan
"I wished it was raining," he said. "I don't need the rain," I said. "I need you." -Benjamin Alire Sáenz
You are the reason I love, you are the reason I live, I love you the way I miss the rain
Does it get any better than sleeping next to you on a cold rainy night? Watching myself in your eyes and the way I shine in there. Hearing the drizzle and getting weaker every time the breeze touches our bare skin. Every time you smile, these little butterflies with their wings on fire, flies inside my heart and I constantly fail to cage these feelings in mere words – Akshay Vasu
There are many things money cannot buy, and one of them is the pleasure of a rainy day. It is on such days, that you can connect to your inner child once again.
In Italy, they say rain on your wedding day is symbolic of fresh beginnings, cleansing, a pure marriage, and also a wet knot that can't be untied. Whitney Wolfe Herd
Raindrops show that they love you by getting you wet, and sharing their rainbow with you.
Rain catches the fancy of children and adults alike. Some see it as a sign of joy, while for the lonely souls, it spells depression and gloom. Through tears and smiles, the sound of falling rain on a rainy day, is certainly what matters
We show that we love you by giving you a hug, smiling, and saying that I love you. – Anthony T. Hincks
Let the rain kiss you. Let the rain beat upon your head with silver liquid drops. Let the rain sing you a lullaby. – Langston Hughes
You mean so much to me, more than you think you do and I love like the rain pours over
He looked like the sort of person who would tell you that he did not have an umbrella to lend you when he actually had several and simply wanted to see you get soaked. – Lemony Snicket
Found a rainy day quote that works for your photos? Or to send out to someone? Hopefully, you did! Let us know if you found the perfect rainy date quote below!

So which is your favourite Rainy Day Quote? We'd love to know! Let us know in the comments below:
Save these Rainy Day Quotes to Pinterest (so you can find it again later!)