Planning a Rio de Janeiro honeymoon? Such a good choice! With so many fun things to do, Rio de Janeiro lays a good claim to being the best city in South America.
In this post we will outline the most romantic things to do for couples on a honeymoon in Rio de Janeiro Brazil. Whether you want to spend your whole honeymoon in Brazil relaxing on the beach or you are looking for cool date ideas in Rio – this guide has you covered!
The good news about a Rio de Janeiro honeymoon is that it is a pretty cheap honeymoon destination as Brazil is a cheap place to travel.
Rio de Janeiro Honeymoon: Romantic things to do in Rio de Janeiro for Couples
Buckle in because our honeymoon guide to the best things to do in Rio de Janeiro is lengthy. Or you can just skim the cool photographs!
Rio had some seriously good food. If you want to know all the best traditional Brazilian food to eat in Rio, see our foodie guide.
Is Rio de Janeiro Safe?
Before we show you the best things to do in Rio de Janeiro, there is one pressing issue. Is Rio de Janeiro safe? Like I totally get it, you just got married and you definitely don't want to plan a trip to somewhere that isn't safe!
Before visiting Rio de Janeiro you will hear horror stories: that 1 in 5 people get violently robbed, that locals will go as far as stealing your shoes and that you should separate your money in two pockets so that if you are robbed twice in a night, you will have something to satisfy the robber and he will refrain from killing you.
The truth is we never experienced anything remotely like the above.
Maybe we got lucky. Or possibly the media has managed to successfully spook tourists based on a once off shooting in a particularly dangerous favela. I'm sure that there are bad neighbourhoods in Rio, like most big cities around the world & you could probably get yourself into trouble if you went looking for it.
However, if you are sensible and refrain from particularly stupid behaviour like walking along a deserted beach drunk and alone at night, you will be more than fine & safe in Rio!
So in other words, yes, it is safe to travel to Rio de Janeiro. Be sensible and refrain from particularly stupid behaviour like walking along a deserted beach drunk and alone at night.
Now, let's start with your Rio de Janeiro honeymoon itinerary.
Visit Ipanema Beach where the Grandma from Ipanema might just walk by
One great beach to visit while in Rio is Ipanema Beach which famously inspired the song, the Girl from Ipanema. Apparently, the song was written about a beautiful 15 year old girl who walked by the beach everyday. This girl, still around today, is a celebrity in Brazil now known as the 'Grandma of Ipanema'.
Don't let the talk of Gradmas give you the wrong impression. A visit to Ipanema Beach is one of the most fun things to do in Rio de Janeiro. Stake your place on the beach and watch the Rio natives go by in skimpy Brazilian swimwear (girls and guys!).
Vendors serve ice cold beers and Caipirinha cocktails. Ipanema Beach is the lifeblood of Rio. It is also a great place to wind down and watch the sunset after a busy day of sightseeing. The BEST thing to do while on a honeymoon OC.
The closest metro station to Ipanema beach is General Osorio.
Tour a Rio de Janeiro Favela
Taking a Favela walking tour was one of our highlights of our trip to Rio.
When you think of a Favela, you think of lower socio-economic citizens of Rio living in an area which is dominated by drug violence. Due to this perception, most people chose to take a guided tour if they wish to enter into a Favela area.
While the Favelas are far less dangerous than in years past due to the increased police presence, while having a beer with one of our guides at the end of the tour, we did meet a lady who told us that her son was a drug lord and 'not to be scared because we are always welcome here', which immediately had the opposite effect. Therefore, it is clear that the drugs are still quietly in operation in Favela, even today.
Unfortunately, the shortcomings of the Brazilian government mean citizens of the Favela still live without clean drinking water and at times there can be sewerage and garbage disposal issues in the Favela.
Walk the Escadaria Selaron
This staircase, otherwise known as the Escadaria Selaron, looks like it should belong in Barcelona due to its colourful ceramic tiles all along the staircase.
The colourful ceramic tiles and mirrors come from all from different parts of the world. The history of the stairs is that in 1990, Selarón, a resident of the street started renovating the dilapidated steps that ran along the front of his house with the colours of the Brazilian flag.
What started out as a hobby for Selarón turned out as an obsession and he sold artwork to fund the tiling of the stairs. Escadaria Selaron can be easily accessed by public transport. The closest metro to the Escadaria Selaron is the Cinelandia metro stop.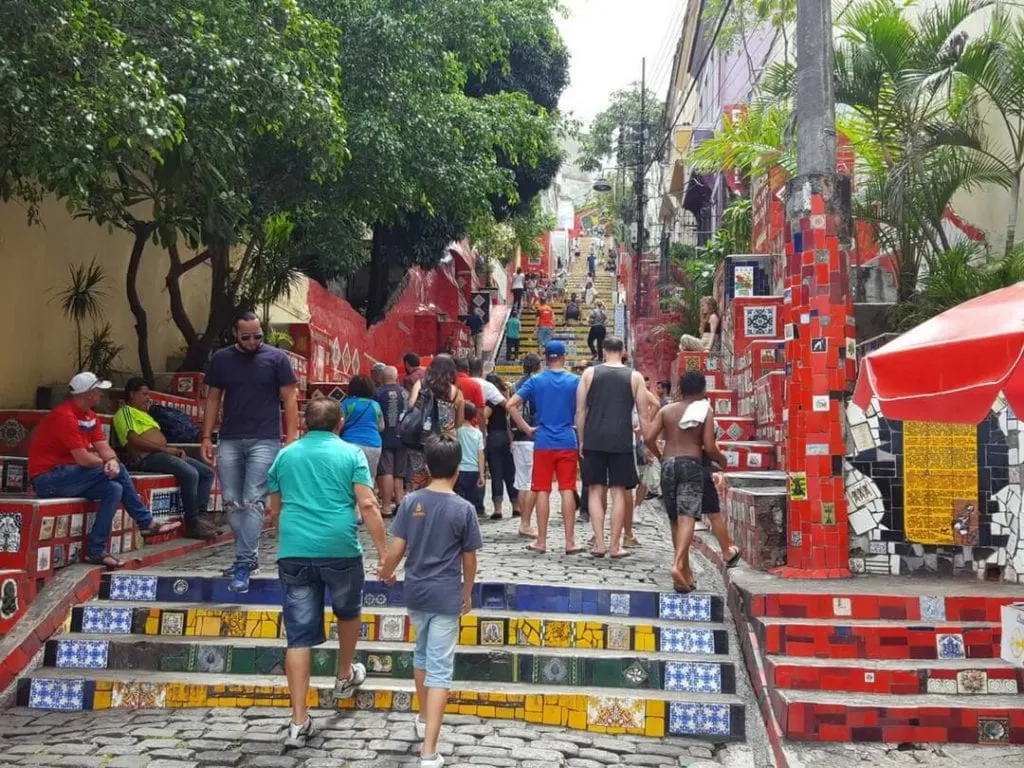 Visit Sugarloaf Mountain
Uber became our best friend while in Rio due to the super cheap price of using the service (especially if you used Uber Pool).
Going to Sugarloaf Mountain in Rio was about the only time that using Uber became a problem. Our Uber driver, for some bizarre reason, kept repeating 'Sugie Sugie?' and had no idea of where this famous landmark was. Strange, for being one of the most popular and and iconic landmarks in Rio.
Despite this minor setback, it is clear why Sugarloaf Mountain is rated the #1 attraction in Rio on tripadvisor – the views at the summit are fantastic! A cable car takes you to the top of Sugarloaf mountain and costs $76 Reals or around $23 USD per ticket. In order to reach the summit, you are required to take two 10 minute cable rides (included in the entry price).
The views after each cable ride are equally stunning. If you are spoiled for choice, pick a day that is clear & sunny for the best panoramic views. You can also enjoy a short rainforest walk at the top, where if you are lucky, you may spot a small monkey!
If you would rather use the great public transport system in Rio to reach Sugarloaf, the nearest metro station is Botafogo. Botafogo is around a 10 minute bus ride away to Sugarloaf (take the 581 or 513 bus). Public transport in Rio costs around 4 Reals one way ($1.20 USD).
If you are on a honeymoon in Brazil, I'd recommend splurging on the cable car.
Hang out on Copacabana Beach
Brazil is not short of natural wonders like Iguazu Falls. One of the best beaches in Rio is Copacabana Beach (not to be confused with Copacabana, Bolivia).
Here, you can see all that is famous of Brazilian Beaches – traditional Brazilian 'bum bum' bikinis, people playing beach soccer and drinking Caipirinha's from pop up beach bars. In summer, the best time to visit the beach is in the early morning or late afternoon when the weather isn't as hot and there are less people on the beach.
Be careful with your belongings on Rio beaches, unattended items on the beach are known to be stolen. On Copacabana beach, there were lockers that you can pay to have your things secured if you wish to go for a swim.
It is easy to access Copacabana Beach by metro. The closest metro station to Copacabana Beach is Cardeal Arcoverde.
Ride the Santa Teresa Tram
If you are looking for a unique thing to do in Rio on your honeymoon try n a short tram ride across the aqueduct up to the Santa Teresa district.
This open tram is a fun way to spend a few hours in the morning or afternoon. If you are over 60 or a Brazilian resident, the tram ride is free. Otherwise, it costs around 20 Reals (or around $6 USD).
Walk 5 minutes from Carioca or Cinelandia metro station to Santa Maria Tram station.
Take a look through the modern Metropolitan Cathedral of Saint Sebastian
It is very interesting to take a look through the Metropolitan Cathedral of Saint Sebastian as it is not at all what you expect of a Cathedral.
From the outside Saint Sebastian Cathedral more closely resembles a modern pyramid than most churches (see it in the background of the previous Santa Maria tram photo). The Cathedral is a very modern design with 4 panels of floor to ceiling stained glass windows meeting a cross skylight in the middle.
Inside the Cathedral is quite beautiful on a sunny day as the colourful light shines in.
Enjoy a Theatre Performance (Theatro Municipal)
The Municipal Theatre in the centre of Rio is not only a magnificent building both inside and outside but also offers top quality performances at bargain basement prices.
We were lucky to see the Nutcracker ballet perform for around $5 USD. If you are a student, entry is half price!See what's playing at the Theatro Municipal today.
Definitely one of the most romantic things to do in Rio – perfect for a honeymoon.
The closet metro station to the theatre is Cinelandia.
Visit Christ the Redeemer!
Any visit to Rio just wouldn't be complete without a visit to the Christ the Redeemer Statue!
Tip 1: Visit on a sunny day. On a day with clouds, you may not be able to get great pictures or even be able to see the statute in front of you!
Tip 2: Before you go, we strongly recommend you check out the official Christ the Redeemer train webcam for visibility.
To reach Christ the Redeemer, you have 3 options:
catch the train through Tijuca National Park;
get an uber/ taxi half way up & take a van the rest of the way; or
hike up to Christ the Redeemer.
Despite being the most expensive option, we chose to take the train as saving a little money on the van would probably prove pointless after factoring in the cost of the taxi and hiking up the mountain in Rio's summer heat simply wasn't an option.
How much does it cost to visit Christ the Redeemer?
The train up to Christ the Redeemer (which includes entry) was quite pricey at R$ 74.00 in high season ($22 USD). While there are no discounts for students, seniors over 60 pay only R$24.00 – yay Dad!
To access the train, go to Corcovado train station where you can take the train to the top of Corcovado Mountain. We found the quickest & easiest way to access the Corcovado train station was by using Uber.
Tip: There is free internet at the Corcovado train station to book your return Uber journey.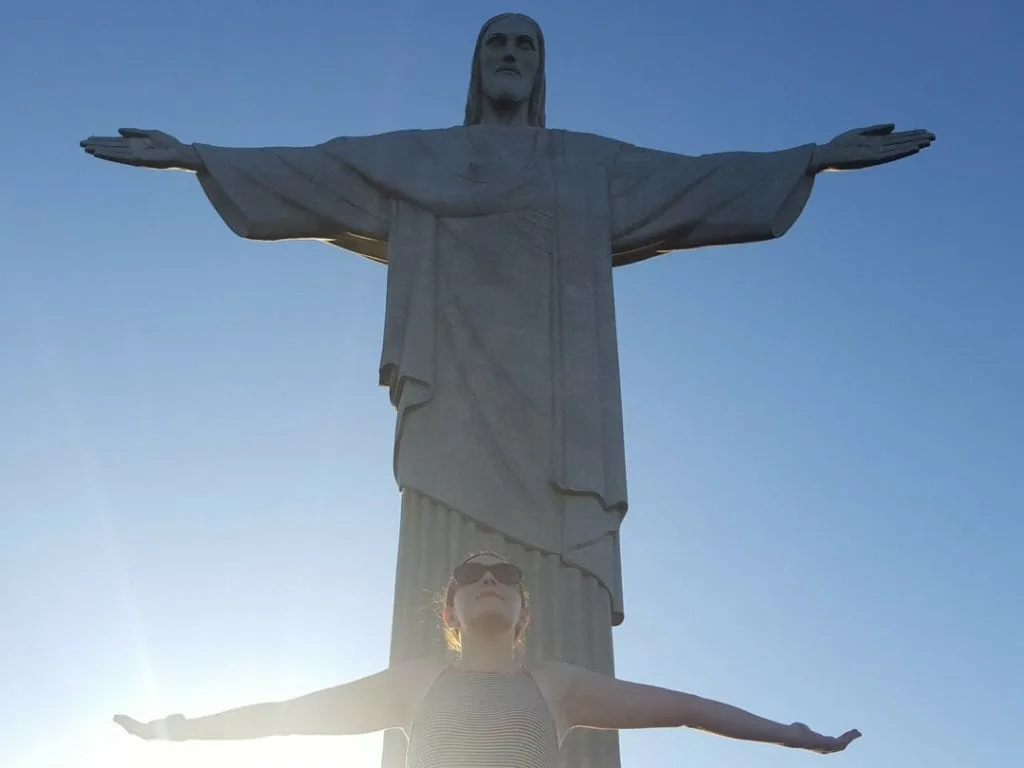 Watch the sunset at Arpoador
Where the beaches of Ipanema & Copacabana meet is a great clean beach with rocks to sit on and watch the sunset.
We loved sitting here and enjoying a beer at the end of a busy day. Watching the lights from the favelas twinkling like stars was one of the most unique things to do in Rio de Janeiro.
There are many local vendors which will sell you cheap drinks to enjoy as you watch the sunset. Just look at that view!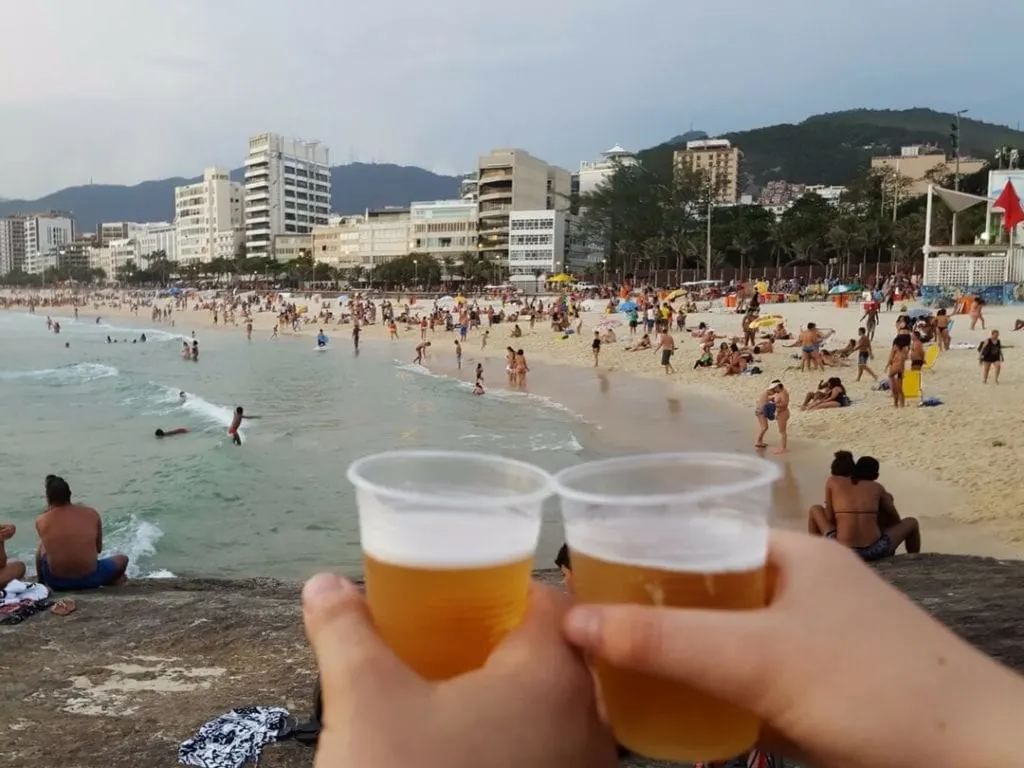 Take a stroll through the gorgeous National Library (Bilbioteca Nacional)
The National Library is such a beautiful building that it is worth a look if you are around the Central area of Rio near the Cinelandia metro station.
If you arrive between 1-2pm, there are usually free English tours of the building running (check the National Library website for current schedule).
Where to Stay in Rio de Janeiro for Couples
Rio is sprawling – so we consider there are three areas to stay in Rio, depending on your travel preferences.
Rio CBD – Close to Municipal Theatre, Cathedral of San Sebastian, and lots of great shops and restaurants
Catete – roughly in the middle. Easy access by Uber or metro to the CBD or Rio beaches. Safe area but not touristy.
Rio Beaches – hotels near beaches of Ipanema or Copacabana are the perfect place to soak up Rio beach culture and nightlife.
We stayed at the 1900 Hotel and were very happy with our selection of accommodation. During low season, you can score a room here for between 35 – 45 USD.
The rooms are clean, comfortable, have good wifi, air conditioning and a yummy breakfast included. The only downside to the rooms is that they are a little on the small side.
For even a little more luxury on the same street, try the Royal Regency Palace Hotel. We believe this hotel is owned by the same people. However, it is newer and even more luxurious than 1900 Hotel.
****