Looking for the most romantic and fun things to do in Cape Town for couples?
We stayed in Cape Town with our parents for 7 nights and had a great time. We actually could have stayed even longer and had plenty to do.
Whether you are a couple young or old, on a special honeymoon, anniversary trip or just a romantic getaway for two, rest assured you will love Cape Town, the perfect mix of beauty, culture and activities for couples to enjoy.
We have listed 10 of our favorite activities for couples in Cape Town with some of our top tips to help you during your stay. Enjoy!
10 Fun Things to do in Cape Town for Couples (Romantic Secret Spots!)
1. Visit Table Mountain
Table Mountain was one of the best things we did in Cape Town. It is a really romantic activity for couples as the views are beyond epic. This iconic peak sits on an altitude of over 3,000 feet and offers stunning views of the city below and the beaches including the beautiful Camps Bay.
Check the weather in advance and make sure you go on a clear day and you will be seriously impressed.
You can hike up table mountain for free if you are feeling like an active vacation or you can take the cable car up. Probably the easiest hike to the top of Table Mountain is the Platteklip Gorge trail which starts at Tafelberg Road, about 1,5 km past the Lower Cable Car Station towards Devil's Peak. It is a 5.5km return hike which travelers have reported to take them around 2 hours return. We should note that no hike to the top of table mountain is easy feat so be prepared for a reasonably tough hike.
We decided to take the lazy option and take the cable car to the top of Table Mountain. Everyone pushes to get into the car but it is unnecessary as the floor of the car rotates so you are able to see views from all angles once you are inside. Prices vary depending on age and what time of day you are visiting. Tip – if you visit after 1pm, it is a slightly cheaper price for the cable car, around 380 Rand pp returm ($19.30 USD).
We have done quite a lot of cable cars during our previous travels and didn't think we would enjoy Table Mountain as much as we did.
If you need transport or want to combine Table Mountain with other attractions in Cape Town like the penguins, you can book a reasonably priced tour here. A tour is a good option as in peak season, the car park can get very full and you have to walk a long way to reach the entrance to the cable car. There is also long lines to purchase a ticket on the day which you can skip if you book in advance.
If you decide to drive yourself with a rental car, like we did, have some small notes available for the South African car mafi that help you park your car.
At the top of the mountain, there are numerous hiking trails and viewing platforms to enjoy as well as a cafe/restaurant where you can buy food as well as alcoholic beverages. A popular past-time was to enjoy a beer at the top while admiring the view, especially at sunset. Food and drink is very affordable in Cape Town, even at popular tourist attractions with a beer at Table Mountain only setting you back around 3 USD.
2. Have a fun African dinner at Gold
There are a lot of great places to eat in Cape Town, it really is a foodies paradise. If you like to eat, you will be very happy here.
One of the most fun dining experiences we have ever done was at Gold Restaurant in the city centre of Cape Town. If you want a chance to eat traditional African cuisine while being entertained with African song and dance, this is your chance.
The host where we were staying in Cape Town recommended this restaurant. You have a choice to just go for dining or go for a pre-dinner interactive djembe drumming session at 18:30.
The drumming session is really enjoyable and only costs around 100 Rand per person more. We also noticed that the people going to the drumming session got better seats with better viewing of the entertainment so we would recommend it. We enjoyed the interactive drumming.
The restaurant is located in the city of Cape Town and you can park in the area for free, subject to having some small notes available for the South African car mafia.
3. See Cute Penguins at Boulders Beach
We spent a lovely day visiting the cute penguins at Bolder Beach. Our accommodation was in Camps Bay and so the drive to Bolder Beach took us about 50 minutes.
It was quite busy at the ticket office on arrival. The entry fee for adult non citizens of South Africa is R152 and for citizens R39. Lower prices apply to children. Once through the ticket gates it is a short walk to the viewing platforms, where we saw penguins up close and personal. Some were laying on the rocks, others waddling up the beach and others arriving in from the ocean.
What amazed me was the speed they traveled underwater before popping up to paddle to the beach like ducks; then standing up and slowly make their way up the beach. After spending quite a a long time watching these loveable creatures, we went back to the entry gates and took the path left.
Along this walkway (where there is no entry fee charge, until the end of the walk) you can see the penguins at close proximity along the boardwalk, in nesting boxes and going about their activities. When we reached the end of the walkway; there is another ticket office that passed us through once we showed our tickets we purchased previously. This area was much quieter than the previous viewing area in a nice little beach setting. Sometimes, if you are lucky, you can swim close to the penguins at this beach.
There were a few penguins there, but no where near the amount we saw at the previous viewing points. It was early winter when we visited; however I imagine it would be a great place to swim in warmer months (possibly with a penguin or two). One of the top places to visit in cape town for couples for sure, especially if you or your significant other likes cute things!
4. Drink wine at the Constantia wineries
You can't visit Cape Town without visiting the wineries. There are a few wine areas in Cape Town with Constantia being one of our very favorite areas.
If you want to have a few drinks and not worry about driving, we would recommend going on a Constantia wine tour which takes you to the best wineries in the area.
If you are comfortable with driving yourself, we would recommend visiting no more than 1 winery a day for the driver due to the very generous servings of tastings. For around 115 Rand you can sample 4-5 wines per winery.
If you just have time for a few wineries in the area, we would recommend Constantia Glen winery and Groot Constantia estate.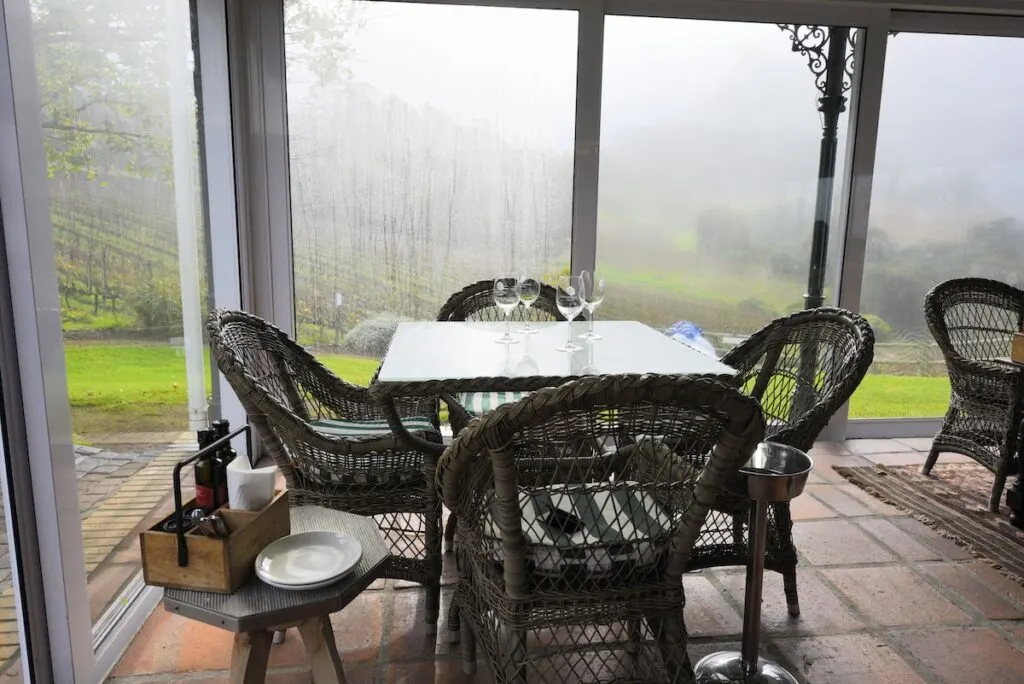 Constantia Glen was a darling winery with a stunning inside area which was perfect for a windy, rainy and cold day in Cape Town. The wood fired pizza we paired with our wine at Constantia Glen was one of the best pizzas we have ever tasted.
While it was hard to beat, we preferred Groot Constantia, an absolutely stunning vineyard established in 1685, as the wines were some of the best we have ever tasted. While we are not normally a fan of desert wines, we ended up purchasing two bottles of the Grand Constance desert wine (which is produced from Muscat grapes) and a favorite of Napoleon.
5. Stroll around the V & A waterfront
The V&A waterfront is one of the best and most lively areas of Cape Town. It is a great place to visit for couples due to the abundance of amazing dining opportunities in the area and fun things to do and see nearby. We were lucky enough to see a local African choir perform while we were in the area.
One of the most romantic activities to do in the area is to take a ride on the Cape eye ferris wheel for some of the best views of the city.
If you are feeling like a Parisian inspired coffee and cake, there is also a nice coffee shop we visited for coffee and cake called Paul directly in the area.
If you are visiting in the evening, one of the most popular Japanese restaurants in the city, Tang is located at the V & A waterfront.
6. Admire the colourful houses in the Bo Kaap neighborhood
One of the most iconic pictures of Cape Town is the picturesque Bo Kaap neighbourhood. Located close to the V&A waterfront, you could visit both areas in one day.
It won't take you long to explore the colorful cobbled streets of Bo Kaap neighbourhood but it is worth a visit while you are in Cape Town. Interestingly, the houses here have a meaningful history behind them. The first residents of the houses were slaves from Malaysia and Indonesia. For this reason, the area is also sometimes referred to as the Malay Quarter. After slavery was abolished, the residents painted their houses in bright colors to represent freedom and individuality.
If you are interested in photography, this is a really nice place to pose for a photo. If you aren't the best photographer yourself, in one of the houses, is a resident photographer where you can purchase beautiful pictures of Cape Town. He was really friendly and will happily have a chat with you about South Africa, his opinions on load shedding and other political issues.
Alternatively there is also a photo tour of Bo Kaap that you can take which is a really fun way to spend a morning or afternoon.
Bo Kaap is free to visit and open all day and night. If you want to take a nice photo, avoid the midday sun.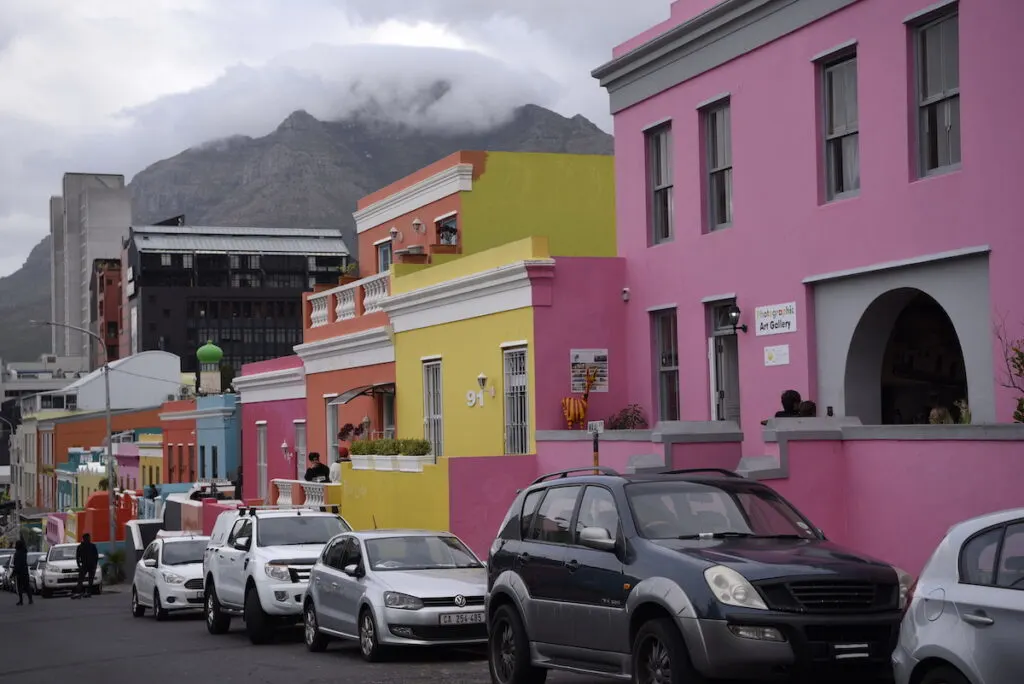 7. Drink wine at the Stellenbosch wine region
Another of Cape Town's best activities for couples is to make a visit to the Stellenbosch wine region. Aside from wine, Stellenbosch is known throughout South Africa for having one of the best Universities in the country.
Along with over 150 wineries in the area, there is also breathtaking scenery to enjoy. This is a drawcard for many South Africans, who are often known to make a weekend trip to the Stellenbosch wine region.
We visited on a day trip which was about an hours drive from Camps Bay, where we were staying.
We would highly recommend going to the Spier wine farm in Stellenbosch for the chocolate and wine pairing tasting. Spier wine farm is a stunning winery with beautiful walks to enjoy and a great bakery onsite. One of the best secret romantic spots in Cape Town for sure.
8. See the colourful beach houses at Muizenberg Beach
We spent a lovely day visiting Muizenberg Beach; which was only about one hour drive from Cape Town.
One of the country's most scenic attractions, the Cape of Good Hope Nature Reserve on the southwestern-most tip of the African continent is a mere one-hour drive from the hurried pace of Cape Town.
We were greeted by beautiful white beaches; where there were quite a lot of surf board riders enjoying the rolling waves all along the beachfront. If you want to learn to surf or kitesurf there is an opportunity to go for it here. In the winter months you may be luck to spot Southern right whales that pass by this scenic location.
Muizenberg's was originally established as a Dutch military base way back in 1743, prior to the British takeover of the colony.
However, the main attraction. for us were the bright fully colourful beach huts; that have stood the test of time from when Victorian society were so much more modest about their beach attire. This is a great location to achieve a special photo with either the mountain backdrop behind or the sands and sea in the foreground. Unfortunately the beach hut doors have been removed as vandalism became an issue.
There is a plethora of choices to enjoy coffee, a great restaurant meal or a quiet drink in the area; whilst soaking in the joys of Muizenberg. We enjoyed drinks at Tigers Milk bar, which has a lovely view of the ocean – highly recommended if you are looking for a nice place for a drink or a meal.
9. Hit the beach at Camps Bay
Camps Bay is one of the prettiest beaches in Camp Town with cute shops and dining opportunities lining the esplanade as well as a stunning beachfront with large boulders filling the water. A beachfront with a backdrop of table mountain as well as Lions Head makes this area one of the most impressive and iconic areas of Camp Town.
Aside from the incredible beach, there are some fabulous dining opportunities in Camps Bay. One of our favorite places to eat in the area was Hussars Grill, by far one of the best steak restaurants in Camps Bay.
If you are interested in trying game meat, this is a great place as they serve a few options of game meat on the menu, cooked to perfection. Although the game meat was interesting to try, by far the best item on the menu is fillet on the bone. We dined at Hussars Grill 3 out of the 7 nights we stayed in Camp Town because it was that good.
Other good options for dining in Camps Bay include Codfather Seafood & Sushi, Bootleggers for coffee and The Pottery for drinks and woodfired pizza.
Camp Town is one of the more upmarket areas of Cape Town with multi-million dollar houses lining the beach with views to die for. If you are on a special vacation like a honeymoon, we highly recommend staying in Camps Bay. We stayed in a stunning waterfront home in Camps Bay which we would recommend if it is available.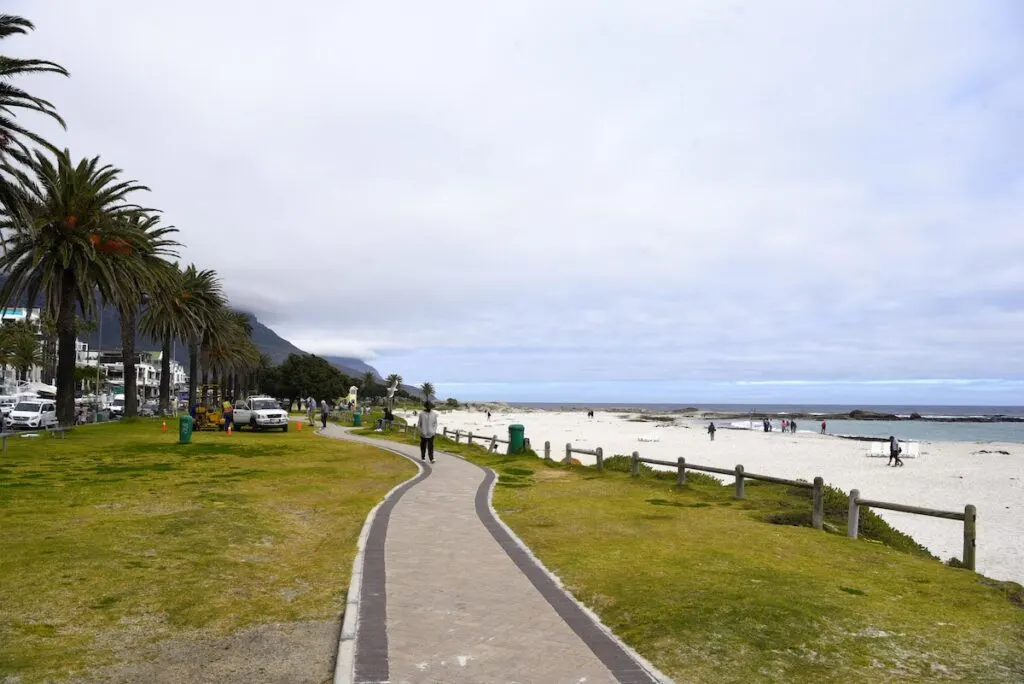 10. Hike Lions Head
Aside from Table Mountain, Lion's Head is the most iconic hike to complete in Cape Town.
The return hike up Lion's Head is 5,3 km/3,2 miles. It takes around 2 hours to complete (both ways) give or take based on your individual fitness level.
We went on a windy day and it was a very scary hike, especially for someone who has a fear of heights. It is not recommended on a rainy or windy day as it is a dangerous hike in these conditions so we were quite silly (Don't repeat this mistake we were almost blown off the mountain, quite literally). People have previously died completing the hike so take care if you do decide to hike Lion's Head.
At the end of the hike, you have a choice to take an easier but longer hike to the summit or for the adventurous and daring hiker, there are chains up the mountain-side you can use to scale the summit.
Despite the risk factor, if you go on a clear day in good conditions, we would highly recommend the hike as the views for the entire duration of the hike are absolutely incredible. For sure one of the best cheap things to do in cape town for couples (it's free to visit, only payment required for the South Africa parking mafia).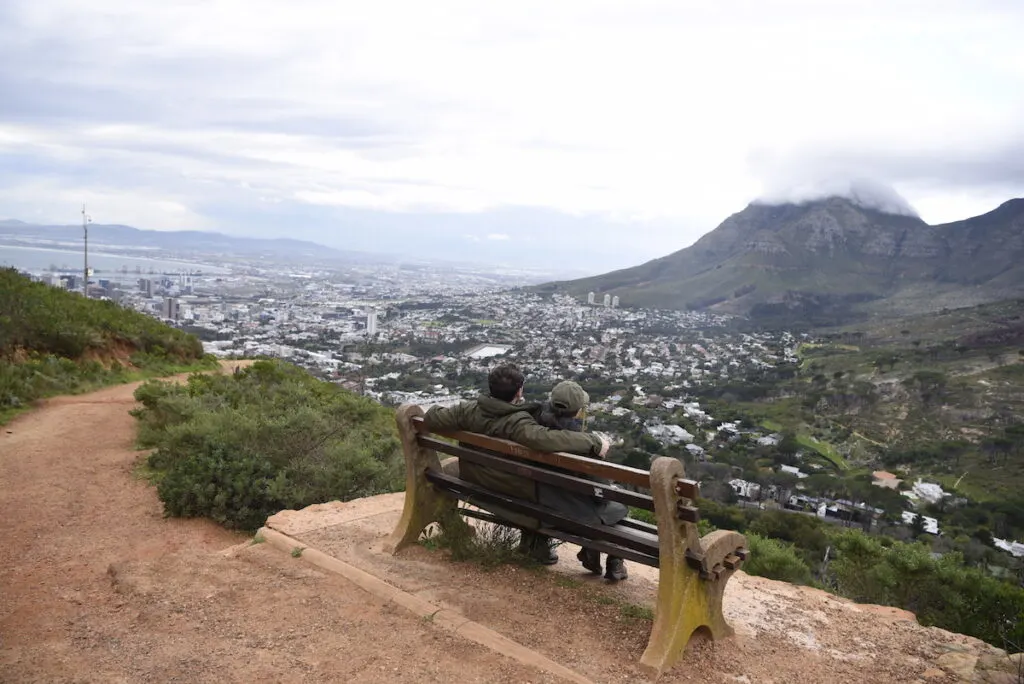 Where to stay in Cape Town for Couples
We personally really enjoyed staying in Camps Bay while we were in Cape Town. The area was quite an upmarket area of the city so we always felt very safe and comfortable while we were there.
You can also get accommodation in Camps Bay with incredible ocean views, some of the best in the world, so personally think it is worthwhile paying a little extra $ to stay in Camps Bay. There were also great restaurants and amenities nearby such as Woolworths.
****
See more Africa: