If you're looking for romantic getaways in Alabama, there is no shortage of cool cities and very romantic hotels in this State to enjoy.
Alabama is a great place for a romantic vacation as it is home to many of America's most breathtaking attractions.
From fancy resorts to romantic cabins in Alabama and quaint chalets, this guide will convince you that this State is the perfect place for your romantic weekend getaway in Alabama.
21 + Romantic getaways in Alabama
Most Romantic Places in Alabama
If you are just starting to plan your romantic getaway, here are some of the best cities in Alabama that have great attractions for couples.
From Birmingham to Tuscaloosa, there are plenty of great places to visit for your trip and each one is just as unique as the next.
Birmingham
Birmingham has something to do for everyone! If you are looking for a couples getaway however, there are tonnes of romantic places in Birmingham.
There is the Barber Vintage Motorsports Museum for motorcycle and motor sports fanatics, the Birmingham Civil Rights Institute where you can touch the bars of the jail cell MLK Jr was in, and Regions field where you can watch a baseball game together.
Some other romantic things to do in Birmingham include the Birmingham Botanical Gardens with their authentic Japanese Tea House, arch entrance, bridges, Bamboo Forest, Zen Garden, Bonsai House and more.
The Birmingham Zoo is also a must see with their daily seal shows, lion feedings, and more.
Top attractions & tours for Couples include:
Best Hotel For Couples in Birmingham: Renaissance Birmingham (More Details below)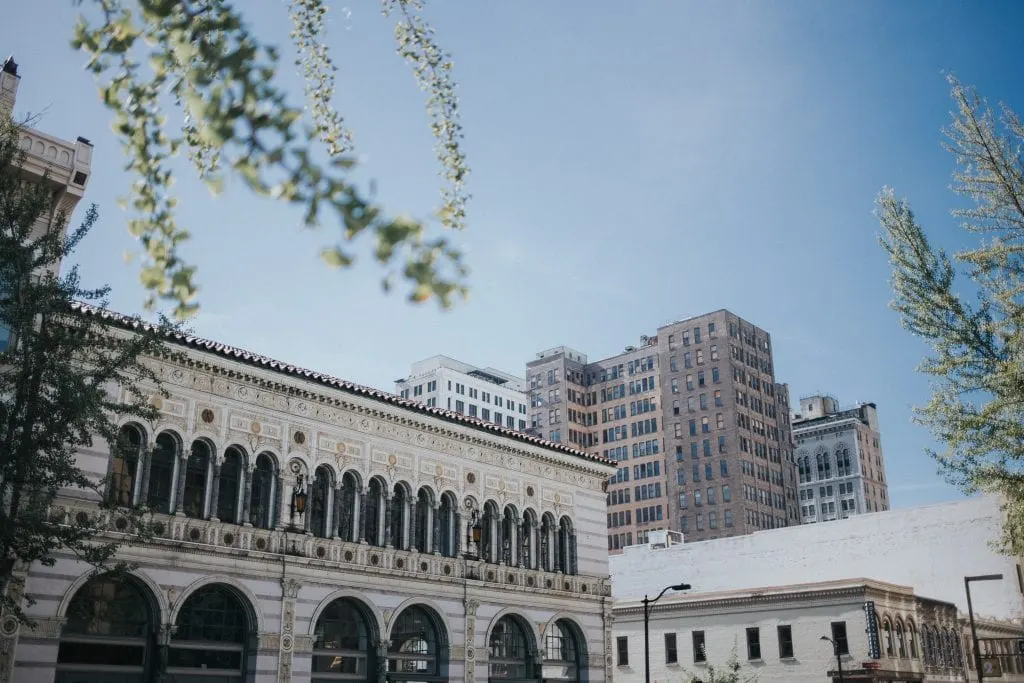 Mobile
One of my favorite things to do in Mobile, besides go on a cruise out of their local cruise terminal, is to visit the Battleship USS Alabama.
You can enjoy a self-guided tour of the magnificent ship and take in all the history surrounding it. Other options for the area include GulfQuest – National Maritime Museum of the Gulf of Mexico, Mobile Carnival Museum, Mobile Bay and more.
Other romantic things to do in Mobile AL include the Mobile Botanical Gardens with a winter garden, Japanese garden, walking paths and a research center to learn more about the gardens.
Top attractions & tours for Couples include:
Best Hotel For Couples in Mobile: Forte Conde Inn (More Details below)
Huntsville
If you're looking for a romantic getaway, look no further than Huntsville, Alabama. It is definetely one of the most romantic places in Alabama.
Plan a visit to the U.S. Space and Rocket Center and explore all the fun, interactive attractions and learn about space exploration or head over to the U.S. Veterans Memorial Museum to view the amazing collection of unique items from opposing forces including German, Spanish, Japanese, Italian, Vietnamese and others.
Visit Monte Sano State Park to walk through their Japanese Gardens or Harmony Park Safari to see all the different animals through their tour.
Big Spring Park is another must see in Huntsville, walk along the water and enjoy the view hand in hand with your significant other.
Top attractions & tours for Couples include:
Best Hotel For Couples in Huntsville: Element Hunstville
Montgomery
Montgomery is also another great romantic getaway for lovers of history. A fabulous choice for a weekend trip in Alabama as there are so many romantic things to do in Montgomery!
There is the Dexter Parsonage Museum, which is Dr. Martin Luther King's home, the Civil Rights Memorial Center, and the First White House of the Confederacy.
In Montgomery, there is also the Montgomery Zoo which offers lots of interactions with the animals for the animal lovers.
Alabama State Capitol, Hank William Museum, The F. Scott and Zelda Fitzgerald Museum, and Riverfront Park are all also great locations to check out when traveling to Montgomery for your romantic getaway.
Top attractions & tours for Couples include:
Best Hotel For Couples in Montgomery: Red Bluff Cottage
Florence
Florence is a hidden gem with lots of outdoor activities and parks to explore. It is one of the best romantic getaways in North Alabama.
From McFarland Park on the Tennessee River with it's floating restaurant to Deibert Park close to the Children's Museum with rolling hills for walking, jogging, and biking!
Florence is also the location of the University of North Alabama, as well as Pope's Tavern, Wichahpi Commemorative Stone Wall, and Frank Lloyd Wright's Rosenbaum House.
Best Hotel For Couples in Florence: GunRunner Boutique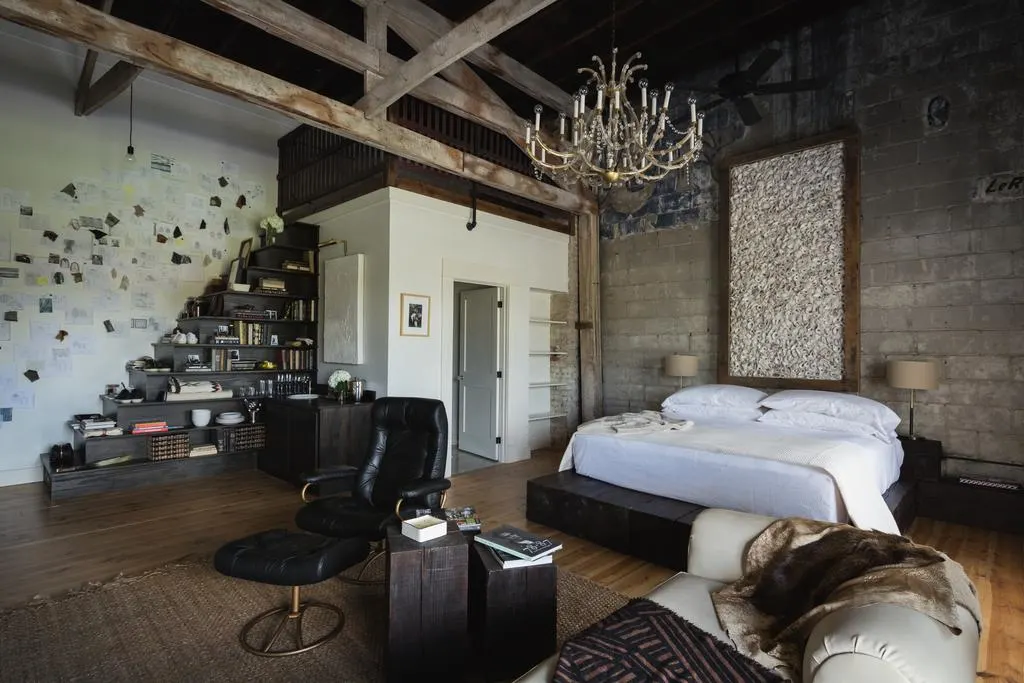 Gadsden
In Gadsden there is the beautiful Noccalula Falls Park and Campground with a picturesque waterfall and a neat little zoo area as well.
Other fun romantic ideas for outdoor lovers visiting this area are the Neely Henry Lake which covers 11,200 acres in just water alone, the Martin Wildlife Park Trail which is perfect for bird watchers.
The Ola Lee Mise – also known as Patriot Park – named in honor of the Korean War Medal of Honor Winner, and features a war memorial, a ships propeller, and anchors as well as an expansive field to enjoy exploring the park.
Best Hotel For Couples in Gadsden: Fairfield In & Suites
Mentone
If you are looking for a small, quiet getaway, look into visiting Mentone. It is a small town located at the top of Lookout Mountain. Some of the buildings even look untouched since their construction a hundred years ago.
DeSoto Falls is one of the most famous attractions for this quaint little town but there are also other things to see and do.
Visit the Mentone Wedding Chapel, maybe renew your vows together or hold your wedding in this historic little Church on top of the mountain.
Visit Brow Park and watch the sunset together, visit the Wildflower Café and enjoy a wide selection of delicious food, or go boating at A. A. Miller Dam.
During the winter visit the Cloudmont Ski and Golf Resort and stay in one of the chalets or cabins for a romantic winter getaway together.
Best Hotel For Couples in Mentone: Charming Little Tree House Cottage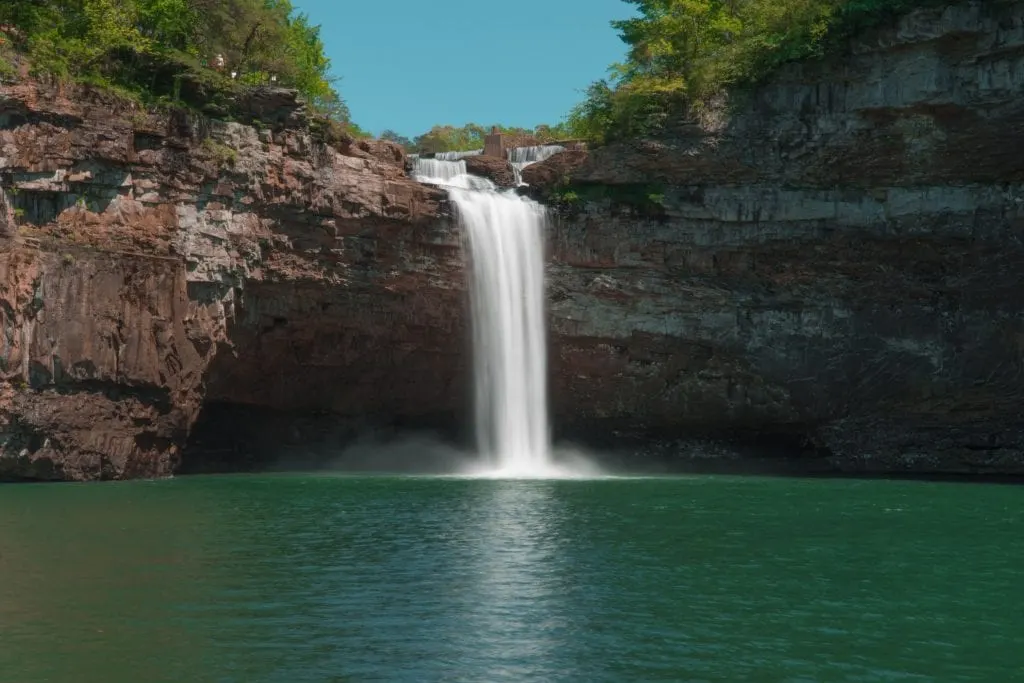 Pisgah
Pisgah is another great outdoorsy getaway for nature lovers. If you are looking for a cheap romantic getaway in Alabama – Pisgah is a great choice as there is a lot of natural attractions to explore.
From Looking Glass Falls and the Pisgah National Forest to Sliding Rock with its natural water slide in the mountains there is no shortage of beautiful scenery in this town.
At Cradle of Forestry take a Blue Ghost Firefly tour, or head over to Moore Cove Falls to enjoy a short half mile hike to the magnificent waterfall.
Visit Looking Glass Rock for a more technical hike on a trail with switchbacks and some steep inclines filled with rocks and tree roots, with a view that is worth the extra work to hike up to see.
Best Hotel For Couples in Pisgah: The Lodge
Orange Beach
Located on the Alabama Gulf Coast is the town of Orange Beach, with over 32 miles of white sandy beaches. The perfect place for weekend getaway in Alabama.
Whether you want to walk along the beach holding your significant other's hand, or just sit and relax to watch the sunset together there is plenty to do in this little beach town.
Check out Orange Beach Helicopters for a sunset helicopter tour over the beaches and waters near the Caribe Resort for 30 minutes, or contact the veteran owned Lost Bay Helicopters if you're feeling daring enough to skydive together!
After a long day of adventuring, pamper yourself with a couple's massage at one of the multiple spas in town or book a dolphin cruise with your sweetie.
Through The Southern Rose you may not be able to swim with the dolphins, but you will get to see them up close on their comfortable double-decker cruiser with both inside and outside seating. Cruises last from one to two hours and there is a snack bar available on-board offering sodas, chips, wine, beer and other snacks.
Top attractions & tours for Couples include:
Best Hotel For Couples in Orange: Romar House

Tuscaloosa
Last but not least is the town of Tuscaloosa.
If you're a big music fan, be sure to check out the Druid City Music Hall and dance and sing to the top of your lungs with your favorite person to some live music, which is the best way to enjoy music.
Take a stroll down the River Walk or grab a drink and play some old school arcade games at Loosa Brews. Take a riverboat cruise through Bama Belle Riverboat cruises or go stargazing in Moundville.
Visit Capitol Park, where columns and remains of the old capitol are still standing for you to explore.
Best Hotel For Couples in Tuscaloosa: Fairfield Inn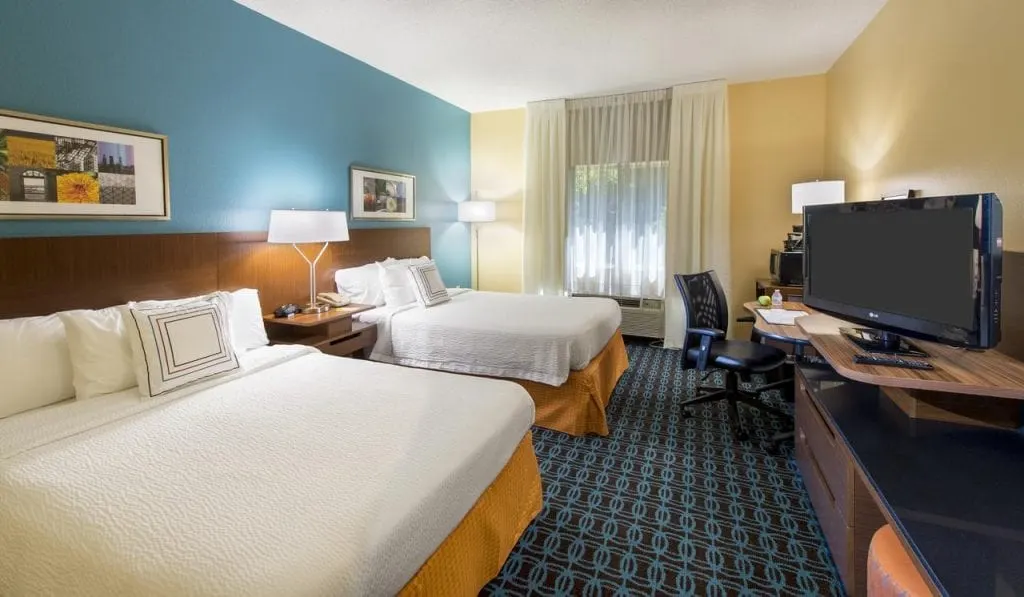 Best Romantic Hotels in Alabama for Couples
Sometimes a romantic getaway is not about the location but a really really romantic hotel to relax.
Below are the the best romantic hotels for couples in Alabama:
If you're looking to experience true Southern Hospitality, look no further than the Grand Hotel Golf Resort and Spa.
The Grand Hotel Golf Resort and Spa is located not far from Fairhope, Alabama in the beautiful beach town Point Clear on over 550 acres of scenic property. As indicated in the name, there is two gorgeously green golf courses located at the Lakewood Club.
Also, part of the hotel's allure is a 20,000 square foot Spa. There are ten tennis courts, beautiful white sand Gulf Coast beaches, and a pool complex.
Casually dine at the Bayside Grill or check out the local chef inspired farm to table dining Southern Roots.
Guest rooms are adorned with tasteful décor and some of the most comfortable beds you will find. With everything there is to do on property, there is really no reason to leave throughout your entire stay, so once you check in all you have to do is relax and enjoy the amenities until it is time to leave.
Book your stay here.
Located amid the historically charming town of Auburn, AL is our next hotel.
The Hotel at Auburn University has an on-property pool complete with a pool bar, electric car charging stations, grocery and personal care delivery through FetchMe Delivery, a 24-hour fitness center, 10 pet friendly rooms, complimentary Wi-Fi, and many more amenities.
Nearby are many dining options to choose from starting with Ariccia Cucina Italiana, with mouthwatering Italian cuisine, to Piccolo Jazz Lounge which serves up specialty cocktails and appetizers while listening to live Jazz. H.C Valentine, the lobby bar, offers food for any time of day along with specialty café drinks for those who might be in a hurry to go sightsee around the town of Auburn.
Christmastime is a very special and romantic time to visit as the historic Victorian homes are decorated to the brim in Old World Christmas Wonderland.
The town is fully decorated with life-size Santa's, angels, teddy bears, and all things Christmas by local artist Jan Jones. There are numerous activities to partake in including driving or walking tours to view the carolers, decorated homes, and other festivities.
Book your stay here.
If you're looking for something a little quieter and smaller, the charming Magnolia Springs Bed and Breakfast might be right for you.
Located off the beaten path, though still close enough to Gulf Shores, AL to explore if you feel like getting out.
Built in 1897 and lovingly restored with original stained glass and woodwork, this romantic little bed and breakfast is the perfect getaway.
All rooms include private bathrooms, king or queen beds, and all modern amenities.
Every morning wake up and enjoy a delicious home cooked southern breakfast and hot cup of coffee. Each afternoon hang out on the wraparound porch with a cool drink. Every evening be sure to indulge in chocolates and homemade cookies during turndown service.
Outside of the bed and breakfast, explore the Gulf Coast with boat trips, shopping, dining, golf courses, historical state sites, and unforgettable natural wonders.
Book your stay here.
The Fort Conde Inn, built in 1836, is Mobile, AL's second-oldest house.
Two years of loving restoration when into this unique and charming location. Each day begins with breakfast in the location of your choosing and ends with chandeliers glowing in oversized parlors.
Secluded in the heart of downtown Mobile, you are mere steps away from Mobile's waterfront area with its museums and shopping.
You are also located within walking distance of a cruise terminal so if you stay the night before or after your cruise, you can park your car for free while on your cruise!
Three cottages surround the Inn, each with their own allure and are perfect for family vacations, getaways with friends, or private events.
Book your stay here.
Part of the Marriott family, the Renaissance Birmingham Ross Bridge Golf Resort and Spa has the fifth-longest golf course in the world at 8,191 yards and 18 holes and a full-service spa.
The hotel is located in Birmingham, AL nearby to the scenic town of Hoover, AL. If you're looking to have a romantic trip, be sure to ask about their Romance packages which include deluxe rooms, Champagne, truffles for the night you arrive and a delicious breakfast buffet for two in their Mediterranean farm-to-table restaurant Brock's.
Rooms are equipped with marble accented bathrooms, perfect for a long soak after a day of golf and cotton-rich linens featured in every room. Enjoy a hot cup of coffee in the mornings or a cold glass of wine in the evenings on your balcony.
Book your stay here.
Birmingham's first and only bed and breakfast Cobb Lane Bed and Breakfast has an era of Victorian comfort which can be enjoyed whether you want to stay on property all day or explore the nearby Historic Five Points area or Downtown area.
When booking your stay be sure to ask about the different add-ons available. Add-ons range from chilled champagne or sparkling cider to roses and are the perfect extra romantic touch for your getaway.
Within a 2 mile walk you will see numerous historic structures, including some of the most unique churches and synagogues in the South.
Visit Birmingham Zoo with its over 700 wild animas or the Birmingham Botanical gardens which encompass 67 acres of beautiful plants. Perfect for animal and nature lovers alike.
Hiking is also nearby on the 1000-acre urban forest Ruffner Mountain. Or take a trip to Sipsey Wilderness Area and enjoy more activities than you can imagine from hiking and horseback rides to hunting and fishing.
Book your stay here.
Located in Mobile, AL is our next romantic getaway with the quaint Berney Fly Bed and Breakfast. This historic bed and breakfast was built in 1858 through 1895 in three sections located on Government Street in the Historic Oakleigh Garden District.
You are located just minutes from most of Mobile's wonderful attractions including the annual Mobile Mardi Gras parade.
The buildings have been lovingly restored to their Queen Anne Victorian heritage and is listed on the National Register of Historic Places. On property there are plenty of ways to enjoy your time away together including an outdoor swimming pool and jacuzzi, a picturesque wrap around porch with a comfortable porch swing to sit and relax in, and lush sub-tropical gardens to explore.
Visit the USS Alabama Battleship or the Bellingrath Gardens and Home or simply stay on property and enjoy spending some alone time with your significant other.
Book your stay here.
Also, in Mobile, AL is the Malaga Inn, located in the Downtown Historic District.
The Malaga Inn is privately owned and operated to ensure each guest receives the best care and attention. Many weddings have been held in the courtyard oasis, complete with flowers, fountains and romantic lighting while there is also space inside for receptions.
The inn also offers complimentary tours of Historic Mobile, AL so take advantage of this offer and learn a little about this charming town while visiting!
Book your stay here.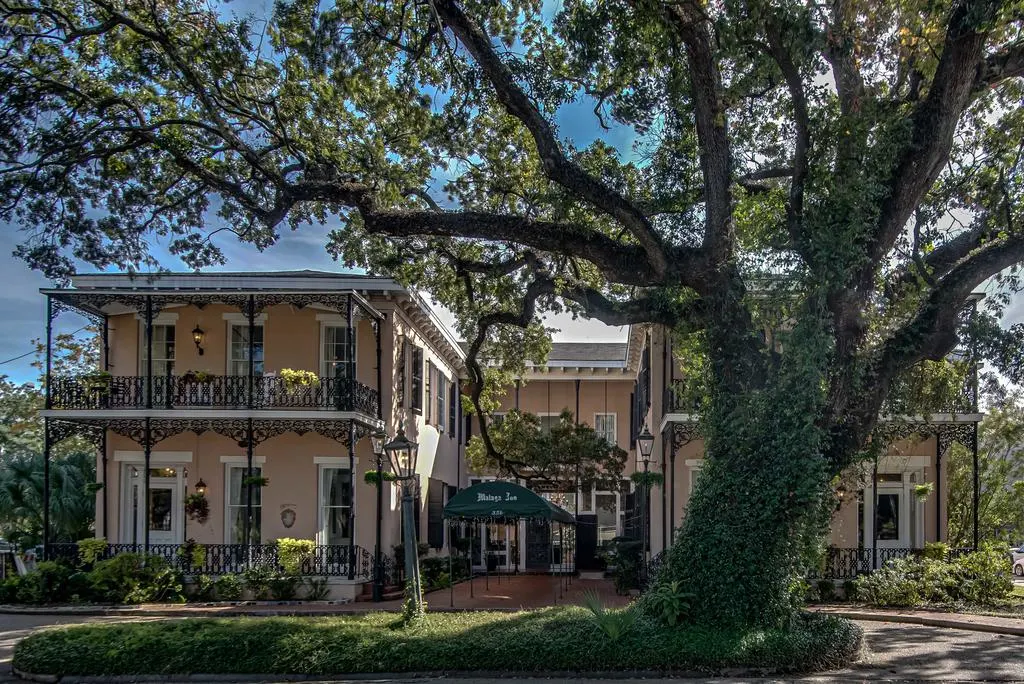 Red Bluff Cottage, located in Montgomery, AL is known for their award-winning hospitality located high above the Alabama River in Montgomery's Cottage Hill District.
With Montgomery being the birthplace of Civil War and the Civil Rights Movement offering there is plenty to see and do in this area.
The Cottage is located just minutes away from the First White House of the Confederacy, "Old Alabama Town", the Alabama State Capitol, the Hank Williams Museum, Riverwalk Stadium, the Rosa Parks Museum, Maxwell Air Force Base, and much more.
You will never be bored on your trip to the Red Bluff Cottage with so much to see and do!
Book your stay here.
In Birmingham, AL is a $20 million dollar renovated hotel, Hyatt Regency Birmingham – The Wynfrey Hotel. Each guest room is complete with a Hyatt Grand bed, in-room safe, 42" TV, and a mini fridge.
Visit the new lobby restaurant Merk's Tavern and Kitchen and work off the delicious meals in the fitness center. Located nearby are many enjoyable places to visit during your stay including The Comedy Club, BumperNets, The Stardome, and more.
If you're up for it, upgrade to one of the Regency Club suites and enjoy extra perks such as private access to the Regency Club Lounge serving breakfast each morning and complimentary appetizers in the evening.
Book your stay here.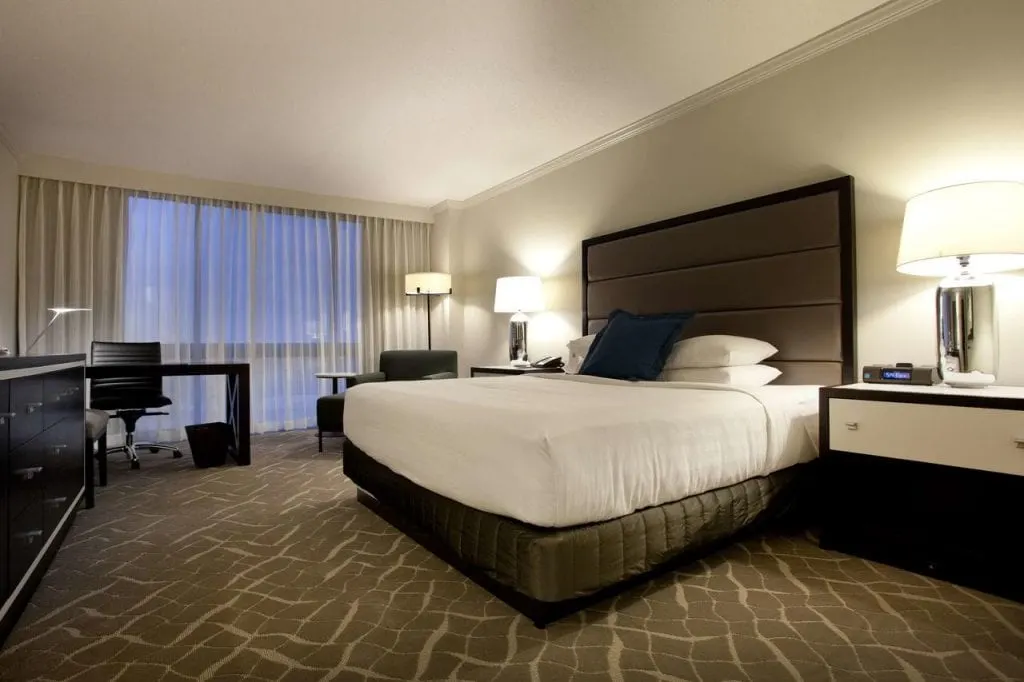 Perdido Beach Resort, located on the tranquil shores of the Gulf of Mexico in Orange Beach, AL just minutes from Perdido Key Beach or The Wharf.
It is also located less than 10 miles from Gulf Shores Beach or Gulf State Park. Enjoy a day at the private beach or take advantage of other amenities including both an indoor and an outdoor pool.
Rooms have private furnished balconies, iPod docking stations, and private bathrooms with shower/tub combinations. Take an excursion for the day!
Choose between charter fishing, parasailing, and sailing. Replenish your calories after a long day on the beach at one of the 5 onsite dining options before curling up in bed with your significant other for a night of great sleep before heading out for more beach fun.
Book your stay here.
The Original Romar House Bed and Breakfast Inn is also located in Orange Beach, AL.
Experience the roar of the crashing waves and the delicate mist of the warm sea as the tide rolls in. Collect seashells, stroll along the beach enjoying the sound of the waves, take a morning swim in the pool, relax in the cypress swing or hammock to read a book, or relax in the hot tub.
If you're looking for extra romantic packages to top off the trip, just ask about their options. From rose bouquets to champagne, there are plenty of options to choose from.
Anything you would like to do on your romantic getaway, The Original Romar House Bed and Breakfast Inn has it.
Book your stay here.
Our last hotel we will be looking at is The Battle House Renaissance Mobile Hotel and Spa.
The Battle House is located in Mobile, AL and is one of my personal favorites from this list. It is centrally located in Mobile, close to the Mobile Cruise Terminal and Mobile Bay. Relax at the full-service spa, take a dip in the outdoor pool or play a game of tennis on the outdoor court.
The hotel has three restaurants, room service, and two coffee shops/cafés.
Stop by the poolside bar for a cool drink under one of the pool umbrellas in the hot summer heat before heading back to your room to relax for the evening.
Book your stay here.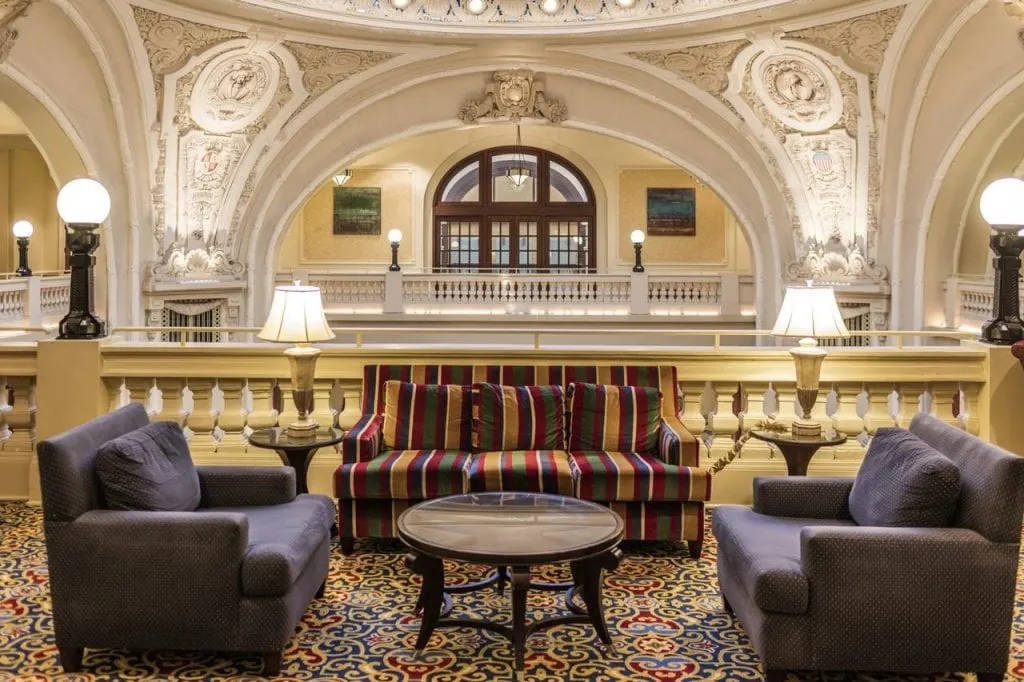 To sum it all up, if you're wanting to plan a romantic getaway then you should look into visiting Alabama.
From waterfall hikes to beachfront sunset walks there is something for everyone in this unique southern state.
You will never forget the southern hospitality you will receive when visiting – there is no better cooking than southern cooking so be sure to bring your appetite along with your favorite person to enjoy the wonderful things available to you in this beautiful southern state!
An ideal State for a romantic getaway! When you finished your trip, don't forget to caption your IG pics with some great Alabama Quotes
Want More Romantic Getaways?
If you are already looking for your next romantic getaway, we have you covered:
Save Romantic Alabama Getaways to Pinterest