Looking for romantic getaways in Kansas? We have you covered – whether you want a weekend getaway in Kansas or something longer like an extended honeymoon – this list has it all.
It is no secret, Kansas is a really romantic place so there are no shortage of great places to enjoy a romantic weekend, anniversary or a Kansas honeymoon with that special someone.
Here are 32 of our favorite romantic Getaways in Kansas. We hope this list is helpful in finding something special to impress that special someone.
32 Romantic Getaways In Kansas: Affordable Weekend Getaways!
Pittsburg
There's more to do in Pittsburg than meets the eye. Couples can enjoy small-town charm, easygoing Kansas hospitality, and a few interesting attractions you just can't find anywhere else. Enjoy the eclectic blend of paintings, sculptures, and other art from local Kansas artists at ArtForms Gallery, the leading artist's cooperative gallery in town.
In warmer weather, you can stroll on down to Wilderness Park, one of the best wildlife reserves in the area. Walk the trails, enjoy the local wildlife sights, and hold on to each other a little tighter.
One of the best romantic weekend getaways in Kansas for couples.
Topeka
Spending time in Kansas's capital city is the perfect getaway for couples. Topeka is a rich mix of history, from the aviation museum all the way up to the NOTO Arts & Entertainment District.
Fine art and food intersect big time in the District, with everything from gourmet grilled cheese up to unique craft beer. Take a quick road trip out to Glaciers Edge Winery, where you can warm your hands by the fire in the winter and stroll the place in the summer with ease. Live music and tastings make this place perfect for date night, any time of the year.
One of the best couples getaways in Kansas.
Kansas City
Kansas City may not have the population of NYC or LA, but this Midwestern jewel has plenty of couples to enjoy. Stroll the Plaza's numerous unique shops, take a short gondola to experience the best of the Majestic Country Club Plaza River Walk, and let the sounds of the city wash over you.
You can take the streetcar up to the River Market district and explore even more things to eat, see, and explore. Looking for something casual to eat the next morning? You can't go wrong with City Diner, one of the oldest diners in River Market.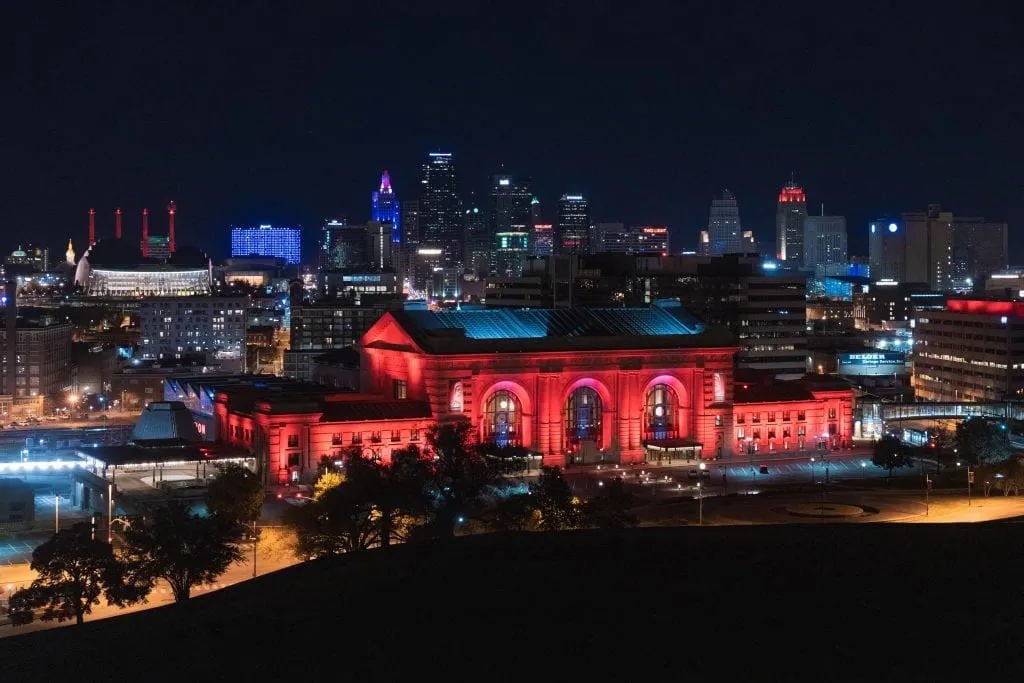 Overland Park
Overland Park is one of Johnson County's major destinations, for good reason. Although it's a major part of Johnson County, the city still provides plenty of small-town charm and hospitality. Start by checking out the Overland Park Arboretum and Botanical Gardens. There's an entire garden just devoted to Monet, and it's a truly beautiful sight in the heart of spring.
Looking for something more hands-on? The Culinary Center of Kansas City holds live cooking classes perfect for couples. You can take fun classes that cover a wide range of topics, including barbecue, wine, healthy cooking, and pastry.
Wichita
Wichita is a nature lover's paradise, which also means that it's perfect for a romantic getaway. Start with the Pracht Wetlands Park, where you can watch birds in flight as well as the ever-changing land through the seasons. From there, you can visit Grace Hill Winery, which is only a short drive away from the city proper.
Are you and your sweetie true cheese fans? Then you can't miss a trip to the Elderslie Creamery, where multiple handcrafted kinds of cheese await your taste buds. Like the winery, Elderslie Farm & Creamery is only a short drive outside of the city.
Cool Places In Kansas For Couples
Lake Shawnee
This recreation zone is one of Topeka's finest treasures, and it's the perfect romantic getaway for nature lovers. Over a million people visit Lake Shawnee every year, and the area is open all year long. You can watch the sailboats, play sand volleyball, or spend the whole day fishing. There's even a tennis court in case you're feeling like a friendly (or not so friendly) game of tennis to get your heart rate up before dinner out and about in town.
Depending on when you visit, you can also catch the Shawnee Yacht Club in action. These boating enthusiasts descend on the Lake to socialize. Making new friends is always a good thing. Double date, anyone?
Cheney State Park
If breathtaking views are at the top of your list, then it's time to check out Cheney State Park. This is a not-so-hidden treasure of Wichita, and it's fantastic. You have over 400 primitive camp sites. So if you want a summer romantic getaway featuring camping under the stars, this is definitely the place to be. Wichita generally has mild enough winters where you can still walk the trails, making this park truly a four-season marvel.
Cabin rental is available, as well as several sites that have not only water but electric hookups. You could take the RV or camper out to Cheney State Park with ease.
One of the best romantic cabins in Kansas.
Flint Hills Prairie
Did you know that the Flint Hills prairie lands represent over 2/3rds of the remaining tallgrass prairie in the entire country? This is definitely a special place. The shallow soil makes it easy to spot fossils, but you don't want to take them away from the area. If you and your sweetie are big nature-buffs, you don't want to miss the experience of walking this special wildlife zone.
There are over 150 species of birds in the area, along with 40 different types of reptiles and amphibians.Humans have been exploring this area for over 13,000 years, so you're bound to make your mark here as well.
Ted Ensley Gardens
Ted Ensley Gardens is technically part of Lake Shawnee, but it's so cool that it really deserves its own section here. It's a 37.5-acre garden that gives you incredible views of the lake and the beautiful plants that make up the garden area.
Volunteers plant over 80,000 tulips, but that's not the only show stopper. Multiple native flowers and plants find their home in the garden, which means this is a place that you'll have to visit at least a few times to truly capture all of the wonders.
Romantic Things To Do In Kansas
Visit Castles including Sauer Castle, Caenen Castle, Campbell Castle
Kansas City is full of "castles", otherwise known as extremely elaborate, historical homes. The Sauer Castle is one of the most famous around the area. It took two years to build and rests along the old Santa Fe Trail. Caenen Castle is in Shawnee, KS, and is now open as a farm winery outlet. You can visit just about any time to see the property; most of the original details are well preserved.
Campbell Castle is in Wichita, and is now a luxurious bed and breakfast. You can not only book a room inside, but you can stroll the property. It's a little slice of peace and paradise that is perfect for a romantic getaway.
Kansas City Indoor Skydiving
Want a romantic getaway that fires up your inner adrenaline junkie safely? You gotta check out Kansas City's indoor skydiving center. You get to feel weightless in a controlled indoor skydiving space.
Couples can do it together, or you can take turns watching each other experience all of the thrills without the long airplane jump. If you're extra nervous about your first time; don't worry: the instructor is right there to help you out. You can buy multiple passes to really get the hang of things. Each session is roughly 2 hours.
Camelot Ballroom
It's said that couples that dance together stay together, and if you're going to learn how to dance you might as well check out the Camelot Ballroom. It's one of Overland Park's best spaces for not just dance, but events as well. You can attend a freeform dance party and meet other couples, or you can take private lessons that help you really spend some quality time with your special someone.
The cool part about Camelot Ballroom is that they do open dance time during the week, and have a huge dance party on the weekends. Live music makes this an experience you won't forget.
Grace Hill Winery
Wineries are just perfect for romantic getaways, and Grace Hill Winery is one of the finest in the Wichita area. This is where the real Kansas charm shines. Visitors can tour the winery and enjoy wine tastings effortlessly. You can buy a bottle to celebrate your visit there, and multiple art exhibits come to the winery all year long.
You can even pick up extra bottles from Grace Hill Winery at over 100 local liquor stores, which is quite convenient. Save that part after you visit the winery; it really is so much fun to get the wine directly from the source.
Botanica, The Wichita Gardens
These community gardens are an affordable way to enjoy some quality time together. Indeed, Botanica has something to see everywhere you look, and there are multiple attractions right on the grounds. The space rests on 17 acres and will easily take up an entire day. While you're in the area, you can also visit The Museums on the River, another fun and educational venue.
The beauty of these community gardens lends itself well to vow renewals if you're feeling like making a day or evening out feel really special. If you don't want to walk the entire length of the garden, there are golf cart tours available.
A great affordable romantic getaway in Kansas.
Wizard Of Oz Museum
The Wizard of Oz Museum is the best reason to visit Wamego, KS. This is a suburb of Manhattan, where K-State is, and this museum is perfect for a quirky and fun romantic getaway.
Stepping into the museum gives you the ability to immerse yourself in the classic movie details. Will you follow the yellow brick road? You get a great gift shop filled with unique gifts, as well as a chance to have a guided tour.
Multiple artifacts from the original movie and the Broadway musical are also on display. This isn't for everyone, but if you're looking for an excuse to stroll a quaint museum in a small town, this is definitely the one for you.
Bank Heist Escape Room
Escape rooms are a thrilling, interactive game that's perfect for date night. After all, surely you can trust your partner to help you solve the puzzle and escape, right? Bank Height is designed to help you figure out how to escape with the money, without getting caught. This is a great idea for a double or triple date with multiple couples, but you could do it just with your partner as well.
Will you accept the mission of robbing the bank and escaping before the police arrive? There's only one way to find out if you'll be successful. This escape room is in Overland Park, and it's a lot of fun.
Romantic Hotels In Kansas
If you're looking for romantic hotels in Kansas, the Raphael is truly a standout in the group. The amenities of this boutique hotel are top-notch, with features you just don't see very often. Shoe shine service, a doorman at the entrance, personal wake-up calls, and an on-site restaurant devoted to fine dining are just some of the interesting features waiting for you. The Raphael is in the heart of the Country Club Plaza area, a popular shopping destination in Kansas City.
The Raphael is where luxury comes to life, and couples should expect to have their needs taken care of at every turn. YOu can even order room service for a romantic breakfast in bed or get dressed for an evening at the Chaz Restaurant & Lounge right on the hotel grounds.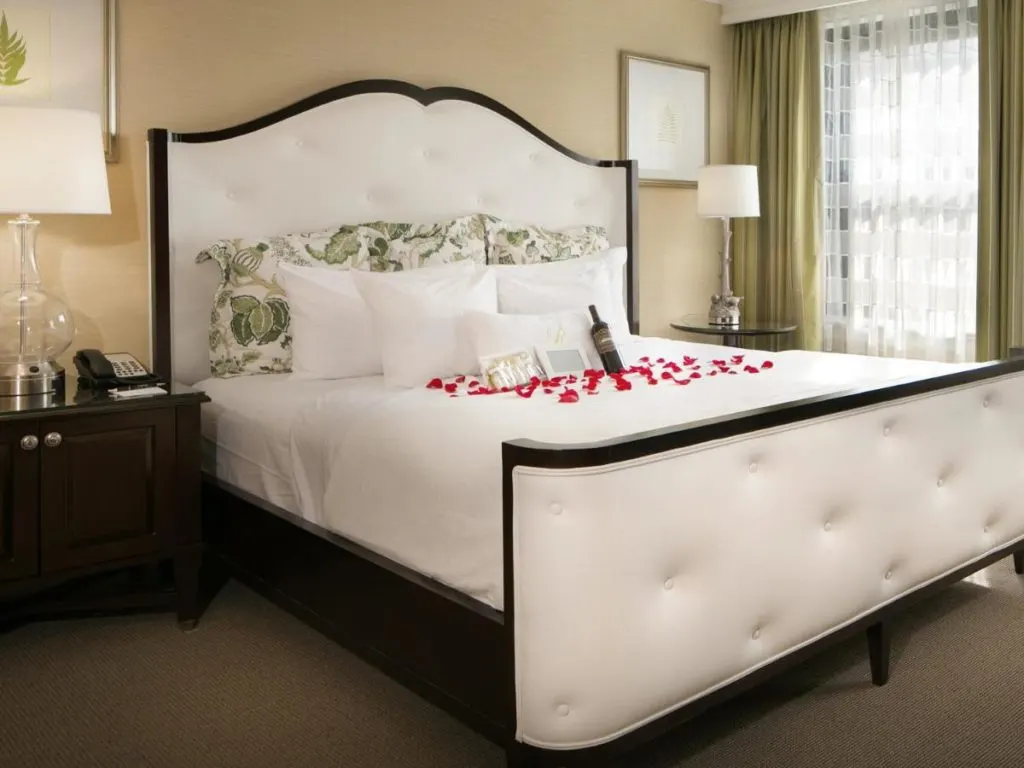 The Sheraton in Kansas City is designed from the ground up to be the ultimate intersection of modern style and convenience. Digital check-in makes this a standout option for couples that are looking to have less stress on their getaway; all you have to do is follow the steps and you can be in your room a lot faster.
This stunning hotel is part of the Crown Center District of Kansas City, a premier destination for dining, shopping, and relaxation. Couples will get to enjoy rooms that have modern conveniences and plenty of luxury finishes as well.
This hotel is not only part of Mariott's Autograph Collection, it's well known locally as a great hotel for everyday luxury and comfort. This hotel occupies the same building that was once the Gates City National Bank and represents the best of turn of the century neoclassical style. It's listed on the National Register of Historic Places, and the hotel still maintains its historic charm and splendor while embracing modern convenience and luxury.
Elegance reigns here, from the picture-perfect event space to the gorgeous live jazz lounge that features three-course dinners and upscale entertainment. You and your sweetheart can dance the night away and then head to your room for a great night's sleep.
If you want effortless style and luxury for your next hotel stay, check out the InterContinental Kansas City at the Plaza. Like other hotels in the Country Club Plaza area, the InterContinental represents high style, luxury, and world-class customer service.
This 371-room hotel features a stunning event space and upscale amenities. Splurge and get a suite for the ultimate in comfort. The hotel grounds also include a 24/7 fitness center, as well as a sauna, locker room, and full-size pool. The suites include private safes, plush mattresses, expanded bathroom vanities, and floor-to-ceiling windows.
To say this hotel is stylish is truly an understatement. It's located right on Metcalf Avenue, the "main drag" of Overland Park, making it easily accessible from just about any part of the greater Kansas City area. This hotel is regularly renovated and has a state-of-the-art fitness facility that even features Peloton premium exercise bikes. There is a Starbucks right on the property, along with an indoor pool as well as an outdoor pool.
The location of this hotel is close to just about everything you could want to explore in Overland Park, including Prairiefire, Sporting KC Soccer, and loads of great restaurants and fine art galleries.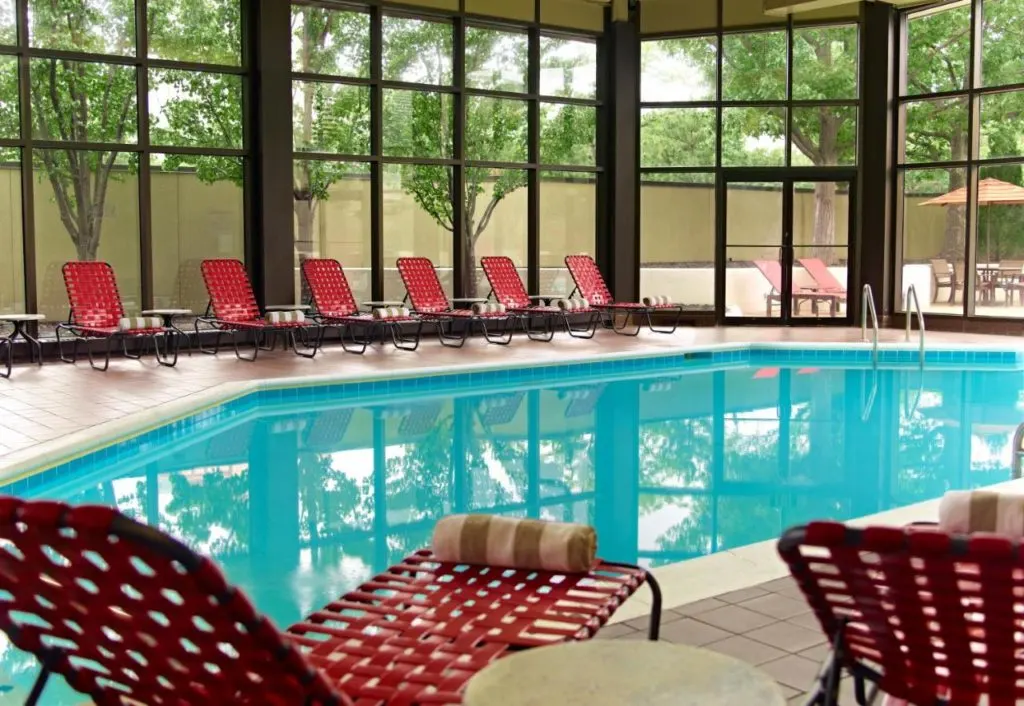 If you're looking for a jacuzzi suite in Lenexa, look no further than the Radisson Hotel. It's in the heart of Lenexa and the king suite features your choice of either a whirlpool/jacuzzi tub, or a rainfall shower. Just let the front desk know which you'd prefer, and they'll make it happen as long as there is a whirlpool suite available for your hotel stay.
A whirlpool tub seats two perfectly and truly caps a lovely romantic getaway. The Radisson is well known for its commitment to world-class service and hospitality.
The luxurious feel of The Fontaine is evident the minute you pull up to the parking lot. It's a world-class boutique hotel, and one of Kansas City's finest offerings. There's a rooftop pool, a cocktail bar, and beautifully decorated suites that will make you feel like you've landed in paradise.
You can eat right on the hotel grounds, or have food delivered to your room. Rooftop dining is also available, which is perfect for any romantic trip. The rooftop features fantastic views of Kansas City, and it's an absolute must as part of your stay. The hotel, like so many in Kansas City, is a fully non-smoking property. It's easy to find jacuzzi suites here; just ask the reservations desk.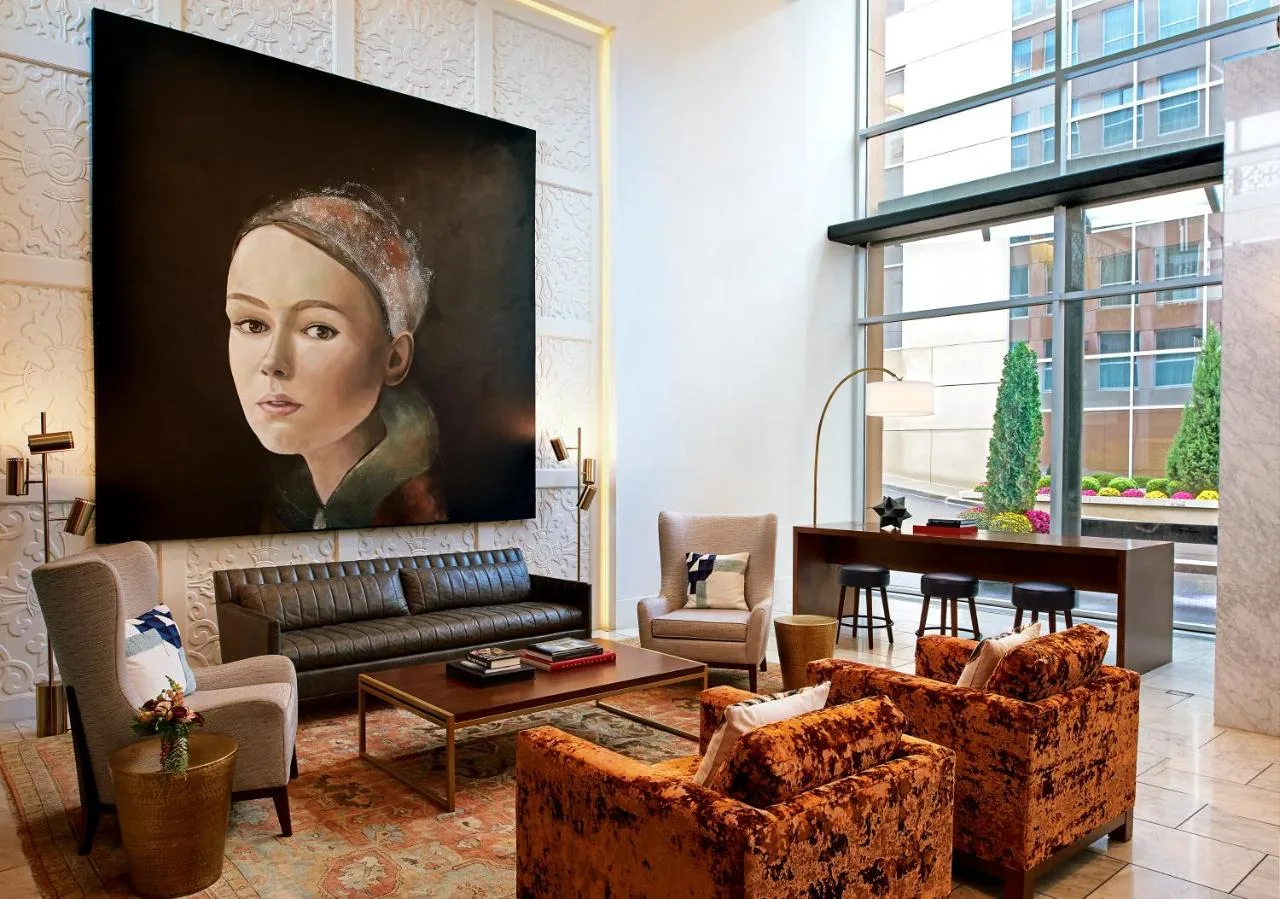 The Holiday Inn Express Hotel and Suites Grandview has undergone extensive remodeling and represents everyday, accessible luxury. The jacuzzi suites have to be requested through the reservations team, as they aren't on the website directly. However, there are a few suites that have enlarged tubs on the property.
Aside from jacuzzi tubs, this Holiday Inn Express features late check out, hot breakfast, and a 100% non-smoking property. Other amenities of note include rooms that feature both 120 and 220 AC outlets, free local calls, a large flat-screen TV, mini-fridge, and a fitness area directly on the property.
If you're looking for a jacuzzi suite in Kansas City, you can't go wrong with the Comfort Suites in Liberty. For reference, Liberty is roughly 20 minutes north of KC, and it's a rocking city in its own right. You'll enjoy relaxing in the two-person whirlpool tub, as well as exploring Liberty's classic charm and effortless hospitality.
The Comfort Suites keeps a couple of jacuzzi tub suites available all year long, but they get booked quickly. Be sure that you put in your reservation at least a week or two in advance to ensure you lock in your spot.
Themed Hotels In Kansas
This stunning boutique hotel feels like its own little world, and for good reason. While there are only 61 rooms on the property, each is designed from the ground up to be as luxurious as possible. In addition, each room has a jetted tub that's fully lit. If you're looking for a room that confidently projects luxury and romance, this is the hotel for you.
Aside from the obvious feature, the hotel includes a gorgeous lounge, spa, event space, and art collection. The easygoing tropical feel is reflected in all of the details, large and small.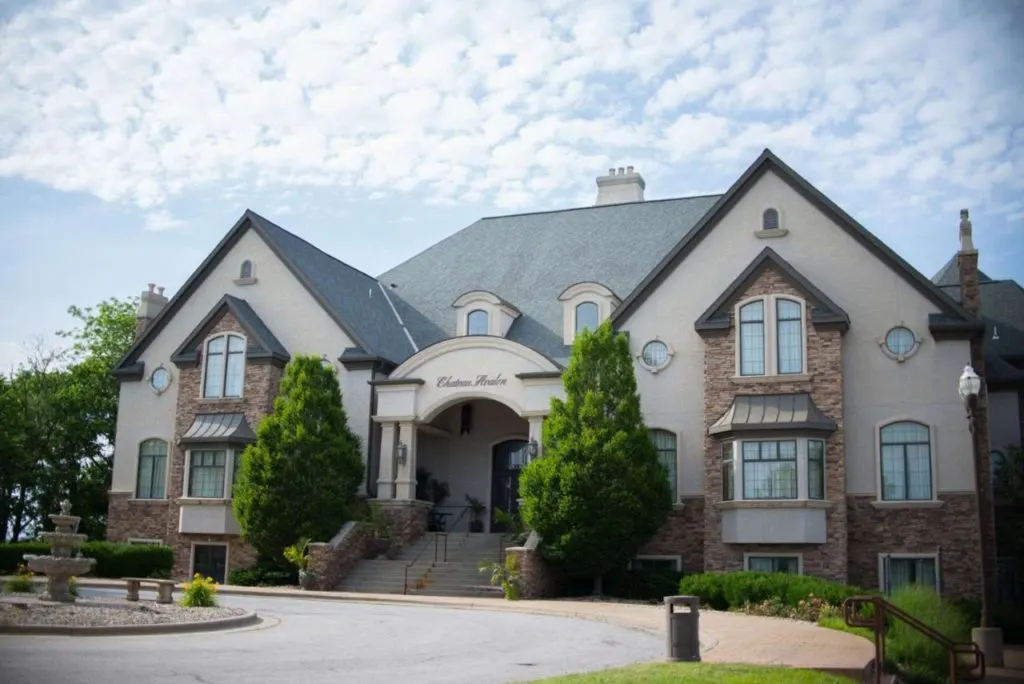 The Aloft Hotel in Leawood is a delightful establishment with a very recent full remodel. The rooms are large, airy, and filled with amenities. The jacuzzi suites have to be reserved with the reservations team instead of online, but this minor inconvenience is well worth the trouble.
The suites come with a gorgeous view of the city, along with a high tech room, big flat-screen TV, writing desk, and a lighted makeup mirror just to make sure everybody has a chance to look their best before an evening out on the town.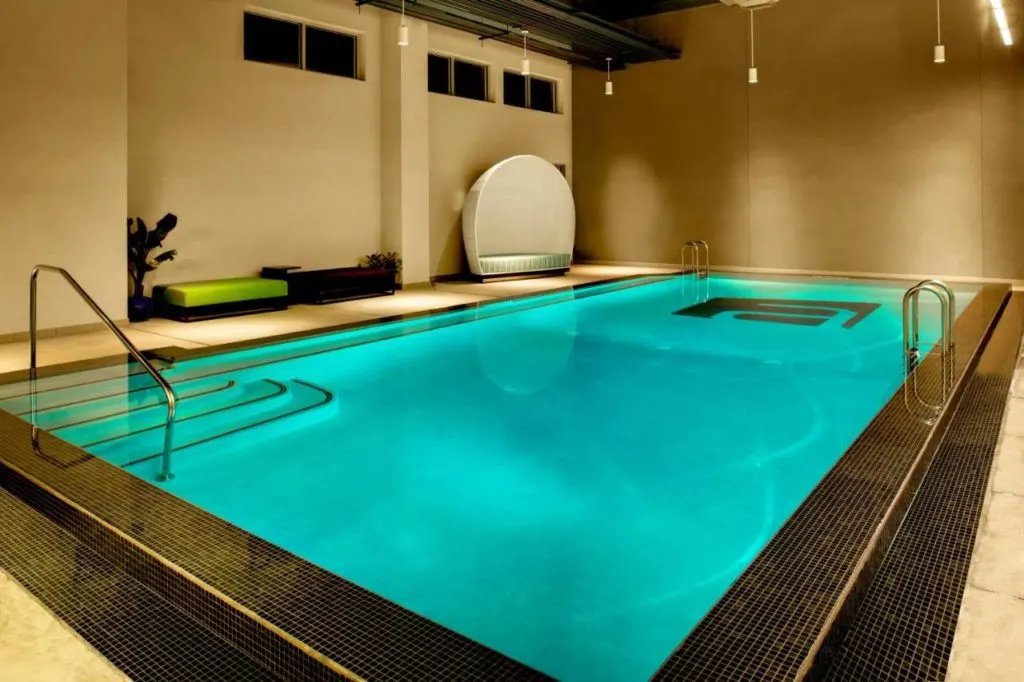 The Best Bed & Breakfast In Kansas
Slip away to the quiet town of Manhattan, and you'll find a fantastic bed and breakfast that truly gives you a one-of-a-kind experience! The Anderson Bed & Breakfast is only two blocks away from K-State, making it pretty easy to find.
Breakfast isn't prepackaged at all; guests get to enjoy a fresh hot breakfast filled with delights like dutch pancakes and quiche Lorraine. The rooms include high ceilings, complimentary Wi-Fi, and big walk-in closets. Spend a weekend or even a few days during the workweek to return refreshed and ready to take on more of life's challenges.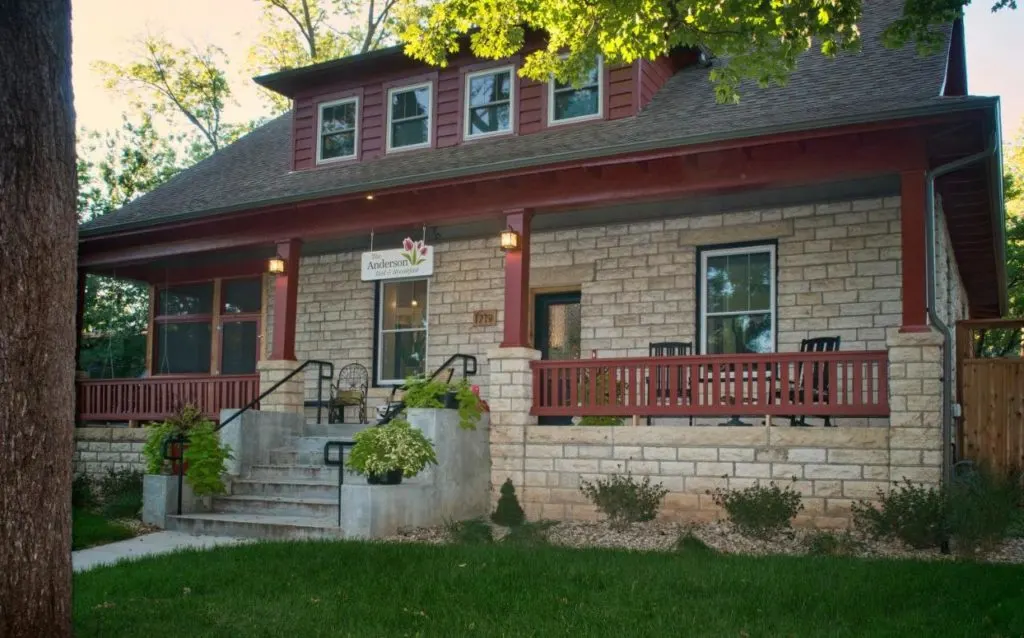 Best Budget Accommodation In Kansas
Just because it's a budget hotel doesn't mean that it can't serve as the perfect background for a romantic getaway. Want proof? Check out the Holiday Inn Express & Suites. There are quite a few of them across Kansas, and they're all well known for their amenities. You can expect clean, comfortable rooms, a coffee/tea maker, a generously-sized TV, and a decent offering for breakfast the next morning.
Many of them are located right next to Kansas's major highways, making them convenient for not only a good night's sleep, but the ability to hop right back on the road and continue exploring the area.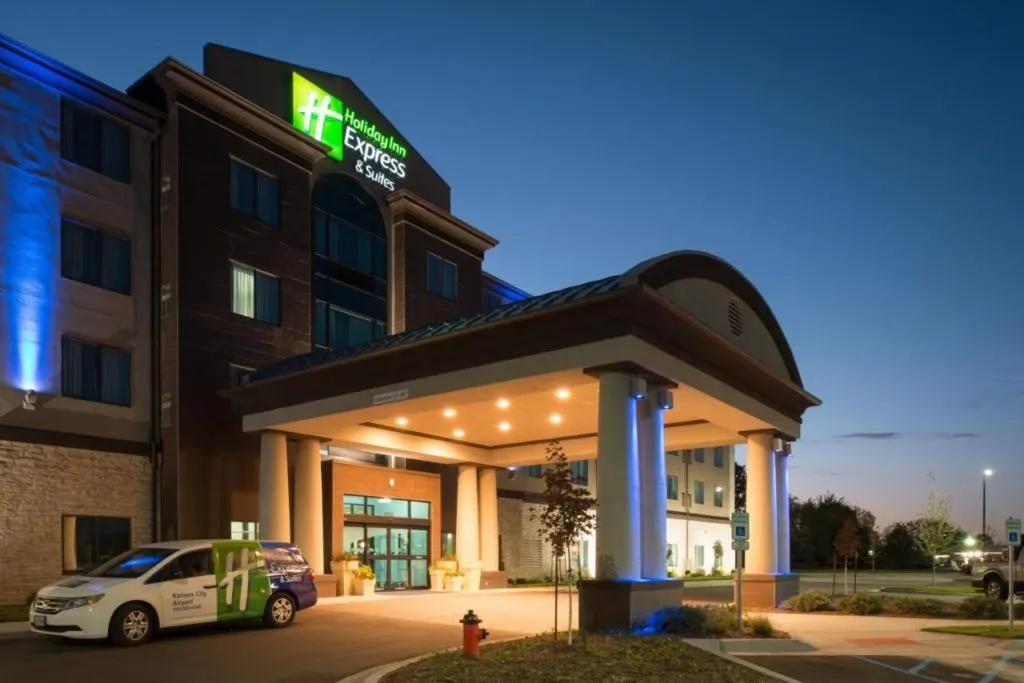 Staybridge Suites is part of the InterContinental Hotels Group, right along with Holiday Inn and Candlewood Suites. If you've been thinking about an extended stay with your sweetie, the Staybridge is a great option. All of the suites include fully equipped kitchens, as well as couches and tables.
You can cook together with full privacy, or go down in the morning for a hot breakfast with a variety of classic options. It's completely up to you; the staff is experienced in handling longer stays with minimal disruption to your schedule. Free high-speed internet allows you to check on email or check on family while you're away.
It might sound odd to feature a hotel like The Westin in the budget accommodations section, but this property provides a ton of comfort and luxury on a very affordable basis. It's part of the Marriott collection of hotels, so you know comfort is going to reign supreme. This hotel is also in the heart of the Crown Center District, giving you access to unique local restaurants and shopping opportunities.
The property comes with a fitness center, pool, and pet-friendly accommodations. Feel free to use your loyalty points here to spend some of those free nights, or rack up more points with seasonal promotions.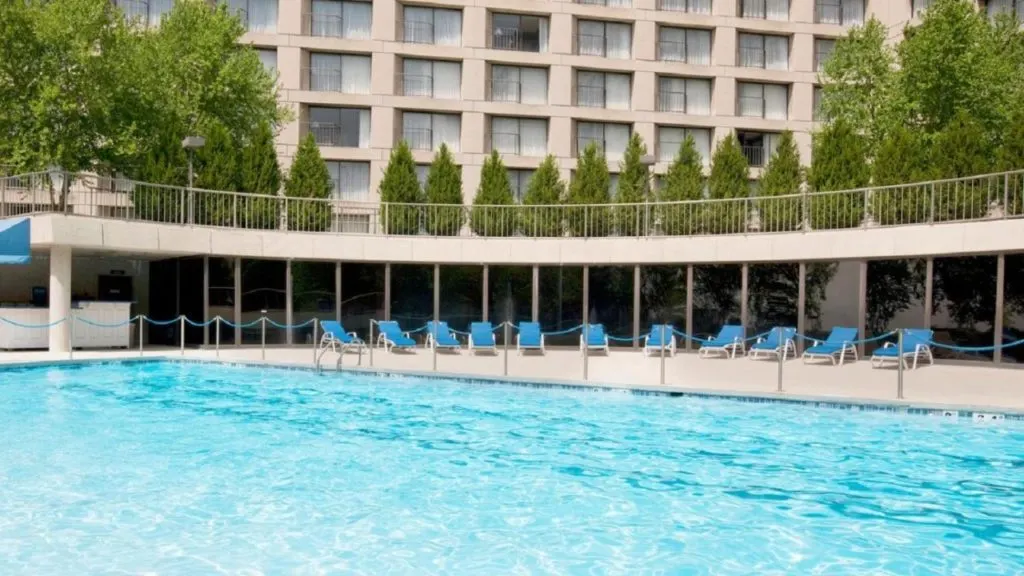 When it comes to accommodations in Overland Park, the DoubleTree hotel is a great and affordable option. Compared to more upscale hotels, the DoubleTree provides visitors with effortless style and comfort without breaking the bank. A fully indoor pool means that you can swim even in the middle of January, and fast Wi-Fi is considered a standard perk.
Incoming guests are welcomed with a warm chocolate chip cookie, a good sign that even though this hotel is affordable, you're still going to be treated with all of the care and respect you deserve.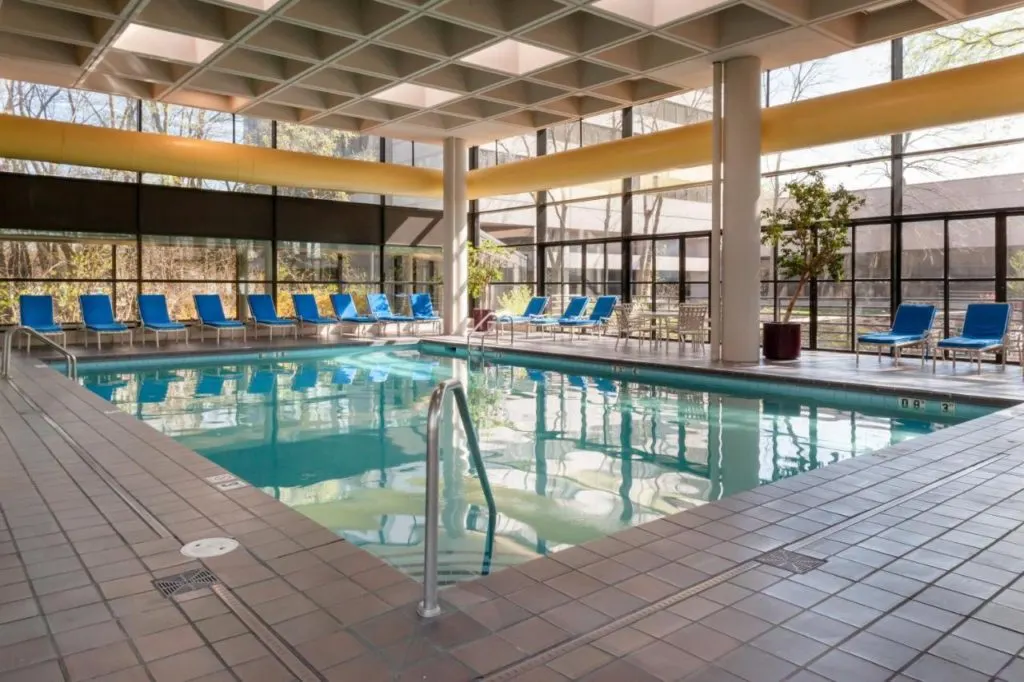 ***
See more: