Looking for romantic getaways in New England?
There's something about New England that oozes romance. Maybe it's the quaint towns, the stunning coastline, or the rolling hills blanketed in autumn colors.
Whatever it is, there's no doubt that this corner of the country is perfect for a dreamy romantic getaway. If you're thinking of planning a trip to New England, here are some tips to help you make the most of your time together. Pack your bags and get ready for a romantic adventure! The best couples getaways in new england here:
27 Romantic Getaways in New England For Couples!
Connecticut
Although small, Connecticut is plenty with history and charm. There are many reasons to put this state on your vacation wish list. Connecticut offers it all; stunning countryside, lovely communities, and world-class museums.
During the day, discover beautiful landscapes, huge lakes, sandy beaches, and roaring waterfalls. The city's nightlife comes alive with top-notch theaters and restaurants. Pack your luggage for a fun time in The Constitution State.
Romantic places to stay
The Inn at Stonington is a Bed and Breakfast in the center of Stonington Borough, just on the waterfront. This lovely village is one of the few New England beach communities with a strong sense of the 17th and 18th centuries.
A trip along any of the city's peaceful, tree-lined alleys will reveal classic specimens of Colonial architecture. Be sure to take in a variety of eateries, antique and gift stores, and galleries while you're there. This premium B&B in a clapboard home is 5 miles from Mystic Seaport and a 5-minute walk from the Stonington Old Lighthouse Museum.
All of the bright, stylish rooms have fireplaces and are individually furnished. Some rooms have balconies, window seats, whirlpool baths, and bay views.
The Saybrook Point Report, only two hours from New York City, is a traditional seaside hideaway located at the mouth of the historic Connecticut River and Long Island Sound, providing guests with panoramic views of the shoreline.
This elegant waterfront hotel is just a 1-minute walk from Fort Saybrook Monument Park. The main building's elegant rooms and suites and an adjacent guesthouse are historically decorated and provide free Wi-Fi, cable TV, and minifridges.
A spa, free shuttle service to Main Street and the local Amtrak station, a health club with workout programs, indoor and outdoor pools, and fitness equipment are all available. A marina, event space, and waterfront eating are also available.
One of the best places for a romantic winter getaway in new england.
This elegant bed-and-breakfast is located 5.5 miles from Foxwoods Resort Casino and 5.8 miles from Mystic Seaport and is set in an 1807 sea captain's home. Relax by visiting Mystic town and seaport, visiting wine country, hiking, or simply doing nothing.
Traditional rooms in the main house are distinctively decorated with antique furnishings. Hand-painted murals and wood-burning stoves are typical, as are wide-plank floors and Wi-Fi. The beautiful rooms of this renovated barn have whirlpool tubs, gas fireplaces, and televisions.
The resort boasts 35 guest rooms and is set on 58 acres of magnificently manicured gardens and forests, epitomizes New England grandeur, and is known as one of the northeast's most revered luxury hideaways. 4-poster beds and marble baths are among the amenities offered in the elegant rooms and suites, including Wi-Fi, flat-screen TVs, and coffeemakers.
Balconies and fireplaces are available in upgraded units. There is an expensive restaurant as well as a relaxed bar. There's also a luxurious spa, a fitness center, a putting green, and tennis courts, as well as heated indoor and outdoor pools.
New Hampshire
If you're looking for a romantic break, head to New Hampshire. New Hampshire has plenty to offer everyone, from the tranquil grandeur of the White Mountains to the lovely little towns and villages.
For history buffs—the state's rich and lengthy history is maintained by its several famous museums, many of which are dedicated to the state's time as one of the original thirteen states of the United States.
As for the outdoorsy types, Mount Washington, with its 6,288-foot elevation, is the tallest mountain in the northeastern United States of America.
Romantic places to stay
Sugar Hill Inn is a romantic hideaway nestled in New Hampshire's White Mountains, noted for culinary adventure and warm, friendly guest rooms and cottages. This sophisticated guesthouse with annexes is 3 miles from Central Park and 4 miles from the Metropolitan Museum of Art and is set in a Victorian townhouse dating from 1906.
The four majestic rooms feature historical furnishings, fireplaces, and antique wood flooring; most have oriental rugs, and some have 4-poster beds or porches. Kitchens have been added to the two studios. A separate Victorian rowhouse with rooms and an apartment is also available.
Bear Mountain Lodge is a true outdoor enthusiast's getaway, set back on 26 forested acres in the small village of Bethlehem in the heart of New Hampshire's White Mountains.
Bear Mountain Lodge is a wooden bed and breakfast that harkens back to simpler. This lodge will welcome you with warm open arms as you come through the front doors and catch a sight of Mt. Washington, built of massive logs and outfitted with comfortable western furnishings.
This wonderful B&B includes nine romantic guest rooms, several with in-room jacuzzis, steam baths, and fireplaces — the ultimate romantic retreat with a fantastic breakfast, exceptional amenities, and outstanding service.
This quaint inn on a 100-acre estate in White Forest National Park is 13 miles from the Bretton Woods Mountain Resort ski resort and is set in a polished 1860s granite house. Summer pleasure, fall foliage, and winter skiing are all close. Rooms are charming and colorful, with sitting spaces and complimentary Wi-Fi.
Living rooms are included with suites. Decks, fireplaces, balconies, 4-poster beds, whirlpool tubs, and spectacular views are available in select rooms and suites. TVs, DVD players, kitchenettes or microwaves, and minifridges are available in charming cottages. Breakfast is complimentary and served in a beautiful dining room with a fireplace; 5-course meals are available for an additional fee.
The Manor on Golden Pond is a rediscovered inn on Shepard Hill established as a manor property in the early 1900s. The Squam Lakes Natural Science Center is 0.8 miles away, while Plymouth State University's Museum of the White Mountains is 8 miles away.
The spectacular rooms and suites offer balconies, fireplaces, whirlpool tubs, steam showers, and panoramic views. Other amenities include a soothing spa, a tennis court, a restaurant, and an outdoor pool.
Maine
Maine is recognized for its stunning natural scenery and rough coastline. It's the ideal spot for a romantic getaway, whether you want to relax on the beach or go hiking in the woods.
From the rugged and beautiful stretch of coastline known as Acadia National Park, which offers an abundance of phenomenal hiking trails, to Portland, Maine's largest city, home to a myriad of hip restaurants, seafood, breweries, wineries, and museums. So, if you're looking for a gorgeous and relaxing getaway, Maine should be on your list of possibilities.
Romantic places to stay
This lovely B&B is built in a late 19th-century Queen Anne–style summer villa and is conveniently positioned in downtown Bar Harbor, within walking distance of shops, cafés, and restaurants, as well as whale-watching tours. The polished rooms have ornate decor and antique components and separate bathtubs and televisions.
Several of the rooms include fireplaces, four-poster beds, and balconies. Breakfast is provided in a dining room with 1920s silk wall coverings, and complimentary wine and cheese are offered at night. There's also a porch, a sitting area with a fireplace, and games.
This premium resort with magnificent clapboard buildings is charming and steeped in history, lying on forested acres along the seashore between forests and the sea. The Boothbay Harbor Country Club is 4 miles away, and the Coastal Maine Botanical Gardens are 5 miles away.
The elegant bedrooms have complimentary Wi-Fi, flat-screen TVs, iPod docks, minifridges, and Keurig coffeemakers. Some include bathtubs, fireplaces, or wood-burning fireplaces, and the majority have balconies or porches. The renovated apartments include living rooms and kitchens.
Tennis courts, a gym, and a hot tub are among the other amenities: three restaurants, a massage room, a bar, and two outdoor pools.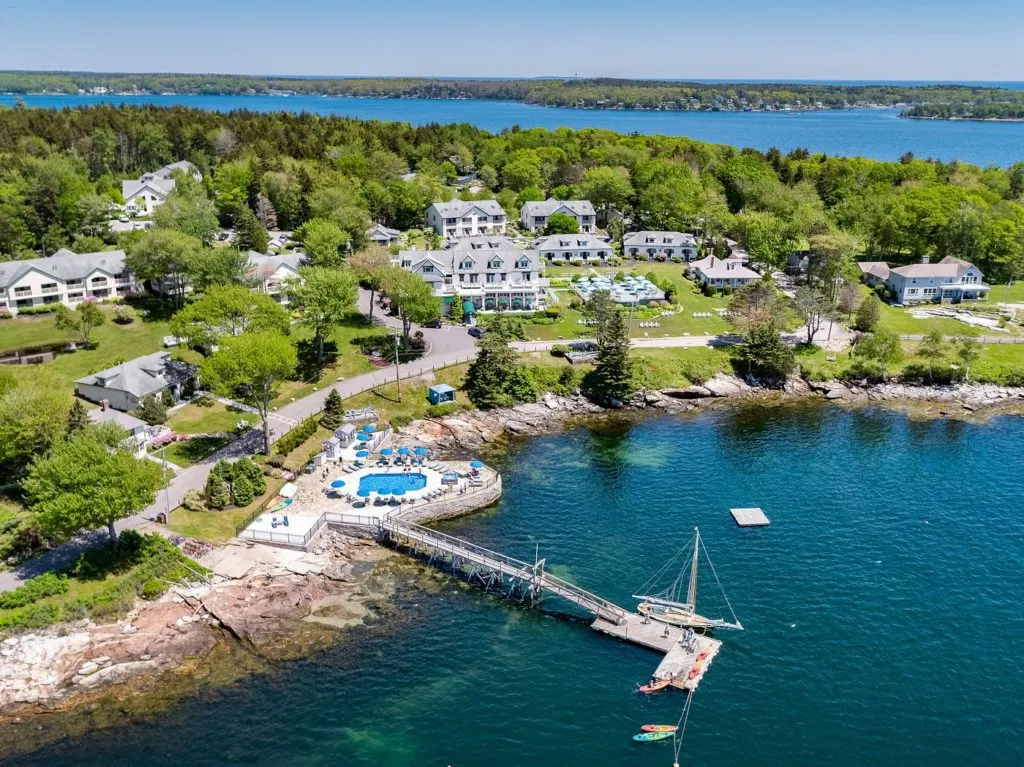 This premium inn is a 3-minute walk from the ferry dock and 3.1 miles from Indian Point and is housed in a beautiful 1920s structure with views of the North Atlantic Ocean.
Original local artwork and high-thread-count linens are featured in elegant TV-free rooms with communal or en suite bathrooms; some have beach views. Sitting spaces and daybeds are available in suites. There is no air conditioning in the room.
An upmarket farm-to-table restaurant, a wraparound veranda, and a great room with a fireplace are amenities.
Bring along the furry friends because pets are welcome at this peaceful B&B. Located 6 miles from Range Pond State Park on wooded lands on Tripp Lake's shore sits warm, traditional rooms accessible with free Wi-Fi and flat-screen TVs, as well as lake or garden views. Some rooms have pull-out sofas, fireplaces, and Jacuzzi baths. Suites include living areas and minifridges.
A three-course breakfast is served in a dining room with lake views. The use of canoes, kayaks, and a rowboat is free. Relax by the wood-burning firepit with s'mores by your side.
This charming country inn has 23 fireplaces and is 5 miles from Wolfe's Neck State Park and a 5-minute walk from premium outlet shopping. Private bathrooms and cable TV are standard in the upscale rooms, which also have 4-poster beds, jacuzzi tubs, and fireplaces.
Separate sitting spaces and wet bars are available in suites. There are also townhouses with two or three bedrooms. A complimentary breakfast buffet and afternoon tea are also available.
Two recognized restaurants (a relaxing pub), a fitness facility, a heated indoor pool, and six conference rooms are among the other attractions.
Vermont
Vermont is an excellent place for a romantic getaway. This state has stunning landscapes and beautiful villages that are incredible for a quiet getaway. You may go hiking or cycling in the mountains or relax in a calm bed & breakfast.— Snow-capped mountains, ski resorts, and maple syrup inspire thoughts of Vermont.
Go to Waterbury to see the world-famous Ben & Jerry's ice cream plant or Burlington's heart and soul! Everything downtown is found in the Church Street Marketplace. Consider a boat trip on Lake Champlain if you enjoy soaking up the sun and water.
Romantic Places to Stay
This homely, upmarket B&B with 18th- and 19th-century buildings is located on 15 tree-dotted acres, 2.6 miles from the Connecticut River and 10 miles from the Fairbanks Science Museum & Planetarium.
The quaint, TV-free rooms have antique-style or rustic furnishings. Some add fireplaces, canopy beds, complimentary Wi-Fi, whirlpool tubs, and porches or sundecks.
Candlelit breakfast and afternoon tea are included; gourmet dinner and cocktails are extra. A charming pub/game room has a Colonial vibe and a fireplace. There's also a garden, a porch, a pond, and a network of hiking and biking paths.
Two miles from the Mad River Glass Gallery and 7 miles from skiing at Sugarbush Resort, this posh bed and breakfast are in a 19th-century farmhouse and a barn on 245 acres of land. There are country-chic rooms with steam showers or whirlpool tubs, free Wi-Fi, canopy beds, gas fireplaces, and flat-screen TVs in some of them.
You can see the hills from your breakfast table. Non-alcoholic drinks are also accessible in a game room with a pool table. In addition, there is a gym and a swimming pool inside the building. A pond, gardens, and hiking trails are all on the grounds.
There are 60 acres of private property encircling this resort in downtown Stowe, which provides views to Mount Mansfield, eight miles distant.
Free Wi-Fi and Keurig coffeemakers are included in all of the comfortable rooms. Gas fireplaces and minifridges are standard features in the hotel's newly renovated rooms. Suites come equipped with more living space, a dining table, a balcony, and a whirlpool tub as standard features.
There's a pub with an outside deck, a tennis court, a golf course, a hot tub, and a pool are all available. The on-site spa offers treatments for a charge.
This magnificent hotel is located at the end of a tree-lined lane, about 2 miles from the Hildene estate and 10 miles from the St. Bruno Scenic Viewing Center at the summit of Mount Equinox.
Because of its rustic elegance and exquisite rooms, this elegant hotel is one of the top boutique hotels in Vermont. The luxurious rooms have Italian linens, Wi-Fi, and flat-screen televisions.
Fireplaces and mountain views may be available in some of the upgraded rooms. Suites with living rooms and free-standing baths have more significant space. Private cottages with charm can be leased. In-room massages are not free.
This elegant inn is located in a gorgeous New England hamlet and the Green Mountains, across the road from Mad River, and is 3 miles from Sugarbush Resort and 11 miles from Roxbury State Forest.
The 11 uniquely themed rooms are furnished with eccentric furnishings and distinctive artwork. Some include balconies/porches and wood-burning stoves, while most have jacuzzi tubs in the bathrooms.
Freebies include the use of snowshoes, yoga mats, and loaner bikes. There is a great dining restaurant as well as a quaint bar.
Rhode Island
Is Rhode Island on your list of romantic vacation destinations? If it isn't already, it should be! Couples searching for a peaceful and personal vacation will love this tiny New England state.
Rhode Island has something for everyone, from picturesque seaside towns and villages to acres of conserved forests and parks. Newport, the world's sailing hub, is located on a tremendous 400-mile stretch of the Atlantic coastline. Among the Gilded Age, homes are The Breakers, The Elms, Marble House, and a slew of others.
There is no shortage of entertainment in Providence, RI's downtown arts and entertainment district, which provides a varied selection of theatrical shows. Plus, because it's so near to Boston, you'll have no trouble finding endless possibilities.
Romantic Places to stay
In the heart of Newport's Old Quarter, this inn is close to restaurants, shopping, and other fun things to do. You can walk to the Newport Art Museum in 3 minutes, and you can walk to the Block Island ferry in 13 minutes.
The ten posh rooms, all with fireplaces, have antique furniture and flat-screen TVs, as well as free Wi-Fi and iPod docks. Suites come with two-person whirlpool tubs. Breakfast is served in the living room. Among the freebies are afternoon wine-and-cheese socials and cookies at night.
This elegant inn is 1.3 miles from Brenton Point State Park in a historic Victorian home on 40 waterfront acres. Accommodated with beach villas and cottages, each space is uniquely embellished in the traditional technique. Accommodations vary in amenities but may include fireplaces, beach views, and two-person soaking tubs.
The exquisite dining rooms of the inn provide refined regional cooking, and there is also a casual outside restaurant accessible during the season. Additionally, a bar, a private beach, a marina, and a motor launch to Newport are available. Complimentary full breakfast and afternoon tea.
This elegant B&B is in an enormous 1876 mansion. It's a 13-minute walk from the International Tennis Hall of Fame & Museum. The Cliff Walk in Newport is just a short walk away from this rebuilt historic property as well as a 15-minute walk from Easton's Beach.
The rooms are accompanied by antique furniture, high-thread-count sheets, gas fireplaces, and free Wi-Fi. Suites have extra living space, whirlpool tubs, or rainfall showers. Full breakfast and afternoon tea, as well as wine and hors d'oeuvres receptions, are included in your stay.
The Attwater is a quaint three-pearl bed-and-breakfast located in Newport's attractive historic area. There are 17 rooms with coastal-chic decor and modern conveniences like Apple TVs and iPods preloaded with local information. A complimentary (and excellent) small plates breakfast is offered every day.
In addition to two stationary cycles and some weights, the Attwater includes a modest spa area, but the focus is on a pleasant place to stay while exploring Newport.
Massachusetts
Massachusetts is always a terrific destination to visit for a romantic getaway, no matter what time of year it is. There are lots to see and do in this picturesque state, from its magnificent coasts to lovely tiny villages.
In Massachusetts, there is no shortage of things to see and do. There's something for everyone, from the stunning lighthouses of Nantucket Island to Cape Cod's rich colonial history, historic sites, and cultural riches. Whether you're a beach bum, a historian, or a sports fan, there's something for everyone. You may be confident that there will be enough activities and attractions to keep you occupied during your visit. And if you're searching for a bit of romance, here is the place to come.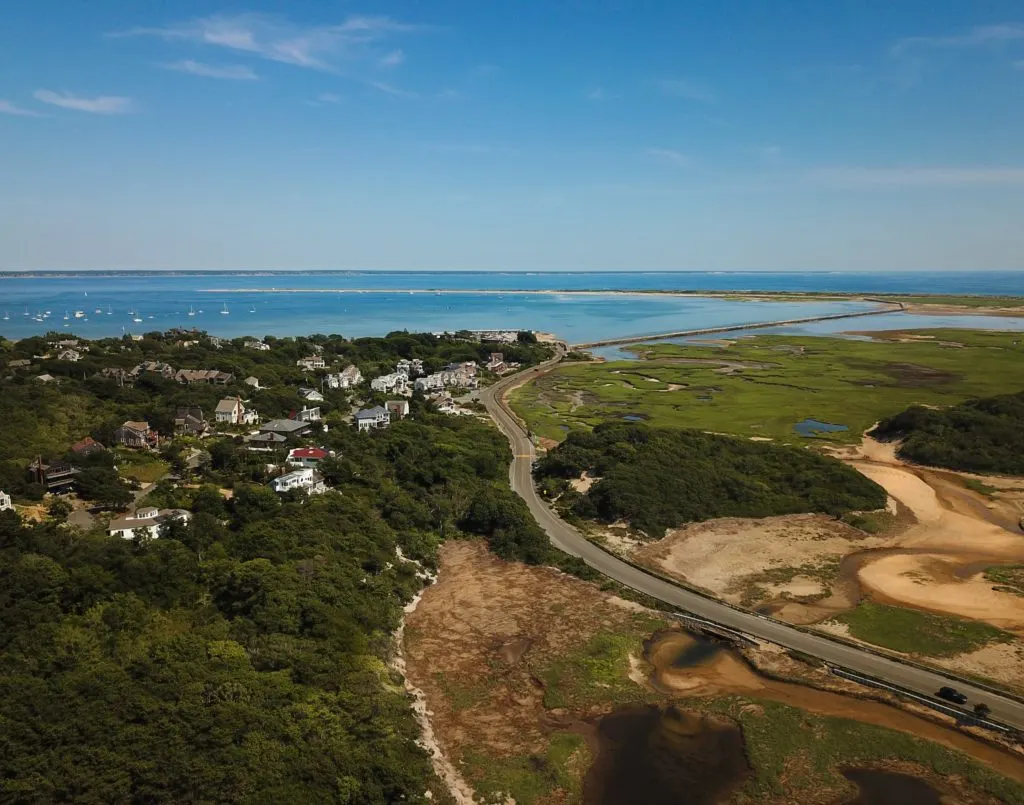 Romantic Places to stay
This charming early 1900s B&B with an annex is in a residential area. Close to Edith Wharton's Mount and Kripalu Yoga. There are bright, unique-looking rooms that range from comfortable to posh, and they all have free Wi-Fi and en suite, shower-only bathrooms.
Some rooms feature fireplaces, TVs, and sitting spaces. Others include hot tubs, minifridges, sofabeds, and 4-poster beds. This B&B also offers a heated outdoor pool, a library, and a fireplace are available.
This charming historic mansion overlooks a 100-acre nature preserve. In 1830, it became the Sears Hotel, a stop between Boston and Chatham. Three great eateries and a beach are within walking distance of the inn. Cycling routes to Martha's Vineyard and Nantucket. See waves in just a short 20-minute drive. Nine premium rooms with modern bathrooms. Two-person tub or shower. In the winter, four rooms have a fireplace.
There are flat-screen TVs with DVD players and iPod docks. And iPod docks. Each level has a 24/7 snack bar.
If you stay at this opulent hotel, you will be one mile from Edith Wharton's house, The Mount. Additionally, the Berkshire Botanical Garden is eight miles away. The magnificent rooms located in the main house feature four-poster beds and period furnishings.
Some have fireplaces, sitting rooms, patios, soaking tubs, and rain showers. There are other decks and porch spaces, and some cottages include kitchens. This hotel also features a spa with a sauna and hot tub, tennis courts, hiking paths, and an outdoor heated pool (seasonal). Additionally, there is an ice rink, a cross-country ski route, and a lodge equipped with table games.
Since its ceremonial opening in 1912, this luxurious downtown Boston landmark hotel has symbolized the city's rich history and elegance. Located in the heart of Boston's historic Back Bay. This exquisite 1912 grande dame hotel in historic Back Bay has located two blocks from Newbury Street's businesses.
It offers upscale rooms that have 46-inch flat-screen televisions and complimentary Wi-Fi, as well as high-end coffee makers and iPod docks. Suites with one bedroom have cathedral ceilings, beautiful fireplaces, and marble baths. On a club floor, guests have access to a beautiful lounge that serves a complimentary continental breakfast.
This historic hotel comprised of numerous low-rise buildings is located one mile from Rockport Harbor, three miles from Halibut Point State Park, and eight miles from Hammond Castle, a medieval-style structure.
The contemporary, sparsely furnished rooms provide complimentary Wi-Fi and flat-screen televisions, as well as coffeemakers, microwaves, and minifridges; some rooms also include living spaces with sofabeds. Suites have fully equipped kitchens and private bedrooms. Complimentary continental breakfast and parking. Additionally, there are two tennis courts and an indoor pool with a hot tub.
In New England, there are several possibilities for a romantic trip for couples. If your concept of passion consists of being in a bed & breakfast or hotel with all of the facilities you could ever need, or whether it consists of being surrounded by nature while participating in an outdoor adventure together, there is something for everyone. So, where would you prefer to spend your memorable getaway with your loved one?
**
See more: