Looking for Romantic Restaurants in OKC For Date Night?
Oklahoma City has some pretty impressive dining experiences to impress even the pickiest of connoisseurs. Whether you are visiting the city or you are a local, there is no shortage of romantic date night restaurants in OKC.
Whether you are looking for a WOW factor along the river in Bricktown or somewhere to stop in after a long day exploring downtown – there are tonnes of choices for date night restaurants in Oklahoma City.
So with no further adieu, here are what we consider to be the 9 most romantic restaurants in Oklahoma City for a romantic night out (or maybe even a proposal!)
Best Date Night Restaurants In Oklahoma City
Broadway 10 is upscale, eclectic and modern. It's not dark or stuffy. It's casual enough that you can bring a new date there and nice enough that they'll be impressed by your choice.
The restaurant offers a very large, diverse menu, serving everything from sushi to wood-fired meats and seafood. It also has choices for picky eaters, like pizza, chicken tenders and the like.
Situated on a five-acre stretch of land, this historic castle setting features three different levels: the Primrose, the Library and the Cellar, each offering a different dining experience.
The Cellar is more casual, with white tablecloths and wooden folded chairs, lit up by a single chandelier. The Primrose, which has been featured in various publications and lists, is a more formal setting with lanterns and linens.
The library is on the upper level, where you can dine quietly with your date, enjoying a view of the gardens and the sunset. A perfect place for a romantic dinner in OKC.
Vast is a step up from the usual dining experience. Their menu items are inspired by local cuisine, and their ingredients are locally sourced—a tactic meant to encourage freshness and sustainability.
You will find dishes featuring duck, lamb and pork, as well as a strong set of local beef cuts—a staple in the Oklahoma City food scene.
Diners often come to the restaurant because it's located downtown in the Devon tower, where you can look out at the entire city while you enjoy your meal.
No doubt one of the most romantic restaurants in OKC.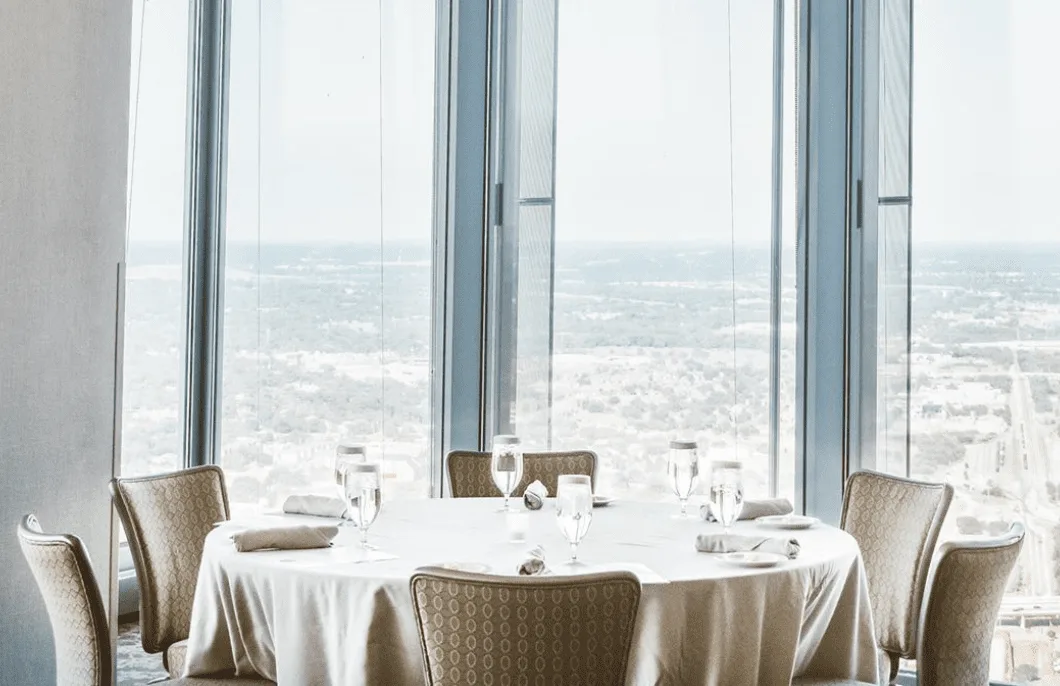 When you walk into the lobby of the Colcord Hotel, it's impossible to ignore the grandeur of the gray marble flooring, the staircases and flower displays.
Its resident restaurant, Flint, is equally impressive. It's open for breakfast, brunch, lunch and dinner, so it's a great place to go anytime of day. Sunday brunch features jazz music during the summer, and there's live music weekly on Thursdays and Fridays.
The menu is characteristic Oklahoma with a mix of Tex-Mex, like their SXSW Benedict and their Appalachian Queso and some modern dishes, like their black bean hummus and devil crab salad.
There's also a bit of refined southern cuisine. Their sautéed shrimp and andouille is a fine dining take on shrimp and grits.
This place definitely tops the list of Oklahoma city romantic restaurants that's for sure.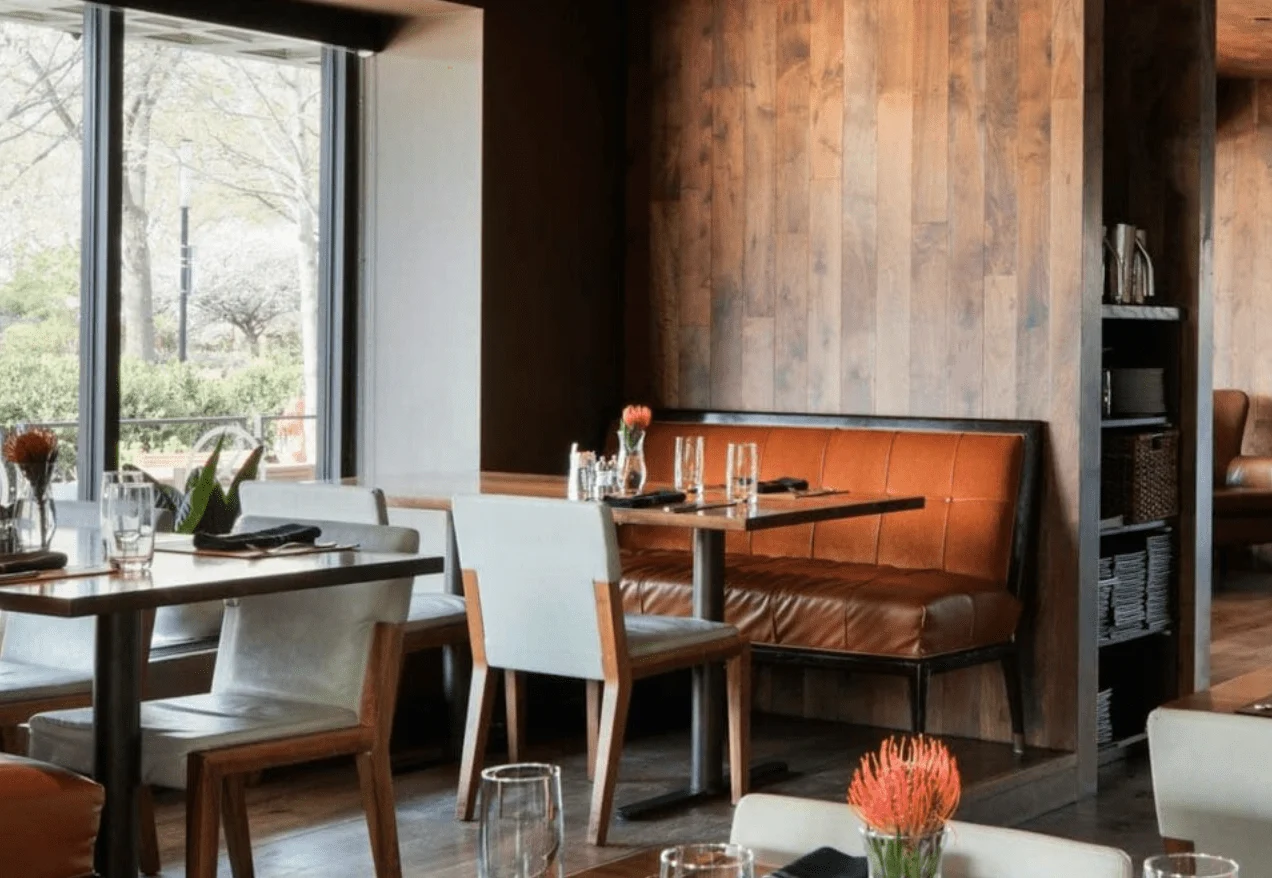 Romantic restaurants are nice, but sometimes the best food can be found in greasy shacks and strip malls. That's where you'll find true authenticity, and Hacienda Tacos is one of those places.
Not everything in this taco shop is authentic. They serve burgers and Tex-Mex, and the style is definitely a toned-down version of what you'd find in actual Mexican cuisine. But they do serve some of the best Mexican beef and pork, street tacos and enchiladas, giving OKC residents a taste of the border that you won't typically find elsewhere in the city.
Their menu is filled with Mexican beers, like Tecate, which are more popular down south, along with Mexican Coke and Sprite, made with cane sugar instead of corn syrup, adding a rich flavor you won't find in the American versions.
Black Walnut is what you would call business casual; it's suit, but not the tie. It has high tables, like the kind you'd find in coffee shops, only instead of fold-up advertisements and leftover newspapers, there are wine glasses and place settings.
There's a full bar, an open kitchen, and a sense business about the place. The menu is based on your mood, rather than your course. There's sweet and savory, containing many of the restaurant's appetizers; fresh and light, filled with salads and smaller appetizers; smokey and satisfying, decked out with slabs of roasted meat, and casual and comforting, for more filling dishes.
The dishes themselves are topnotch, elegantly plated creations, many of which you'd expect to find in fine-dining restaurants.
You'll find roasted quail, honey lavendar chicken, goat cheese appetizers and soft-poached eggs. This isn't a burger and fries type of joint, but it is casual enough that you won't look out of place walking in wearing a t-shirt and jeans.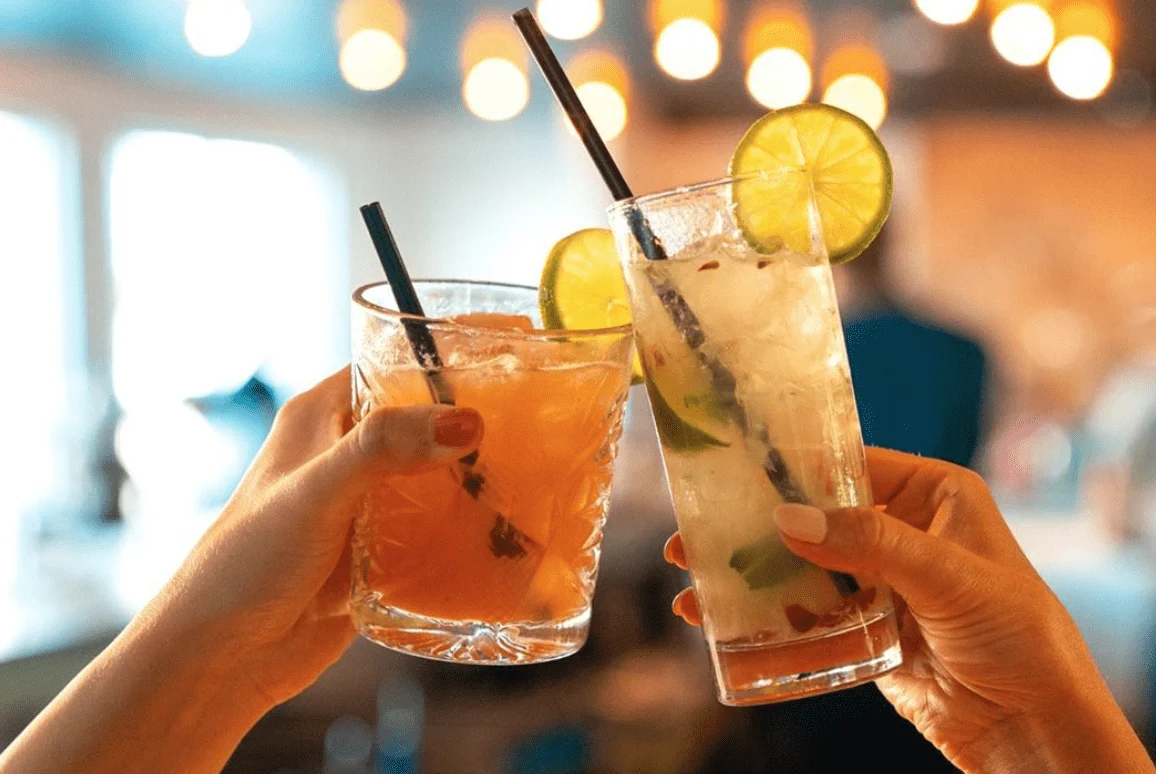 The Press is an eccentric establishment to say the least. The building is exposed brick, reminiscent of a warehouse. There's an outdoor seating area with picnic tables and lights strung from poles.
The front door is bright green, and the counter has hotel lamps on either end. It doesn't make any sense, but it comes together nicely, and the result is the same modern ambience you'd expect from most restaurants nowadays.
The food is southern comfort, redesigned and modified to enhance the characteristic gluttony found in the regional cuisine.
Instead of a chicken-friend round steak, you'll get a chicken-fried ribeye. Their mashed potatoes come in a bowl topped with chicken tenders and country gravy. You won't be served a heart-healthy meal, but you will walk out with a full stomach and a sense of satisfaction.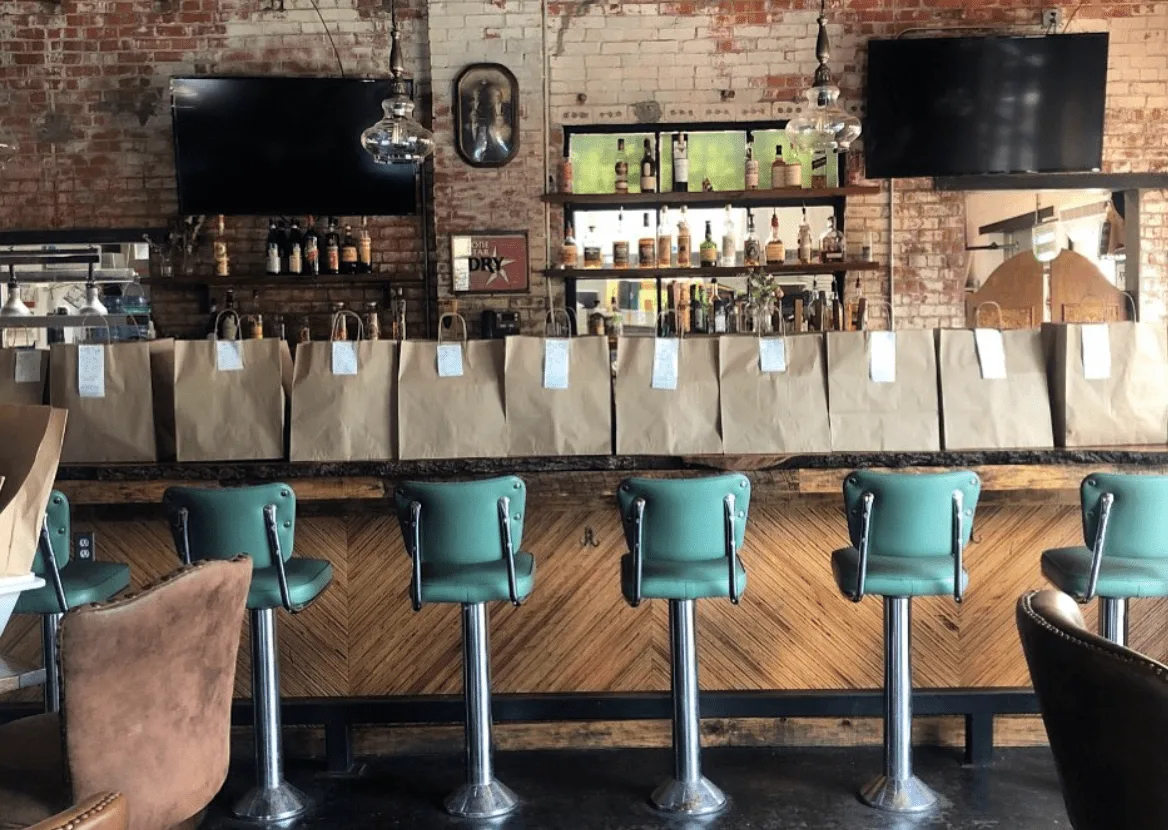 Tapas are perfect for dates. You get a craft cocktail, maybe a bloody mary or a margarita and pick at something small and pretty. It's a good way to bring the focus back to the conversation instead of the food, though that might not be so easy once you see what you're being served.
Bar Cichetti's creations are Mediterranean influenced works of art, combining color, design and taste to create a tantalizing experience.
They also serve full entrees, which are expensive, but they're worth the cost. Their lamb comes resting on a bed of truffle polenta, and their bouillabaisse is infused with saffron—all served in a setting where you can sit at the bar, bring in a giant party for one of their communal tables or have a quiet dinner in their loft.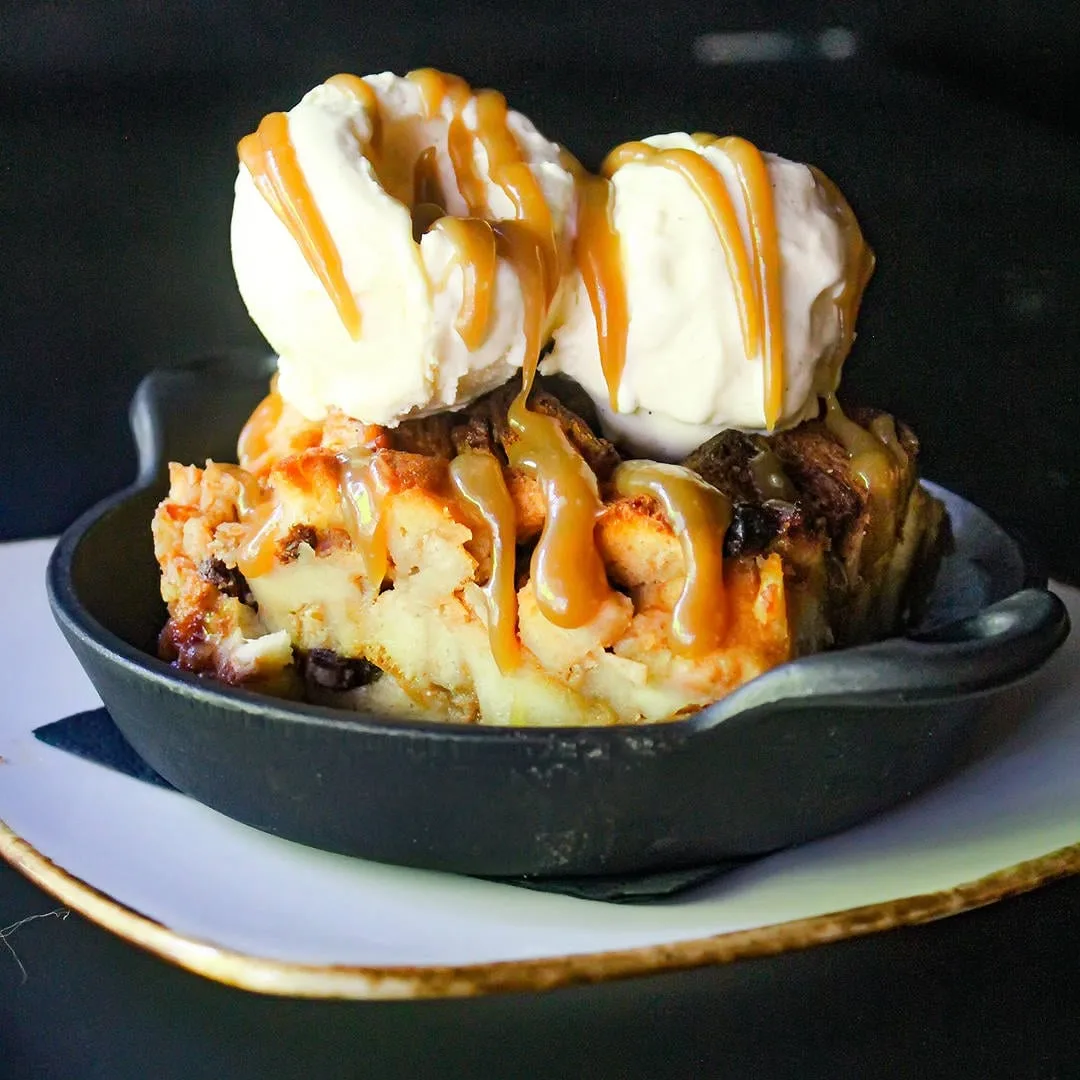 Sometimes it's better to go with a quick classic like burgers and fries, or a giant basket of tater tots covered in every single one of the seven deadly sins. It might not be elegant, or even pretty, but letting loose has its appeal.
S&B's Burger Joint has all of the gluttony and blasphemous trans-fats you could ever want—enough to give you a heart attack. There's pizza, milkshakes, nachos, tater tots done every which way, and cheap beer—lots and lots of cheap beer.
They really outdid themselves, and you would too if you paid a visit. It's not a cheap smorgasbord, either. Their prices are great, and their ingredients are high quality. You'll get aioli instead of mayonnaise and their burgers come with toppings like coffee, peanut butter and sea salt. Some of it's a little strange, but it all comes together in a way that you'd never expect.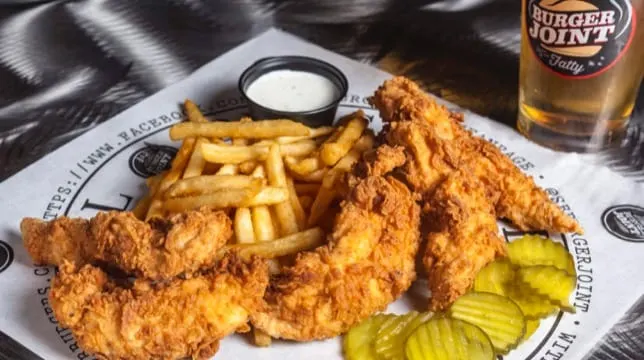 Been to All These?
No problem, we have some back ups up our sleeve. Here are a few others you might like to check out:
Paseo Grill
Metro Wine Bar & Bistro
Cheever's Cafe
Red PrimeSteak
Save Best Romantic Restaurants in OKC to Pinterest!
***
Wanna just stay in? You could always just cuddle up at home and whip up some yummy Oklahoma fried pies!
See more: