Looking for romantic things to do in Baltimore Maryland for couples?
Baltimore is the perfect place to explore as a couple as there are so many hidden gems and romantic spots to discover! If you love amazing restaurants and cozy coffee joints this is the perfect place for you!
Along with great theatre and entertainment, in Baltimore you will find beautiful gardens to explore as well as incredible art museums for a nerdy date idea couple.
So with no further adieu, here are 50+ of the most romantic activities in Baltimore Maryland.
Romantic Things to do in Baltimore Maryland
Romantic Places in Baltimore
Fell's Point. If you're looking to impress on the first date, Fell's Point is the place for you! Fell's Point is an adorable area filled with cobblestone streets, family owned restaurants and bars, and unique shops.
Grab some gelato at Pitango and head down to the water or relax in the square. Before you leave Fell's Point, swing by The Horse You Came In On Saloon on Thames Street, the last place Edgar Allan Poe was seen alive.
Sagamore Spirit Distillery. Have great conversations under a starry night at this one-of-kind distillery. Committed to putting Maryland back on the map as the premier distiller of Rye Whiskey. Sagamore Spirit's award-winning Straight Rye Whiskey is cut to proof with unique spring-fed water from Sagamore Farm. Free tastings are included when attending!
The Walters Art Museum. This museum holds an extensive collection of attractively displayed art all throughout the exhibition. The Walters Art Museum is a cultural hub in the heart of Baltimore. Located in the city's Mount Vernon neighborhood.
The Walters' purpose has been to bring art and people together and to create a safe haven where people of every background can be touched by art. Admission to the museum and special exhibitions is always free.
Baltimore Museum of Art. The Baltimore Museum of Art is home to an internationally acclaimed collection of 19th-century, modern, and contemporary art. Visitors can enjoy its outstanding selection of European and American painting and sculpture from the 17th through 20th centuries and the newly reinstalled Contemporary Wing with 14 galleries showcasing the art of our time. Admission is free.
The Inner Harbor. One of America's oldest seaports dating from the 1600s is today a paramount landmark and popular tourist destination. Park your car and follow the brick promenade through this bustling complex of eateries, stores, museums, entertainment and children's attractions.
Sample the fresh seafood right out of Chesapeake Bay. There are plenty of restaurants and fast food available and the "Gallery At Harborplace Mall" has over 40 stores and shops.
The Hippodrome Theatre. The legendary Hippodrome Theatre opened on November 23, 1914 and, for over 70 years, served as a movie palace that also showcased some of the top vaudeville performances of the time.
It shuttered briefly and reopened with stunning renovation in 2004 as The France-Merrick Performing Arts Center and continues to provide world-class entertainment to downtown Baltimore ever since as the crown jewel of the newly established Bromo Tower Arts & Entertainment District.
Outside Couples Activities in Baltimore Maryland
Sherwood Gardens. Sherwood Garden is a mini city garden in a most beautiful neighborhood that boasts historic homes that are well maintained and beautiful with lovely gardens. Enjoy the walk and a picnic in the garden during Spring and summer months. In Spring, tulips, azaleas and daffodils are spectacular, and in summer, the summer flowers are in bloom.
Patterson Park Pogoda. Designed in 1890 by Charles H. Latrobe, then Superintendent of Parks, the Pagoda was originally known as the Observatory.
While known as the Pagoda because of its oriental architectural appearance, the design was intended to reflect the bold Victorian style of the day. From the top of the tower one can view downtown, Baltimore's many neighborhoods, the Patapsco River, the Key Bridge and Fort McHenry.
Botanic Gardens of Baltimore. Established in 1888 as the Druid Hill Conservatory, the Howard P. Rawlings Conservatory has grown from the original Palm House and Orchid Room to include three greenhouses, two display pavilions, and outdoor gardens. The Conservatory also hosts a variety of adult workshops, master gardener clinics, children's nature programs.
Fort McHenry National Monument. Site of the Battle of Baltimore during the War of 1812, where Francis Scott Key was inspired to pen "The Star-Spangled Banner" in September of 1814.
American Sailing Tours. Enjoy a tour on one of Baltimore's best attractions, the schooner Summer Wind. See all the famous Baltimore landmarks from the Inner Harbor, including the National Aquarium, the U.S.S. Constellation, Fort McHenry, the Domino Sugar Plant, and all the marina's of Baltimore's world-famous harbor.
Watermark Harbor Cruise. Experience Baltimore from the water! Daily Baltimore Harbor Cruises featuring recorded narration, lively sights, full bars and more.
Fun Romantic Spots in Baltimore
Oriole Park at Camden Yards. One of major league baseball's newest stadiums, the Orioles' home field has the intimate feel and charm of an old-fashioned park.
The National Aquarium. Considered one of the world's best aquariums, the National Aquarium's mission is to inspire conservation of the world's aquatic treasures.
The National Aquarium delivers memorable experiences through its living collection of more than 20,000 animals from more than 800 species of fish, birds, amphibians, reptiles, marine mammals and sharks, as well as through exclusive behind-the-scenes experiences like sleepovers and tours, science-based education programs and hands-on experiences in the field.
American Visionary Art Museum. The American Visionary Art Museum is the nation's museum for self-taught, intuitive artistry. Three historic buildings house wonders created by farmers, housewives, mechanics, the disabled, the homeless, as well as the occasional neurosurgeon—all inspired by the fire within.
Peabody Library. The George Peabody Library stocks a magnificent collection of over 300,000 books. The library was initiated in 1860 with an aim to provide latest literary material covering all branches of knowledge except law and medicine. A majestic place for book lovers, the place is often referred to as the 'Cathedral of Books'.
National Cryptologic Museum. The National Cryptologic Museum houses thousands of artifacts that collectively tell the history of the cryptologic profession.
Here visitors catch a glimpse of some of the most dramatic moments in the history of American code making and code breaking: the people who devoted their lives to cryptology and national defense, the machines and devices they developed, the techniques they used, and the places where they worked.
Belvedere Square. From boutique retail shops and restaurants, to a European-style fresh market, you'll find shopping that inspires, dining that delights, seasonal events that entertain, and a place that reminds us that life's best hot spots are just around the corner.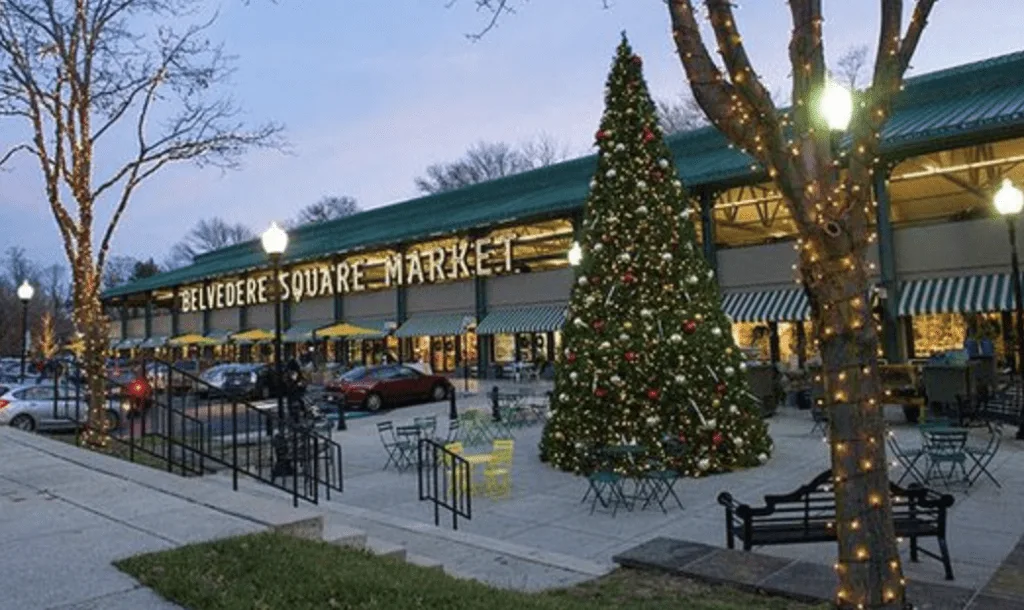 Live Entertainment Dates in Baltimore
The Lyric Opera House. Interested in learning more about the historic Lyric –The Baltimore concert venue for historical, architectural, and cultural performing arts. Join us for a complimentary guided tour of The Lyric. This is your opportunity to get an exclusive, behind-the-scenes tour from the stage-house to the box office, from the rehearsal hall to the dressing rooms.
Definitely one of the most romantic things to do in Baltimore Maryland.
The Baltimore Pavillion. The Pier Six Pavilion is one of Baltimore most popular pavilions and has hosted some of the city's most memorable concerts. Situated on Baltimore Inner Harbor, Pier Six Pavilion is the city's premiere outdoor summer concert. With a seating capacity of 4,400, the venue is also one of the largest in the area.
Baltimore Symphony Orchestra. The Baltimore Symphony Orchestra is internationally recognized as having achieved a preeminent place among the world's most important orchestras. Acclaimed for its enduring pursuit of artistic excellence, The Baltimore Symphony Orchestra has attracted a devoted national and international following while maintaining deep bonds throughout Maryland through innovative education and community outreach initiatives.
The Baltimore Symphony Orchestra made musical history in September 2007, when Maestra Marin Alsop led her inaugural concerts as the Orchestra's 12th music director, making her the first woman to head a major American orchestra. With her highly praised artistic vision, her dynamic musicianship and her commitment to accessibility in classical music, Maestra Alsop's directorship has ushered in a new era for the BSO and its audiences.
The Senator Theatre. Listed in the National Register of Historic Places, The Senator opened on October 5th, 1939 as a single screen movie house. It is a historic Art-Deco movie theatre designed by John J. Zink. The Senator reopened on Thursday, October 10th, 2013, with 4 screens, including the restored and renovated original auditorium.
Everyman Theatre. Everyman Theatre is a professional theatre celebrating the actor, with a Resident Company of artists from the Baltimore/Washington, DC area. The theatre is dedicated to engaging the audience through a shared experience between actor and audience seeking connection and emotional truth in performance.
Each season of plays is carefully curated to foster a diverse range of human experiences found in a mix of dramas and comedies selected from timeless classics to world premieres of plays.Over 5,000 loyal subscribers are joined by thousands of other patrons each year, totaling an average of 45,000 tickets sold annually.
Chesapeake Shakespeare Company. Chesapeake Shakespeare Company is the leading classical theatre company in Maryland, offering vibrant performances that blow the dust off of Shakespeare and delight its patrons.
One of the six largest theatre companies in the state, CSC serves diverse audiences with funny, moving, rousing mainstage seasons, a vigorous education program that serves over 16,000 students annually in both theatre and the classroom, and a growing community engagement effort.
The Chesapeake Shakespeare Company has three venues. Its indoor performances are presented at the stunning, award-winning 266-seat Chesapeake Shakespeare Company Theatre, with a thrust stage uniquely designed for CSC performances.
Romantic Restaurants and Cocktail Bars
Annabel Lee Tavern. Named after a poem by famous literary icon and Baltimore resident Edgar Allen Poe, Annabel Lee Tavern is a chic gothic cocktail bar in the Canton neighborhood. The delicious Poe-themed cocktails make this an experience only found in Baltimore.
Choose from concoctions such as the The Raven, with blackberry and blue curaçao or the Sepulcher, with pear cider, Fireball whiskey garnished with a pear slice. Plus, the gothic decor makes this a nice cozy hideaway with a setting that you will only find here.
W.C. Harlan. With no sign outside, W.C. Harlan is a favorite, hole-in-the-wall speakeasy fixture of Baltimore. They serve a cocktail du jour that changes daily and has never been the same since the bar opened in 2013.
Also try one of their classic cocktails, or ask the expert bartenders for their suggestions. Cocktail options here are plentiful with many build-your-own possibilities. The dim lighting and vintage tango music make the chic rustic-country atmosphere an eclectic and sophisticated excursion for the evening.
Wit & Wisdom. Located in Harbor East, Wit & Wisdom has beautiful views from inside the Four Seasons Hotel. The bartenders are updated on the latest trends in mixology and those that are right around the corner, from barrel-aging to bottled cocktails. They take culinary expertise to the art of drink-making.
Seasonal cocktails abound, like the Winter's Decadence cocktail with Hardy's VS Cognac, oolong breakfast tea and spiced apple. For happy hour, you can also get the bartenders' choice cocktail of the week or a house-made infusion.
Club Hippo. Founded in 1972 in the Mount Vernon neighborhood, the Club Hippo is a well-known hangout for the gay and lesbian community. A great place for a game of pool or to relax with a cocktail in the video bar, it features various cocktail selections. Fall drink specials include SS Svedka drinks, rail drinks and more. The club also has a decent draft and bottled beer selection.
XS Bar. A restaurant, cafe and bar, the XS, located in Mount Vernon, has a wide selection of cocktails, along with beers, wines and non-alcoholic drinks. Some customer favorites include the melon margarita, the XSive mojito, the agave negro, the Barack attack and the astro pop. In addition to wines, XS has an excellent sake menu, which includes sake-based drinks such as the pearl moon, tiger lily, the gummy bear and others.
Stalking Horse Vodka Bar. A vodka bar, located in Federal Hill, the Stalking Horse stocks 50 different vodka brands and specializes in martinis and other mixed drinks. Also known for its frozen slushy drinks, daiquiris and the frozen TG Red Bull & Vodka Slushy, the establishment has nightly drink and happy hour specials, served with various small plate offerings. In addition to cocktails, the drink menu also includes beer and wine selections.
Woody's Rum Bar and Island. The first thing to know about Woody's Rum Bar, located at Fells Point, is the bar's love affair with rum. Voted as a Best Bar to get day drunk, the bar sits on the harbor. Located on the third-floor deck, Woody's wears a Caribbean motif.
Adorned with bamboo, island-themed art, murals and hand-painted steel drums, Woody's has an extensive rum drink selection. From tikis and caipirinha to mojitos and rum-infused cocktails, customer favorites include its frozen rum drinks.
Coffee Shops
Ceremony Coffee Roasters. The cool, warehouse-style setting for Ceremony, combined with the top quality espresso drinks and coffee blends, is perfect for meeting friends, a casual date, or just getting your dose of caffeine. Ceremony is especially known for their focus on single origin coffees that have a traceable background and ethical farming methods.
Cafe Jovial. This cute café in the middle of a shopping street in Pigtown is the quintessential mom-and-pop-owned neighborhood spot. Full of character, good vibes, and friendly folks—stop by here for a coffee and a bite to eat.
Koba. A cute and fun place with colorful walls and homey vibe, this is a good spot to get a vanilla latte and get some work done. You can also find some local artwork, candles and other knick knacks.
Artifact Coffee. Baltimore chef Spike Gjerde, of Woodberry Kitchen fame, opened Artifact Coffee with a focus on a straightforward coffee program and quality café food. The café is set up in stone textile mills dating back to the mid-1800s and is well worth a visit. They also offer coffee cupping events, Sunday markets, and more.
Spro. A popular spot for locals, Spro features unique American coffees in a non-fussy but eclectic atmosphere. Visit Spro for a one-of-a-kind coffee experience and grab a taste of real Baltimore.
Dooby's. At Dooby's you can find coffee all day, breakfast sandwiches, house made pastries and treats in the morning, and Korean-inspired food in the afternoons and evenings. For a sweet caffeine fix, try Dooby's Korean iced coffee made with sweet red bean and condensed milk. This is another popular spot for Baltimore's coffee lovers.
Dovecote Cafe. A charming local favorite in the Reservoir Hill neighborhood, Dovecote has delicious coffee, baked goods, and sandwiches, but also serves as a community hub for the neighbors. Tufted couches, local art, eclectic wallpaper and friendly workers make this an inviting spot to get a cuppa coffee along with a taste of local culture. Look out for their monthly chef's dinner series where they invite guest chefs to cook a meal for the community.
Unique Date Ideas in Baltimore
Creative Alliance. The Creative Alliance builds communities by bringing together artists and audiences from diverse backgrounds to experience spectacular arts and education programs and engage in the creative process. We provide support to area artists, promote Baltimore as a center for creative production, act as a positive force in our community, and advocate for cultural expression rooted in a sense of place.
Urban Axes Baltimore. Urban Axes is America's premier indoor competitive axe throwing venue located in Baltimore. Come experience the fun of throwing axes! Open for group bookings such as birthdays, bachelor/ette parties, the best team building event ever or just a fun night out with friends. Urban Axes also offers 8-week leagues and hourly walk-in sessions. Serving beer & wine.
City Brew Tours. City Brew Tours Baltimore is the only beer tour company in Maryland that offers daily brewery tours to Baltimore's top breweries, brewpubs, and beer bars. City Brew Tours Baltimore offers daily all-inclusive beer-focused tasting and tour experiences for brew lovers throughout the metropolitan area. Every tour includes up to 15 different beers, a beer pairing lunch and round-trip transportation!
Baltimore Ghost Tours. Stroll through Baltimore's Fells Point neighborhood while hearing ghost stories on this spooky 1-hour tour. With a guide providing hair-raising tales as you walk, stop at some of the most historic and haunted landmarks in the neighborhood. You'll come away with a deeper understanding of the neighborhood's history and its grisly past, facts you might not otherwise learn on traditional tours.
The Charles Theater. The only theatre of its kind in Baltimore, The Charles has the unique distinction of offering first-run specialty films in addition to Hollywood movies, foreign films and cinema classics. The 1150-seat, 23,000 square-foot movie house is located in one of Charles Street's most intriguing historic buildings.
Corradetti Glassblowing Studio & Gallery. Corradetti Glassblowing Studio & Gallery in Baltimore is situated in beautiful Clipper Mill, just steps from the Light Rail's Woodberry stop. Ample free parking is also available. Visit the gallery to see one of a kind blown glass pieces all made on site by Anthony Corradetti.
Fabulous giftware in a stunning array of colors & styles. Corradetti also offers classes & workshops for ages 7-adult, schedule is posted on their website. Private lessons may also be scheduled via email. A visit to Corradetti Glass will enhance your Baltimore experience greatly!
Baltimore Water Taxi. Somewhere between a water-based bus line and open-air adventure, the Baltimore Water Taxi is the fun, fast, and affordable way to navigate the city. Operating with a crew of licensed Captains and a fleet of USCG inspected commercial passenger vessels along dedicated routes servicing fixed stops in/around the Baltimore harbor.
Washington Monument and Mount Vernon Place. The centerpiece of this National Historic Landmark District is the Washington Monument, the first major monument to honor George Washington, the first president of the United States of America. The Monument has been restored by the Mount Vernon Place Conservancy, and was rededicated and reopened on its bicentennial, July 4, 2015. The parks are open dawn to dusk.
Pride of Baltimore. The Pride of Baltimore is a reconstruction of an early 19th century Baltimore Clipper. These sleek, fast, and maneuverable vessels became famous as privateers during the War of 1812. Their success in capturing British merchant ships inspired the Royal Navy's attack on Baltimore in 1814.
When Francis Scott Key saw the American flag still flying after the all-night bombardment of Fort McHenry, he was inspired to pen the "Star-Spangled Banner." Since her commissioning in October of 1988, Pride has represented the people of Maryland — traveling over 250,000 nautical miles, visiting 40 countries, and docking in over 200 ports of call. Each year over 100,000 people cross her deck.
***
See more: