Looking for Romantic Things to do in Bend Oregon for Couples?
Being one of the best places in the USA for a mountain getaway, it is the perfect place to go for an adventurous couple who love activity.
Whether you are a local looking for epic date night ideas in Bend or are a tourist coming to explore the city some more – this list has it all. From tours to restaurants to visit in Bend at night to State Parks to hike all day, we have done the hard work for you and found the absolute best couples activities in Bend.
Date Ideas in Bend Oregon For Couples
These beautiful falls are located in the Deschutes National Forest, near Tumalo State Park and Tumalo city proper. During the winter and early spring months the main gate is closed off, so you'll have to trek to the falls with your sweetie.
However, in the summer and fall it's a quick drive up to the parking lot, which fills up fast, so come claim your spot early in the morning or in the evening, where you'll have a great view of the sunset over the mountains.
Tumalo
Located near Bend, close enough to be considered something of a suburb to its larger neighbor, this little and quaint unincorporated town is located near Tumalo State Park.
Come in for a fresh baked pizza, or visit a welcoming coffee shop. Take your bikes and enjoy a ride through the trails and on the bike-friendly roads. It's a perfect get-away from the hustle and bustle of Bend, while also being only minutes away.
Nestled in the northwest area of Bend, Tumalo State Park is a beautiful tree-spotted park near the Deschutes River. Take a picnic along and enjoy the view of the river at one of the many picnic tables or, in the summer, your swimsuits and take a dip in its stiller waters. There's also a clean, well-maintained campground nearby, with amenities included.
If you're feeling pretty hungry after a day of hitting the trails, or the nearby golf courses, plan for a downtown Bend small group tour for a unique dining experience. You'll visit food carts, coffee roasters, breweries, food stalls and all sorts of culinary ventures during a 3-hour guided tour. Tours aren't always available, so keep checking back to sign up.
Another very different, and less food-motivated but still located in downtown Bend, this scavenger hunt bring you through downtown like you're looking for Pokemon, but instead it's the sights and sounds of Bend that you'll be catching.
Take fun quizzes and learn new facts and trivia about Bend. This will sometimes bring you off the beaten path, bringing a fun and new sense of adventure to your date.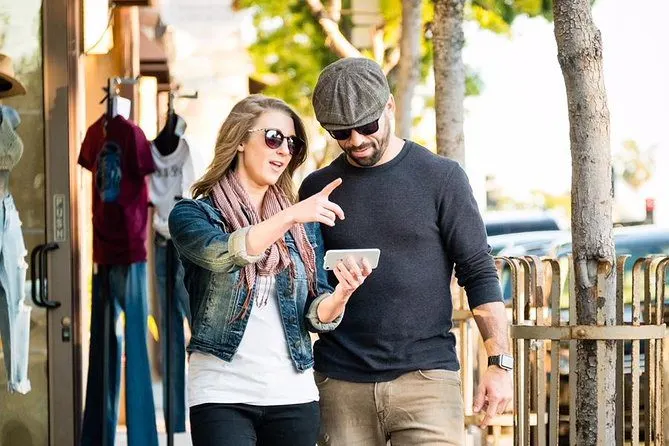 For bicyclists, this is a great group date to participate in. The local tour organization puts together tours along the mountains and high desert trails. The views are fantastic, and there's a variety of packages to choose from; day tours, combos, and even trips to local breweries after a long ride.
The famous butte towers over the surrounding buildings, its precipitous height is practically begging to be hiked and biked by Bend locals and tourists. Not only can you look over a mountain peak guide at its top (aligning with the view of the mountains surrounding Bend), there's also a great view of the city, where you can look out at the smokestacks in the Old Mill District.
What article about Bend wouldn't be complete without mentioning this historic shopping district? Once a bustling lumber mill in the early 20th century, the district is now home to a large variety of shops, restaurants, and events at the Les Schwab Amphitheater.
There's plenty of date spots to choose from here; Red Robin for a casual evening, to an experience at Anthony's or Greg's Grill, where the prime riverfront view is worth the price tag. The comfortable seats encircling a warm bonfire, the winding Deschutes river, impressive smokestacks and choice eateries makes a romantic and varied evening.
An outdoor venue, with its massive stage located at the end of a rolling green lawn that gives room to thousands of guests, this amphitheater is home to hundreds of concerts in Deschutes County.
Popular local artists and even famous headliners grace its stage, sometimes performing free concerts or for charity events. Food trucks and beer gardens are set up along the sidewalk, offering choice drinks and great street food options.
If you and your partner are feeling film rather than live music, Regal Cinemas is only a few minutes away from the amphitheater.
Featuring cushy stadium seating, a concession stand with wide selections and bundles, along with multiple theaters playing the newest movies, Regal is one of the plusher options in Bend. Dinner and a movie is easy here, as there's a Hawaiian eatery directly next door, along with other restaurant options in the mill district.
If you priortize an indie art-house film over the latest blockbuster, you'll want to check out Tin Pan. This small theater on Tin Pan Alley, close to the St. Charles Hospital complex, offers up independent films and classic cinema. Snuggle up in the cozy single-screen theater with a glass of locally sourced wine or pint of beer with your popcorn.
Not too far from the Old Mill District and downtown Bend is Lava Lanes, technicolor adventure for bowlers and arcade fans alike.
Grab a beer and dinner at the bar, or maybe a soda and nachos at the snack bar, then make your way down to the alley for a competitive night of fun, either bowling with your date or hitting the arcades for a nostalgic spin at Pac Man.
More Romantic Things to do in Bend Oregon for Couples
A sprawling forest full of hiking, fishing, camping and other adventures is only minutes away from the city. There's an abundance of options to choose from, all with spectacular views of an abundance of juniper, ponderosa pines, maple and Douglas firs.
If resting in a small meadow on a quilted blanket, surrounded by wildlife and the quiet of the forest, is your thing, this forest is it.
A beautiful ski resort on Mount Bachelor, this winter wonderland is in Bend's backyard. Cuddle up with some hot cocoa, wrapped up in a blanket, and enjoy a toasty fire place after a long day of skiing on the slopes. The ski season ranges from mid-November to the end of May—the longest in the country.
Dutchman Sno-Park
Pack up the snow shoes and inner tubes, or even your snowmobile if you've got one, it's time to slide down the snow-covered knulls. The parking lot fills up quick, so get there early to snag a spot. During the winter there's snowshoeing adventures to be had, or hiking and mountain biking in the warmer months. The Dutchman is only a short three minute drive to Mt. Bachelor.
Not many of us can say we've ridden on a dog sled. This trail, near Mt. Bachelor, offers views of Central Oregon mountaintops: Broken Top, Three Sisters, and Mt. Bachelor. Owned and operated by a professional competitive musher, Rachael Scdoris, Trail of Dreams provides an opportunity to join a traditional dog sled tour.
The tour takes off from Mt. Bachelor's Sunrise Lodge and carry up to three people (or two). You'll participate in an orientation pre-trip, then afterwards learn what goes into maintaining caring for a pack of furry, four-legged athletes.
If it's in the dead of summer, with the bright sun blazing down and flowers struggling not to wilt, and the mountains are devoid of fresh powdery snow, then you might be interested in taking a trip down in the dark, cool and damp lava tube at Lava River Cave, part of the Newberry National Volcanic Monument.
It's a pretty steep climb down and back up, and a bit of a work out, but the breeze flowing through its cavernous walls will keep you both nice and cool.
A large swath of the Lava Lands surrounding the Newberry Crater (technically, a Caldera) and summit of Paulina Peak, where you'll catch views of the Cascades, Newberry Caldera and the high desert.
The heart of the Monument, however, is the massive crater; a caldera stretching seventeen square miles over the volcano. Stretching thousands of thousands of acres across the Deschutes National Forest, there's no shortage of lava tubes, hiking trails and striking geological features, formed for thousands of years by the seismic and geothermal activity.
The High Desert Museum showcases the historical and cultural heritage of the the high desert ecosystem, with a wide range of indoor/outdoor exhibits of historical artifacts, and live demonstrations and glimpses of local wildlife. There's a gift shop near the front entrance, full of fun knick-knacks and t-shirts, as well as a well-appointed cafe. Picnic tables are set up throughout the grounds.
Sun Mountain is the epitome of your local fun center, full of fun things to do not only for kids but for adults as well. Let out your inner kid on the bumper cars, chasing down your date and breaking out into hysterics as you spin around in the speedy little car. Go bowling, play on the arcade machines, or grab a local micro-brewed beer or wine before taking on some mini golf.
Visits to Lake Hosmer for canoe expeditions and hiking trails with spectacular views of Mount Bachelor. The lake is only suitable for fly fishing, meaning the motor boat restriction gives way to cool clean water, giving way to clear views of the lake's populous schools of fish.
Lake Hosmer is also a very popular lake due to its beautiful environment, abundant wildlife, waterfowl and large fish that can be easily seen swimming. Road access is available from June to October.
Ouzel Outfitters
From day trips to weekend vacations to week-long adventures on the various Oregon rivers. Ouzel Outfitters specializes in guided whitewater rafting in Central Oregon. Ouzel offers a range of options, from half-day trips to week-long trips with experienced river guides. Make date night a few more nights long on a guided rafting adventure.
Sunriver Resort makes your vacations and excursions unforgettable. There is something for everyone throughout the year. Gather your family and friends across the Deschutes River directly from Sun River Marina, play golf on the award-winning golf course, bike through the towering trees, and ride along the river over 40 miles of trails.
The resort something like a natural Disneyland, where you're immersed in the magic of local beverages, food, golfing, water sports and more.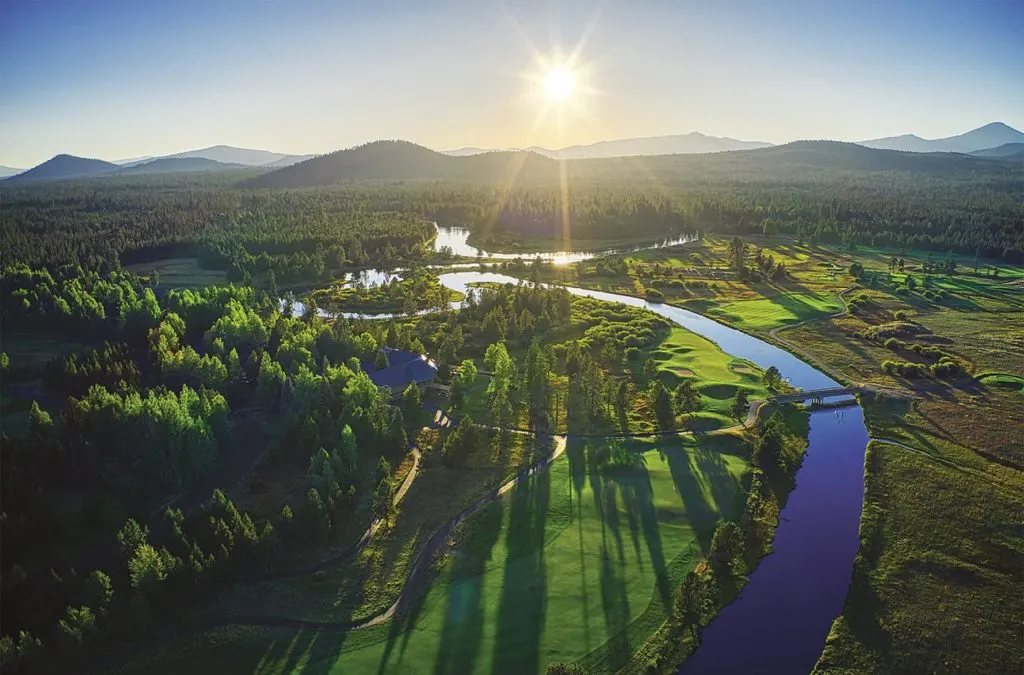 Besides all the adventures listed above, Sunriver Resort also is home to the Sunriver Stables, where riders of all experience levels can take a 45 minute trail ride through the pines, with guided tours starting with 15 minute lessons, then moving onto paths through scenic Sunriver meadows and the surrounding Ponderosa-dotted forest.
This lake is a little further out from Bend, 24 miles off 46 and on a forest service road out to the Todd Lake trail. There's a short hike from the parking lot to the lake, facing the Cascade's Volcanic Arc Broken Top, a beautiful snow-covered jutted mountain top.
The view itself is enough to bring your date for, but there's also forest access across the Todd Lake Trail, bringing you into the geographically diverse Three Sisters Wilderness, through Soda Creek and the Broken Top trail. Take a dip in the lake after a long morning hike, and don't forget your bug spray.
Support culinary students at Central Oregon Community College while also exploring a fine-dining menu at a reasonable price. Aspiring chefs appreciate the feedback survey given at the end of the experience, where patrons are encouraged to give honest criticism of the food to help the students learn what worked and what didn't.
Worthy Brewing
What's going to Bend without stopping by a brewery? One of the many choice breweries in Central Oregon, Worthy stands out with its on-site hop garden and hopservatory, an insider's look on how their beers are brewed using sustainable, earth-friendly practices. The only brewery on the East side, Worthy offers both a large selection of beer and a locally sourced menu.
Bite of Bend
Bite of Bend is huge, comprising of a 5k Beer Run through Drake Park (running or walking welcome), a $5 cocktail week leading up to the main event, a conscious living showcase for health and earth-friendly businesses, an artisanal marketplace with local artists, a mixology showcase, and even a local Top Chef competition.
The festival is enormous, with so many food carts to choose from you'll need to save your appetite for this date.
Start out at the tasting room, then mosey on over to their Beer Garden and sip with your date under the stars. There's plenty of seating surrounding warm, comforting fire pits surrounded by awnings strung with sparkling cafe lights. The indoor tap house features TVs, heaters and communal seating, along with live music, bingo nights, and more events to plan your date around.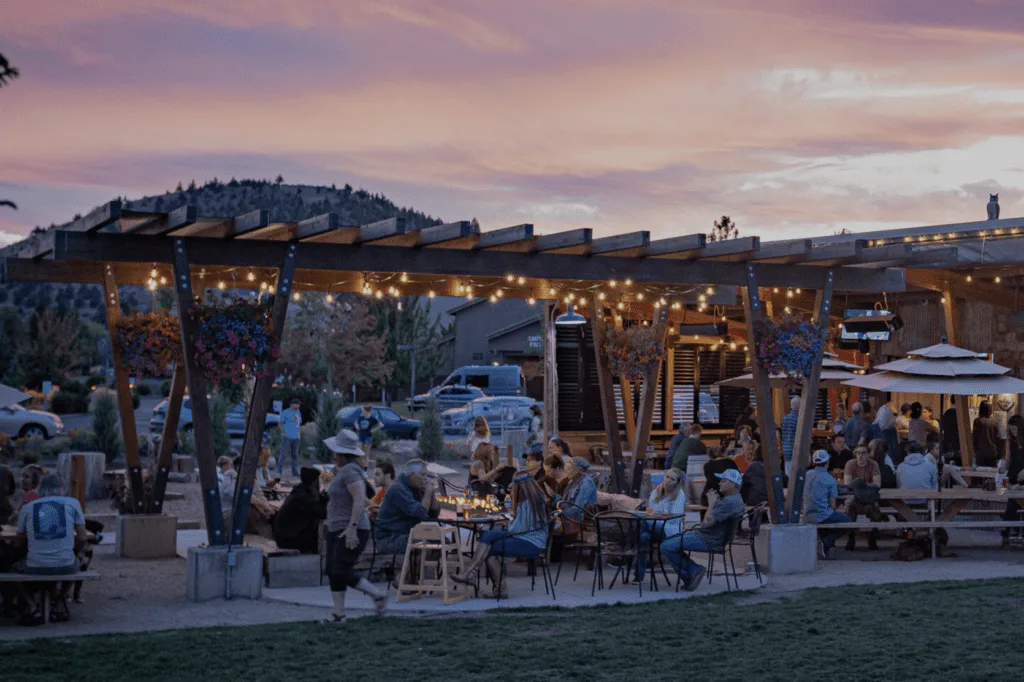 A mainstay of Bend, a harkening back to the old days, when Deschutes County once was a small rural community. If you're planning a date for the middle of the week, between 2 and 6pm, you might find downtown Bend to be a little less busy than the Saturday markets, though not by much. Located in Brooks Alley between Franklin and Minnesota, this market will be right in the middle of yummy eateries and shops.
Located at NorthWest Crossing, this farmers market is akin to its Wednesday sister, except for its time and locale. NorthWest Crossing, like downtown Bend, is home to numerous eateries and interesting local shops. Here you'll find seasonal produce, local farm-raised meats, floral bouquets, artisanal items and fresh dairy products. Central Oregon vendors include Smith Rock Nut Roasters, The Environmental Center, Moose Do Farms, among others.
(now closed) Primal Cuts Market Go Vego @ Paradise Produce Stand
Our favourite butcher has gone and there is no similar candidate to replace it. So it's time to get with the times and go vegetarian / vegan. Fortunately, the produce @ Paradise Produce Stand is the freshest around. Pick up some fresh veggies and fruits for dessert, then battle it out in one of our Exceptions Couples Cook Off dates (check out the rules).
Address: 1234 NW Galveston Ave
If visiting the farmers market has got you hankering for locally and sustainably raised meats, look no further than Primal. Here, you'll find not only choice meats from your local butcher, but also a deli with a full menu and even fills for your growler, along with cans of beer, cider and kombucha (a local favorite fermented concoction).
The Bend Trolley
A renovated 19th century Victorian-style trolley is a popular vendor for events in Central Oregon, including pub crawls that take its guests through Deschutes Brewery, GoodLife Brewing, Worthy Brewing, Naked Winery, and more. Inquire about their modern and contemporary shuttle bus for a smaller event, such as a date or even a group date, to go sightseeing, pub crawling, and more.
There's nearly too many craft breweries to list (although we certainly give it a go), and it can boggle the mind to plan a pub crawl out. Do we go to Worthy Brewing then Deschutes Brewing, or Bend Brewing first? But wait, isn't that all the way across town? Either find the paper passport at the Visitor Center, or download the free interactive app to track your progress. Either way, it'll be a beer-and-food filled blast.
Commonly called McMenamins for short, Old St. Francis School – McMenamins is one of the Ale Trail locations, sprawling its hotel and pub campus out through Bond St, snugly situated around downtown eateries, apartment buildings and beautifully restored Victorian-style homes.
Uncommon, unique, and, according to some Bendites, apparently haunted. Lodging attractions include a fantastic Roman soaking pool, ornate guest houses and suites, and, of course, a well-stocked Irish pub.
Part of the illustrious and extension Parks and Rec district, Drake Park and Mirror Pond is known as one of the most picturesque parks around, popular as a photographer's destination and an Instagram favorite.
Not only is it a beautiful sparkling pond backed up to a forested riverfront, there's also tons of activities to be had on the large sprawling lawn. Bring gear for a volleyball match, frisbee golf or even bocce ball, plus a picnic, and you're set for a date.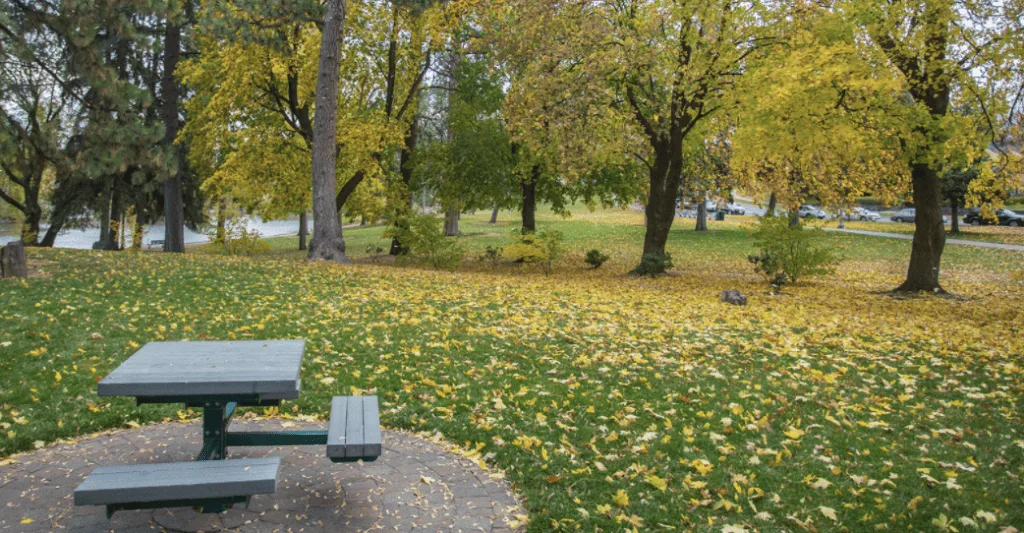 REI Co-Op
Similar to Wanderlust Tours, but with a wider array of choices for a couple's adventure experience-level, REI provides bike tours, classes, hiking trips, and a backcountry navigation class that teaches adventurers how to use a map and compass. With a large variety of classes and tours, you'll be able to pick up a quick adventuring lesson without breaking the bank.
Start out at the picturesque Riverbend Park, along the edge of the Deschutes River running past the Old Mill District, and float your way down the river. The usual float is two hours down to Drake Park, where you'll need to catch a ride back up to Riverbend. Any inflatable works; or rent a canoe, kayak, etc at Tumalo Creek Kayaks & Canoeing, bring your permit and life jackets and you're ready to go.
Bike Ride Around Bend
If you're ready to hit the trails at Tumalo State Park or pretty much anywhere in Bend, one of the most bike-friendly cities, stop by at Pine Mountain for a bike rental (especially since bikes aren't too common as a carry-on if you're flying into town). Located on Century Dr., it'll be a quick trip to downtown Bend or one of many parks dotted along the Deschutes River.
A beautiful theater, this nonprofit is a mainstay in Bend. As much a cultural icon as a perfect date night spot, there's a litany of performances to choose from: watch a concerto, rock concert, opera series, off-broadway shows, Irish tap dance, stand up, and so much more. Check out their website for a list of upcoming events.
What a unique experience! Polish off your cameras and go through a guided tour of the best photo spots in Bend and throughout Central Oregon. Some of the choice selections of tours are of the beautiful Bend sunsets, milky way starlights sparkling overhead, along with longer trips to other locations, including all over Oregon and in other states like Colorado.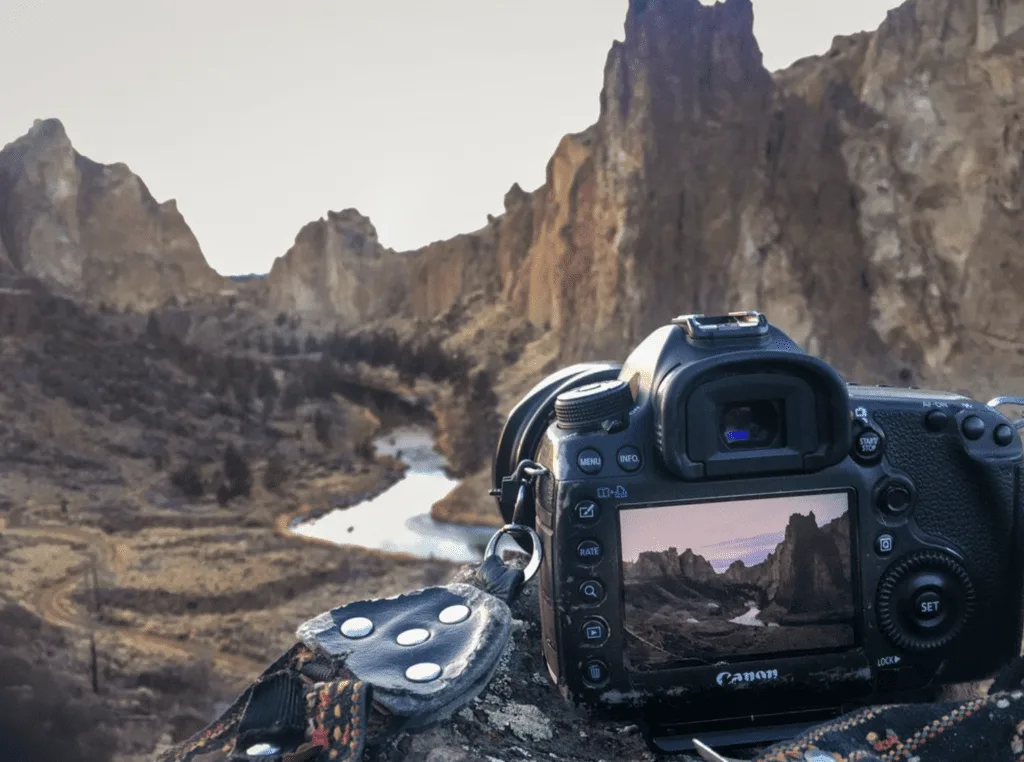 Like the High Desert Museum this is a great and interesting educational experience. A nonprofit that depends on public donations and grants, the museum is supported and run by The Deschutes County Pioneers Association and the Pioneer the Bend Historical Society.
According to their website, the Deschutes Historical Society is a local organization whose mission is "to gather, preserve, and make available museum, library and other historical material relation to the history of Central Oregon."
Escape the doldrum of everyday life with the Bend Escape Room, an escapade into a live-action puzzle room. Get your heart rate up with realistic, mind-bending puzzles that will test your intellect and trivia savvy. Either escape with your date, or bring along friends for an exciting group date.
Like Sun River Resort, Brasada Ranch is another beautiful get-away near Bend. Located in rural Powell Butte, in Crook County, you'll love the expansive views of juniper, sage brush, magpies and horses grazing under a summer sky so blue and clear you'll wonder if leaving Central Oregon is really, truly an option at this point. Schedule a couples massage at Spa Brasade, order room service or dine at the Range Restaurant and Bar, or book a ride along trails on over 900 acres of land.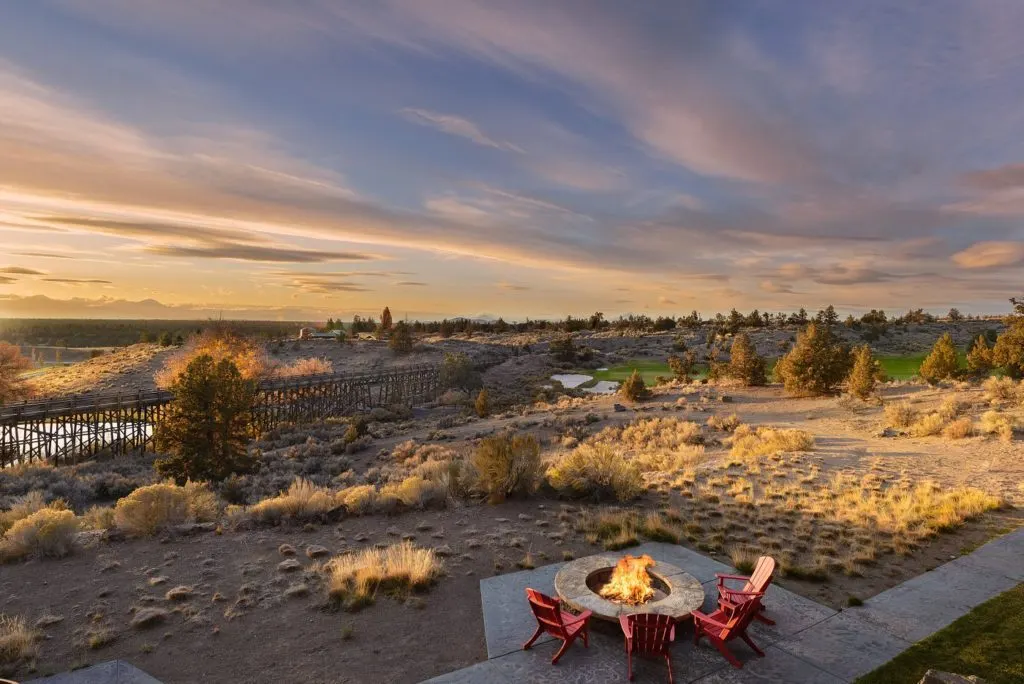 They say the bookstores are old news, but not this local corner cafe. Surviving the onslaught of online ordering, Dudley's is a testament to the special something that a local book store can bring to the community and tourists alike. To stay competitive, Dudley's has an online order option, where you both can select your books and come in to pick up, and maybe stay for a nice cup of joe in the process.
The Wine Shop and tasting bar is a little different than other tasting rooms. Instead of paying a cover charge to get in and try different brews, or paying per tasting, you'll have a free array of different drinks to choose from. Plus, the brick building it resides in, and the tasting room within, are simply stunning. Make sure to drop a tip for your server!
Oregon Whiskey Festival
Visit Eventbrite for tickets early! This annual event isn't free, but tickets sell out quick. The cover charge includes VIP tasting events on Friday ($160) and general admission ($40) on Saturday.
Taste locally-distilled whiskeys from McMenamins, 4 Spirits Distillery, Crater Lake Spirits, Westward Whiskey, among many others, and buy a bottle (or two) of your favorite whiskey, and dine on delicious food vendors under an outdoor tent with a romantic ambience provided by cafe lights and good music.
Want an expert's opinion on the best spots to snowshoe in the winter, or paddle on the lake in the summer? Wanderlust provides daily tours, depending on the season, into the Lava Tubes, hiking over Cascades calderas, camping in various parts of the Cascades, and exploring the numerous brewery and distillery options in near Bend. There's camping events, volunteer experiences, and custom tours as well (for date nights planned well in-advance).
Sun Country Tours is a local tour operator organizing rafting trips, tubing lessons and rentals on the three Oregon rivers: McKenzie, North Ampqua and Deschutes. Sign up for a full-day rafting trip, or design your own adventure on a river float tube, chairlift rides, ziptours or sunset dinners with your date.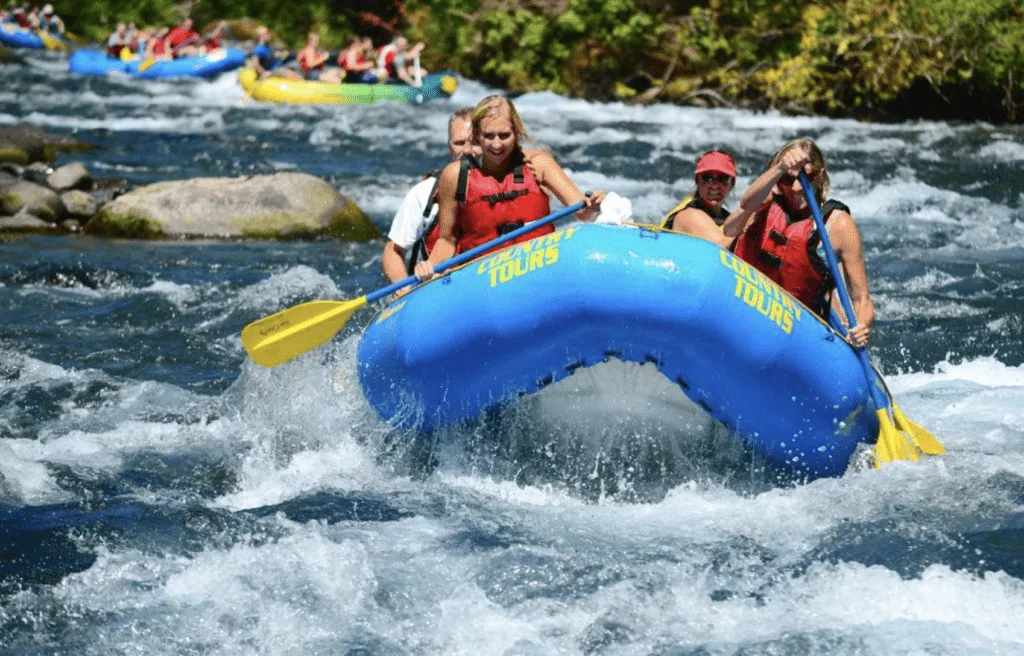 Add adventure to your date at here. Rent kayaks, paddleboards, canoes and rafts for a trip on the Deschutes River. The company offers daily river tours and stand-up paddleboard classes for yoga. Shop for gear, paddle down the river, or take lessons with experts.
***
See more: