Looking for some romantic things to do in Charleston SC? You've come to the right place because we love this adorable town.
Charleston South Carolina was a place I wanted to visit for a long time. Truth is, I'm a total romantic and lucky for me, there are tonnes of romantic things to do in Charleston!
Charleston screams of romance with its cobble stone streets, horse drawn carriages and overhanging oak trees.
Plus, it is where a lot of the movie the notebook was filmed – the all time BEST romantic movie.
For this reason, there is no shortage of romantic things to do in Charleston South Carolina on a weekend trip!
Note: If you are a a US road trip like we were, Atlanta Georgia is another great nearby city (4 hours drive) with a lot of romantic things to do for couples. Another nearby city to visit is Greenville SC.
20 Romantic things to do in Charleston, South Carolina
Charleston is the perfect place to go for a romantic weekend. In this post you'll find everything you need to know to plan a romantic weekend getaway in Charleston.
But first, for those short on time here is a quick overview of some things for couples to do in Charleston:-
Take a romantic horse-drawn carriage ride through the historic streets of downtown Charleston.
Enjoy a romantic dinner at one of Charleston's many fine restaurants.
Take a sunset cruise on Charleston Harbor.
Spend a day at the beach and watch the sunset together.
Take a romantic walk through the gardens of Magnolia Plantation.
Enjoy a romantic picnic in one of Charleston's many parks.
Take a romantic boat ride on the Cooper River.
Spend the day exploring the Antebellum mansions of the Battery.
Enjoy a romantic dinner and live music at one of Charleston's many jazz clubs.
Take a romantic trolley ride through the city and see the sites.
Read more: Guide to the Prettiest Streets South of Broad – DIY walking tour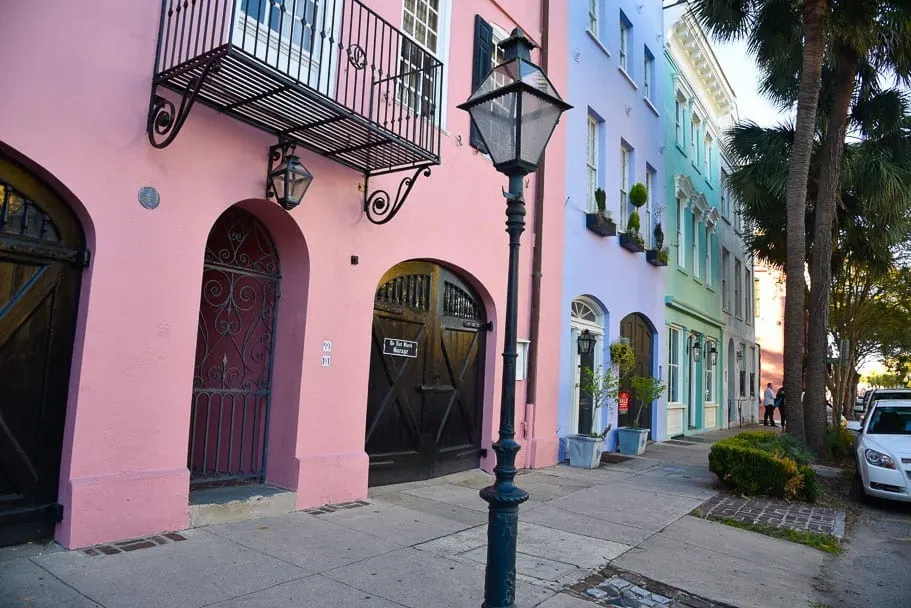 Where to Stay in Charleston South Carolina for a romantic getaway?
If you are visiting Charleston for a romantic weekend, we would recommend one of the following places for luxury, comfort and a whole lot of southern charm!
Best Budget Hotel: (3*) Clean, Comfortable and provides delicious warm cookies upon arrival. Good location to Boone Hall Plantation. Car required.
Best Mid Range Hotel: (4*) Authentic southern charm architecture, luxurious accommodation, walking distance to historic centre, highly rated with guests. No car required.
Best Luxury Hotel: (5*) The absolute essence of comfort and charm in Charleston. Stunning – see for yourself. No car required.
24 Hours in Charleston – A day trip to Charleston
On your first day in Charleston, we would recommend spending the best part of the day at a plantation with an afternoon walk along the battery promenade through White Point Garden.
There are a few plantation near Charleston to choose from.
The most popular plantations in Charleston are Boone Hall Plantation, Magnolia Plantation and Gardens, Middleton Plantation and Mcleod Plantation.
Mcleod Plantation seemed a bit small, Middleton Plantation appeared too garden focused so we were left deciding between Boone Hall Plantation and Magnolia Plantation for our visit to Charleston.
Boone Hall Plantation vs Magnolia Plantation
We did quite a bit of research about Boone Hall and Magnolia Plantation and decided on Boone Hall Plantation for our trip to Charleston.
We chose Boone Hall for a few reasons.
Firstly, while you are free to walk around the beautiful gardens of Magnolia Plantation, for the entry price of $20 a person, there is no tours included. Tours at Magnolia Plantation require an extra fee. For visiting Magnolia Plantation plus the tours it adds up to $52 a person.
In comparison, for $25 a person at Boone Hall Plantation all 4 guided tours plus 1 self guided tour are included in the price. Hey, what can I say, I like good value!
But, our decision did not just come down to money
Magnolia Plantation has a stunning garden and a darling little bridge but it does not have the iconic and very romantic avenue of oaks you will find at Boone Hall.
Further, Boone Hall provides a more detailed account of slavery in the plantation including the gullah culture of the African slaves, which managed to stand the test of time, despite attempts by plantation owners to suppress it.
If you have not been to the Everglades National Park, you may prefer to visit Magnolia Plantation as something unique that Magnolia offers is a boat ride through the plantations swamplands.
It is possible to spot alligators on this tour. This is cool but I maintain though that Anhinga Trail is the best place to spot alligators in the United States so perhaps you may want to wait for a trip to the Everglades if alligator spotting is high on your agenda.
Also, I don't know if it's just me but alligators aren't all that romantic?
Visit Boone Hall
If you love the Notebook like I do, you will definitely want to visit Boone Hall Plantation while in Charleston.
You may remember Boone Hall as Allie's summer home in The Notebook. In the movie you may recall Allie and Noah biking down the stunning Avenue of Oaks.
The Avenue of Oaks at Boone Hall was planted by the second family who owned Boone Hall after the Boones, the Horlbeck family.
Boone Hall has a very romantic vibe to it and many weddings take place here. If you are wondering there is a 2 year waiting list to get married here.
Boone Hall, like most plantations also has a very somber past.
Boone Hall is one the oldest working plantation in America. It has been growing crops for the past 300 years. Interestingly, it still is in full operation today.
The somber part of Boone Hall is that it was once used as a slave plantation. You can still see the brick houses the slaves lived in intact at Boone Hall.
The slave residences at Boone Hall are quite distinct from other plantations in the South as they are brick as opposed to wood slave houses.
This was due to the fact that along with cotton and other crop, Boone Hall was a large producer of bricks. In the summer months, slaves would work on the land picking cotton, and in the winter months, they would make bricks.
We wanted to visit a beautiful and romantic plantation in Charleston but also one where we were able to learn a great deal about Charleston's somber slavery past.
Some plantations do not provide a great amount of detail and information regarding their slavery past. We were very happy that Boone Hall provided full information about the history of the plantation.
We also appreciated that there was a tour dedicated to slavery at Boone Hall. The guide was more than happy to answer any of our questions.
For instance, we learnt that slaves did not have last names (they chose their own after slavery was abolished), they sold for around $800 a person and they were often required to mate like animals, in set up arrangements, to produce strong working children.
Basically, slaves had no rights, they were chattels, like a car, they could not marry and could be separated from their family members by being sold to another plantation.
What a horrible world to live in!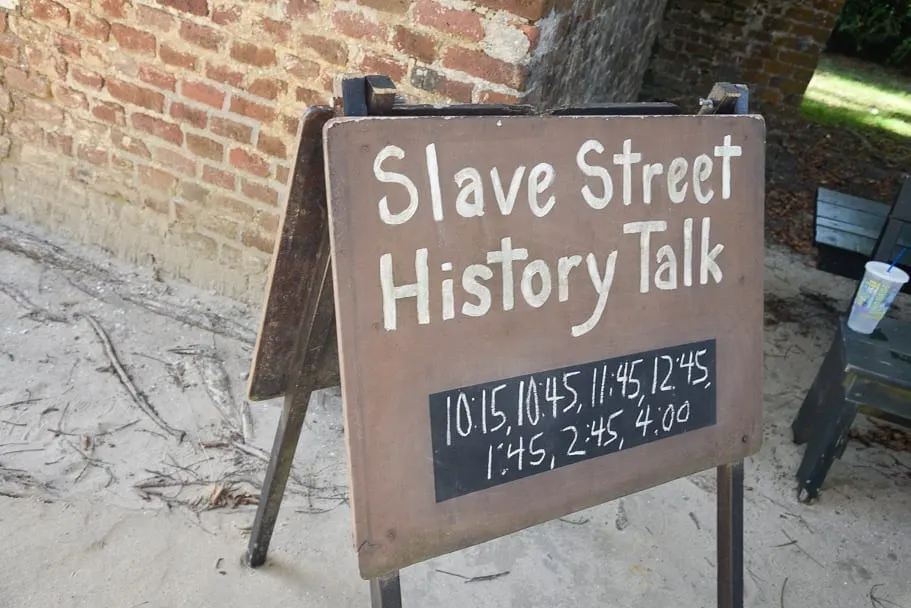 I don't want to completely ruin your romantic weekend in Charleston but if you are interested in more slave history and information, visit the Old Slave Mart Museum in downtown Charleston.
Slaves were once sold here and nowadays it is run as a musuem by people who are descendants of slavery.
One good thing for couples is that children don't often frequent the Old Slave Mart Museum as it is heavily reading based information. It is $10 entry.
As stated above, Boone Hall plantation cost $25 per person and includes all tours & exhibits.
Tours and exhibits at Boone Hall include: a 30 minute tour through the main house, a presentation of African gullah culture, a tractor tour through the farm, a talk on slavery and a self guided tour through slave street, where the former residences of slaves stand.
The Gullah performance where an African America lady, with slave ancestors, provides a full singing and dancing performance is one of the biggest draw cards to Boone Hall.
We would recommend spending a full day at Boone Hall. It opens at 8:30 in the morning and closes at 5pm.
There is a cafe at Boone Hall where you can enjoy lunch and lots of fabulous photography opportunities for couples.
Below is a tree that is very popular for wedding photography at Boone Hall. Our favourite spot for photography however is the avenue of oaks.
If I was on a couples getaway looking for romantic things to do in Charleston South Carolina again, I would definitely return to Boone Hall Plantation.
Visit White Point Garden
Boone Hall or another plantation in Charleston will take up a good part of your first day in Charleston. There is a lot to see and do in the Charleston plantations and visiting one is well worth your time.
For the rest of your day/evening in Charleston we would recommend talking a romantic stroll starting at White Point Garden and along the Battery promenade.
If you are traveling with a car, you can park for 2 hours for free around White Point Garden.
White Point Garden is a very romantic garden in Charleston with beautiful oak trees overhanging.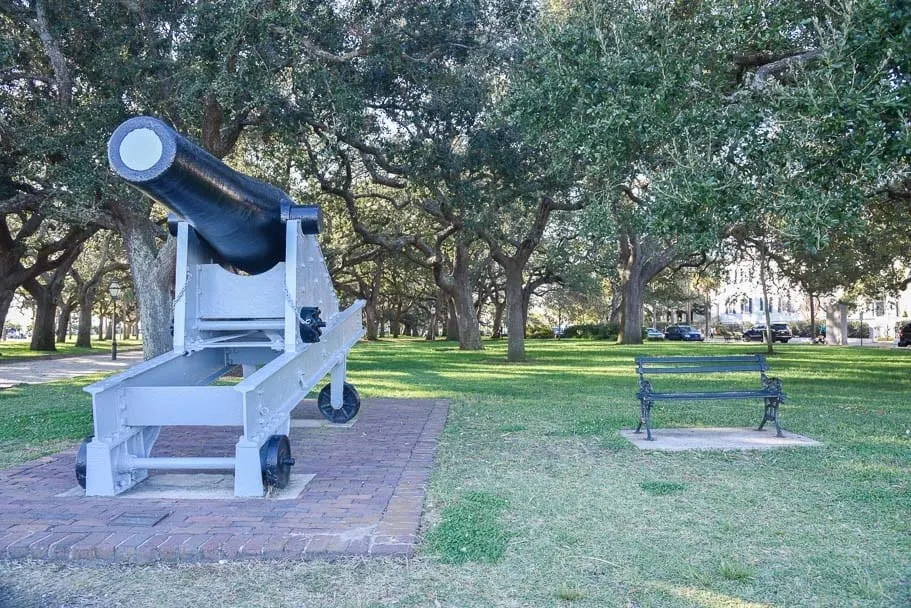 There are quite a few historic statues of the Civil War in White Point Garden. There are passionate views of their place in the park on both sides.
Due to this, your romantic stroll in the park may be ruined by protestors of the statues as they regularly frequent the park.
If White Point Garden is occupied, the great news is that there is stunning promenade known as battery promenade just across the road which is ideal for a romantic sunset walk in Charleston.
Lining the other side of the promenade are beautiful & opulent Charleston houses including one with a noticeable lean (see if you can spot it). There is a stunning light pink house that I can easily see myself moving into.
36 Hours in Charleston – A perfect weekend in Charleston!
On your second day in Charleston, we would recommend exploring the French Quarter and city centre of Charleston.
One of the most adorable and quintessentially Charleston ways to explore the historic centre of Charleston is by horse drawn carriage.
You can go in a group of around 12 or hire your own private horse drawn carriage tour. The tours only go for around an hour, cover 2.5 miles of ground and around 30 blocks of Charleston's historic centre.
A group horse drawn carriage tour in Charleston costs around $30 per person (depending on company offering the tour) plus tips.
Private tours cost $150 upwards and are very romantic. We saw a few couples going on a private horse drawn carriage for their wedding photography.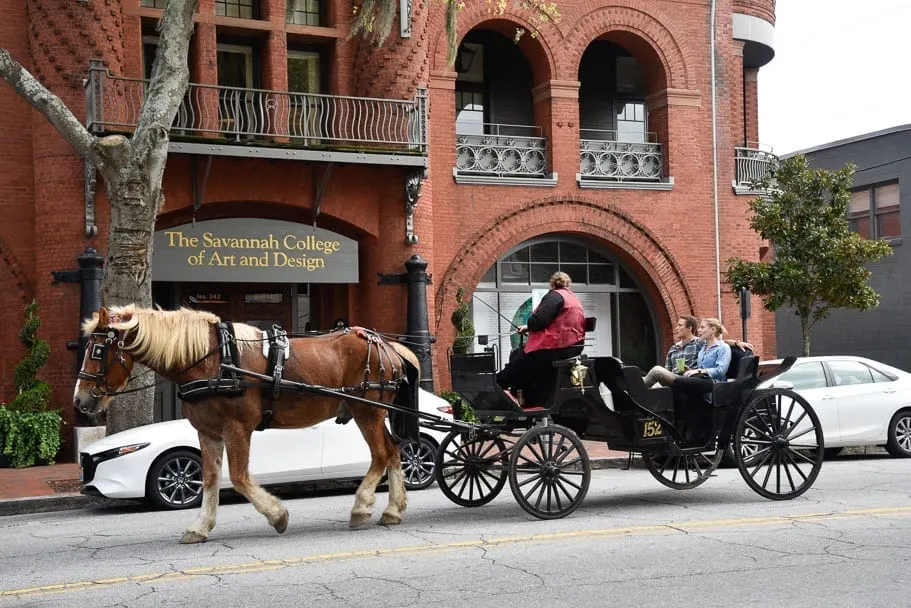 French Quarter
The French Quarter of Charleston is one of the most beautiful areas of the city. Charleston definitely has to be one of the cutest cities we have visited.
Beyond an adorable residential area of Charleston you will find the French Quarter, within the original walled city.
It is called the French Quarter due to the many French merchants who lived in worked in this area in the past.
If you love photography you will love the French Quarter as the houses are all totally adorable. There are also many great churches to see in the French Quarter of Charleston including the French Huguenot Gothic Church and St Philip's Episcopal Church.
Put Church Street in your phone and you will find them!
Our personal favourite and in our opinion, the most romantic church in the French Quarter is St Michael's Church.
This all white church is absolutely stunning. It takes particularly beautiful photos at sunset. If you are lucky you might see a horse drawn cart pass as you admire its beauty.
Do you see a slight lean to St Michael's Church? Interestingly, an earthquake caused this lean to occur making it Charleston's response to the leaning tower of pisa haha.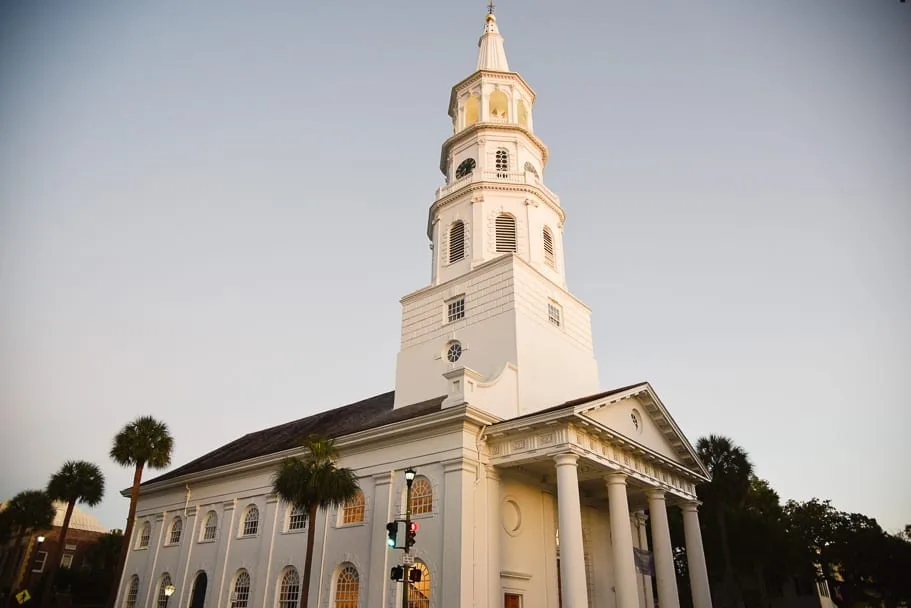 The beautiful Washington Square Park is located within the French Quarter of Charleston.
Aside from many squirrels that live in Washington Square Park, it has a statute dedicated to George Washington who is credited for bringing the North and South together.
Interestingly, the statue comments that George Washington was particularly taken with people from Charleston and the beauty of the women, which I found quite funny. Suppose Southern Charm rings true!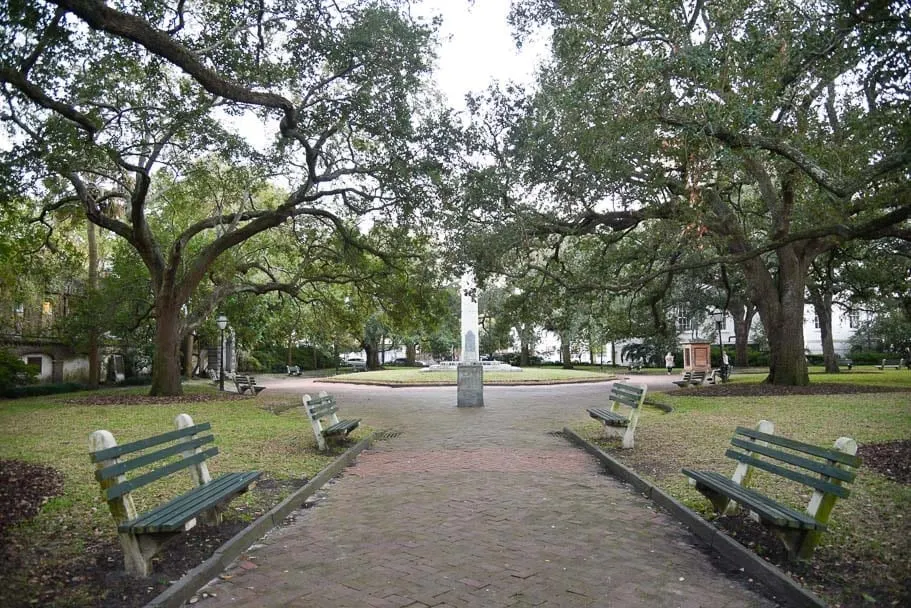 If you would like to learn more about slave history in Charleston after your visit to a plantation the previous day, the Old Slave Mart Museum is also located in the French Quarter of Charleston.
Rainbow Row
Personally, I am a fan of all things cute and there is nothing cuter than rainbow row in Charleston – a row of colourful houses just on the outskirts of the French Quarter of Charleston.
Rainbow Row falls within the South of Broad area of Charleston – a residential area with some of the prettiest houses we have ever seen.
Rainbow Row is a row of 13 historic pastel houses in Charleston. It probably comes without any surprise that these houses are one of the most photographed and instagram worthy places in Charleston.
The colors of these houses have been updated since their initial pastel paintings in the 1930s when they were initially dubbed as Rainbow Row.
There are various theories about why each house was painted a different colour. Our personal favourite explanation is that it helped drunk sailors remember which house was theirs.
Charleston Shopping
After getting some #couplegoals photography at Rainbow Row, your significant other might like to go for some retail therapy in the very heart of Charleston's city centre.
Charleston is not just a cute town but it offers from seriously good shopping from designer stores to cute boutiques with a whole lot of southern charm to awesome markets – Charleston really has something for every kind of shopper!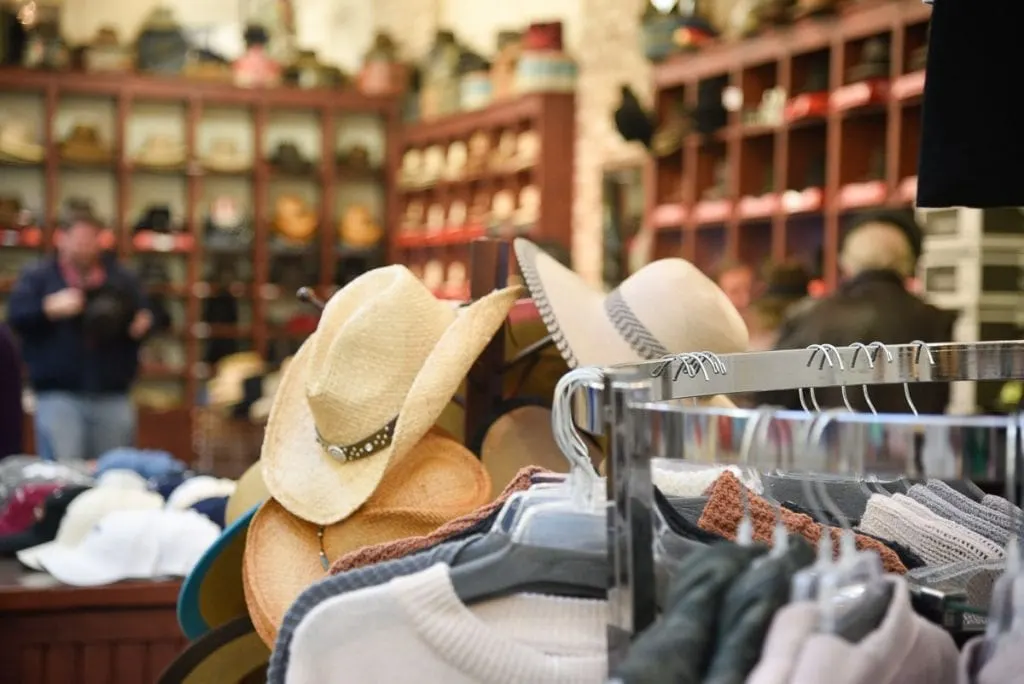 Whether you enjoy shopping or not, Charleston City Market is a really cool place to explore.
You can get some very unique items from Charleston City Market including hats, shoes, hand stitched pillows, clothing and jewellery.
From November onwards you can also pick up cool, unique Christmas decorations from Charleston City Market.
If you want something very authentic, you can purchase hand woven baskets by Gullah artists at the market.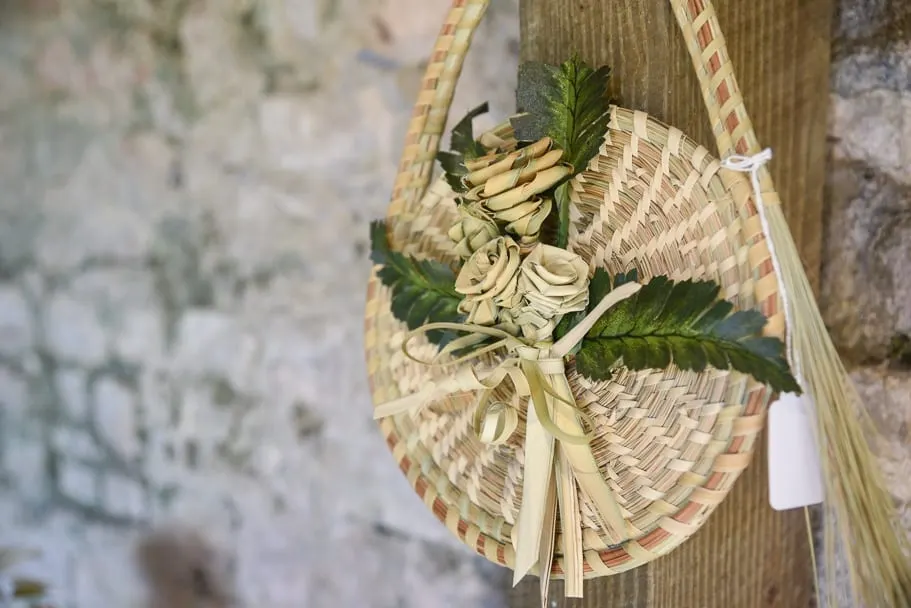 If you find yourself at the Charleston City Market, there is a great candy store across the road where you can buy some yummy snacks while you shop.
As you enter the market you will notice US Customs House, a stunning building that many tourists choose to take photography of. Stop and admire the grandeur of the building, it is quite impressive.
If you prefer more commercialised clothing we would recommend King Street. Not only does it have a lot of high street fashion (brands like Gap) but the buildings are 18th- and 19th-century storefronts and absolutely stunning.
If you are looking for upmarket shopping including Louis Vuitton and Gucci, the shops at Belmond Charleston Place are the best place to go.
Patriots Point & the Arthur Ravenel Jr. Bridge
To end a beautiful and romantic second day at Charleston, I would suggest heading to Patriots Point and the Arthur Ravenel Jr. Bridge for a relaxing afternoon stroll.
Patriots Point is also located in Mount Pleasant so this could alternatively could be combined with a day at Boone Hall Plantation.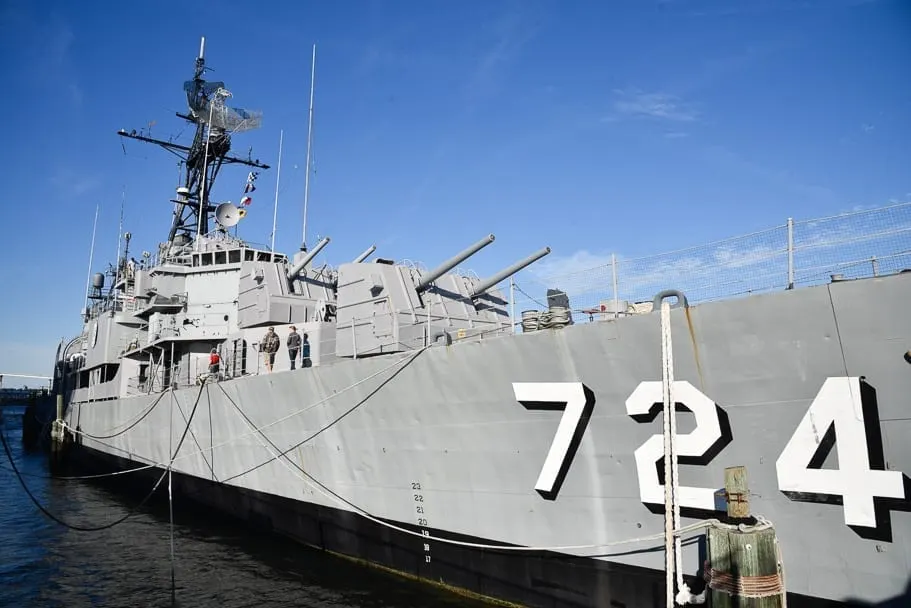 You can walk around the outside and admire the war vessels for free. If you would like to go inside the maritime musuem it costs $24 with parking $5. It is possible to park outside the official parking lot on the street for free.
Patriots Point includes a World War II aircraft carrier and a USS Yorktown. It also has a fleet of National Historic Landmark ships.
If you are interested in war history, in particular the American Civil War, you might also like to visit the Fort Sumter National Monument while in Charleston.
A visit to Fort Sumter might be an activity for a longer trip to Charleston or an activity that could be done instead of a plantation visit. A trip to Fort Sumter takes a good part of the day as it is accessible only by ferry. The ferry costs $22 for adults.
While going to a maritime musuem might not be the most romantic experience in Charleston, walking around the outside and getting a view of the Arthur Ravenel Jr. Bridge is a very romantic activity.
If you are visiting Charleston you will probably drive over the Arthur Ravenel Jr. Bridge at some point but it is very impressive to view from the outside too!
The bridge boasts the title as the third longest cable bridges in the Western Hemisphere.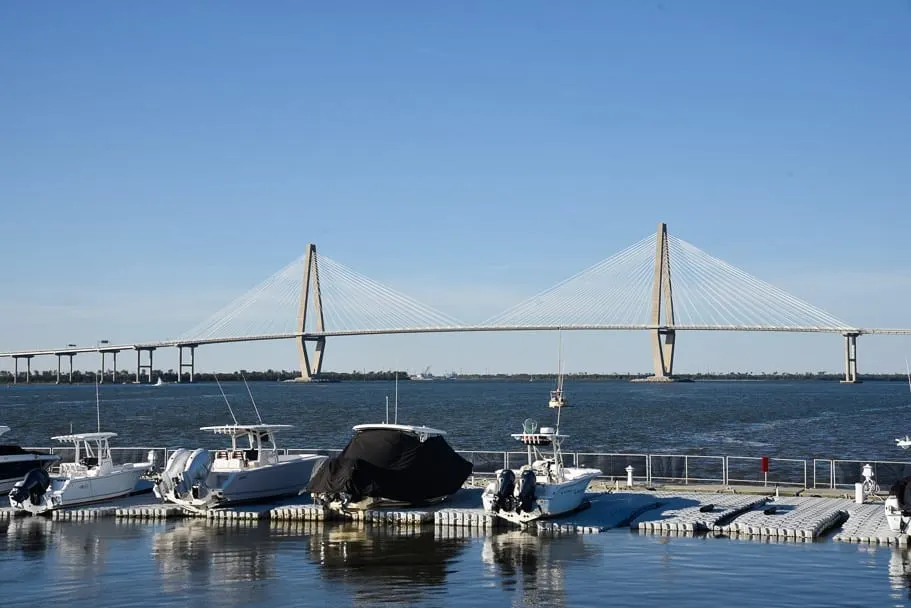 48 Hours, 2 days in Charleston
Got more time to spend in Charleston? Here is what we would recommend doing if you have 48 hours or 2 days to spend in the awesome city of Charleston.
Explore Charleston Beaches
If you come from a non beachy place you might like to spend a few hours relaxing on one of Charleston's beautiful beaches.
The best free, public beaches in Charleston include Folly Beach, Sullivan's Island, Isle of Palms and Seabrook. Interestingly, Folly Beach is known as the The Edge of America.
See More Areas in Charleston Made Famous from The Notebook
If you are a big fan of The Notebook you might want to hire a little row boat and have a romantic paddle through swaplands in Cypress Gardens like Noah and Allie did.
If you are visiting Charleston now you are in luck as Cypress Gardens was closed for quite a while due to flooding from hurricanes in the area.
Sadly, if you visit Cypress Gardens you will not see the migration of the geese like in The Notebook as they were brought in especially for the film and trained to behave in such a manner.
Aside from romantic boat paddling, there is a lot of other things to see and do in Cypress Gardens including a butterfly house and a swamparium.
It costs $10 an adult to visit the gardens. Self guided row boats are free, depending on availability.
If you want to see the setting of Noah and Allie's movie date, this location is in downtown Charleston (456 King Street, Downtown). The theatre doesn't operate as a movie cinema anymore but what is super cute is that you can put a romantic message on the sign, like a marriage proposal.
Go for a romantic picnic at Angel Oak Tree
Angel Oak Tree is one of the most popular attractions in Charleston because it is free and it is over 400 years old. Some believe the angel oak tree is in fact 1500 years old.
Being so old, it is a seriously impressive tree. It stands at 28 ft tall and the shade of the tree covers 17,200 square feet.
The Angel Oak Park is located in Johns Island in SC. You need a car to visit the Angel Oak Tree as it is located 25 minutes from downtown Charleston.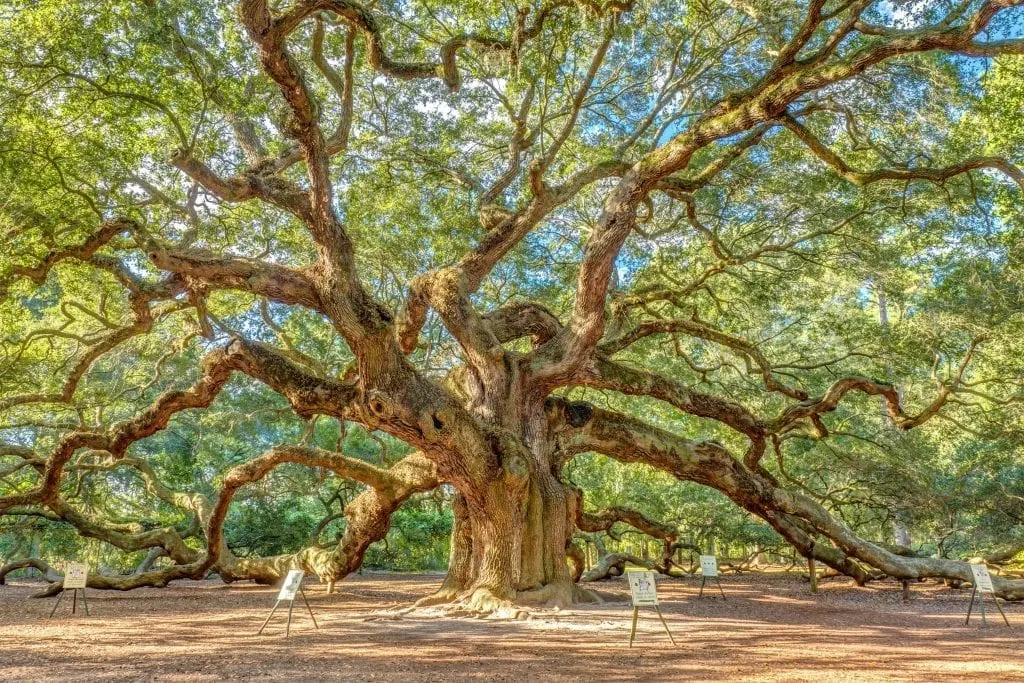 72 Hours, 3 days in Charleston South Carolina
Got more time? If you have another day in Charleston, we would recommend visiting another of the awesome plantations in the area.
Charleston Tea Plantation
If you have a little more time on your hands in Charleston, a visit to the Charleston Tea Plantation is always a good idea.
You might be interested to know that Charleston is the only city in America where tea is grown so if you are going to visit a tea plantation this is the place to do it. We visited a tea plantation in the Cameron Highlands in Malaysia and it was a great experience.
The Charleston Tea Plantation is located about 20 minutes from downtown Charleston. While it is free to enter and includes unlimited tea samples if you want to do the trolley tour it costs $14 a person.
Charleston Tea Plantation is a good place to visit for tea drinkers and to experience the drink of the South, sweet tea.
Middleton Plantation
Middleton Plantation is the highest rated plantation in Charleston due to its extensive and beautiful gardens.
It is more expensive than Boone Hall, only has only 1 slave cabin onsite and not all tours are included in the ticket price.
In saying this, if you really appreciate beautiful gardens we would suggest a visit to Middleton Plantation.
Entry to the 65 acres of formal landscaped Gardens with complimentary guided walking tours costs $29 per person. There is a $15 fee if you would like a house tour.
A few unique things about Middleton Plantation is that they show a true recreation of plantation life with costumed craftspeople and historic animal breeds.
Sadly, there is no African Gullah presentation at Middleton Plantation which is unique to Boone Hall.
McLeod Plantation
McLeod Plantation is another good option for a plantation visit while in Charleston. McLeod Plantation is highly rated plantation in Charleston.
If you are interested in slave history, the McLeod Plantation has restored slave cabins on the property.
It is rather an affordable plantation to visit only costing $15 for adults, ages 13 & up. Included in the ticket price are 60 minute guided tours of the plantation.
If you would like to go on a tour (highly recommended if you visit a plantation) plan your visit accordingly. Tours run at 9:30 a.m., 10:30 a.m., 11:30 a.m., 12:30 p.m., 1:30 p.m., and 2:30 p.m
Pineapple Fountain & Waterfront Park
We would suggest ending your third day in Charleston with Pineapple Fountain & Waterfront Park.
This is located in the French Quarter of Charleston but can be done separately too.
This area of Charleston is a great place to take a lovely romantic stroll.
There are lots of restaurants and cafes to explore in the streets off waterfront park.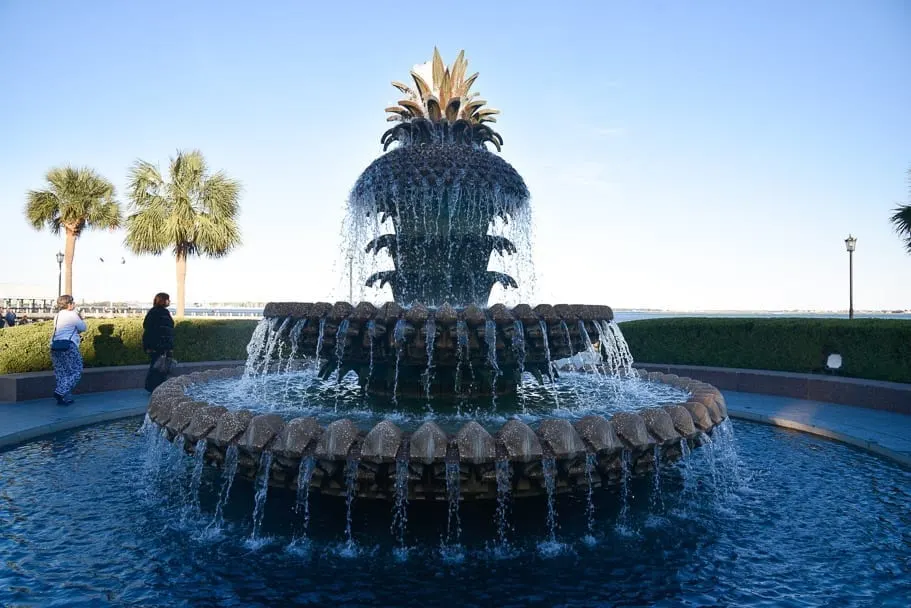 Summary: Date Ideas in Charleston South Carolina
So in summary, here are some romantic things to do in Charleston for a romantic getaway:
Visit a Plantation – we would recommend Boone Hall;
Take a stroll at White Point Garden;
Explore the French Quarter of Charleston;
Marvel at Rainbow Row;
Go shopping and pick up some unique souvenirs from the Gullah people;
Relax at Charleston Beaches;
Explore more areas of Charleston made famous for The Notebook;
Have a picnic at the Angel Oak Tree;
Spend a romantic afternoon at Charleston Tea Plantation.
So that's it folks – or complete list of romantic things to do in Charleston South Carolina. If you are a local or know of something very romantic, don't hesitate to get in touch and we will add it to our list!
What's next? Greenville SC of course! See our list of the most romantic things to do in Greenville SC for ideas if you're headed there next too!
Planning a trip farther afield? Don't miss our guide to the most stunning romantic getaways in the United States.
***
Save Romantic things to do in Charleston South Carolina to Pinterest so you can find it again later!