Looking for romantic things to do in Florida for couples? You are in luck my friend!
The sunshine State of Florida is home to many of American's most famous tourist attractions such as the many theme parks in Orlando, Miami's South Beach and Everglades National Park. While these are all great places, if you are looking for something a little more undiscovered, you have to dig a little deeper.
We're all about interesting places (who isn't?) so that's why we created a list of Romantic Getaways in USA. There's even a few special places in the Sunshine on it (include a few romantic Key West hotels).
Romantic things to do in Florida for Couples
1. Visit Siesta Beach (#1 Rated Beach in the USA)
When thinking of beaches in Florida, the first beach that would usually come to mind is South Beach in Miami. However, this is not the top rated beach in America. Siesta Key Beach (approximately 1 hour from Tampa) holds this coveted position and depending on what you are looking for, might be the right beach for you on your next vacation.
Siesta Beach is a very family-friendly beach due to its flat water with little to no waves but it's awesome for couples too! Many people on the beach can be seen bringing floaties (adult and children alike) to relax while gently bobbing up & down in the water. Despite it being a family-friendly beach, it is also common for young locals to bring an cooler, beach chairs & to pitch a beach tent while relaxing for the day – the perfect date idea!
While it doesn't boast the same crystal clear blue water & rolling waves as South Beach does, it does hold the #1 spot in my mind for the whitest sand I have ever seen. The area surrounding Siesta Beach is also very upmarket and is home to some of Florida's nicest beach vacation homes.
Looking for the best accommodation on Siesta Beach? Click here for the best romantic accommodation in Siesta Beach during your dates.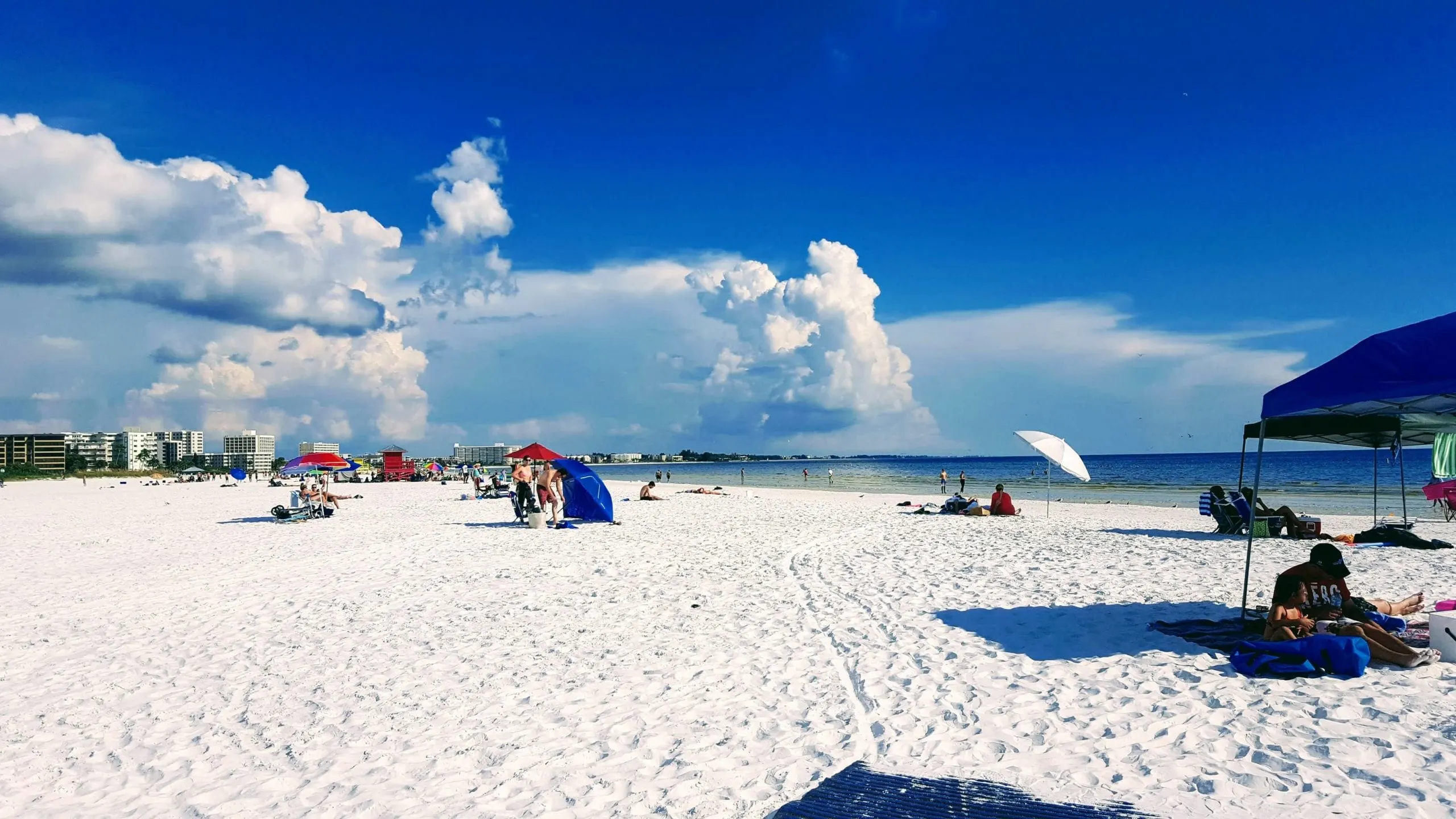 2. Search for the Floridian Manatees
When thinking of Florida, going on an airboat ride in the Everglades National Park and seeing alligators might come to mind but have you thought about seeing the Floridian Manatees? You can actually snorkel or kayak and get up close & personal with these graceful creatures one of the many natural springs in Florida. If you are interested in seeing the Manatees, the best time of year for viewing is winter when they migrate to the hot springs for warmer water.
If you are a couple who loves the great outdoors and camping, the Chassahowitzka River Campground is a great choice for manatee viewing as they offer really nice wilderness camp sites, a couple hundred metres away from the Chassahowitzka River. Here you can kayak up to the Seven Sisters Spring where you can see manatees face to face. Many people bring their own kayaks and snorkel gear however, it is also available for rent at the Chassahowitzka River Campground store.
If you alternatively would prefer to view the creatures from the sidelines you can always visit the Manatee Viewing Centre in Tampa near the power plant at Apollo Beach. The Manatee Viewing Centre is open from November 1 through April 15 each year and the best part about it is that it is 100% free!
Looking for the best accommodation in Tampa? Click here for romantic accommodation in Tampa during your dates.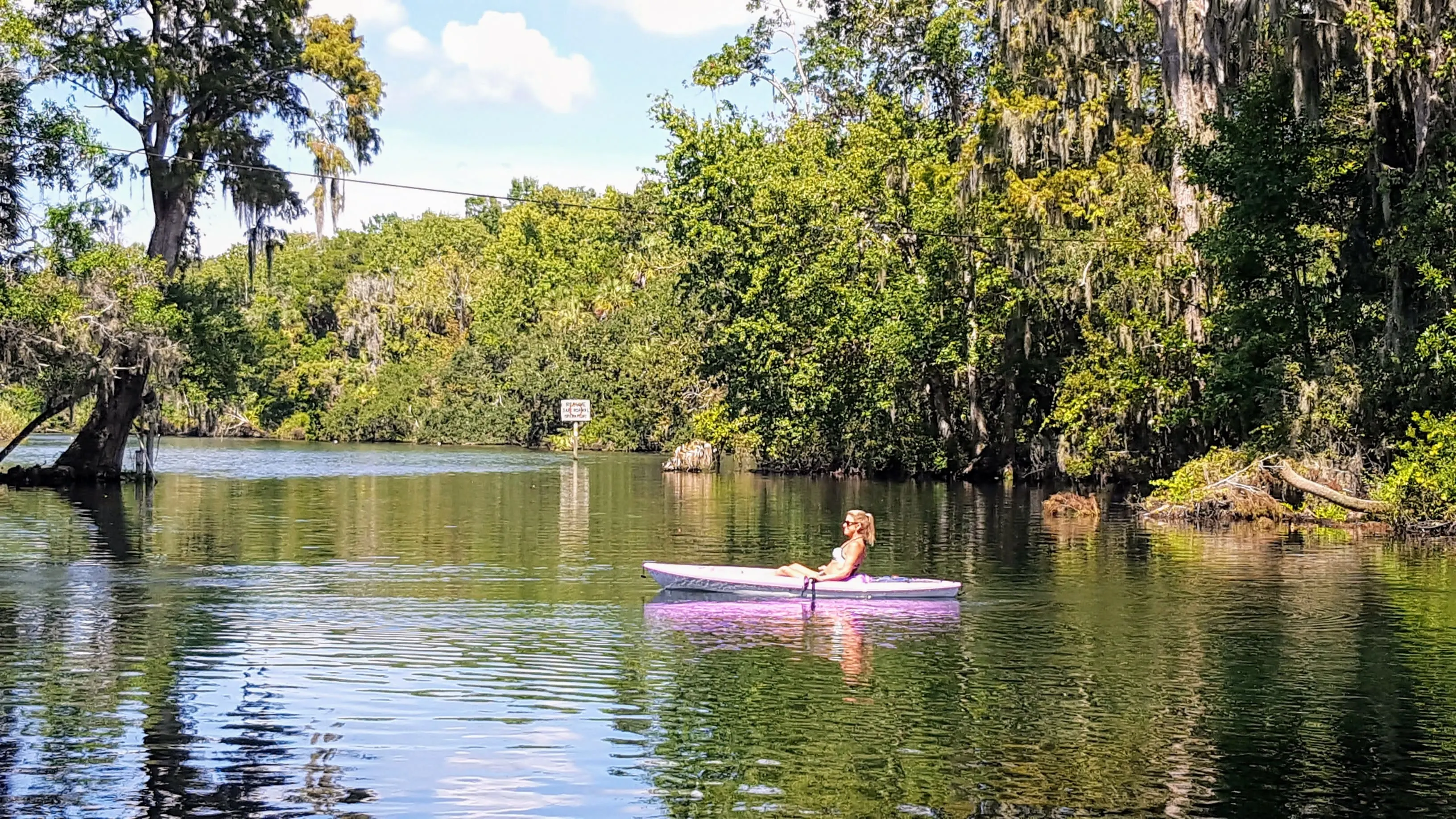 3. Relax in Daytona Beach
Daytona Beach, most famous for car racing along the beach, is a peaceful & relaxing beach location. Whether you want to drive your car along the flat beach stretch or relax on the pier while drinking an ice cold beer, Daytona Beach really has something for everyone.
Due to the peaceful atmosphere, Daytona Beach is an area where a lot of Americans chose to retire. You will often see people in their 50s and 60s taking beach strolls in the afternoon on the mostly deserted beaches. For this reason, it's great for couples who want a relaxed, laid back vacation without the hustle and bustle!
For more action, head to the downtown Daytona Beach area where the long boardwalk provides a great afternoon walk with lots of atmosphere. Along the boardwalk is a mini theme park, fast food stands and souvenir shops. The Daytona Beach pier's rooftop bar, much reminiscent of the Brighton pier in England, is also a absolutely fantastic place to watch the sunset over the beach. Don't miss Daytona Beach pier's rooftop bar happy hour specials which include $3 drinks and appetiser specials.
If your trip to Daytona Beach falls on a Sunday and you are looking for a different activity to enjoy, why not try Daytona Beach's Drive in Church? Potentially the only Church in America to be featured on tripadvisor, this extraordinary Church is definitely worth a visit. The people at the Church were so friendly and invited us in for coffee & crispy crème donuts before the service started. Here people don't Honk if they're Horny but but they will certainly give a Honk for an "Amen".
Call us old farts but we really loved Daytona Beach!
Looking for the best accommodation at Daytona Beach? Click here for all accommodation in Daytona Beach during your dates.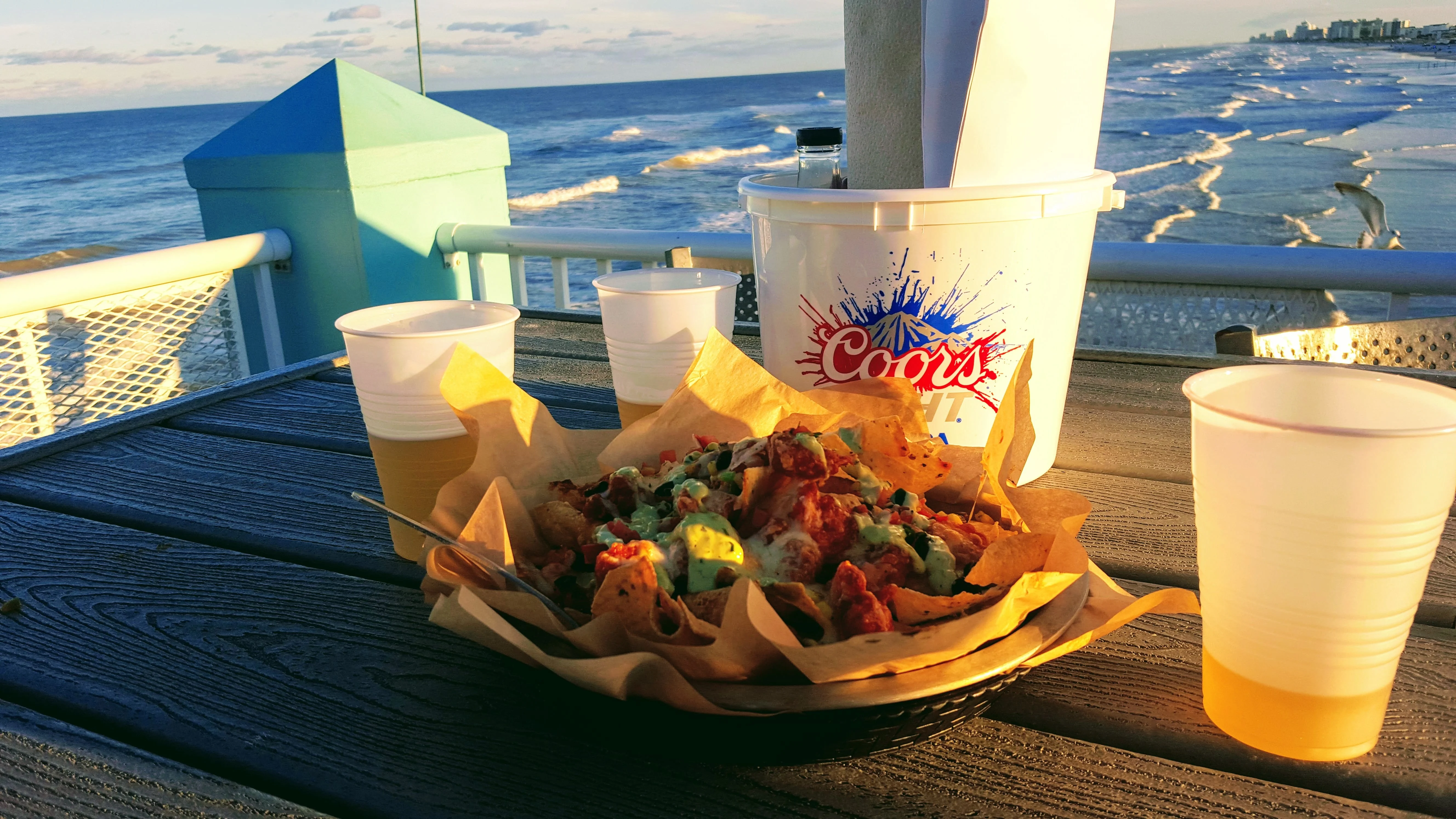 4. Search for Wildlife in Ocala National Forest
While this state park may not get the same attention as some of the other National Parks in America, it is definitely worth a visit. The Ocala National Forest is not only home to some quite ferocious small black bears but also to some of the friendliest squirrels I have ever met.
The squirrels were so friendly that they actually jumped onto us and clung on our legs while looking for food. Alexander Springs in Ocala National Forest is a particularly nice spot for a day trip or an extended camping vacation. You can hire canoes and paddle upstream to see if you can spot a alligator or if you are game, take a dip in the alligator infested water (I know, very appealing).
If swimming in alligator infested water doesn't take your fancy, go for a walk through the park's many boardwalks into the wilderness. If you are lucky (or not so, depending how you look at it) you might even spot a small black bear.
Alternatively, for a more extensive trip with alligator sighting almost guaranteed, take the canoe trip from Juniper Springs Recreation Area to Juniper Wayside (a 7 mile trip through the heart of the Juniper Prairie Wilderness). You need to wake up early if you are keen to do this trip as it takes about 4-5 hours to complete.
Better yet, head north to the word famous Ginnie Springs.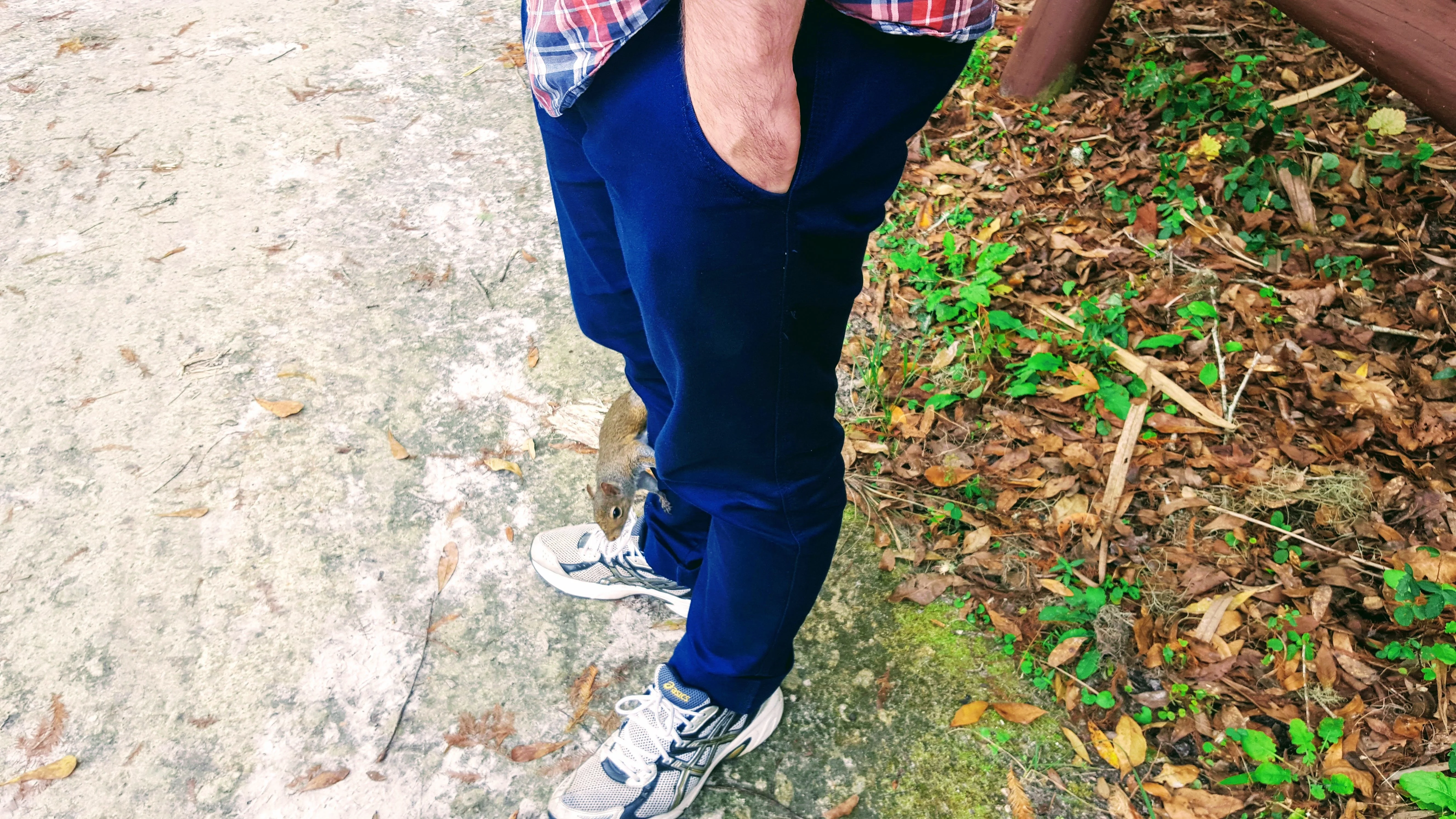 Looking for the best accommodation near Ocala State Park? Click here for all accommodation in Ocala State Park during your dates. If you're near Orlando, the best way to spend a day (that isn't Disney) is to visit Kelly Park Rock Springs where you can go tubing all day for a couple of dollars. Bargain!
5. Visit the Colonial Town of St Augustine
For history lovers, the Colonial Town of St Augustine is not to missed. St Augustine's claim to fame is being the oldest city in the U.S. known by many for its Spanish colonial architecture. The town was founded on September 8, 1565, by Spanish admiral Pedro Menéndez de Avilés, Florida's first governor. One of St Augustine's most famous features is it's 17th-century Spanish stone fortress (known as the Castillo de San Marcos) with gorgeous views of the St. Augustine inlet.
As well as having a long & interesting history St Augustine also features a very cute city centre which is home to many artists. If you don't feel like walking, there is a cute train that provides rides throughout the city and an explanation of the historical significance of St Augustine.
Looking for the best accommodation near St Augustine? Click here for all accommodation in St Augustine during your dates.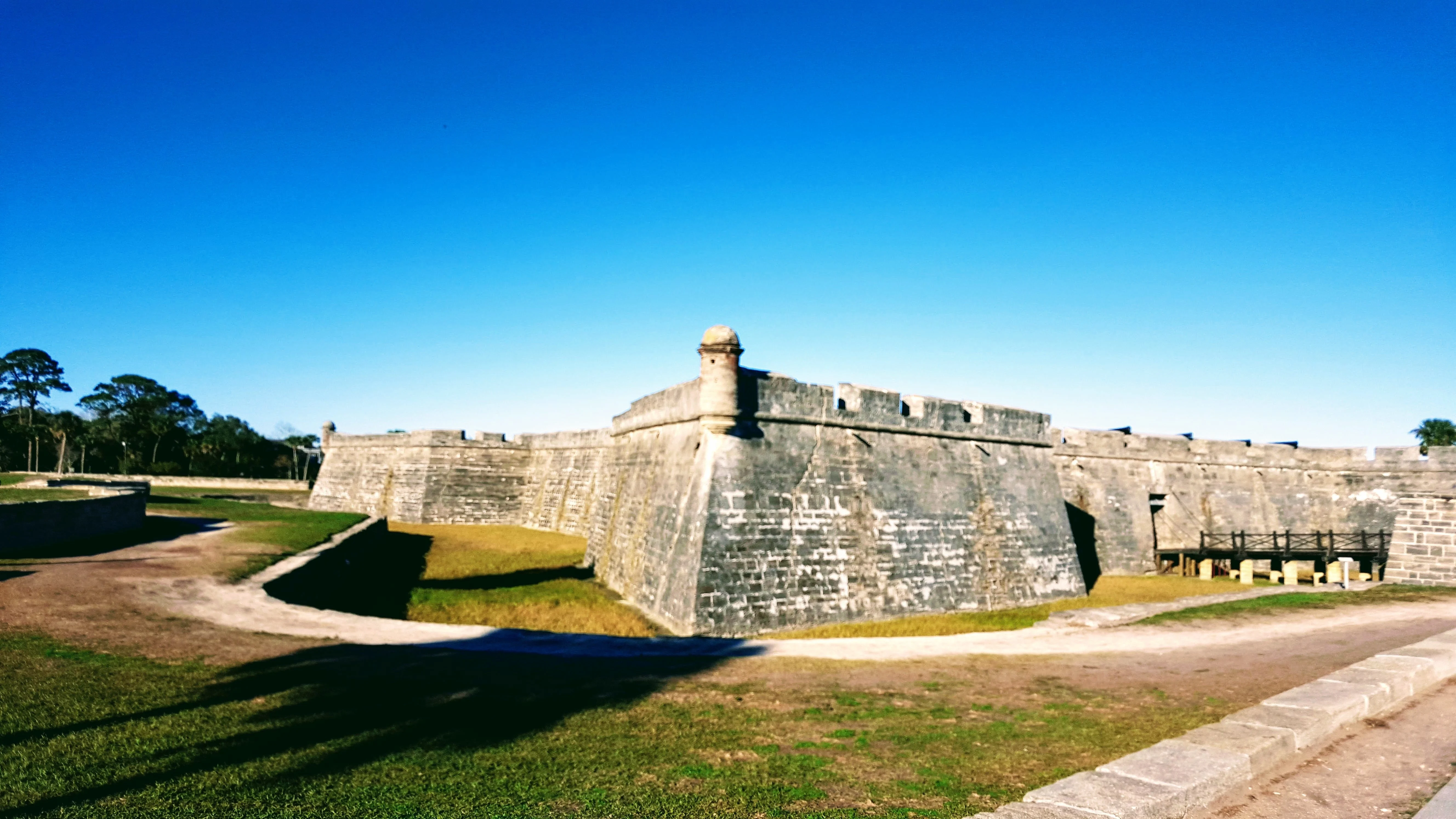 Make these Suggestions into an Awesome Florida Couples Road Trip?
These locations can be easily traveled as part of a Florida road trip (as we did!). To get the best deals on car hire in Florida we use Sixt Car Rental. What we love about Sixt Car Rental is that not only do they offer cheap rates but you can reserve a car with free cancellation (and no payment or credit card details required). This means, you can secure a car and there are no problems if you have to change plans. Click here to check out Car rental prices on your travel dates.
Two other incredible road trips to the Florida Keys:
Miami to Key Largo – a short trip to a quiet, secluded beach area with 5 star snorkeling. Perfect day trip.
Miami to Key West – if you have a few days to a week, rent a Mustang for one of the most iconic road trips ever.
The easiest way is to plan your Florida Road trip in the following order from Miami. Miami has some of the coolest Art Deco Hotels we have ever seen. Click here for a full list of accommodation in Miami. We like to use Booking.com as we find searches easy to filter and that they offer the most flexible cancellation policies.
You will need around 2 weeks to complete this road trip.
1. Head to Daytona Beach from Miami
Traveling from Miami to Daytona Beach will take you around 4 hours drive from Miami. If you would like to break up the journey, stop in at the Nasa Kennedy Space Centre on your way (around a 3 hour drive from Miami). The Nasa Kennedy Space Centre was extremely interesting and certainly worth a day of your time to release your inner space geek.
If you want to stop for a few days, we would recommend staying in the Cocoa Beach area. Cocoa Beach is only around a 30 minute drive from the Nasa Kennedy Space Centre. We stopped in to visit an uncle who lives in the area and he showed us some cool local spots that we would recommend including the awesome beachfront bar, Coconuts on the Beach which is a popular local hangout for young people.
If you are not going to the Everglades on this trip, you can enjoy a similar airboat ride in the area. For some traditional American Food in the Cocoa Beach area head to Izzys Diner. They serve an absolutely delicious and traditional American food. You can get a bacon and egg breakfast for as little as $3 USD! From here, continue onwards to Daytona Beach. We recommend driving your car along the Daytona Beachfront, it is a pretty fun experience!
Where to stay as you stop off in Cocoa Beach? There is a wide range of accommodation available in Cocoa Beach. Click here to check out all the accomodation in the Cocoa Beach area during your dates. If you have time, we would recommend staying 2 – 4 nights in the area.
Where to stay in Daytona Beach? Click here for accomodation in the Daytona Beach area during your dates. If you have time, we would recommend staying in Daytona Beach 2 – 4 nights to fully appreciate the area.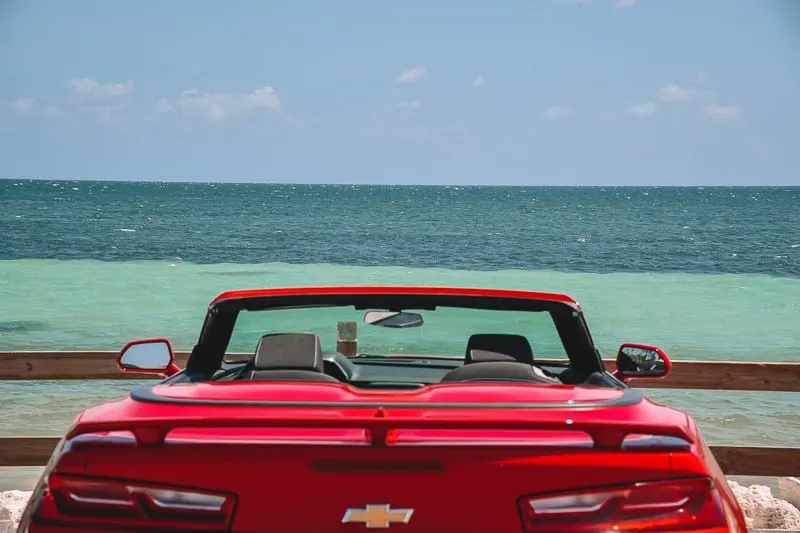 2. Head up to St Augustine from Daytona Beach
Continue for road trip from Daytona Beach to Augustine. This only takes 1 hour and can be done as a day trip if you wanted. Aside from the Castillo de San Marcos, you can also check out the Old Jail which served as the city of St. Augustine jail from 1891-1953. You can get a tour of the jail and hear about the gruesome stories of the Jail every 20 minutes from 9 a.m. – 4:30 p.m as part of the Ghosts and Gravestones tour.
If you are a wine junkie, the San Sebastian winery in the area offers free wine tastings or, for the spirit drinker, go to the St Augustine Distillery which offers a free tour along with free samples to taste.
The town of St Augustine is very European with multiple adorable European styled cafes and restaurants to chose from in the city centre. For something more America, we would suggest checking out Burger Buckets which holds the #1 ranking place on Tripadvisor for their delicious homemade burgers.
Where to stay? There is a lot of choice in St Augustine for accommodation. Click here for accomodation in the St Augustine area during your dates. If you have time, we would recommend staying 1 – 2 nights in the area.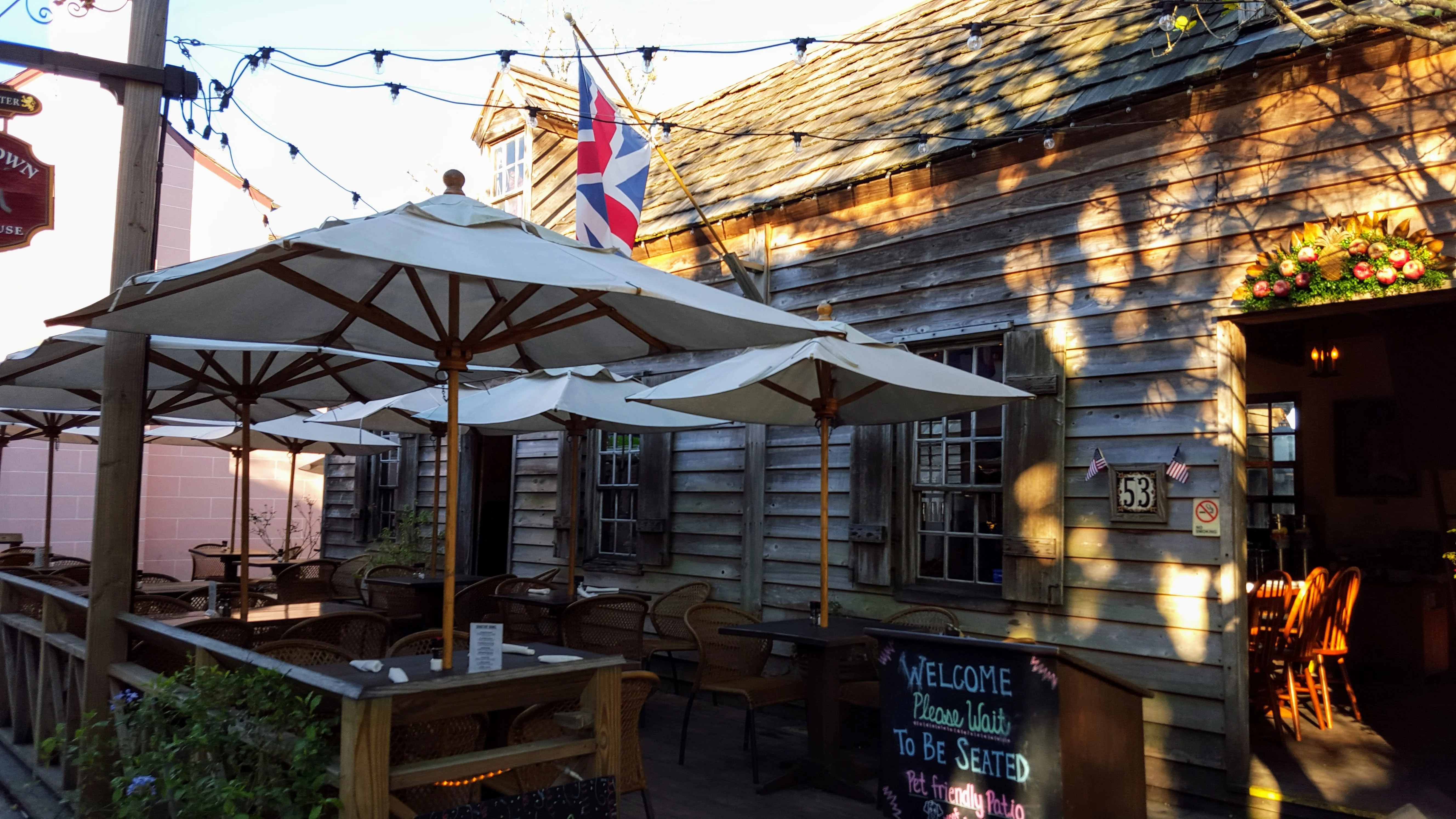 3. Travel from St Augustine to Ocala State Park
Head onwards to Ocala National Forest. It is around a 1.5 hour drive from St Augustine to Ocala National Forest. As mentioned above, we particularly enjoyed Alexander Springs in Ocala National Forest. However, there are plenty of other things to do in the area if you have the time. Ocala State Park is in the heart of Florida's 'horse country'. Horse lovers can go for a trail ride and even take the horses in the springs for a dip!
If you are a camper, Ocala National Forest is also a great place to pitch a tent and kick back to nature. You can find out more about camping in Ocala State Park here.
Where to stay? If you are not a camper, there are plenty of other accommodation options in Ocala Forest Park. Click here for all accommodation in Ocala State Park during your dates.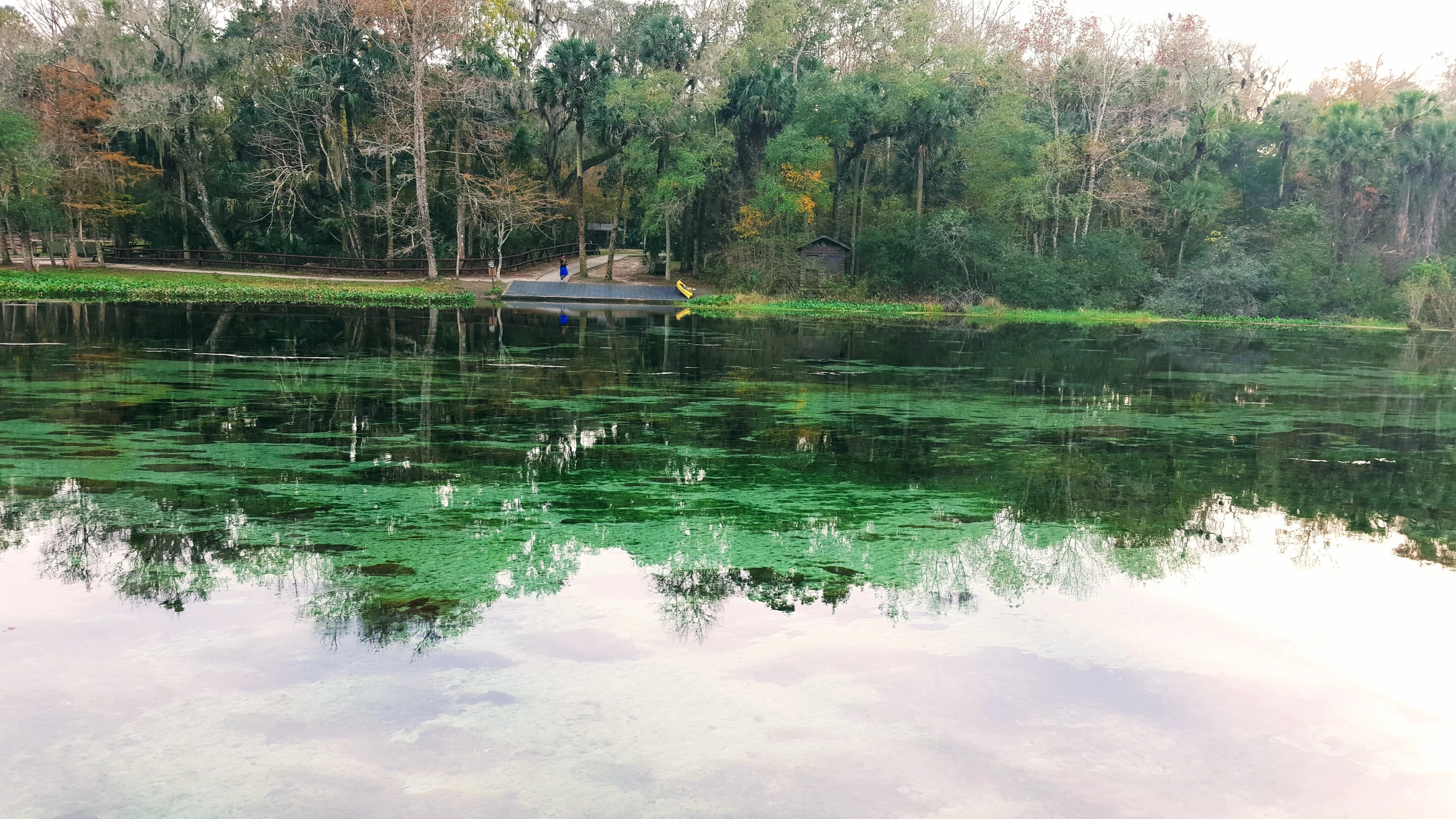 4. Drive from Ocala State Park to Tampa
Head onwards to Tampa in hunt for Manatees. This drive will take around 2.5 hours. If you plan your stay for the Manatee season, make sure you stop for a strawberry milkshake at Plant City, a 30 minutes drive from Tampa.
Known as the 'winter strawberry capital of the world', one of the most highly rated places to go for a strawberry milkshake or strawberry picking is Parkesdale Farm Market. They also have a stand in the Florida Strawberry Festival which runs between 1 – 11 March.
If your stay doesn't fall in winter but you are still keen to see some animals, check out the Big Cat Rescue, a rescue centre home to 80+ lions, tigers, bobcats, cougars which have been abandoned, abused or orphaned.
Downtown Tampa is also very aesthetically appealing with gorgeous buildings including the University of Tampa building. Nearby the university, take a walk at Curtis Hickson Waterfront Park, where you will see locals exercising and relaxing in hammocks by the riverfront. Bring a hammock and picnic set and kick back for the day.
Where to stay? Tampa has a great range of accommodation from budget to luxury hotels. Click here for all accommodation in Tampa during your dates.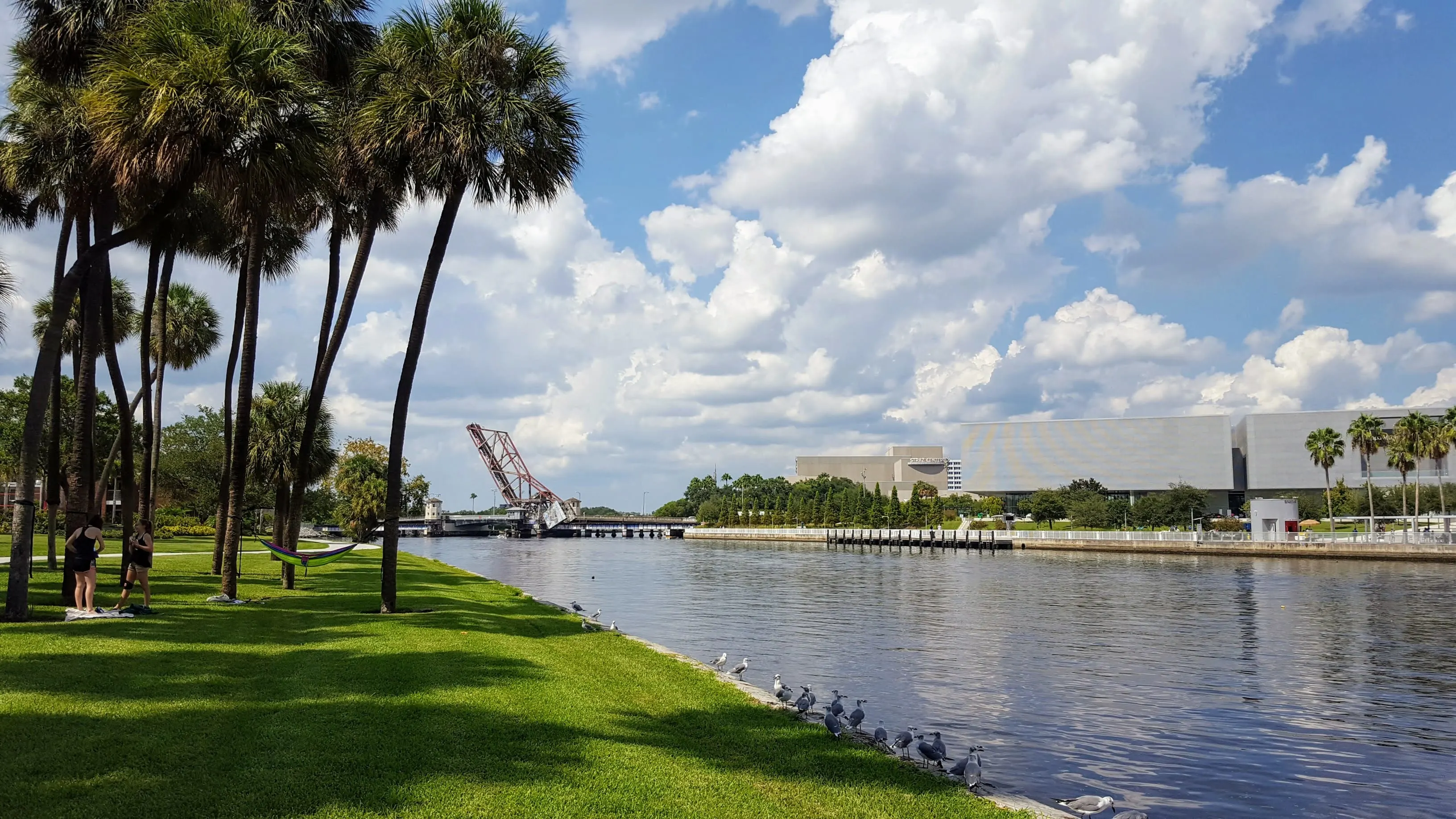 4. Drive from Tampa Park to Siesta Beach
Continue your road-trip to visit the beautiful Sarasota Beaches. This drive will take around 1.5 hours. Enjoy a few relaxing days at the #1 Beach in the USA! This beach is particularly popular for wildlife spotting. Point of Rocks near crescent beach is a great place for snorekling.
Unlike many reefs that require you to take a boat to access, you are able to snorkel at Point of Rocks right off the beach. Remember to BYO a snorkel.
The area is also particularly well known for shell collecting. Turtle Beach is another popular Beach in the area. As the name suggests, you may be lucky enough to see some baby turtle hatchlings if you time your stay right. The turtle nesting and hatching season runs from May 1 to October 31.
Following your stay at Siesta Beach, consider stopping in at Marco Island before head back to Miami. The drive will take just under 4 hours. You may want to break up the journey with a stop to the Everglades. If you wanna do that, here's a guide to where to stay in Marco Island and the best Marco Island beaches.
Where to stay? There is some great accommodation on offer at Siesta Beach. Click here for all accommodation in Siesta Beach during your dates.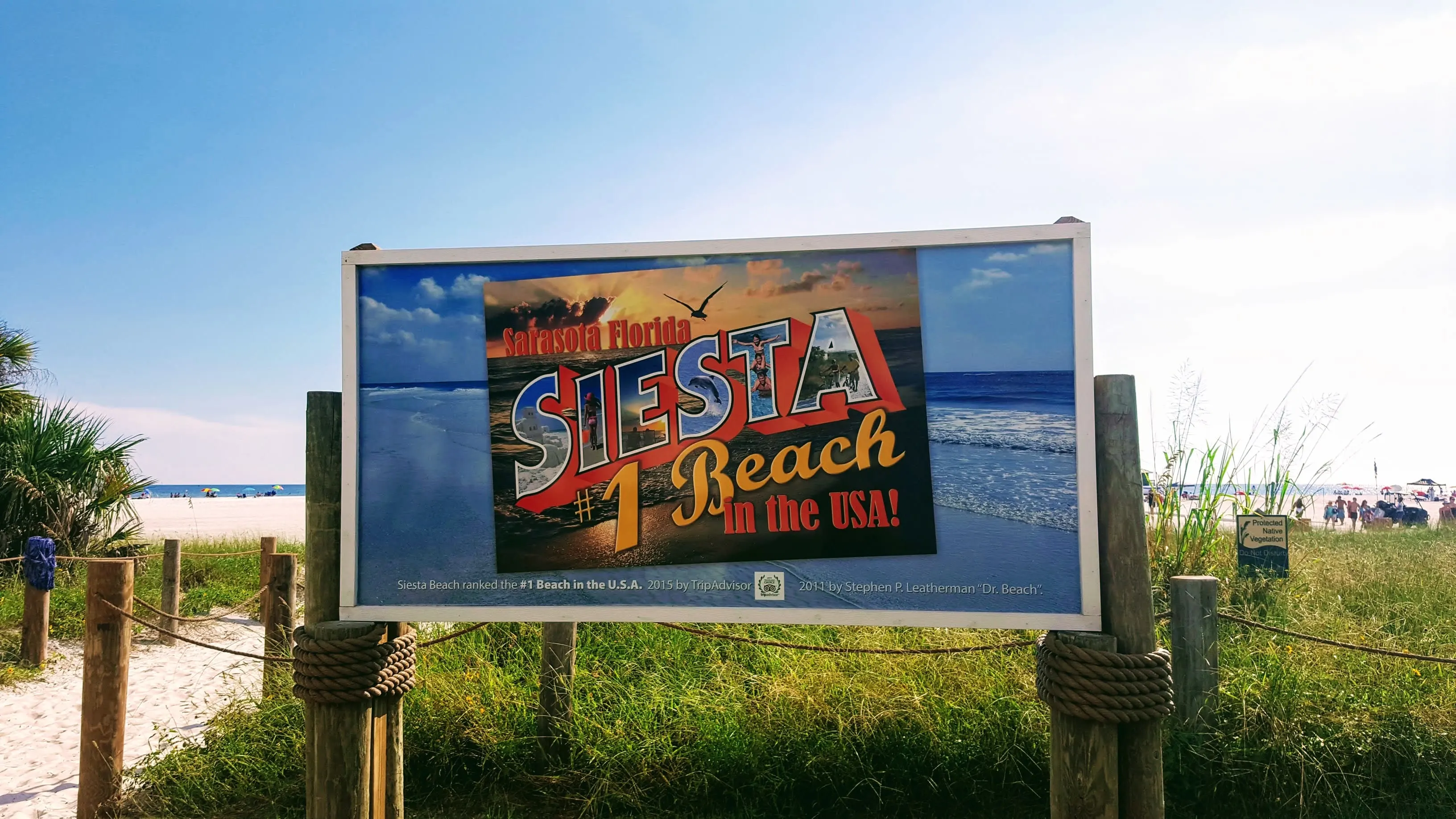 Let us know in the comments below whether you are planning a road trip in Florida and where you are planning to go.
**
See More Florida Trips and Adventures