Looking for romantic things to do in Hanoi Vietnam for Couples?
Hanoi, the Vietnamese Capital city is definitely worth a visit for couples. While you wouldn't really expect it, there are seriously tonnes of date ideas for Couples in Hanoi.
This travel guide details the top 10 Things to do in Hanoi for couples as well as the best places to eat and where to stay in the city, whether you are on a romantic getaway or honeymoon in Vietnam.
Use this map to save the top Hanoi hotels, attractions, restaurants, bars, and coffee shops with good wifi to Google Maps for offline use.
Romantic things to do in Hanoi for Couples
Despite being hot as hades in the summer, the city boasts a beautiful lake, a beer corner & absolutely delicious food – what more could you want in a city as a couple?
Hanoi definitely has enough going on to keep you busy for a few days. Below are our Top 10 things to do in Hanoi for a romantic vacation.
1. Stroll hand in hand in the Old Quarter of Hanoi
One of the best things to do in Hanoi is to visit the old quarter of the city.
Hanoi's Old Quarter consists of 36 old streets and guilds. The old quarter is very interesting as each street sells a different product. For example, one street in the Old Quarter sells silver jewellery (Hang Bac), while another street sell shoes (Hang Dau) or silk (Hang Gai).
You can explore the many streets in Hanoi's Old Quarter by yourself or use a copy of the lonely planet book to plan your own self-guided walking tour based on what you would like to see.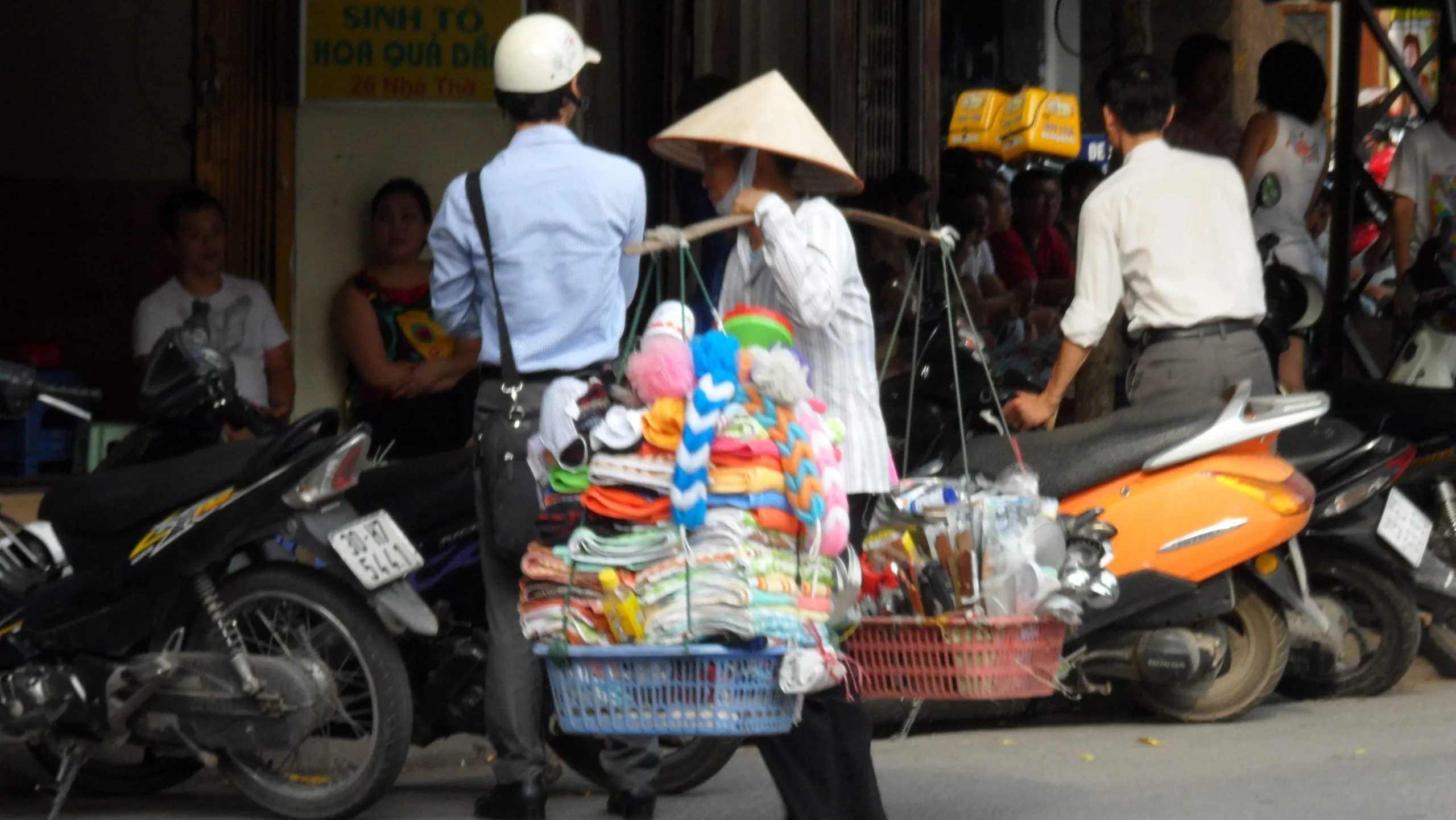 2. Lake of the Restored Sword (Hoan Kiem Lake)
The lake of the restored sword or the Hoan Kiem Lake is without doubt one of the best things to do in Hanoi for lovers. The lake is absolutely gorgeous by both day and night.
During the day, you will see locals performing their exercise routines by the lake. By night, the Hoan Kiem Lake is a place for lovers. You will see couples on date nights cuddling on the park benches around the lake.
You are often approached by locals wanting to improve their English at the lake so visit when you have a few hours to spare!
3. Visit the Hanoi Night Market
The Night Market in Hanoi is undoubtedly one the best things to do in Hanoi and runs every Friday, Saturday and Sunday night.
All the items found on the Night Market are dirt cheap and include cheap t-shirts, fake handbags, fake sunnies and wallets to name a few.
While the quality of the items are not the best, it is definitely worth a few hours of your time if you find yourself in Hanoi on the weekend for a taste of Vietnamese market nightlife and people watching.
Bring your best negotiation skills as the prices can start a little higher than usual but the vendors are usually willing to negotiate lower than the Hanoi average.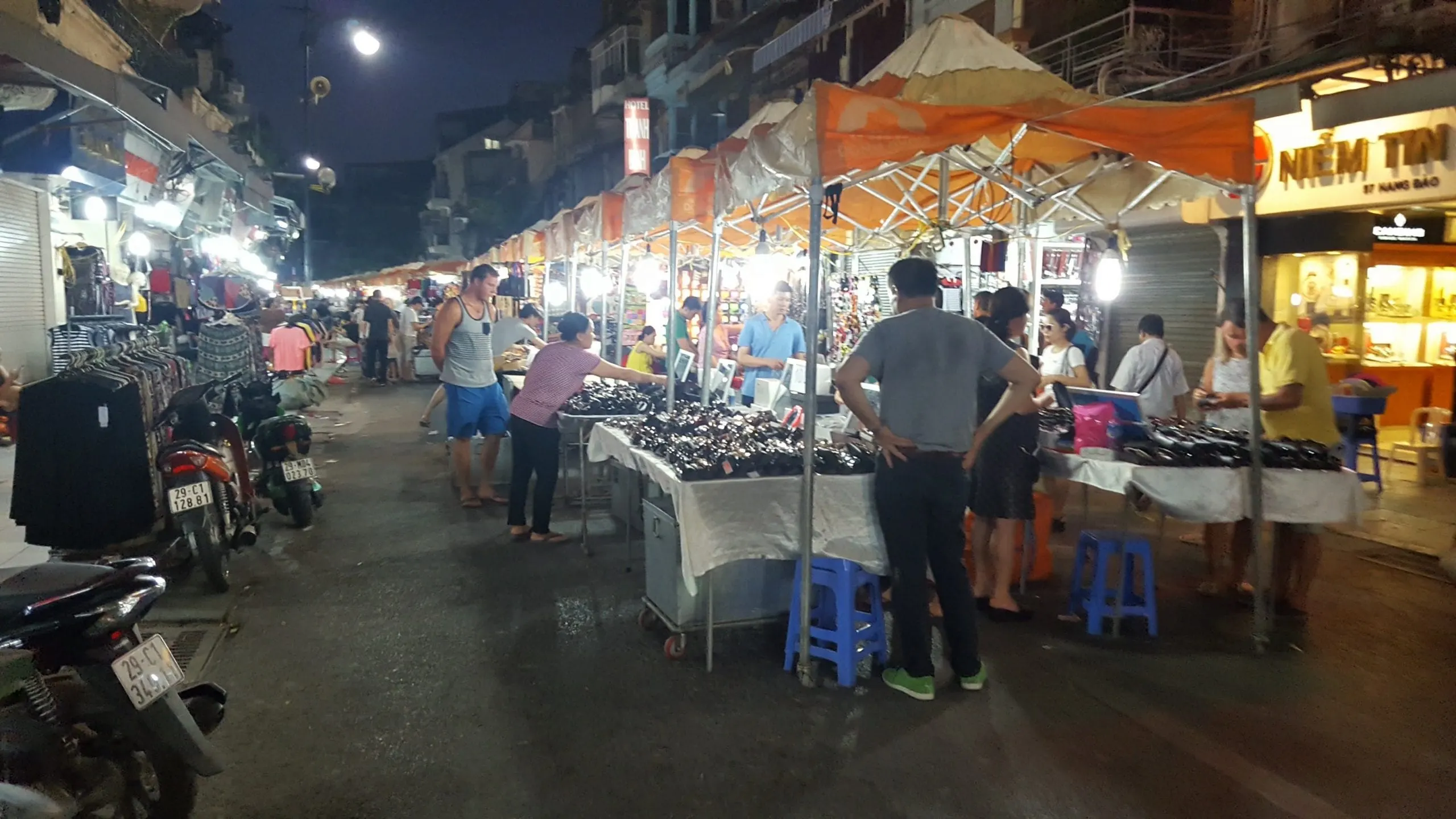 4. Visit the Ho Chi Minh Masoulem
If you want to see Uncle Ho in the flesh, much like Lenin's body in Moscow, you can see his embalmed body at the Ho Chi Minh Masoulem.
You aren't allowed to photograph inside and only get a brief glimpse of his body as you shuffle by. Nevertheless, it remains one of the best things to do in Hanoi. Is it romantic? Well many people would say no, but I'd include it in a Hanoi Vietnam honeymoon LOL.
If this is something you would like to see, note it is closed Monday and Friday and open the rest of the week between 7.30 – 11.00am.
5. Don Xuan Market
If you are not totally sick of markets after the weekend market, you can always check out the Don Xuan Market.
This market has everything from shoes to handbags to clothes to souvenirs. If you want to test out your haggling skills and have some extra time in Hanoi to spare be sure to check out this market.

6. See a Water Puppet show in Hanoi
It is very popular amount tourists to see a water puppet show at the Thang Long Water Puppet Theater in Hanoi. Many people rate it as the best thing to do in Hanoi.
If you want to see a water puppet show while you are in Hanoi, admission is cheap at only 60,000 Dong.
7. Hoa Lo Prison aka the Hanoi Hilton
We felt one of the best things to do in Hanoi was to visit the Hoa Lo Prison due to the insight it provides on the Vietnamese War.
Hoa Lo Prison documents from the time the French owned and operated the prison until most recently it was used by the Communist Party of Vietnam to house American soldiers.
The museum appears to be a little biased. It states throughout the museum that while the Vietnamese were treated very poorly during French occupation of the prison while the Americans were treated very well by the Vietnamese Communist party during the second world war.
The prison states that American soldiers even referred to the prison as the 'Hanoi Hilton'.
It takes around an hour to visit the exhibits and the entrance fee is only 30,000 Dong.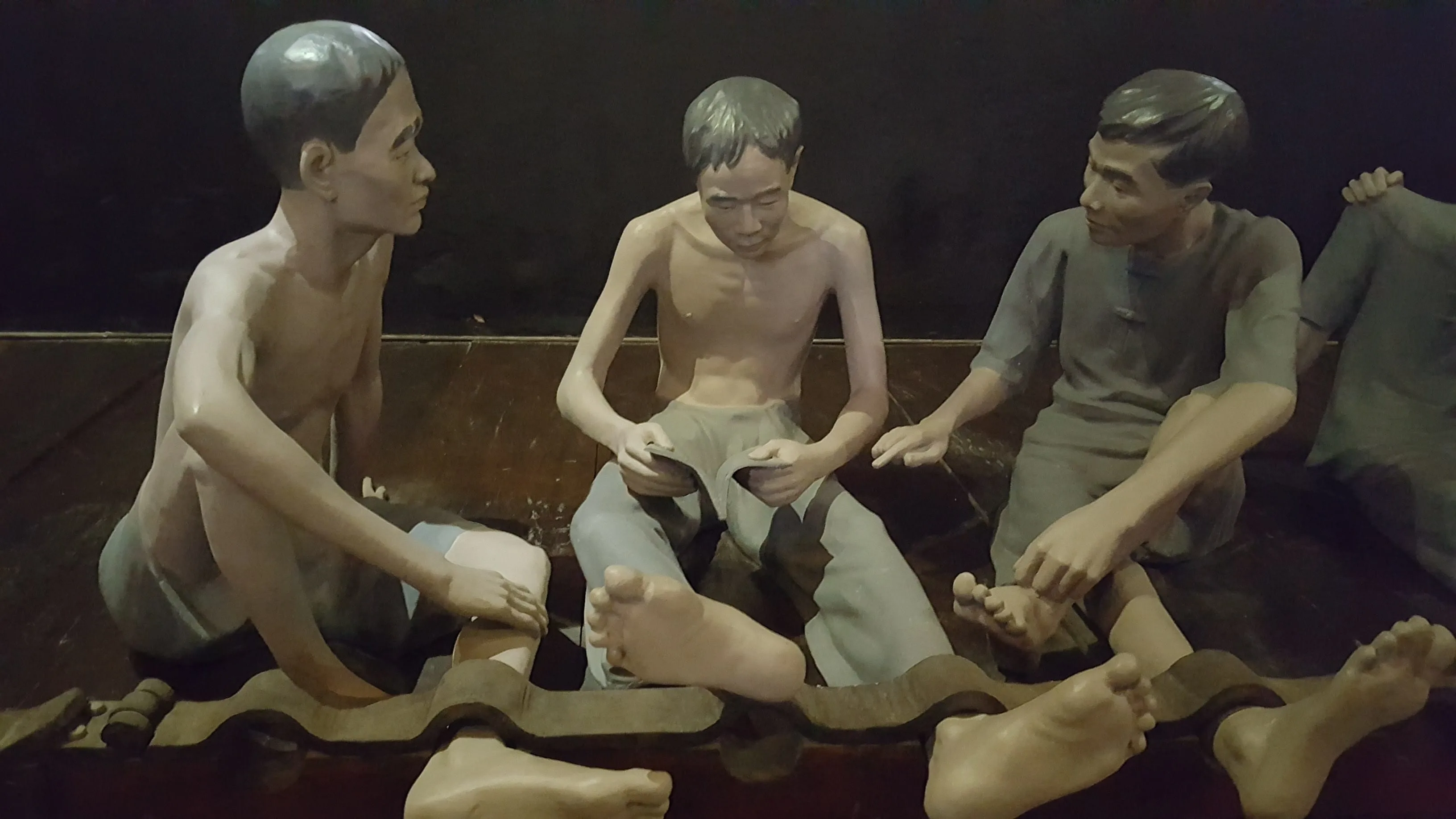 8. St Joseph's Cathedral
Hanoi's neo-Gothic cathedral is worth checking out as it is gorgeous piece of architecture right in the middle of Hanoi.
One of the remnants of the French reign in Hanoi, the French demolished 800-year-old Bao Thien pagoda to build this European style church in its place.
9. Sip a cold 333 at Beer Corner
A romantic getaway doesn't have to be expensive!
Being Beer Lovers, there is no surprise that we rated beer corner as one of the best things to do in Hanoi.
This corner, or street, is located at Ta Hien and Luong Ngoc Quyen in Hanoi's Old Quarter.
While this street does have some regularly priced beer, you can find bia hoi draft beer for as little as 5,000 Dong a glass. Look for signs stating 'Bia Hoi' or simply look for the little squat traditional plastic stools.
10. Trips to Halong Bay and Sapa from Hanoi
While not in Hanoi, you reach Halong Bay and Sapa from the city of Hanoi.
Staff in your accommodation in Hanoi are likely to try and sell you a tour to Halong Bay or Sapa.
Be careful and do research for yourself as accommodations often try to sell sub-par boats at premium prices and expensive excursions to Sapa that you can easily do yourself.
Check out our review of La Vela cruise and the luxurious Aira Boutique Hotel in Sapa for some great options in both Halong Bay and Sapa.
Best Romantic Restaurants in Hanoi
There are so many delicious places to eat while in Hanoi!! Here are our Top 5 favourite Places to eat in Hanoi for couples:
1. 4 P's Pizza
This pizza restaurant is more expensive than your average meal in Hanoi but the quality is definitely makes up for the higher prices.
The pizzas are a Italian/Japanese fusion and absolutely delicious!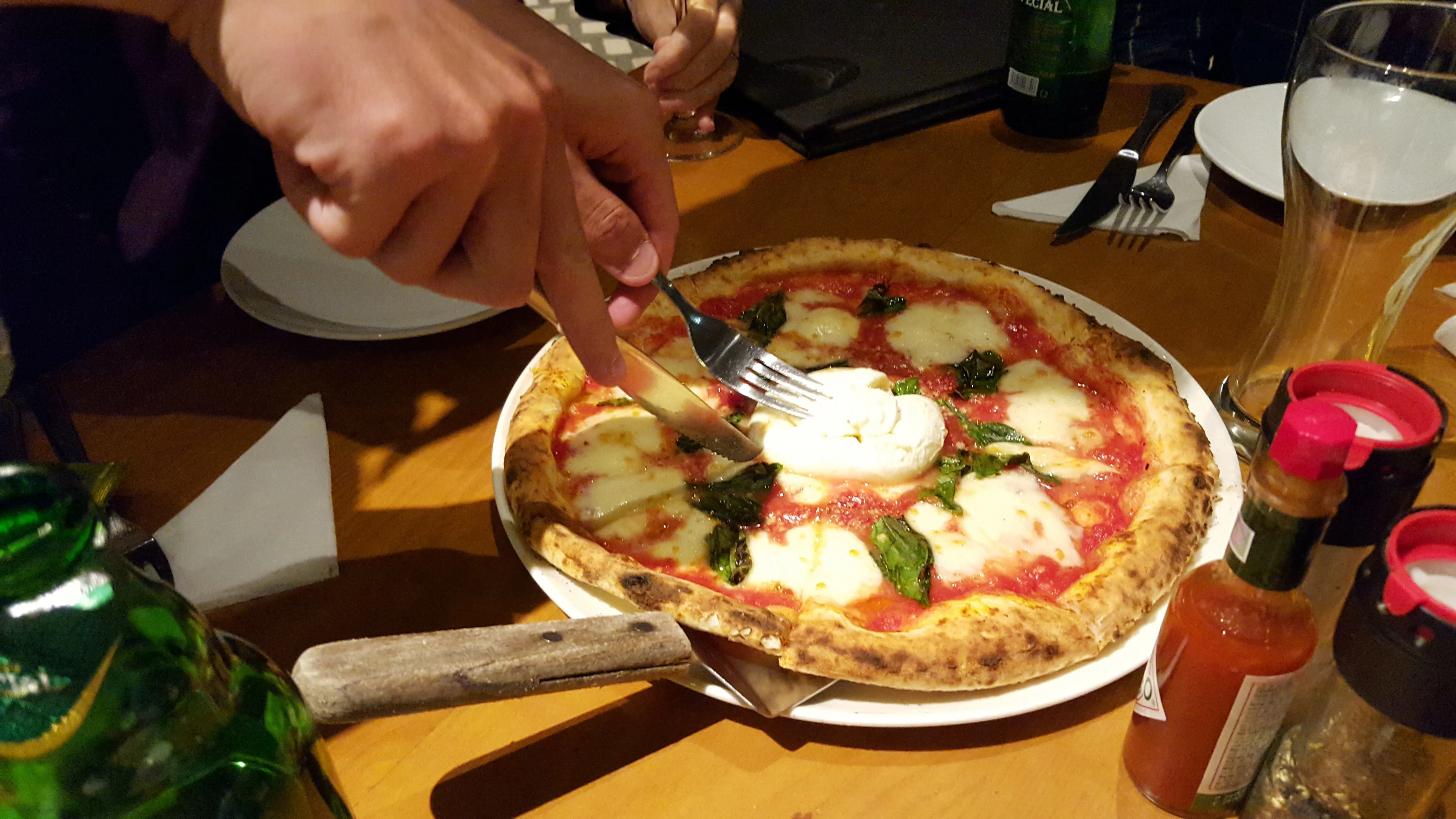 2. Don Duck
Don Duck is a restaurant in Hanoi that specialises in Duck meals (Yum, our favourite!!) at great prices. There are a few meals on the menu that are very large and feed 2 people.
We would recommend the hot pot duck and the grilled duck (250,000 dong including rice vinicilli). Yummo!
3. Banh Cuon Ba Hanh
This restaurant has to be one of the cheapest and cleanest restaurants in Hanoi.
The specialty of this restaurant is their rice rolls, which they cook in front of you. You can buy 10 rice rolls with a salad and an ice-tea for only 30,000 dong ($1.30 USD). They also served omelettes, pork pies and lemongrass skewers.
While not quite as tasty as the other restaurants mentioned, it is dirt cheap and worthwhile to visit for the theatrics alone.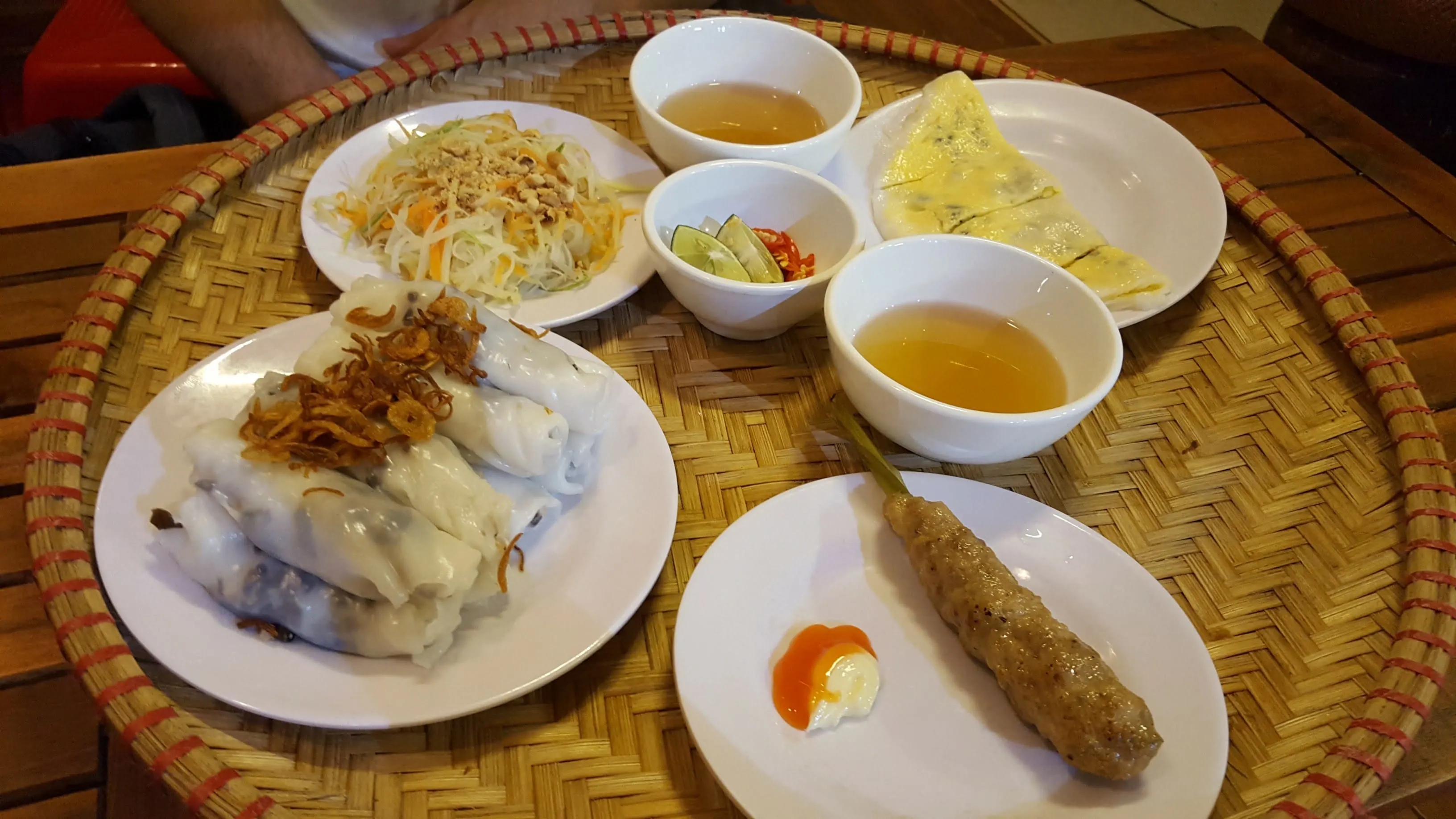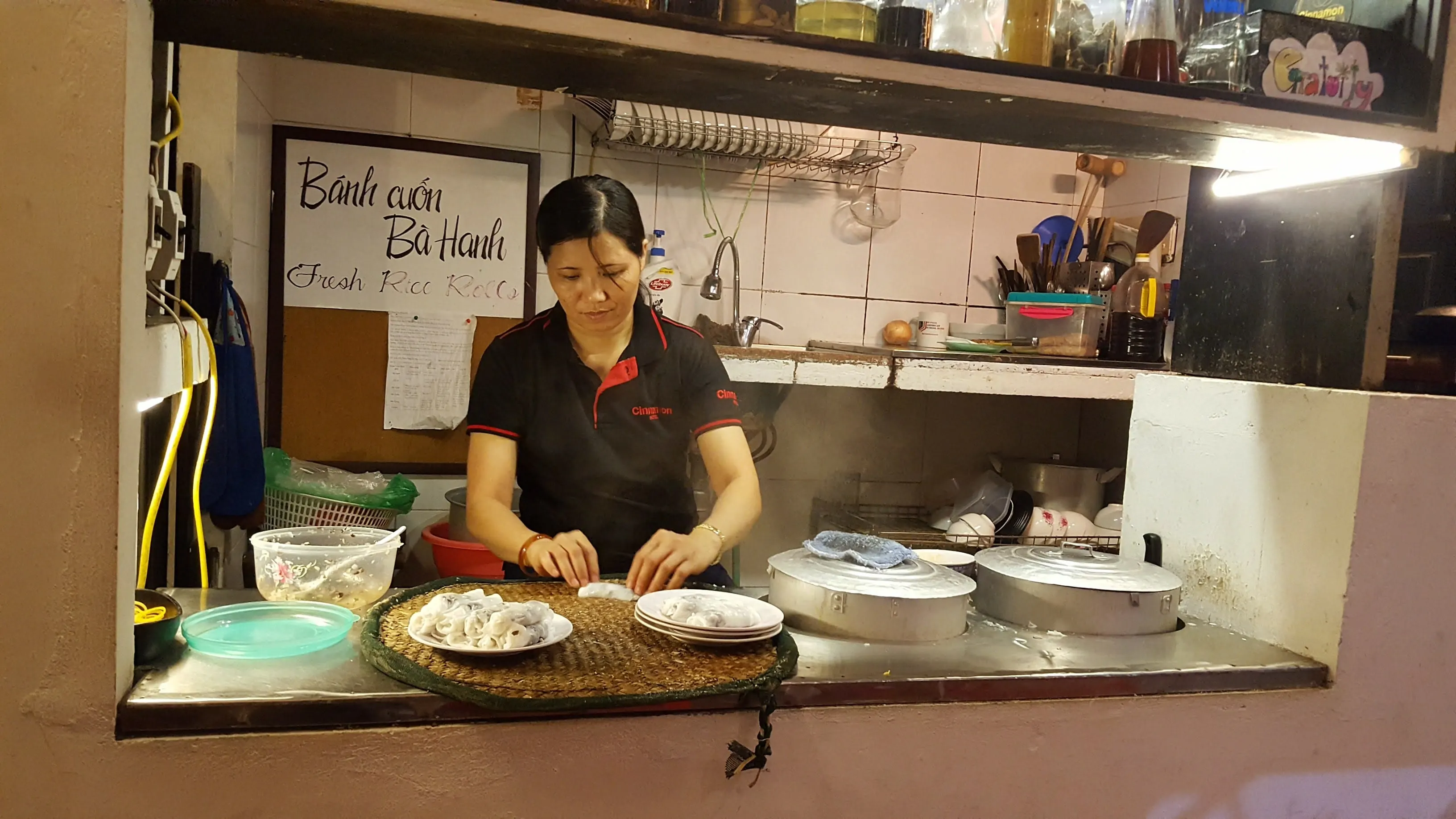 4. Quan An Ngon
Quan An Ngon is an outdoor Vietnamese restaurant known for serving great authentic Vietnamese food. Be sure to try the skewers – delicious!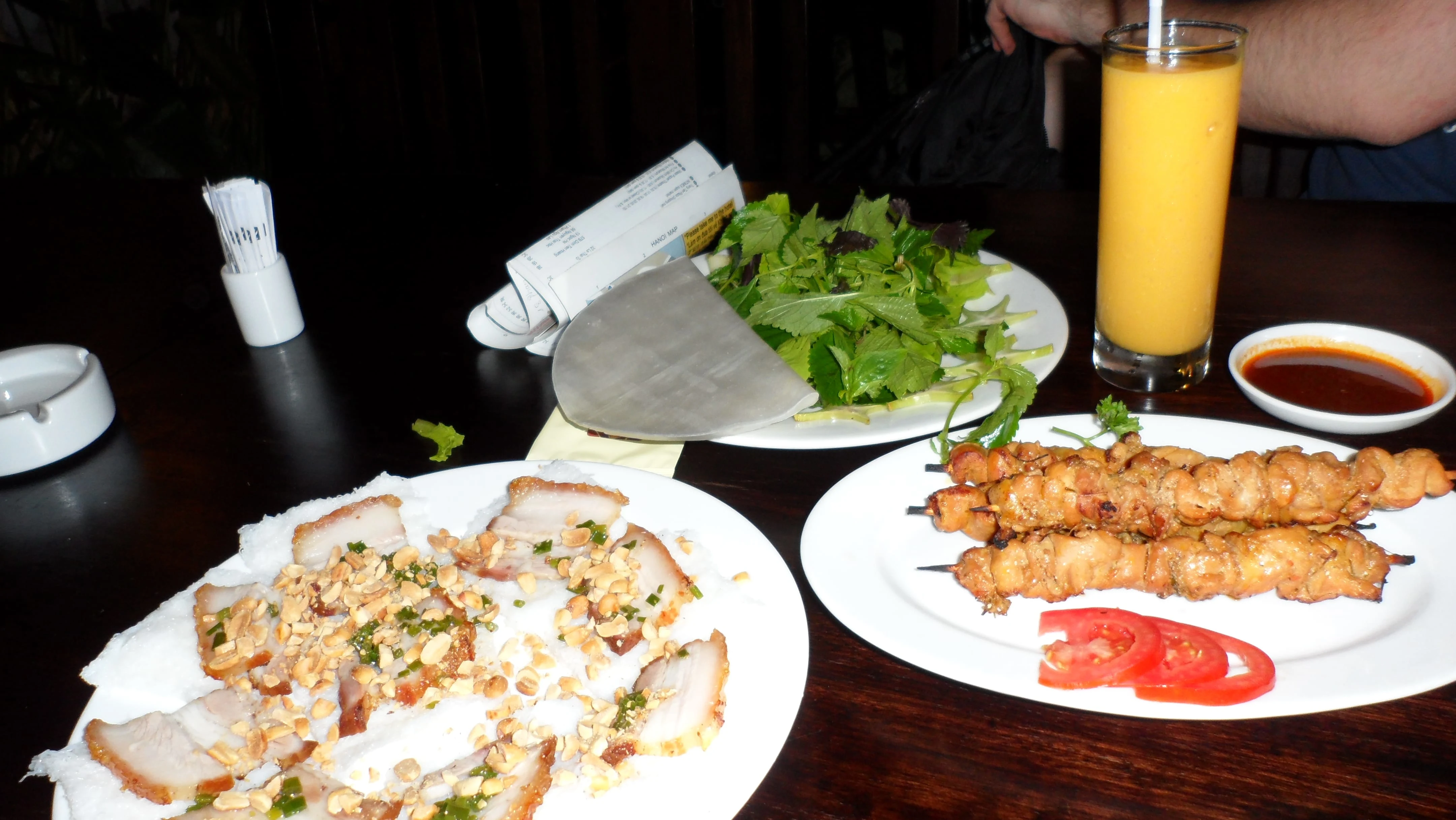 5. Essence Hotel Restaurants
If you are getting sick of Vietnamese cuisine, the Essence Hotel's have great restaurants with great Western food.
We particularly enjoy the smoothies, avocado salad and the chicken club sandwich at the Essence Hotel chains.
6. Bun Cha
Bun Cha is a traditional dish coming from the north of Vietnam. It is definitely a must try dish if you are coming to Hanoi.
The best bun cha in Hanoi can be found at Bun Bo Nam.
Romantic Hotels in Hanoi
In Hanoi, you can get very decent, cheap double room for as little as $20 USD a night. If you are planning a cheap romantic getaway or honeymoon in Asia, this is a great place to go.
We wouldn't personally recommend going below this amount unless you are on a very tight budget as as the accommodation gets a lot more basic and amenities such as the air-conditioning stops working.
To see all our recommend Hanoi hotels, see our guide to the best Hanoi hotels. For a full list of accommodation in Hanoi during your dates click here.
Our accommodation recommendations in Hanoi
The Golden Moon Suite Hotel is a great option for budget accommodation in Hanoi. The rooms are very clean & comfortable, the service is great and the rate includes a delicious buffet breakfast!
For a step up from the Golden Moon Suite Hotel in the budget accomodation category we have also stayed at the Hanoi Focus Hotel.
The standard rooms at the Hanoi Focus Hotel are larger and the rate includes a full buffet style breakfast along with eggs or pho soup made to order.
For a little more luxury and service, you cannot beat the Hanoi Elite Hotel.
We have stayed in this hotel chain in both Sapa and Hanoi and both times had an absolutely fantastic experience. The high review score for this hotel is truly well deserved.
Get Your Coffee Fix in Hanoi?
If you are a digital nomad, you will be happy to know, there are two Starbucks directly in the centre Hanoi.
More Helpful Vietnam Travel Blog Posts
Trekking Sapa Alone? It's not as hard as you think if you use our guide to DIY trekking Sapa.
Does your Vietnam itinerary include Hoi An? If not, you're missing out on fun and culture. Get some clothes tailored by hand, find the cheapest beer in Vietnam (it's good too), and eat local specialties.
We hope this guide helped you plan your trip to Hanoi. If this guide has been helpful, we would love to hear from you so please leave a comment below!
Save this Travel Guide to Pinterest!