Looking for romantic things to do in Jersey City for couples? Never fear, there are tonnes of fun date ideas in the area that you will never be short of a date night with bae!
Whether you are looking for something fun and active or a really romantic restaurant to visit together, we have you covered with 20+ of the best Jersey City date ideas!
Romantic Things to do in Jersey City For Couples
Free & Cheap Activities
Liberty State Park – One of the best (and totally free things to do in Jersey City) is to take a stroll in Liberty State Park. You can find some of the best views of NYC from this park. It is also waaayyy less busy and touristy than Brooklyn which offers similar vibes.
Waterfront 9/11 Memorial – If you feel like a quieter, more reflective date with your SO, the Waterfront 9/11 Memorial is a good option. Possibly not a great first date idea as it is a little on the sombre side.
AMC Loews Newport Centre 11 – If you are looking for a cheap idea, the AMC Loews Newport Centre 11 is always a good choice. With plush chairs and good food there is no wonder this place receives consistency high ratings.
Project Eats – If you find yourself in Jersey City in the summer, you definitely should make a trip to Project Eats. Run by The Jersey City Project, one of Jersey City's best supported non-profit foundation, serious foodies will rejoice at the amount of great food on offer here from craft beer bars to gourmet food trucks – the place has it all. A hipster's paradise.
Newport Green Park – One of the best parks in the area. For those who love a green space in a concrete city this is a great place to go. Great for getting some fresh air and having a good chat on a warm day. Note: If you want to avoid kids it's not a good place as there is a popular playground in the area.
Hudson River Waterfront Walkway – Totally free and ever so romantic going for a walk down the Hudson River Waterfront Walkway is always a good idea. This walkway will lead you to the trendy town of Hoboken, home of Frank Sinatra, where you can stop for a drink or a bite to eat in one of the many funky restaurants.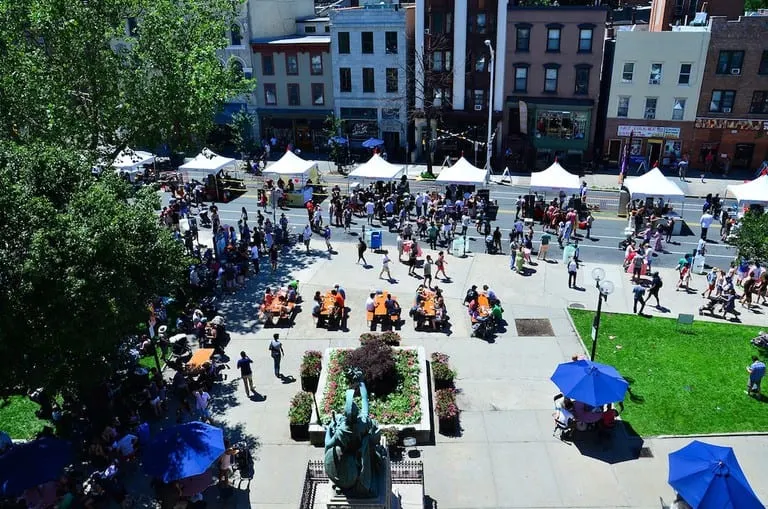 Fun Date Ideas
Newport Centre – If your girl loves to shop, this is a great place to go. There are plenty of shops to purchase something nice here and there is also a great foodcourt for a snack after.
Ride a Jetski – What is more fun than a jetski date! There are plenty of places where you can hire a jetski. One of the more popular places being Sea the City Jet Ski Tours. Another popular experience with this company is the Hot Tub Boat with views of the Statue of Liberty this is an outing sure to impress.
Beyond The Plate Food Tours – Being in Jersey you are basically in Little Italy aka a foodies paradise. There are lots of great food tours to enjoy in the area with one of the most popular choices being Beyond The Plate.
Go for a Sailing Trip – Nothing says "sweep a person off their feet" more than a sailing trip! Am I right? There are numerous good choices of sailing trips in the area with the more popular being Sail NYC and Gotham Sailing.
The Lutze Biergarten – A great place to enjoy a beer or two in the sunshine with an amazing view of the skyline. Perfect for a double date in the summer.
Jump on a Yacht – What an exciting activity to do with your boyfriend or girlfriend. This one is sure to impress. Imagine Yatcht Charters is one of the popular to book in the area.
Ice Skating in Winter – In Winter one of the best things to do for couples is to go ice skating on one of Jersey City's many frozen rinks including Pershing Field's swimming pool and Newport Green Park's ice skating rink and frozen winter wonderland.
Museum of Russian Art (MORA) – You might have been to a museum of modern art before but have you been to a museum of RUSSIAN art? Probably not and this is your chance to have a totally unique date idea with your beau. Entry is based on donations with the suggested amount being $10. A good way to learn more about Russian culture and perhaps plan a trip together?
Journal Square Green Market – If you are the type of couple that enjoys a good market, Journal Market is sure to hit the spot with everything from fresh produce, to ready made food you can consume on the spot. Unlike many markets these days the great part about this market is that it remains inexpensive, like markets were in the good old days.
DIY Uncorked Workshop – A take on the wine and paint night, this workshop helps you build or create something for the home e.g. mirror or wine rack while you sip on beer (BYO).
Go for a movie in the park – In the summer in New Jersey, there are a lot of movies in the park on offer.
The Mana Contemporary – If culture is what you seek, you will find it here in droves. This centre contains a wide vaiert of contemporary visual and performing arts and exhibitions.
Liberty Science Center – Is another good option for some educational fun.
Date Night Ideas Jersey City
Go for a staycation in a romantic hotel – Even if you are a local, a staycation is always a good idea. Why not up the heat with a hot tub hotel. If that sounds like fun, here is a list of the best hot tub hotels in New Jersey for couples. You might also like to check out hot tub suites in NYC as there are some pretty awesome hotels in the big apple!
Newark Avenue Pedestrian Plaza – One of the most popular places to go on a night stroll is Newark Avenue. There are plenty of bars and restaurants to enjoy here. Currently the city is undergoing a $6.7 million overhaul to make this area even cooler.
Corgi Spirits – A true Jersey City treasure. This distillery makes some of the best gin and vodka in the USA. The distillery offers tours of the factory where you can see how the alcohol is made and sample some of its finest. The Corgi specializes in cocktails. Be sure to try the gin Corgi Cuppa while you are there – it is served in antique teacup!
The Landmark Loew's Theatre – If you want a unique date idea then this is a good choice. This 1929 theatre features classic films. What makes it cool as it not only shows old films but it still has a lot of old decor, making it truly feel like you have stepped back in time when you visit. The theatre often offers romantic movie marathons which are particularly popular with couples.
White Eagle Hall – Catch a live music event at White Eagle Hall – home to most of JC's major concerts.
Monty Hall – If you prefer indie acts, this is a better choice.
Midnight Market – A cool nighttime twist on a market.
Romantic Restaurants, Bars and Cafes to Visit
The Archer – One of the most popular romantic restaurants in Jersey. Known for some particularly good cocktails.
Tea NJ – A popular cozy cafe to enjoy a hot beverage on a cold day. If you are a vegan this is a good spot as it is known for being vegan friendly
Cafe Dolma – Another good option for a cafe date idea.
Frankie – A fun place to go with a special someone. Frankie is a cool bar + eatery with an Australian twist. It specializes in natural wine.
Liberty House Restaurant – One of the more popular restaurants in the area for date night is Liberty House. The chefs here are amazing and the view is to die for. Don't miss. the guiness chicken lollipops for something a little different.
Dullboy – Cocktails are always a good idea and that certainly remains true for Dullboy which is known for making some of the best cocktails in Jersey.
Barcade – If you are on a budget but still want a good night out n Jersey, this is a great choice! This retro bar is a pretty cool date night featuring local craft beer and old-school arcade games such as Donkey Kong, Crazy Taxi and Pac Man.
Porta – If you appreciate a good bar with great cocktails then this is a good choice. They also serve particularly good pizzas and offer live music.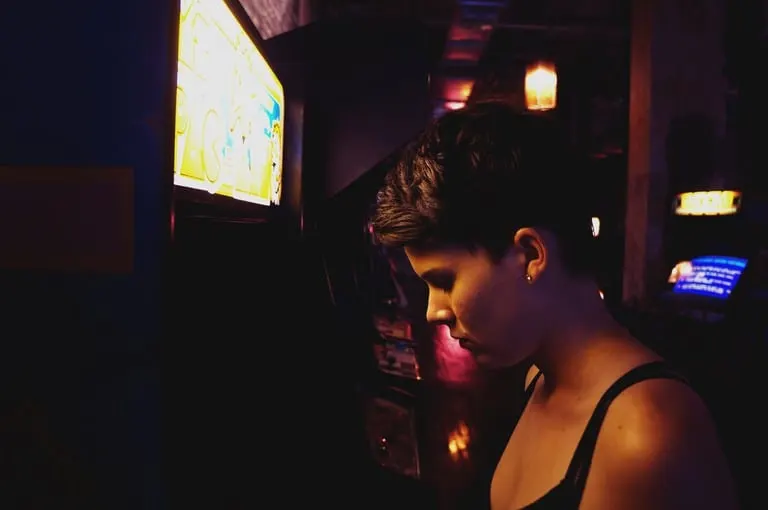 More Fun Adventures in New Jersey, NYC + Beyond!
If you are up for more adventure, here are some other fun things to plan with your SO in New Jersey and NYC: