Looking for romantic things to do in NYC for couples?
We got engaged in New York so it has a special place in our heart. We might be biased but we think it is one of the most romantic places for couples in the US. While we were there, we of course checked out all of the best couples activities in NYC and made an epic list of the best romantic places in NYC for you guys.
Based on our experience and research, here are what we believe are the 32 most romantic things to do in NYC for couples.
32 Romantic Things to do in NYC
The Catacombs are not merely a pleasure for history buffs!
This lower Manhattan Cathedral is home to a grand pipe organ and building, but what's below is where things get interesting.
Venture deep into the underground passageways of historic New York City. This guided tour is informative and interactive, as you learn the ways of the broken down boulevards.
Without inducing claustrophobia, you're able to see a slice of NYC that's been preserved for almost 200 years. And in case your honey gets scared, you'll be there with a candle to light the way.
One of New Yorks best kept secrets!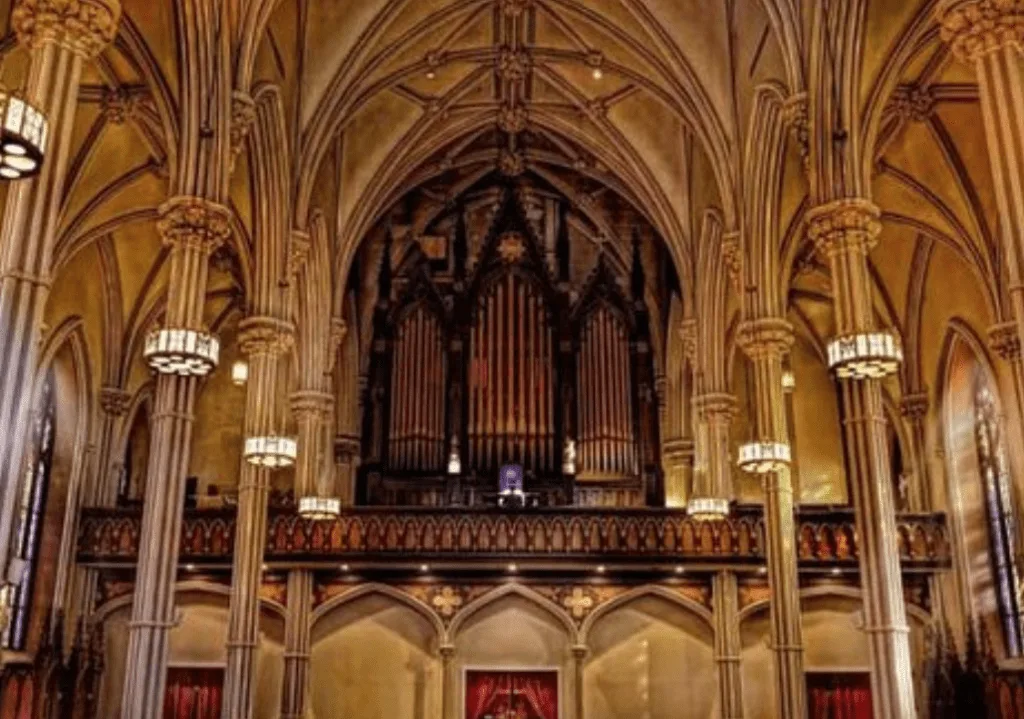 Take a journey through the past, that is aboard this 1920's-style yacht. On this sightseeing cruise, expect relaxation alongside a complimentary glass of bubbly.
You'll be swiftly taken from the New York Harbor, Liberty Island, and the Hudson River. Each stop offers unobstructed views of Manhattan, the perfect background for an enchanting evening.
You and your loved one can relish in the staple sights, including the Brooklyn Bridge, Ellis Island, and the One World Trade Center, all while avoiding the masses. If an intimate conversation with a stellar view is your jive, then this night time river cruise has you covered.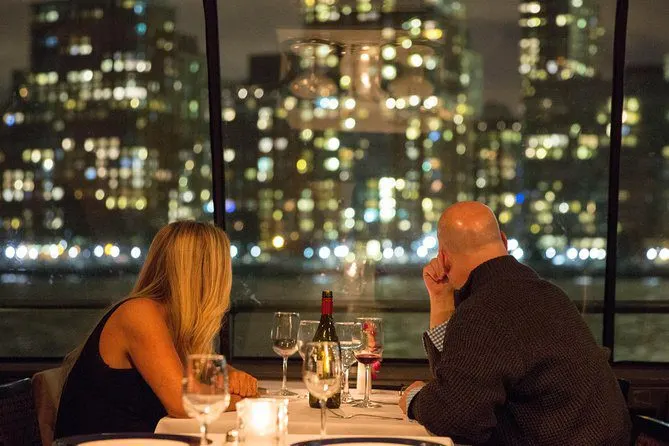 Take a stroll at Brooklyn Botanic Gardens & Eat Lunch
Walk hand in hand through 52-acres of blooms at the Brooklyn Botanic Garden. One of the best couple things to do in NYC.
At your own pace, you can meander through the woodlands, terraces, and ornamental grasses. The iconic cherry trees are a must if you're visiting between April and early May, but there's plenty of greenery to enjoy all year round.
After you've worked up an appetite on your stroll, enjoy a 3-course gourmet meal at the Yellow Magnolia Cafe. The final course is a decadent chocolate torte! Making a daytime soiree into a romantic affair is now at your disposal.
The perfect date idea in NYC!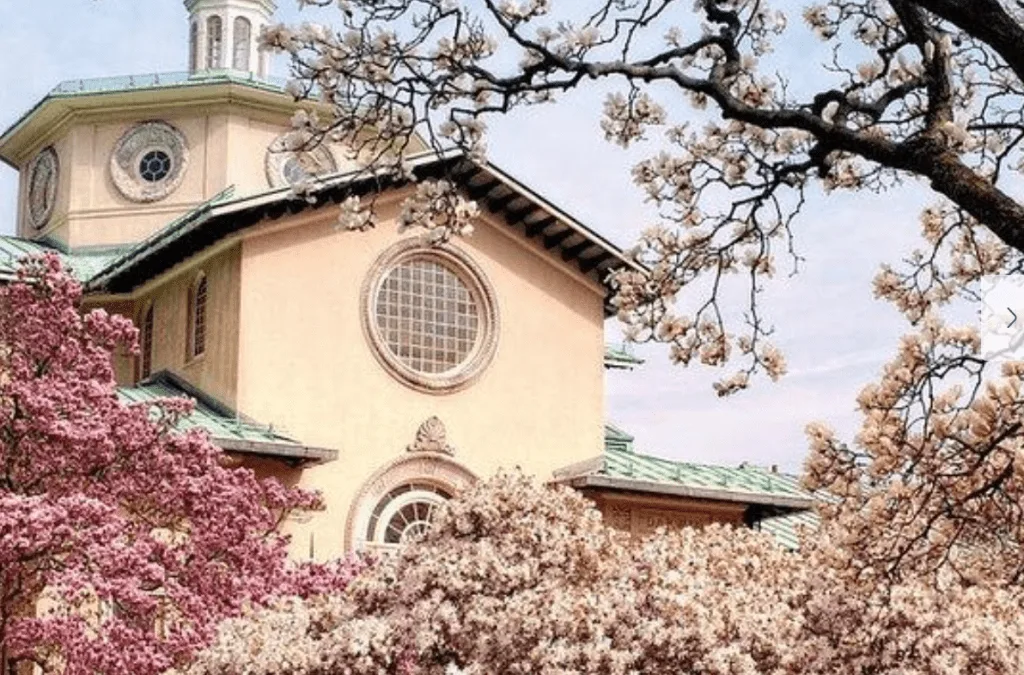 Romantic anniversary ideas NYC: Go to a Jazz Show
A little live music is sure to set the mood. This afternoon Jazz show offers the perfect ambiance for love to flourish.
Each performer at the iconic Club Bonafide knows how to put on a show. While the sounds of Jazz ring through your ears, sip drinks, and sample hors d'oeuvres at your own expense.
With a late afternoon curtain call, you've got plenty of time to make your dinner reservation after. Add in a stop to Club Bonafide for a memorable evening filled with romance.
One of the most romantic things to do in New York.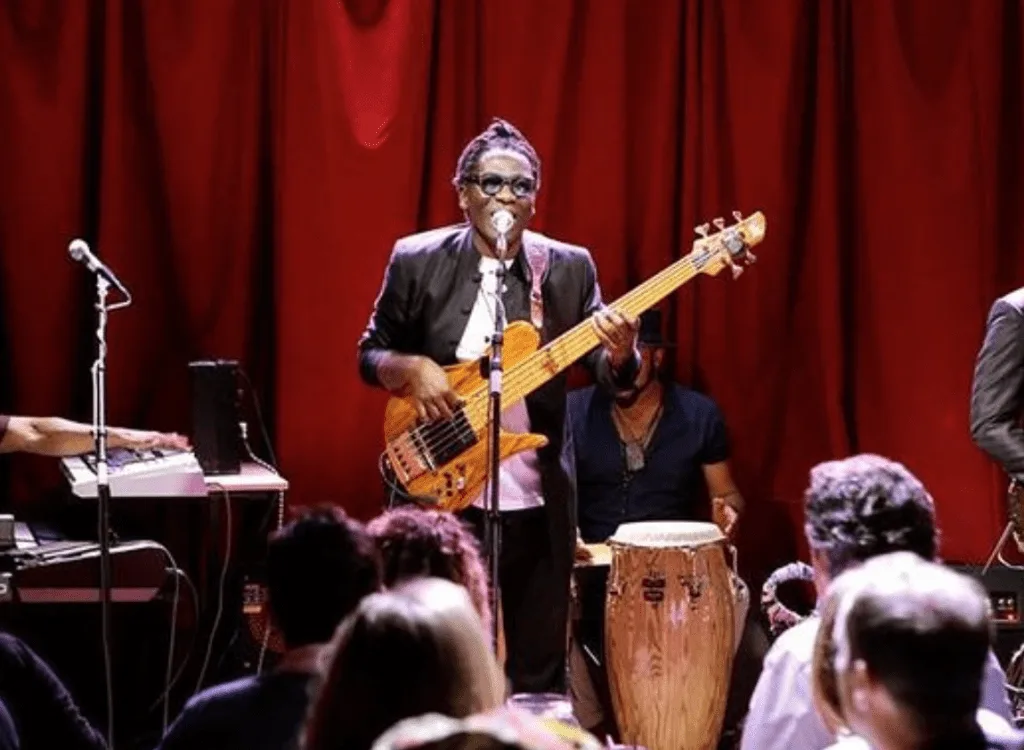 Instead of gearing up for a road trip to the Falls, you can experience one of the natural wonders of the world after a quick flight from Manhattan. You can call this date romance in Manhattan.
With transfer service included, this day-long trip is packed full of action. Once at the Falls, prepare for precipitation.
The Maid of the Mist takes you along a water journey where you'll be up close and personal with the cascading rapids. This hassle-free experience might have an early wake-up call, but it's one you'll be talking about for years to come.
A totally fun couple thing to do in NYC.
For a supreme waterfront canvas, hop on a bike with your beau across the Brooklyn Bridge.
From Brooklyn's DUMBO neighborhood to Chinatown, this route offers a plethora of excitement. The small-group tour is the perfect environment for an intimate look at the history of the area.
The pace is of no concern, as your guide adapts with your ability. Sharing this meaningful and collective adventure with someone who enjoys interactive and educational experiences.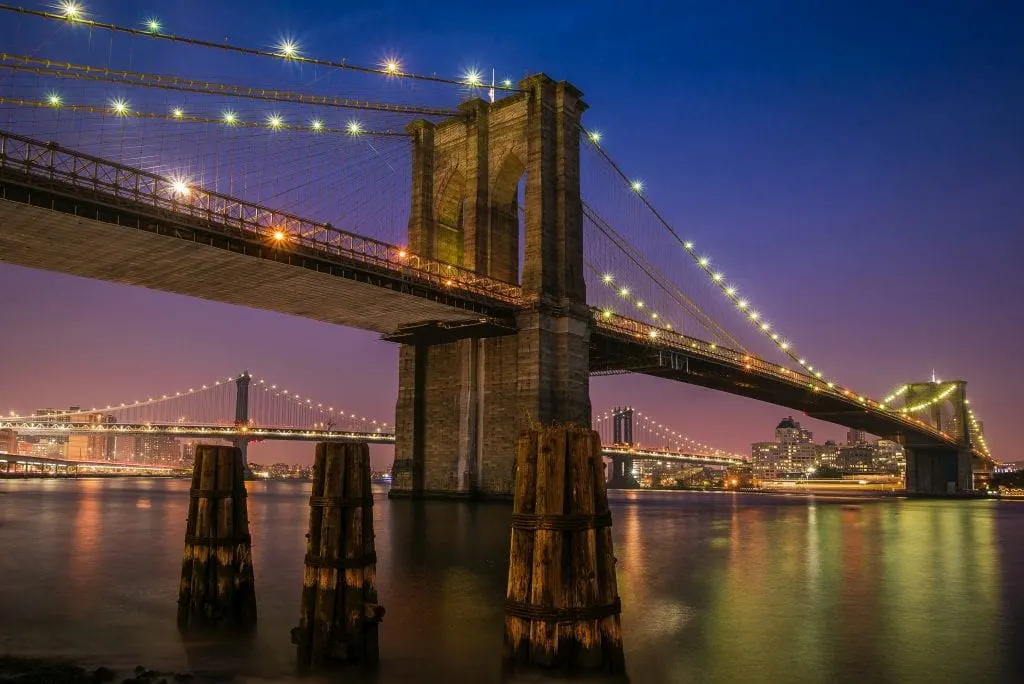 Have a Romantic Dinner, complete with a View @ the Empire State Building
Not a fan of waiting in long lines? Then this fast pass to the 86th-floor Observatory Deck at the Empire State Building is right up your alley.
With a 360-degree open-air view of NYC, you won't be able to find this experience anywhere else.
Paired with a complimentary interactive multimedia tour, this date night can be educational as well. The best way to end the day after such an unmatched experience is to cheers with a complimentary glass of beer or wine over dinner on the first-floor STATE Grill and Bar.
Take your romantic excursion to the next level by starting your date with a visit to the iconic Guggenheim Museum. With 7 floors linked by spiralling staircase there's plenty of cozy corners to purview the art in company. With a CityPass you can visit both and many more attractions at a 30% discount.
Why not make it a night to remember and say in a NYC Jacuzzi Suite after! A hotel with cool balcony in NYC works pretty well too!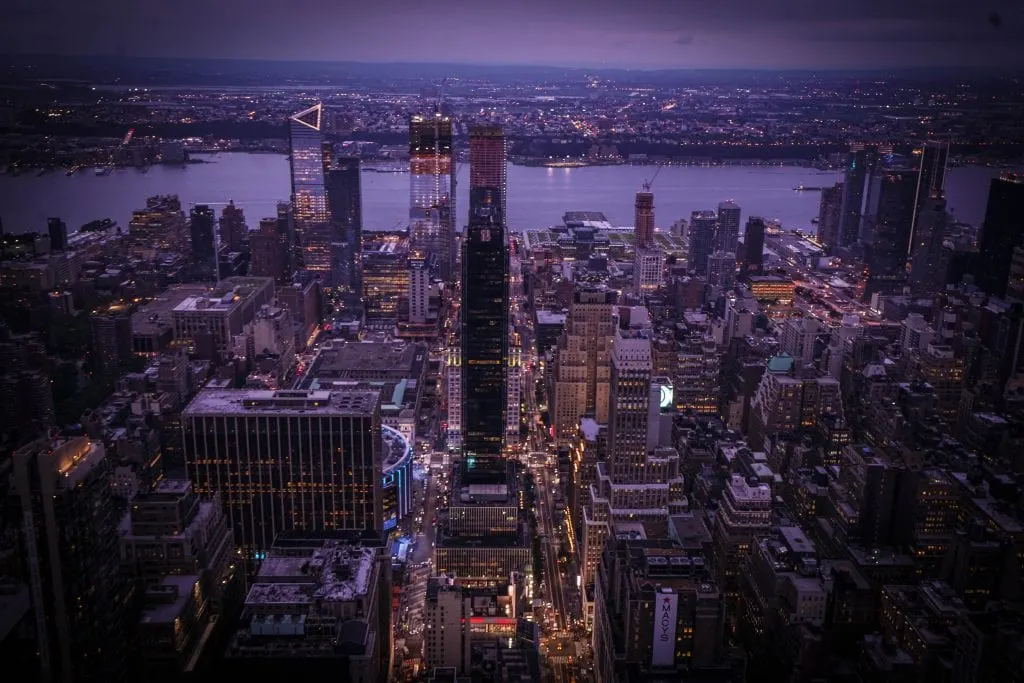 It doesn't get any more romantic than a horse and carriage ride weaving through Central Park. This has to rate as the most romantic place to bring your girlfriend in NYC.
This 45-minute tour is a magical experience meant to be shared. Think two miles of terraces and green fields, as your guide narrates your whereabouts.
As many Manhattan visitors have the idea to hail a carriage, you won't want to be stuck waiting around for one to free up. This opportunity allows you to select your preferred time slot so that you don't have to plan your date night around it.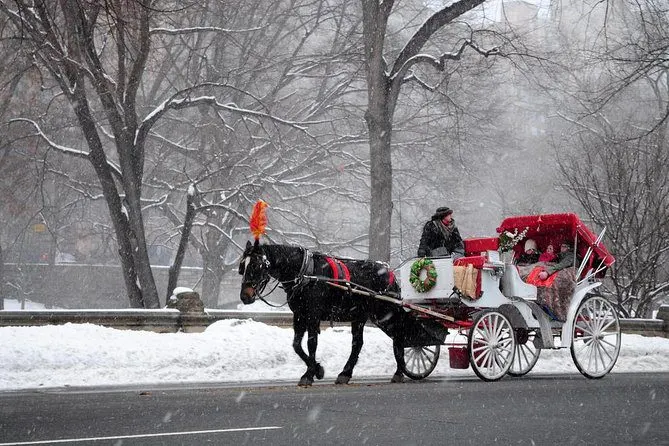 Want to feel like a character in a romance novel?
This park-side picnic would make a Nicholas Sparks book jealous. Fully set with pillows and blankets, this full-service picnic is swoon-worthy.
Surrounded by Central Park's most famous bridges and fountains, you can sample the best meats and cheeses New York City has to offer.
Simply upgrade to include a complimentary sparkling beverage. Cuddle up with your partner on a checkered blanket and live out the picnic date of your dreams.
One of the best things to do in NYC for an anniversary.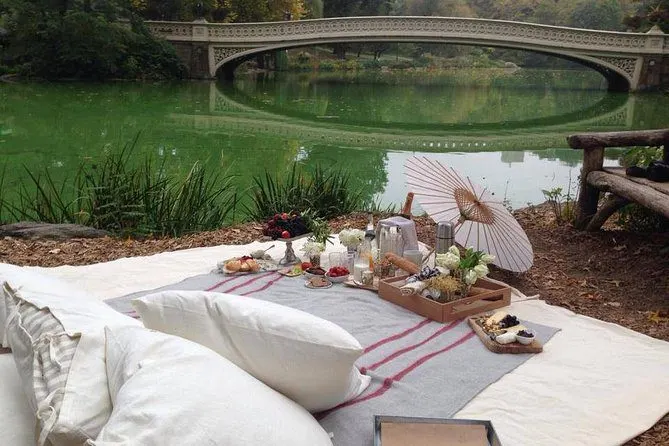 Or Hire a Row Boat
If you're not in the mood for a sit-down date, a rentable boat trip around Central Park Lake might be just the idea you've been looking for.
With your pick between a gondola and a rowboat, you're sure to find a vessel that suits your needs. Try going during sundown so that you can enjoy golden-hour from the pond.
This activity can be paired with a picnic or a stroll around the block. Your ideal romantic date could revolve around just a couple of blocks.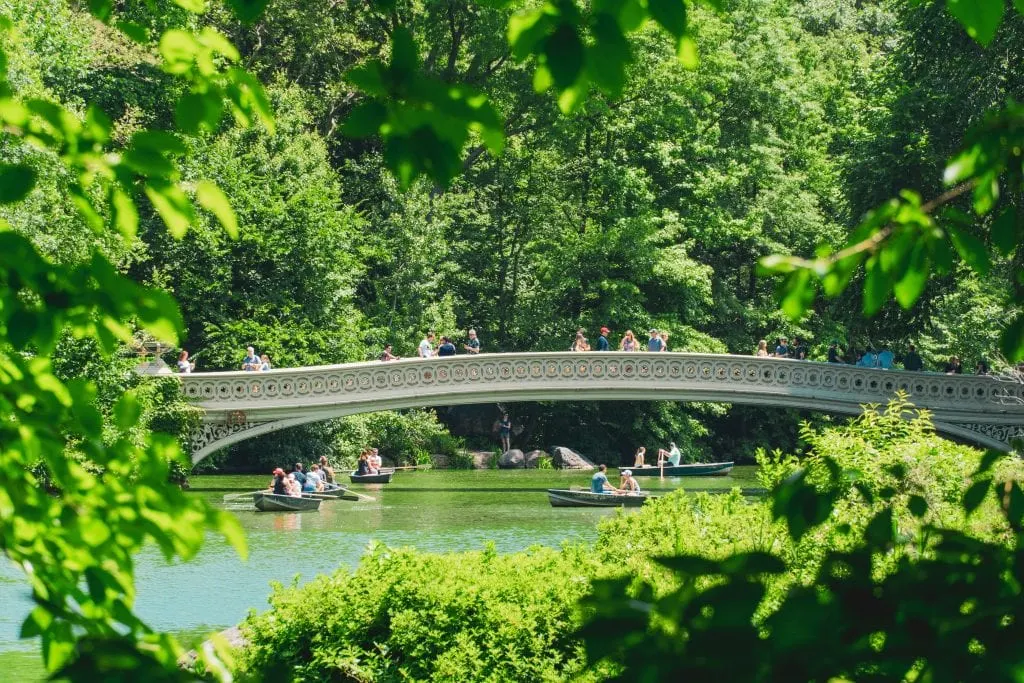 Let love take flight on this Manhattan sky tour. With a birds-eye view of the concrete jungle, you can expect breathtakingly beautiful moments packed back to back.
Seek discomfort as you and your loved one overcome a fear of heights. This safety ensured departure takes flight over all of the classic staples the city has to offer.
It's a view you can't get anywhere else. With photo opportunities and multiple departure times, this date activity has everything a New York lover could ask for.
It wouldn't be a night in New York without seeing a Broadway show! From The Book of Mormon to Mama Mia!, there's something out there for every kind of theatre go-er.
Cozy up in a plush red seat as you wait suspense-fully for a night of entertainment to begin.
With cocktails for purchase and a plethora of merchandise, the night will be easily commemorated. A stroll down the streets flooded with marquees will have show biz fanatics filled with flurries. Pas de bourree your way to a Broadway show for your next date night!
The Phantom of the Opera is one of our personal favs.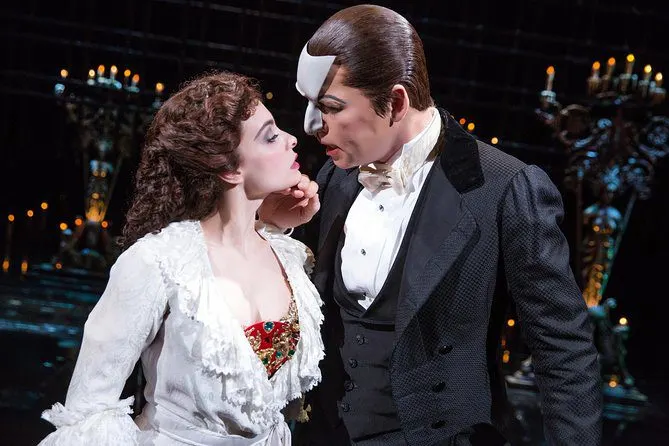 This New York City staple seems self-explanatory, but it's far from overdone.
There's truly nothing like being a part of the hustle and bustle around Time Square as the TV screens flicker and shine colors on adjacent walls. Listen to the sounds of the Naked Cowboy strum his guitar and the shuffle of feet headed for the subway as you soak in life in the Big Apple.
Aside from getting your steps in, you'll feel like a true New Yorker when you gear your chin up toward such a quintessential view. Why not share that feeling with someone you love?
We would recommend a walking tour of the area.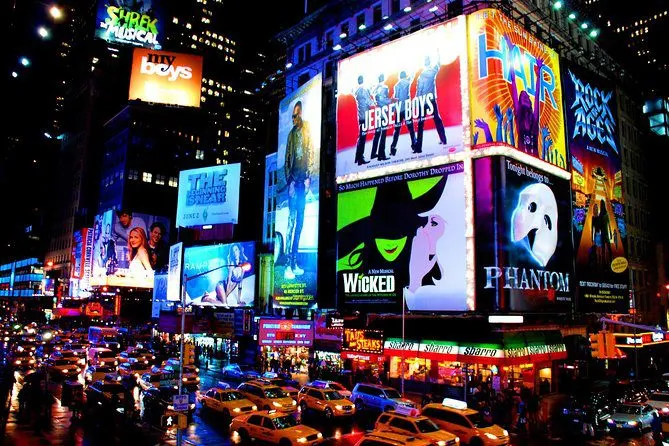 Experience public art as you jaunt down The High Line park.
Built above a freight rail line, this West Side Manhattan space is free to all and filled with plenty to keep you busy. Fully equipped with many food and beverage establishments, their sustainable options will have you savoring every last bite.
Once you've got your hunger quenched, explore the history of the park. Packed full of beautiful architecture, there's so much for your seeing pleasure.
With its stadium seating and many public spaces, this could be your new go-to date spot for a brunch with a view.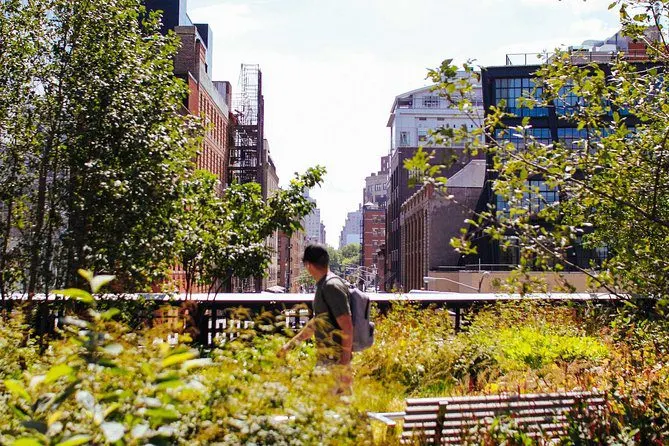 The Bronx Zoo suggests you "Discover Your Wild Side," at their fantastic wildlife park. One of the best things to do for couples in NYC.
It's not just a place for families, as a date night full of animals and adventure appeals to many. Encounter wildlife, ride a camel, or even feed the penguins!
There's an adventure around every corner. Put a pep in your step as you walk alongside your beau through the butterfly exhibit.
The colorful wings of a Painted Lady Butterfly may even graze your hair during this fully immersive experience.
Heres a ticket you can buy in advance.
Picture this: You've placed an envelope on the table. Inside are two tickets to the New York City Ballet and a note that reads, "The first stop on a night of dancing."
Your significant other is brimming with excitement at the suspense. What will the evening look like? Romantic, that's for sure.
You stop by the Ballet for prosecco and fine arts. The scene inspires you to put your own moves to the test. Afterward, decide against a sit-down dinner and hit the streets for live music and some swing dancing.
You did it. You've accomplished the perfect surprise date night.
You know it, we all love it. It's the Grand Central Terminal in Midtown Manhattan.
This high ceiling hub is home to not only transportation, but shopping and dining as well.
On the way to a dinner reservation, plan a visit to the dazzling station. You'll find yourself appreciating it's grand architecture.
Better yet, tell your companion to find you at Grand Central. There you'll be standing holding a bouquet of flowers (there are plenty you can purchase in the terminal). Because, who doesn't want to feel like they're in a movie scene?
This stopover seemingly makes any occasion a momentous one.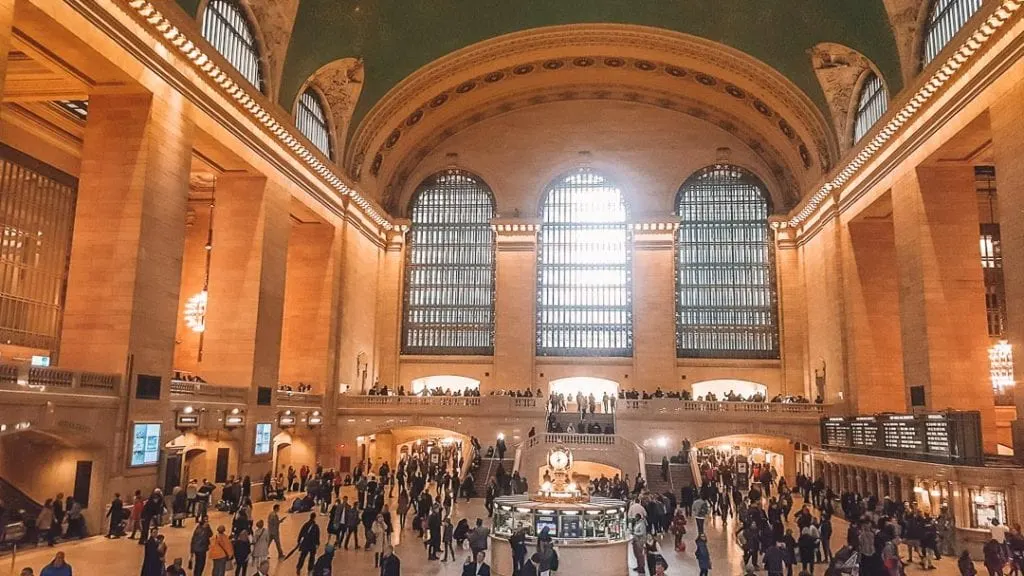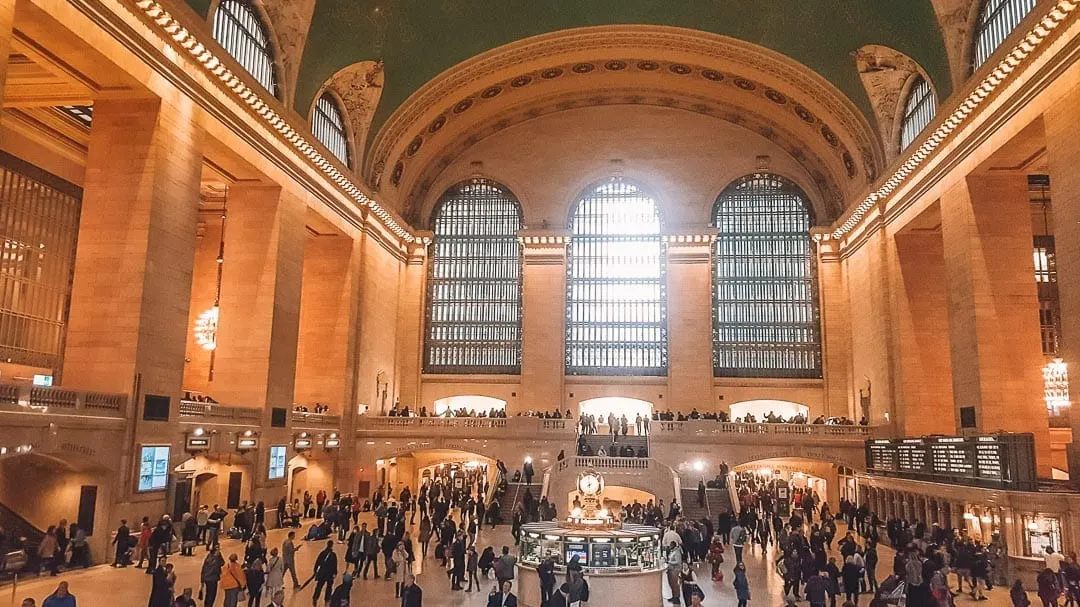 Eat at a Michelin Star Restaurant
The highly regarded Michelin Guide features the most exquisite dining locations in New York City. Eating is defs one of the best couple activities in NYC – I'm sure we can agree on that!
Those with a taste for the finer things in life will adore a reservation at any of their recommended restaurants.
From casual to lavish, the guide covers a plethora of culinary establishments. Some names featured in the 2023 guide are Le Bernardin, Aquavit, and Momofuku Ko.
Dinner at a Michelin Star restaurant means an unforgettable round-up for dishes. Don't spend time looking up romantic restaurants on yelp, these spots guaranteed to hypnotize your taste buds. And we all know a marvelous meal is the pinnacle of romance.
Shop the Diamond District
It's true, diamonds really are a girl's best friend. Want to see a sparkle in her eyes? Take her on a date night through the Diamond district in.
Nestled between Fifth Avenue and Sixth Avenue is a street of gleaming gems and romance.
The illuminated shops are filled with lovers buying jewelry. Centered around passion, diamonds bring visions of happily ever after.
Surround yourself with people that are just as head over heels as you are! Even if you're only window shopping, the twinkling display cases will spark infatuation.
A late night stroll through the notable district could be just the recipe you need for romance.
The Bronx garden Wave Hill overlooks the Hudson River and cliffs of Palisades. Definitely one of the most romantic places in NYC.
For 28-acres, you and your sweetheart can drift between greenhouses and linger in meadows of blooms.
With many events, art exhibits, concerts and programs, there's never a dull evening at Wave Hill. Admission is free on Tuesdays and Saturdays from 9-12, so jump over for free and gear up for a delightful brunch.
With lawns so stunning and flowers you've never laid eyes on, you'll want to spend a few more hours enjoying this tranquil terrace.
Book buffs and history lovers unite in this dazzling display of art. The American Museum of Natural History is home to the Hayden Planetarium.
It's not your first thought when you think a charming evening out, but it's surely one you won't forget.
Fully equipped with a surround sound space theatre, the planetarium performs a show of hyper realistic planets and stars. Point out more than just the big dipper after this evening affair.
You'll be visually satisfied after engaging with the cosmos in their Worlds Beyond Earth showing. Maybe you'll even sneak a kiss under the cloak of constellations!
365 days a year you can enjoy the Socrates Sculpture Park, free of charge.
Spend quality time with your loved ones without breaking your bank at this museum-esque park.
The vast amount of visual art will keep you on your toes as you jump from exhibits. If arts, events, and education are your preference, their seasonal calendar is full of dates to tickle your fancy.
From yoga in the park, to sculpture workshops on foraged forest creatures, you'll never be bored spending a day at this unique New York esplanade.
Explore The Cloisters
Brought to you by the Metropolitan Museum of Art, this branch is entirely devoted to medieval Europe.
With over 2,000 art pieces to enjoy, from illuminated manuscripts, to stained glass, The Cloisters is the perfect place to enjoy a quiet day with your loved one. Your eyes are sure to be dazzled once you walk through the elaborate roman-esque doorways.
This Washington Heights locale hosts a plethora of exciting events for a special evening. Oftentimes they feature string quartets and outdoor concerts if you're looking for a reason to visit.
Enjoy Cocktails at a Rooftop Bar
The Manhattan skyline. It's romantic, it's awe inspiring, and it's the setting for your next gin and tonic.
Cheers a glass as you stare out into the vast concrete jungle. Silence won't be a bad thing when your date is speechless at the view!
The best rooftop bars in NYC can be found across a number of neighborhoods, but here are just a few to get your gears churning: The Fleur Room in Moxy Chelsea, Jimmy at the James New York, and A.R.T SoHo over the Hudson River.
You can't go wrong with cocktails and an architectural spectacle.
A date at Sunshine Laundromat won't be filled with spin cycles and detergent, but rather the secret speakeasy home to amazing beer and an unforgettable experience.
This revamped laundromat has pinball and prosecco. Open the back door for an enchanting entrance you just can't get anywhere else.
If you're looking to stick to Manhattan, try visiting The Back Room or Angel's Share for a prohibition-esque vibe. The hideaway establishments elevate a simple drink into an evening experience.
Bring your date to a speakeasy, so long as you're okay with them being hypnotized by your creativity and romance.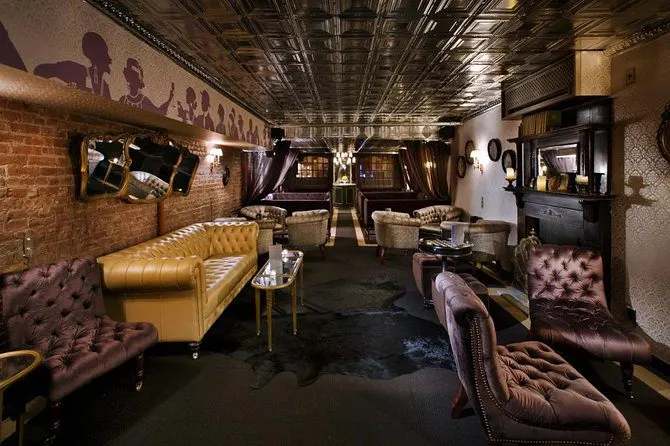 Go Wine Tasting in Long Island or Hudson Valley
Red wine and romance. Could you name a better duo? For centuries, we've been sipping champagne in celebration, and swirling Merlot across from a romantic pursuit.
In New York, the best places to indulge in a pink, red, or white is in Long Island or Hudson Valley. The Warwick Valley in Hudson and the Mattituck New York Farm in Long Island are your best bet.
With options to bike down the vineyard or simply sit and enjoy appetizers, a twilight wine tasting will make for an unforgettable evening of romance and vino.
Definitely one of the best date ideas in Long Island!
This name really speaks for itself.
The intrigue of a museum dedicated entirely toward sex and love is without a doubt a means of making sparks fly.
For your next passionate evening, tag along for a guided tour of the museum.
With constantly changing exhibitions ranging from the origins of pornographic film to an erotic carnival, you won't find yourself bored while you enjoy one of these galleries.
Located on Fifth Avenue, this afternoon delight could easily be added as a stop on a day long date. You won't want to miss their selection of toys and souvenirs!
Or the MET (Metropolitan Museum of Art)
This isn't just a spot for eating yogurt on the steps!
The Metropolitan Museum of Art is filled with beautiful accounts of history for your viewing pleasure. This iconic museum truly has it all with guided tours, festivals, and a sweet cafe.
You don't have to be an art curator to appreciate these exhibits. Their range of styles cover abstract, to contemporary.
With locations in 5th Avenue and Breuer, for the price of one ticket, you've covered for hours and hours of exploration. Book a date night at the museum for a classic evening out.
Go Ice Skating in Winter
Smooth ice and hot chocolate are in your near future if you opt to go gliding hand in hand on the Wollman Rink. One of the best romantic things to do in NYC in winter.
Opened in 1950, this staple of New York is practically out of a postcard. Test your axles or hang on to the railings as your complete circles on the crisp frozen ground.
The spectacular skyline view will be dusted in snow if you chose to visit during the winter months. Whoever said New York wasn't enjoyable in the winter!
You'll want to put a day at Wollman to the top of your list if you're lucky enough to experience the city while snowflakes flutter by.
Meet your favorite celebrities, sporting icons, and politicians . . . in wax form! Madame Tussauds is home to five floors of famous names and faces. A fun romantic date in NYC.
You're guaranteed to spot a noteworthy star during this self-guided tour!
If enjoying interactive experiences at your own pace is your fancy, then this is the museum for you. Giggle at the wax figures with your sweetheart as your dart between exhibits.
A goofy selfie with a politician is a great ice breaker before committing to a sit down dinner. You'll want to make Madame Tussauds a stop on your evening's itinerary.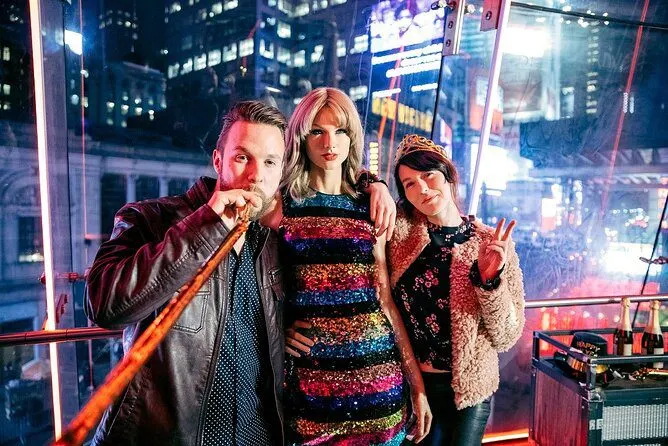 Head to the water without breaking your bank on this sightseeing cruise.
Featuring views of the East River Pier, the New York Harbor, and more, there's not a bad seat in the house. You'll be turning every which way to experience all the unforgettable sights.
The best part? Seeing Ellis Island, the Statue of Liberty, and the Brooklyn Bridge all in one go. Check off a bucket-list item with your beau as you float along the shore.
Your guide is fully equipped and ready to point out all the staple sights as you pass by.
You might also like to see our guide to the best views of the statute of liberty. You might want to caption your trip with one of these statue of liberty quotes!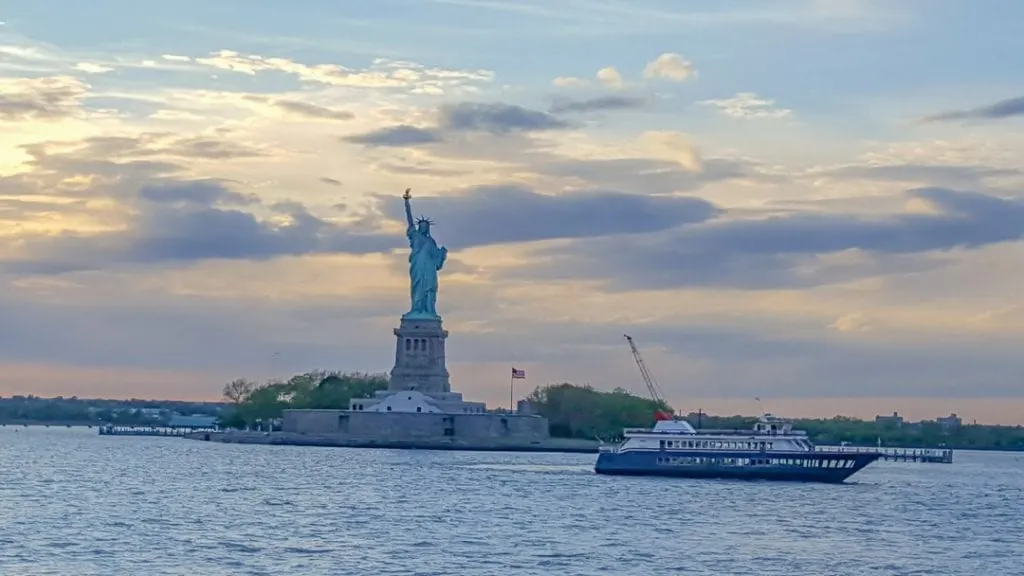 The 9/11 Memorial, One World Observatory, paints a lesser-known picture of such a prominent event in history.
Get a look at the monuments in place as a remembrance to the Twin Towers.
A guide is there to give you all the information you can absorb, while still leaving time for your dinner reservation after.
With guaranteed admission, you won't waste your night in line waiting to secure a spot.
Experience history alongside an expert for a night of learning and observing. This impactful date is the perfect shared experience.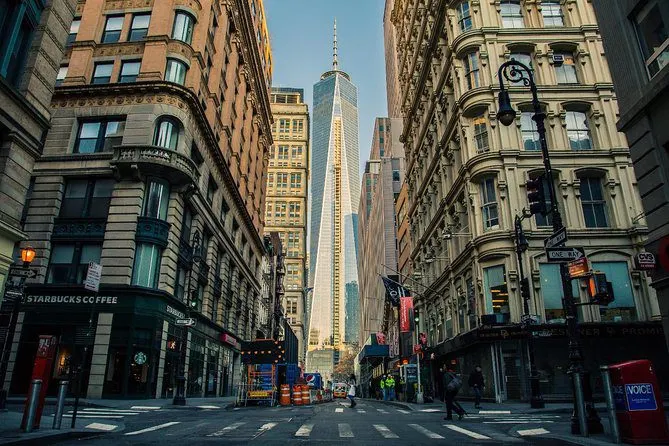 Explore some of the best coffee shops
There are some really great coffee shops to enjoy (outside of Starbucks) in NYC. We are a big fan of visiting a coffee shop, especially as a fun rainy day date idea!
If you want a suggestion as to where to go, Long Island City is a great area of NY to check out for good and reasonably priced coffee shops. If you are interested to go, here is a list of our 7 fav coffee shops in Long Island City.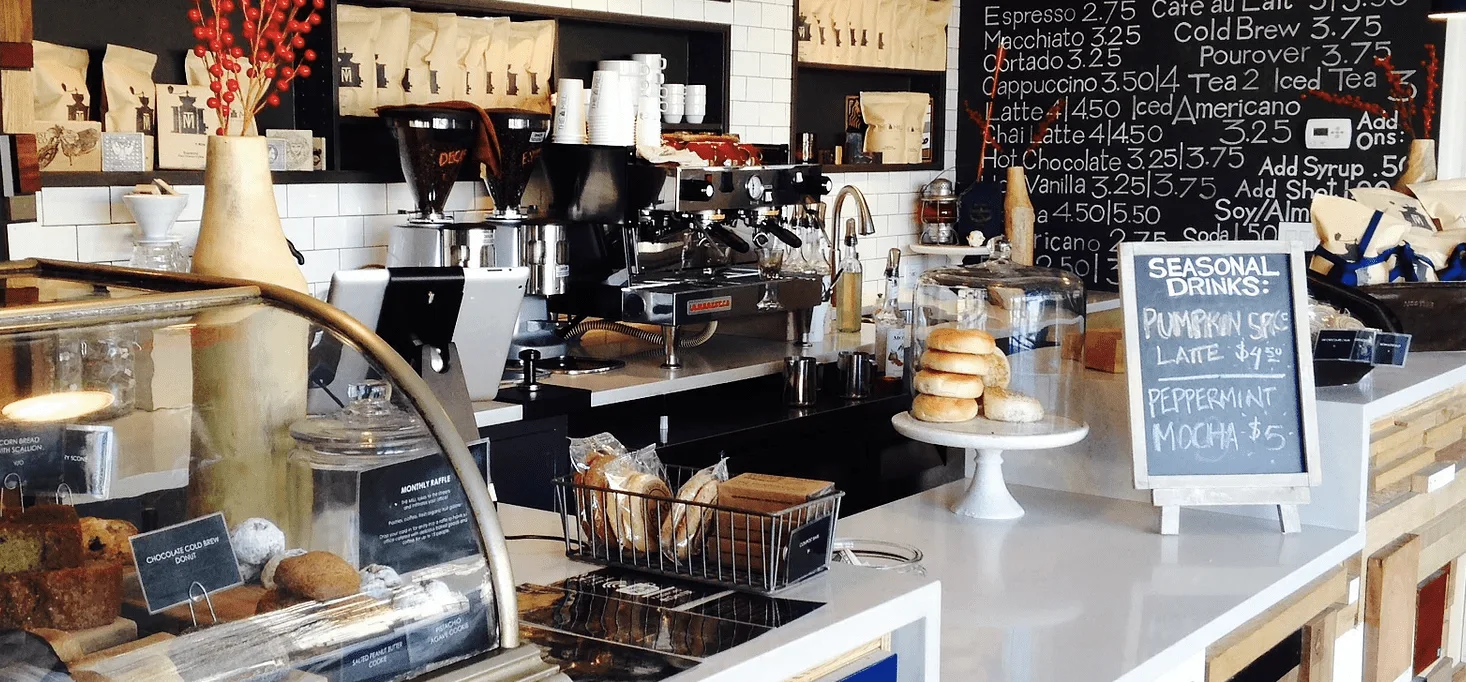 ***
Don't forget to caption your trip with one of these New York Quotes!
Already planning your next romantic getaway?
You might like to consider these cities (some of the most romantic in the world!):
Or you might even like to go on a road trip from New York to Niagara falls (you might even like to check out the nearby town of Buffalo)!
Save to Pinterest: Romantic Dates NYC