Looking for romantic things to do in Oklahoma City?
Being one of the best places in the USA for a romantic getaway, it is the perfect place to go for an adventurous couple who loves activity.
Whether you are a local looking for epic date ideas in OKC or are a tourist coming to explore the city some more – this list has it all. From tours to restaurants to visit in Oklahoma City at night to parks to hike all day, we have done the hard work for you and found the absolute best couple things to do in OKC.
50+ Fun Things to do in OKC for Couples
See a Show
The Loony Bin – Reserving a seat at a comedy club is kind of like asking for trouble—the good kind—the kind where you get plastered, have some laughs, and eat some great food. You know it's going to be a raunchy night, especially with their one drink minimum and all of the dirty jokes flying around. Don't expect to hear crickets.
These guys are known for bringing in some of the hottest comics in the nation, as well as some regional and local talent—but always the best. You even get a chance to meet the comic after the show in their pool room.
OKC Improv – This isn't a comedy club; it's a comedy theater, where you'll find storylines, games, props and unscripted jokes—a different show every night, and it's all made up on the spot. OKC Improv does focus on regional and local talent, but they're trained, and many of them go on to be instructors at the club's workshops and classes.
They know what they're doing. The club includes a lounge with games on the walls, a cash-only bar serving wine and beer, and a full menu of snacks and entrees that you can eat while enjoying the show.
The Boom
This is a different kind of dinner show, but it's one that OKC is quite familiar with. Ever since 1908, when a man came on the stage dressed as a woman in the Lyric Theater, Oklahoma City has been home to a historic, thriving drag scene that would put most of the country's largest cities to shame.
Even New York can't compete, and there's a reason why drag is so popular. It's not just for the LGBT crowd. The art combines illusion, slapstick, fashion and parody, along with dance and musical talent—even standup—creating a mix of refinement and side-splitting laughter. They have a large menu of food items, some of the best cocktails in OKC, and they host regular events. There's trivia, gospel brunch, drag bingo and karaoke.
Romantic Things to do in Oklahoma City
Sandridge Sky Trail
The Sandridge Sky Trail is the tallest adventure course in the world. An adventure course is basically a structure that you can climb with multiple obstacles and activities. There's a rope bridges, a giant 72-foot slide and even a zipline. That's right; just you, a harness and a metal cord. You'll go careening across the river, shrieking the entire time. It's exhilarating, terrifying, and memorable.
You can also freefall using the Rumble Drop, a simulated skydiving experience, where you will fall through 80 feet of thin air before a safety harness catches you. It's beyond terrifying, but it is safe, and it's definitely something that should go on your bucket list.
Full Moon Kayak
Setup to be both romantic and exciting, this kayaking excursion begins at the Lake Overholser Boathouse, where you and your date will arrive at sunset and paddle through the lake just as the full moon is beginning to rise.
Obviously, this can't be done every night, but if you plan in advance and reserve your tickets, you won't regret the result.
One of the best things to do in Oklahoma City for Valentine's day.
Mansions and Marvels of Oklahoma City Tour
The historic sites of Oklahoma are numerous, exotic and beautiful. Their architecture can range from the mystical to the bizarre.
Many of them date back to the turn of the century, so if you take a tour, you'll have a chance to see some amazing sights. You'll also be given VIP access to some of the homes of the city's leaders and founders.
Romantic Restaurants in OKC
S&B's Burger Joint
Sometimes it's better to go with a quick classic like burgers and fries, or a giant basket of tater tots covered in every single one of the seven deadly sins. It might not be elegant, or even pretty, but letting loose has its appeal. S&B's Burger Joint has all of the gluttony and blasphemous trans-fats you could ever want—enough to give you a heart attack.
There's pizza, milkshakes, nachos, tater tots done every which way, and cheap beer—lots and lots of cheap beer. They really outdid themselves, and you would too if you paid a visit. It's not a cheap smorgasbord, either.
Their prices are great, and their ingredients are high quality. You'll get aioli instead of mayonnaise and their burgers come with toppings like coffee, peanut butter and sea salt. Some of it's a little strange, but it all comes together in a way that you'd never expect.
Bar Cicchetti
Tapas are perfect for dates. You get a craft cocktail, maybe a bloody mary or a margarita and pick at something small and pretty. It's a good way to bring the focus back to the conversation instead of the food, though that might not be so easy once you see what you're being served.
Bar Cichetti's creations are Mediterranean influenced works of art, combining color, design and taste to create a tantalizing experience. They also serve full entrees, which are expensive, but they're worth the cost.
Their lamb comes resting on a bed of truffle polenta, and their bouillabaisse is infused with saffron—all served in a setting where you can sit at the bar, bring in a giant party for one of their communal tables or have a quiet dinner in their loft.
The Press
The Press is an eccentric establishment to say the least. The building is exposed brick, reminiscent of a warehouse. There's an outdoor seating area with picnic tables and lights strung from poles. The front door is bright green, and the counter has hotel lamps on either end. It doesn't make any sense, but it comes together nicely, and the result is the same modern ambience you'd expect from most restaurants nowadays.
The food is southern comfort, redesigned and modified to enhance the characteristic gluttony found in the regional cuisine. Instead of a chicken-friend round steak, you'll get a chicken-fried ribeye. Their mashed potatoes come in a bowl topped with chicken tenders and country gravy. You won't be served a heart-healthy meal, but you will walk out with a full stomach and a sense of satisfaction.
Black Walnut
Black Walnut is what you would call business casual; it's suit, but not the tie. It has high tables, like the kind you'd find in coffee shops, only instead of fold-up advertisements and leftover newspapers, there are wine glasses and place settings. There's a full bar, an open kitchen, and a sense business about the place.
The menu is based on your mood, rather than your course. There's sweet and savory, containing many of the restaurant's appetizers; fresh and light, filled with salads and smaller appetizers; smokey and satisfying, decked out with slabs of roasted meat, and casual and comforting, for more filling dishes.
The dishes themselves are topnotch, elegantly plated creations, many of which you'd expect to find in fine-dining restaurants. You'll find roasted quail, honey lavendar chicken, goat cheese appetizers and soft-poached eggs. This isn't a burger and fries type of joint, but it is casual enough that you won't look out of place walking in wearing a t-shirt and jeans.
One of the most fun things to do in OKC for couples.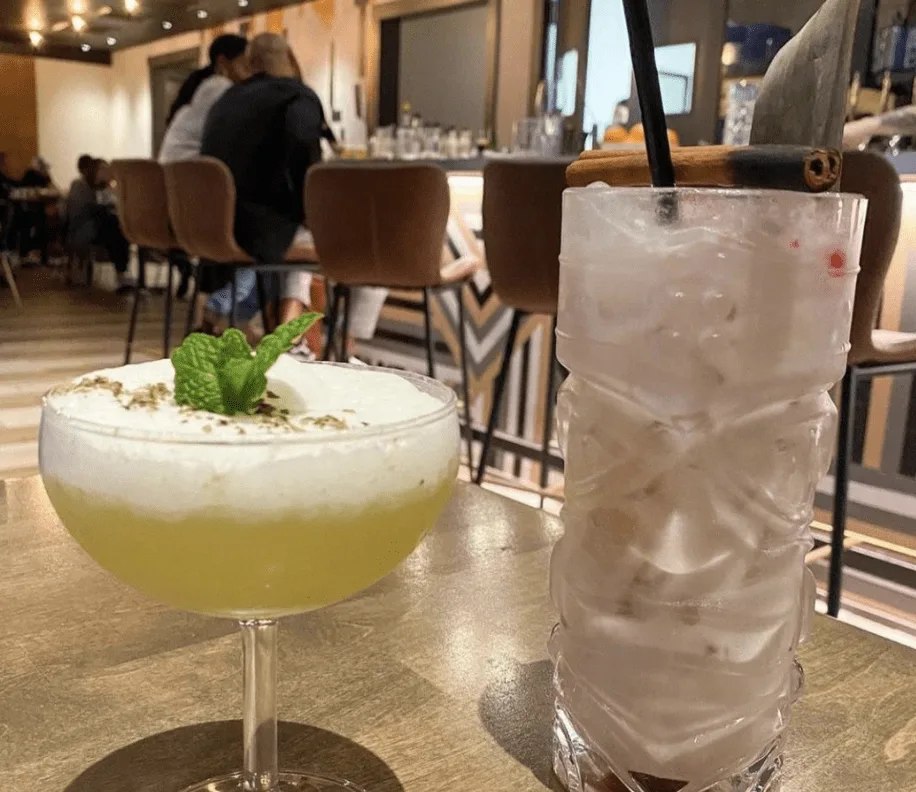 Romantic Bars in Oklahoma City
Sidecar Barley & Wine Bar
Located inside the historic Pontiac building—a 1920s car dealership—Sidecar Barley & Wine Bar is a unique, well-designed space, serving craft cocktails, a large selection of beers and wine. It's a unique setting, with a small indoor area and a long patio.
They have a stone firepit stretching the length of the outdoor space, walled off with glass. It's kind of like walking out onto a boat deck, or a private pool club in California, only you can look out at that famous OKC view.
Whiskey Chicks
Whiskey Chicks is housed in the oldest building in Bricktown, the Wells Fargo building, and it still retains the old brick walls in the interior. There's a vintage chandelier when you first walk inside and a backbar that dates back to the 1930s. There's a full menu, and their kitchen stays open late, so when you've had enough, and you're getting hungry, there's always something to order.
Their main claim to fame is their whiskey list, with samples from around the world. They also host regular music shows, so if you're looking to dance or chill and listen to some good music, this bar is the perfect place.
Blue Note Lounge
A sultry black singer, bathed in blue, two lovers embracing on the dance floor of a jazz club. It's a cliché—a beautiful one, but a cliché nonetheless, and it's one that comes along with a name: the Blue Note. Everyone has heard of the Blue Note, or at least one of its many incarnations.
The most famous of which is located in Greenwich Village New York, and it remains the city's most expensive and well-known jazz clubs, but the Blue Note in Oklahoma City is much older.
It was erected in 1961, when its neon sign was first turned on, beckoning to drivers on route 66 to come in, have a drink and enjoy a taste of local music. Today the bar works hard to carry on that tradition, bringing in new talent and refining classic drinks. It's a great place to let another good cliché come to life: love.
Power House
Agriculture and ranching are central to Oklahoma City. In fact, 80 percent of Oklahoma is made up of farmland, which is why supporting the local farming community is so important to Power House.
Nearly everything they use—from their distilled spirits to their beers and produce—comes directly from that community. Much of it purchased from the farmer's market district where the bar is located.
Coffee Shops in Oklahoma City
Eote – This coffee shop continually gets good ratings in the Oklahoma City coffee scene and for good reason – it has damn good coffee. The owners are passionate about providing their customers with a good cup. Eote stands for "ends of the Earth" which is how far the store will go to find and offer the most delicious coffee!
Coffee Slingers – A very popular coffee shop in Oklahoma city known for roasting their own beans which they source directly from Latin America. Don't miss the blue lotus chai at Coffee Slingers!
****
Wanna just stay in? You could always just cuddle up at home and whip up some yummy Oklahoma fried pies!
See more: