Looking for romantic things to do in Paris for Couples?
The saying certainly rings true – Paris is always a good idea! Especially for Couples! Sure, you might think of the eiffel tower when you first think of Paris but there are so many other romantic places in Paris! Absolutely perfect for a romantic proposal or honeymoon. Paris is of course no doubt one of the best places in the world to get engaged.
If you're married you can even renew your wedding vows in Paris which would be pretty darn special.
Tip: To save money, it is highly recommended to buy the Paris Pass while in Paris. To really make the most out of your trip to Paris you really want to go into places. That's why this pass is even better value than most other cities.
Romantic Things to do in Paris for couples: Other Than the Eiffel Tower!
Here we count down our top 10 most romantic places in Paris for couples.
The Eiffel Tower
Okay, I lied, let's make that 11 most romantic things to do in Paris. You definitely can't go on a couples trip to Paris and miss the iconic eiffel tower. You probably knew that.
Not only is the Eiffel Tower one of the most romantic spots in Paris – it is one of the most romantic places in the world!
BUT you may not know this. If you want to miss the crowds and get some epic photos, the best time to visit the eiffel tower is early morning at sunrise. The best place for stunning shots is Trocadero. If you want the visit to be a little more romantic, you might like to visit at night – the tower lights up and becomes insanely romantic at night.
While tacking a ride to the top of the tower is expensive, it is one of those bucket list things you must can't miss, especially if you are on a honeymoon, anniversary or even a romantic getaway.
The lines can be soo sooo long at the eiffel tower and I mean LONG. That's why it is always best to buy a ticket with a skip the line aspect.
Go to a Romantic Restaurant in Paris
Paris has some very romantic restaurants as one would expect. We would highly recommend the Penninsula Paris for the best lunch with a view in Paris. This picture is taken at the top restaurant in the Penninsula. The other restaurants in the Penninsula are equally as fabulous. We enjoyed an amazing lunch at Le Lobby Restaurant.
This is our fav but if it doesn't tickle your pickle don't despair as there are SO many other romantic restaurants in Paris. Here are some others:
If you particularly want a restaurant nearby the eiffel tower two spring to mind: Le 58 Tour Eiffel and Le Jules Verne. As you are on a romantic trip to Paris, you will want to head straight to the second floor and dine at Le Jules Verne – it is a first class restaurant and something to talk about with your friends and family for years to come. Not only does the restaurant have great views of Paris but the food is to die for.
One of the other big benefits of Le Jules Verne restaurant is you are able to skip the lines of the eiffel tower. This restaurant is so special is actually comes with private entrance to the eiffel tower so you don't even need to book a ticket. That's not to say this restaurant isn't super pricey so it's definitely something you do on a special occasion or maybe a proposal in Paris 😉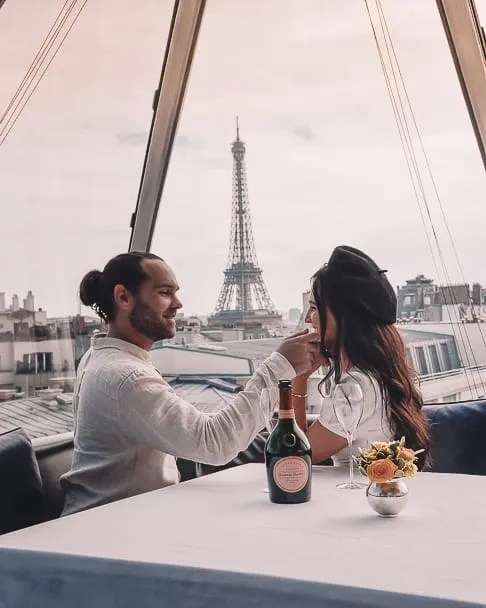 The Lourve
Maybe it's just me but I've always felt the Lourve is a very romantic spot in Paris.
I have to admit, I'm not that big on museums but the Lourve is always a museum exception for me. It is just so interesting. It is one of those places that I could literally visit every-time I go to Paris and never be bored.
Like the Eiffel Tower, the Lourve is really busy. We lined up outside on a very cold winters day one year and half froze. Don't be like us. I would highly highly recommend buying the skip the line pass. If you are visiting in winter, I would recommend the pass even more so!
I would also highly recommend one of 2 things: either an audio guide or hiring a tour guide. We got the audio guides. I don't think I would have enjoyed the Lourve quite so much if I didn't have any information.
Here are some guided options:
Feast on chocolate at Angelina's Chocolate Restaurant
There are some things the French are just mighty good at and one of those things is chocolate!
One of our favourite places to go in Paris is Angelina's chocolate restaurant. It is seriously oh soooo good! And ohh sooo romantic! Inside too is absolutely magnificent so it is the perfect place for a date idea in Paris.
We would recommend ordering the hot chocolate! The thick thick chocolate signature mixture of Angelinas is seriously to die for.
Other fun and chocolate focused date ideas in Paris include: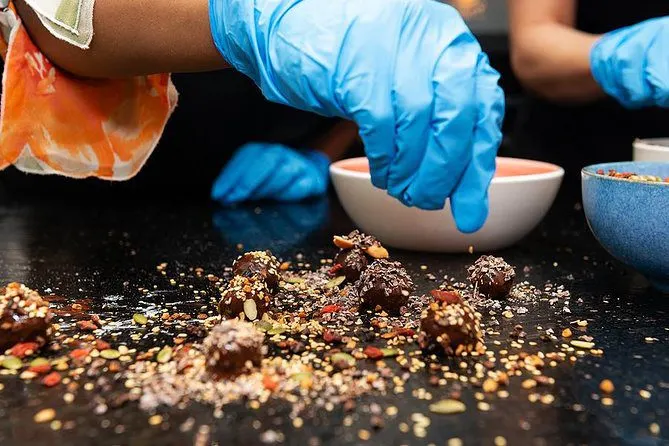 Explore Paris by Vespa
Genuinely one of the best experiences we have had in Paris is exploring Paris by vintage scooter.
The great thing about renting a scooter is that it is so much faster to get around and see more of Paris than by foot. Even the metro takes a stupidly long time. The best part about renting a scooter in Paris is that it is a relatively affordable Paris date option but also so iconic that it's a winner.
Here are some scooter hire options so you can zip around Paris with your SO in style:
Stroll or Boat the Seine River
The Seine is a very beautiful river. We rate it as one of the most beautiful rivers in the world. This makes it perfect for a romantic stroll with your SO.
Photo opportunities are everywhere you look along the Seine. We took the opportunity to take a cute little couple shot here. What's super fun about the Seine River is that it is not just another ordinary walk but there are plenty of interesting things to see as you walk along. If you want a great painting or piece of art, or a vintage book – there are a lot of street vendors to browse through.
If you prefer to travel by boat, which is equally as romantic, here are some of the best river cruises that you can book:
Go for a ride on a Paris Carousel
There are many beautiful carousels around Paris which provide a perfect spot for a Paris date idea. One of the most photographed carousels in Paris is found nearby the Eiffel tower.
One of our friends @awelltraveledpair has one of our favourite shots of a carousel at Montmartre.
Chartier French Restaurant: Best Romantic Things to do in Paris at Night
Everyone knows Paris is brimming with delicious food and some pretty strange food too (snails!!) It's always fun to do something quirky with your special someone.
How did the snail go down? I think my face says it all. By the way, the restaurant where I am eating this snail is pretty fantastic. It is called Chartier and we highly recommend it!
There is communal dining at the restaurant which we were a little apprehensive about at first. But we met a lovely couple from the US and had an amazing night.
Montmartre
Montmartre is one of the most beautiful buildings in the world. Therefore, little explanation is needed as to why this is a top spot for couples.
We have seen some beautiful shots taken here. Some of the best are taken in the stairs leading up to Montmartre. It should be noted that it is a tourist hot spot in Paris so it should be visited in late evening or early morning to avoid crowds.
Tip! It is the ideal place to go to watch the sunset. Bring some beer or wine with you for a DIY picnic.
If you prefer to explore Paris by tour, here are some of the best in the area:
Take A Trip To The Palace Of Versailles
One of the best things we ever did from Paris was take a trip to the Palace of Versailles – it is truly one of the most romantic places in the world.
The gardens of Versailles are also incredible and worth spending half a day in. Versailles is located around 1 hour outside of Paris so it is worthwhile to take a tour if you are planning to go. You can also visit Versailles by train. We have done this and regretted it as it involved a very long walk from the train station. Not recommended.
Notre Dame
Another beautiful building in Paris is the Notre Dame. This building always reminds me of the disney classic, the hunchback of Notre Dame. As you can see by the photo, this too is a very popular location so early morning or late afternoon are the perfect times for some quiet romance.
There is a lot of history behind Notre Dame, which makes it super interesting. For that reason, it is always a good idea to get a guide of the area. Here are some of the best:
Moulin Rouge
Going to the Moulin Rouge was seriously one of the best things we did in Paris. It is a little pricey but the show is 100% worthwhile. We would highly recommend it to anyone visiting Paris. Plus, if you are a fan of the movie like me, you definetely have to make a trip here.
I actually think it is one of the best things to do in Paris for couples. Putting aside the tacky sex appeal, we think the place is pretty romantic.
You have the choice of champagne only or also enjoying dinner. If you can afford it, I would highly recommend the dinner as it makes the experience that extra bit special. Here are some different options for you:
If you are a hipster or just someone who likes more alternative hidden gems, you might prefer to go to a lesser-known show while in Paris. One such show is the Lido de Paris which many actually think is better than the Moulin Rouge. Another option is Au Lapin Agile in the Montmartre district.
La Maison Rose
If you love all things pink, you cant go past the super cute La Maison Rose in Paris. I think this is one of the best places for a romantic proposal in Paris.
This super cute green & pink cafe is surrounded by gorgeous cobble stone streets. Ahhh so romantic!
Eat some eclairs at a French Bakery
French bakeries are THE BEST type of bakery. Let's fact it, it is practically cheating to take your date to a Paris bakery.
You really can't go wrong with where you buy an eclair from in Paris. Any old bakery will do! If you are a eclair super-fan, you might also like to add some of these eclair tours to your Paris trip:
Get a Photoshoot in Paris
Paris is such a photogenic location, perfect for the gram. If you want to get some nice professional photos of the two of you done, this is a great place to do it!
The great part about it is Paris Photoshoots are surprising cheap, making them a well worthwhile activity in Paris. Most photoshoots are done at the eiffel tower. The best time to request your photos to be done is early morning.
Romantic Places to Stay in Paris
If you are going to have a romantic getaway to Paris, you simply have to stay somewhere super romantic while you are there – it's a must. Here are our selections of romantic places to stay in Paris according to budget:
This hotel is literally the epitome of romance and luxury in Paris. If you want to make your girl feel like a princess, you NEED to book a stay here. From the moment you get out of your taxi you seriously feel like royalty.
We just went for lunch here and that was enough to convince me that I need to stay here on my next trip to Paris. Put it this way – this hotel is worth every penny of the splurge.
If you do decide to stay here, it is a must to dine at one of their amazing restaurants. The food (and the view) is totally worth it.
Luxury: InterContinental Paris – Le Grand
Another great place to stay for a little luxury in Paris is the InterContinental Paris.
Whats cool about this hotel is it is a very old and well respected hotel in Paris, which opened during the reign of Napoleon III. It is also located in a great position for exploring Paris, across the street from the Opéra Garnier, close to some of the best-known Parisian attractions, world-famous department stores and the wonderful Place Vendôme.
Mid Range: Hotel Belloy Saint-Germain
We have stayed at Hotel Belloy during one of our trips to Paris and would totally recommend it to couples visiting Paris.
This hotel is very comfortable so you won't be disappointed at all. It is nice enough for a honeymoon to Paris without having to shell out a small fortune.
Hotel Belloy has a total of 50 absolutely stunning rooms at the hotel. These include a variety of rooms and suites to meet different budgets.
We were stayed in a beautiful suite room with a large lounge suite, a plush double bed and two balconies overlooking the quaint streets of Saint Germain. We would highly recommend staying in Saint Germain, it is without doubt one of the best areas to stay in Paris.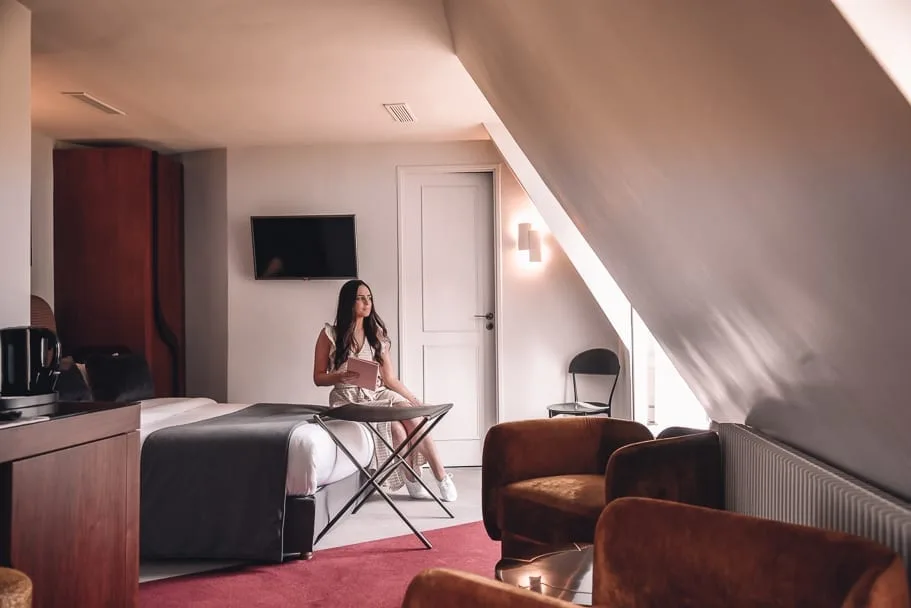 Mid Range: Hotel Saint Paul Paris
Another place we have stayed in Paris is the Hotel Saint Paul Rive Gauche The rooms at Hotel Saint Paul Rive Gauche are so picture perfect so basically ideal for a romantic stay in Paris. They have a very elegant Parisian vibe.
If you prefer B&B's this is a better hotel for you with only 31 rooms. They have carefully paired the hotel's stunning wooden beamed ceilings with bright flower material wallpaper. The rooms also feature stunning custom-made oak furniture and Haute Epoque style seating.
We learnt while staying at the hotel that the beautiful floral 'wallpaper' is not in fact paper but high quality material. Opps! Each room has a unique colour scheme and the blinds are selected carefully to match the wallpaper.
We stayed in the hotel's Superior Double Room. It was very spacious at 18 sqm and absolutely perfect for a romantic getaway in Paris.
The rooms have a work desk,a flat screen satellite television, a balcony and a large bathroom. One feature of the rooms that particularly impressed us was that room featured a Samsung mobile phone. We loved this concept! This meant that guests can make complimentary calls home and use free mobile data all over the city! The feature was super handy for us while in Paris.
One thing we love about Paris hotels are the amazing balconies! Our room at Hotel Saint Paul Rive Gauche featured not one but two stunning Juliette balconies. Balconies in Paris hotels give a very romantic vibe to the room. They also let a lot of natural light in, creating a warm and happy atmosphere.
Another good thing about this hotel is it has a great breakfast! It was one of the best breakfasts we have experienced in Europe. While it was not a huge buffet, the food on the buffet was of a very high quality including high quality cheeses, meats and pate. The bread and croissants is actually made fresh daily on premises.
The hotel is located in the very cozy suburb of Saint Germain. Very quaint restaurants and coffee shops line the streets. It is a great position to see the Pantheon. It is also in walking distance of Notre Dame and the Jardin de Luxembourg.
Budget romantic hotel Paris: Hotel Darcet
If you can help it, I would recommend one of the other three hotels if you are on a romantic getaway to Paris as it will be a much nicer experience with all the creature comforts.
That being said, sometimes, when you want to go on a longer European vacation you simply just need to conserve the cash! I get it.
Hotel Darcet is a good choice for couples on a budget in Paris who still want somewhere comfortable to stay. It is clean and modern and consistently gets high reviews. It is also extremely affordable at only around 100 Euros a night.
The hotel is located in the Batignolles district at the foot of Montmartre, within walking distance of the Champs Elysees and the Louvre.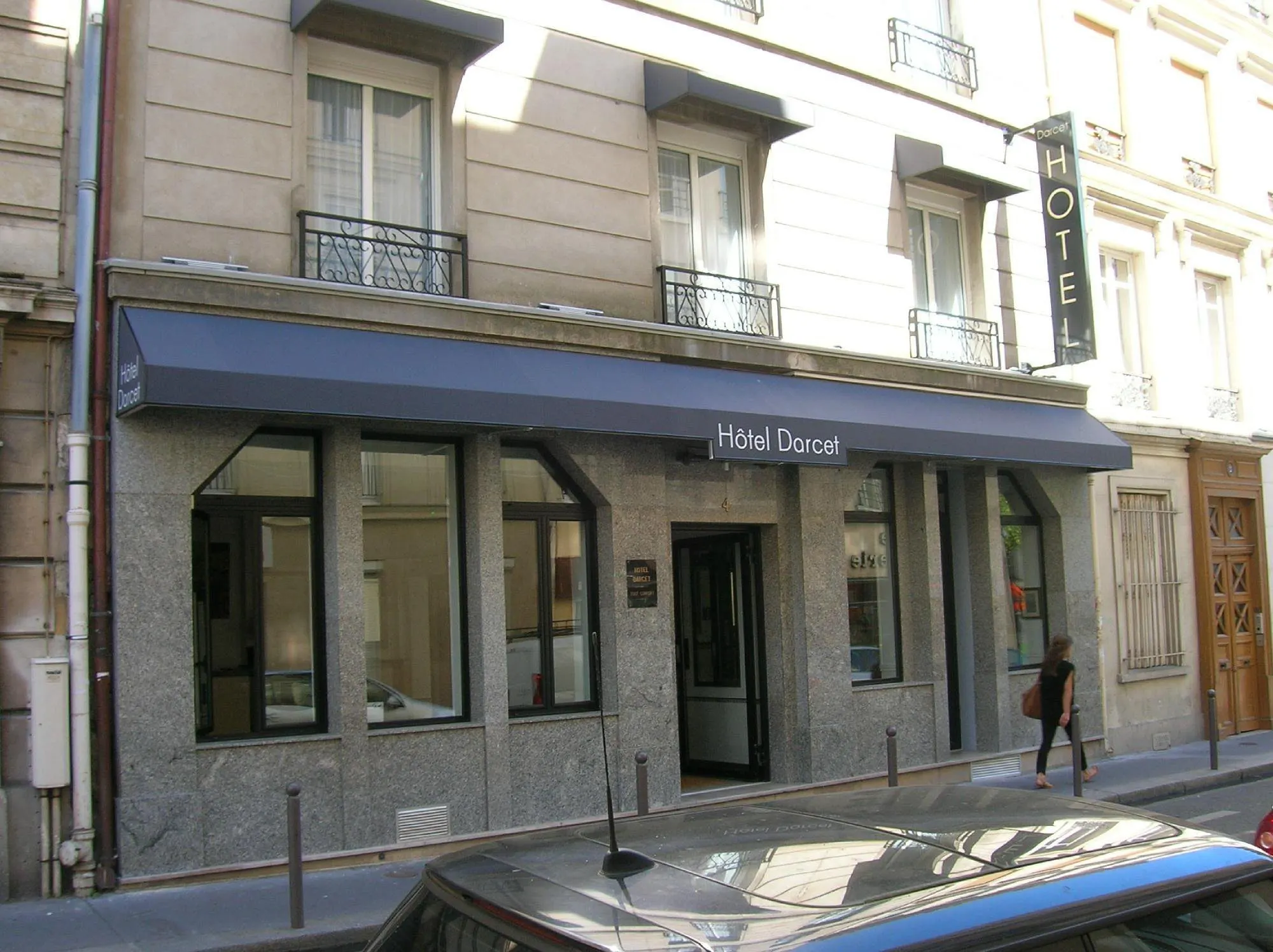 ***
We hope this article helped you! If you need any more tips about Paris, we are happy to help, let us know in the comments below!
More Paris info?