Looking for romantic things to do in Sioux Falls SD?
Never fear, there are tonnes of fun date ideas in Sioux Falls that you will never be short of a fun date night with bae!
Whether you are looking for something active, super exciting or just a really romantic restaurant to visit together, we have you covered with 20+ of the best Sioux Falls date ideas!
Romantic Things to do in Sioux Falls SD For Couples: Best Date ideas
Escape 605 – If you want to try out an escape room, this is a fun one to try. Aunt Edna's Condo is one of the best rated escapes in the area – not too easy or challenging! Perfect for date night.
Escapades Escape Rooms – The other option for escape fun in the area is Escapades Escape Rooms. If you have some pent up frustration there is also a smash room here where you can break things until. your heart is content.
Thunder Road – Who said amusement parks are just for kids. If you are a big kid at heart you might like to take that special someone to Thunder Road. Some of the attractions here include mini golf, bungy jumps, laser tag and bumper boats.
Great Plains Zoo & Delbridge Museum of Natural History – A fun place to go to see exotic animals from around the world. Zoos often don't get a good reputation but this zoo makes a conscious effort to save wildlife which we love.
Electric Rainbow – Fun, old school arcade games.
Butterfly House & Aquarium – A super fun date idea in Sioux Falls. Plus what is more romantic than a couples trip to the aquarium.
Pettigrew Home & Museum – If you are into history, the Pettigrew House is a great place to go. Home to South Dakota's first U.S. Senator, inside the 1889 Queen Anne home interesting period furniture & exhibits.
Wild Water West – A great summer date idea in South Dakota. When it gets warm, there is nothing better than cooling off at a water park. Plus, it's pretty romantic to ride the lazy river together, don't you think?
Great Bear Recreation Park – If you are looking for a winter date idea, Great Bear Recreation Park is always a good choice. Ski or snowboard till your heart is content.
Date night ideas Sioux Falls SD
SculptureWalk & Arc of Dreams Monument – This monument was created by South Dakota Artist Laureate, Dale Claude Lamphere. In the middle of the sculpture is a 15-foot gap designed to represent the leap of people people need to take in order for their dreams to come true.
Washington Pavilion – A great place to go to see a concert at night or perhaps check out the science centre by day.
Orpheum Theater or The District – Two other good places to catch a show.
Carpenter Bar – One of the most popular bars for date night in Sioux Falls. Known for its amazing cocktails and oyster bar.
Dinner at Crawfords – Crawfords restaurant in downtown Sioux Falls is consistently rated as one of the most romantic restaurants in the area due to its intimate vibe with great food and cocktails on offer.
Visit a wine bar – SF is known for having some seriously good wine bars which are very popular with couples. Some of the best wine bars in the area to check out include R Wine Bar, Wine Time on Main, and Bin 201.
Olde Town Dinner Theatre – One of the most fun and a little quirky options in the area is Olde Town Dimmer Theatre. Here they put on interesting dinner + a show at a great price.
WoodGrain Brewing Company – A fun place to go for a couple who loves good craft beer as this brewery specializes in quality handmade beers.
Hydra Beer Company – If you love the beer idea, Hydra Beer Company is another cool place to go for a date in Sioux Falls. While this place only brews 2 of its own beers, when they are that delicious, only 2 is all you need.
Free/Cheap Activities
Falls Park – One of the most romantic places to go for a stroll with your significant other. Enjoy the waterfalls and many hiking and biking trails as well as historical buildings dating back to the 1800s. There is really something for everyone in this area.
Terrace Park – If you and your SO love the great outdoors, this is a great place to visit to soak in the fresh air. Don't miss the Japanese Garden of Sioux Falls inside the park. Definitely one of the most romantic things to do in Sioux Falls SD!
Good Earth State Park – Another great park to visit in the area is Good Earth State Park. If you love hiking this is a great place to go as there are some fabulous hiking trails to enjoy at the park.
Tuthill Park – A stunning park to visit across all 4 seasons. Due to the beauty of the grounds, weddings often take place here. A great place for a romantic walk.
The Blood Run Nature Area – Another great place to get back to nature with over 3 miles of fun trails to explore with riverfront views.
Old Courthouse Museum – If you are looking for a nerdy date idea, this is a pretty good choice. Plus, it's totally free to enter which is always a plus!
Parlour Ice Cream House – There is seriously nothing more romantic than a couple getting ice-cream together! If you want a good scoop, this is the best place. Owned by world-renowned chef, Chris Hanmer, the ice-cream here is seriously delicious. Ice cream also is a pretty cheap date idea!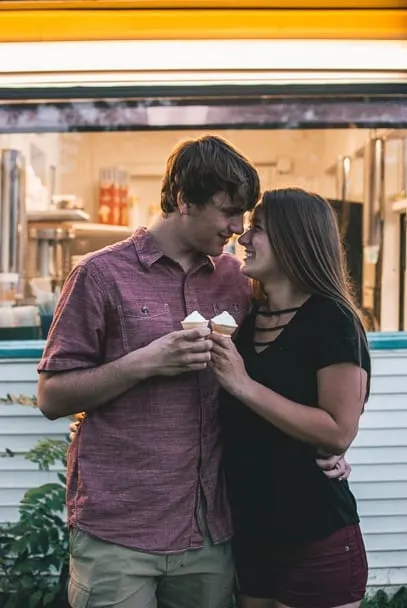 More Date Ideas in South Dakota and the USA
If you loved these fun date ideas, you might like to check out and plan a romantic getaway to other cities in the USA including: