These are the 21 best romantic weekend getaways for couples in the USA (and a few long weekend trips to Europe).
Can't wait to spend the weekend with your significant other? Want to enjoy some time together but don't know where to go?
We have compiled a list of fun long weekend getaways that will be perfect for just the two of you.More than likely, you're not looking for anything too fancy or expensive- so we've got something for everyone!
You'll find everything from beach resorts in California and Florida, to rustic cabins in Colorado and Montana.
Whether you want an upscale honeymoon experience or simply need a break from everyday life, there's something here for you. All it takes is one click!
Our Top Picks for Romantic Weekend Getaways
Best Weekend Vacations in the US
What could be better than a romantic weekend getaway with your SO? There is nothing like the feeling of waking up in a new place and spending quality time together.
This list features some of the most popular destinations for couples to spend their weekend.
16. Charleston, North Carolina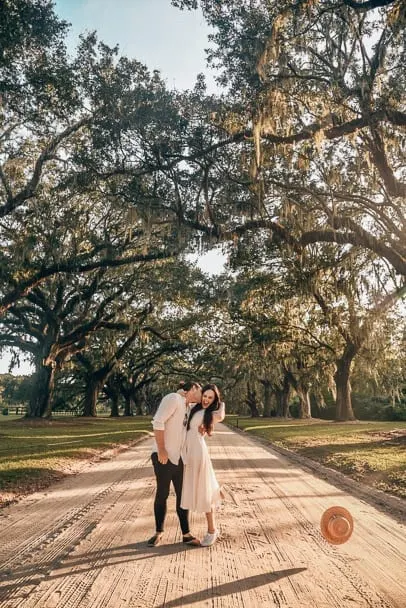 Historic homes, art galleries and tasty Southern cuisine (perfect for foodie couples), as well as nearby beaches make Charleston a great getaway.
Stepping onto the cobblestone streets of Charleston is like stepping back in time.
The city's historic houses and horse-drawn carriages make for a romantic couples getaway, perfect for spending quality time together.
An evening stroll in Waterfront Park is the perfect way to start your romantic weekend, as you can take a trip back in time and admire beautiful views of Charleston Harbor.
The park stretches for over 1000 feet along South Carolina's coast and it offers stunning panoramas that will make any moment feel like an instant classic.
For those looking to avoid crowds on the beach head over to Sullivan's Island where you can also enjoy sunset harbor cruises just for two.
The beaches are very secluded so it's perfect if you just need some alone time with your significant other.
Accommodations range from luxurious resorts offering oceanfront views all the way down to cozy inns with charming décor.
Just outside of town you'll find beachfront resorts which off more privacy than normal hotels do.
Start Planning:
Romantic Things to Do in Charleston
DIY Walking tour of Charleston's most beautiful streets
15. Martha's Vineyard, Massachusetts
Martha's Vineyard is a great place for a romantic weekend venture as it has everything one might wish in an ideal summer destination: relaxing beaches, excellent seafood specialties served up by upscale restaurants and cozy accommodations perfect for staying warm during those chilly nights spent exploring local history attractions such as the historic Edgartown Lighthouse.
Top Romantic Activities:
Rent a bike and explore the island with your special someone. Stop at Soigne before you set off for lunch to bring along in your basket, while enjoying the ocean views throughout Martha's Vineyard.

Don't miss the neighbourhood of Oak Bluffs where you'll find charming "gingerbread cottages" – cute cabins with Victorian facades which provide the perfect backdrop for vacationing couples.

On a nice summer day we recommend going out on boats or taking charters early into nightfall because there are awesome sunset views all along the island.
Want to escape the crowds of Martha's Vineyard? Visit nearby Chappaquiddick Island, where you can find quiet beaches and even a zen Japanese garden.
14. Napa Valley, California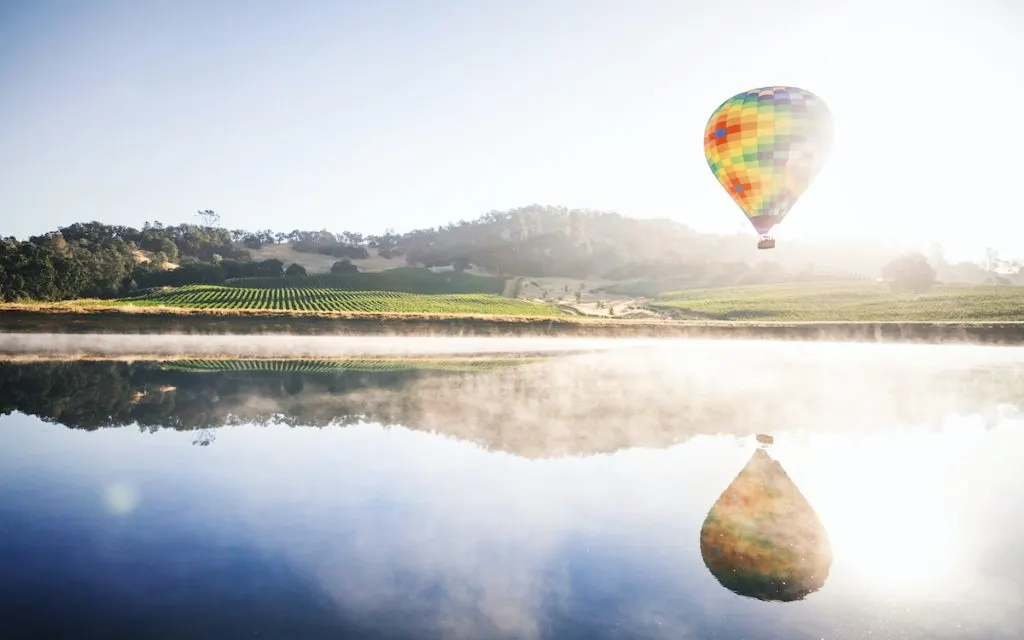 The best wine lover's getaway, Napa Valley in Northern California is a dream with its rolling vineyards and award-winning wines.
Couples can enjoy a tipple while savoring gourmet cuisine at some local restaurants like Bistro Don Giovanni before taking a trip on The Napa Valley Wine Train – the first premium boutique railroad that hosts private tasting sessions from May through November.
Why we love it:
with over 400 wineries in Napa Valley alone (not to mention some new breweries and distilleries) there's a drink to everyone's palette;
exceptional restaurants with diverse menus;
the Napa Valley Wine Train to roll you between wineries and restaurants, so you can eat and drink to your heart's content.
When couples need to relax from being wined and dined the region has some gorgeous inns and upmarket hotels with all the day spa facilities you can ever want or need.
You should also visit one of Napa's many museums including The Culinary Institute of America Museum to experience an interactive journey through food history.
Brimming with rolling vineyards, cozy wine caverns chic restaurants and top-notch hotels this Northern California paradise is both luxurious yet rustic, making it the ultimate romantic getaway for couples who love sipping award-winning vinos.
13. For quiet romance: Savannah, Georgia
Savannah, GA is tailor made for vacationing couples looking to have fun in this amazing town!
There are plenty of things do here whether it be strolling through historical streets which is charmed by the Spanish moss which overhangs the sidewalks.
The city is full of historic buildings and charming homes that will give you an authentic feel for southern culture.
You can stroll along River Street with its shopping boutiques, dining options and nightlife or enjoy some time at one of many nearby islands like Tybee Island where activities range from swimming to parasailing.
For a romantic getaway, Savannah's cozy inns and bed-and-breakfasts are the perfect choice.
12. Willamette Valley, Oregon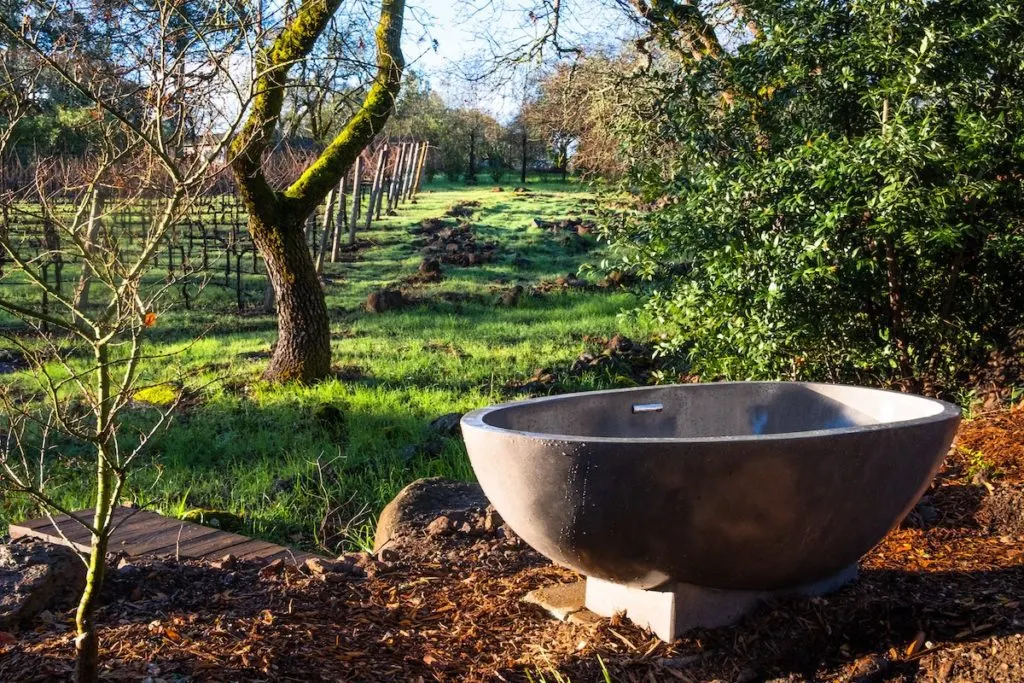 Oregon's Willamette Valley is an outdoor enthusiast's dream. From trekking the Trail of Ten Falls to exploring Silver Falls State Park, there are endless ways for you and your date to bond over nature. When you're ready for a break from adventuring, be sure to visit one (or all) of Oregon's five hundred wineries!
The Willamette Valley is an enchanting place to visit because of its rolling hills and joie de vivre (exuberant enjoyment of life).
Couples can explore the area with these couple's adventures: visiting a vineyard tasting room or enjoying an afternoon picnic by one of Oregon's lakeside parks.
Oregon's Willamette Valley is perhaps best known as a wine lover's retreat. If you're struggling to find the best wineries in Willamette Valley, we've got your back.
If you want to drink some of the best pinot noir and chardonnay wine in Oregon, then head on over to Domaine Drouhin where they offer award-winning wines that will impress even the most picky connoisseur.
For a more picturesque winery experience set away from civilization surrounded by vineyards and lushly landscaped grounds visit Domaine Serene Wineries located in Dundee Hills or The Eyrie Vineyards for tours & tastings at their tasting room.
If $20 is too steep, we recommend Bethel Heights who offers flights of five different types of wine all served up right there within one glass!
If you're looking for somewhere romantic to rest your head at night after spending time in this idyllic destination there are plenty options available from bed & breakfasts and inns near wine country to hotels located on beautiful beaches.
11. For fast times and epic hotels: Las Vegas, Nevada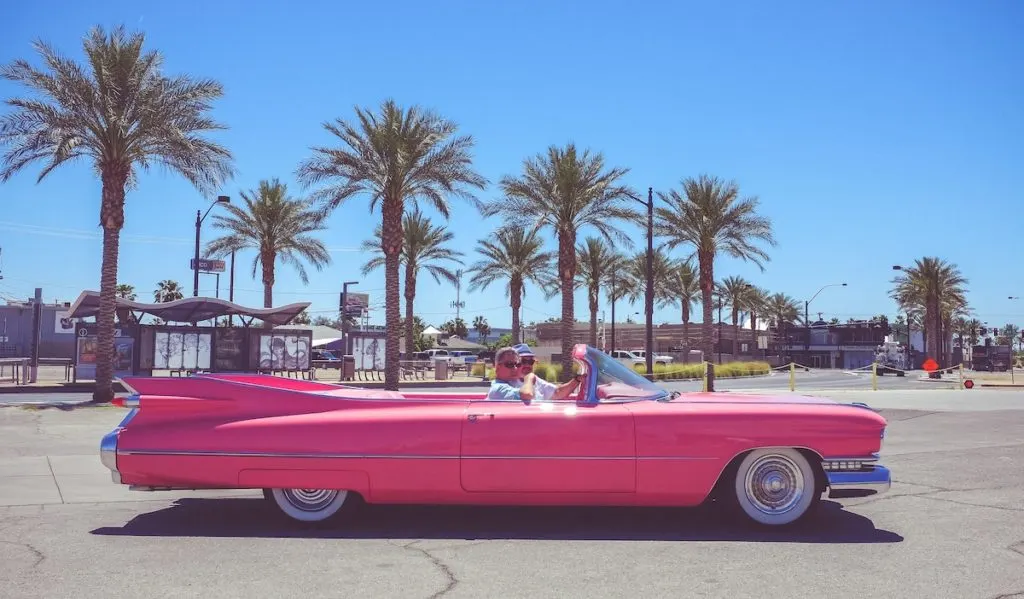 Las Vegas + romantic. Some would never put these to words in the same sentence. We disagree.
Vegas is the perfect place for twosomes looking to blow off a bit of steam and have fun. If genuinely having fun with your partner isn't "romantic" then I don't know what is.
You can take eat in some of the best restaurants in the country, enjoy a gondola ride, and get hitched with Elvis as your celebrant!
Our Top Hotel Pick | Most Romantic Hotel
Read more:
Things to do in Las Vegas for Couples
10. For affordable romantic getaways: Helen, GA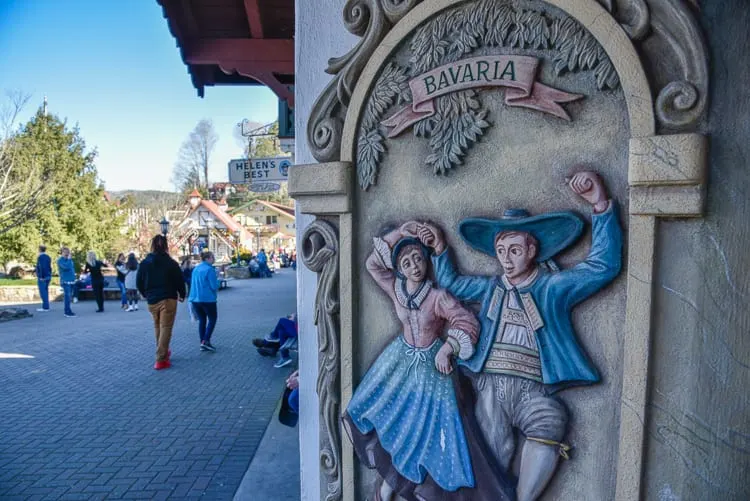 Helen, an incredibly romantic city that has incredible options for foodies and adventure seekers, rests along the Chattahoochee River in White County.
This small Bavarian-esque town in the countryside of Georgia will make you feel like you've been whisked abroad.
For many it is best known for its annual Oktoberfest festivities. This celebration lasts from September to October every year and it's where revelers dress up in traditional attire which includes lederhosen shorts with suspenders worn over short pants with long socks.
Ladies look dazzling in dirndl dresses that are made out of bodice blouse paired together by a suspender skirt.
The main attraction during this festival include dancing to polka music while enjoying German food like sausages as well as beer called bier (pronounced bear).
So if you want an authentic experience celebrating Oktoberfest then head down south towards Helen!
Outside of the usual peak seasons (and Oktoberfest) you'll find good deals on offer which makes Helen one of the more affordable romantic getaways in the south.
Romantic Places to Stay in Helen | Things to do in Helen |
Read more:
9. Orlando, Florida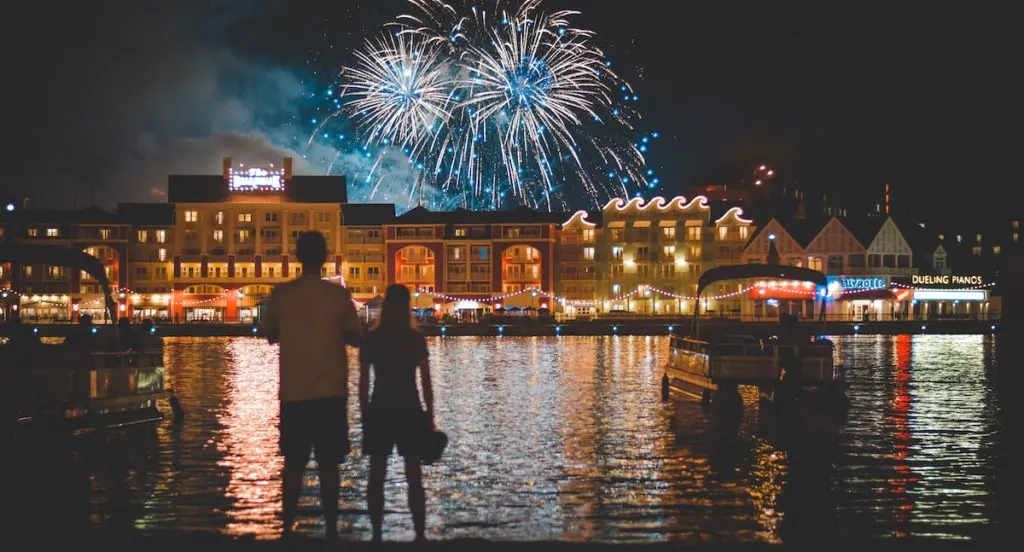 If you and your significant other love the magic of Disney, reserve a room at Grand Floridian Resort & Spa (check price).
It's unlike any hotel on Walt Disney World property because it is set in an opulent atmosphere made for couples who want to feel like kids again!
After a day of self-explanatory fun in one of the parks, get dressed up for a romantic evening with your partner.
Start the night off at Enchanted Rose, an upscale lounge that serves delicious food from Narcoossee's restaurant on Seven Seas Lagoon overlooking the water in four different rooms based upon "Beauty and The Beast," including a garden terrace and library.
Afterward guests can grab dessert inside Be Our Guest Restaurant which has been fashioned after Grand Central Station complete with sky lights above seating areas making it feel like you're dining under stars.
If you're looking for something fun to do other than Disney, check out nearby Ginnie Springs where you can tube down a river with your favorite alcohol beverage (legally) or swim with manatees!
8. Greenville, South Carolina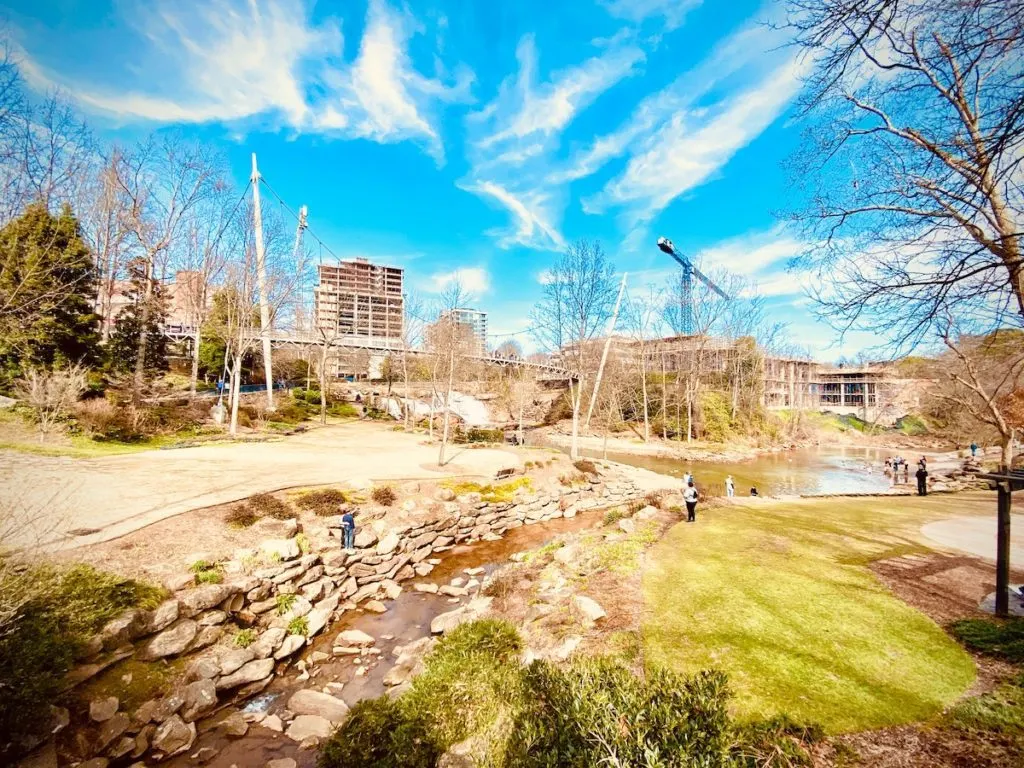 Greenville, SC is nice if you want a more relaxed version of Charleston.
It also has the Blue Ridge Mountains and an outdoor oasis in Falls Park on the Reedy with 32 acres of river, waterfalls, gardens and public art to explore!
Have a picnic or grab food at Passerelle Bistro which was included by CNN as one of two restaurants worth going to in Greenville.
Read More: Romantic Things for Couples in Greenville, SC
7. Fort Worth, Texas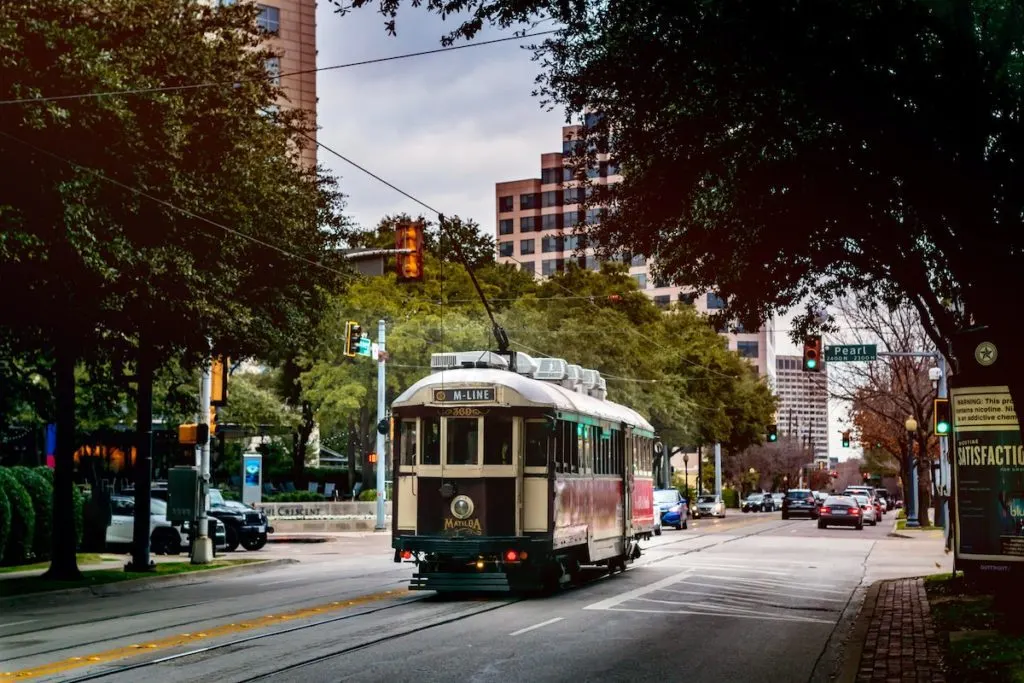 The Dallas-Ft. Worth area is a great place for sports fans and art lovers alike! From the arts to outdoor activities, you're sure to have a blast with your boo during a visit here.
You can spend your day visiting one of many fabulous city museums or going on an adventure at the Cedar Hill State Park or Fort Worth Botanical Gardens.
If you're feeling more adventurous there are plenty of opportunities for hiking trails in Texas as well which will definitely give both of you some fresh air after enjoying all this culture first hand!
No sporty couple will ever tire of Fort Forth because not only does Dallas host world-class NBA team but also NFL teams that include football, basketball, baseball and hockey.
The adventurous couple will love Six Flags Over Texas, the first Six Flags and the inspiration behind the famous theme park chain.
Read more:
51 Fund Date Ideas in Dallas-Fort Worth
6. Lake Forest, Illinois
Once you step off the Metra or sit in your car, it is apparent that this Northshore town is nothing like Chicago.
In around 30 minutes by car and under an hour via public transportation, Lake Forest will give you a whole new perspective on life with its sprawling estates of luxury homes along expansive views of lakefront property lining up to Market Square's upscale shops such as the all-women run Lakeforest Bookstore and Valentina boutique.
Whether it's a long weekend or an extended stay, couples looking for relaxation have many options to consider.
Whether you want to go all out and treat yourself with luxurious amenities at the resorts, head off on your own adventures like kayaking or biking around, or spend some time relaxing along our waterfronts (hint: think cozy beach fires), there are plenty of opportunities available just outside your door!
Our Top Hotel Pick | #2 Accommodation
5. Cape Neddick, Maine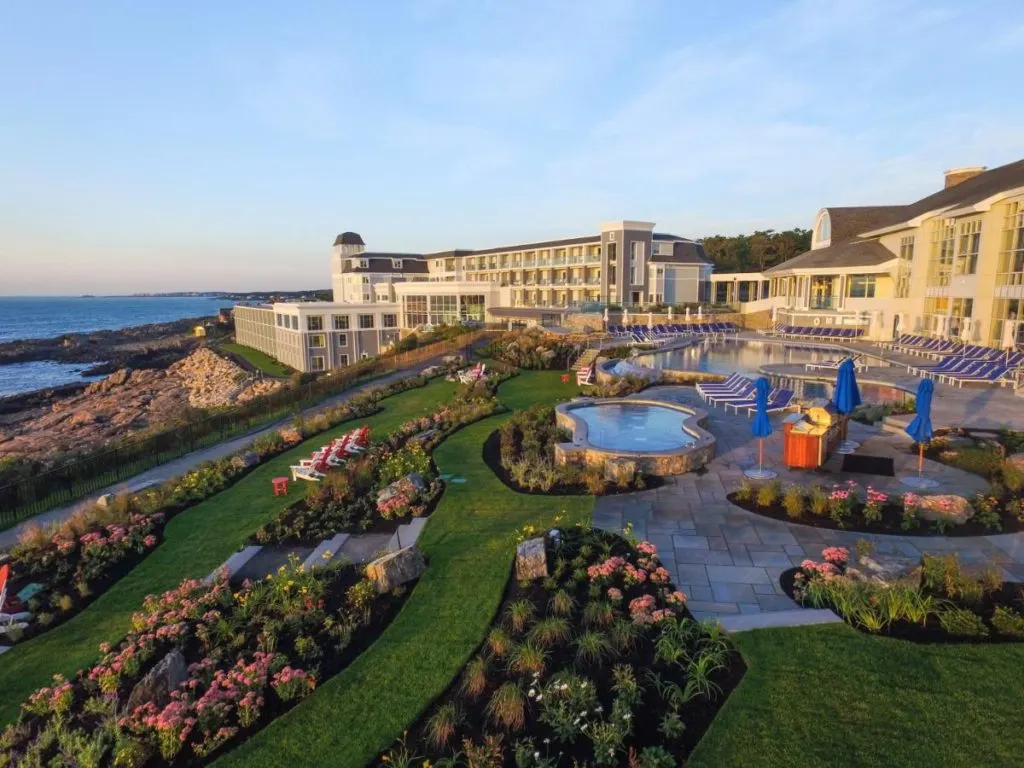 The craggy coastlines, mountains and seaward vistas of Maine make it a wonderful place for romantic getaways. With its abundance of waterfront resorts, hotels, inns and bed & breakfasts you can start your romantic weekend at Cape Neddick with sandy beaches carefree summer atmosphere.
For a romantic weekend in the stunning natural beauty of Maine, couples should head to Ogunquit where they can start their time off with Champagne and chocolate at The Cliff House.
The hotel offers spa services that include massage therapy, facials, body scrubs along with access to a fireplace and Jacuzzi for guests.
Mountain Getaways
Among the peaks and valleys of USA's most beautiful mountain ranges, here are three reasons every couple should get away.
Whether it's skiing in the winter, watching mountains bloom in springtime or seeking out foliage color-changes during fall season – these mountaintop retreats provide a reason to escape for any lover year round!
With all that eager energy coursing through your veins after long periods of being cooped up indoors during cold months, there is no better way to spend Valentine's Day than by challenging yourself with some heartwarming activities while you soak into crisp clean air atop snow covered trails.
If you're looking for a weekend getaway in the mountains, we've got you covered. You'll love these ideas!
4. Missoula, Montana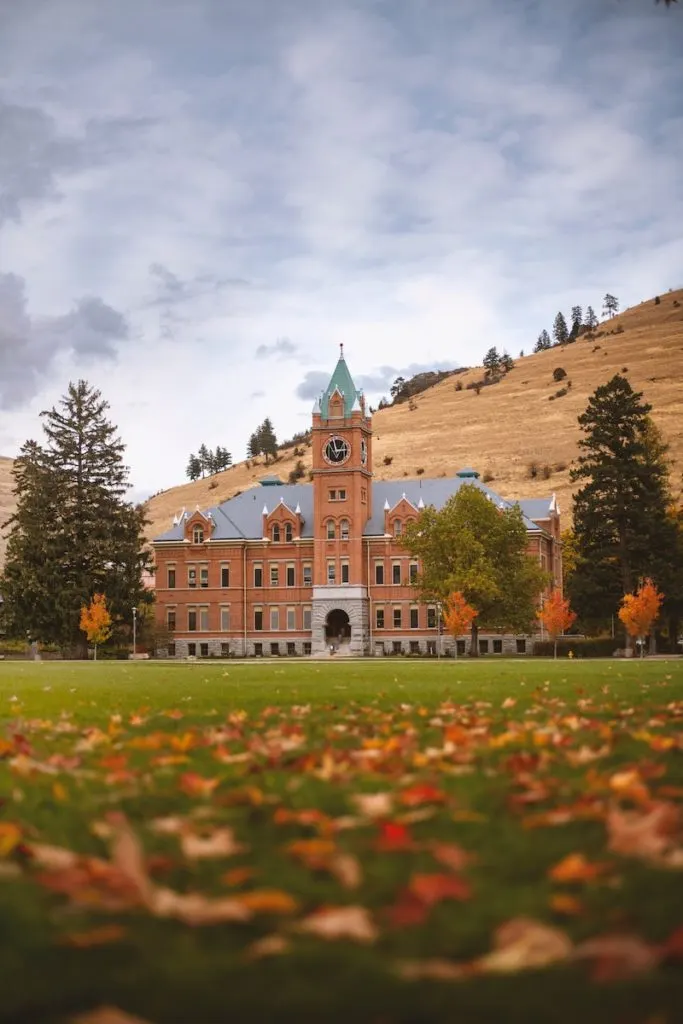 Living in the city can sometimes feel restrictive. If you want to get back to nature, but still have access to culture and art museums, then book a stay at Missoula, Montana where more than 60 thousand acres of wilderness are waiting for you.
You'll also find good hiking trails there so go jogging or mountain biking on your off days!
If living near mountains is what brings out the adventurer within you but being surrounded by wildlife intimidates some people consider heading over towards Rattlesnake National Recreation Area otherwise known as "Rattlesnake".
It's located just 20 minutes from downtown Missoula There are eight different trailheads that encompass 50 miles worth of dirt roads with terrain ranging from easy flat paths through meadows.
During the winter months, visit Big Sky Country to enjoy skiing and snowboarding at Montana Snowbowl.
Add a touch of culture by visiting the Museum of Art & Culture that is spread across several sites on campus or attend performances hosted at UM's Performing Arts Center.
Our Top Hotel Pick | Most Scenic Place to Stay
3. For outdoorsy couples: Pigeon Forge, Tennessee
Gatlinburg and Pigeon Forge are two great towns in the Great Smoky Mountains that have a plethora of romantic activities to do with your significant other.
From sampling regional cuisine at local restaurants, strolling through one of Gatlinburg's many chocolate shops or wineries, hiking trails for enjoying nature together as well as visiting attractions such as Ripley's Aquarium or Dollywood Theme Park – there is no shortage of fun things to experience here!
In addition to luxurious and romantic cabins, chalets and B&Bs in Sevier County, the Great Smoky Mountains National Park is a must-see nature retreat for couples.
Spend some quality time together here in this gorgeous park with activities such as driving to Cades Cove or going white water rafting on one of the many rivers that flow through it.
Relax at lunchtime with a picnic, taking advantage of its spectacular mountain views from your blanket spread out under trees!
2. For stunning resorts: Aspen, Rocky Mountains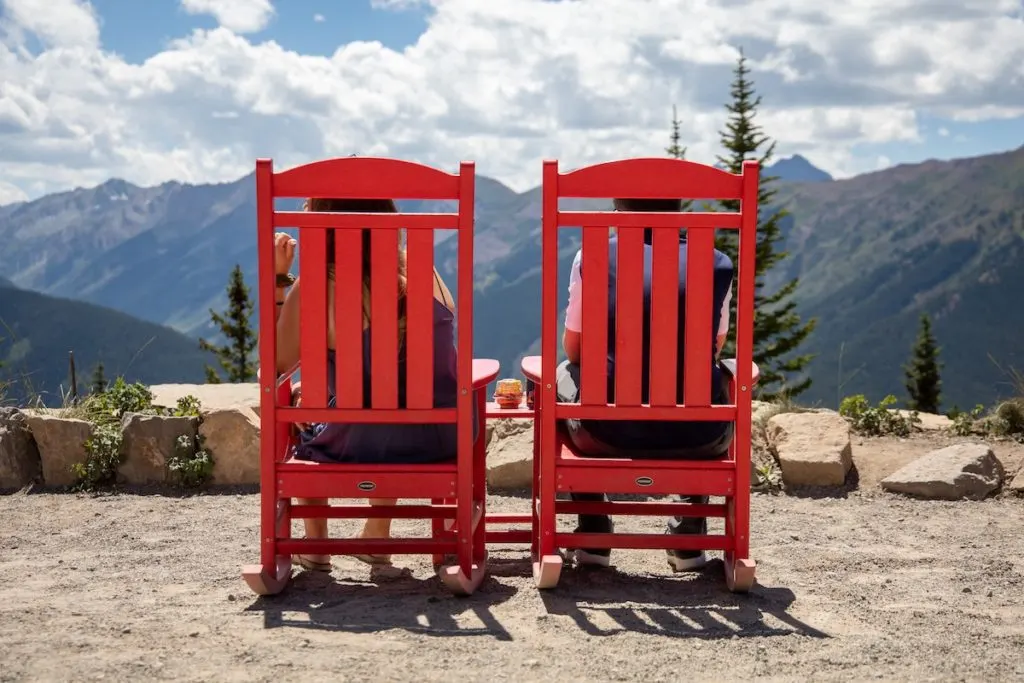 If you're looking for an escape with your significant other, then the Rocky Mountains are perfect.
You could be partying it up in a resort town one night and relaxing at an outdoor spa surrounded by fresh snow the next day; or go hot-air ballooning, horseback riding, or even simply wandering through nature!
All this is possible because there's something to entertain every couple out here—you might feel like you've got the whole world to yourselves.
Our Top Hotel Pick | Best Value Accommodation
Read more:
Top mountain getaways for couples
Most Romantic places in the US
Beach Resort Couples Getaway
When the surf's up and it is warm outside (or if you're stuck somewhere cold) you know it's time to head to the beach for some sun bathing.
Before you put on your new bikini or swim trunks and hit those shores this summer make sure you do some research as every coast has its own unique characteristics!
Here's a selection of just the best.
Best of the overseas Romantic Beach Getaways: Tulum, Mexico
Famed for it's hippy culture, wellness spas and retreats and celeb clientele (Jennifer Aniston is one of it's most famous and frequent guests) Tulum is an A-List level of R&R on a B-List budget.
Tulum's romantic getaway is the perfect way to rejuvenate with your partner, as it allows two people to enjoy each other's company in a beautiful location.
With access to incredible beaches, Mayan ruins, delicious food options at restaurants throughout town, eco-friendly romantic resorts that are committed towards maintaining sustainable practices through utilizing solar power or sourcing seafood locally—all within walking distance of one another!
The Yucatán peninsula has always been known worldwide for its amazing scuba diving opportunities but now there are more activities available than ever before such as zip lining tours located deep into the jungle where you will find yourself.
Read more:
1. Top Romantic Getaway: Key West, Florida
Did you know nearly 20% of visitors to the Florida Keys participate in a wedding or vow renewal?
If that's not enough evidence for you that the Keys ought to be named a top romantic weekend away, then just take one look at a Key West sunset and you'll melt.
There are plenty of companies offering Champagne cruises, but it's even more memorable when you can drink champagne while laying down on the sand or a picnic rug.
Pack some nice cheeses and snacks from the Artisans around town, and you'll have million dollar views on a budget.
There is no shortage of romantic places to stay in this remote archipelago comprised of more than 1,000 islands, but we do our best to round up the best of the best.
Want to take your trip up a notch. Rent a convertible (red of course) and drive from Miami to Key West in a few hours making a few epic stops along the way (spoilers: there's cake).
Start Planning:
Stunning Key West Beaches you Must Visit
Top romantic getaways if money is no object: Maui, Hawaii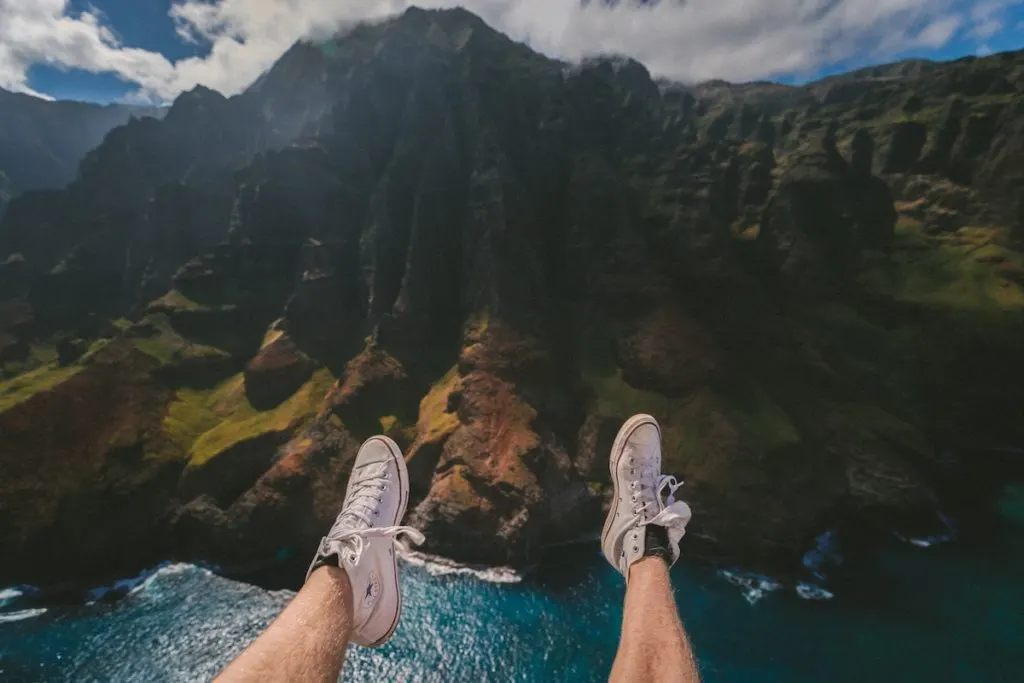 Maui! The most romantic Hawaiian island. It has activities that are sure to delight even the hopeless romantics, like newlyweds and couples celebrating their special anniversaries.
From helicopter tours to horseback riding on Haleakala Crater's mountain trails in Hana, anyone looking for love will be delighted by this island paradise.
The beautiful island of Maui is an ideal place to spend a fun weekend away on the west coast.
The weather stays nice and warm throughout the year, with some areas even having mild winters (for Hawaii).
There's a lot to do here on this tropical paradise: hike up mountains or through lush forests; snorkel in crystal clear waters that are home to schools of colorful fish; relax under palms trees at one of many paradisiacal beaches…the list goes on!
Northern California
There are plenty of great couple's weekend getaways in Northern California. Some popular options include visiting the wine country in Napa Valley, as discussed above, exploring the picturesque beaches of Monterey Bay, or taking a romantic river cruise down the Russian River.
For a more adventurous option, you could take a scenic drive up Highway 1 to explore the rugged coastline, or head to the Sierra Nevada mountains for some hiking and camping.
What is a good couples getaway within 4 hours of San Francisco?
The Bay Area is surrounded by some beautiful natural scenery and there are plenty of great couple's getaways within 4 hours of San Francisco.
Head to the Sierra Nevada mountains for some stunning views and outdoor activities such as hiking and camping. You could also take a drive up the coast to explore the rugged coastline, or visit the wine country in Sonoma and Napa Valleys.
Other great options include exploring the charming towns of Carmel–by–the–Sea and Monterey, or take a romantic river cruise down the Russian River.
Cheeky Weekend Getaways in Europe
For the most special of weekend getaways, pull out the Amex and hop on a direct flight to Europe.
Europe is home to some of the most romantic destinations in the world to Visit with Your Husband or Wife.
You can travel to Europe and discover the best romantic cities. Whether it's castles, medieval towns or seasides in France, we have them all here!
Here are 3 wonderful options from around Europe for those looking for a perfect getaway with their significant other!
For Romance: Paris, France
The City of Love: Short and Sweet.
From romantic walks to unforgettable moments, Paris has it all! Let's look at what makes this city so special:
-Walks that make couples dreamy and lightheaded…
-Marvellous restaurants that allow people to reconnect over a nice meal…
-Elegant evenings during which you can cuddle up with your lover in front of an open fire or under the stars on a boat ride through The Seine river…
-"Naughty nights" in the Moulin Rouge where anything goes as long as both parties agree (ahem)… And lastly, unusual marriage proposals made by one country man who set out 300 padlocks inscribed "I Love You"…
There is an abundance of couples walking hand-in-hand through its streets as well as historical locations that evoke romance such as The Louvre Museum which contains masterpieces like Leonardo da Vinci's Mona Lisa or Napoleon's Tomb at Les Invalides Church.
Paris is for lovers which makes it the ultimate candidate for a romantic long weekend getaway.
If you love romantic places: Venice, Italy
As far as romantic getaways go, Venice is the place!
Here's a checklist of romantic activities:
Gondola rides along waterways while sipping on champagne? Check.
A picturesque view over canals towards dramatic architecture overlooking nature and water everywhere around you? Double check!
A bottle of delicious Sangiovese vino with a large bowl of spaghetti (a la lady and the tramp). Triple check!
Lots of intimate alleyways to explore and get lost in for a discrete kiss. Bingo
While you're there enjoy viewing traditional Venetian architecture like that at Piazza San Marco (St Marks Square). Time it right and you can even watch an opera performance in this immense setting.
Speaking of views, the view from our selected hotel ain't bad 😉
For the adventurous couple: Golden Circle, Iceland
So, Iceland might not be the first place you think of for a romantic trip. However, it is definitely one that should make your bucket list!
With direct flights from the US and Europe, Iceland it's now possible – albeit pretty fancy – to jet off to enjoy one of the most out of this world experiences you can have without leaving the earth's orbit.
A trip to Iceland will offer a plethora of opportunities for you and your partner to enjoy yourselves.
From the vast landscapes, mesmerizing glaciers, majestic wildlife, horse-riding in knee deep snow through martian terrain, and more – an Icelandic getaway can be used as a platform for some quality time together.
And that's not to speak of possibly the best day spa of them all – the Blue Lagoon.
Plan your trip:
How to drive the "Golden Circle, Iceland"
18 Unique Places to stay in Iceland
A step-by-step guide to an epic Iceland Honeymoon
Final Thoughts
We hope you enjoyed our roundup of the 21 Best Romantic Getaways to try this weekend. If your favorite is not on this list, please comment below and let us know where it is!
If you're looking to spice up your relationship and reconnect with each other, it's time for a romantic couple's getaway.
We hope this list has sparked your wanderlust.
But now it's time for the most important bit – find somewhere to stay and get out there and make memories that will last!
See more:
Romantic Beach Getaways in USA