We can surely agree that Rome is one of the best places in the world – the culture, the history, not to mention the food – what's not to love!
Here are 100+ Rome quotes & puns to (hopefully) inspire you to visit Rome or if you have already been use as awesome Instagram captions!
You might also like to check out our Venice Quotes & Italy Quotes for the perfect quote or Instagram caption for other cities in Italy.
100+ Rome Quotes for inspiring instagram captions
Rome Instagram Captions & Rome Puns
Here are some of our favourite Rome instagram captions to use on your photos!
Home sweet Rome.
All roads lead to espresso.
It's impossible to ruin the view of the Colosseum.
Dear, Rome. We're better together.
Dress warm at the Vatican, it's a bit gold.
My happy place is anywhere with pizza and wine.
What a Rome-antic city.
Rome is always a good idea
There's no place like Rome.
Caught in a bad Rome-ance.
"This is what dreams are made of." — Hilary Duff
We built this city on rock and Rome.
Eat pasta, love, pray
I'm a bit Rome-sick.
Best fountain award goes to…
Leave some Rome in your suitcase for souvenirs!
When in Rome, no rules apply
I'm having Trevi saying 'goodbye' to Rome.
When in Rome, do as the Romans do!
Sometimes, you just can't find the right words to describe Rome.
Quotes About Roman Empire
One the Roman Empire was the most powerful in the world. While in Rome, here are our favourite Rome Quotes about the Roman Empire.
"The various modes of worship which prevailed in the Roman world were all considered by the people as equally true; by the philosopher as equally false; and by the magistrate as equally useful." ― Edward Gibbon
"He sat there all through a history lesson about the Roman Empire, which–having lived in the Roman Empire, for the four hundred years during which it had included the British Isles–he found inaccurate and boring." ― Susan Cooper
"It was luxuries like air conditioning that brought down the Roman Empire. With air conditioning their windows were shut, they couldn't hear the barbarians coming." – Garrison Keillor
"The Roman Empire was very, very much like us. They lost their moral core, their sense of values in terms of who they were. And after all of those things converged together, they just went right down the tubes very quickly." – Ben Carson
"There's only one reason to be crucified under the Roman Empire, and that is for treason or sedition. Crucifixion, we have to understand, was not actually a form of capital punishment for Rome. In fact, it was often the case that the criminal would be killed first and then crucified." – Reza Aslan
"The world survived the fall of the Roman empire and will no doubt outlast our own so much more splendid civilisation." – James Buchan
"As we all know from the Roman empire, big empires go down if the borders are not well-protected." – Mark Rutte
"Pompeii is taught at schools in England, and, for a young boy, the combination of the Roman Empire and a volcano was irresistible." – Paul W. S. Anderson
"I found Rome a city of bricks and left it a city of marble." – Augustus, Roman emperor
"This agglomeration which was called and which still calls itself the Holy Roman Empire was neither holy, nor Roman, nor an empire." – Voltaire
Colosseum Rome Quotes
One of the best pieces of architecture to see while in Rome is the Colosseum. Here are our favourite Rome Quotes about the Colosseum.
"While the Coliseum stands, Rome shall stand; when the Coliseum falls, Rome shall fall; when Rome falls, the world shall fall." – Venerable Bede
"Evil can also be beautiful. The Coliseum in Rome, for example, a wonderful structure with an awful past. Just think about the bloody gladiator fights there." – Rem Koolhaas
"I'm not sure what it was like to walk into the Coliseum, but I bet it was something like this. The best place in the world to watch a sporting event." – Wright Thompson
"In Rome, the emperor sat in a special part of the Colosseum called the Caesarian Section." – George Carlin
"Genius, when employed in works whose tendency it is to demoralize and to degrade us, should be contemplated with abhorrence rather than with admiration; such a monument of its power, may indeed be stamped with immortality, but like the Coliseum at Rome, we deplore its magnificence because we detest the purposes for which it was designed." – Charles Caleb Colton
"Listen, you make a big movie, you're going into the Coliseum, and people are going to give you the thumbs up or the thumbs down. And that's part of the game. It's part of the fun as well." – Sam Mendes
"In 'Roma,' I wanted to get across the idea that underneath Rome today is ancient Rome. So close. I am always conscious of that, and it thrills me. Imagine being in a traffic jam at the Coliseum! Rome is the most wonderful movie set in the world… As was the case with many of my film ideas, it was inspired by a dream" – Federico Fellini, Italian Film Director
"The problem with comedy audiences – it's like the Coliseum – when they see someone struggling, they don't feel altruistic towards them. They feel slightly repulsed by it." – Jo Brand
"We have rejected such spectacles as the Coliseum. How then, when we do not even look on killing lest we should contract guilt and pollution, can we put people to death?" – Athenagoras of Athens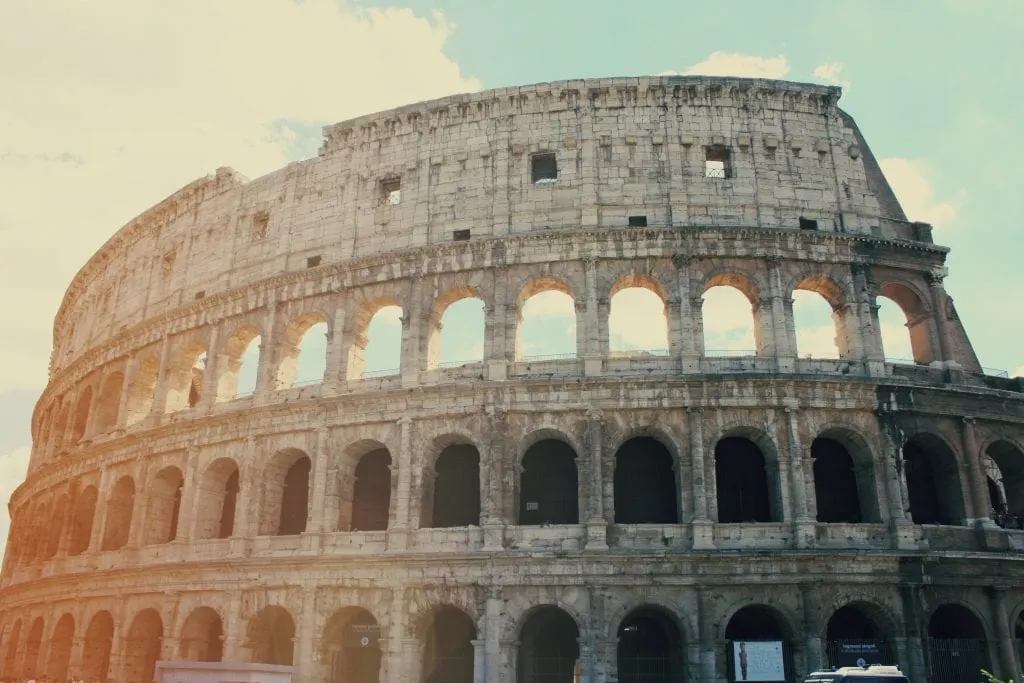 Pantheon Rome Quotes
The Pantheon is another important piece of historic architecture in Rome. Here are our favourite Pantheon Rome Quotes.
"The Pantheon was the first church I'd ever seen that had an open view to God." – Bran Ferren
"In Italy, there are so many significant architectural structures in history such as the Pantheon in Rome, or the Duomo." – Tadao Ando
"I have written a wicked book, and feel spotless as the lamb. Ineffable socialities are in me. I would sit down and dine with you and all the gods in old Rome's Pantheon. It is a strange feeling–no hopefulness is in it, no despair. Content–that is it; and irresponsibility; but without licentious inclination." – Herman Melville
Quotes about Trevi Fountain
While thinking about Rome, let's not forget the incredible Trevi Fountain. Here are our favourite quotes that reference the beautiful Trevi Fountain.
"Without someone to talk to, every sight I saw – whether it was the Trevi Fountain or a canal in Amsterdam – felt simply like a name on a list that I needed to check off." – Jojo Moyes
"In Rome, I particularly love the history, churches, sculptures and architecture and the fact that you can walk along a tiny cobbled street and turn the corner to find the Trevi Fountain." – Philip Treacy
Roman Architecture Quotes
Okay, so we have established that Roman architecture is pretty cool. Here are our favourite quotes to celebrate Roman Architecture.
"From the dome of St. Peter's one can see every notable object in Rome… He can see a panorama that is varied, extensive, beautiful to the eye, and more illustrious in history than any other in Europe." – Mark Twain
"Rome is not like any other city. It's a big museum, a living room that shall be crossed on one's toes." – Alberto Sordi, Italian actor
"After about the first Millennium, Italy was the cradle of Romanesque architecture, which spread throughout Europe, much of it extending the structural daring with minimal visual elaboration." – Harry Seidler
"The imperial vastness of late Roman architecture was made possible by the invention of concrete." – Iain McGilchrist
"The ancient Romans built their greatest masterpieces of architecture, their amphitheaters, for wild beasts to fight in." – Voltaire, French Writer
"Rome is the city of echoes, city of illusions, the city of yearning." – Giotto di Bondone
"Rome was a poem pressed into service as a city." – Anotole Broyard, American writer
"Rome – the city of visible history, where the past of a whole hemisphere seems moving in funeral procession with strange ancestral images and trophies gathered from afar." – George Eliot, pen name of Mary Ann Evans, an English poet
Vatican Quotes
While the Vatican is technically its own city, it is a place that many of us visit while in Rome. Here are our favourite Vatican Quotes:
"The Vatican is a dagger in the heart of Italy." – Thomas Paine
"Vatican II was a force that seized the mind of the Roman Catholic Church and carried it across centuries from the 13th to the 20th." – Lance Morrow
"For Catholics before Vatican II, the land of the free was pre-eminently the land of Sister Says-except, of course, for Sister, for whom it was the land of Father Says." – Wilfrid Sheed
"Vatican city is the only nation in the world that can lock its own gates at night." – Unknown
"Once you go to Vatican, you never go back again." – Homer
"The Vatican takes your breath away." – Joe Elliott
"Vatican II declares the church… as necessary for salvation." – Francis Arinze
Rome Proverbs
Here are our favourite Rome proverbs that you might like to use as instagram captions:
When in Rome, do as the Romans do.
Who has a tongue, may go to Rome.
He who wishes to live at Rome must not quarrel with the Pope.
There are many roads to Rome.
The farther from Rome the nearer to God.
If there be a hell, Rome is built over it.
The court of Rome likes not sheep without wool.
"When thou art at Rome, do as they do at Rome." – Miguel de Cervantes, Spanish writer
Julius Caesar Quotes
Perhaps the most famous person from Rome was Julius Caesar. Here are our favourite Rome Quotes from Julius Caesar.
"In the end, it is impossible not to become what others believe you are." ― Julius Caesar
"The greatest enemy will hide in the last place you would ever look." ― Julius Caesar
"Men are nearly always willing to believe what they wish" ― Julius Caesar
"Without training, they lacked knowledge.Without knowledge, they lacked confidence. Without confidence, they lacked victory." ― Julius Caesar
"If you must break the law, do it to seize power: in all other cases observe it." ― Julius Caesar
"What we wish, we readily believe, and what we ourselves think, we imagine others think also. " ― Julius Caesar
"When I was 5 years old, my mom always told me that hap­pi­ness was the key to life. When I went to school, they asked me what I wanted to be when I grew up. I wrote down "happy". They told me I didn't under­stand the assign­ment and I told them they didn't under­stand life." ― Julius Caesar
"I came to Rome when it was a city of stone … and left it a city of marble" ― Julius Caesar
"He has not learned the lesson of life who does not every day surmount a fear." ― Julius Caesar
"It is not these well-fed long-haired men that I fear, but the pale and the hungry-looking…." ― Julius Caesar
Gladiator Quotes
Rome always makes me think of the movie, The Gladiator. Here are our favourite Rome Quotes from The Gladiator:
"People should know when they're conquered." Gen. Maximus: "Would you, Quintus? Would I?" – Quintus
"You should see the Colosseum Spaniard. Fifty-thousand Romans… watching every movement of your sword… willing you to make that killer blow. The silence before you strike and the noise afterwards. It rises. It rises up… like a storm. As if you were the thunder god himself." – Proximo
"My name is Gladiator" – Maximus
"If you're very good, tomorrow night I'll tell you the story of emperor Claudius who was betrayed by those closest to him, by his own blood. They whispered in dark corners and went out late at night and conspired and conspired but the emperor Claudius knew they were up to something. He knew they were busy little bees. And one night he sat down with one of them and he looked at her and he said, "Tell me what you've been doing busy little bee or I shall strike down those dearest to you. You shall watch as I bathe in their blood." And the emperor was heartbroken. The little bee had wounded him more deeply than anyone else could ever have done.- Commodus
"I am dying, Maximus. When a man sees his end, he wants to know there was some purpose to his life. How will the world speak my name in years to come? Will I be known as the philosopher? The warrior? The tyrant? Or will I be the emperor who gave Rome back her true self? There was once a dream that was Rome." – Marcus Aurelius
"There was once a dream that was Rome. You could only whisper it. Anything more than a whisper and it would vanish, it was so fragile." – Marcus Aurelius
"A general who became a slave. A slave who became a gladiator. A gladiator who defied an emperor." – Commodus
"Five thousand of my men are out there in the freezing mud. Three thousand of them are bloodied and cleaved. Two thousand will never leave this place. I will not believe they fought and died for nothing." – Maximus
"We are nothing but dust and shadows. Dust and shadows!" – Proximo"My name is Maximus Decimus Meridius, commander of the Armies of the North, General of the Felix Legions, loyal servant to the true emperor, Marcus Aurelius. Father to a murdered son, husband to a murdered wife. And I will have my vengeance, in this life or the next." – Maximus
Roman Philosophers Quotes
Rome has some great philosophers. Here are our favourite quotes from Roman philosophers.
"True happiness is to enjoy the present. A wise man is content with his lot, whatever it may be, without wishing for what he has not." – Seneca
"I don't need a friend who changes when I change and who nods when I nod; my shadow does that much better." ― Plutarch
"Reserve your right to think, for even to think wrongly is better than not to think at all." ― Hypatia
"Her half-closed eyes were moist and tremulous and languid with desire. I began to drink love from them with thirsty kisses; which revived her spirits a litle."- Apuleius
"As is a tale, so is life: not how long it is, but how good it is, is what matters." – Seneca
"An imbalance between rich and poor is the oldest and most fatal ailment of all republics." ― Plutarch
"Such is the audacity of man, that he hath learned to counterfeit Nature, yea, and is so bold as to challenge her in her work." – Pliny the Elder
"The poor go to war, to fight and die for the delights, riches, and superfluities of others." ― Plutarch
"The depth of darkness to which you can descend and still live is an exact measure of the height to which you can aspire to reach." – Pliny the Elder
"To make no mistakes is not in the power of man; but from their errors and mistakes the wise and good learn wisdom for the future." ― Plutarch
"To rule by fettering the mind through fear of punishment in another world, is just as base as to use force… Reserve your right to think, for even to think wrongly is better than not to think at all." ― Hypatia
When in Rome Quotes
When in Rome – do as the Romans do. Here are our favourite quotes from When in Rome.
"It's like I met a guy, and I think it's great, and anyone else would just be thinking about how much greater it's going to get. And I'm constantly waiting for the other shoe to drop." – Beth
What are you doing in my apartment?! Lance: Blowing your mind!
"I love him, even if he might not love me back." – Beth
"We wait our whole life for some perfect guy to come in and sweep us off our feet… well, guess what? He's not coming." – Beth
"When you know it, you don't need a prove. You just know!" – Joan
"The whole point of love is to put someone else's needs above your own." – Al
Ancient Rome Quotes
And finally, lets finish up with some very authentic Rome Quotes from Ancient Rome!
"If you have overcome your inclination and not been overcome by it, you have reason to rejoice." – Plautus or Titus Maccius Plautus
"I'm never less at leisure than when at leisure, or less alone than when alone." – Scipio Africanus
"Advice in old age is foolish; for what can be more absurd than to increase our provisions for the road the nearer we approach to our journey's end." – Marcus Tullius Cicero
"A shoe that is too large is apt to trip one, and when too small, to pinch the feet. So it is with those whose fortune does not suit them." – Horace or Quintus Horatius Flaccus
"I have often wondered how it is that every man loves himself more than all the rest of men, but yet sets less value on his own opinions of himself than on the opinions of others." – Marcus Aurelius or Marcus Aurelius Antoninus Augustus
"We find that the Romans owed the conquest of the world to no other cause than continual military training, exact observance of discipline in their camps, and unwearied cultivation of the other arts of war." – Vegetius or Publius Flavius Vegetius Renatus
"If there is a God, whence proceed so many evils? If there is no God, whence cometh any good?" – Boethius or Anicius Manlius Severinus Boëthius
"Another one of the old poets, whose name has escaped my memory at present, called Truth the daughter of Time." – Aulus Gellius
"Those most moved to tears by every word of a preacher are generally weak and a rascal when the feelings evaporate." – Sallust or Gaius Sallustius Crispus
"An angry man is again angry with himself when he returns to reason." – Publilius Syrus
"The lofty pine is oftenest shaken by the winds; High towers fall with a heavier crash; And the lightning strikes the highest mountain." – Horace
Save Rome Quotes for inspiring instagram captions to Pinterest so you can find it again later.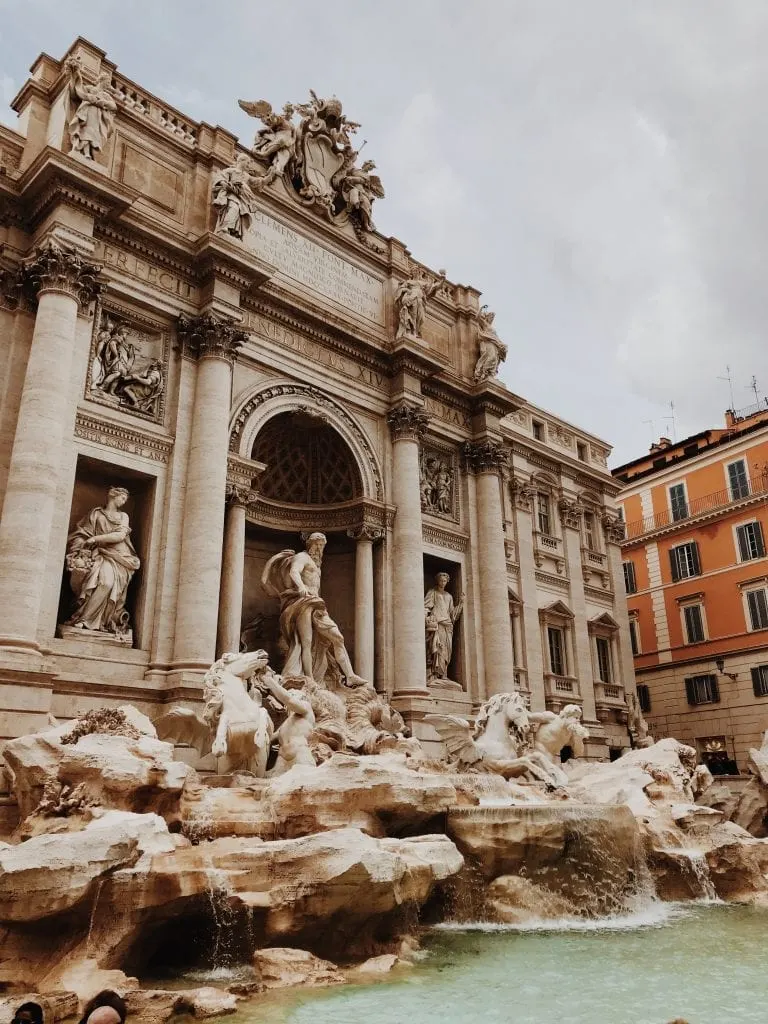 See more: Things to do in Sirmione