Ryanair is known as one of the cheapest airlines to fly around the world. But, it has notoriously high fees.
See our full Ryanair Review – what we think of Ryanair, the fees and how you can best avoid them.
Ryanair Review: The Fees and how to avoid them
Here's a list of all the Ryanair fees and how to avoid them
1. Bag Fees
On Ryanair only a purse, small backpack or laptop bag (40cm x 20cm x 25cm dimensions) is included in the base fare. If you're only going for a short trip, try to fit everything into a backpack less than 10kg and you'll save yourself at least €10 – €50.
Paid bags: if you can't make it into a small backpack, your next cheapest option is to book a 10kg carry on size bag (55cm x 40cm x 20cm dimensions). There are two options: check in your bag for about €10 euro or book priority for €12 which allows you to bring your 10kg bag on board. People prefer this option because you don't need to wait for the bag carousel at your destination. The €12 priority ticket also permits you priority boarding and priority check-in. Priority check-in is is a blessing if you also have a checked 20kg bag. You will glide past the queue of madness and probably save yourself about 30 – 60 minutes queuing time.
20kg checked in bag (81cm x 119cm x 119cm dimensions). Prices vary a lot, depending on where you are flying and when you are booking. Curiously, I noticed that checked-in bags are most expensive if you are booking in advance (i.e. at the time of sale fares). For example, we recently flew from Krakow to London Stansted. Two months before departure, tickets were €8 and 20kg checked-in bags were €40 each. One month before departure, tickets were €16 and checked-in bags were €25.
The sale fare paradox. Everyone knows that the cheapest time to book your tickets is months in advance, right? Well, once upon a time this may have been true, but whether this is the case in 2023 is open for debate and more statistical analysis.
Here's my recent experience:
We recently flew from Krakow to London Stansted.
Two months before departure, tickets were €8 and 20kg checked-in bags were €40 each = €48
One month before departure, tickets were €16 and checked-in bags were €25 = €41
So, in my case we actually saved €7 per person by not purchasing our tickets at the sale fare price.
I've noticed the same thing when I flew with another budget european airline, WizzAir. I booked last minute tickets (2 days out) for €50 euro, but a 20kg checked-in bag cost €25.
When I looked into flying with WizzAir again on the same flight from Krakow to London, I found cheap fares for €7 but a 20kg checked-in bag cost an astronomical €45.
In all the above examples purchasing a priority ticket, or a 10kg carry-on size bag cost the same.
So, my theory is that if you need to purchase checked-in bags, it doesn't really matter when you book your ticket, because budget airlines like RyanAir and Wizzair, adjust their price to maximise their profit. If you're buying a super cheap sale fare, you'll be more receptive to paying an inflated bag fee without question. If you're already paying for a last-minute fare at a regular or high price, you'll pay the regular price (or maybe even slightly discounted to encourage the sale). I call this the sale fare paradox. Currently, I only have a small sample size, so let me know if you've experienced this too.
Takeaway on bag fees: pack light in a backpack to avoid fees
2. Check-in Fees
You must check-in online at least 2 hours before your flight to avoid any fees. If you arrive at the airport and attempt to check-in at the counter, you will be charged an additional €55 fee per person.
If you've never flown RyanAir or another budget European airline before, this could well catch you by surprise.
Also, check-in only opens 72 hours before your flight. You must also print your own boarding pass, or download the Ryanair app to show your boarding pass e-ticket. If you're taking a month-long european vacation and you like to have a physical ticket to show, this will be an inconvenience as you will only be able to print your tickets for any RyanAir flights in the first couple of days of your vacation.
Our advice about avoiding the Ryanair check-in fee is to download the Ryanair app now as it only takes 2 minutes to check-in using the App and you can also use it to show your e-ticket boarding pass. No need to worry relying on your hotel to print your ticket for €1 a page or trying to find an internet cafe (do those even exist anymore)?
Takeaway: Download the Ryanair App | Make sure to check-in before the airport
3. Excess weight fees
Okay, so it's well established that almost every airline charges exorbitant excess weight fees. Ryanair is no different, but there's more to think about because they can be anal about your 'personal bag' and carry-on bag as well as your checked-in bag.
Do not line up at the Ryanair counter with a seriously overweight bag hoping they'll waive you by. It won't fly. Rather, you'll be told to stump up £10 per kilo or step aside and go to the back of the possibly, hour-long queue with your lighter suitcase. Don't put yourself in that position.
We're also pushing the bag limits but we avoid putting ourself in a position of having to pay the excess fees or potentially missing our flight by weighing our bags at home using a portable weigher.
If your check-in bag is borderline overweight (they'll usually allow up to 700 grams over) check the weight on the scales at one of the vacant check-in counters before you queue up to check-in.
Takeaway: Weigh your bag at home | Never check-in with a bag which is over 700g overweight
4. Seat Selection Fees
Like many other budget airlines, Ryanair won't allow you to chose your seat for free. It's no Emirates First Class! Also, as you check-in online before you reach the airport, the counter-staff are not responsible for allocating your seat.
When booking you can chose where you sit for €4 – 5. If you don't want to pay, you'll be allocated random seating.
On most airlines, even if you don't pay to sit in one of the premium first rows or exit rows, you'll be still be allocated a seat with the rest the group you booked your tickets with. A family of 4 can usually expect to be seated in 31A, 31B, 31C, 31D.
Not so with Ryanair. They take it one step further and deliberately seat you away from your booking group. So when you check-in online, a family of 4 could very well be allocated 3A, 5F, 25E, and 31D.
Does this 'random' seat allocation seam unsuitable to you? Well it's your lucky day because the next step in the booking process is to chose seats together for only €4 per person. Thanks Ryanair!
How to avoid seat selection fee: there's actually no way to get around this fare. Instead, what most people do is play a game of musical chairs before takeoff. It's frustrating for passengers and it's noticeably frustrating for the cabin stewards too.
I think this particular fee is necessarily opportunistic and should not be tolerated. Play musical chairs I say! I go into a lot more about this issue in my WizzAir Review where I explain what I can't stand about WizzAir.
Takeaway: Don't facilitate this opportunistic fee by paying it. Play musical chairs I say! You won't be the only one, I assure you.
5. Name Change Fee
One of the most expensive Ryanair fees you will incur is the name change fee. If you get your details wrong – miss a letter, get your first name and surname in the wrong order, enter the wrong date of birth, passport number, or expiration date and you'll have to pay up to €115 to rectify it.
If you notice the error at the gate,
Tip: The date format is DD/MM/YYYY which is different to US residents may be used to.
Takeaway: Take your time and double and triple check your details when booking and checking in online. The number of times I've noticed a typo on the third check is way too close for comfort.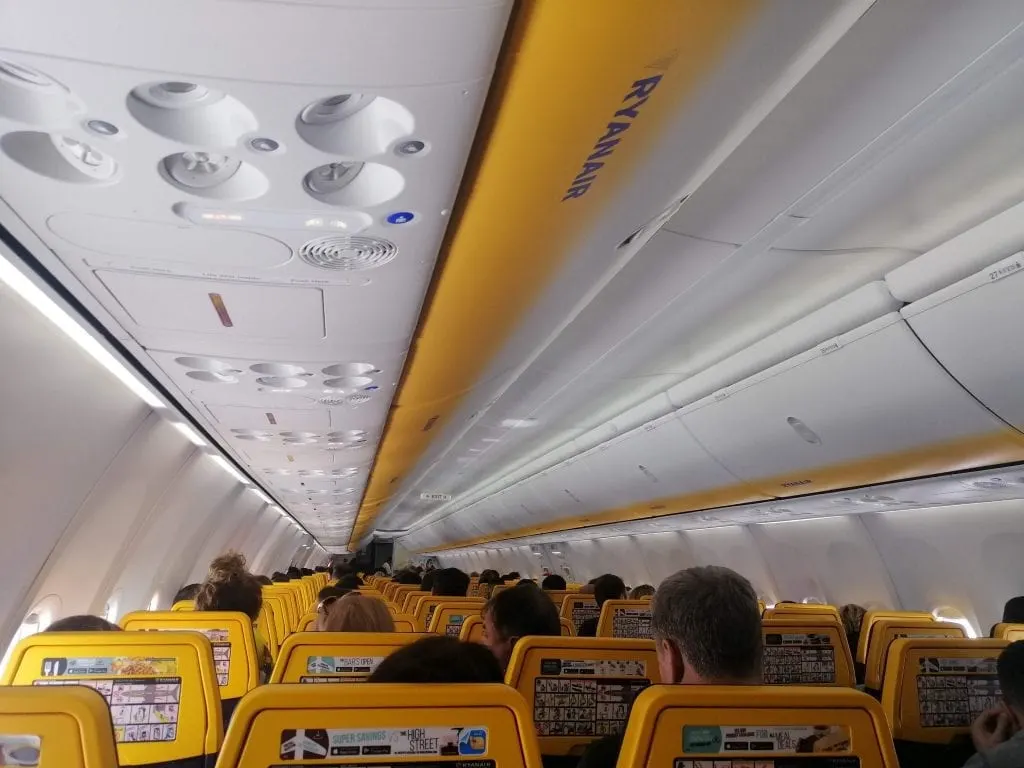 6. Date Change Fee
The Ryanair change fees are, frankly, astronomical. It would be a very rare situation where it would be economical to change your flight, then it would be to book a brand new flight.
RyanAir charges a change of date fee of €35 + the fare difference.
You can quickly check the difference by using Momondo, to check what the cheapest price is on your new dates. This will also show you any other airlines offering a cheaper deal on the day.
If you expect you will need to purchase bags when you fly, consider delaying purchasing tickets until you know your dates. Because of the sale fare paradox I discussed above, if you require bags, you may not be saving any more money by jumping on that sale fare anyway.
Takeaway: Treat you ticket as non-changeable when you book as the fees basically make this so.
7. Premium priced snacks
Never eat the food onboard. Onboard, snacks start at €2 and go up to €15 for a small meal consisting of a sandwich, 30g bag of chips and a small drink.
Obviously you are prohibited from bringing liquids through customs and some food items can be taken away at whim (including fruit), but you'd still be better off bringing snacks like muesli bars, dried fruit to stave off the hunger pains. Not only are they cheaper, but healthier than most food items you'll find onboard or prior to boarding.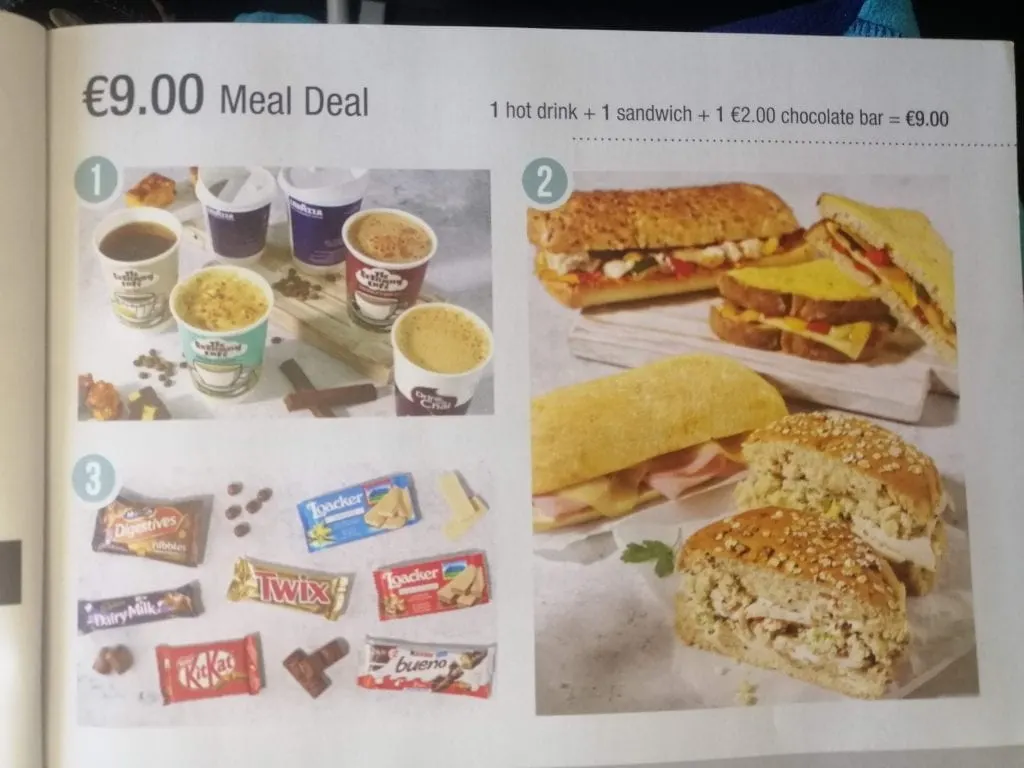 8. Last-minute fees
Whether it's a carry-on bag, checked-in bag, priority seating, or seat allocation, you will pay a premium if you purchase it after making your original booking.
The fees for all these extra services are cheapest when you book. Some items, like checked-in bags cost €25 when booking, but increase to €50 if booked later.
Often, it works out cheaper to wait until you know whether you'll need that checked-in bag, even if the fare goes up. On many Ryainair routes, the cheapest fares start at €5 and can often be found up to last minute for no more than €30, meaning you are no better off by booking the sale fare if you later need to book a bag.
What it's like flying Ryanair in 2023
First, the positives:
Ryanair operates one of the youngest fleets in the world. Their new planes have more headroom inseat and in aisle than older planes.

Seats don't recline. This is a contentious one but I personally prefer non-reclining seats on short-haul flights. Especially as there is not much room between seats (30 inches) the thought of someone invading your personal space even more is unbearable.

Fares are usually cheaper than other airlines.

It has a wide network of routes, which sometimes allows you to fly into an airport which is more convenient to you.
Negatives
the fees, glorious fees! Avoid them using my tips above.

Airport location. Ryanair saves money by flying into cheaper airports. Rather than Heathrow which amenities include the tube straight into London, you'll fly into Stansted instead. Consider the (extra) cost of transportation from the airport when comparing Ryanair with another airline as it could work out more expensive.

Legroom. It's tight at 30 inches. You can pay €8 – €10 for extra legroom when booking.

Calculated inconvenient seat allocation. You'll need to pay €4 to sit with your flying partners (don't do that) or you'll need to play musical chairs (do this – here's why)

Flights are always full. I don't know the ins and outs of Ryanair's pricing model, but it seems to be pricing it low and make money on the extras. This means flights are usually at least 80% full. Don't bank on having a seat next to you to spread out.

No (thing between gate and plane – drawbridge? Skydeck?). At almost every airport you'll need to board a bus which will drive you to your plane on the runway, then climb stairs to board the plane.

No inflight meals. I'm accustom to this now, and wouldn't rather pay more just to get a meal. But I do enjoy the free meals on long-haul flights, so that's one bit of excitement Ryanair strips away.

No inflight entertainment. Forget watching the latest movies or your favourite TV series. That's not happening on Ryanair (unless you bring your laptop, iPad or phone with it preloaded). There's also no wifi.
Would I chose Ryanair over another non-budget airline? No, why would I put myself through that?
But, is Ryanair so bad that I'd pay 2 – 3 times the price to fly with another airline? No, it's not that bad either.
There is a place for Ryanair in this world. Just as there is for buses between Paris to London at €20 vs €100 on the train. It's like my old Datsyn 120Y that got me from A – B but didn't have air conditioning. Flying Ryanair is not the most comfortable, or glamorous or but it does the job.
If you're still willing to try Ryanair, to get the cheapest flights double check by opening a flight aggregator like this one, and click through to the add bags page on Ryanair and 3rd party sites like mytrip, Kiwi, gotogate etc as some offer cheaper bags).
***
More airport and flight reviews:
*****
Save Ryanair Review: The Fees and how to avoid them to Pinterest