If you are planning to visit the incredible Salar de Uyuni Salt Flats in Uyuni after visiting San Pedro de Atacama, the bus from Calama to Uyuni is your best bet.
We took the Calama – Uyuni bus and lived to tell the tale. We'll show you how to navigate the Chile Bolivia border crossing.
Not only that – we've got 9 tips to survive the bus trip too!
Where to Buy your San Pedro de Atacama – Uyuni bus ticket
If you are planning to visit Uyuni from Chile by bus, make your way to either San Pedro de Atacama or Calama.
From San Pedro de Atacama to Uyuni
If you are in San Pedro de Atacama you can purchase your ticket to Uyuni from most vendors in town.
However, be warned they will probably upsell you on a Salt Flat tour from San Pedro instead.
It's much better (and cheaper) to book your salt flat tour in Uyuni.

But don't take our word for it. We compare the options for you.

Read our Uyuni Salt Flat Guide FAQ to find out more about exactly how to do it.
The easiest way to book your bus from San Pedro de Atacama to Uyuni is online at Recorrido.cl
You should really book a few days in advance as tickets definitely found out the hard way after a 2 day delay.
From Calama to Uyuni
We were in Calama as we hired a car to visit San Pedro before we dropped it back at the airport.
Buses to Uyuni are cheaper from Calama. You can book at the Calama station here (opens in new window) or online at Recorrido.cl.
Calama – Uyuni Bus Tips
We survived the bus from Calama to Uyuni but you can thrive if you follow these 9 tips:
Grab a window seat. Scenery on the journey from Chile to Bolivia is amazing. Particularly on the Chilean side you will see snow capped mountains as the backdrop to sandy filled deserts.
Bolivian Border control don't check for your yellow fever vaccination. So, if you are wondering whether you need proof of your yellow fever vaccination to enter Bolivia or considering paying $200 for the vaccination to get in – save your cash.
If you are starving by the time you reach the border, the Bolivian side has curries which the locals love. We missed out because we were last through customs.This is so sad, Alexa play Despacito.
No luggage tags. If you like the security blanket of the bus company ticketing each bag and checking it when you want your bag back, you're out of luck.
The bus is Freezing. You've probably read about this elsewhere and it's 100% true, even in Summer. Locals bring thick alpaca blankets.
Only 2 companies run: Atacama 2000 and Frontera. Both cost 15,000 CLP. A2000 can be booked online at Recorrido.cl. It seems to be more popular and sold out days in advance when we were there. Both buses are located on the same street.
Expect to spend 1-2 hours at customs. It's pretty boring and slow.
On Frontera, after crossing the border and passing through Chilean customs, the bus pulls over before the Bolivian customs and you change buses with a bus from Uyuni going to Calama. It's a little chaotic (this is where the bag tags issue is noticeable). After 10 minutes you will board your new bus to Uyuni and proceed to the Bolivian border and customs. On reflection, the waiting time at customs may be to facilitate this bus change over – if the Uyuni to Calama bus is delayed you'll wait like we did.
See your first Alpaca – how awesome are these guys?!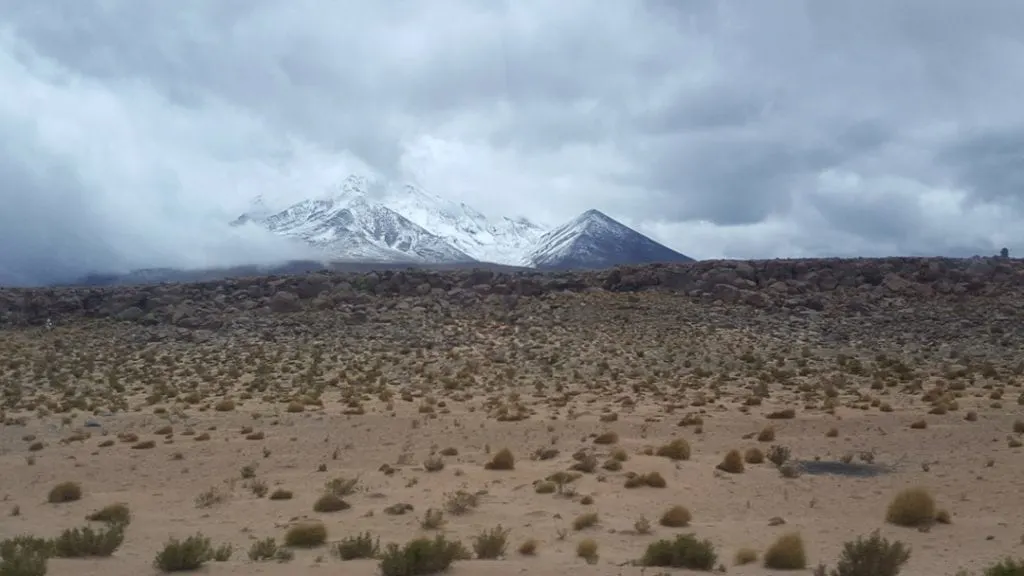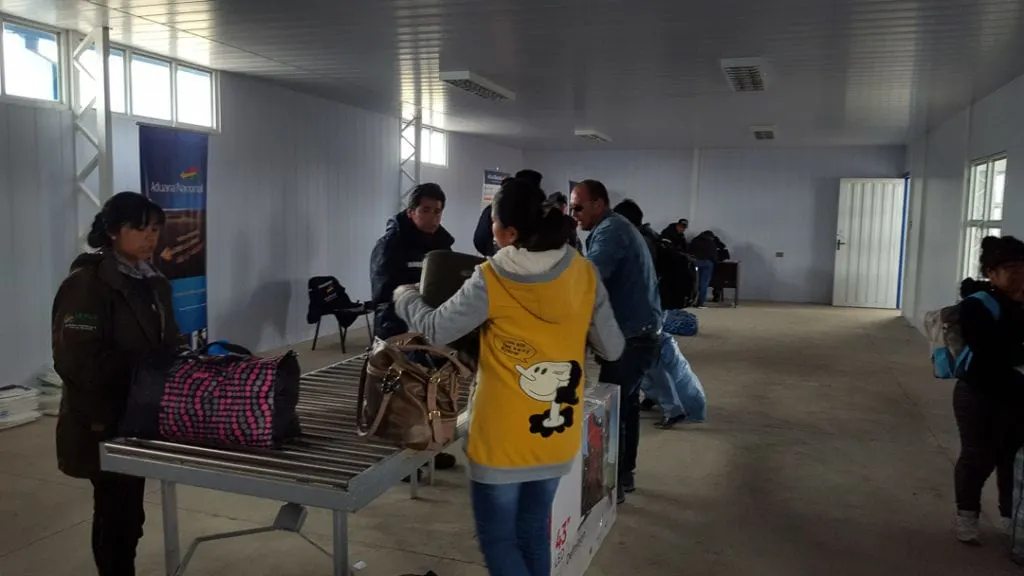 Next Stop Salar de Uyuni?
The Uyuni Salt Flats were one of our favourite things to do in South America.
But we had so many questions before we took our Uyuni Tour.
How much do tours cost? How many nights should I spend at the Salt Flats?
We cover all this and way more in our Uyuni Salt Flat Guide.
After Uyuni make sure you spend some time in La Paz. We cover some interesting things to do in La Paz besides the cable car (which you should really do to). Don't read it if you're afraid of witches because we visit a witches market.
Copacabana and Isla del Sol Travel Guide: This sleepy lake side town is far more than a stopover on your way to Machu Piccu. We cover what to do, where to stay and what to eat (yum)!
La Paz to Cusco Bus (via Copacabana): We show you how to get between these essential south america gringo route destinations. The best way is via Copacabana because it really is a great destination in itself.
Travelling from Salar de Uyuni to San Pedro de Atacama?
Don't miss these crucial travel blog posts about things to do, where to stay and how to get around San Pedro de Atacama.
San Pedro de Atacama Travel Guide: So many questions, so little time. Which attractions should you prioritise? How to get around? Where can I stay that is epic (like a glamping experience under the stars)?
How much to budget for a trip to San Pedro de Atacama? We cover the entry costs to all the San Pedro attractions.
Thinking about flying to Santiago, Chile? Read our SkyAirlines review before you book your flights! Then take a squiz at our tips to get from Santiago Airport cheap.
Save this to Pinterest (so you can find it again later)