Heading up the West Coast of Florida you will find he most divine beaches of the likes of Marco Island, Naples and Bonita Springs.
We thought we had seen in all in terms of Florida beaches but as we drove over the Sanibel Causeway we realised Sanibel Island Beaches were different – not only were they situated in a lush, tropical paradise but they had waves, something we had not seen before in Florida!
One of the biggest drawcards to Sanibel and Captiva island is that these beaches are considered some of the very best shelling beaches in Florida!
6 Sanibel Island Beaches
Sanibel Island is a very popular island off the coast of Fort Myers in Florida.
If you are traveling to Fort Myers you will realise pretty quickly that they have pretty rubbish beaches. To achieve tropical beach paradise, you need to cross over Sanibel Causeway bridge to Sanibel Island.
The bridge to Sanibel Island from Fort Myers costs $6 USD but it is very worthwhile if you are looking for great beaches – Sanibel Island beaches are gorgeous.
We loved that Sanibel Island had a very different look and feel to it than Fort Myers.
As you enter the island you drive into lush, tropical paradise. Green is everywhere.
In fact, you can't actually see the houses as you drive along the roads as the view is restricted by palm trees and other green vegetation (much different to Naples Beaches might I add where mansions line the streets).
The island looks like how I imagine Hawaii to be – wild and Jurassic park like – although I have never been to Hawaii, someone will have to tell me if this vision is accurate.
Sanibel Island has a very chilled and relaxed vibe. Many of the residents choose not to drive cars but to cruise around the island on bikes.
Summary: It is a very cool place with great beaches – totally worth checking out if you are headed to Fort Myers.
Causeway Park & Beaches
The first beach that you will approach as you drive into Sanibel Island is Causeway Beach Park.
It is not the best beach on Sanibel island but it is the cheapest.It is one of the only places on the island that you can park for free.
Most other beaches on the island cost $5 USD per hour to park. Yes, you heard me right. $5! It is indeed very expensive but the beaches are lovely so it is a worthwhile expense.
The great thing about this beach is you can park virtually on the beach. It is a great spot to have a picnic or go for a quick dip.
There are facilities at the beach including restrooms, BBQs and picnic tables.
Don't spend your entire time at this spot as our favourite beaches in the area are coming up soon.
Blind Pass Beach
Far up the other end of Sanibel Island you will find Blind Pass Beach.
Shelling is a very popular past time in Florida (there is some great shelling in Marco Island for example).
If you are interested in picking up some lovely shells at the beach, Blind Pass Beach is the place to head in Sanibel island.
Another activity that is popular on Blind Pass Beach is fishing. You can catch a wide range of fish from catfish, to bonnet head sharks at Blind Pass Beach.
The beach is NOT the best for those who wish to swim. In fact, signs actually warm against swimming at Blind Pass Beach due to the currents.
For this reason and the fact there is no toilets or showers available, we wouldn't recommend the beach to families.
Lighthouse Beach & Fishing Pier
This was one of our favourite beaches in Sanibel Island due to the cute little lighthouse at the beach.
Lighthouse Beach is a great place for photography on Sanibel Island.
Nearby the lighthouse is a beautiful beach with some nature trails. We spotted some great picnic tables at Lighthouse Beach if you are looking for a good spot.
Like the rest of the island, it costs $5 an hour to park at Lighthouse beach.
There are plenty of facilities available at the beach including restrooms, showers, picnic tables and BBQs.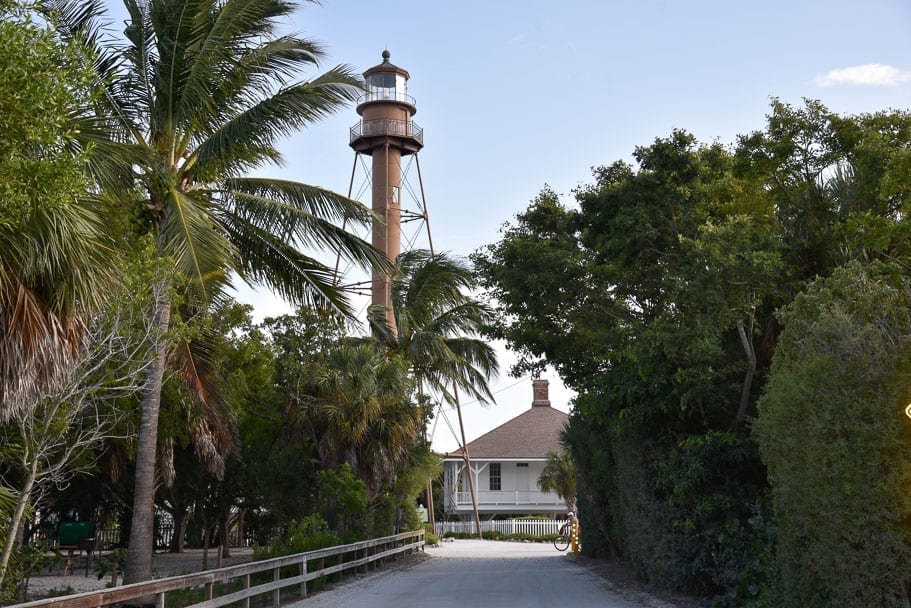 Gulfside City Park Beach
Right next door to Lighthouse Beach is our very favourite beach in Sanibel Island – Gulfside City Park Beach.
In our opinion, this beach had the best surf, the best sand, the most beautiful ocean and it was the most interesting!
On the day we visited there was many people kite surfing which made for a very enjoyable afternoon looking out at the sea.
You can easily walk or bike to Lighthouse Beach from Gulfside Beach.
It costs $5 per hour to park (no surprise here) but there are good facilities including restrooms, showers, picnic tables and BBQs.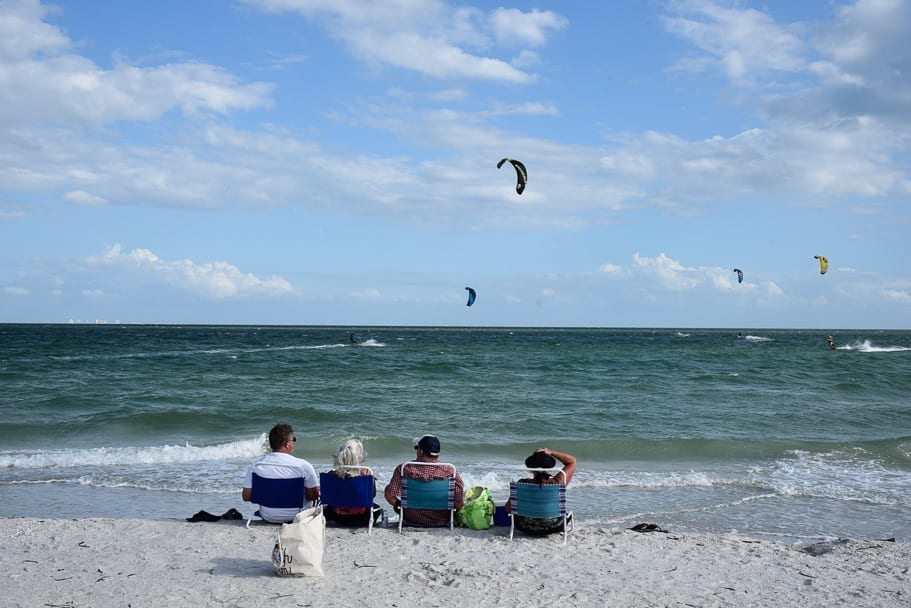 Bowman's Beach is located at the far end of the island near Blind Pass Beach.
It is thought of as the sunset beach. It has the best sunsets in Sanibel Island so make your way there late afternoon to enjoy a stunning orange sunset.
Bowman's Beach is a bit more of a mission to access than the other beaches on Sanibel Island – from the parking lot to the beach is a 10 minute walk so it may not be suitable for elderly or young children.
The beach does boast good facilities including toilets, showers and BBQ grills.
Tarpon Beach
In the middle of Sanibel Island you will find Tarpon Beach.
At Tarpon Beach you cannot park direct at the beach itself. There is a parking lot just down the road from the beach entrance. Fortunately, unlike Bowman's Beach it is a fairly short walk from the parking lot.
This beach was very pretty, fairly isolated and had tonne of wildflowers growing at the time we visited which were really pretty.
There are toilets and showers available at the beach.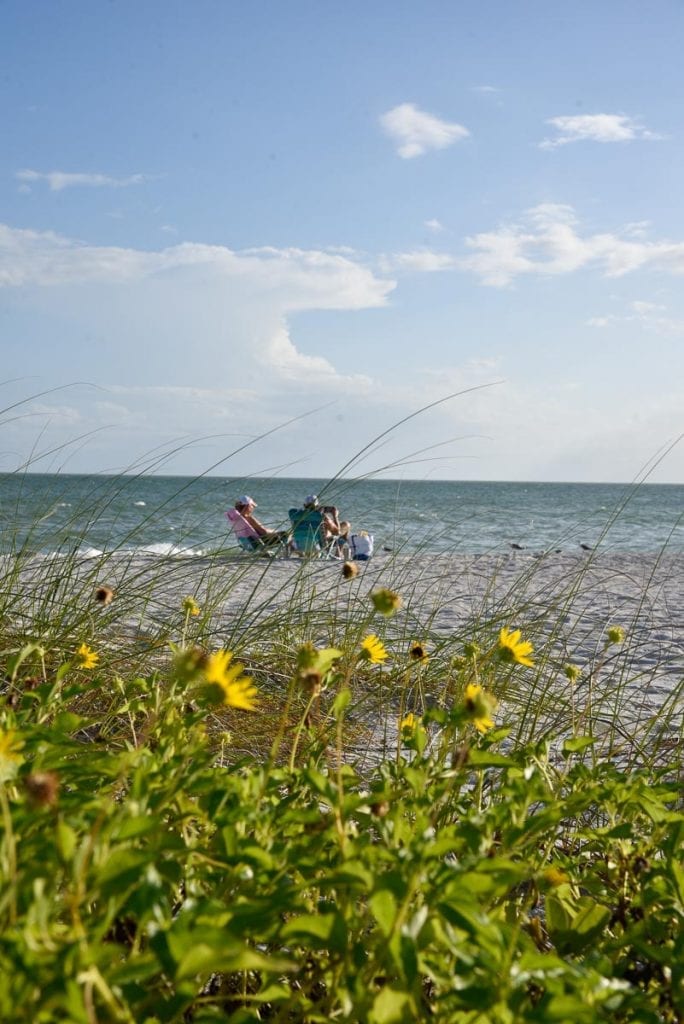 2 Captiva Island Beaches
If you keep driving right to the end of Sanibel Island, you will approach Captiva Island.
There are two main public beaches on Captiva Island – Turner Beach & Captiva Beach.
Turner Beach
On the Captiva side of Blind Pass Beach you will find Turner Beach.
Like Blind Pass Beach, Turner Beach is best for shelling and fishing, not swimming.
There are restrooms and showers available at Turner Beach but not on Blind Pass Beach.
Captiva Beach
If you have made it all this way – congratulations you will be rewarded with some of the most beautiful sunsets on the island.
Captiva Island has less facilities than the Sanibel Island beaches – there are no restrooms and limited parking.
On the plus side if you like isolated beaches, this may be the beach for you!
Where to stay on Sanibel Island?
If we had our chance again, we would recommend staying directly on Sanibel Island not making day trips from Fort Myers.
Here are where we would suggest staying in Sanibel Island:
Sanibel & Captiva Island Tips
After visiting Sanibel Island, here are our best tips for the island paradise:
Bike not Drive. Car parking is very expensive. Bike parking is free. Get my drift? Once you enter the island you can rent at bike at Finnimore's Cycle Shop or many others on the island.
If you are on a budget bring some snacks with you from the mainland. Like Key West, it is more expensive on Sanibel Island.
Despite food & parking being fairly expensive, petrol isn't too bad so don't stress if you don't fill up in advance.
If you have a family, take your kids on the Sanibel Thriller Boat Ride to see dolphins!