What's better than enjoying warm, butter scones with thick clotted cream and homemade strawberry jam in Cambridge?
After nutting out the best scones in London and discovering an awesome hidden gem in God's Own Junkyard we were on a mission to discover the best scones in Cambridge.
Fortunately, there's a lot of cafes with scones in Cambridge. We've narrowed down our list to the top 5.
Our list of cafes and tea houses for scones in Cambridge features a converted church with high ceilings and beautiful stained glass, an Orchard tea garden, a beautiful countryside location and two convent city centre cafes.
5 Best Cafes for Scones in Cambridge
If you are scone fanatics like us, here is our picks for the best places in Cambridge to get your scone hit.
1. The Orchard Tea Room – the most idyllic scones
The Orchard Tea Garden is our favourite scenic place for scones in Cambridge – the setting is just so beautiful.
Sitting amongst Orchards in reclined deck chairs is a fabulous way to spend a very relaxing afternoon in Cambridge.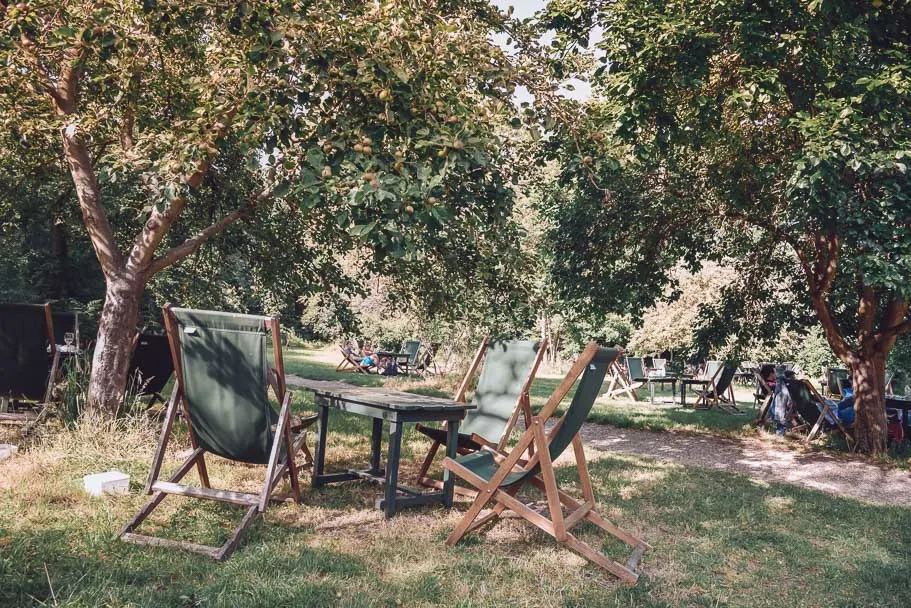 The Orchard Tea Garden has a long and rich history. The first Orchard was planted in 1868 by of Cambridge students.
Many famous academics & royalty including Virginia Woolf (author), Stephen Hawking (theoretical physicist) and HRH Prince Charles (future King of England) have drunk tea and presumably ate scones under these orchards.
Not only was the Garden a beautiful setting but the scones and cream were also particularly good.
From the Orchard Tea Garden you can take an absolutely beautiful walk in the Grantchester Meadows where you will see meadows of cows and locals picnic and punting on the river Cam.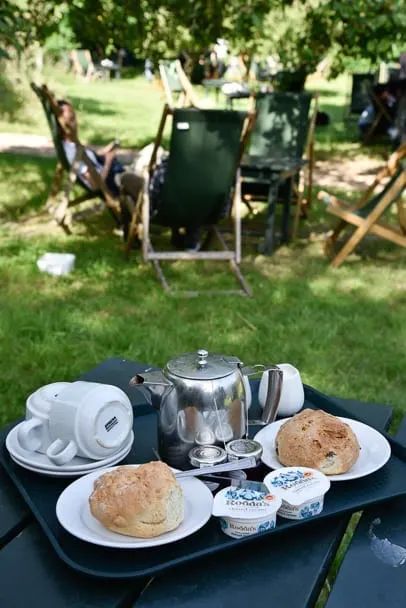 2. Fitzbillies – the best scones in Cambridge city
After visiting the the Orchard Tea Garden, we were convinced we had discovered the best scones in Cambridge.
Little did we know we had not yet visited Fitzbillies.
The scones with thick clotted cream and jam were nothing but yum yum yum!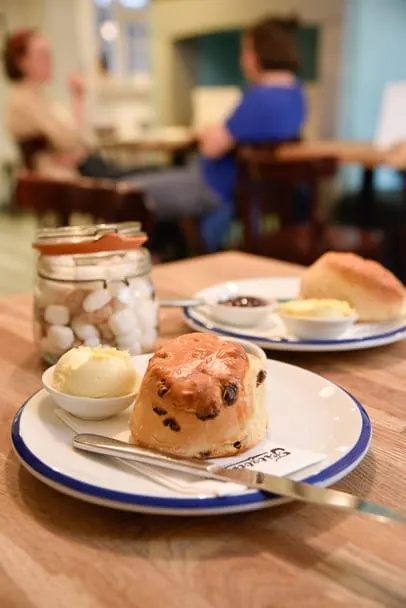 What we loved about Fitzbillies was the light fluffy texture of the scones. The cream was also particularly delicious at Fitzbillies.
As were we taking pictures with our scones, the staff kindly offered if we would like to try a Chelsea Bun, a pastry famous for this area of England.
Basically, it was a cinnamon roll with a thick syrup glazing on top. It was very delicious but as it was quite rich you only need a little bite.
We would suggest buying 1 Chelsea Bun and 1 Scone with jam and cream to share between two.
Scones with jam and cream with tea will set you back £7.25 per persson at Fitzbillies.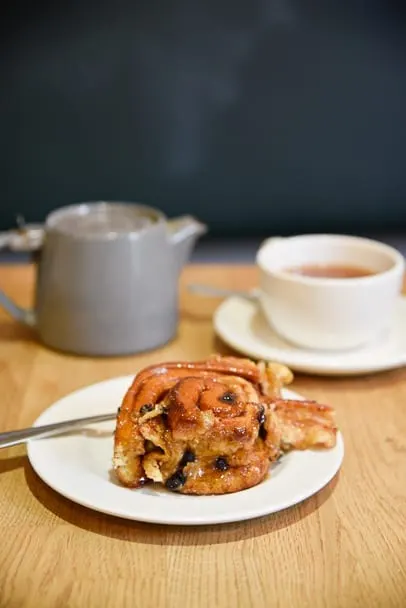 3. Harriets Cafe Tearooms
If you are looking for somewhere traditionally English, you can't go past Harriets Cafe Tearooms. This tearoom states they aim to give customers a "Truly English Experience".
We loved the very English decor of Harriets. Harriets is somewhat of a chain as you can find the tearooms in multiple locations around England.
This tearoom is conveniently located in the city centre of Cambridge.
4. The Gog – Most Stunning Outdoor Setting
If you are looking for a scone in a picturesque area of Cambridge you can't miss the Gog.
The Gog had the most beautiful outdoor setting in the countryside of Cambridge with wild flower fields out back and gorgeous countryside everywhere you look.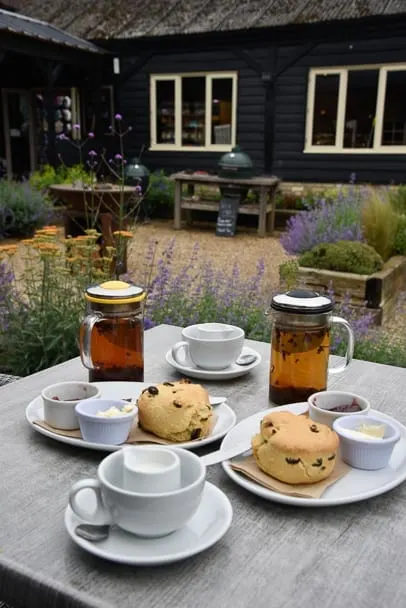 This cafe is very close to Wandlebury Country Park so you can have a scone and go for a walk in the countryside
Scones, jam and cream were a little pricer here at almost £5 (tea extra) however, it is well worthwhile shelling out a little more for the stunning countryside view.
5. Michaelhouse Centre – Most Beautiful Cafe for Scones
A short walk from the centre of Cambridge, King's College, is a glorious old church with a sharp pointed roof.
You'd be forgiven for taking a snap of this beautiful church and walking by.
But this would be a mistake because the small church houses a cafe known as the Michaelhouse Centre which serves fresh baked scones in Cambridge.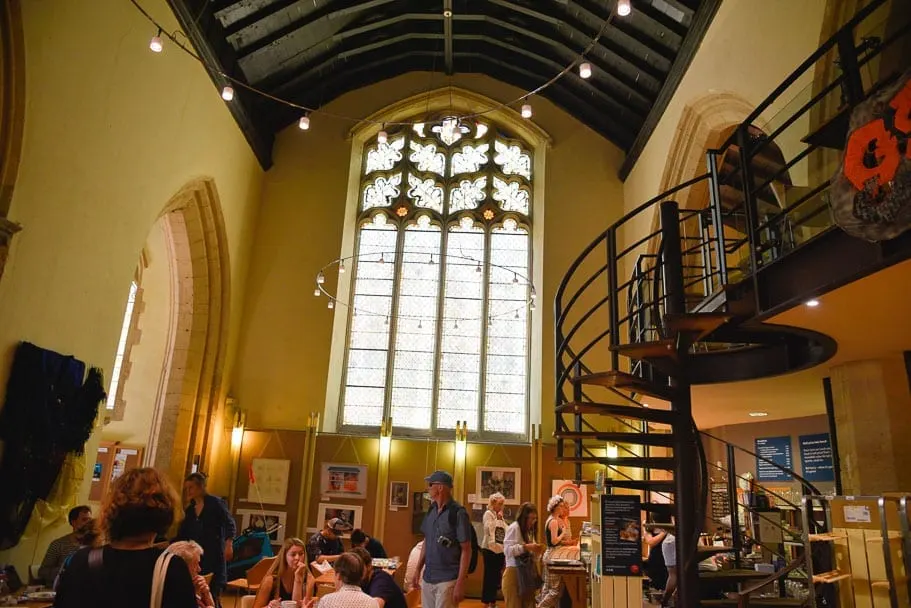 At Michaelhouse Centre you will find some of the cheapest Cambridge scones at only £2.5 for a scone with clotted cream and jam.
The downside is the interior – while featuring stunning high ceilings and beautiful stained glass mosaics on the walls which allow lots of natural light – is also set up as a cafeteria.
To order your scones, you queue up with a tray and pick your scones from the baskets on the counter. You can order tea or coffee and pay at the end of the line.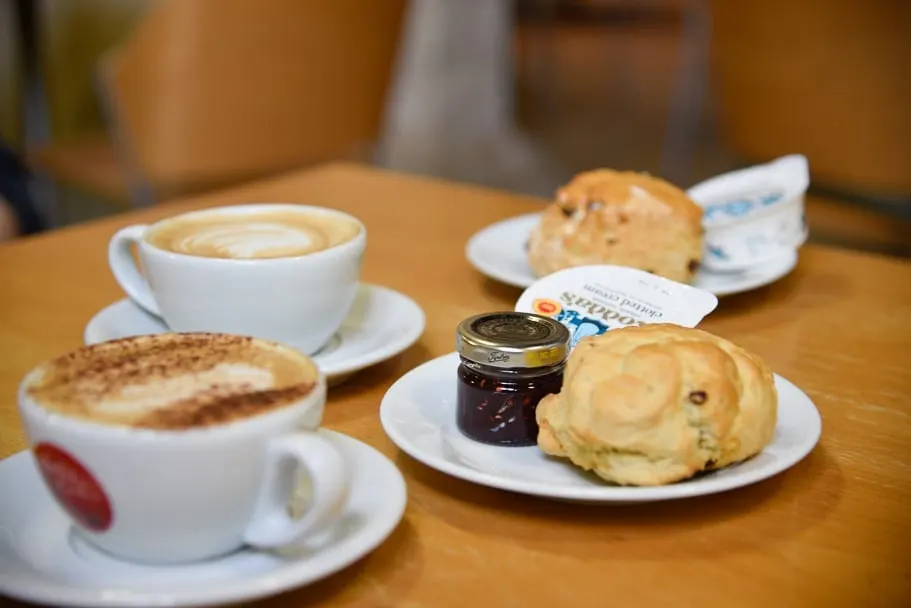 The scone itself could have been more fresh and the clotted cream came in a small plastic single-serve tub.
Come to Michaelhouse Centre for the beautiful building and you won't be disappointed. But keep your expectations in check about finding the best scones in Cambridge here.
Cambridge Scones: Devon or Cornwall style
We learnt a thing or two about scones while in Cambridge after eating so many.
Did you know you there is a cream tea difference (Devon or Cornwall style) depending on the way you spread your jam and cream.
Devon Cream Tea is cream with jam on top. Cornish is jam first with cream on top.
Which way do you prefer? Try both and let us know!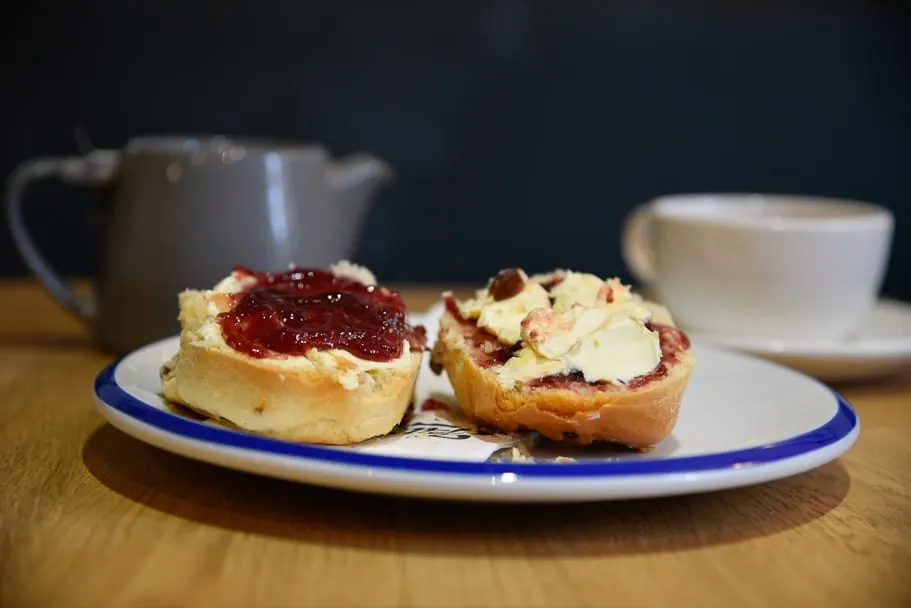 Cambridge Scones Map: Cafes & Tea Rooms
Use this map to find scones in Cambridge near you now.
More Cambridge Travel Blog Posts
Visiting Cambridge? You might like to check out our other blogs on the area including:
Save Cambridge Scones to Pinterest (so you can find it again later!)