We are always on the hunt for good scones in London and for for that matter, well everywhere else in the world too!
There is no place like Great Britain for scones though. So without further adieu here are our Top Places for Scones in London.
Scones in London
Scones are to the English what pasta is to the Italians.
That delicious buttery, creamy texture combined with hand made jam and thick, clotted cream fresh from the farm is just something you simply won't find as good outside of the UK. Is your mouth watering yet?
The English are not known for being chefs but scones are definitely one delicacy that they have well mastered.
If you find yourself looking for scones and tea in London, here are our top picks for where to enjoy the best scones. Find scones is the PERFECT date idea in London.
The English Rose Cafe
If you are looking for somewhere quintessentially British with perfect flower wallpaper, a piano and tea served in China to enjoy your scones, you cannot go past the English Rose Cafe.
Located in the very heart of Westminster, on the tourist sightseeing run near Buckingham Palace, the English Rose is one cafe that can't be missed to get your tea and scone fix!
For only 10 pounds, you receive tea and scones for 2 complete with 2 scones, 2 rounds of jam and cream and a large pot of tea, enough for two.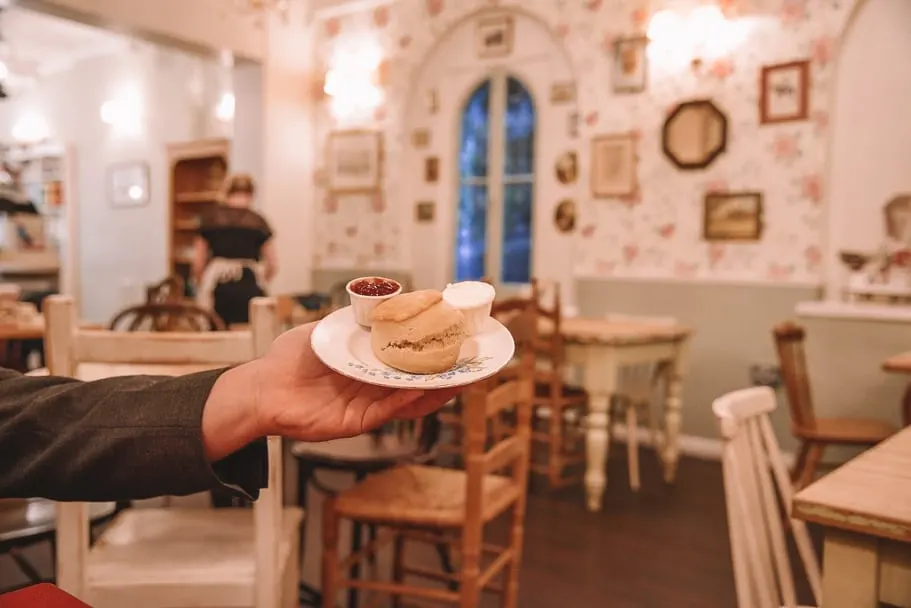 St Ermin's Tea Lounge
We stayed at the beautiful St Ermin's which is an absolutely magnificent hotel in the heart of Westminster.
Every day, the hotel offers a high tea in their tea lounge which comes complete with sandwiches, sweets and of course English scones.
While the high tea also includes masala, chicken sandwich, tuna sandwich, banana cake, and chocolate shortbread, the scones certainly are not to be missed.
You can choose to sit inside or in a lovely outside heated patio complete with cosy blankets for your legs in the cooler months.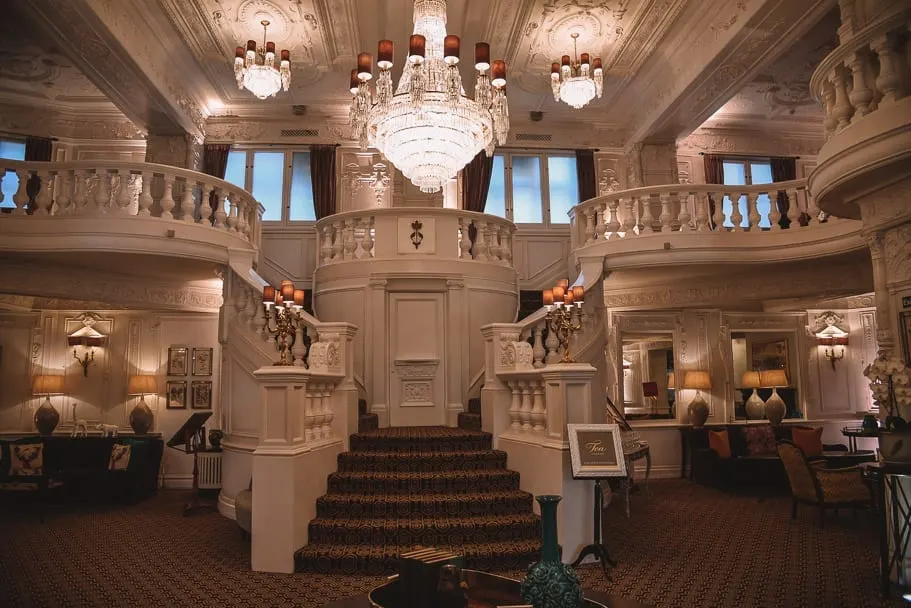 Orange Pekoe
A popular spot for scones and cream in London is the orange pekoe.
This cafe is a tea specialty spot in London. Orange Pekoe are passionate about all things tea and offer loose leaf tea in its purest form.
For £8 you can get a afternoon tea with scones.
Candella Tea Room
If you find yourself in the Kensington area, you can't go past Candella Tea Room. This tea room has an old world English vibe.
They certainly also appreciate the importance of good scones and cream, finding themselves as a regular on the breakfast menu.
For 2.95 pounds you can get a plain sultana scone or for an extra pound you can add on clotted cream and jam, a well worthwhile extra expense.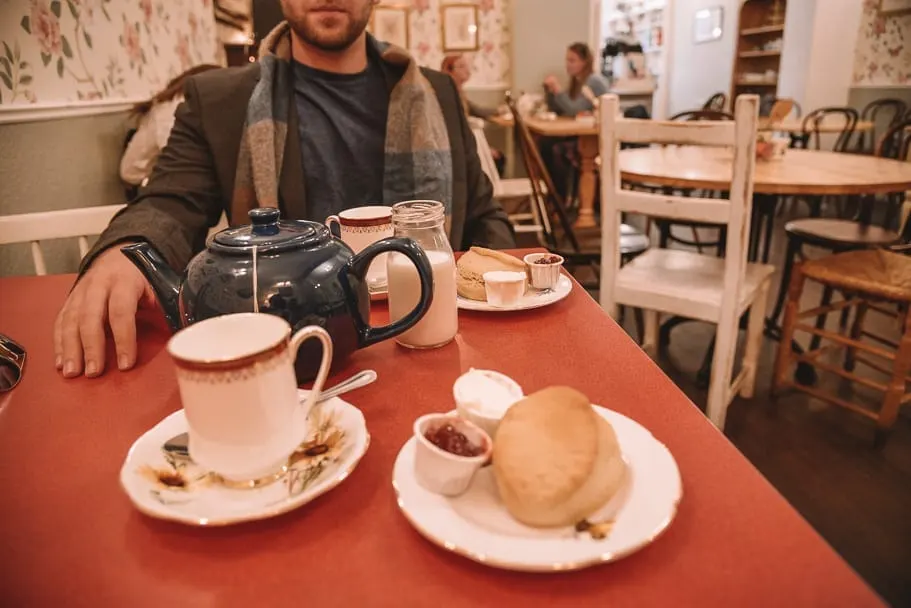 Soho's Secret Tea Room
Soho is a great place to check out in London in its own right. The hipster vibe of Soho really means the area has got it going on.
Being a new hipster area of London, you wouldn't think they have old fashioned scones & cream down pat but it is amazing what you will find in Soho!
To be ballsy enough to name yourself one of Soho's best kept secrets, the Soho's Secret Tea Room, makes an amazing Cream Tea daily for £10.00 including two scones, one plain and one fruit served with Trewithin Dairy clotted cream and Bermondsey Bramble Preserve.
In a 1950's decor, there is no better place to take a journey back in time and pretend you are a 1950's housewife while you enjoy delicious scones!
Fortnum and Mason
People have claimed no-one knows tea and scones quite like Fortnum and Mason.
On the 4th floor you will find a pale green salon set up in Edwardian-style for an afternoon tea of champions. The tea room is decorated completed in the 1920s and 1930s era complete with antiques to provide customers with a very traditional English tea experience.
The Diamond Jubilee Tea Salon at Fortnum and Mason's has been served tea since 1926.
The tea room specialises in scones. The tea room bakes their scones fresh daily and serves many different flavours including plain, fruit and savoury too.
Unlike the famous coke recipe, if you like their scones, you can bake them yourself at home, using their recipe found here.
The Harrods Tea Rooms
Harrods is an English icon in its own right so why not kill two birds with one stone and make a stop at Harrods for scones and cream?
The Harrods tea rooms are quite a fancy way to experience scones and cream while in London. The rooms are beautifully decorated but note you might have to pre-book to enjoy scones and cream here.
The prices are a little expensive at 55 pounds per person however, it also includes sandwiches and a wide selection of fine teas.
Cake Hole Cafe
Another fine choice for scone lovers is the Cake Hole Cafe. It's a vintage cafe with a house specialty of – you guessed it – scones and cream!
This cafe states that English Preserves of Borough market supply the jam meaning it is pretty delicious stuff.
God's Own Junkyard
God's Own Junkyard truly is a hidden gem in London with absolutely delicious scones and cream.
We stumbled across this place on our way to Brighton while looking up scones.
Only open on weekends, God's own junkyard is an amazing art experience. A neon and light artist has transformed an old industrial estate warehouse into an amazing art exhibition with the largest supply of vintage neons and signs in Europe.
God's own junkyard is also the oldest sign-makers in London.
For scones or not for scones, this is a place not to be missed in London!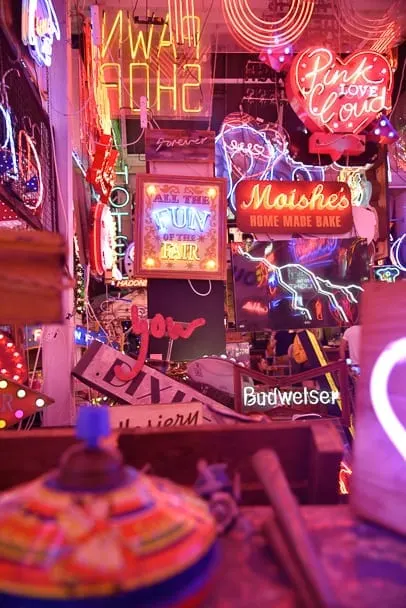 More London Posts?
We love London! If you are traveling to London you might also like to check out:
Save this scone guide to Pinterest (So you can find it again later!)