I should start by saying this is a genuine, non sponsored Shein review, the clothes were very affordable and I was curious as to whether it is worth it.
We like to take photography and share our pictures on our Instagram so buying very expensive clothing can add up quick.
I was wondering whether Shein being so affordable was 1. a legitimate company and not a scam, 2. a reliable site and how long it would actually take to deliver, and 3. whether it was decent quality.
So here you have it folks our full Shein Review from start to finish!
Shein Review
If you haven't heard of it being Shein is a very low cost online clothing company that specialises in fast fashion.
If you want a new, trendy item of clothing that is essentially an Instagram fad but don't want to spend a lot of money on it, Shein could be the place for you.
I will document my entire experience with Shein to determine if it is the low cost, fast fashion clothing brand for you.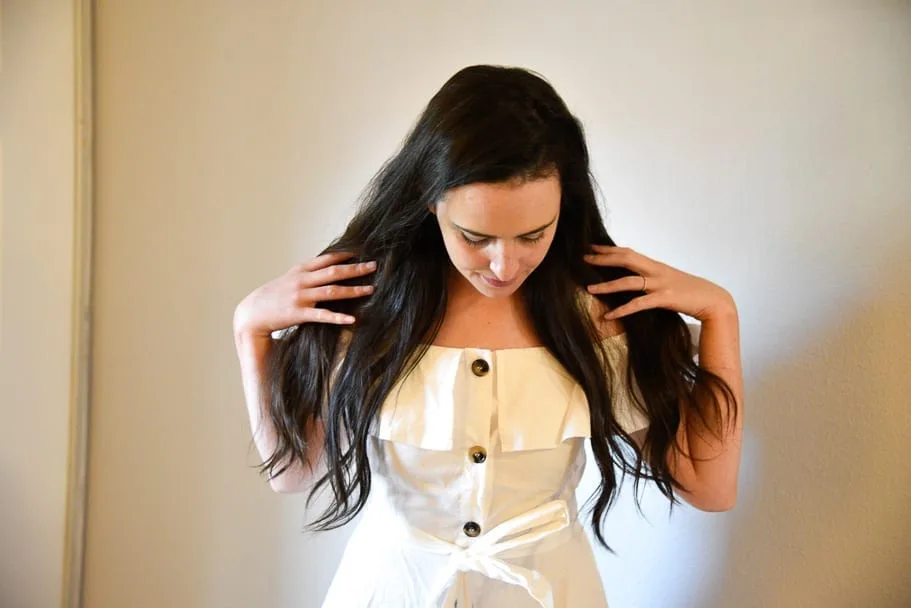 Shein Website & Order
The website is very user friendly. It is easy to find exactly what you are looking for on the Shein website.
They have mens clothing, womens clothing, plus size and kids available on the website. There is also a section where you can buy home decor.
I was able to search for 'long dresses' in the search category and found exactly what I was looking for quickly.
They have a lot of coupon codes popping up on the website (which usually I would love) being a new site I was a little suspicious of scams.
Shein has a lot of scam suspicions on the internet due to the very low cost.
Overall, the user experience on the website was very satisfactory – so far so good.
Shein Cost
I picked 6 items that I liked on the Shein website (4 womens + 2 mens).
The total cost for 6 items, shipping included was $100 USD. That is utterly ridiculous – I could barely buy 1 dress for that usually!
So the low cost of Shein is fabulous but this left me a little suspicious – does this very low cost mean absolutely rubbish clothing?
Shein Shipping
I wasn't able to ship for a while because Shein don't ship absolutely everywhere. That being said, they ship MOST places around the world.
That is except Lviv Ukraine, where we were traveling at the time I first wanted to try Shein.
Now I am in Sarasota Florida it was super easy for me to order online and have it shipped.
The site offers free express shipping for orders over $100 USD. For that money, express shipping included you will get around 6 items.
How long does Shein take to deliver? Usually it is $4 for standard shipping (6-8 business days) and $13 for express (2-4 business days).
I have seen promotions for free standard shipping as low as $10 total order. That is quite frankly amazing
They also have a place on their website where you can also track your order and see where it is at – big tick for that.
Reliability – Shipping Times
The total of our items originally came to around $90 with free standard shipping to the USA.
As we wanted to get our items ASAP we ordered another item to bring our total over $100 which qualified us for free express shipping.
According to the SheIn site, it takes 2 – 4 business days to ship express and 6 – 8 business days regular to ship to the USA.
We placed our order on a Saturday and received a notification that the items would be delivered within 2 business days.
We were surprised the shipping times were actually reliable as the items did arrive as scheduled on Tuesday (i.e. within 2 business days).
Verdict: SheIn site is reliable for shipping times
Return Policy
I love a good return policy. In fact I would go so far as to say that if there is no return policy I am out.
What if you don't like the clothing? No return policy is quite frankly unfair.
I researched and found that Shein offers free returns in the US which is great because that is where I am based.
What I was a little surprised about is that they actually cover the return shipping cost. Not many online retailers cover the return shipping cost. That is a big green tick of approval for Shein.
There is a slight catch. You have 60 days to return the item but only 40 days if you want to make the most of the free shipping.
After 40 days but within 60 days it will cost $8 USD for the return shipping which in my opinion is still very reasonable.
Of course to quality for the return the item needs to be unworn, unwashed etc. All entirely reasonable.
So far so good for Shein.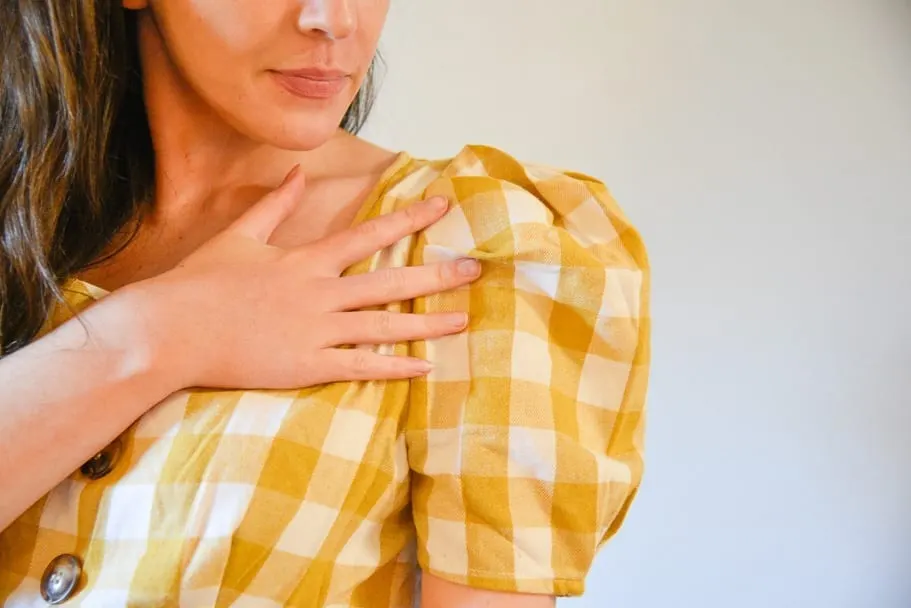 Shein Arrival & Packaging
Despite ordering express shipping I expected my items to take weeks to come.
To my absolute delight (we are traveling so it is hard to us to wait around) they came in only 2 business days as the site predicted. Yippee!
To my surprise, the packaging of the clothes was also really nice – each item was individually packaged in its own zip lock bag.
I have actually had an expensive dress be damaged in the mail before so I was very happy about this.
The only slight negative was that the clothing was fairly crumpled upon opening however, I don't believe they could do a whole lot to fix this so tick tick for packing and arrival.
Shein Clothes Quality
The most important part – the clothes! Were the clothes good quality?
In short, yes and no.
The clothes were what I would describe as fair quality for the price point.
The material was quite thin and buttons on dresses were often fakes (aka there was no actual button hole).
The quality was worse in person than what it appeared on the website.
But, at the price of only around $15 per item, including full dresses which would elsewhere cost $100 + I still wasn't unhappy.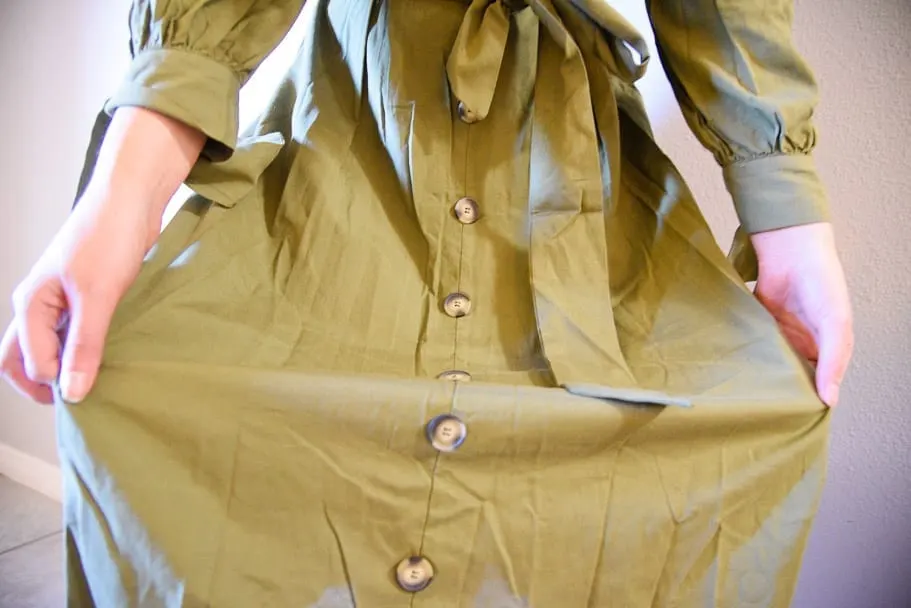 Shein Clothes Fit & Feel
For the fit I will deal with the mens and womens clothing separately as Mike and I had different feelings on this.
Womens Clothing
Ladies first.
I absolutely loved how the womens clothing looked and felt on. The Shein size was exactly spot on true to fit.
Despite being slightly lower quality than what I hoped (but what did I expect for the price?) I was very happy as the clothing looked exactly how I wanted it to, maybe even better than expected.
I liked every single item of the clothing that I purchased which is very rare for me.
It also suited very well the purpose that I wanted it for – Instagram. I wasn't looking for a super high quality item that I could wear 100 times, I was after a 1-2 time use which the quality doesn't need to be that great for.
It simply needs to look good in a photo which I believe the items I bought did.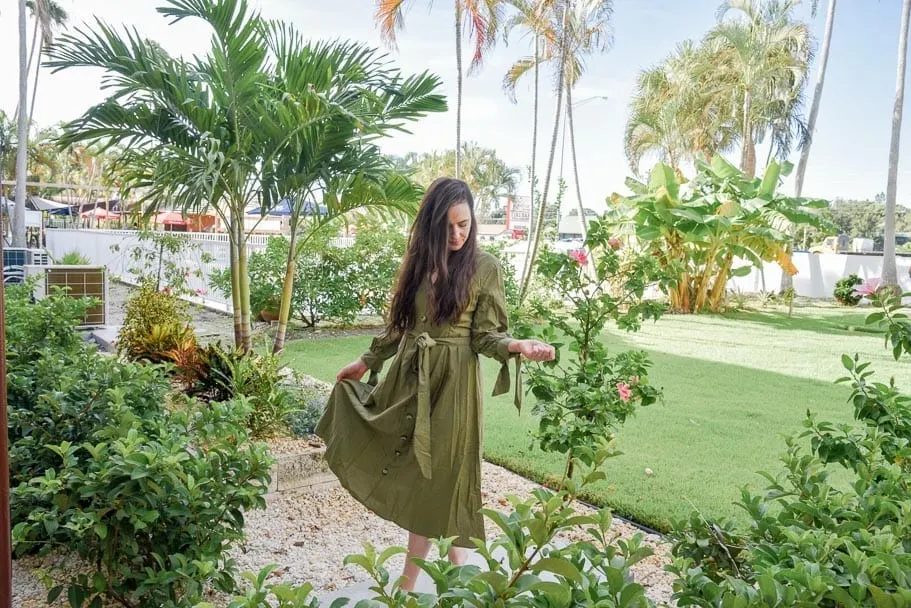 Mens Clothing
Mike was a little less happy than me with his 2 shirts.
He felt the fit was off so possibly Shein haven't quite mastered the mens clothing market yet or he got unlucky.
The neck was extremely large. I think it may be noticeable in a photo. What do you think?
So it is a win for the women and a loss for the men for Shein.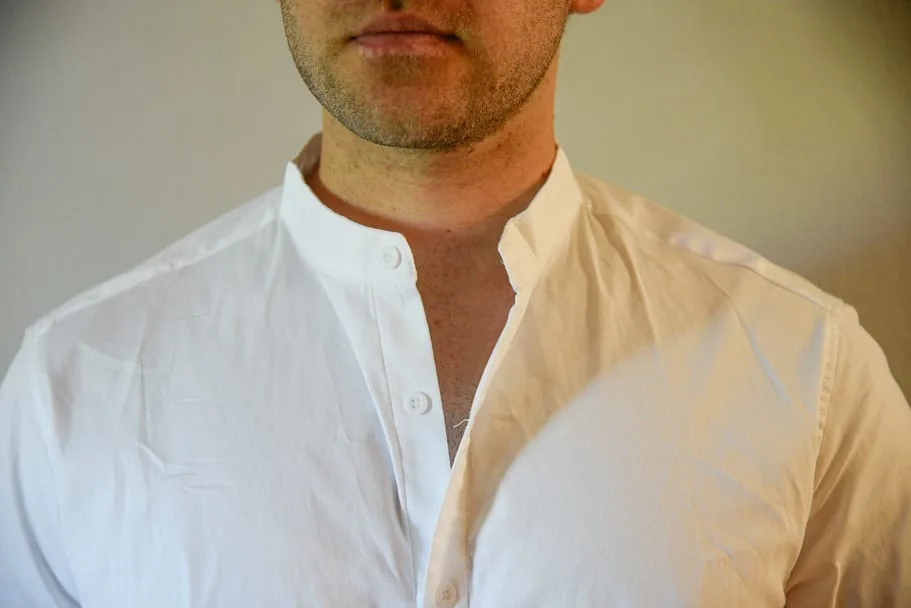 What we ordered?
I think it may be helpful to show you what we ordered to give you a better idea of whether you might like to order Shein, what was great and what was not so good about the order.
Knot Cuff Dress
I ordered the Knot Cuff Dress is the army green.
I really liked the pretty long sleeves and thought that army green was a nice colour for fall.
I did not realise the buttons were essentially fakes at the time I purchased, which I don't love but looking at the picture again you can kind of tell.
I love how the dress looks and feels on so it is a win for the knot cuff dress.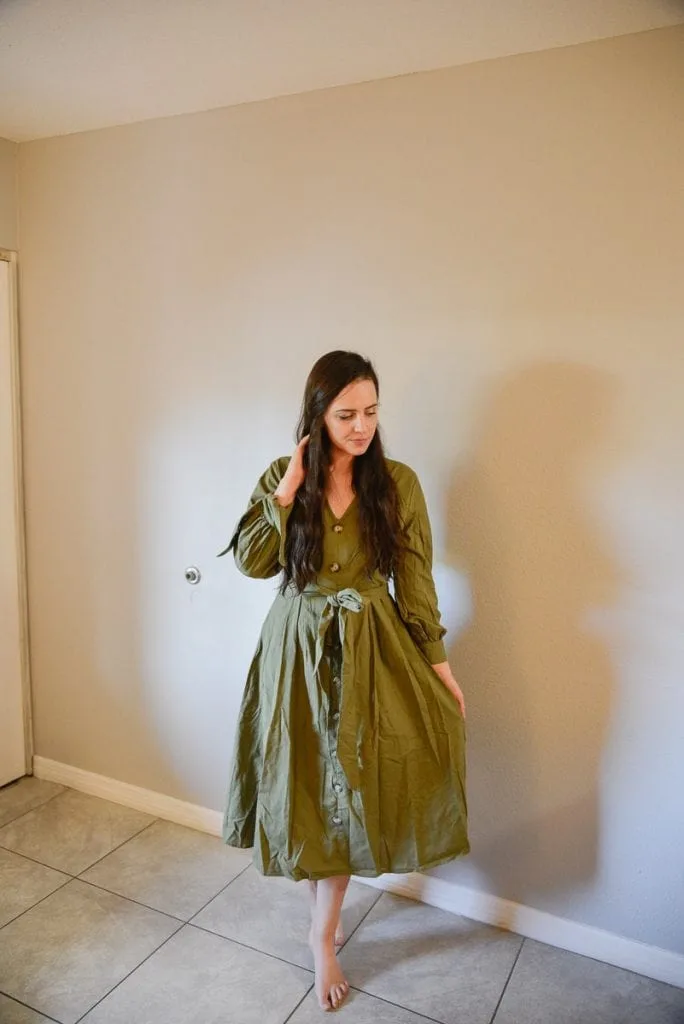 Neck Ruffle Dress
The neck ruffle dress was probably the item that I was most apprehensive to order.
I love how the dress looks but I was unsure how I would feel about the very high neckline.
It does look like the picture but I am still unsure exactly how I feel about the high neckline.
The only other downside to this dress is that the material is thin. It is a little see through.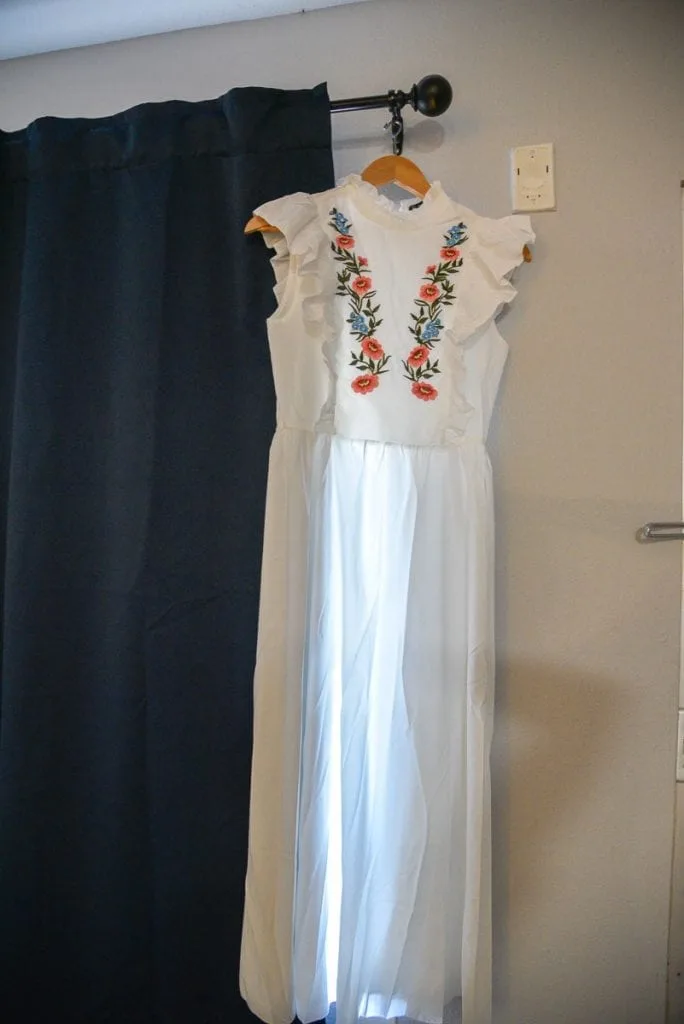 Men Short Sleeve Shirt
This mens shirt is a pretty standard item but very affordable at only $15 USD.
It would be a good basic for your closest but we weren't overly fussed on the quality (quite thin and string hanging) and the neckline.
Probably wouldn't recommend it.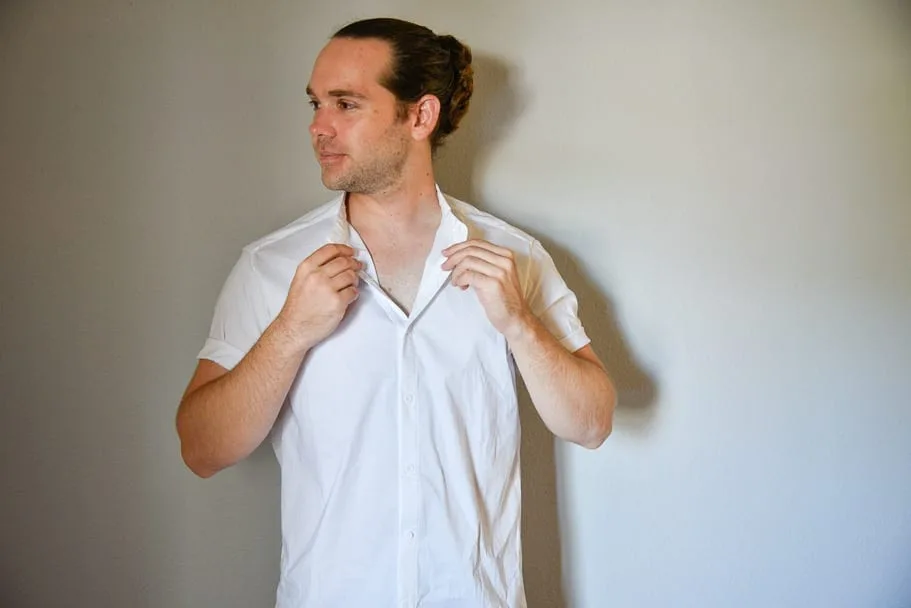 Men Pocket Patched Blouse
I loved this shirt when I saw it on the site and suggested Mike buy it.
In person it was just okay, the material was better than the short sleeve shirt but the neckline was still a little off.
Probably wouldn't recommend it.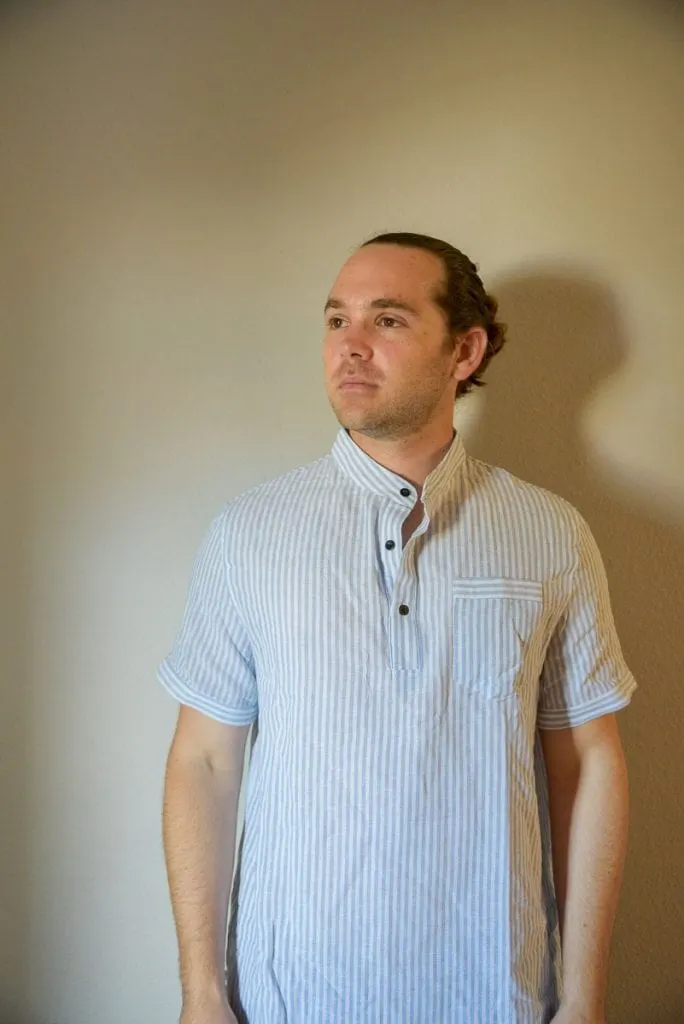 Self Belted Dress
When I saw the self belted dress online I loved the off the shoulder look.
I was a little apprehensive it wouldn't look the same as the photo.
Turns out it was just like the photo. The only negative was again the fake buttons – whats with that?
I purchased this dress as it has lovely fall colours.
It had the best quality material out of all the dresses as it was a lot thicker.
No complaints here.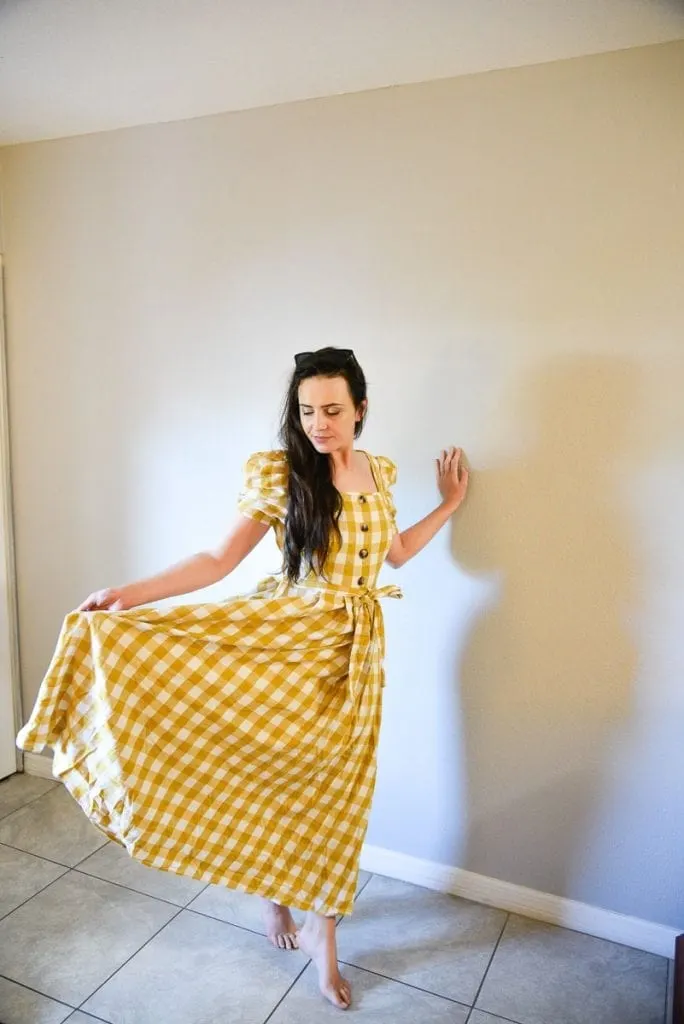 Reliability
Shein Review: Summary
In short, we would definitely order from Shein again as it serves our purpose – a 1-2 time affordable wear at not much more than the price of a Starbucks coffee.
If you like to wear different outfits all the time without spending a fortune, for clubbing, Instagram, work or whatever else, this site is perfect.
If you want a high quality garment which is good for multiple time use this probably isn't the right online store for you.
The clothes are not made with enough durability to last long term. On the plus side, they do provide you with a few loose buttons so you should be able to get at least a few decent wears out of the clothing no trouble.
Hope you enjoyed our Shein Review – have you tried Shein, let us know in the comments below what you thought!
Save this Shein Review to Pinterest so you can find it again later