If you follow us you'll know we're always on the hunt for the best hotels for couples which we're happy to report is the right category for this romantic Vang Vieng hotel. After an action packed time doing as many of the awesome things to do in Luang Prabang as we could muster, it was time for a change of pace.
While Vang Vieng has become well known over the years as a backpacker's paradise, there is now something available for the distinguished traveler who wants to travel in style.
The Silver Naga Hotel, whose infinity pool is nothing short of amazing, is the true definition of luxury accommodation in Vang Vieng.
Silver Naga Hotel Review
Silver Naga is a luxury hotel in Vang Vieng which boasts a first class view of the Nam Song River.
The owners of the Elephant Crossing Hotel, which caters for Flashpackers in Vang Vieng, opened the Silver Naga Hotel to cater for luxury travelers who are visiting Vang Vieng for rest and relaxation in style.
From the moment you enter the Silver Naga you feel comfortable and relaxed.
For a small town, we were impressed that the hotel still offers the full range of 5 star facilities including an extensive restaurant menu, beauty & massage services and a yoga studio.
We also particularly appreciated that the hotel has a strong focus on ethical tourism.
We hired a motorbike in Vang Vieng (much reminiscent of our adventures motorbiking Chiang Mai and in Guillin Yangshuo in China) and noticed how poor the local community living in the outskirts of town were.
For this reason, we believe it is important to chose a hotel with a strong commitment to supporting the local farmers and community.
Silver Naga's ethical tourism policy demonstrates that they care greatly about the local community.
From their commitment to hiring & promoting local staff to buying local produce, the hotel has a strong dedication to supporting the local Vang Vieng community.
Restaurant & Cafe
As we are fans of a good street market, as shown by our adventures of Muslim Street in Xi'an, it is unsurprising that we couldn't pass up all the delicious street food on offer in Vang Vieng.
As it turned out, we may have visited one street stand too many as we ended up with food poisoning. Not fun!
If you don't want to risk getting sick on a short holiday, it is good to know that the hotel where you are staying offers high quality & sanitary food.
We were impressed that the Silver Naga restaurant serves a variety of cuisines including Laos, Thai, Korean and European food at reasonable prices.
In the mornings (between 7-10am) the restaurant also serves a buffet breakfast complimentary to all guests staying at the hotel.
The quality & variety of food offered at the breakfast buffet was outstanding.
The hotel offered everything from a pancake and omelette station to a wide variety of Asian breakfast options including fried rice and yellow curry.
We particularly enjoyed the fresh fruit including the fresh mango on offer daily. Yummo!
Another cool thing about the hotel is that they are partnered with one of the best local cafes in town, Cafe Eh Eh, which makes great coffee & cakes.
For guests convenience, you even can make an order at reception and they will deliver it to your room. Now that's service!
We decided not to be lazy and visited the coffee shop in person and as coffee lovers we can attest that they sure do make a great cafe latte!
The Rooms
There is wide variety of rooms available including Standard Rooms, Deluxe Rooms, Deluxe Plus Roms and Junior Suites at varying prices.
We stayed in a deluxe double room.
If you can afford a little extra, we would recommend upgrading from a standard room to a deluxe rooms as they offer gorgeous views of the Nam Song River.
The deluxe room we stayed in was clean, comfortable and offered unbeatable views of the mountains and river.
It doesn't show in the picture below but the room also had an air-conditioning unit which is vital if you are visiting Laos in the middle of summer!
The standard nightly rate for two people is as follows:
Standard Room – $65 USD
Deluxe Rooms – $95 USD
Deluxe Plus Rooms – $110 USD
Junior Suites – $160 USD
There are also family rooms available at Silver Naga.
Do note, the room rates increase by 15% during high season dates. For full details as to room facilities and high season dates click here.
The Luxurious Infinity Pool
The best part of the hotel in our opinion is the Instagram-worthy infinity pool which offers magnificent views of the mountains and the Nam Song River.
Due to the view, the pool was one of the best we have ever experienced.
There is also a full poolside bar that offers cocktails in fancy plastic glasses that you can sip in the pool as you admire the fantastic view.
The price of the cocktails start from 40,000 Kip ($4.80 USD). Between 5-6pm the pool bar offers a happy hour 2 for 1 cocktail promotion!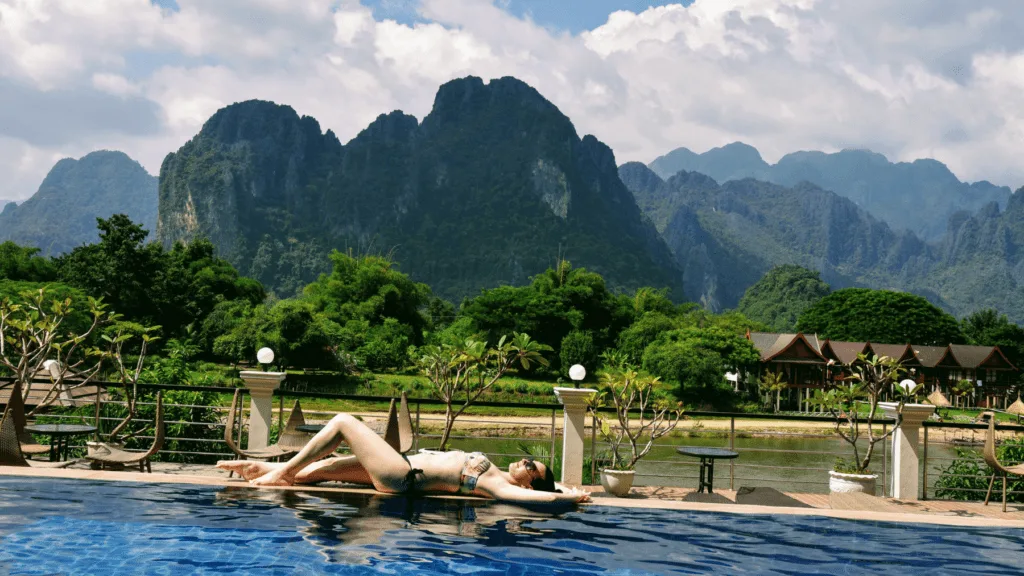 Activities in Vang Vieng
Silver Naga provides a full Vang Vieng travel activity booking service.
You can book virtually any activity you want to complete in Vang Vieng directly through the hotel reception.
Due to the amazing nature in the surrounding area, Vang Vieng focuses on adventure activities including hot air ballon rides, kayaking, tubing and adventure caving.
If you want a relaxing day by the pool, not a problem, the hotel has partnered with Yoga in Vang Vieng to conduct 2 yoga classes per day for guests. These classes cost $10 USD a session.
Often the yoga at the hotel isn't just ordinary yoga but scenic countryside Yoga as the hotel arranges to have many yoga sessions in scenic locations in the nearby area.
For travelers with a little more time, the yoga studio regularly offers week-long yoga, meditation and nutrition retreats.
The hotel has also partnered with a pony riding company in the area, Pony Trekking Vang Vieng, who offer currently offer pony rides for kids and will soon be introducing pony cart rides for the whole family.
Booking
We absolutely loved our relaxing stay at Silver Naga! We would recommend it to anyone looking for luxury accommodation in Vang Vieng.
The contact details are as follows:
Email
[email protected]
Phone
+856 23 511822
Fax
+856 23 511844
Mobile
+856 020 55602830 or
+856 020 22454730
Where else to Stay in Laos?
If you're heading north to Luang Prabang to see Kuang Si Falls consider checking out our guide to where to stay in Luang Prabang.
If you have any questions about staying at this hotel or visiting Vang Vieng in general, we would be happy to help – leave us a comment below!
Pin this 'Luxury Accommodation in Vang Vieng' Guide to Pinterest!
Disclaimer – We were guests at this hotel. However, it does not in any way influence our views or opinions of the experience. Our review is 100% honest and a true reflection of our experience.