Looking for Spring Date Ideas?
Everyone looks forward to springtime. Flowers start to bloom, the weather gets warmer, and the fever to get outside can be overwhelming. With so many possibilities of things to do, we naturally want to find activities which will make great dates, things we can share with our partner and experience together.
In this article, we are going to concentrate on great spring date ideas that get the two of you out of the house, get that blood pumping, and open up your senses. Springtime is a time we feel alive! Welcome to spring!
But first, What to wear on your Spring Date?!?
But first, what should you wear on your spring date?
If you plan to have an outdoor spring date or are visiting an outdoor flower farm or going berry picking, I would highly recommend a cute dress (for great photos), sandals and a big hat!
Here are some of my personal spring favs
My picks: Floral Maxi Dresses
My picks: Spring Sandals
My picks: Instagram worthy Hats!
50 Fun Spring Date Ideas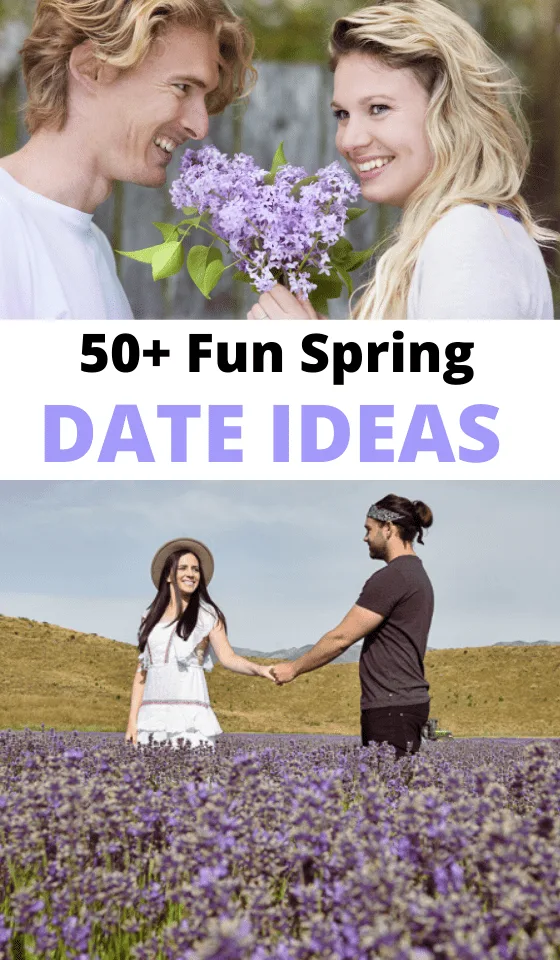 For a springtime date during the day, get outdoors
The snow has melted away and things are warming up. The perfect springtime date ideas is to get outdoors.
These ideas are much better than taking a walk in your local park
Visit a tulip field/ festival
If you have a tulip festival within driving distance, I highly recommend planning a day to drive out and see it. It will astonish you with its beauty and bring a romantic feeling to your whole week!
The best tulip fields we have seen are in Holland however, there are many great tulips all around the world that you can visit.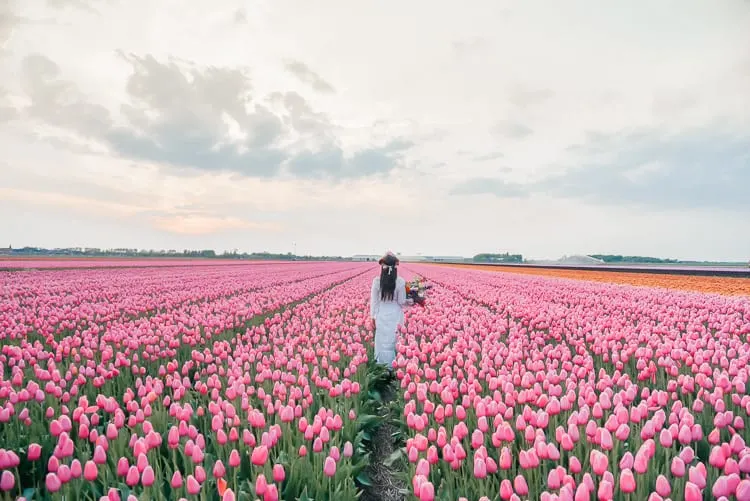 Visit a lavender farm
Lavender farms start to really pick up in the Spring, especially if you are located in Europe.
We have seen great Lavender fields in the UK as well as New Zealand.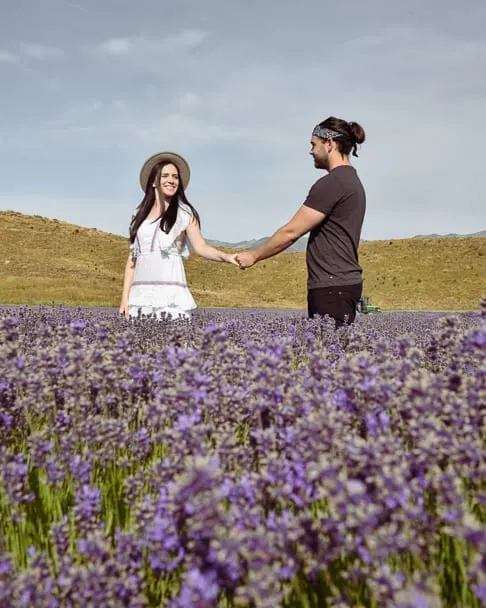 Berry picking
May and June is the time to pick a strawberry or cherries. If it's later in the year for you, blueberries and blackberries come into season.
Berry picking is a great first date because you can walk next to one another and focus on the activity while you chat.
It works well for people who can be a little shy or intimidated by the idea of sitting face to face with someone new.
Of course, this works great for people in longer relationships too. We love this type of spring date – if there's a berry farm wherever we are in the world we'll give it a try. A seriously cute spring date idea!
Read more: 200 First Date Questions You can use to keep it from getting awkies
Take a walk in the park
One of the first things to do when the weather starts to get nicer, is to go take a walk in the park.
Choose one that is large and has trails, so you can really stretch your legs and avoid getting muddy. It will feel great to get out in the fresh air together, take a nice stroll, and smell all the trees and flowers come alive.
Check out waterfront or riverwalk shops
That sleepy little waterfront or river walk is full of shops, restaurants, and bars that are excited to serve you after a long winter of quiet! Some of them may even have started their patio service.
Sure, it's not 80 degrees out yet, and you'll probably be wearing hoodies, but it's so encouraging to have the option of sitting outside again after a long winter!
Visit the botanical gardens
Ready for a kaleidoscope of color and scents? Check out your local botanical gardens.
Go for a stroll through new gardens, see the flowers unfurling in the sun. Stop for a drink in their outdoor café. Sign up for classes or take some plants home from their visitor center.
Go for a bike ride
This is a fun activity you can do together that will get your blood pumping!
It's also great for seeing what's going on in your city, for enjoying nature along the trails, or listening to waves crashing while you ride the boardwalk at the beach. Enjoy the breeze and the birds as you fly by.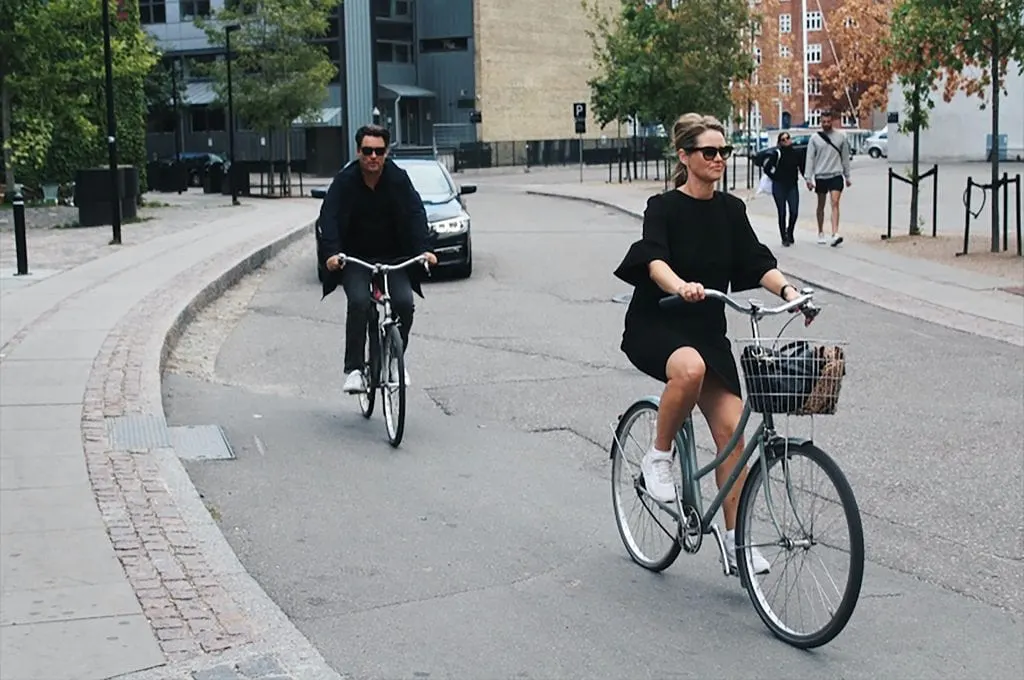 Start your garden
Are you ready for gardening this year? Now is the perfect time to get your beds and containers ready! This is a wonderful thing couples can do together.
Consider starting a vegetable garden if you haven't done so yet. There are loads of videos you two can watch on YouTube to get ideas. Check out the local plant sales this spring, as you can get better deals, and often, healthier plants than at the big box stores.
Go to an outdoor art festival
Art festivals can have an early start in the spring.
If the weather is good, going to an art festival in spring will make you feel like you had a much longer summer than if you wait to go to your first art fest in late June. Dress accordingly and have fun!
Visit the zoo
It's baby season! And don't forget the petting zoo!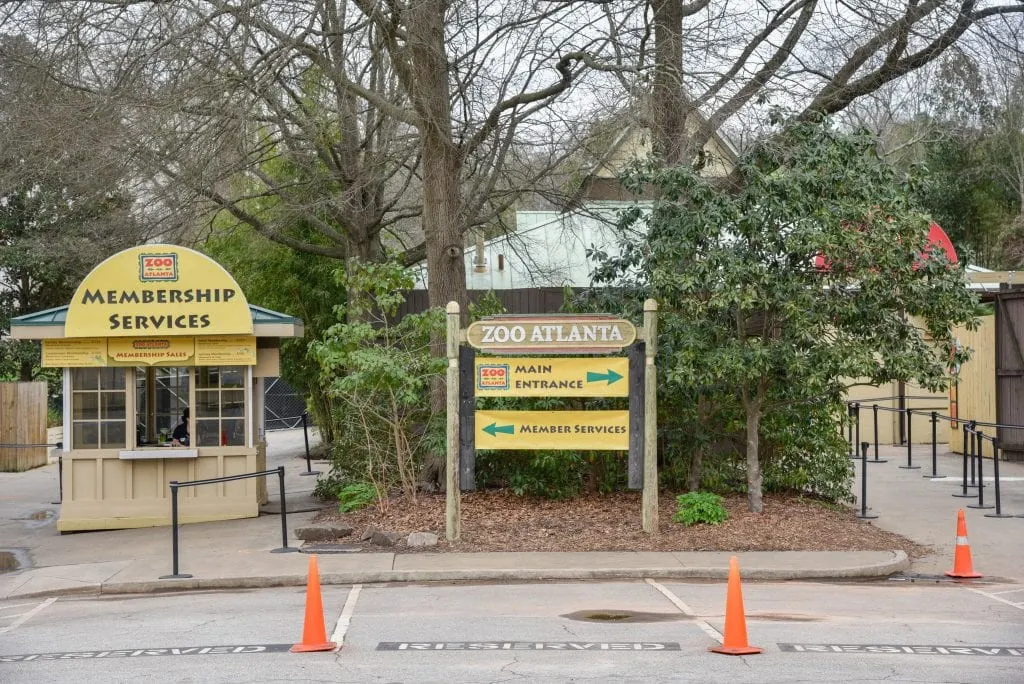 Go swimming
Okay, so it's still cold outside in the spring. You can still enjoy a swim in your local indoor pool! Have a steam and sauna, too. Once it gets hotter out, you can hit the outdoor pools.
This is such a fun couples date for those who love water!
Go downtown and stroll around
Downtown is especially fun if you don't go there everyday for work!
But even if you do, it's nice to experience it with your partner after hours or on a weekend. There are tons of things to do and see. Come up with a plan ahead of time or just wander.
Try an outdoor theater spring date night
Indoor or outdoor theater makes a great date. You can also go to a dance performance or a musical concert.
Enjoy some culture and being able to dress up and go out without having to bundle up in layers of winter wear! It's freeing to get out to a show in nice weather. You can take a stroll afterwards or get a drink and talk about what you've just experienced.
Attend an Earth Day event
Earth Day comes right in the middle of springtime, usually around April 29th. Check your local paper for events in your area.
Perhaps you can join a clean up crew, or a tree planting crew, or just go to a fundraising event. Enjoy Earth Day by making something special out of it. Maybe this can become a tradition for you and your partner to celebrate every year.
Get your telescopes out for the next eclipse
Watching the stars is fun, but when are the next eclipses happening, you ask? There are 3 coming soon in 2020: The first is a Lunar Eclipse on June 5-6, which will be visible in Asia, Australia, Europe, and parts of Africa.
The next one will be a Solar Eclipse on June 21st, this one will be visible in parts of Africa, Northern India, and China.
The third, which will be in summer, is a Lunar Eclipse, and will be visible in both North and South America, on July 4th!
Go bird watching
Grab some binoculars and go bird watching!
This is more of a morning activity but can be done at any time of day. If you two happen to be early birds yourselves, you can join a bird watching club, and benefit from the knowledge of experienced birders.
You may see warblers, woodpeckers, hummingbirds, robins, wrens, jays, or possibly hawks and owls over land, and terns, ducks, geese, herons, or storks near water.
Play tennis
Dust off those tennis rackets in the back of your closet, and head to the tennis courts!
You can play outdoors if the weather is nice or go to the indoor courts at your local YMCA or Park District or gym if it's a chilly day.
You can play a game or just play for fun. Alternatively, you might try racket ball if there are any courts specially designed for racket ball in your area. Racket ball is loads of fun for beginners and experienced players alike. Just be nice, and remember to stretch first!
Go horseback riding
This is a blissful way to spend an afternoon, if you both love horses. Drive to the nearest stable (it's always good to call ahead) and get riding!
There's no better time to go horseback riding than in the spring. There aren't too many flies yet, and the horses are just as excited as you are to hit the trails!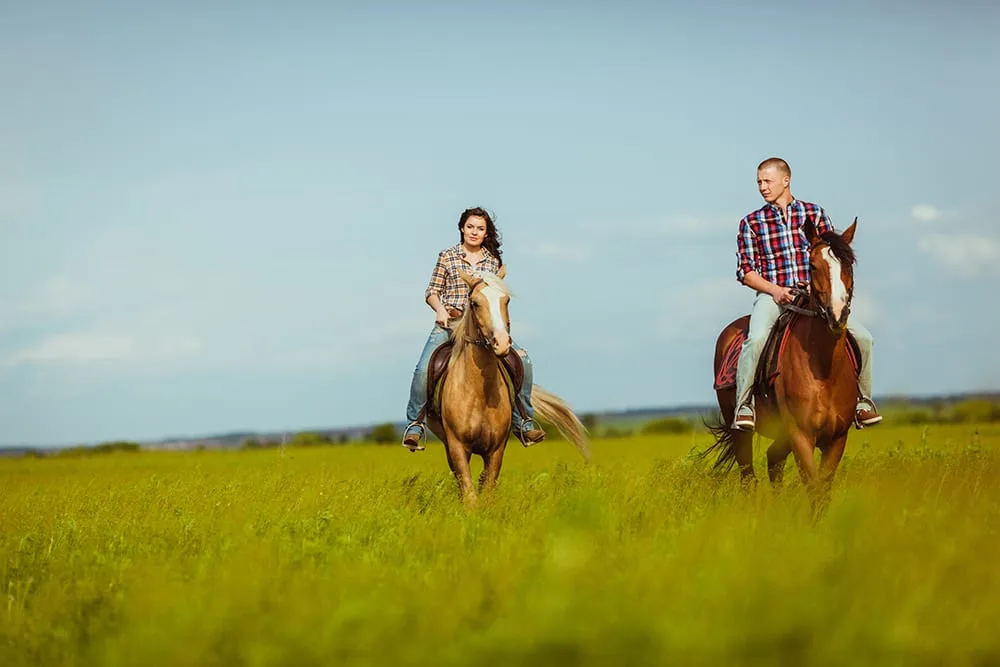 Visit a wildlife sanctuary
Wildlife sanctuaries are a wonderful date idea, especially if you two are animal lovers.
Many sanctuaries open their doors for tours in the spring, and you can avoid crowds by going early in the season. You may even get a private tour if it's an iffy weather day!
The animals are playful and there's bound to be some babies on site, so I highly recommend looking into wildlife sanctuaries for an enjoyable and bonding good time.
Pro tip: There are sometimes rehabilitated raptors (birds of prey) that were injured in the autumn and then overwintered at the facility in order to wait for a spring release, and sometimes these releases are open to the public. Check out the websites of your local wildlife rehab or bird sanctuary to find out about public releases coming soon and put it in your calendar! It will be a memory you will never forget!
Enjoy a concert date night
You can go to a rock concert, see a jazz band, or go to see the orchestra, whatever you like.
You can introduce your partner to something new or go see a tried and true favorite.
Visit the Planetarium
Daytime or nighttime shows are a blast at the planetarium.
If your city has one and you haven't visited in a while, check out what they've got going on. This will be a spring date night you'll remember for a long time to come.
Go to a sporting event (he'll love this)
Go to a baseball game or whatever kind of sports you guys enjoy. Or try something new like horse racing, car racing, or fencing.
Alternatively, you can play sports like squash, frisbee, miniature golf, cricket, or floor pong.
Make a video together and post it on social media
You can make a video together anywhere. In your kitchen, in your neighborhood, or while going on any of the adventures inspired by this list!
It's a sweet way to build a record of your fun times together, and it can also be shared to social media if you so desire. Make a video of your adventures together or a tour of your home, or, make a teaching video on a subject you know well and want to share with the world.
Walk on the beach, check out a pier
Do you have a beach nearby? Is there one with a pier? There is nothing more romantic than a sunset walk together on a pier with the light turning pink and orange, the two of you on what feels like a little island surrounded by water and a cool breeze.
Bring a bottle of wine and enjoy each other's company in magical surroundings!
Sit in an outdoor beer garden
Do you have a local brewer in your town that you like?
Go check out their beer garden as soon as it opens in the spring. They are sure to have new seasonal brews on tap that you and your partner can try.
Visit a restaurant on a high floor that has a balcony
Okay, so depending on how high the floor is, your restaurant of choice may not have balconies! This is understandable.
Still, visiting a restaurant or bar that is up above nearby buildings, and offers a panoramic view, is a fabulous date anytime but especially in the spring.
Some hotels have restaurants on the third or 4th level with balconies that are open to the public, as well. Call around to find these special spots above traffic level where the air is cleaner and the noise is far away, so you two can enjoy each other's company in a totally relaxing atmosphere.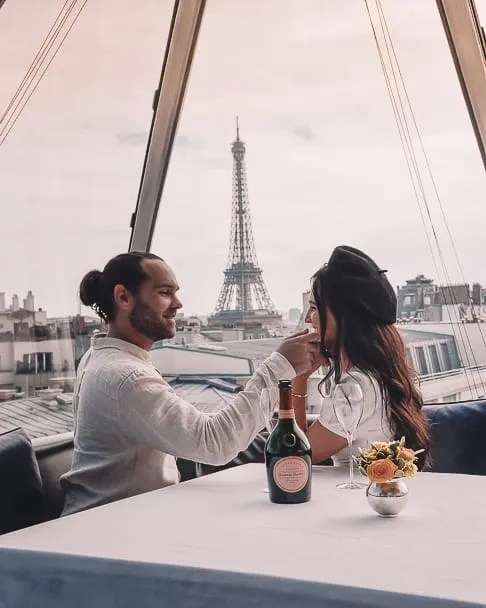 Road trip
Find out what's happening in towns nearby and go check it out!
Visit the aquarium
How long has it been since one or both of you went to the aquarium? It is so much fun, whether you are animal people or science people or both!
There will be lots of fun fish and mammals to see and so many new things to learn! This is one adventure sure to bring a spark into your daily lives!
Visit a farm
There is more than enough on any farm to interest you guys for an afternoon. Check out a farm tour or go just to pick up some homemade jams and cider from their little shop.
Or volunteer your time with a sustainable farm and help them get their crops in on time!
Hike in the forest
Go for a hike in a forest or somewhere pretty. Enjoy the smells and the sights of spring as it changes day to day.
Enjoy long conversations and meandering the trails together as you listen to the orchestra of the wind in the forest and the birds chirping happily.
Picnic at a small lake and watch all the life!
Put together a little picnic and bring a blanket and sit by a lake or river and enjoy the day!
Sitting in one spot and relaxing for a while is a great way to spend quality time together. There's life going on all around you and yet you can just relax and watch it all or stare up at the sky.
Enjoy a little wine, take your shoes off, and enjoy the picturesque scene without the nuisance of mosquitoes or other mid-summer bugs bugging you!
Volunteer to walk dogs at your local shelter
If you guys are dog lovers, then this is the date for you! There are always dogs that need to be walked at shelters and most shelters gladly welcome volunteers who want to walk them!
This may turn into a more long-term commitment than you were expecting – meaning you might get addicted to it and decide to help out a lot more often!
You may even decide to foster a pooch. It's not necessary to adopt and shelters won't push that on you. But helping out for an afternoon may brighten your day and the dogs' day too! This is definitely a 'feel good' date for animal lovers to do.
Go dancing
You can go to a night club or go someplace special for ballroom dancing.
Go to a drive-in burger joint
If you still have one of these old gems near you, give it a try.
Step back into the 1950's and have your burger served to a tray on your car door. Maybe there will even be waitresses on roller skates!
Go to the ice cream parlor
We've been waiting all winter for this. Why wait anymore? Take a walk to your local ice cream parlor and get your favorite flavors on!
Visit an arboretum
Go for a drive at the arboretum. Enjoy all the fruit trees in bloom! Stop by the visitor's center and learn more about the biology of your area and local flora and fauna.
Visit a nature center
Nature centers can be interesting to many people. Some are modern and some are more antique.
They are filled with samples and specimens, some of which you can touch. They are usually attached to a small preserve you can take a walk through.
Go to the St. Patrick's Day parade
This is an early spring activity, which is loved by so many. You can start with the parade and keep partying all day into the night!
Help youngsters make Easter eggs and help hide them for the hunt
Another early spring holiday with many fun opportunities to make crafts and entertain the kids.
Go camping
Once the nights warm up a little, camping is an ideal option for many couples. Cooking and sleeping outdoors is always fun and sitting by the campfire is always romantic!
Fire up the fire pit in the backyard
If you can't go away and have a campfire in the woods, why not set up a firepit in your own backyard? You can buy one or gather old bricks or large stones and make one!
Meet downtown and sample the food trucks
A twist on going out to dinner, is to do something completely different and try out different food trucks!
You can discover all sorts of different restaurant menus by sampling what they have to offer on their food trucks! Also check out the ones that have no brick and mortar restaurant – some of these will amaze you with their creative cooking!
Check out the farmer's market
Make a plan to check out the farmer's market soon! The veggies are fresh, the honey is flowing, you can pick up some fresh baked bread… there are so many treasures you will find at the farmer's market!
Go roller blading
This was a really popular pastime in the past couple decades, and still has a lot of appeal. So, go to the beach or the park, slap on your roller blades, and have some fun together with the wind in your hair. (Be sure to wear elbow and knee pads.)
Rent a segway
There are many places in the world that rent segways at or near touristy parts of town. This is a fun way to cover more ground and see the sights.
Play frisbee golf
Here's a sport that has recently become popular, but was invented in the early 1900's. It is also called disc golf. It is kind of like playing frisbee but with rules similar to golf.
Fly a kite
When the weather starts to heat up and the sun is shining, what could be more fun than going to the park and flying a kite together?
Set up an outdoor cocktail bar
This is a fun way to feel like you are going to a bar but without having to go out and be around a lot of people or pay the high prices.
You just want to be alone with your beloved? Set up a little bar on your balcony or back patio.
You can use a small table and just put a few bottles and glasses on it. Pull up a table for two and light some candles. Put on some soft music and enjoy some private time together!
Do outdoor yoga
If you two are into yoga or meditation and have never tried doing it outside, now is the time to give it a try!
You can lay your matt or a towel on the grass or do your poses directly on the grass so you can feel the coolness of the dirt on the soles of your feet. This is called 'grounding' and is very good for you and will make you both feel invigorated!
Visit touristy spots before they get overcrowded
Go to museums or go on architectural tours. Go to the most touristy parts of your city and enjoy them together before the crowds arrive!
Try one of these Date Ideas this Spring
Here are some more date ideas to schedule into your calender:
What's your favourite springtime date idea? Let us know in the comments below.
Save to Pinterest!