We have seen some pretty stunning churches in our time traveling like Notre Dame Cathedral but we were completely blown away by St Michaels Cathedral Kiev.
St Michaels Cathedral Kiev
Saint Michaels Church was possibly the best thing we saw in Kiev. It is just such a stunning church.
It is definitely something not to be missed when traveling to Kiev.
Here is everything you need to know about visiting this incredible church.
About St Michaels Cathedral Kiev
Saint Michaels is an Orthodox Church in the very heart of Kiev. As it is an Orthodox church, women cover their head to enter.
To be respectful, if you are a women, we would suggest having something like a scarf with you to cover your head.
We were blown away by the architecture of Saint Michaels.
As you approach the church you will find a large blue bell tower with a stunning clock.
Pass through the bell tower and you will discover the most incredible blue church with golden dome rooftops. There is no wonder it has attracted the name the "Golden Dome Cathedral".
The church itself is in full working order.
Inside the church is very small. There are no seats and all masses (even up to 5 hours) are conducted standing. This shows your full devotion to god.
There is a downstairs area of the Cathedral with original church artefacts. This area is cordoned off (so you cant access). But it is nethertheless very interesting to peer down and see the remains of the previous churches that lay in this area.
Is Photography allowed?
As we passed through the doors we noticed a sign with a cross through photography in Ukrainian.
We were worried that we were not allowed to take photography in the area and as it is a working church we did not want to be rude.
However, we later asked a Ukrainian who told us that this only applied to wedding photography. So happy snapping!
Of course you need to be respectful as people come here to pray.
We were informed that photography is also allowed inside the Cathedral (provided no flash) but we were told off by some particularly grumpy old cleaners.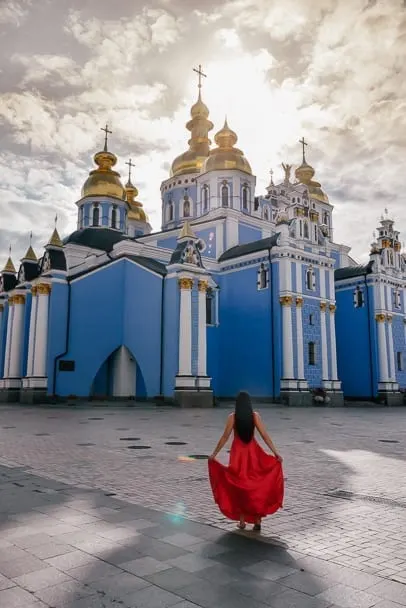 A working seminary
You will see a lot of priests walking around the Church (considerable more and a lot younger than we have seen elsewhere).
We were informed that this is due to that fact that the St Michaels is a working seminary. This means a place for people to train as priests.
Surprised that so many young boys would choose a celibate life, we asked our guide at Free Walking Tours who informed us that in the Orthodox religion you are still allowed to have a wife and children as a priest.
If you are a monk it is a whole different story!
Saint Michaels History
We were very surprised to discover that Saint Michaels is a very new church.
Despite its old world charm, it was built only in 1998.
Of course this was not the first time this was built. It was originally built way back in the Middle ages. It was then rebuilt in Baroque style in the 18th century.
Sadly, during the Soviet era the church was demolished.
Following their independence in 1991, Ukrainians were determined to built the church back to its former glory.
The doors of the new church reopened in 1999.
Overall, we thought visiting Saint Michaels was fantastic. We would highly recommend it when coming to Kiev.
Save this Saint Michaels Guide to Pinterest so you can find it again later