Dental tourism is very popular in Thailand due to the first class facilities in dental practices around the country.
Recently, while we were in Bangkok, we got dental work done at Ivory dental – a well respected dental practice in the heart of Bangkok.
Teeth Whitening Bangkok with The Ivory Dental
We chose to visit the Ivory Dentist in Bangkok due to its great online reputation as being a fabulous dentist.
We have previously tried the at home Zoom whitening treatments and got a really nice result so we were excited to try the in chair treatments.
The in chair treatments are preferred by many people due to the faster whitening effect. While the at home treatment has a gradual whitening effect, the in chair treatment is completed in just 1 hour in chair.
Dental Cleaning at Ivory Dental Bangkok
Ivory Dental informed us that we should first take part in dental cleaning for the best possible effects on our teeth.
Dental cleaning is a very important even if you are not getting teeth whitening for good dental hygiene.
The dental cleaning is very quick and only takes around 30 minutes.
Dental cleaning can be more affordable in Bangkok than in other Western countries so it is highly recommended to get your cleaning done if you have some spare time in the city.
When we first started visiting dentists in Thailand we were concerned about the hygiene quality in a foreign country. However, Thailand has first class medical facilities so you can feel very secure getting teeth whitening in Bangkok.
In Chair Zoom Dental Whitening
The dentist had very good bedside manner and fully explained the dental whitening procedure to us.
Firstly, the dentist put the necessary protection on our teeth. We greatly appreciated that Ivory Dental greatly cared about our health & wellbeing and wanted to ensure that we got the best possible care while undertaking the whitening treatment.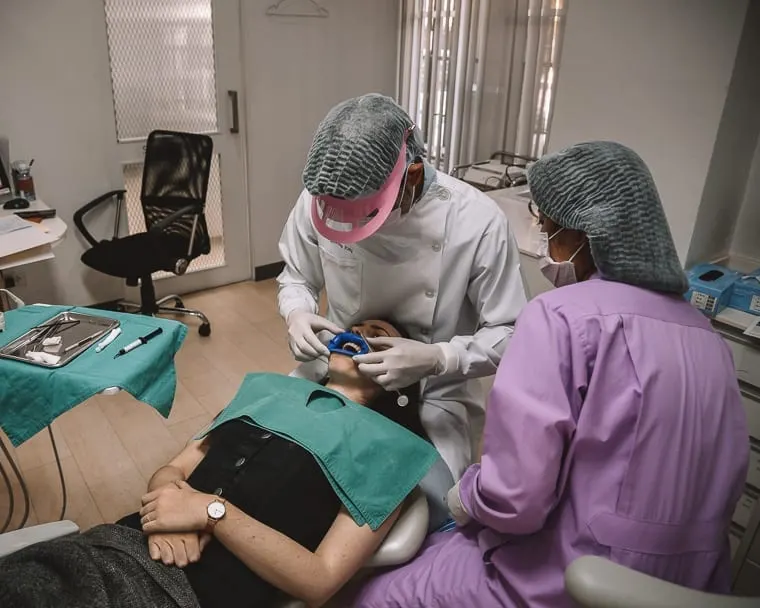 This involved a mouthpiece protection and also necessary protection for the gums so that they are not damaged in the procedure.
The dentist explained that the very top part of your teeth will probably not be whitened due to the protection in place.
Despite this being a slight downfall to getting your teeth whitened, it is necessary to ensure that your gums and lips are protected.
This procedure was very quick and pain free.
The dentist matched colour of our teeth to a range of teeth colours to determine our teeth colour before the dental whitening.
We are coffee & tea drinkers so our teeth are slightly discoloured but not in terrible shape. We have previously used the zoom take home treatments.
Before treatment my teeth were a C1.
Following the teeth protection, we proceeded upstairs to the zoom whitening treatment.
The zoom treatment is 4 sessions, 15 minutes each under a LED lamp.
In order to activate the whitening, a gel is applied to your teeth.
To protect your eyes while the LED lamp is on, you are given protective glasses to wear and a cover for your face & eyes.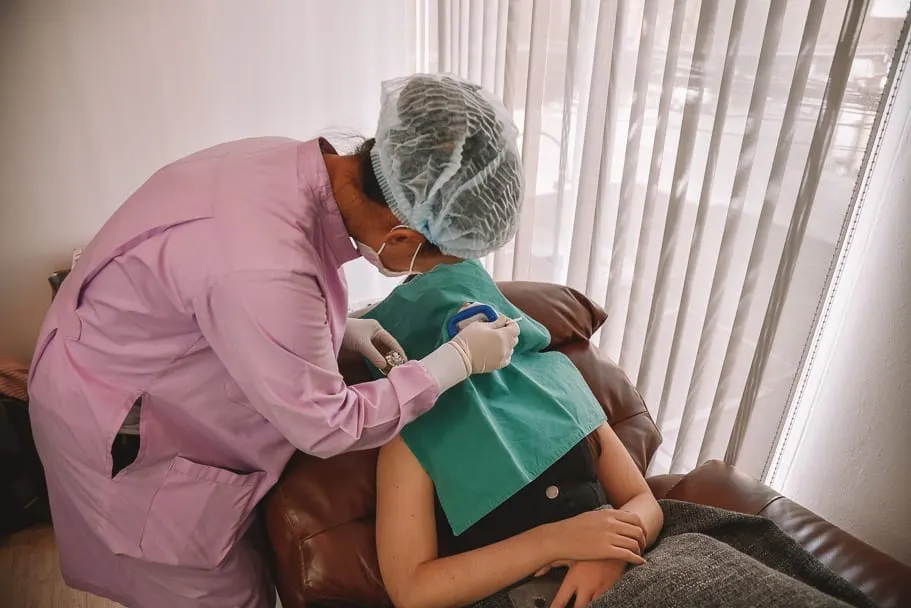 The nurse at Ivory Dental was very kind and caring and made sure that we were comfortable during the procedure.
She turned on calm music and placed a blanket over our legs for comfort.
Before going for the treatment, we were concerned that it would hurt a lot due to all of the negative reports we have read online.
We experienced a little pain and discomfort towards the end of the forth treatment however, nothing too horrific. Whether you feel a lot of pain depends on how sensitive your teeth are.
Following the treatment we experienced the odd painful zap.
In the end, our teeth resulted in a A2 – many shades lighter than they were originally.
The benefits of the in chair whitening as opposed to at home treatments is that you experience immediate results.
We have found that at home treatments work however, they take a lot longer to achieve the same result.
As Zoom Whitening provides an instant result, it is highly worthwhile if you have an event or a trip planned and you would like to immediately impress.
About Ivory Dental Bangkok
Ivory Dentist is a very clean & modern Dental practice in the heart of Bangkok.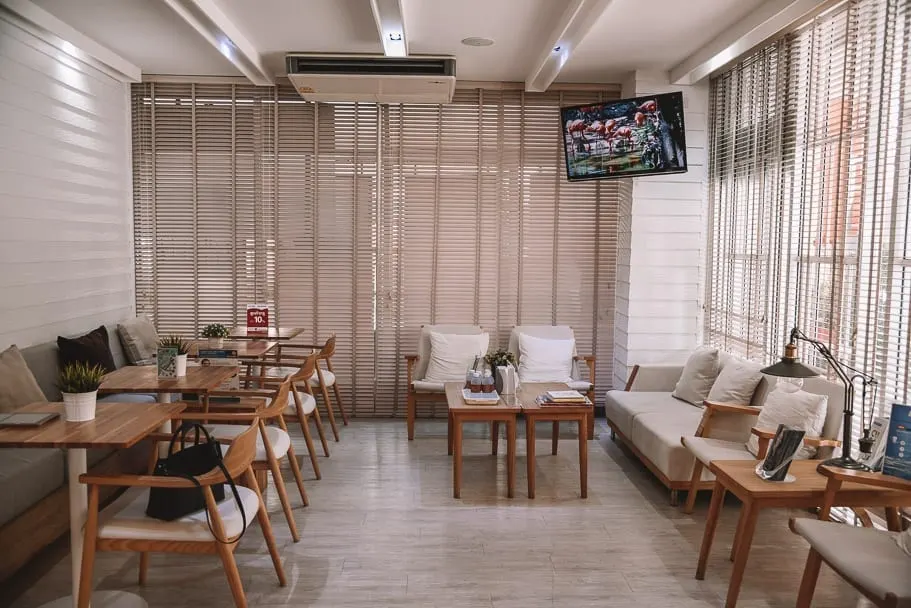 The dentists were very soft spoken, kind and caring. They had excellent bedside manner.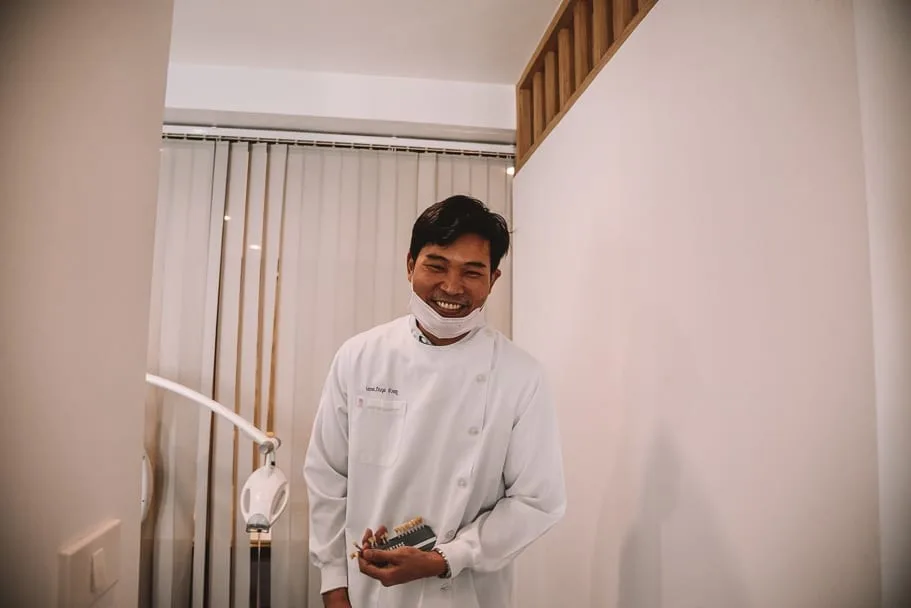 We did have a few issues (such as white colour wasn't as white as expected) and they were happy to fix any problems we had.
I also felt my tooth got a small chip as a result of the process. While they denied this would have been the case, they were happy to offer a small amount of grinding to fix the chip if it bugged me at a later stage.
Aside from dental whitening you can get many other dental services at Ivory Dental including veneers, implants and invislign.
Many foreigners choose to come to the clinic as the quality of the service is cheaper than their home country and the quality is just as high.
Save this to Pinterest (so you can find it again later)
We were guests at Ivory Dental. However, this goes not influence our opinions.