Looking for Texas hotels with jacuzzi in room?
Texas is a great place to go for couples (just check out our Dallas Date Ideas if you don't believe me ;)) and what is better when on a romantic getaway than coming home after a long day exploring all that Texas has to offer than soaking in a jacuzzi suite with your SO!?
If we are on the same page with this thought, you are going to need a Texas hotel with a private jacuzzi in room. With so much information out there, we have done the hard work for you and narrowed it down to the best hotels with hot tub, whirlpool or jacuzzi spa in room in Texas!
TEXAS HOTELS WITH JACUZZI IN ROOM – WHIRLPOOL HOT TUBS IN HOTELS, CABINS & B&B'S
HOUSTON TEXAS HOT TUB SUITES
Hampton Inn Houston Brookhollow
You're twenty minutes from downtown Houston as well as Texas Southern University and the University of Houston when you stay at this highly rated hotel. Enjoy an outdoor pool, free fitness center, and complimentary breakfast along with the option of a room with a private hot tub.
Guests can choose between a room with a king-sized bed (sleeps two) or a room with two queen sized beds (sleeps two) for access to a mobility friendly private tub. The Hilton at Houston Brookhollow also offers meeting rooms and event spaces, and if you're looking to stay with a group, you can reserve ten or more rooms, all near each other. Yours for as low as $88/night.
This unique hotel is perfect for an unforgettable stay in Houston. Beginning as a Victorian style home in 1898, Sara's Inn has had several exterior additions and paint changes, now prominently sky blue with a mauve trim. And that's not all. While guests are taking advantage of the complimentary amenities (such as Wi-Fi, a mini fridge, and a flat-screen TV), they can also enjoy the stunning décor.
Sara's Inn features thirteen individually styled rooms, each with tasteful Victorian wallpaper and furniture. Every room has something the others don't, like the Tyler suite, which boasts a roof balcony. But if it's ultimate luxury you're looking for, the Inn's Grand Luxe room boasts an indulgent whirlpool tub along with a separate shower. Yours for only $105/night.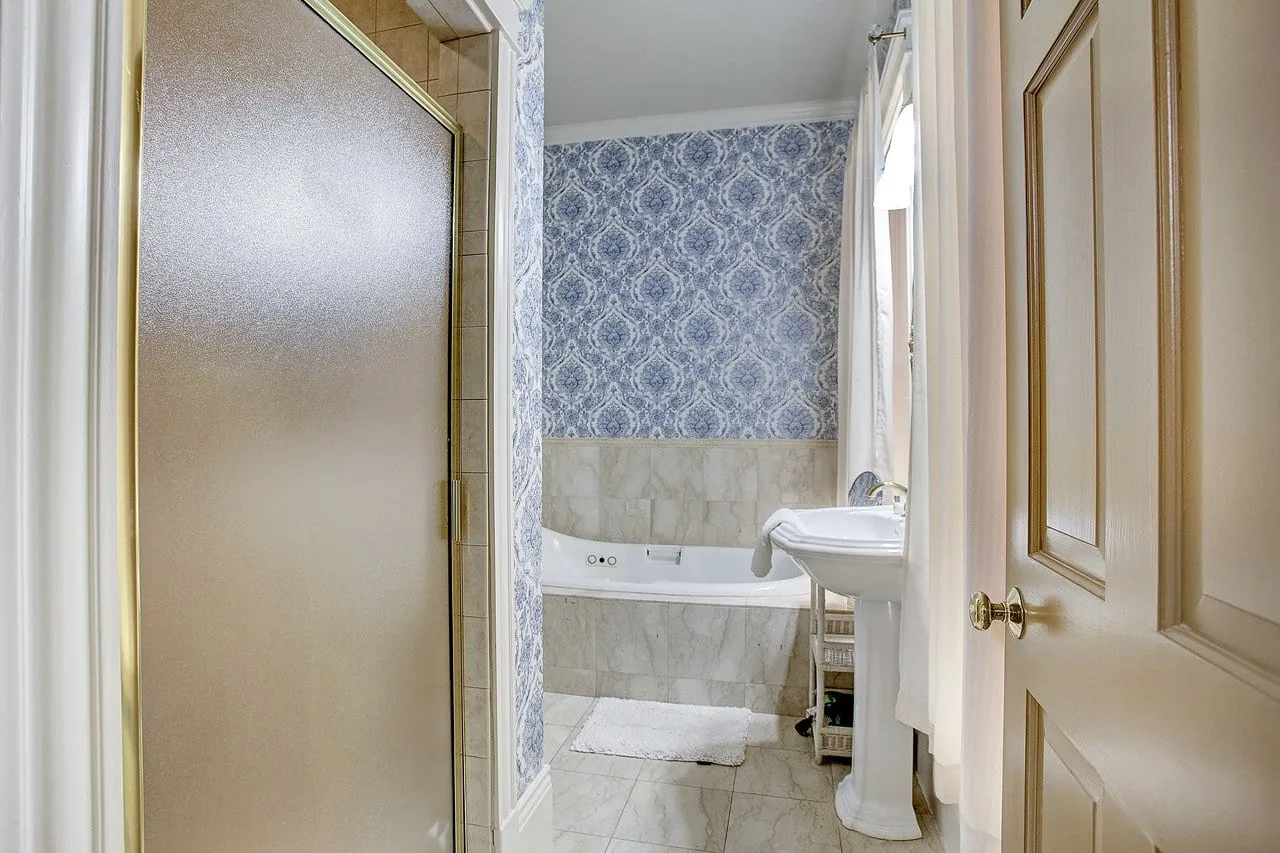 DALLAS/FT.WORTH TEXAS JACUZZI SUITES
This Boutique hotel is located right in downtown Arlington, Texas, but you wouldn't know it from the pictures. The hotel's campus is overflowing with greenery – not least of all featured in their private courtyard. The courtyard is also the direct path to the hotel's internal restaurant, called Restaurant506, where chefs cook to seasonal menus with only the freshest ingredients.
The hotel also has an award winning, full-service spa available to any guest. Anyone choosing to stay here has the option of booking a villa manor room, a cottage suite, a manor room, or a carriage house room, but if one is looking for a private tub, they should book one of the cottage suites. Yours for only $199/night.
Holiday Inn Express & Suites Dallas Market Center
As the name suggests, this hotel is right within all of the action in Dallas, Texas. It is a few minutes away from the DART rail station, as well as the American Airlines Center, making it the convenient choice for any traveller.
And if your kids are tagging along, they stay free! Up to four children under 18 years can stay free in the same room, and eat free too. For the guests' convenience, there is also a coffeemaker and aa microwave in every room. This hotel is a driving distance away from Downtown Dallas. Yours for as low as $65.55/night.
Lockheart Gables Fort Worth Texas B&B Whirlpool Suites
The Lockheart Gables hotel in Texas markets itself as a romantic bed & breakfast, perfect for a couple's getaway. They offer six different king suites, all outfitted with a heart-shaped Jacuzzi tub for two. Breakfast is served in-room to guests, who can also request a table brought to their room for dinner (which the guest provides for themselves).
The bed and breakfast also provides aromatherapy oils in their package, as well as Wi-Fi, cable TV, and a DVD player. They also offer honeymoon packages, as well as a wedding space known as the Garden, which can accommodate up to 100 guests. Since the hotel is designed for romantic getaways, there are no accommodations for children. Yours for as low as $199/night.
One of the best bed and breakfasts in Texas with a private hot tub.
SAN ANTONIO, TEXAS SPA TUB SUITES
Drury Plaza Hotel San Antonio Riverwalk
The first thing you will notice about the Drury hotel of San Antonio is the story-high stained glass window above the doors to the entrance – and the rest of the hotel is just as impressive. The hotel also offers free amenities such as Wi-Fi, hot breakfast, a business center, a fitness center, and what they refer to as a "5:30 kickback," where dinner snacks, cold beverages, and different types of alcohol are available to all guests.
Jacuzzi rooms of differing sizes are ready for any guests to enjoy, including a two room suite style setup and a two queen bed room with a terrace. Jacuzzi rooms are listed starting as low as $206.99/night.
Courtyard San Antonio North/Stone Oak
The Courtyard at San Antonio is the perfect place to be for an authentic San Antonio experience. It's only a few minutes' walk from the lobby of the hotel to a prominent bar and food area. Rooms are available with a view of the city's skyline, and the Courtyard offers rooms with a private Jacuzzi as well as a shared Jacuzzi in the pool area.
The hotel has a bistro in the lobby which offers breakfast and dinner options, but guests can also choose a variety of breakfast options for only $15. There is laundry, valet service, and optional local dinner delivery. A private Jacuzzi room can be yours for as low as $211/night.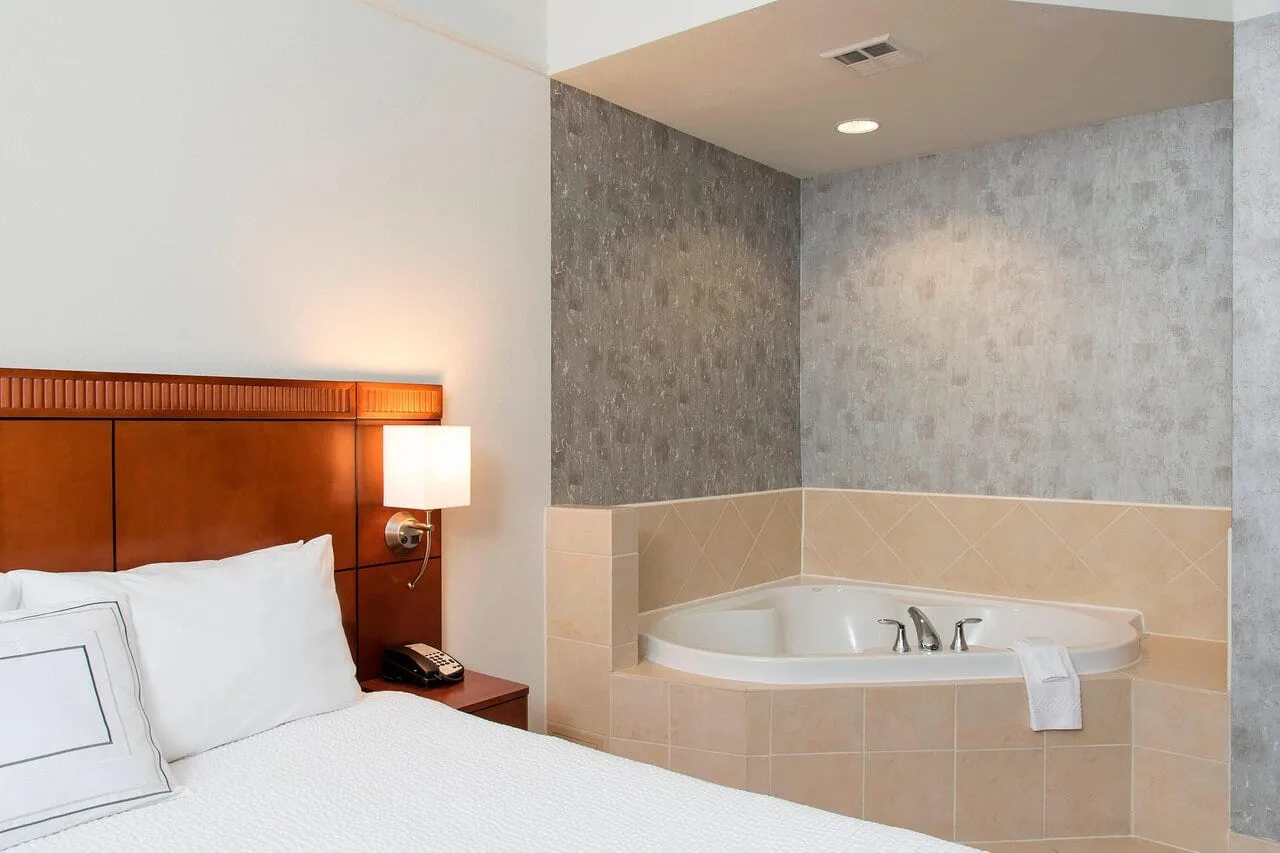 HOTELS WITH JACUZZI IN ROOM AUSTIN TX
The Hampton Inn of Austin, Texas is located ten minutes walking from several local restaurants, as well as ten minutes driving from the Austin zoo. Enjoy free hot breakfast, free Wi-Fi, and free parking, as well as access to a fitness center and a business center.
Also within driving distance of the hotel is the downtown area of Texas' state capitol, as well as the "Dirty Sixth street" entertainment district and Dripping Springs. Take pleasure in a private Whirlpool Jacuzzi room. The same room also comes with a shower for those who prefer to stand. Yours for only $129/night.
Fairfield Inn & Suites Fort Worth/Fossil Creek
This Fort Worth hotel is dedicated to keeping its guests as comfortable as possible. In-room smart TVs come equipped with cable and satellite channels, as well as Netflix and Hulu streaming capability. Also available in your room is instant hot tea and beverage services, a mini-fridge, and complimentary Wi-Fi.
The hotel itself is near the Fort Worth Zoo, NRH2O family water park, and the Fossil Creek Stadium Movie Theatre. The Fairfield Inn also offers a fitness center and a business center, and for those looking to book entire groups the hotel offers discounts. Private Jacuzzi suites available. Yours for as low as $114/night.
WHIRLPOOL SUITES: CORPUS CHRISTI, SOUTH PADRE ISLAND & GALVESTON
South Padre Island Hotel Rooms with Private Hot Tub:
Holiday Inn Express Hotel & Suites South Padre Island
This hotel on South Padre Island has amenities which complement the fun guests can have all over the island. Beaches are available in walking distance from every exit in the hotel, as well as activities on the shore and in the water. Along with local shops and bars, guests can enjoy the South Padre Island birding and nature center, an Island Adventure Park, and parasailing and kiteboarding lessons among other activities.
Hotel guests are offered free hot breakfast before their escapades, and can come back to the hotel to take advantage of a heated outdoor pool, a poolside bar, and an outdoor Whirlpool. Yours for as low as $107.35/night.
Guests traveling with pets will find everything they need at this hotel. It's located just across the Queen Isabella causeway, on South Padre Island. Families can speak with the hotel concierge to book island tours, dolphin watches, jet-skiing rentals, parasailing lessons, and much more!
The hotel provides guests with the option of a hot, made-to-order breakfast, as well as free Wi-Fi and a beachside restaurant. La Copa offers several different private Jacuzzi room options, including a King bed and 2 Queen beds. These rooms can be oceanfront or not. Yours for as low as $96.90/night.
Corpus Christi:
Perfect for the traveling guest, Corpus Christi's North West La Quinta is only six miles from the Corpus Christi International Airport. Those in town for business can take advantage of the hotel's business center and complimentary high speed Wi-Fi.
Pets are welcome at this La Quinta, and modern guests can even book and check-in to the hotel on their phone. Local beaches are never far in the Bay of Corpus Christi, but families or guests on their own can also explore the nearby Texas State aquarium or the Hurricane Alley Waterpark. For less active guests, there is an outdoor pool and Whirlpool attached to the hotel. Yours for as low as $75/night.
COLLEGE STATION, TX JETTED TUB HOTEL SUITES
Suites with hot tubs in Eastern Texas:
Holiday Inn Express College Station
This hotel is located, for your convenience, close to the main campus of Texas A&M University as well as the Blinn College Bryan campus.
Visiting your college student? The hotel offers individual as well as family rooms, and it's pet-friendly so you won't even have to leave your best friend at home. Enjoy the complimentary business center or fitness center, as well as high speed Wi-Fi and hot breakfast. Some suites also offer a kitchenette for discerning guests to make their own food. Several suites with private Jacuzzis are available to book. Yours for as low as $99.56/night.
Hilton College Station Hotel & Conference Center
This hotel is a perfect stay for business oriented people and traveling guests! The Hilton offers a bookable conference room of more than 11,000 square feet at their largest, with other conference rooms available as well. It's less than two miles from Texas A&M University as well as the Northgate district.
Guests can park for free or can be shuttled from the airport, and services don't stop there. Guests have full access to an on-site restaurant and bar within the hotel. Don't want to leave your room? Room service is also available. Relax in the outdoor pool or Whirlpool. Yours for as low as $92/night.
PRIVATE TEXAS CABINS WITH HOT TUB
This beautiful Inn is a perfect escape for a couple, family, or single traveller looking to get away. Pets can come too and enjoy the free Wi-Fi and continental breakfast offered (breakfast vouchers to local bakeries are given to guests renting out the cottages, which are on another property than the main Inn).
The properties are located on a lovely 200 acre ranch, perfect for privacy and scenery. Located in the growing wine town of Fredericksburg, Texas, the Inn has several different cottage suites available to rent. At least four of these rooms have private Jacuzzis. Yours for as low as $115/night.
Stag Leap cabins is committed to making guests feel at home on their property – which is a full task with more than 200 acres of woodland to offer. The cabins encourage extended stays, and management has monthly discount offers for those looking to stay for a while.
There are seven cabins and one guest house available to anyone who wants to stay. There are also different on-site activities available to guests, including scavenger hunts, bird watching, sports, and hiking. Five of the eight available cabins to rent have private Jacuzzi tubs, in the bathroom or under the stars. Yours for as low as $150/night.
WHIRLPOOL SUITES IN TEXAS – WACO
This Hampton Inn is only three miles away from downtown Waco, and the Waco regional airport is nearby as well. Guests are also close to the Magnolia market and the Camden Park Zoo in this hotel. Take advantage of the free amenities such as high-speed Wi-Fi, a mini fridge, microwave, and an HDTV with cable before you relax near the outdoor pool or the indoor Whirlpool spa.
Guests looking to have a barbecue can use an outdoor patio with a grill, and the next morning can enjoy complimentary breakfast. Yours for as low as $87/night.
Quality Inn & Suites Near University Waco
Waco's Quality Inn has several amenities to continue making guests as comfortable as possible, including free hot breakfast, free Wi-Fi, and free parking. Also available is a business center and a meeting space, or for guests who are looking for some fun, an indoor pool at your disposal. The hotel is a short drive from the Texas Sports Hall of Fame as well as the Dr. Pepper museum.
Couples can look forward to a wet bar in their room as well as the option to score a private Jacuzzi room. Yours for as low as $121.
HOT TUB SUITES IN NORTH & WEST TX
Western Texas Whirlpool Spa Suites
Holiday Inn & Suites El Paso Sunland Park
More than just the complimentary coffee available in the lobby, this Holiday Inn is looking to provide for their guests. It's a pet friendly, villa-style hotel with more than 150 guest rooms and 8 suites. Relax by the pool, either outdoor or indoor, or take a dip in the indoor Whirlpool Jacuzzi, complimentary for guests.
Downtown El-Paso is just seven miles away, and so is Southwest University Park. The hotel also offers a fitness center and a business center, as well as a lounge bar for those who simply want to unwind. Yours for as low as $89/night.
Amarillo: Country Inn & Suites by Raddison Amarillo I-40 West
Your stay at the Amarillo Country Inn & Suites is made to be as relaxing as possible. Beyond a fitness center and a meeting space, this hotel has free hot breakfast, complimentary coffee and tea, and free Wi-Fi for all guests.
Located just off of historic Route 66, this hotel is also nearby the Palo Duro Canyon State Park, the Wonderland Amusement Park, and the Amarillo National Center. Guests looking for a romantic getaway or some much deserved self-love can rent the King Whirlpool suite, which has a private Jacuzzi tub. Yours for as low as $101/night.
***
More Romantic Getaways?