Atlanta Georgia is full of incredible things to do!
Believe it or not, it has proved to be one of the best cities we have visited due to the abundance of super cool activities.
Atlanta has some great claims to fame – it is home to Civil Rights hero Martin Luther King, started the Chick-Fil-A and Waffle House chains and held the 1996 Summer Olympics (you can still get a photo with the rings!).
It is also the hometown of many famous Americans including Kanye West, Usher and Julia Roberts. Have I sold you yet? 😉
While travelers often chose to visit the 'cuter' nearby cities of Savannah and Charleston, we think that is a crying shame as Atlanta has so much to offer visitors and locals alike!
We spent over a month in total in the city and we left we really felt like a local ATLlien by the time we left.
In our spare time, we hunted down and visited all the coolest digs of the city, compiling an epic guide so you can plan the perfect trip to Atlanta!
Whether it is your first time or you are a local looking for a cool new activity for the weekend, we have created the ultimate list of things to do in Atlanta Georgia including a hidden gem or two.
Atlanta Travel Guide Contents
Here are some links so you can jump straight to the section of the article that is most relevant to you!
We separated the activities area. As Atlanta is a big city, separating where we wanted to see in the city really helped us to efficiently plan our stay.
Top Attractions:
Best Time To Visit Atlanta?
We visited Atlanta in February during the middle of winter.
While we had a fabulous time, I would not recommend it as the best time to visit as it was a little cold (12° C/ 53° F) and the city was a little dull and grey.
If you are spoilt for choice as when to travel, I would suggest either traveling in Spring (April – May) or Fall (September- October). These are the optimal months to visit both in terms of weather and affordability.
Fall in Atlanta and in the mountains outside the city produces amazing colors so it is always a nice time to travel!
The city tends to get very hot and humid during Summer so avoid the middle of Summer if you don't like it HOT HOT HOT. Atlanta is sometimes known as "Hotlanta" due to the sweltering temperatures Summer brings to the city.
During Summer is also when prices become the most unaffordable.
How to get to Atlanta?
One of the best parts of Atlanta and a top reason to visit is that it is home to one of the world's most frequented airports, and Delta Airlines home base, Atlanta International Airport (ATL).
Due to the abundance of affordable flights, it makes it an incredible destination to visit both nationally and internationally. We use Skyscanner to find the best deals on flights.
It is also easy to drive to Atlanta from pretty much anywhere on the East Coast of the US. It is a 9 hour drive from Miami, a 5 hour drive from Charleston and a 13 hour drive from New York.
Before you set off: We would highly recommend getting travel insurance. After 5 + years of continuous travel we would recommend World Nomads.
How to get around when you have arrived?
The beauty of choosing to visit Atlanta, as opposed to another big city in the United States, like New York, is that it is a very drivable city.
To access all the best the city has to offer we would recommend bringing or hiring a car. Even in downtown Atlanta, there is free or very affordable metered car parking (just $2 per hour).
If you aren't bringing your car with you, the most affordable rental company is RentalCars.
The main reason we would advise to have a car is to easily access all the different neighborhoods which provide the city with so much personality!
If you choose not to have a car in the city, Uber is available and a nice alternative for those who don't like to have the hassle of parking.
There is also the possibility to use decent public transport. MARTA is Atlanta's rapid transit rail system which is a very popular option for working locals to get around the city.
You can find out the current fares and how to get a Breeze card to access the routes on the MARTA website.
Money-Saving Tip
If you plan to see some of the iconic Atlanta attractions during your trip (like the Coca Cola Museum, CNN Stuidos, Georgia Aquarium etc) we would highly recommend the Atlanta CityPASS as it will save you a lot of money.
What you get with the Atlanta CityPass:
Georgia Aquarium
World of Coca-Cola
CNN Studio Tours
Atlanta Zoo OR National Center for Civil and Human Rights
Fernbank Museum of Natural History OR College Football Hall of Fame
How the Atlanta CityPASS works:
It is super easy to purchase the CityPASS online. Once you purchase the pass, you receive a QR code that you can use on either on your phone or on a printed piece of paper.
When you visit the attractions, simply scan your QR code at the ticket booth. Once you scan, the attraction will provide you with a ticket and and you are all set to go in!
How much money does the CityPASS save you?
What we like most about the CityPass is the money savings!
The total cost to enter all of these attractions separately would cost $129.43, but using the Atlanta City Pass the cost is only $76. That's a 41% saving!
The other thing we love about the CityPASS is the ability to skip the line. At most attractions, the CityPASS allows you to skip the normal ticketing line which is pretty convenient.
Book your Atlanta City Pass and get ready to see some of the city's top sights!
Top 10 Atlanta Activities
If you have limited time and you just want to tick off Atlanta's absolute BEST attractions, he is a quick list for you of our favorites:
Skyview Ferris Wheel
The home of Martin Luther King Jnr.
Jackson Street Bridge
Krog Street Tunnel
Georgia Aquarium
World of Coca-Cola
Centennial Olympic Park
The Beltline
Fernbank Museum of Natural History
Krog Market
Otherwise, if you have a little more time up your sleeve, we would suggest planning your time by area. We have separated the city by area for you below.
More Atlanta Info:
If you are coming for a romantic getaway or are only looking for budget friendly attractions in Atlanta you might like to check out our more focused guides below:
How many days to spend in Atlanta?
To experience just the main attractions and the downtown area of Atlanta including the World of Coca-Cola, the Georgia Aquarium and the Centennial Olympic Park, one to two days would be just fine.
You could quite happily make a weekend trip and get a good feel for the city.
If you are spending just a few days, we would suggest concentrating on the Atlanta downtown section of this guide and map.
To really see a good percentage of what the city has to offer, including all the unique neighborhoods of Atlanta, we would recommend spending at least a week.
Atlanta Map (Top Attractions by neighborhood)
Visiting Atlanta is a logistical challenge because the city (including areas in the Greater Atlanta Region) is large and the best activities are spread far and wide.
Our tip for seeing as much as you can is to do all the activities in one area before moving onto another area on a different day. This way you'll minimize the amount of time you waste sitting in traffic which can be pretty bad at any time but particularly peak hours (8am – 10am and 3pm – 6pm).
We recommend allocating at least half a day to a whole day to each of these neighborhoods:-
Downtown – the big attractions including Georgia Aquarium, Coca Cola Museum, and CNN Studios tour
Old Fourth Ward – Martin Luther King Jr Center (including his house and Ebenezer church). Krog Street Market and Tunnel for yummy food and cool street art nearby
Midtown – museum district including High Museum of Art, Woodruff Arts Center and Margaret Mitchell House
Little Five Points – the real hipster / punk / underground area where you can shop for cool vintage clothing, listen to local artists and drink in iconic watering holes. To the east you'll find arguably our favorite place in Atlanta: the eclectic and always delicious Ponce City Markets
Buckhead – upmarket area where you'll find designer shops, Legoland and the fascinating Atlanta History Center (which doubles as an upmarket meeting place)
Atlanta Airport – a unique aspect of Atlanta is there's interesting activities near the airport including the Delta Flight Museum, Porsche experience center and the original Chick-Fil-A to keep you entertained and fed right up to the minute you fly home
Use this map to find interesting sights near you.
Downtown Atlanta
Georgia Aquarium
World of Coca Cola
Olympic Park
College Football Hall of Fame
CNN Studio Tours
Skyview Atlanta
Children's Musuem of Atlanta
Georgia's State Capitol
Fountain of Rings
Swim with gentle giants at Georgia Aquarium
One of the best aquariums in the United States is found in Atlanta: the Georgia Aquarium. The Aquarium is one of the many attractions included in the Atlanta City Pass.
The aquarium is absolutely amazing with a wide variety of marine life to view.
In our opinion, the coolest activity on offer is the ability to swim with whale sharks.
If you are not planning to head to Mexico or the Philippines anytime soon (places where you can swim with whale sharks in the wild) we would highly recommend this experience. Don't worry they don't have teeth so they don't bite!
It costs $230 for the experience which is not bad if you consider the price of an international flight!
Aside from swimming with whale sharks, the Georgia Aquarium's imagination nights are another popular event. Watching the aquarium light up at night is pretty magical, not to mention there are smaller crowds and going at this time saves you 30% on admission.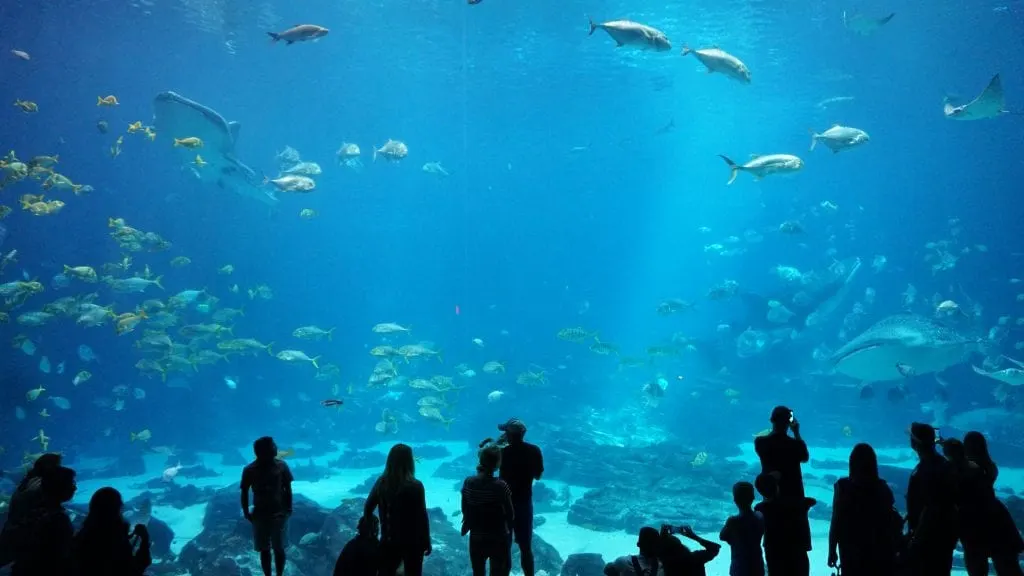 World of Coca-Cola
The World of Coca-Cola is an unmissable activity for coke lovers and well, those who just want to drink copious amounts of coke!
Coke is another of Atlanta's many claims to fame. The secret recipe was founded by John Pemberton, an Atlanta pharmacist in 1886. The Coke headquarters are still based in the city to this day.
If you are interested in the history of coke from old advertisements to its present day "Open Happiness" campaign and the making of one of the most successful drink companies in the world, you have to visit the museum!
At the end of the tour is a tasting room where you can taste over 100 flavors of soda from all over the world.
Entry costs $17 and is included as part of the Atlanta City Pass.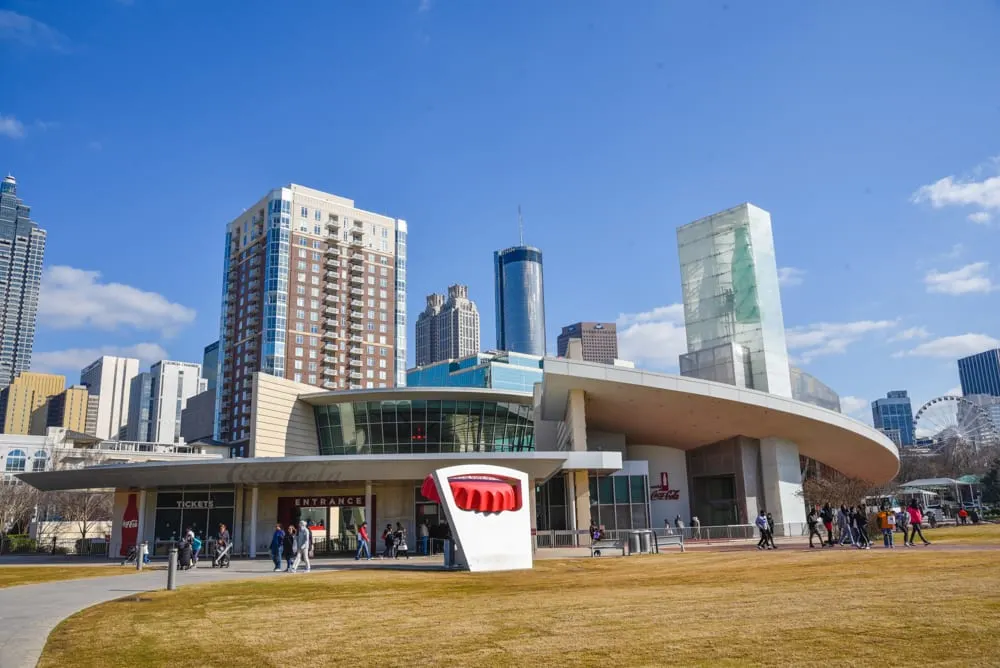 Centennial Olympic Park
The park was opened in 1996 for Olympic Games visitors and residents to enjoy the games.
If you're not sure what to do on a sunny afternoon, a safe bet is to visit Centennial Olympic Park, a beautiful green area in the middle of downtown with impressive water fountains and possibly the best view of Atlanta's skyline from the ground!
If you want to experience a buzzing atmosphere at the park, visit before a United match at the Mercedes-Benz Stadium (now the hottest ticket in town).
If you are lucky, you might catch one of the community-wide free events held at the park including the annual Fourth of July celebration.
It's also a hotspot for festivals like the Sweetwater Festival, NCAA March Madness Music Festival, Shaky Beats Festival, the Bourbon & BBQ Festival, and the popular Jazz Festival to name just a few. Check out the events calendar for upcoming events here.
In and around Centennial Olympic Park, you'll be sure to find something to tickle your fancy be it fine-dining, stimulating your mind at the center for Civil and Human Rights or de-stimulating your mind at Der Biergarten which is Atlanta's first indoor / outdoor German beer garden (and home to Oktoberfest).
Nearby the park, you will find one of the most spectacular bars – the Sky Lounge at the Glenn. At the rooftop lounge, you can enjoy cocktails with panoramic views of the Skyline.
Getting to the park is easy from anywhere in town: catch the Blue/Green line Metro to Dome/GWCC/Philips/CNN station or use the Red/ Gold line from the Peachtree Center station. If you are traveling by car, we found easy metered parking in walking distance of the park.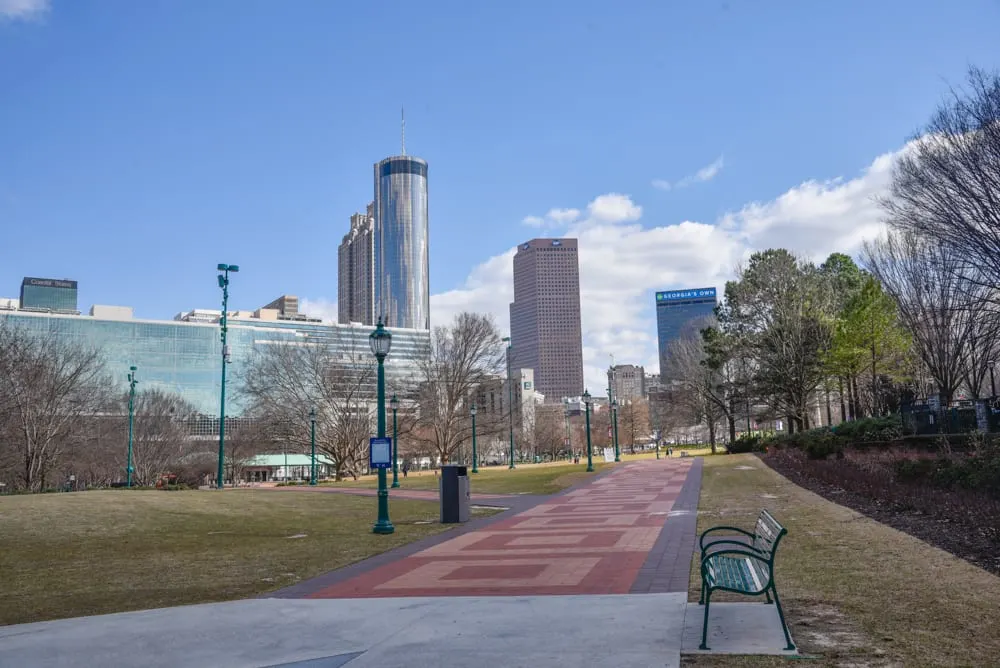 Art Stroll at Castleberry Hill
If you love art, then you will want to visit one of the most artsy areas – Castleberry Hill.
It has been voted one of the 10 best art districts in the US so you know its gotta be good!
A really fun free arts stroll through the warehouse district is offered every 2nd Friday. You can see more information about the stroll on their website.
If your time falls on the 1st Friday of the month, there is a different art walk that you can participate in of the Marietta area, which is also popular.
Fountain of Rings: Get a Photo with the Olympic Rings
At one end of the Centennial Olympic Park you will find the Olympic Games Rings installed for the 1996 games.
This is possibly the most popular place to have your photo taken.
While you may have to wait a few minutes in line for a photo, if you are looking for a great keepsake photo of your holiday, this would be a great choice.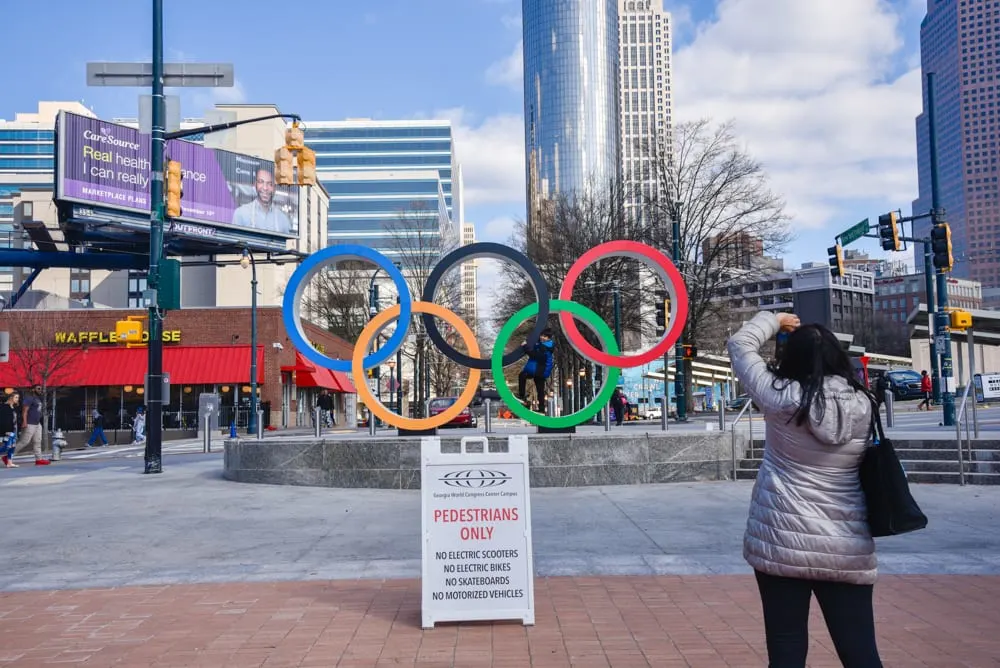 Go for a spin on wheels
Move over scooters, "Wheels" aka little electric bikes are now the hippest way to get around the city!
They work in exactly the same way other electric scooters do. Simply register your credit card and pay for how long you want to use the wheels for.
You can use the wheels to zip around the entire downtown area except Olympic Park where electric scooters, cars, and wheels are prohibited. Don't try it, there are police at the park which will give you a good telling off!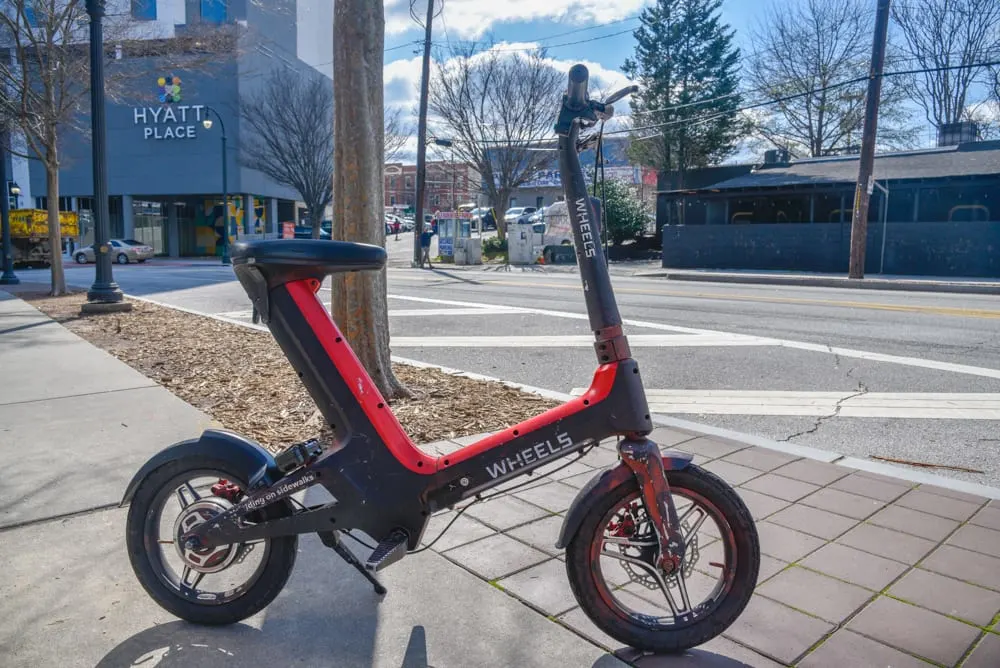 College Football Hall of Fame
Another unmissable activity is the college football hall of fame which is also included in the Atlanta City Pass
I love love love that the center is designed to resemble a football!
Inside you will find a 45 yard field and an honor to great players and coaches in Atlanta with interesting biographies of each.
Even if you are coming from out of State, the center is very interesting as it includes college outfits and helmets from every team in the country. Big screens in the center play some of the best ever moments college football.
If you have kids don't write off the center as there is activities for kids inside including virtual face painting.
Recommended: City Pass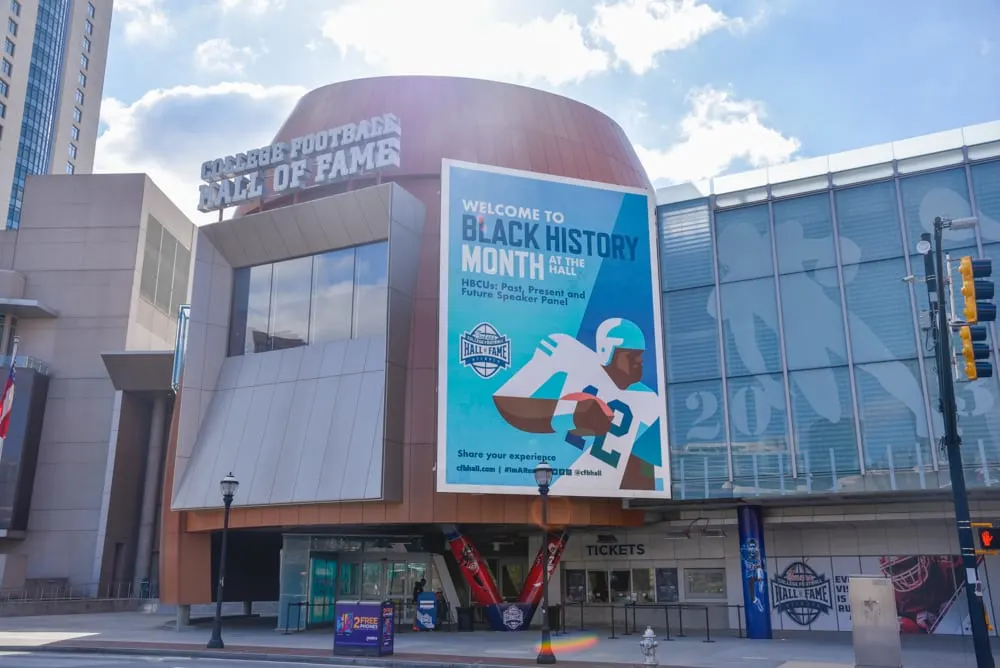 Children's Museum
Talking about kids, if you are traveling with kids, we would highly recommend a trip to the children's museum. It is very conveniently located in the downtown area near the Coca-Cola museum.
When we were there, it was absolutely bustling with kids coming in and out of the center.
There are 6 play areas for children in the center which are focused around learning and developing children's problem solving skills. Some of the fan favorite attractions include a paint wall and a stage where the kids can rock out and perform.
At various times throughout the day, there are also organised workshops, music and story time for kids.
It is open from 10-5pm daily and costs $16.95 to enter. You can easily purchase tickets on their website.
CNN Center Studio Tour
The global headquarters of CNN are located in the heart of Atlanta. Take a tour of CNN Studios where you can see how green screen technology is used and functioning teleprompters.
You can also see how a news broadcast is produced and ride the world's longest free-standing escalator which is 8 stories high!!
If your budget allows, take the VIP Tour over the regular concession tour as it allows you to visit some of the control rooms, sit at a real news desk with teleprompter and get your photo taken.
If you're lucky you'll get a chance to meet one of the hosts in the studios before they go live!
Unfortunately, security in the studios is tight so you won't get a chance to take many photographs but you can buy nice photos of you sitting at the news desk from the Gift Shop at the end of the tour.
Another reason to opt for the VIP tour is group size. The VIP tour is much less crowded with a smaller group of closer to 10 people.
Keep in mind that lines to purchase tickets can be long – particularly over holidays and weekends – so consider booking ahead of time or grab the City Pass.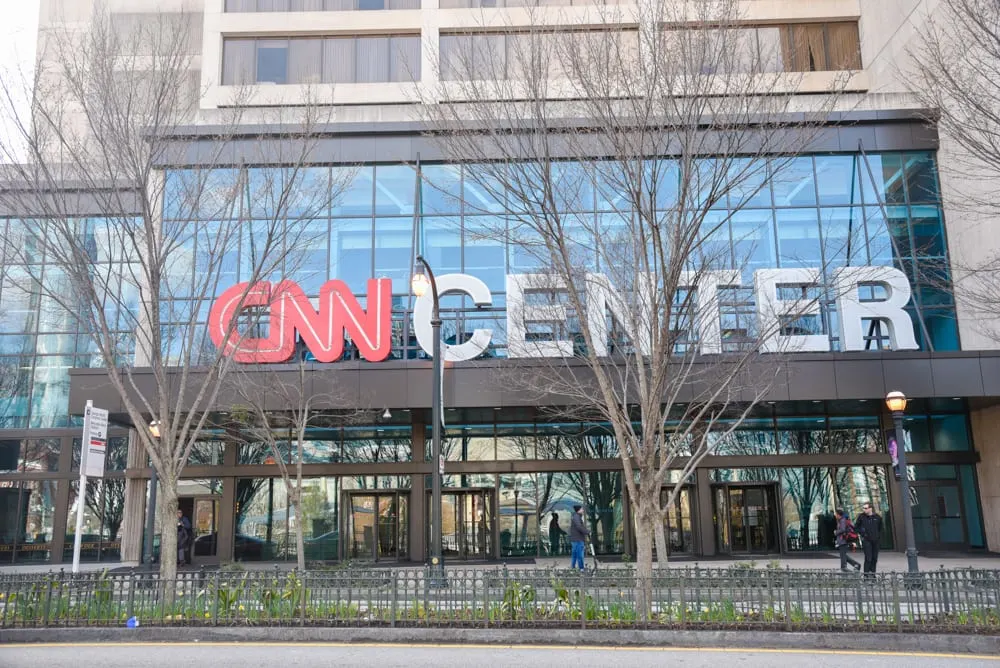 Skyview Ferris Wheel
Right in the very centre of the city, you will find one of the most special attractions in the city, the Skyview Ferris Wheel.
This is a great opportunity to see Atlanta from the sky and get amazing panoramic birds eye views of the city.
It is also a really nice place to get a lovely Instagram photo if you are looking for great places for the 'gram! Here are some great captions for it too!
It costs $14 + tax for adults and $9.26 + tax for children up to 11 years old.
If you are looking for romantic things to do in Atlanta, this is one of our very favourites.
If you are thinking to propose, we would recommend splurging on the Skyview Ferris Wheels VIP couples package which includes a private carriage, chocolates and a long stemmed rose (from $33+)!! So romantic!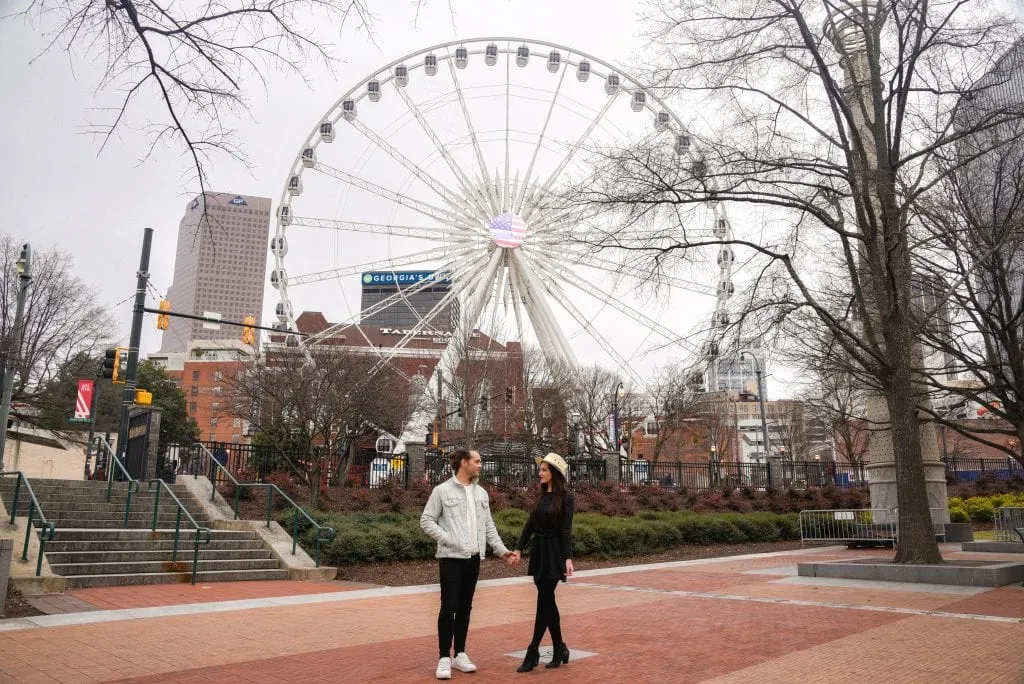 Visit the Georgia State Capitol Building
One of the most beautiful buildings in Atlanta is no doubt the Georgia State Capitol Building which reminded us a lot of the United States Capitol in Washington and also of the Capitol building in Havana Cuba!
The most striking feature of the Georgia State Capitol, built in 1889, is the 23-karat gold dome with a mini statue of liberty sitting on top – so cute!
While it is the Georgian governments main office for the General Assembly (Senate and House of Representatives), the building is still open to the public for self guided tours from 8:00 – 17:00 on weekdays.
Inside you can see the Georgian government in operation via the public gallery. You can also tour the museum inside which displays Georgian history – everything from Native American artifacts to fossils.
It is free to enter and the staff are willing to provide a free guided tour if you have a group of 10 or more people. Otherwise, you are free to do your own DIY tour.
You can see more information about tours and opening times here.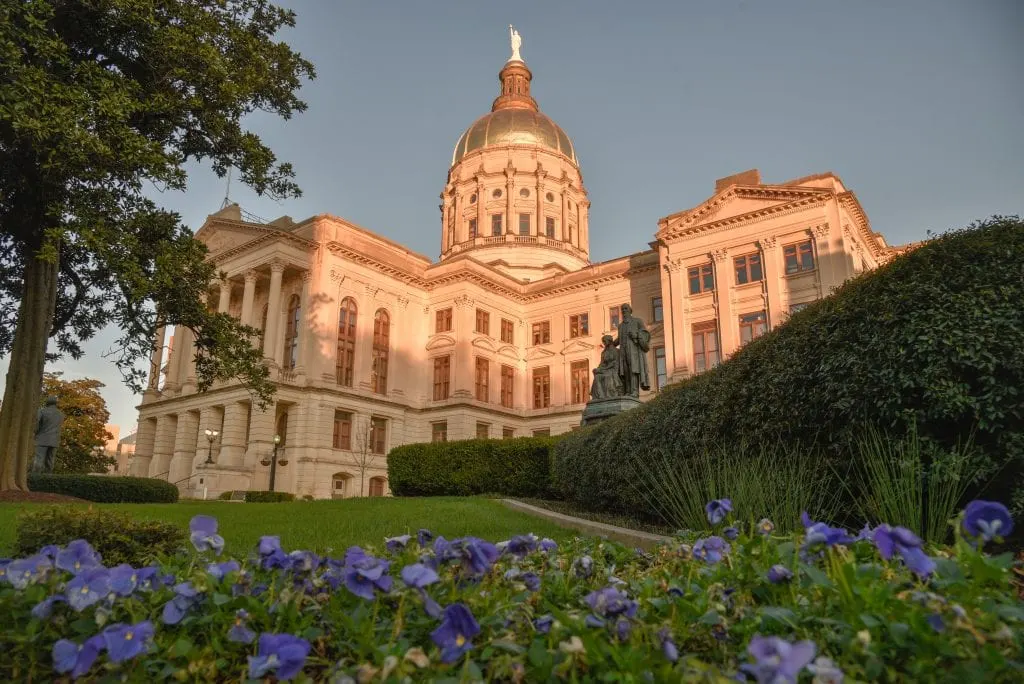 National Center for Civil and Human Rights
The National Center for Civil and Human Rights is one of the best activities AND is included in the City Pass!
As ATL is home to Martin Luther King Jnr. and a large part of the Civil Rights Movement in the US, we highly recommend making a trip to this centre while in Atlanta.
The museum recounts the civil rights movement in the 1950s and what it was like to live in Atlanta when black and white citizens were segregated.
Before the Civil Rights movement led by MLK, black and white citizens were not even allowed to visit the same public places or be buried in the same section of a cemetery.
Sadly, not all white citizens were on board with the movement towards integration. A particularly moving exhibit at the center is called the "Rolls Down Like Water" exhibit where you can hear the taunts and threats hurled at activists.
The center also pays tribute to the life and work of MLK. Inside you can see some of his personal possessions and letters he wrote.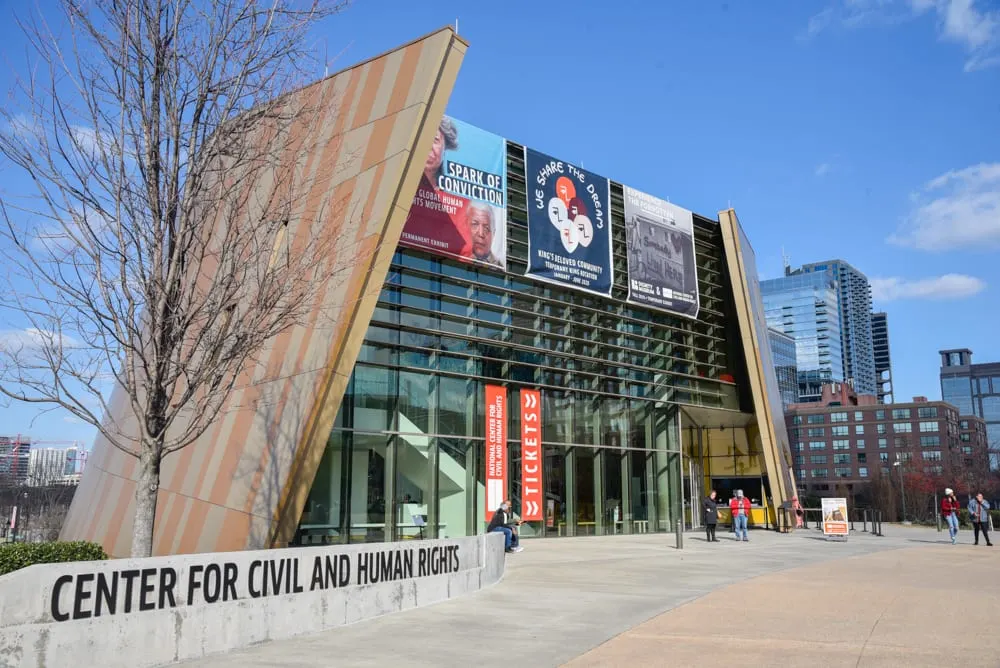 See a Basketball Game at State Farm Arena
If you are a fan of basketball, we would highly recommend catching a game at the State Farm Arena.
If sport isn't your jam, check out to see if there is a concert playing. Some popular artists including Jennifer Lopez and Ariana Grande have performed at the stadium.
As the arena had a big $192m renovation in 2018 it is now one of the most impressive stadiums in Atlanta!
It is reasonably affordable to eat inside the stadium too as they serve $3 hot dogs and $4 pizzas. They also have cheap soda stations.
Need a haircut? You can get a fresh cut as you watch the game at Killer Mikes barber shop. The barber overlooks the court which is pretty funny.
You can check out the upcoming events on their website.
See a NFL Game at Mercedes Benz Stadium
The Mercedes Benz Stadium is a very impressive architectural building. Theres really no wonder as it cost only 1.4 billion to build in 2017.
It holds over 70,000 people and is a fabulous place in Atlanta to catch an NFL game. If you do go to a game, check out the retractable roof which is designed to open and close in accordance with weather.
Fun Fact: The stadium has the worlds largest video board. The board is just under 6,000 square metres! Get ready for the kiss-cam!
You can check out the upcoming events on their website.
Agatha's A Taste of Mystery
One of the best rated evening events in the city is Agatha's A Taste of Mystery murder mystery night.
This is basically a big dinner party. During the night there is a murder mysteries to solve. It combines comedy with murder mysteries – the best possible combination.
It is $75 a ticket but is reasonably good value as it includes a show, wine, coffee and tea. If you would like a cheap activity, the have a special rate of $58 for the matinee session on Sunday.
Underground Atlanta
Underground Atlanta would be a cool place to check out IF the attraction were not overrun with drugs, prostitution and homeless people. Ekk!
The underground streets show what the shops of Atlanta would have been like before the Union soldiers burned in to the ground.
Luckily, a company recently purchased it from the city and is set to develop it into a cool new space!
You can check out their website which details what is happening with the project and when you can visit it again.
Old Fourth Ward
Sweet Auburn District
Martin Luther King Jr. National Historical Park
Martin Luther King Jr. birth home
Ebenezer Baptist Church
Jackson Street Bridge
Sweet Auburn Market
Krog Street Market
Krog Street Tunnel
Historic Fourth Ward SkatePark
Beltline
Explore the Sweet Auburn District
One of the things we would most recommend doing is to visit the neighborhood Civil Rights Leader, Martin Luther King Jnr grew up in called Sweet Auburn.
The neighborhood is a vibrant and happening area with interesting bars and restaurants to enjoy. It also has a strong connection to the Civil Rights movement in America.
It is bizarre to think as recently as the 1940s and 1950s in America, this was a totally segregated, blacks only neighborhood.
At this time, Sweet Auburn was a middle to upper class area for African Americans (Martin Luther King Jr. grew up in a middle class family in the neighborhood).
One of the main streets in the area, Auburn Avenue, filled with restaurants, bars and nightclubs was described by whites at the time as the "richest Negro street in the world".
Most important places to see in Sweet Auburn (that we will include in greater detail below) include:
Martin Luther King Jr. National Historic Site
Shot Gun Houses
The house Martin Luther King Jr. grew up in
Martin Luther King Jr's church
The Civil Rights Walk of Fame
Other interesting monuments and pieces of art in Sweet Auburn include:
"Through his eyes"
Freedom Quilt
Homage to Ancestors
"Behold"
"Hard Days Work Shack"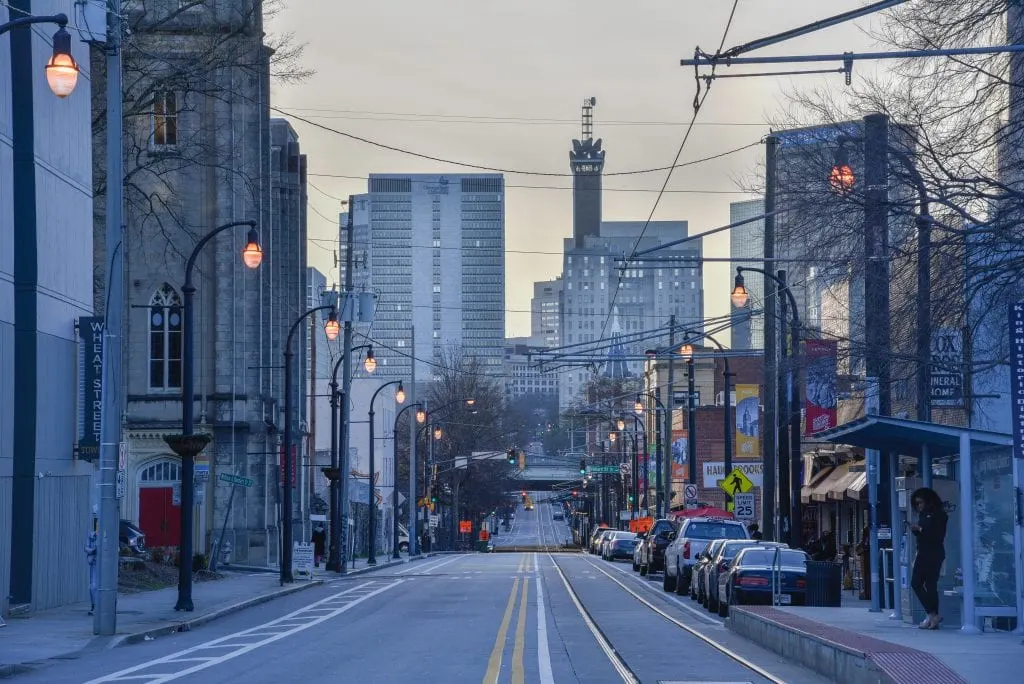 Visit The Shot Gun Houses
On the street (Auburn Avenue) where Martin Luther King Jr grew up you will see iconic shot gun houses. This style of house was popular from the end of the Civil war to the 1920s.
The houses are called "shot gun houses" as the front door is in perfect alignment with the back door. If you sent a gunshot through the front door, it would go right through the back.
During Martin Luther King Jr's childhood, these houses were home to Atlanta's black residents, who, at the time, were segregated from the white population.
Recommended: Martin Luther King Tour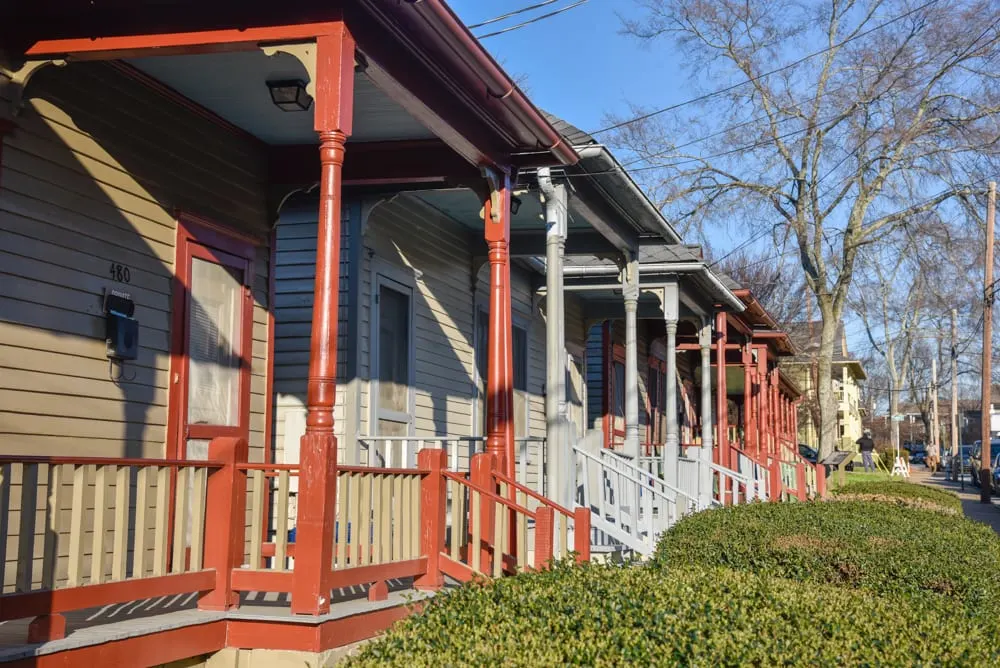 Martin Luther Kings Home
One of the most interesting attractions in Atlanta is the childhood home of Martin Luther King Jr. The home was the home of his parents, King Sr. and Alberta Williams after they married in 1926.
It was in this home that he was born and lived out the first 12 years of his life.
If you are looking for the house, it is located in the Sweet Auburn historic district. The exact number of the house is 501 Auburn Avenue. There are many houses along the street which are similar so plug this address in your phone for directions.
By the time we had visited in late afternoon, the house was all closed up for the day.
If you get there early in the day National Park Service rangers offers free tours of the house.
If you are interested in a house tour, it is extremely important to get there as early as humanly possible as tours are limited to 15 people on a first come basis.
While we weren't so lucky to get a tour, we were able to read some interesting information outside the house on the street.
If you are interested in more information about Martin Luther King, we would suggest going on a Martin Luther King Tour.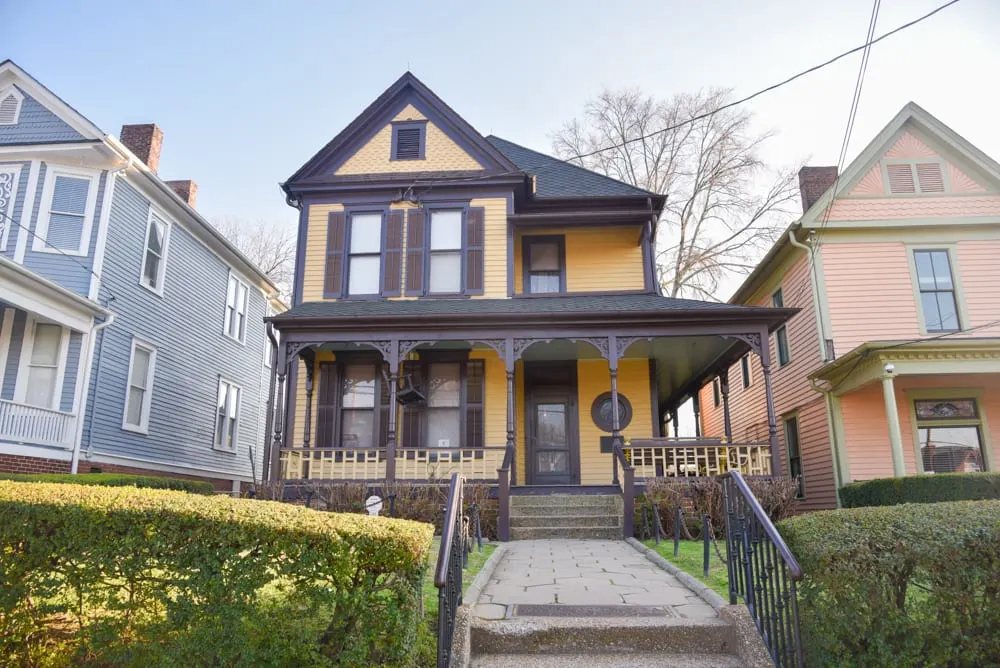 Martin Luther King Jr. National Historical Park
In the same area as Martin Luther King's house you will find the Martin Luther King Jr. National Historical Park.
This park is also completely free to visit and very significant to the civil rights movement in Atlanta lead by Martin Luther King Jnr.
In honor of him, you can see and pay respects to the tomb of Martin Luther King and his wife Coretta Scott King. It is an absolutely beautiful monument to him as there is a reflecting pool and eternal flame burning nearby.
Nearby, you can also visit the Visitor Centre which gives interesting information about the civil rights movement and Martin Luther King's involvement.
Recommended: Martin Luther King Tour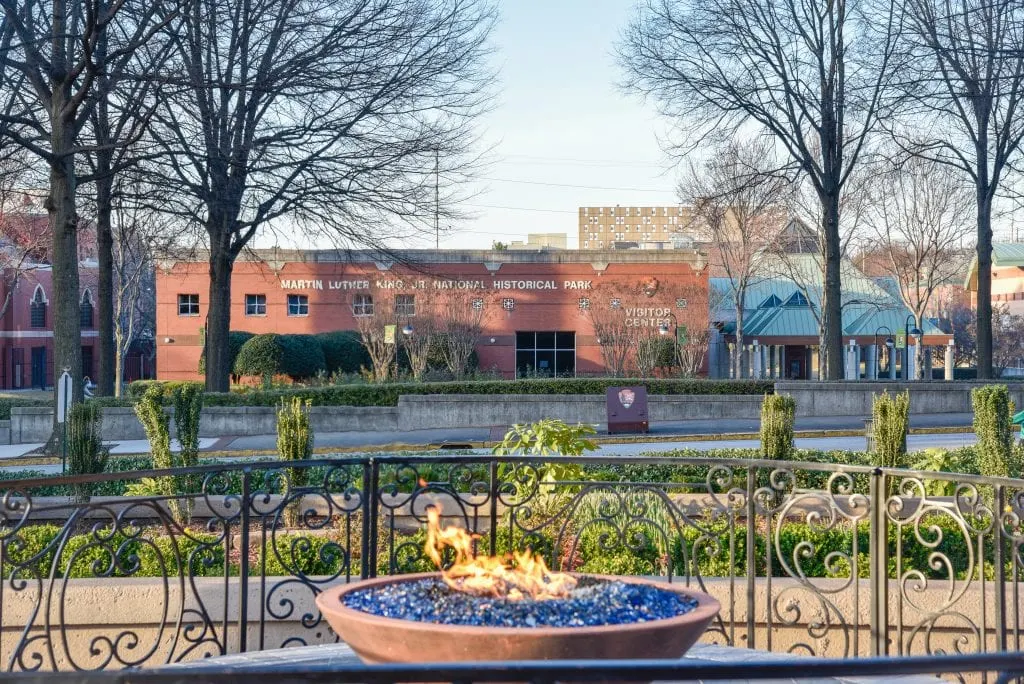 Municipal Market
In the Sweet Auburn area nearby the Martin Luther King Jr. National Historical Park you will find one of the most popular activities: the Municipal Market in Sweet Auburn.
The Municipal Market has been a favorite weekend activity since it first opened for trading all the way back in 1924.
Inside, you will find a lot of fresh produce from vegetables to meats, fresh bakeries to even some small hip eateries.
If you are interested in the US civil rights movement and Atlanta's history, in the times of segregation in America, African Americans were not allowed to trade inside the Municipal Market.
These days, thanks to the work of Martin Luther King Jnr. and other civil rights activists, some of the best businesses inside the Municipal Market are owned by the black community.
The Municipal Market is also known as the 'Curb Market' in reference to when the black community were not allowed inside and had to trade on the curbside.
Recommended: Martin Luther King Tour or Southern Food Tour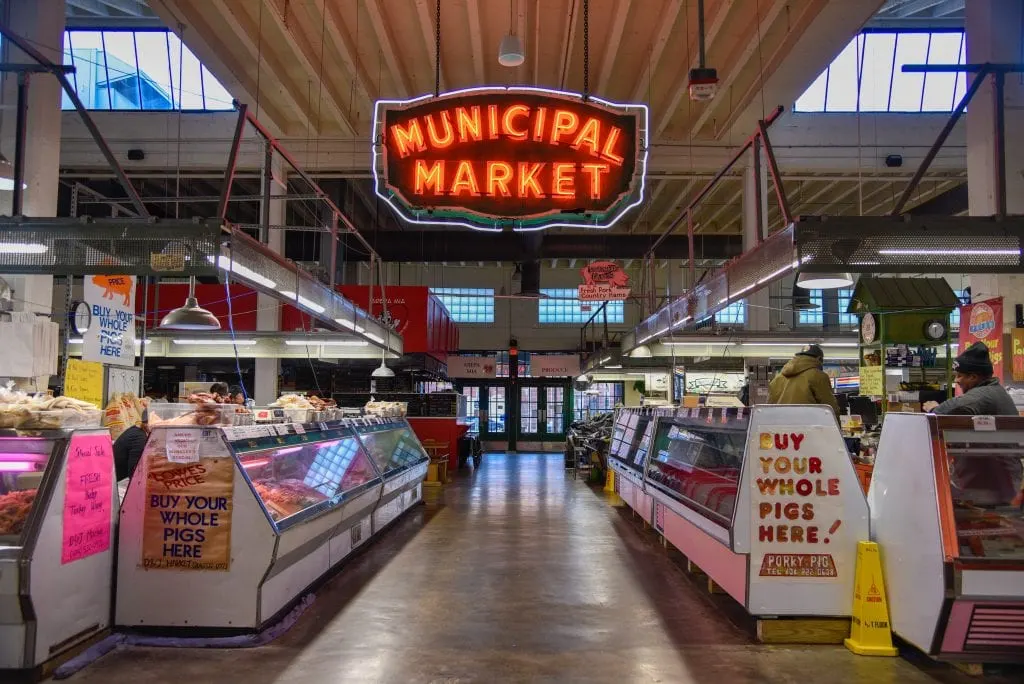 Ebenezer Baptist Church
Another top sight in the Sweet Auburn area is the church where Martin Luther King Jr and his father Martin Luther King Sr were pastors – the Ebenezer Baptist Church.
Martin Luther King Jr was also baptised in this church.
Outside the church you will find some history as well as the good work the King family did to assist the homeless and needy in the Sweet Auburn area.
It is free to enter and inside you will find more history about the King family and their good work.
Recommended: Martin Luther King Tour
Walk the Civil Rights Walk of Fame
Celebrating Civil Rights heroes from Martin Luther King to Gaundi, the Civil Rights Walk of Fame is one not to miss if you are in the Sweet Auburn area.
At the entry to the walk of fame you will see a giant statue of what we first thought was Harry Potter and later realized was Gaundi – oppps!
The walk of fame was established in 2004 to commemorate those who have fought hard to protect human rights over the years.
In similar fashion to the Hollywood walk of fame, you can enjoy walking over and reading the legacy of the Civil Rights heroes.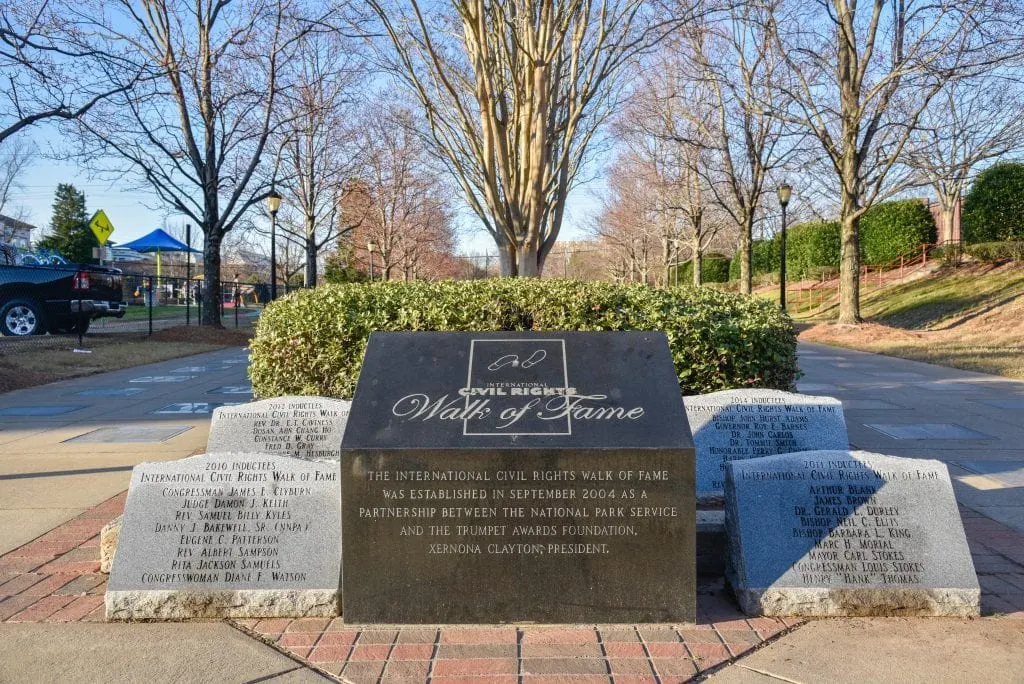 Walk the Beltline
In 2008, a 2.3 mile stretch of former railway corridor was opened as a multi-use trail. This first-stage of the BeltLine – known as the West End Trail – has has been followed by a Northside Trail, Eastside Trail, Southwest Connector Trail and West Side Trail.
In total the Atlanta BeltLine spans 9.9 miles and is still under development. Plans are to create a trial which connects 40 neighborhoods in a loop covering 22 miles.
There's plenty to do along the sections including riding bicycles, admiring the colorful street art and spotting tiny doors. Hold up – what to we mean by tiny doors? Well, if you look closely enough you might spot mouse-size doors inconspicuously dotted along the trail as part of the Tiny Doors project. Let us know in the comments if you find a cool one to share!
The BeltLine is also a great place to people watch because along the way you'll see locals walking their dogs, skating, playing flag football and more.
In our opinion, the best way to enjoy the BeltLine is to hire an electric scooter and get zooming. You can hire a Lime scooter from pretty much any entry / exit point. Uber now has scooters for rent too, which is very convenient.
Try riding from Krog Street Market to Ponce City Market. The ride should take about 30 minutes and there's plenty of delicious and interesting food and drink options at both ends! Love craft beer? Don't miss Hop City at Krog Street Market.
If you're interested in the project, on Friday and Saturday mornings you can catch a free, narrated bus tour of the parts of the trail still under development. You can find more information about the free tour here.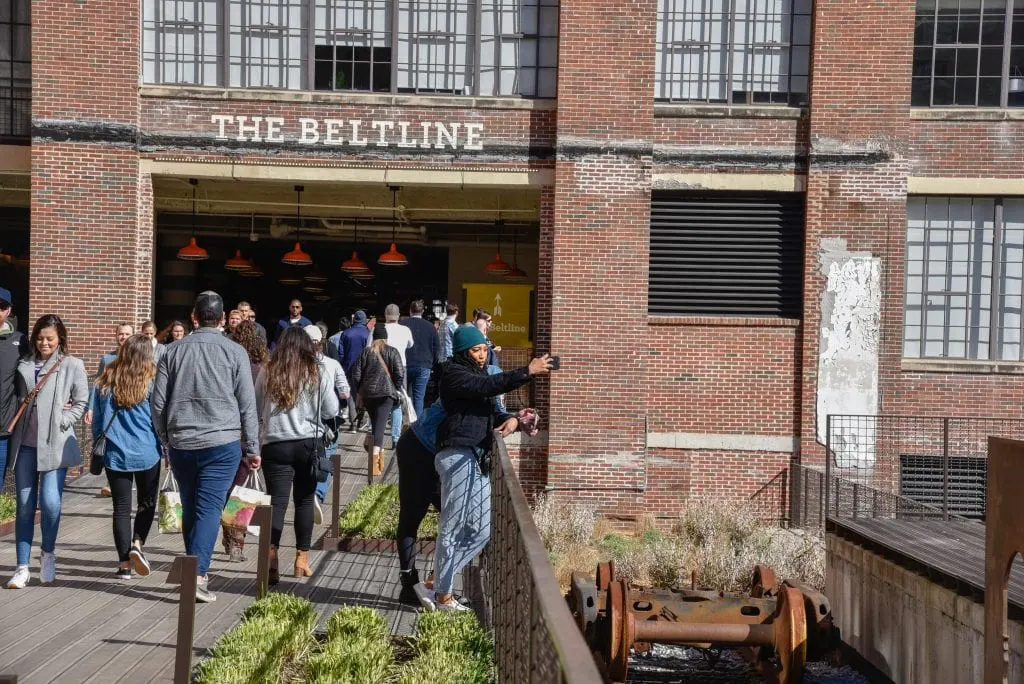 Take a Selfie at Jackson Street Bridge
If you are looking for a great vantage point of the City with an amazing view to take a beautiful photo or a selfie then you really cannot go past Jackson Street Bridge.
Jackson Street Bridge is a easy 6 minute drive from downtown. It is free to visit and there is free parking nearby which is really convenient if you are driving around Atlanta!
The reason this bridge is so popular is due to the fact that the show "Walking Dead" featured it in one of the most famous scenes from the show a few years back.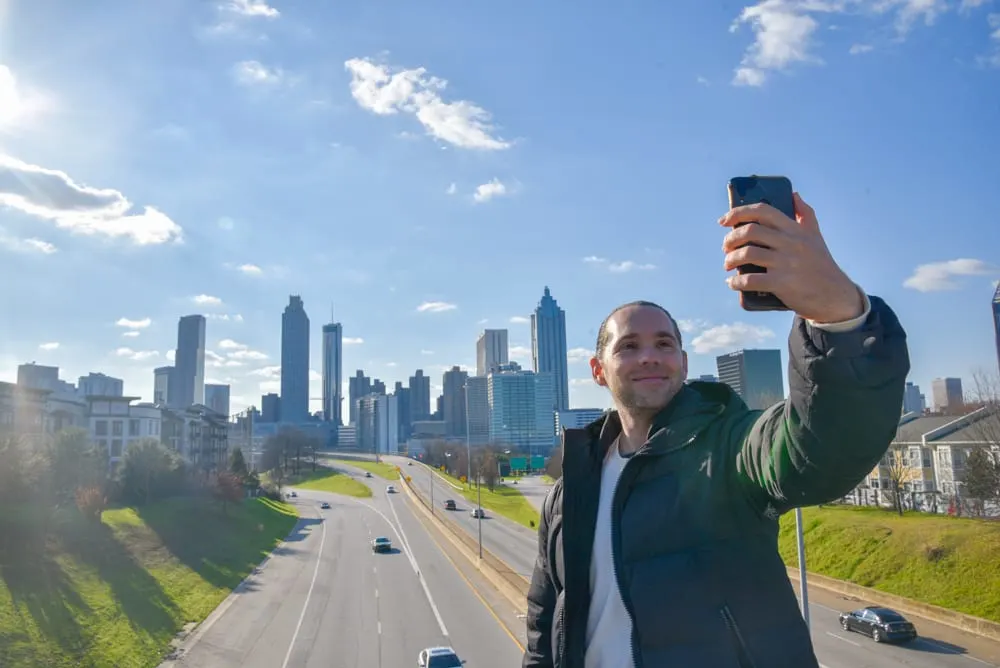 Visit The Homage to King on Freedom Parkway
Right nearby Jackson Street bridge you will see the iconic 'Homage to King monument' on Freedom Parkway.
The sculpture of MLK raising his hand in the air was erected in 1996 by Xavier Medina from Barcelona.
The piece of art which overlooks the Atlanta skyline is made from steel plate and is very impressive!
It is designed to integrate the pedestrian and bike path which joins the downtown to Freedom Parkway.
After you are finished taking selfies at Jackson Street bridge, we would recommend walking around the corner to see the very interesting and unique monument.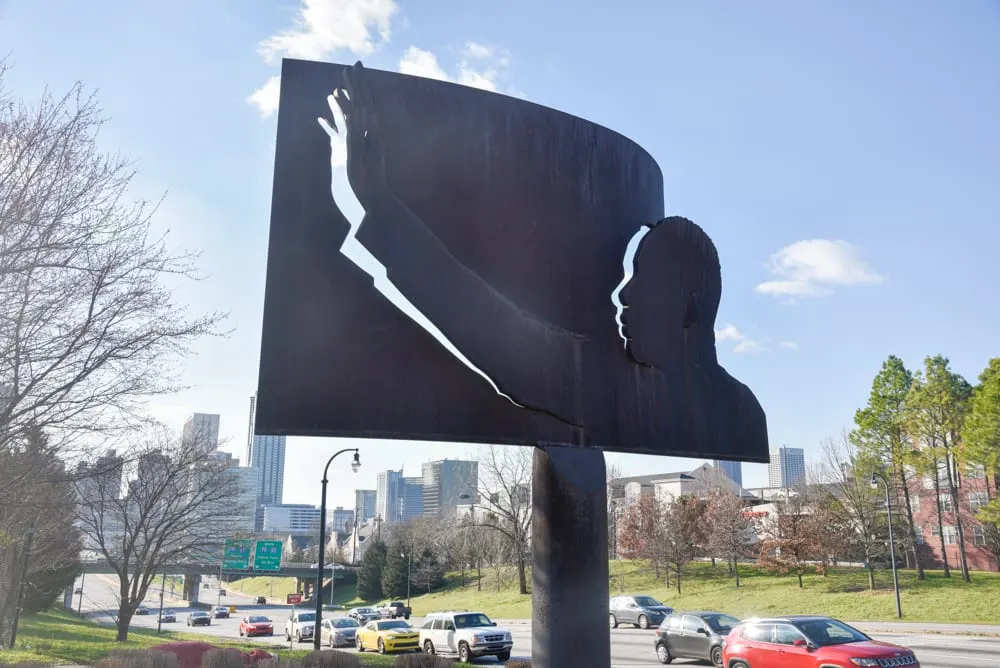 Be a Skater Girl/Guy at Historic Fourth Ward Skate Park
On one section of the Beltline you will find the Historic Fourth Ward Skate Park.
The cool thing about this skate park is that it is not dodgy in any way. While some skate parks can be shady, this was not at all the case at the Historic Fourth Ward Skate Park.
If you have a skateboard or roller skates, feel free to give the skate park a go. They are very acceptable of beginners in the ring.
If not, it is really entertaining to watch the skaters use the ramps and bowls from the sidelines.
There is free parking directly outside the Skate Park but note it is very popular so it can be difficult to get a park.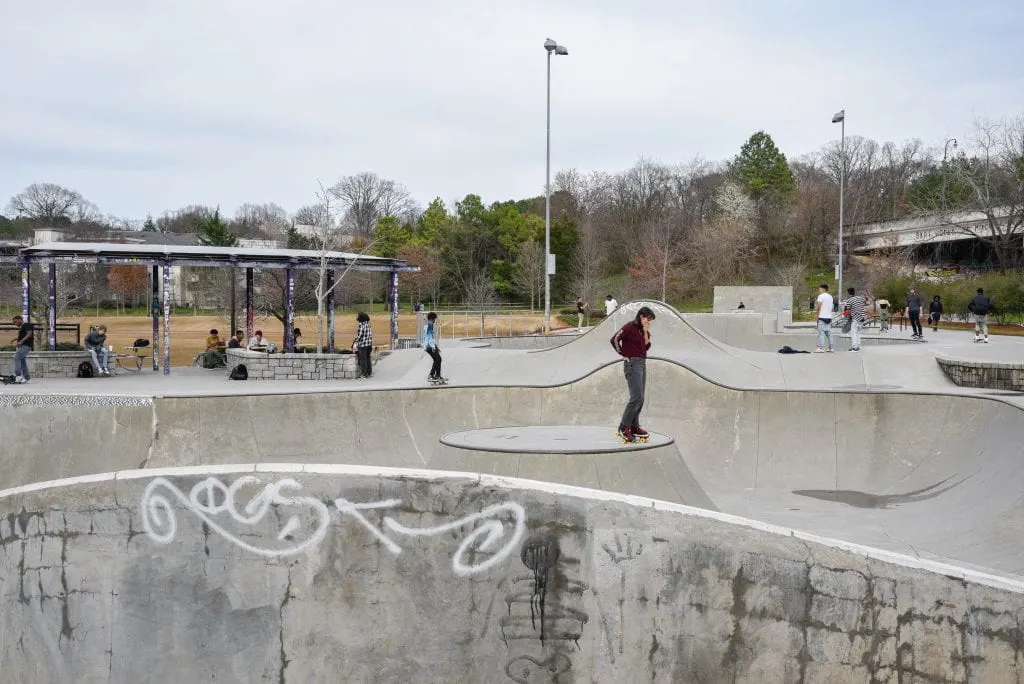 Krog Street Tunnel
The Krog Street Tunnel is one of the coolest activities for hipsters and for anyone who just loves interesting street art.
The tunnel is a mixture of commissioned full-wall murals and impromptu graffiti from Atlanta's residents.
Feel free to buy a can of spray paint and go for gold! The kids that we saw with their Dad absolutely loved watching him paint in the tunnel.
If you are looking for a place for edgy photography then this a great spot.
If you are looking for the tunnel it is part of the BeltLine. It is used to cross Hulsey Yard.
If you feel like a coffee at this point, across the road from the tunnel is a cool hipster cafe.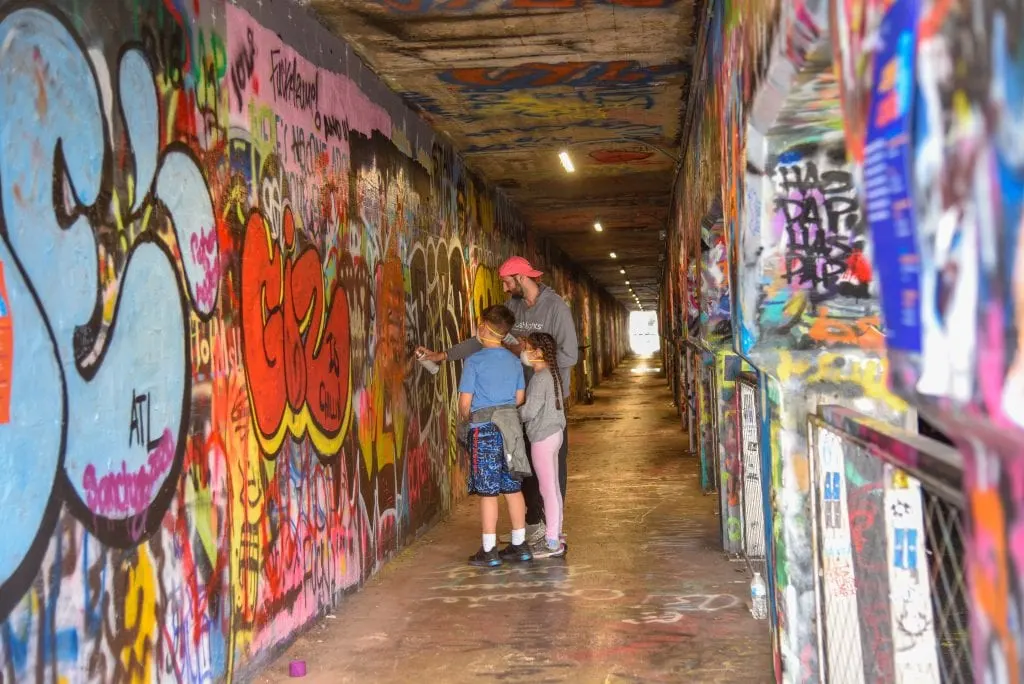 Krog St Market
Nearby the Krog Street Tunnel is one of the best markets which we would highly recommend making a stop at.
After a pan factory known as the Atlanta Stove Works was closed in the 1920s, the abandoned warehouse was transformed into a bustling marketplace with interesting food options as well as cool specialty shops.
The great park of the market is that the food options are so diverse ranging from Chinese to fried chicken to American style bars to freshly baked goods.
The Little Tart Bakeshop have particularly delicious strawberry tarts.
The market is free to enter and while it is absolutely bursting with people on the weekend during the weekdays, it is virtually dead. Go on a weekday if you want an easy parking spot and to have the whole place to yourself.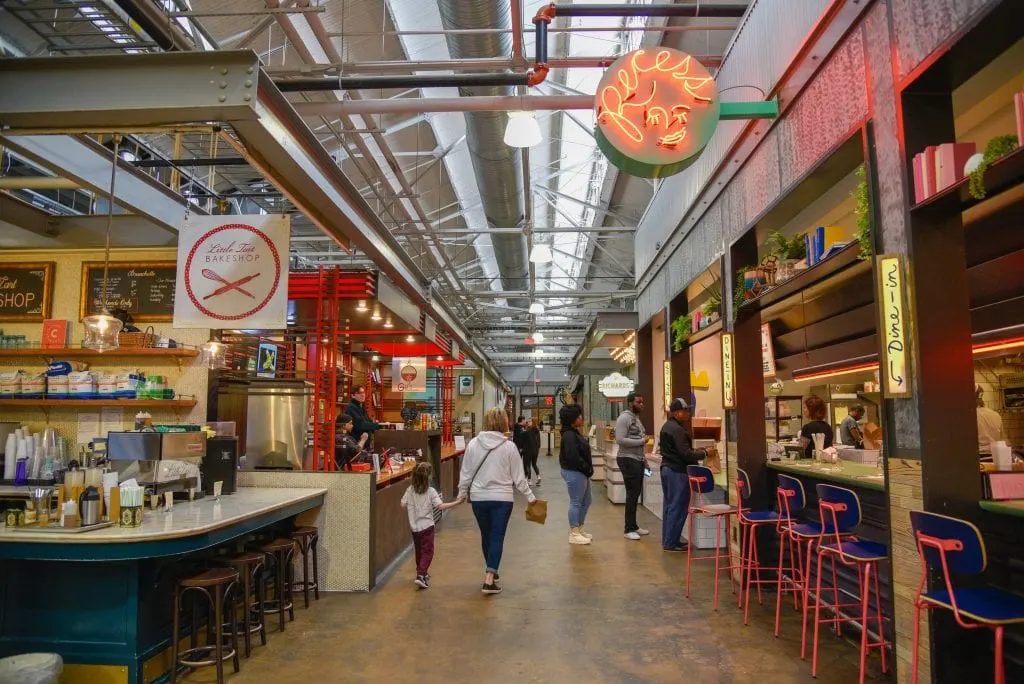 Midtown Atlanta
High Museum of Art
The Woodruff Arts Center
The Museum of Design Atlanta (MODA)
Margaret Mitchell House
Federal Reserve Bank of Atlanta
Autoeater
Fox Theatre
The Georgian Terrace
Center for puppetry arts
Piedmont Park
Shakespeare Tavern Playhouse
Botanical Garden
Watch the Symphony Orchestra
If you love classical music, one of the best places to go is to see the Atlanta Symphony Orchestra play.
The Orchestra have concerts on a regular basis at the Woodruff Arts Center which include anything from violin concertos to Rachmaninoff symphonies.
Shows usually start at 8pm nightly and cost $22 upwards for a seat, depending on where you elect to sit during the show, making it one of the most affordable activities in the city.
Visit The High Museum of Art
Also at the Woodruff Arts Centre you will find the High Musuem of Art.
This museum is extremely popular and is actually one of the most popular art museums in the South as it includes a very interesting display of art from medieval times all the way to present day, contemporary art.
It houses the work of very popular artists including Monet and Chuck Close.
One of the most popular exhibits is the "The Shade on the Lawn" gifted by the French government as an apology & memorial for an crash that claimed the lives of 100+ citizens of Atlanta.
Tickets cost $14.50 and can be purchased on their website.
Tip: On the second Sunday of every month, entry is free for all. There is also free military veteran entry everyday.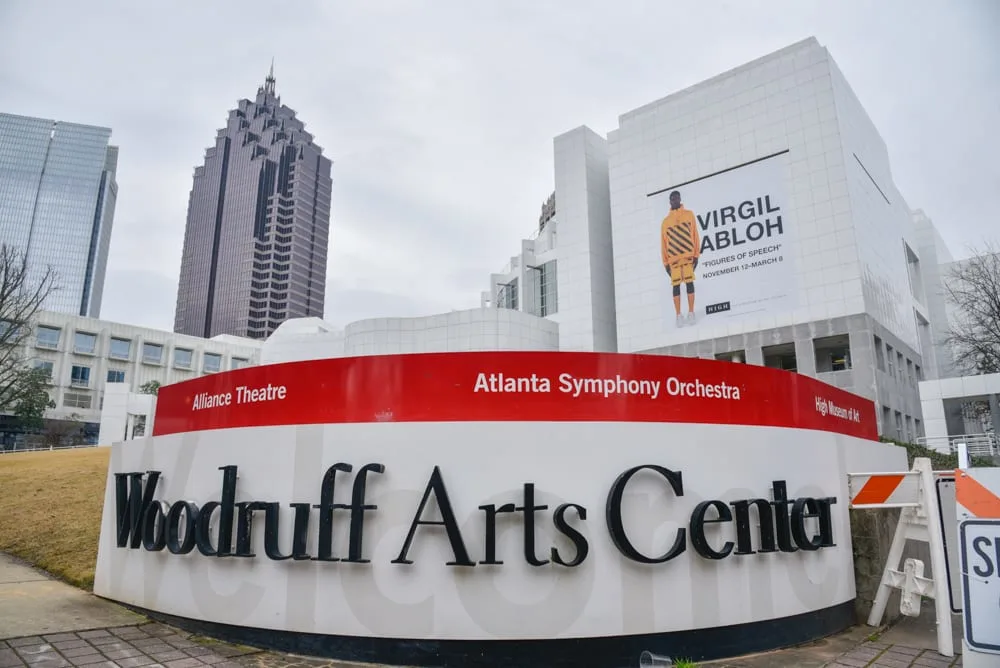 Visit MODA
MODA aka the Musuem of Design is a fan favourite for locals who appreciate everything design!
It is the only museum in Atlanta and the Southeast which showcases the best of design including architecture, product design, furniture, interior design and fashion design.
There are often very interesting talks scheduled at the musuem as well as workshops. One popular workshop in the past was 3D printing for adults.
It costs $8 for adults. Tickets can be purchased on their website.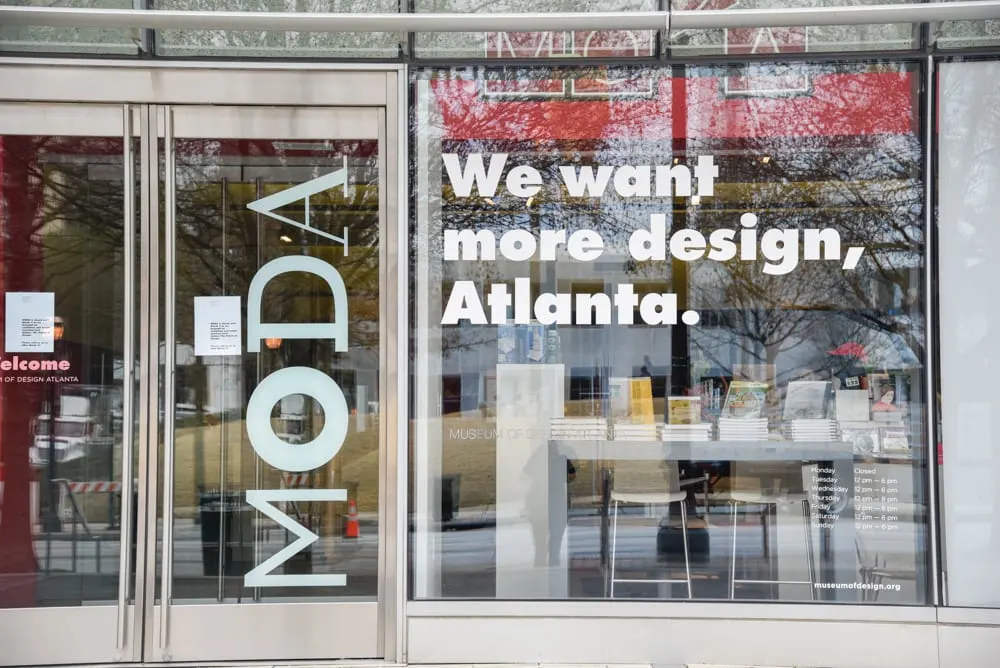 Shakespeare Tavern Playhouse
If you love Shakespeare, it is absolutely essential to see a play at the Shakespeare Tavern Playhouse.
In true Shakespearean style, the building is even in traditional style with a half timbered facade like you would expect to see in Europe in Shakespeare times!
If you go to see a play here, you will happy to find that a traditional English pub meal is available before each performance.
Shows are done in traditional tavern style setting and play 7.30pm from Thursday to Saturday and 6.30pm on Sunday.
Tickets cost $22 -$45 depending on what performance and where you want to sit.
The Autoeater
One thing that really stood out to us about Atlanta is the amount of cool and interesting art there is to see in the city.
One of our very favorites is a publicly displayed piece of art known as "The Autoeater".
The Autoeater is carved from a 16 ton marble block from northern Italy. The artists Julia Venske and Gregor Spanle are well known for their marble sculptures around the world.
The stone or animal (whatever it is, maybe a fish?!) is eating the popular 1980s car, a Fiat Panta.
In 2017, it made the 4856 mile trip from Italy to midtown where it can be seen opposite the Margaret Mitchell house.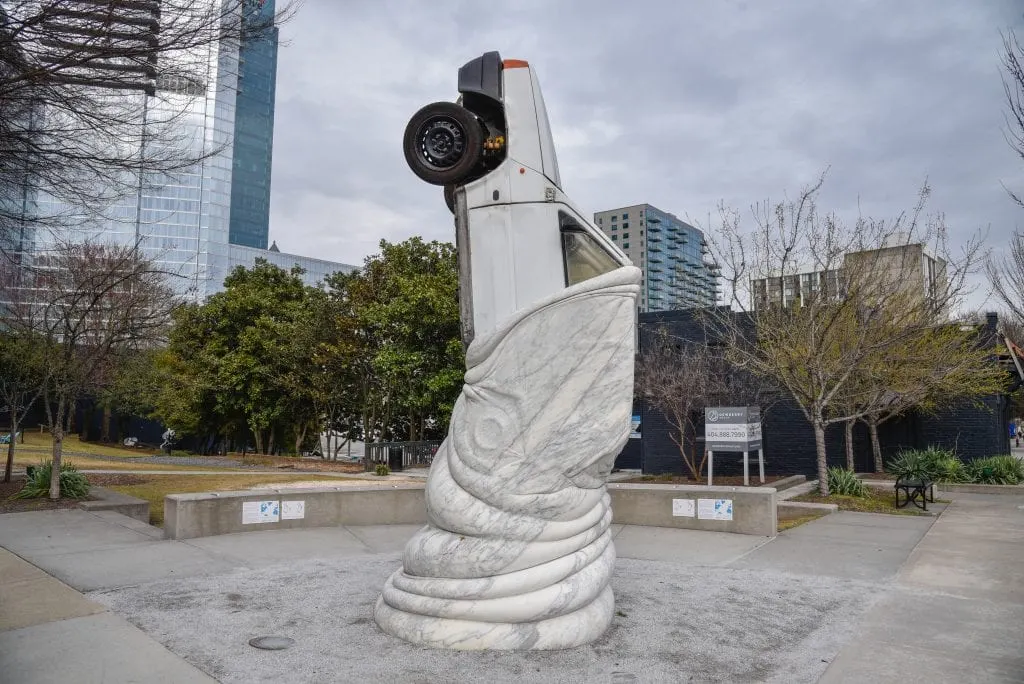 The Margaret Mitchell House
Margaret Mitchell is one of Atlanta's most cherished dead.
You might know her as the famous writer who wrote the classic Gone with the Wind.
It was from apartment #1 in this Tudor revival house on Peachtree Street that she wrote the best selling classic. It took 10 years of her life to write, after receiving an ankle injury that cut her journalism career short.
Nervous to publish her work, Margaret wrote to her publisher asking for it to be sent back as she had "changed her mind". Luckily, the publisher was able to convince her otherwise and 2 years after it was published it was even made into the classic film we know today.
You can take a tour of the house including a detailed account of the production of the Gone with the Wind movie. Margaret's apartment is kept in the same original condition as when she lived there
Reccommended: Margaret Mitchell Tour
Reserve Bank of Atlanta
Nearby the Margaret Mitchell house and The Autoeater in midtown on Peachtree Street you will see the stunning Reserve Bank.
You might not think there is a lot to do at the Reserve bank of Atlanta but it consistently rates as one of the very best free attractions.
Inside, you will find the Monetary Museum which has a lot of information on the history of banking in the US including the part the Federal Reserve plays in this.
It is very interesting to get a peak inside the workings and operations of a bank!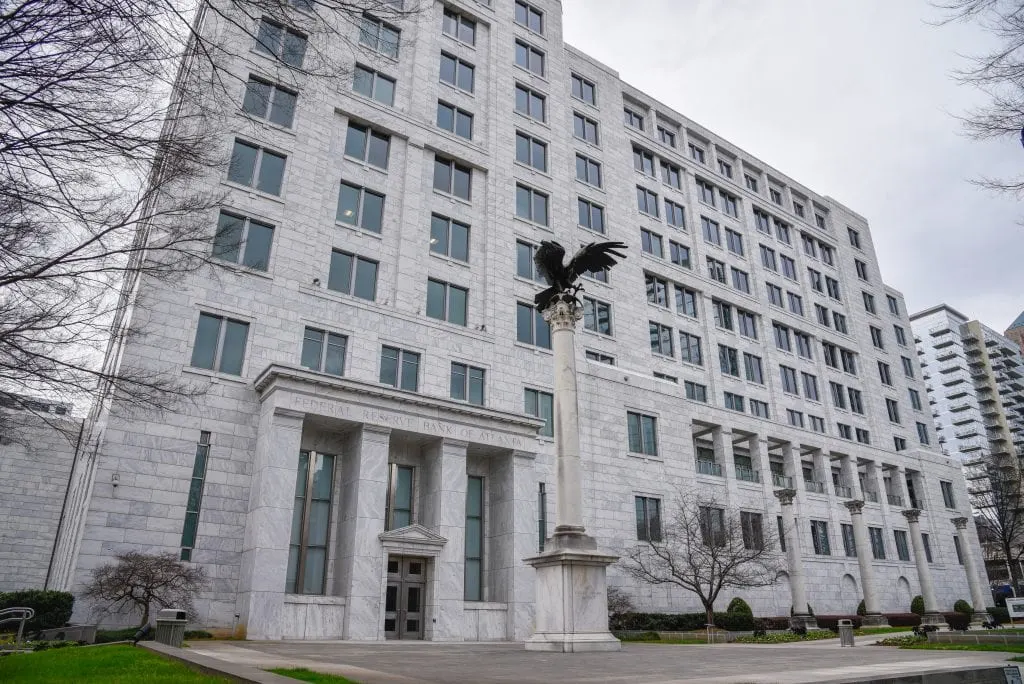 Fox Theater
The Fox Theater is seriously one of the coolest theatres in the city and is perfect for Old Souls who love the classics.
If you love Broadway musicals, we would highly recommend seeing a show at The Fox Theater which showcases lots of Broadway romantic favorites like Dirty Dancing (1987).
Aside from musicals, there are also concerts held regularly at the Fox Theater. Stars like Diana Ross have played at the Fox.
Recommend: Fox Theatre Tickets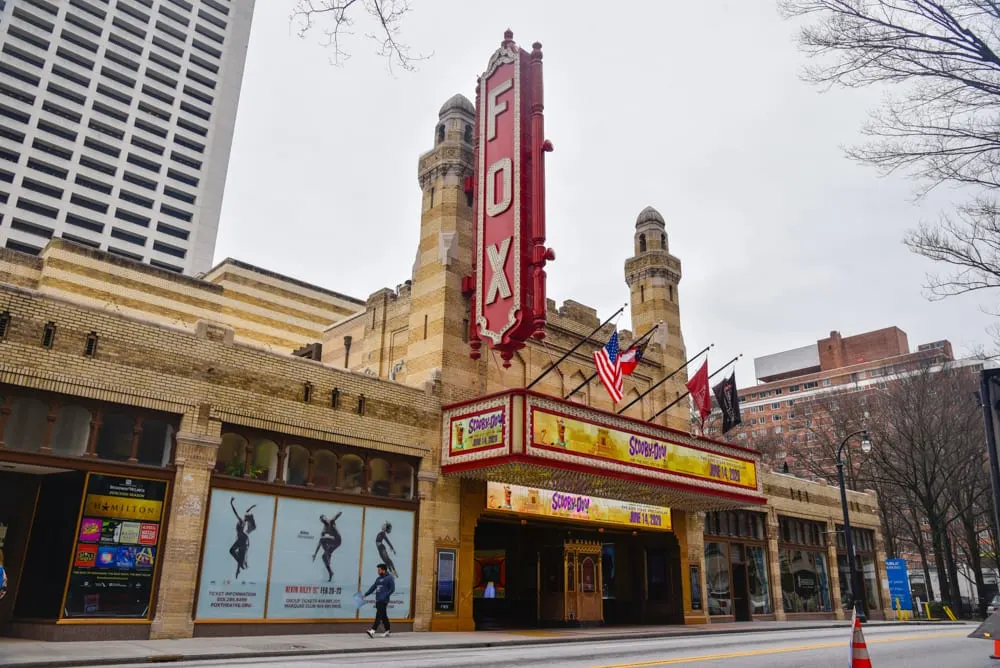 Center for Puppetry Arts
If you are traveling with kids, you have to make a stop at the center for puppetry arts.
The center, opened in 1978, has been a fan favorite of those traveling for decades as it provides visitors with cute performances, various workshops and even the unique ability to make your own puppet!
The center is not just one for kids. It is also a local's favorite unique date night idea as when night falls the center puts on humorous shows and productions for adults.
Ticket prices range from $12.00 upwards depending on what you want to do at the center, whether you want to go for a guided tour, a performance or a workshop.
If you are a Georgia resident with a library card, you can actually get into the center for free! You just need to visit a participating Georgia Library with your library card and they will hook you up!
You can check out more about whats on at the center during your dates on their website
Rhodes Hall
One of the most beautiful buildings in Atlanta which quite frankly looks just like a castle straight out of Europe is the beautiful Rhodes Hall.
Rhodes Hall was built all the way back in 1904 for Amos Rhodes, it is a cool building to see as it is a fabulous example of Romanesque Revival architecture in Georgia.
The outside is stunning enough but if you are interested in going inside Rhodes Hall guided tours are offered on Saturdays between 10 a.m.-2 p.m.
It is a very affordable activity as tickets only cost $5 and are free if you are a member of the Georgia Trust & National Trust.
Inside you will find interesting memorials to the Civil War in the form of hand-painted glass windows.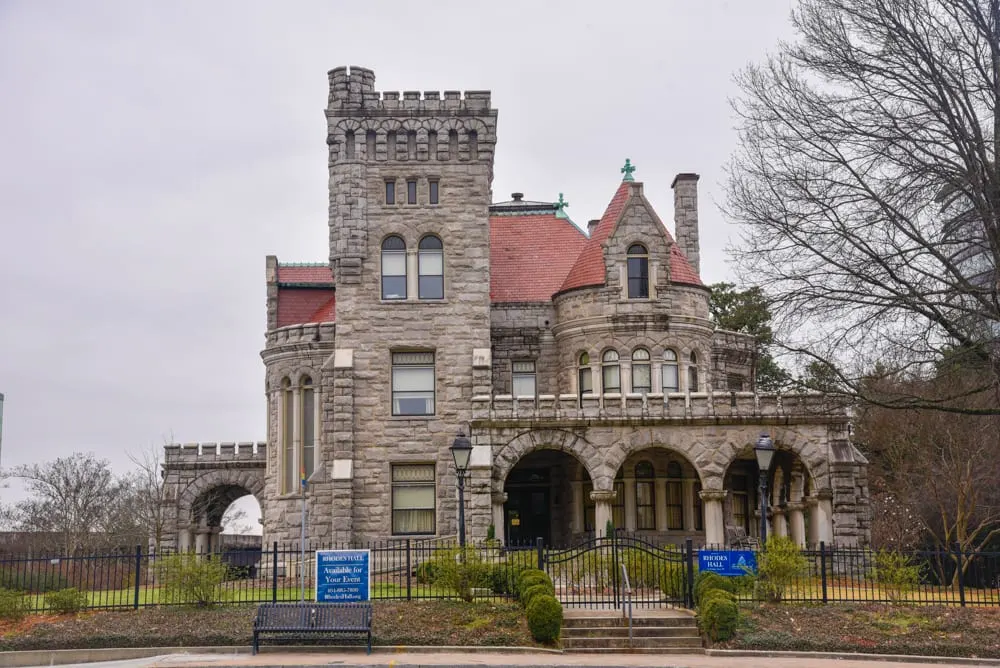 Piedmont Park
If you like visiting beautiful parks during your travels you simply cannot go past Piedmont Park.
It is the perfect place in the city to go for a picnic or for a leisurely stroll in a park, sniffing up the fresh air.
The great part about Piedmont Park is that it is located right in the very heart of the city.
Don't miss Lake Clara Meer, located in the southern end of the park as it is one of the prettiest parts of the park.
Piedmont Park is completely free to enter and if you are lucky you can catch one of the many free events at the park.
One very popular event is the Piedmont Park Arts Festival which is on annually in August. This year it will be 15-16 August.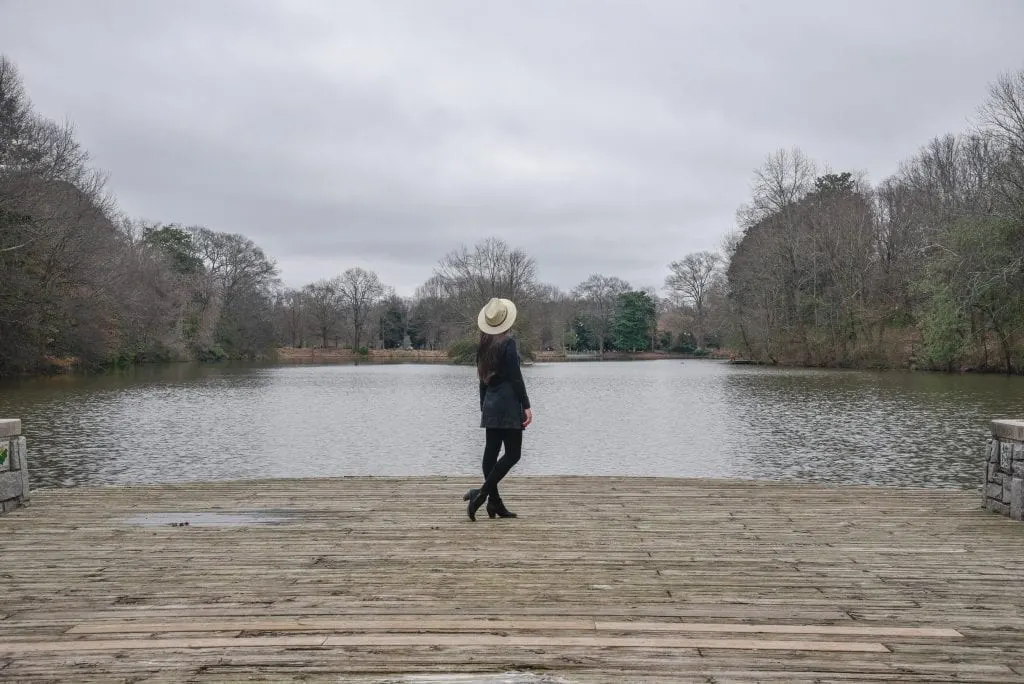 Woodruff Park
Another great park to visit is local favourite: Woodruff Park.
It is nice to go for a stroll in the park and discover all the cool attractions including the beautiful International Peace Fountain, the amazing Gazebo erected for the Olympic games and various pieces of art in the park including the 'Phoenix rising from the ashes'.
One of the most quirky things about the park is the pop up library in the middle where you can borrow a book and have a quiet read.
During the summer months, there is also other popular free activities in the park to look out for including free yoga.
You can check out what's on in the park on their website.
Go for a Tandem bike ride
We saw a couple on a double date on a tandem bike while in Piedmont Park and it seriously looked so fun! We are scheduling it as our next date for sure.
You can rent bikes outside Piedmont Park entrance at a shop called Skate Escape.

Georgian Terrace Hotel
One of the most famous hotels in Atlanta is the Georgian Terrace Hotel.
If you have the budget, we would highly recommend staying here, as it is a very lovely hotel!
The reason this hotel is special is because it was designed in the style of Paris architecture by architect William Stoddart.
In true Paris style, inside the hotel is really beautiful with white marble columns, elliptical staircases and stunning chandeliers.
If you don't want to stay at the hotel, it is still worthwhile visiting for a drink.
Other options:
Botanical Garden
It is definitely to make a visit to the Atlanta Botanical Gardens.
I know what you are thinking, botanical gardens?! Bor-ing! But these botanical gardens are anything but boring.
The gardens showcase different exhibits throughout the year.
One of the really popular garden exhibits of last year was a very impressive Alice in Wonderland exhibit.
Entry is $22 and you can check out what exhibits are currently displayed on their website.
Little Five Points and Poncey-Highland
Ponce City Market
Jimmy Carter Presidential Library and Museum
Freedom Park
Little Five Points
The Vortex
Wisteria Restaurant
Indie Craft Experience
Ponce City Market
Ponce City Market is definitely one of the top sights in Atlanta.
The market covers the 2 lowest floors of one of the largest buildings in the Southeast United States which in the 1920s was home to Sears.
Ponce City Market is hustling with activity and has more variety of food than one would care to try including Asian, ice creameries, donut stores, burgers and specialty breweries.
Each store specialises in one cuisine only which makes all food and drink at the market extremely high quality.
The second floor of the market is dedicated to boutique stores including unique and hipster clothing stores.
There is also short and affordable "learn to sew" classes on the second floor at Topstitch which is cool if you are looking for a unique activity. Classes only take a few hours and cost as little as $50.
An extremely interesting operator driven freight elevator transports patrons to the Skyview rooftop which not only has amazing views of the city but includes board games, mini gulf and a beer garden.
Feel like walking off all the food you ate at Ponce? You can access a lovely section of the Beltline directly from the market.
Tip: If you visit on a weekend the market is extremely busy. Whatever you do do not park at Midtown Place across the road. It may seem tempting but we saw quite a few cars being clamped while we were there.
Recommended: Ponce City Market Food and Art Tour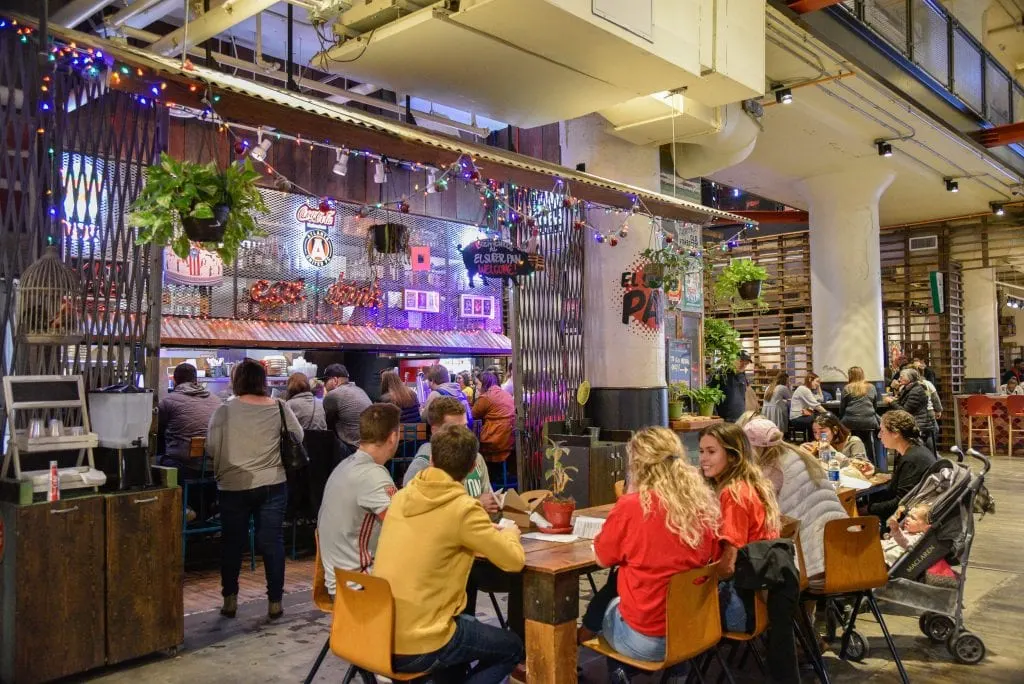 Skyline Park
At the top of the Ponce City Market you will find Skyline Park.
It costs $10 to access the rooftop for a whole world of fun!
Not only will you enjoy some fun games like putt putt but the park offers an incredible view of the sky. If you are an old soul, you will enjoy the old fashioned games on the rooftop including throwing a softball at ceramic plates.
Tip: Don't leave the park without trying one of their delicious frozen drinks!
Jimmy Carter Library and Museum
One of the most popular presidents ever was Jimmy Carter, the 39th president of the United States who served from 1977 – 81.
In case you didn't know, he is particularly popular as he has an interest in fighting disease and poverty. He even he won the Nobel Peace Prize in 2002 for his works.
Inside the museum you can learn more about this, his presidency and the good work he has dedicated his life to.
Like MLK, Carter did great works during the Civil Rights movement. He was always actively opposed racial segregation.
One quirky exhibit in the museum includes a display of the sweaters he wore on TV over the years lol.
It costs $12 for adults but is free for kids aged 16 and under. It is also free to walk around and admire the beautiful gardens. You can find more information on their website.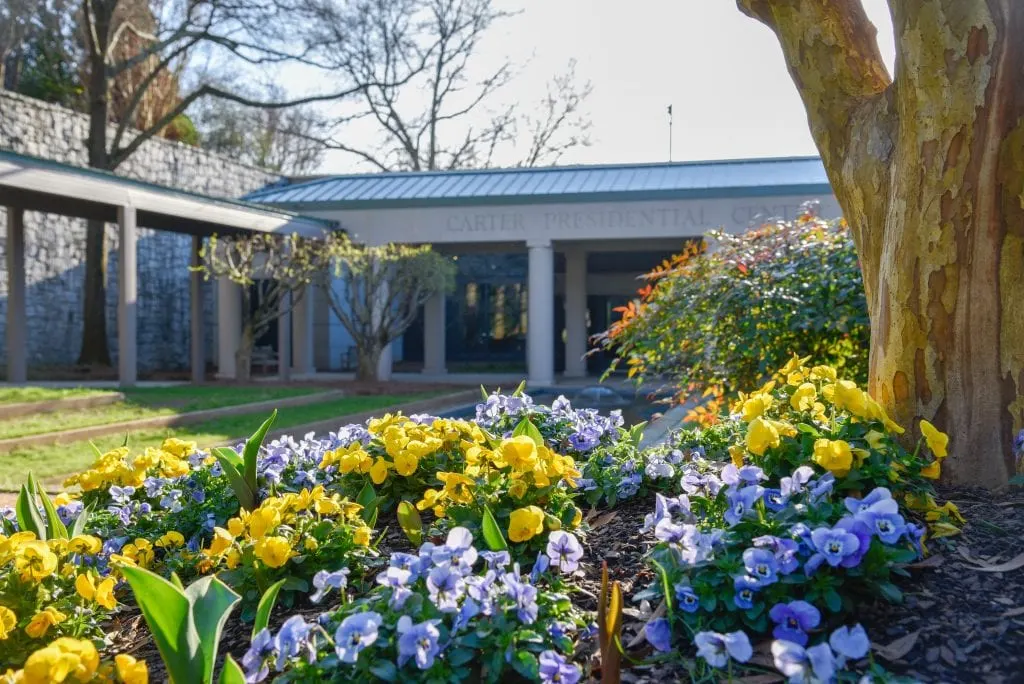 Little Five Points
Little Five Points, home to all the Atlanta hippies, is without doubt in our minds one of the very best things we saw in Atlanta!
As you walk past the interesting colorful houses that make up Little Five Points you will likely smell weed and see street vendors selling alternative medicine. All part of the entertainment of course!
Inside the colorful houses you will find anything from second hand clothing to record stores to hipster cafes!
Some of the most interesting things on the street include the Criminal Records music shop and the Junkman's Daughter with alternative fashion.
What you won't find here are big chains like Starbucks as the business association as outlawed them in the area in favor of independent and upcoming vendors.
The vendors in the area are very appreciative of good art. The mural at the 7 stages building has remained in perfect condition for over 20 years!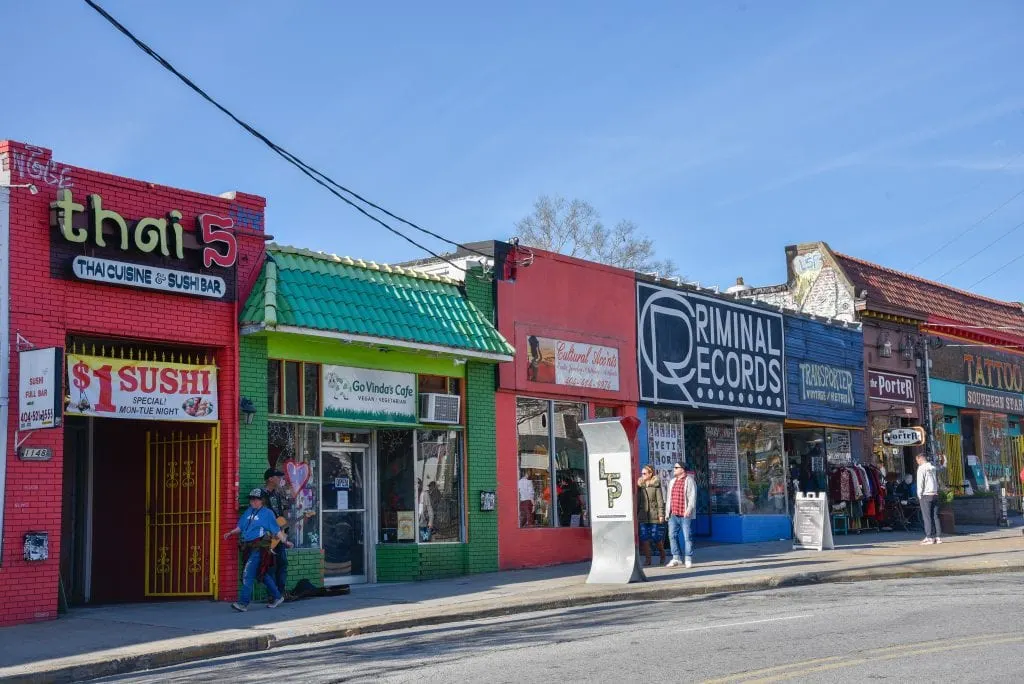 Horizon Theatre Company
Right by Little Five Points, you will find the Horizon Theatre Company.
If you are interested in experiencing a fresh, contemporary play, this is a good place to go. The Horizon is known for putting on smart, entertaining and provocative plays.
If you have kids you can still visit the Horizon Theatre as they also put on family plays for younger audiences.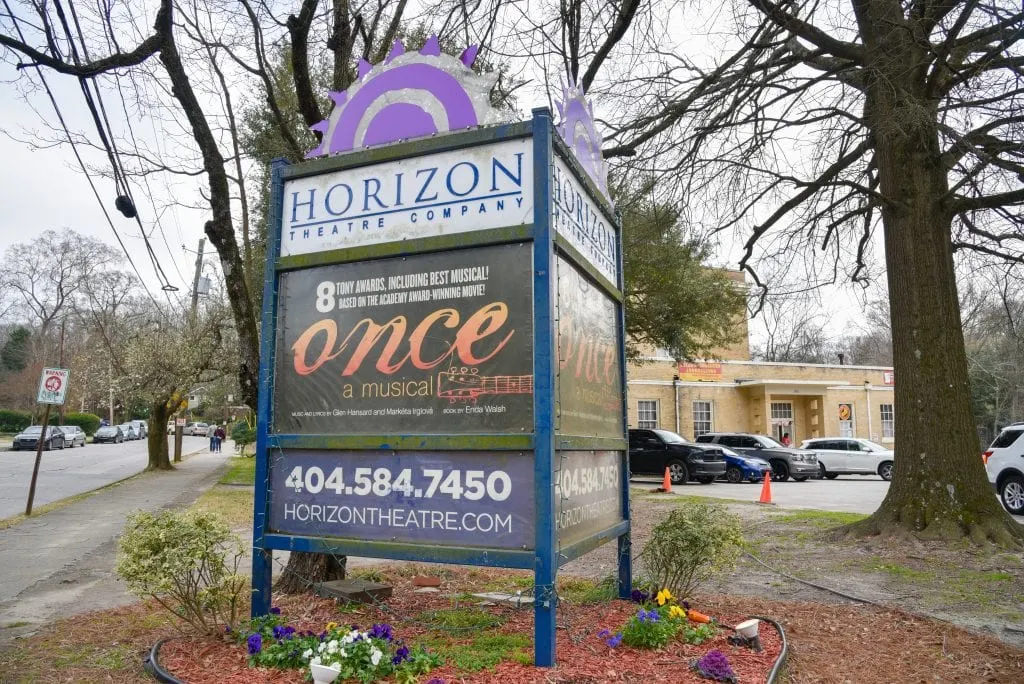 Indie Craft Experience
For over a decade Atlanta natives Shannon and Christy have brought together the best art, craft, vintage and local food vendors in the southeast for a one-day event which is a staple in the Atlanta events calendar.
At the Indie Craft experience's seasonal markets the Capital of the South welcomes over 65 unique vendors without a soulless corporation in sight.
At other times of the year ICE encourages locals to get creative with workshops and retreats in and outside of the city where you have the opportunity to learn something new and creative like indigo dyeing.
It's not everyday you get the opportunity to improve your writing with personal tips from an award winning writer.
But that's exactly what you get at the memoir writing workshop at Indie Craft experience where Hannah Palmer will help you organize your ideas and elevate your writing.
Mark ICE's upcoming markets into your Atlanta event calendar as must do's in 2020:
ICE Spring Market: Sunday, June 7, 2020
ICE Summer Market: Sunday, June 7, 2020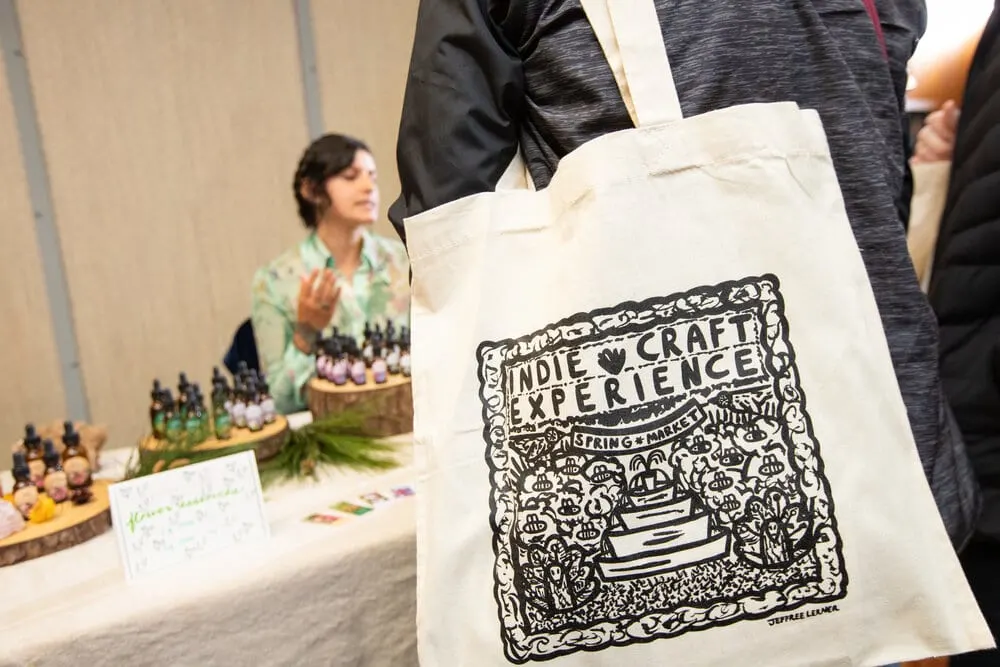 Dine at The Vortex
One of the most interesting places to dine is located in Little Five Points known as "The Vortex".
Aside from the great food, what makes The Vortex so interesting is the entry way which is designed like a skull, in true edgy form of the Little Five Points area.
If you decide to head inside the Vortex we would recommend ordering a burger as this place is known for serving some of the most delicious burgers in the United States!
Move over In and Out burger, there is a new burger joint in town!
Inman Park
Inman Park is an interesting area to check out as it was Atlanta's first planned suburb.
The houses in the area are very charming as they are all built in Victorian architecture.
Inman Park is a lovely neighborhood to have a stroll through as it borders a lot of other interesting parts of the city including Little Five Points, the BeltLine East side Trail and Krog St Market.
If you find yourself here in April, head to the Inman Park festival which includes live music, street performances and activities for the kids!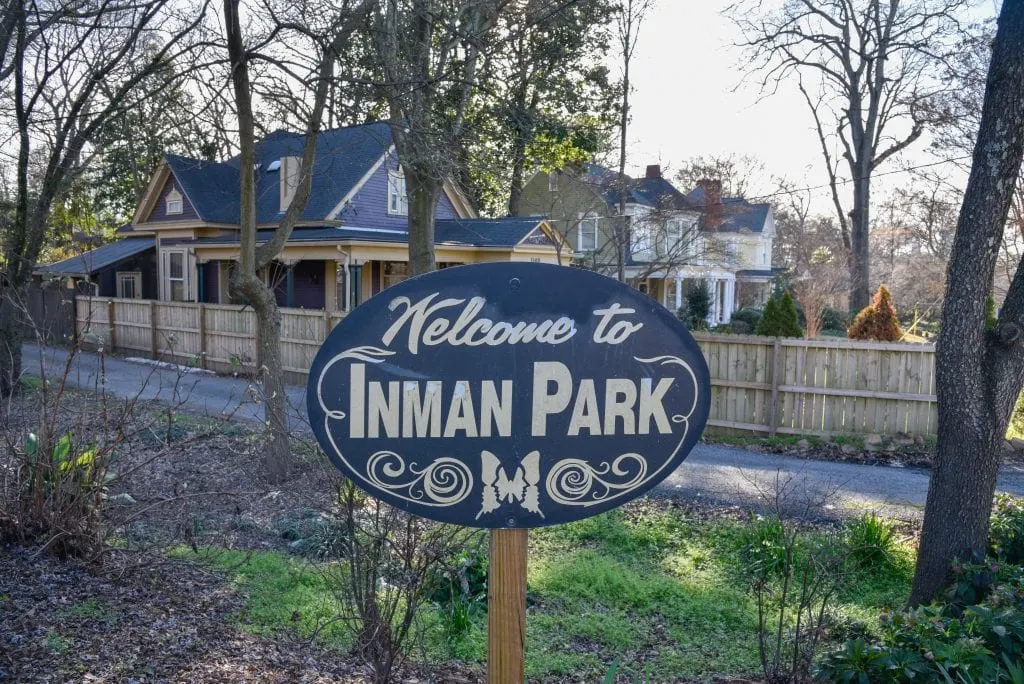 Wisteria Restaurant
Right in a hip area of Inman Park you will find the awesome Wisteria Restaurant known for their Southern Savvy cooking and amazing chef, Jason Hill.
If you are looking for a special restaurant to woo your significant other this is a good pick!
The restaurant has very good quality food and a great ambience at prices that won't completely break the bank (around $25-$30 per main).
Don't miss some Southern specialties like Georgia Coastal Shrimp & Grits and Low country Seafood Stew & Corn Bread.
Atlantic Station
Millennium Gate Museum
Atlantic Stations
The Commons
Terminal West
Visit Atlanta's Arc De Triumph – The Millennium Gate Museum
Despite it's distinct Paris monument, this Arc De Triumph does not have a whole lot to do with France.
It was set up to preserve Georgia history, art and culture through various exhibits inside the museum including both permanent and touring exhibits.
Inside the Millennium Gate Museum you'll learn about Georgia's history through sophisticated interactive technology, movies, and exhibitions.
The museum also features galleries from time to time like a virtual reality walk-through of Winston Churchill's paintings. If you take the tour you'll get the chance to climb to the top for a nice unique view of the city.
It was designed in this classical arch design as Atlanta is historically known as "The Gate City".
Interesting photo shoots and music videos often take place at the Millennium Gate Museum due to its interesting and unique Paris inspired architecture. We saw an rap music video taking place at The Millennium Gate Museum while we were there.
It costs $12 to enter the Museum and tickets can be purchased directly from their website. It is open Monday to Saturday 10am – 5pm and is closed on Sundays.
Atlantic Station
Atlantic Station is a trendy, family-friendly Midtown neighborhood and shopping destination located on the grounds of the the Atlanta Hoop Company and more recently the Steel Mill.
Today, non-residents of Atlantic Station flock to the area to shop in the open-air Atlantic Station mall featuring over 30 stores, a cinema and some of the best restaurants including the Yard House and The Pig and the Pearl: two restaurants where you can enjoy hearty southern-style cuisine native to the area.
Favorites include Fried Chicken, Mac'n'Cheese and Jambalaya, as well as modern fare like Truffle Fries and Black Truffle Cheeseburgers.
As you drive into Atlantic Station it's impossible not to notice the Millennium Gate Museum which resembles the Arc de Triomphe complete with a french flag. The monument was designed in the tradition of classical Roman triumphal arches built around the world over the past 2,500 years.
If you've never been to France and want to know what it's like or if you're missing Paris then take a stroll in "The Commons" Park. In the park behind the Millennium Gate Museum you'll find a quaint circular forecourt and several wrought iron chairs set on the pebbled areas overlooking a small the small lake and gardens. This park really wouldn't be out of place in Paris.
Atlantic Station neighborhood is a nice neighborhood to stay in. Click here for availability during your dates.
It is favored by young professionals and young families. You'll see plenty of families with strollers walking among the pink flowers of the Commons in the picturesque shade of the Arch. The whole suburb is comprised of modern buildings which are carefully maintained.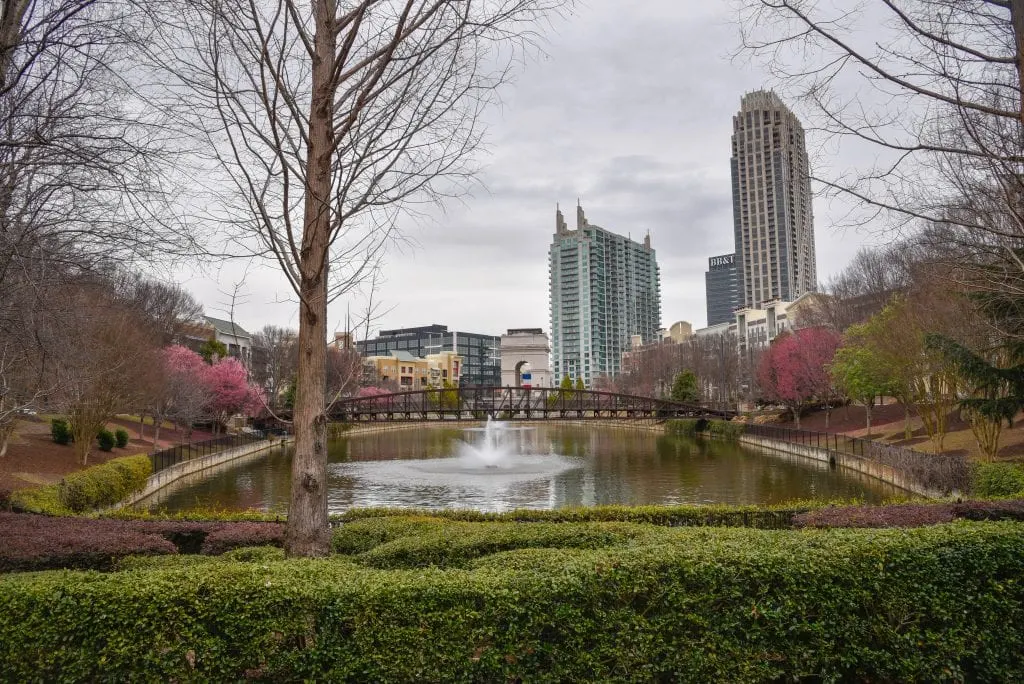 See Up and Coming Artists at Terminal West
If you love discovering new talent, we would advise heading the best small venue to see up and coming artists – Terminal West.
Terminal West is conveniently located in the King Plow Arts Center in Midtown.
The music venue has an interesting history. It started off as a plow factory in 1902 and was subsequently turned into studios in the 1990s.
What gives Terminal West an edgy vibe is that while it is a music venue it has maintained its original factory aesthetics.
It opened as a small concert venue in 2012 when a group of friends turned their music passion into a career.
You can find out whats on by checking out their website.
Atlanta Contemporary Art Musuem
If you love modern art, we would recommend a visit to the Contemporary Art Museum.
Inside you will see amazing works of art from over 100 artists from the local, national and international art scene. Look out for interesting displays and special events for kids and adults alike on their website.
The museum is completely free to visit.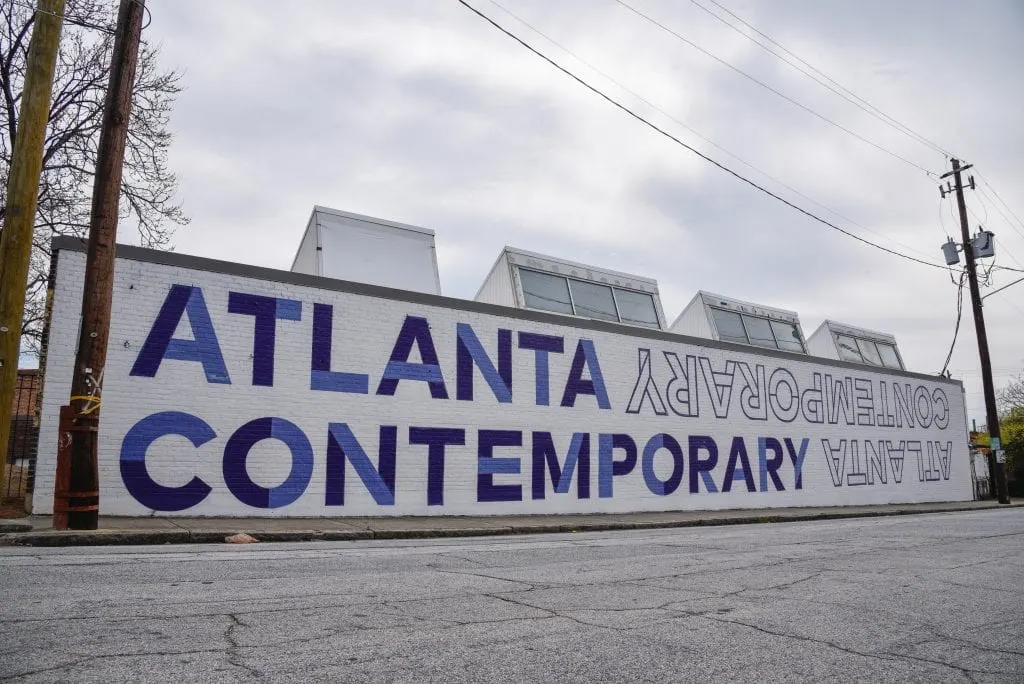 Buckland
Atlanta History Center
Legoland
Buckhead Theater
The Painted Pin
Governor's Mansion
Chastain Memorial Park
The Shops at Buckhead
Swan House
Lenox Square
Shops of Miami Circle
The Painted Pin
The painted pin is a local favorite and seriously one of the very best activities in the city.
You are probably wondering what on earth is the painted pin? Well, wonder no more!
The Painted Pin is basically an upscale bowling alley turned bar oozes personality in Buckhead's Miami Circle, home to some of the best furniture, art galleries and entertainment.
There is not JUST bowling at the painted pin. In addition to bowling the venue offers other fun games and activities including indoor Bocce Courts, Shuffleboard tables, ping pong tables and vintage skee-ball machines.
It is a reasonably priced activity whether you are on a date night or a night out with friends in the city.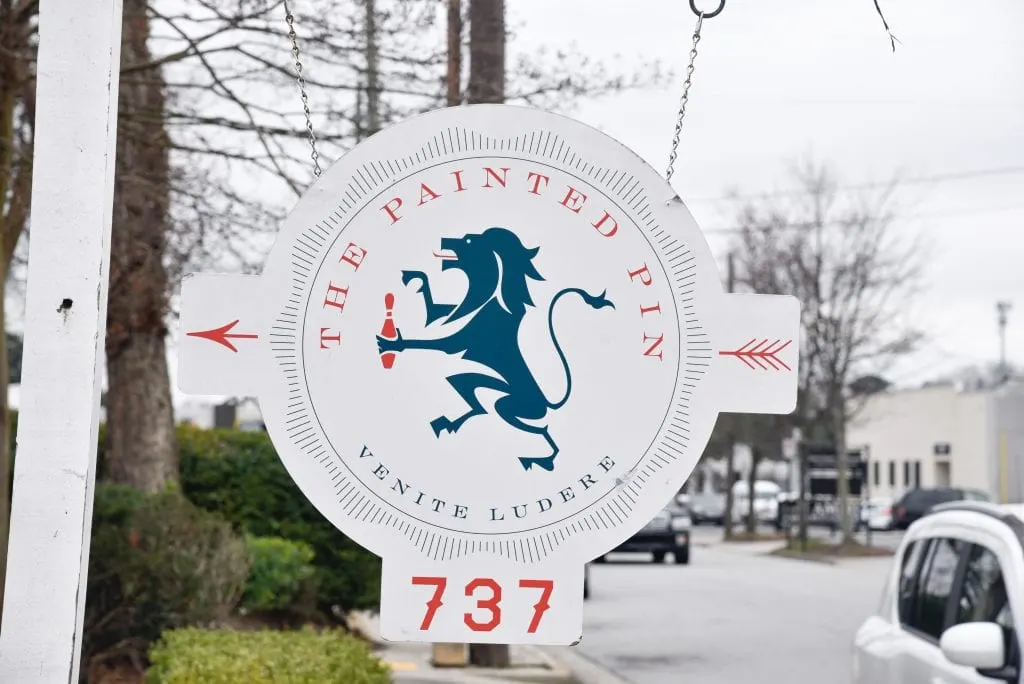 US Cafe
After bowling at the painted pin, you might like to try one of the most delicious burgers at the US Cafe.
They truly are an unmissable place to eat in Atlanta as they really know how to make a good Southern burger. The cafe have been serving burgers for over 30 years and in their own words, "they were serving burgers before burgers were cool!"
Swan House
Where are all my hunger games fans at!?
If you love the Hunger Games, you cannot miss a trip to Swan House while you are in Atlanta to take a look around.
If you don't know, Swan House was used as President Snow's house in The Hunger Games movies.
If you don't care for the Hunger Games, we would still recommend a visit as Swan House is definitely one of the most beautiful places in Georgia.
Before it became famous for the Hunger Games movies it was owned by a couple in 1928 who were heirs to a cotton brokerage fortune. The house still has a lot of its original furnishings and is listed as a city landmark on the National Register of Historic Places.
Entry to the History Center (below) includes Swan House.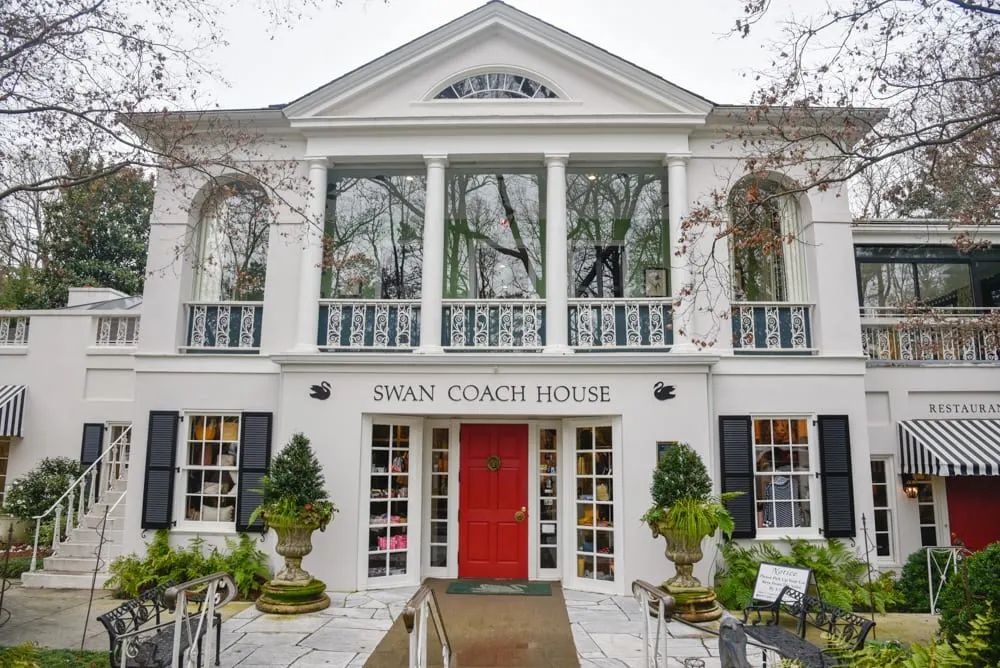 Visit the Atlanta History Center
If you love history, you can't miss a visit to the Atlanta History Center.
Being a Southern State, Atlanta has a long and interesting history especially in relation to civil rights.
The History Center includes six permanent exhibits including a section on the Civil War. There are also several temporary exhibitions available on a schedule. You can see what is currently on by checking out their website.
Outside the museum is a little memorial to stories of American veterans. Here is one we wrote down:
Everyone felt like they were in war for a purpose….when my wife was at home, she moved in with her parents. We had ration cards, tickets for food and gasoline….She was making a sacrifice, I was making a sacrifice and everyone else was. Today that's not so – Elliott Goldstein, Veteran, WW2.
Entry to the History Center ($21.50) includes entry to Swan House. There is an additional $10 fee if you want a guided tour of the house.
Legoland Discovery Center
Another great place to visit for those traveling with kids is the Legoland Discovery Center.
Legoland is approximately a 15 minute drive from downtown, in Buckhead at Phipps Plaza.
Inside you will find a 4D Cinema, interactive rides including 'Merlin's Apprentice' where you race via peddaling as hard as you can, and a opportunity to build Lego projects with master builders.
It is certainly one of the best activities in Atlanta not just for kids but for the big kid within, I mean, who doesn't still love to play with Lego.
If you want a kid-free Lego experience, every third Thursday of the month there is an adults only night at Legoland, perfect for a date!
You can check out what's on and buy tickets on their website from as little as $18.
The good news for locals is that you can buy an annual pass for only about double the cost, which is pretty good value if you ask me!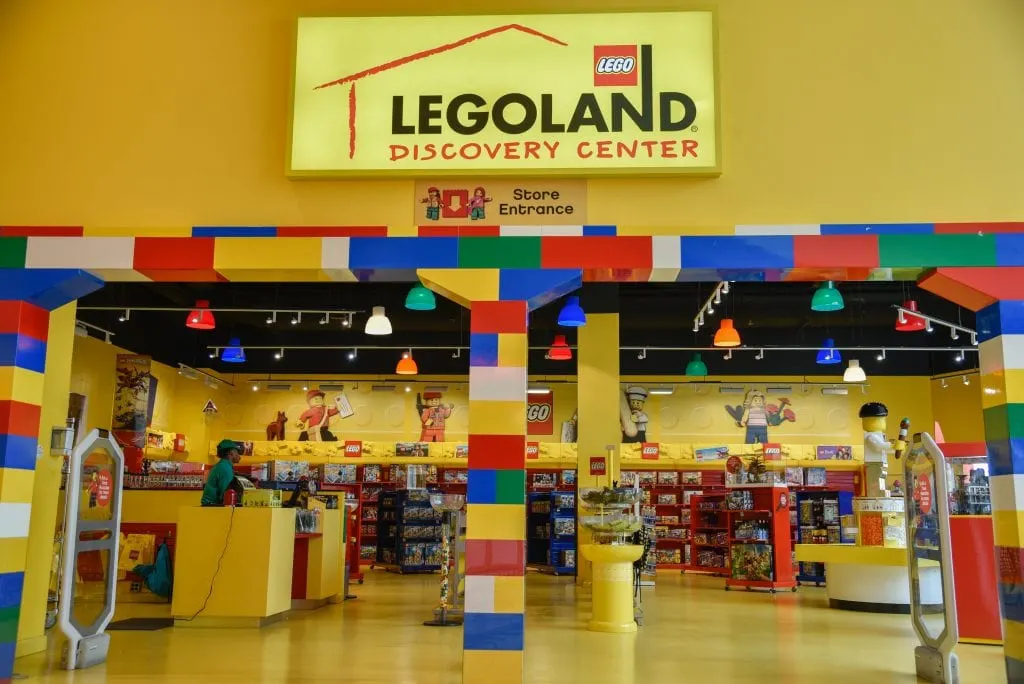 Atlanta's Prettiest Cathedrals
You might think of Europe when it comes to pretty churches and cathedrals around the city but Atlanta has a fair share of its own good cathedrals to look out for.
The Cathedral of St Philip is one of our favorite churches in the city.
Other beautiful churches to check out include the Peachtree Christian Church and St Mark United Church.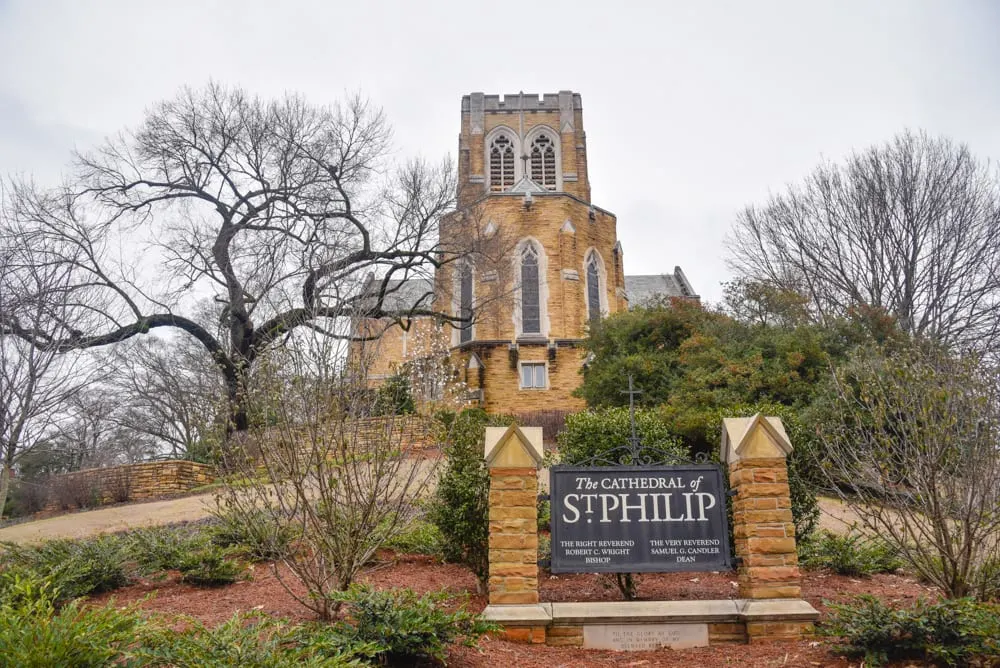 Explore Buckhead
We would highly recommend doing for a drive in Buckhead as it is one of the prettiest neighborhoods in Atlanta with some of the most beautiful and grand houses (dating back to the roaring 20s) I have ever seen.
Buckhead is known as the "Beverly Hills of the East" and if you take a drive through the neighborhood and in particular West Paces Ferry Road NW you will understand why.
Don't miss the beautiful Governor's mansion along the road. There are free tours of this mansion every Tuesday, Wednesday and Thursday 10 – 11.30am.
If you feel like doing some high end shopping and pretend you are one of the real housewives, we would recommend either Lenox Square or the Buckhead shops.
There is also a beautiful Spanish baroque theater in Buckhead, The Buckhead Theater which you might like to check out.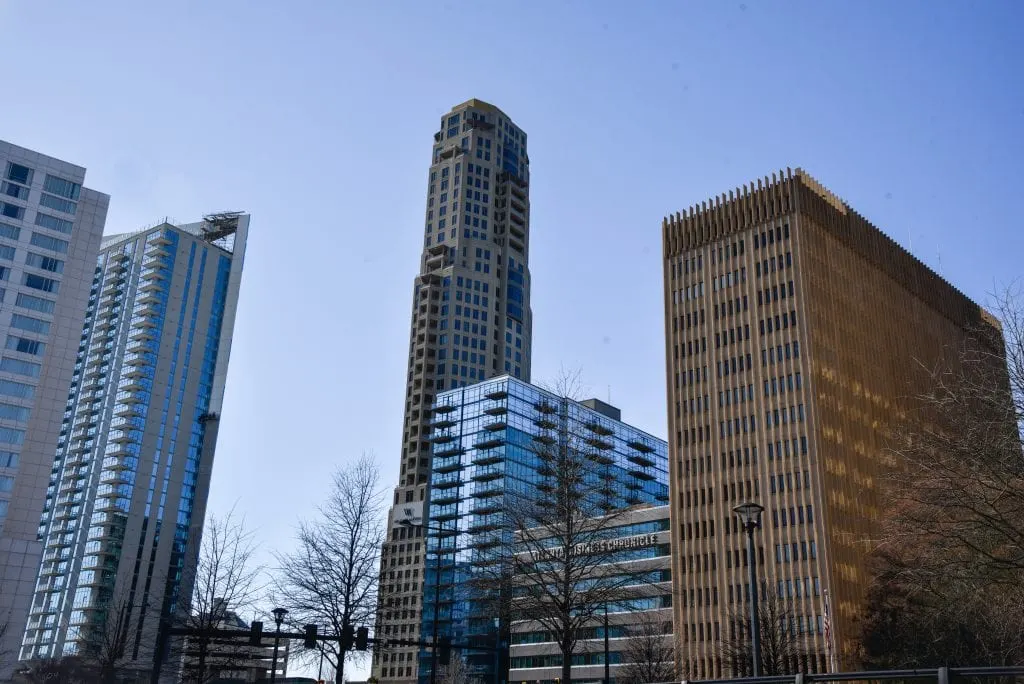 Lenox Sqaure
After visiting Lenox Square, I am quite sure The Real Housewives have dropped their car off at the valet parking and done some luxury high end shopping at the luxury mall in Buckhead.
You can find some of the usual favorites at Lenox including Zara, Forever 21 and Macys along with some high end designer brands inside like Louis Vuitton and Burberry.
There is free parking at Lenox Square for regular people to do their shopping as well as valet parking for the well-to-do of ATL.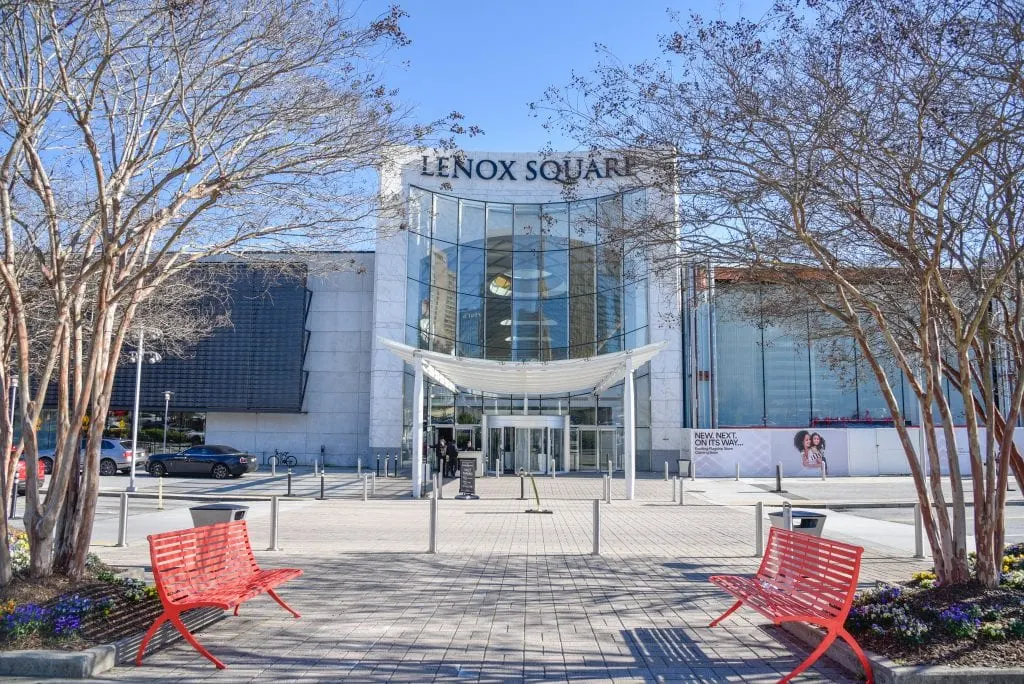 Chastain Park
One of the most beautiful green spaces in the city and one not to miss if you enjoy a leisurely walk or jog is Chastain Park.
Chastain Park is one of the largest parks in Atlanta (268 acres) with baseball courts, tennis courts, a large golf course, horse riding facilities and playgrounds
Also at the park is a 7,000 seat amphitheater which stages some of the best concerts and shows in America from May to October each each.
Many big A-list stars have performed in this theater including Aretha Franklin, Johnny Cash and Diana Ross.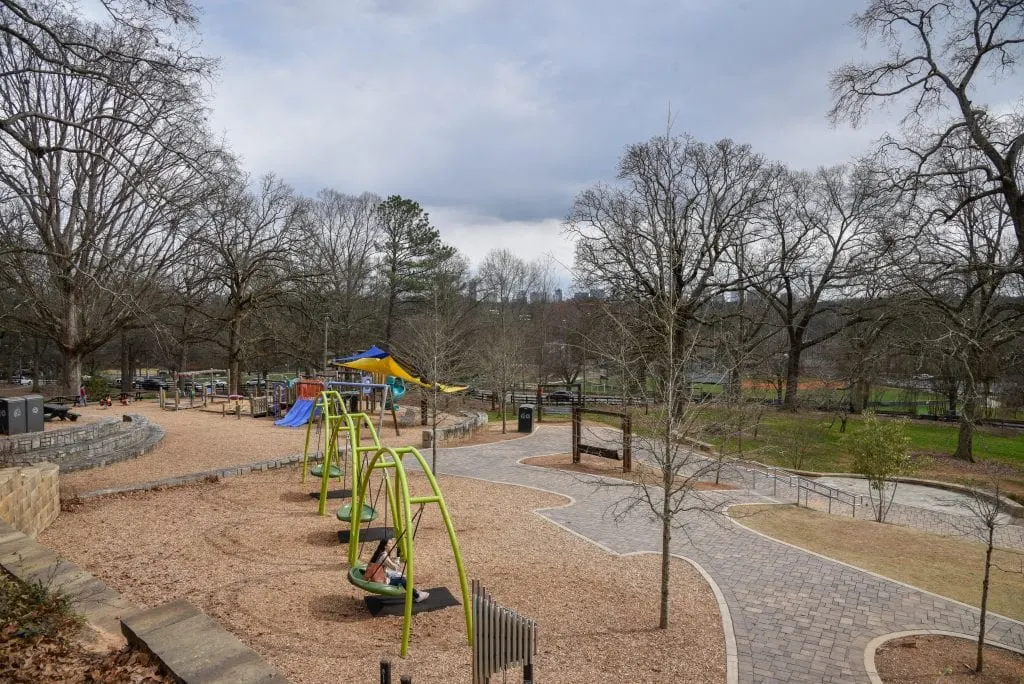 Where to stay in Buckhead?
If you are looking for a luxury stay, Buckhead is a great choice as it is home to some of the nicest hotels in Atlanta. The best luxury hotels we would recommend in Buckhead are:
Atlanta Airport
Delta Air Lines Flight Museum
1st Chick-fil-A (Dwarf House)
Porsche Experience Center
Porsche Experience Center
For those who love action and adventure in a city one of the unmissable activities is definitely the Porsche Experience Center.
At the Porsche Driving Experience Centre you can take the coolest Porsches for a spin around the track.
The center is certainly not one for budget travelers. Racing one of the sickest cars around the track will cost you $400 upwards depending on the model you would like to drive.
Xtreme Xperience is a similar place where you can drive sports cars in Atlanta.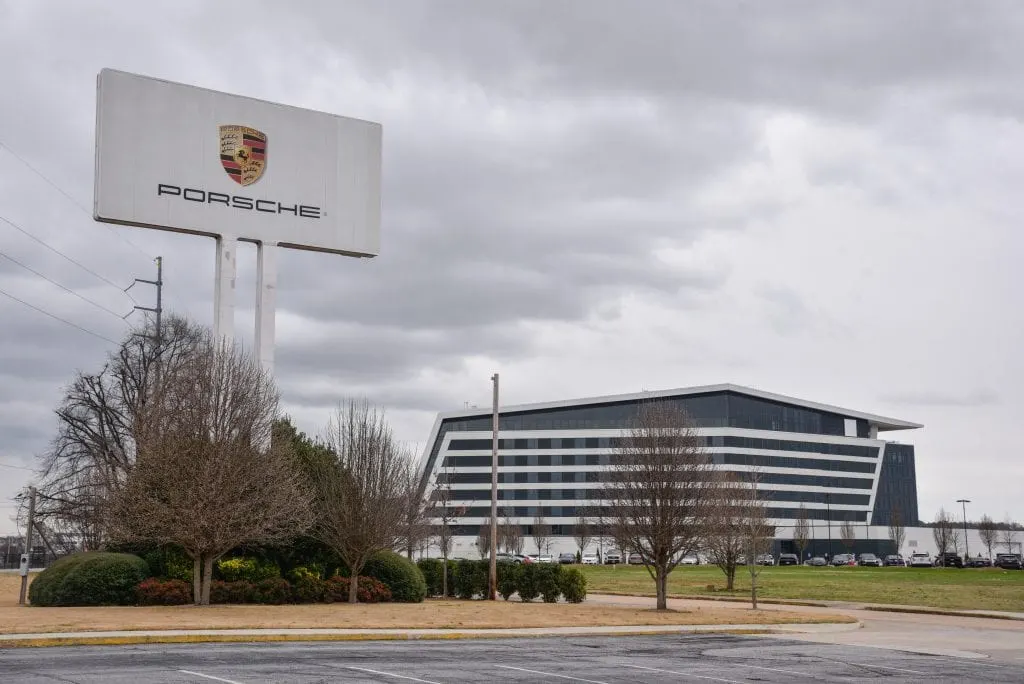 The Delta Flight Museum
For flight enthusiasts and just for something to do after you have filled your belly at the original Chick-Fil-A or are early for a flight, we would recommend heading to the Delta Flight Musuem.
Atlanta is Delta's home base so in 2014 they designed to open a flight museum to the public right by the international airport.
Inside you will see hangers from the 1940s, a full size replica of Delta's first headquarters in the 1920s, a Delta Ship 41 (flying from 1920 to 1958) and a Delta Ship 6301, built in 1988.
Ever wanted to try out first class or see what's in the cockpit? The entire planes are open for visitors to wander through and explore.
Note: The museum is closed on a Wednesday. We drove all the way from downtown on a Wednesday and learnt the hard way!
1st Chick-fil-A (Dwarf House)
Love Chick-fil-A?
You have to visit the first ever Chick-fil-A which was originally known as Dwarf House near the Airport.
It's a fun experience to check it out because there is old memorabilia in the entrance as well as a little red dwarf door which you can use to enter if you wish.
Does your visit fall on a Sunday? Don't bother visiting Chic-Fil-A as it is a Christian chain and always closed on a Sunday.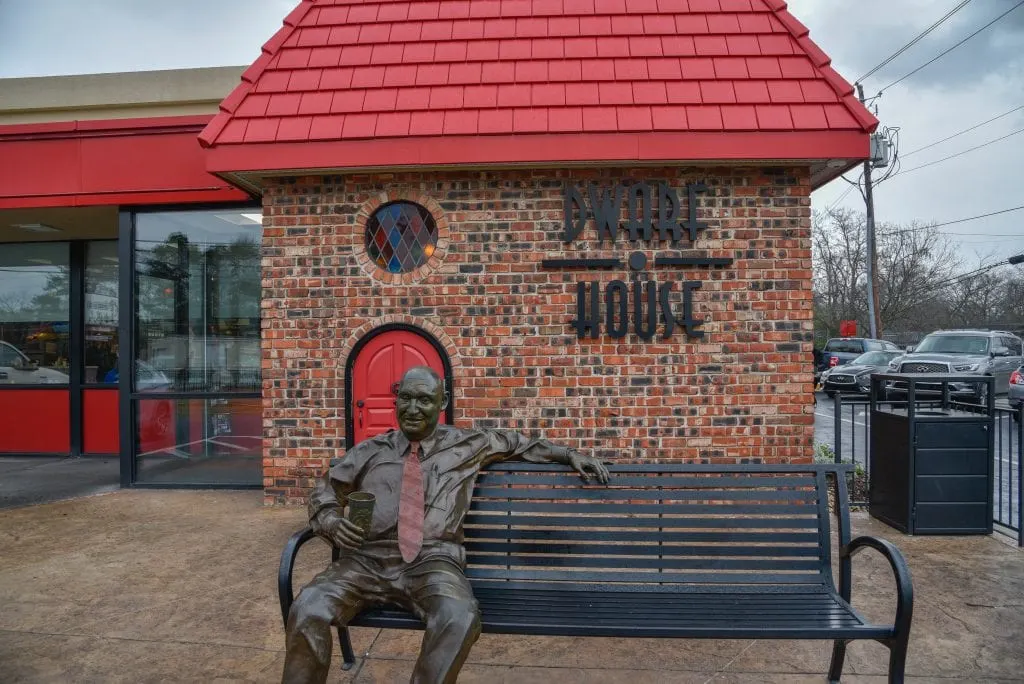 Downtown Atlanta
Zoo Atlanta
Georgia State Stadium
Oakland Cemetery
Oakland Cemetery
When we approached Oakland Cemetery the first thing we thought was "eww a cemetery" but Oakland cemetery completed exceeded our expectations and was one of our favorite things we did while in Atlanta.
It was originally called the City Cemetery but the name was changed to Oakland in 1872 due to the many oaks in the cemetery.
Oakland Cemetery the final resting spot of 70,000 people including some of Atlanta's most important dead including Margaret Mitchell, author of Gone with the Wind, the first black governor, Maynard Jackson, and soldiers both confederate and union soldiers buried in different sections of the cemetery.
The cemetery was first set up in 1850 and even though the plots are all sold now, we were amazed that people are still being buried there. We saw burials as recently as a few years ago at the cemetery as people purchased large family plots at the end of the 1800's.
The cemetery is set up in sections. African Americans were initially buried in a different section to white Americans. Shockingly, when the cemetery started filling up they were dug up and buried elsewhere.
There is a separate section for confederate soldiers too. Although the government would not pay for their burials after the civil war, private organisations paid for these burials.
We were amazed how interesting the cemetery was with amazing sculpture, tomb stones and even full mausoleums in the grave yard. The graveyard is also covered in beautiful daffodils in Spring. We were there as early as February and they were in bloom.
To find out more of the history of Atlanta including during the times of the civil war, we would highly recommend doing a walking tour of the cemetery. You can sign up for one at the visitor centre inside.
Tip: If you thought that Oakland Cemetery was pretty interesting, you might like to check out another free cemetery, Farmer Street Cemetery in Atlanta which is the largest slave cemetery in the South!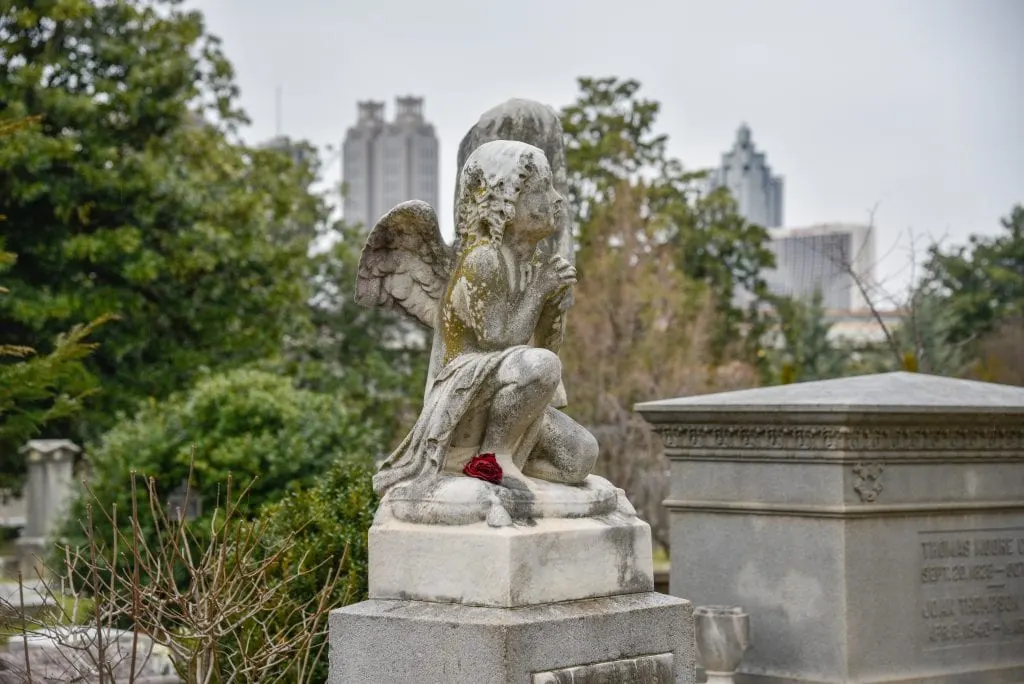 The Atlanta Zoo
Also included in the City Pass is one of the most popular attraction for families: The Atlanta Zoo.
It was so busy when we were there that we could not even find a park. Our tip? Go early in the day to avoid the crowds.
It appears it has well and truly recovered from the 1980s when it was struggling to survive.
We were very surprised that the zoo is home to a very wide range of animals including African elephants, giraffes, zebras and black rhinos.
Kids will also love the gorillas, tigers and giant pandas at the zoo. It is very rare for a zoo to have giant pandas (unless you are in China of course).
Grab a programme at the gate as it details all the activities of the day including zookeeper talks and feeding times.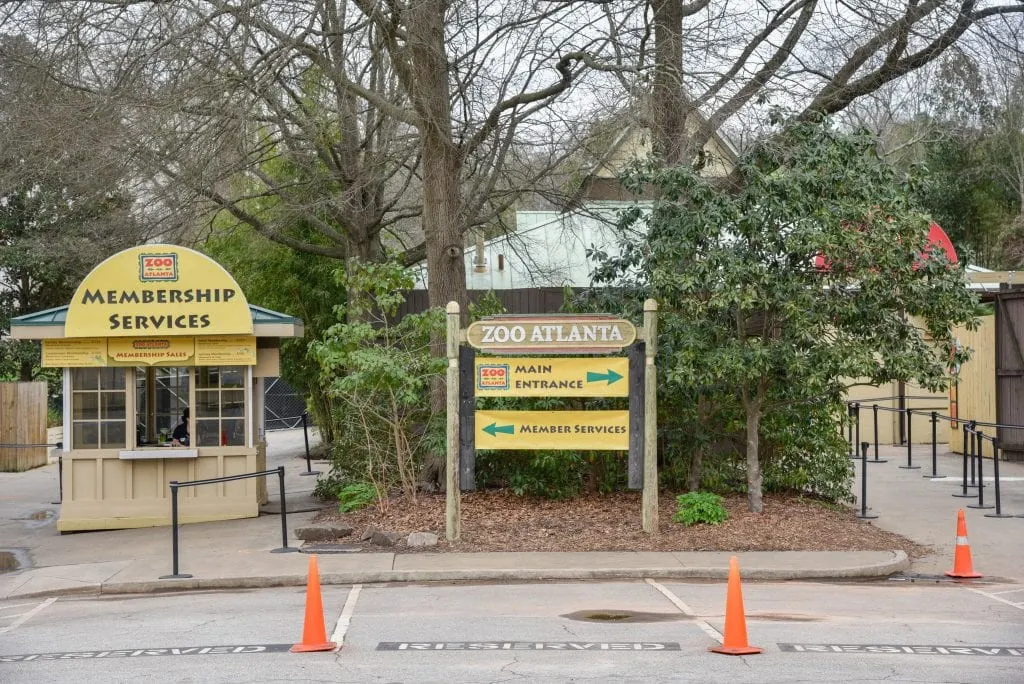 Grocery on Home
If your visit falls on a Saturday, we would highly recommend a visit to one of the best free activities in Atlanta, what is known as the Grocery on Home local artists performance.
While entry is completely free, you are required to RSVP on their facebook group to attend.
Locals and upcoming artists play weekly on a Saturday night at Grocery on Home and while entry is free, artists expect a small tip.
What's cool about this place is that you are allowed to bring your own alcohol to the event so come prepared!
See a College Football Game at Georgia State
College Football is one of the most popular games to watch in the city so if you are in Atlanta while Georgia State are playing, it is always a fun idea to catch a college football game, especially if you are not from the US.
Previously a baseball stadium, you will see statues of baseball legends outside.
You can check out more about the Georgia State team and when they are playing on their website.
SunTrust Park
Suntrust Park (Now Truist Park)
Coca Cola Roxy
The Battery
Watch a Baseball Game at Truist Park (formerly SunTrust Park)
Truist Park is home to the Atlanta Braves – the longest continuously operating franchise in Major League Baseball.
Braves' fans are known to be some of the most devoted in the country so there's a great energy around the place on game days.
You can also take a tour of the stadium before the game. Some of the things you'll see on the behind the scenes tour include:
reserved areas where you can view memorabilia including jerseys from all the team locations;
walk on the field near home plate and sit in the dugout;
the Rooftop; and
Press Box.
Even if you don't love baseball or there's not a game on when you're visiting, you might still want to consider Truist Park because of the thriving restaurant and bar scene at The Battery: a lively venue where you're likely to find free open air concerts, shops, bars and trivia nights.
The area was recently constructed in 2017 so it's a popular area for families in the day time. Some of the best places to eat in here include the popular Superica (one of the best rated Mexican restaurants in Atlanta), Terrapin Taproom, the Yard House and Cru Food & Wine Bar.
How to Get to Truist Park
Truist Park is located 10 miles drive north of MidTown.
Driving: Take I-75 N towards Marrietta/Chattanooga for 8 miles then follow the well-marked signs. You can get up to 3 hours free park on regular days, or 2 hours on game days.
Bus: Catch MARTA Bus 12 from Midtown MARTA Station to Cumberland Mall. Transfer to the Cumberland Circular Shuttle (blue or green route) to reach The Battery & Truist Park.
Uber: An Uber to or from Truist Park to Midtown costs $9 – 16 regularly but expect fares to surge on game days.
Best Place to Stay near SunTrust Stadium
If you're planning to catch a Braves' game or a concert at the Coca-Cola Roxy and don't want to deal with parking, traffic or public transport, these are the best hotel options nearby:
Omni Hotel at the Battery – this 9.4 rated hotel overlooks Truist Park and is steps from gates and the many restaurants. It's one of the best rated hotels in the city so it's a safe choice if you want a memorable stay.
DoubleTree by Hilton – also located within a couple of minutes' walk of the park I'd like to stay we'd book because we know the quality would be good or because of the hotel's free shuttle service to attractions within a 5 miles (5 miles) radius of the hotel, but the true reason is the fresh-baked cookie on arrival.
Catch a Concert at the Roxy
Around the corner from Truist Park, you might like catch a concert at The Roxy, Atlanta's newest music venue. The Roxy opened in 1990 with an amazing performance by Aretha Franklin.
Concerts at The Roxy are very popular due to the state of the art sound and lighting at the venue.
The Roxy building was first opened in 1930 as the Capri Movie Theater. Before becoming the Roxy, it transformed to a cinema and draft house.
You can find whats on and tickets to concerts on their website.
Greater Atlanta
Fernbank Musuem
Michael C. Carlos Museum
Emory Village
Lullwater Park Trail
Waffle House Museum
David J. Sencer CDC Museum
Silver Comet Trail
National Archives
Muss & Turner
David J. Sencer CDC Museum
The David J Sencer CDC Museum a really interesting museum if you are interested in disease control and how scientists manage to find cures and prevention from some of the world's deadliest diseases.
This museum is worth briefly popping into if you are in the city on a weekday (it is closed on weekends) and are looking for something interesting to do!
Oh, and I almost forgot, it is completely free!
Muss & Turner
Muss & Turner consistently rate as one of Atlanta's best burger places.
The reason the burgers are so delicious is that all the produce is locally and seasonally sourced so it is extremely fresh.
They craft the entire burger aside from the bread by hand (even hand punching the potatoes for fries!)
We love that they always support local farmers, businesses and try to be green whenever possible!
Check out their seasonal menu here.
Silver Comet Trail
The Silver Comet Trail is a fan favorite of walkers, joggers and bikers alike in Atlanta!
If you want a good, long bike ride, this is a PERFECT spot as it is a 61 mile trail that is entirely paved and situated in beautiful forest and countryside.
The trail begins in Smyrna and proceeds through Polk County.
Fernbank Museum of Natural History
One of Atlanta's family favorite attractions is undoubtedly the Fernbank Museum of Natural History.
The interesting elements of the museum starts outside where you will see three huge dinosaurs at the entrance to the museum.
Inside, kids will love the fossils, dinosaur skeletons and the immersive 3D theater. One of the highlights of the museum is seeing the largest dinosaur ever recorded.
It is a great learning experience for little ones as the museum gives a great and simplified account of the state's natural history. They will love the 15 galleries of fossils which cover millions of years of history!
It is open everyday 10-5pm and is one of the attractions included in the City Pass
Note: If you don't want to spend a whole lot of money, you can visit the Fernbank Science Centre and enjoy their exhibits completely free!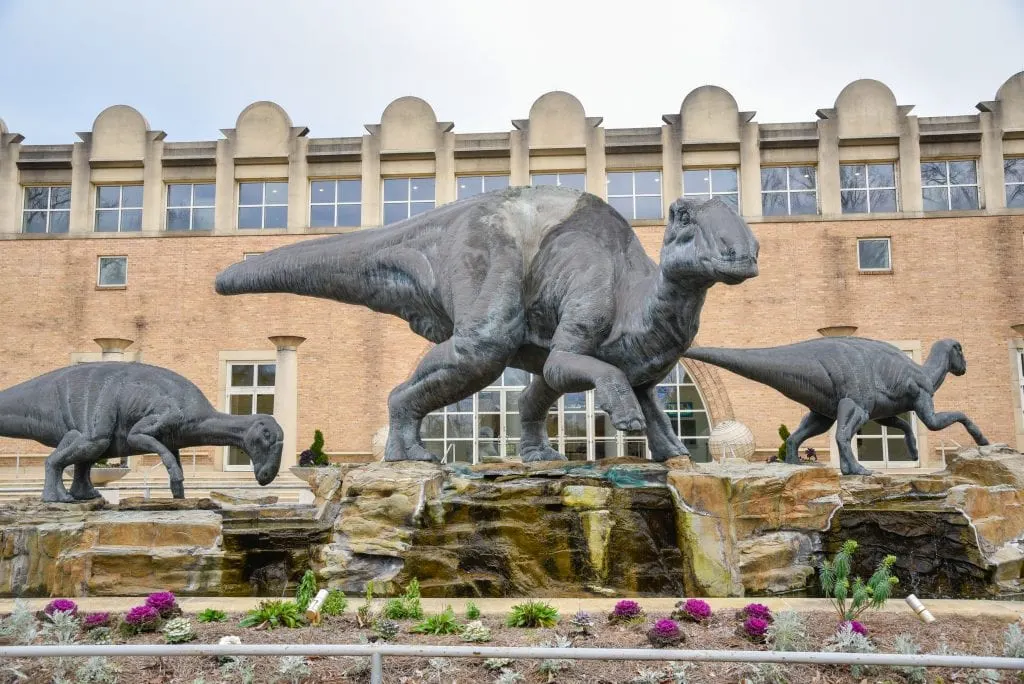 Waffle House Museum
Along with the first Chic Fil-A, Waffle House also has its origins in Atlanta Georgia.
Waffle House first opened in 1955 when two brothers felt the neighborhood needed a 24 hour restaurant.
The Waffle House museum opens on Wednesdays at 11.30 and 1.30pm by appointment only.
Inside, you will feel like you are stepping back in time to the 1950s. It includes interesting Waffle house memorabilia from the last 60 years. It is free to enter!
Relax at a Korean Bathhouse
We were seriously surprised to find a Korean Bathhouse right in the center of the city.
Visiting a jjimjilbang is one of the best things we did in South Korea so we would seriously recommend it if you haven't tried it and don't plan on visiting the country anytime soon.
Jeju Sauna only costs $30 entry and is a very relaxing and interesting activity in Atlanta. Like in South Korea, they provide you with a spa uniform to use to relax in as you experience the facilities.
We didn't expect this at all but, like in Korea you can even spend the night at the bathhouse. Some budget travelers use the jjimjilbang as a very cheap place to stay. Note: You sleep on the floor with yoga mats and wood pillows.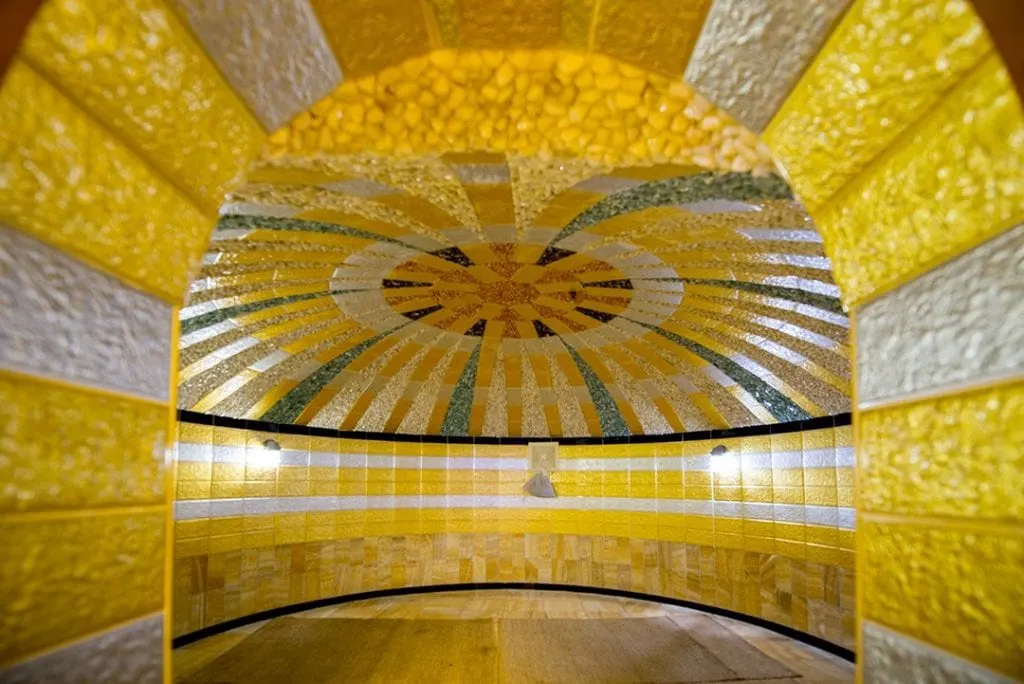 Marietta Fire Museum
The Marietta Fire Museum is a cool place to visit for both adults and kids.
It is free to visit and includes cool old firefighting equipment and trucks. One of the biggest drawcards of the museum is a 1879 Silsby Steamer.
National Archives of Atlanta
20 minutes outside downtown you will find the National Archives of Atlanta.
The center, which is entirely free to visit provides visitors a unique opportunity to look up their heritage and ancestors which is pretty cool!
Probably only relevant if you have relatives or roots to the following states: Florida, Alabama, Georgia, Kentucky, Mississippi, North Carolina, South Carolina and Tennessee.
The center is open weekdays 9am-4pm. If you are thinking to visit you can find more information on their website.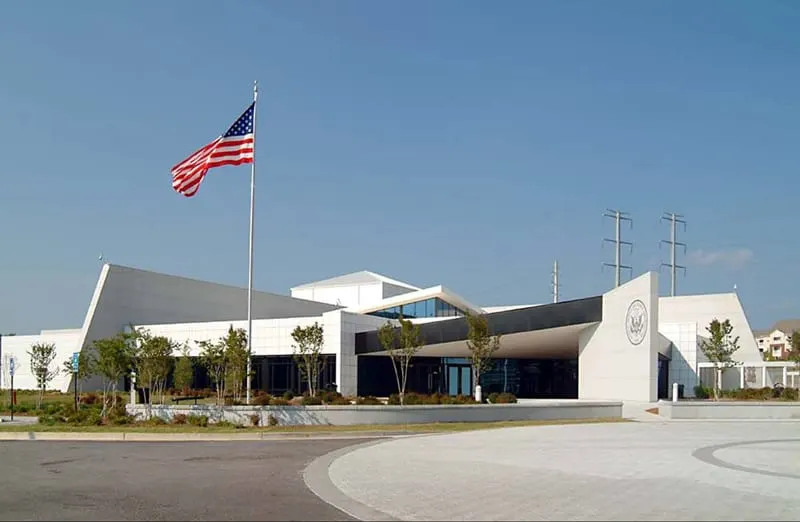 Anne Frank Musuem
Whoever thought the only Anne Frank musuem is in Amsterdam is very wrong! There is a fabulous Anne Frank Musuem in Atlanta that is entirely free to visit.
Inside you will find interesting photos and videos dedicated to the life and work of Anne Frank and information about the Holocaust.
The musuem is closed on Mondays. You can find more information about the exhibits on their website. There is also a note for parents about age appropriateness as the material in the musuem is somewhat graphic and deals with a very sensitive topic.
Day Trips from Atlanta
Callaway Gardens
Lake Lanier
Noah's Ark
Farmer's Market
Chattahoochee River
Stone Mountain Park.
Callaway Gardens (butterfly center)
Looking for a peaceful outing? Check out the Cecil B. Day Butterfly Center where you can find 1000s of butterflies fluttering their pretty little wings in one of North America's largest tropical butterfly conservatories.
Relax and take in those good vibes as you walk among tropical plants and spectacularly colorful flowers.
Make sure to bring your camera because the sight of blue winged butterflies on yellow chrysanthemums will get you snapping.
The gardens are an educational experience too for children where they can visually learn about the butterfly life-cycle: seeing caterpillars, cocoons and of course pretty butterflies.
At Christmas time the gardens are a popular attraction because of the Fantasy in Lights. The display has made it into National Geographic top 10 light displays in the World.
This is another one that kids and adults alike will love because you can visit the Christmas Village and ride on a sled through an illuminated Forest.
The butterfly center is open during Garden hours from 10 a.m. to 5 p.m. daily. Callaway Gardens is located at 17617 US Highway 27 Pine Mountain, 1.5 hours drive south of Atlanta.
Lake Lanier
Located an hour outside of downtown, you will find a nature lovers delight – Lake Lanier, one of America's favorite lakes.
If you love nature, you will simply adore Lake Lanier which is situated on the edge of the Blue Ridge Mountains.
If you are an active, there are lots of fun activities on the lake including boating, fishing and kayaking. Be very careful doing any activities on the lake as over 11 people have died on the lake. Eekk!
There is a $15 parking fee to access the lake for a day.
Noah's Ark
If you don't want to pay to visit the Atlanta zoo, I have a good alternative for you – Noah's Ark – a completely free wildlife rehabilitation center which honestly has some pretty cool animals!
Bears, exotic cats, lions and tigers call home to Noah's Ark.
An interesting story. A lion, bear and tiger (odd roomies) are all housed in one shelter together. They were found together in a basement of an Atlanta home in 2001 after a drug raid.
The center is open between Tuesday – Saturday 12-3pm. They ask you to call in advance if you want to visit.
Despite the fact that it is free to enter, they really appreciate donations if you do decide to visit.
Farmer's Market
Who doesn't love visiting a good farmers market?
Atlanta Farmers Market is particularly good as it is held over 150 acres making it one of the largest farmers markets in the world!
At the farmers market you will find fresh produce as well as a full garden and retail centre.
Buying something interesting costs but window shopping at the market is entirely free!
Helen Georgia
Around 1.5 hours from the city is the Bavarian inspired town of Helen Georgia.
If you can't afford a trip to Germany yet or want to get a taste for it before you go (we went on a 7 day cruise of Germanys best cities which we would highly recommend when you eventually go) we would recommend heading to Helen Georgia.
If you can spare a night here, we would recommend staying a night or 2 in Helen Georgia to soak up the culture. Click here for the best deals during your dates.
Chattahoochee River
Some of the most beautiful spots near Atlanta are found along the Chattahoochee River locally known as "The Hooch".
This river winds 48 miles through the National Recreation Area. In summer you can even rent tubes and float along some parts of the Hooch.
Here are some of the best spots for hiking along the river:
Sope Creek Trail (1.5 miles)
Cochran Shoals Trail (3 miles)
Vickery Creek Trail (4.7 miles)
Powers Island Trail (2.4 miles)
Along these trails you can often spot a lot of wildlife including northern cardinals and Carolina wrens.
Along the Sope Creek trail and the Vickery Creek trail there are ruins of old textile mills that used to operate there.
Vickery Creek Ivy Mill is particularly interesting as it used to produce clothes for Confederate soldiers. In 1964, it was taken by the Union army.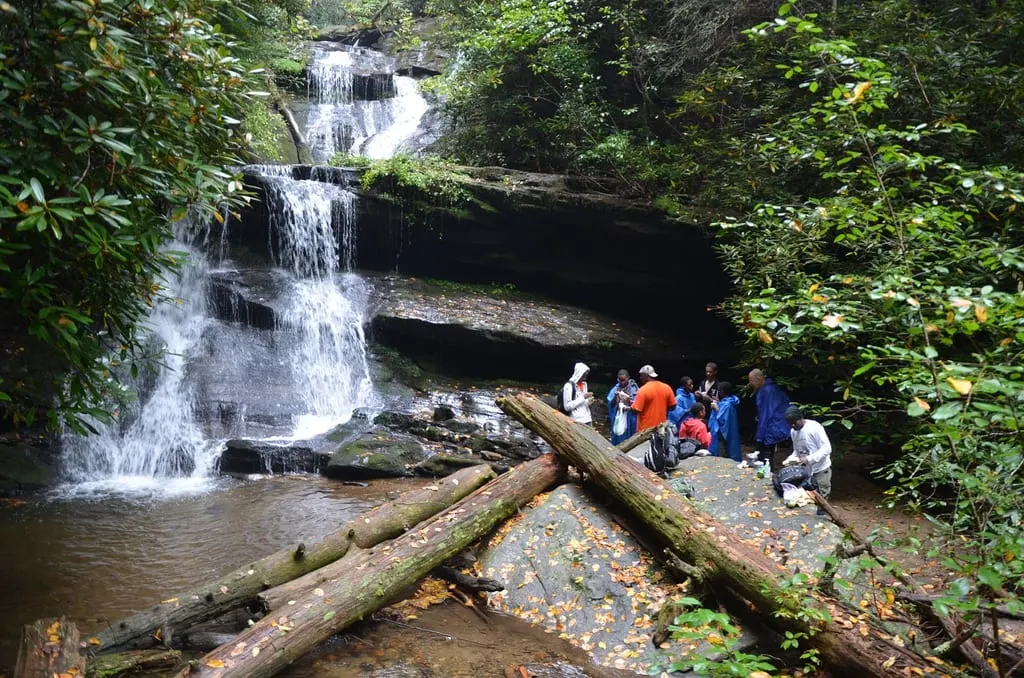 East Palisades Trail
Another one for the nature lovers along the Chattachoochee River in Sandy Springs, only a 25 minutes drive from downtown Atlanta is the East Palisades Trail.
It is one of the most beautiful walks in Georgia as it passes a stunning bamboo forest along the Chattahoochee riverbanks.
Entry is free but is costs $3 to park your car.
Stone Mountain Park
Around a 30 minute drive from Atlanta you will find Georgia's most-visited attraction – Stone Mountain Park.
In the park is the world's largest piece of exposed granite built in the middle of 3,200 acres of forest. It was caused by an upwelling of magma 300-350 million years ago.
The park opened in 1965 to commemorate the 100 year anniversary of President Lincoln's assassination. Strangely enough, the north face of the rock contains a design of three Confederate leaders.
It is free to enter but there is a $15 parking fee.
If you wish to hike to the top it is one mile (1.6 kilometers) in length. Pack a picnic lunch to enjoy the views at the top!
One of the most popular free events at Stone Mountain is the incredible laser shower where lights and lasers are projected on the mountain. They do a particularly cool fourth of July show! Check out more information on their website.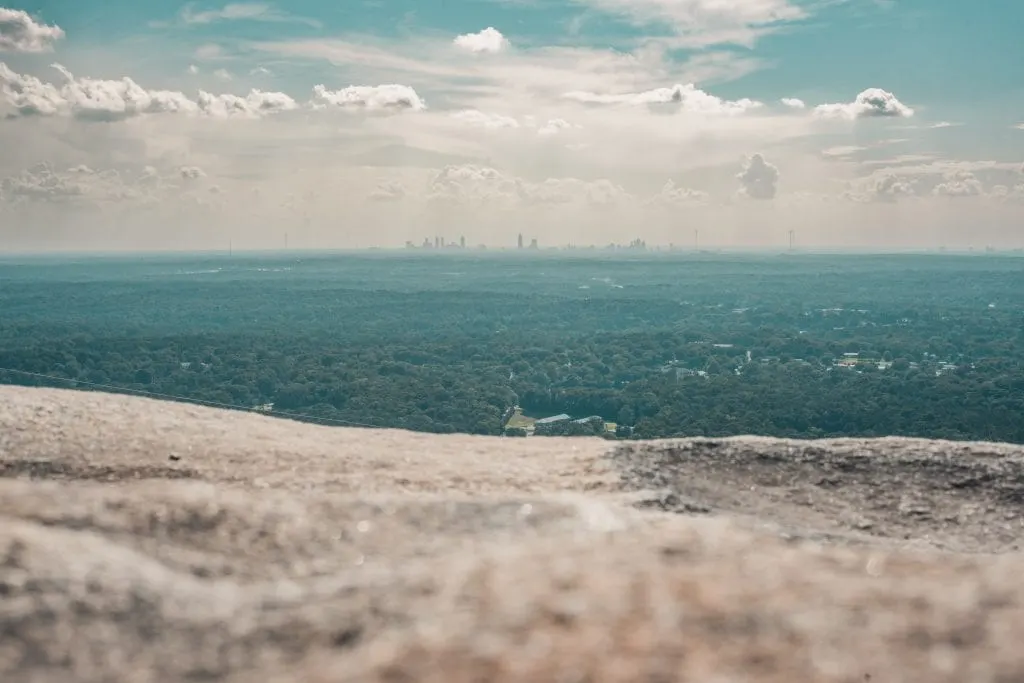 Arabia Mountain Heritage Area
If you love the great outdoors, you might like to make a drive to the Arabia Mountain Heritage park.
The large span, 25 minutes East of the city is entirely free to visit and includes stunning mountain summits, spanning meadows and glassy lakes.
It really is a sight for sore eyes and so close to downtown!
Autrey Mill Nature Preserve and Heritage Center
Located around 40 minutes from downtown, families from Atlanta absolutely love to visit the Autrey Mill Nature Preserve and Heritage Center as it is great to let their little ones run free with 'only' 46 acres to enjoy and over 3 miles of trails.
Don't miss the Visitor Center at the property as it is not a usual visitor center bur has over 30 different animals to see and learn about inside!
Best part is it is entirely free to visit!
Kennesaw Mountain National Battlefield Park
Located a 40 minute drive outside of Atlanta, the Kennesaw Mountain National Battlefield Park is a very interesting place to visit for those interested in the Civil War.
Here you will find a musuem, interpretive trails and monuments with interesting information about the Battle of Atlanta.
It is free if you have a National Park Pass, otherwise entry is pretty cheap at $5.
Ellijay Georgia
If you are outdoorsy like us, consider making a trip to Ellijay in Georgia.
This beautiful mountain area with wineries and adventure outdoorsy activities is located just a 1 hour 20 minute drive from Atlanta.
If you are visiting in fall, this region of Georgia is particularly popular as the orchards in the area include apple picking and petting zoos.
One of the best orchards in the area is Hillcrest Orchards which is popular for their signature wagon rides.
Visit Georgia's wineries
Georgia has some of the best wineries in America located along what's known as Georgia's Wine Highway.
Some of the best wineries are located just 1 hour outside of Atlanta, making it the perfect day trip! Aside from wine, the rolling hills of the region make this one of the prettiest drives in Georgia.
If you don't want to argue with your friends and family over who is the designated driver, we would suggest booking a wine tour so you don't have to be worried about how much you drink on the day.
If you want to DIY the wine touring, some of the best wineries to visit include:
The Fainting Goat Winery
The fainting goat winery not only has great wine but one of the best views of all the wineries in Georgia. The winery is around a 1 hour drive from Atlanta.
The tasting at the fainting goat winery will set you back $10.
The nice part about this place is that on top of the view often there is live music playing.
Oh, and if you are wondering why it is called the 'The Fainting Goat Winery' it is because yes, there are actually live goats running around the place.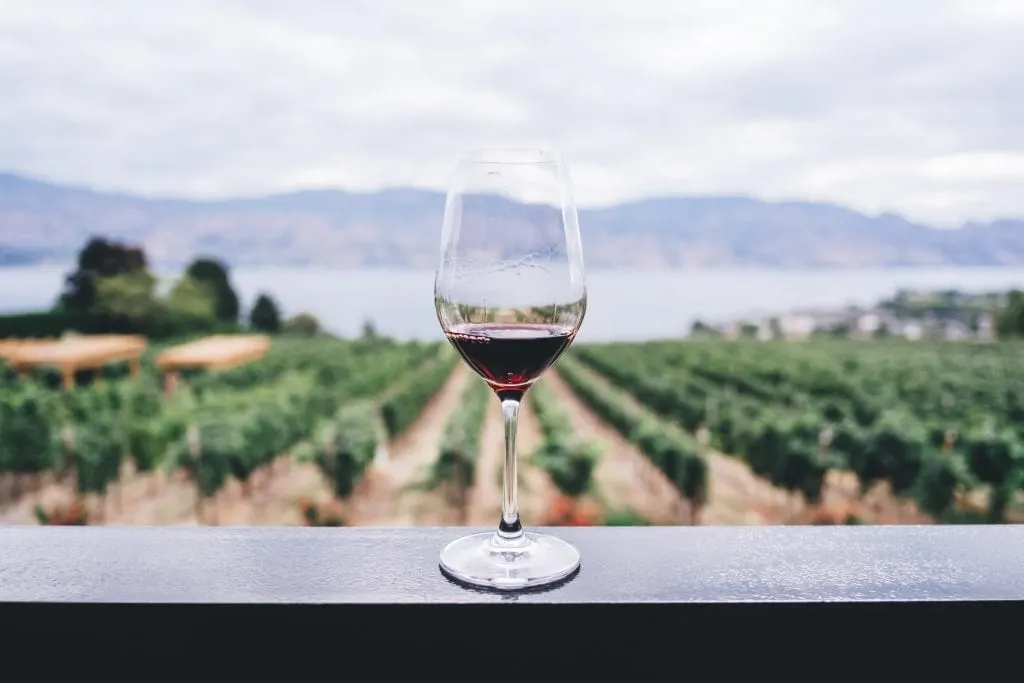 Kaya Vineyards
Kaya Vineyards is another nice winery to visit. Located a similar distance from Atlanta at around an hour driving.
This venue also offers live music. The cool thing about this place is that if you are feeling a bit hungry during your wine tasting you can head there for a light lunch. A delicious cheese platter for 2 will set you back $18.
If you feel like doing something extra special, you can pick up one of their amazing picnic lunch baskets complete with a bottle of wine, sandwiches, salad and cheese as well as snacks ($175)
The Cottage Vineyard
The Cottage Vineyard is another popular winery near Atlanta located only a 1 hour 20 minute drive from downtown.
This is a super cute winery with a fabulous view of the North Georgian mountains. In Georgia winery fashion, they offer free live music from a particularly good acoustic guitarist.
Wine tasting cost $10. If you like hospitality, you will love this place as the owner stops to personality serve and chat to the customers.
Montaluce
If you are looking for absolute luxury and a very unique romantic experience at a winery, we would recommend the Montaluce winery.
This place is so romantic that they even offer the possibility of weddings in their Tuscan inspired residence, which are becoming particularly popular for the amazing views.
This place is a pretty unique winery as along with the traditional tasting there is also the possibility of going on a 1.8 mile wine hike ($45)which passes through beautiful North Georgia wine country.
The hike is guided by one of the staff at the winery which inform you about the wine-making process along the way and treat you to 5 of Montaluce's best wines.
If you aren't interested in hiking, there is a restaurant on premises where you can enjoy fine dining for around $30 a main.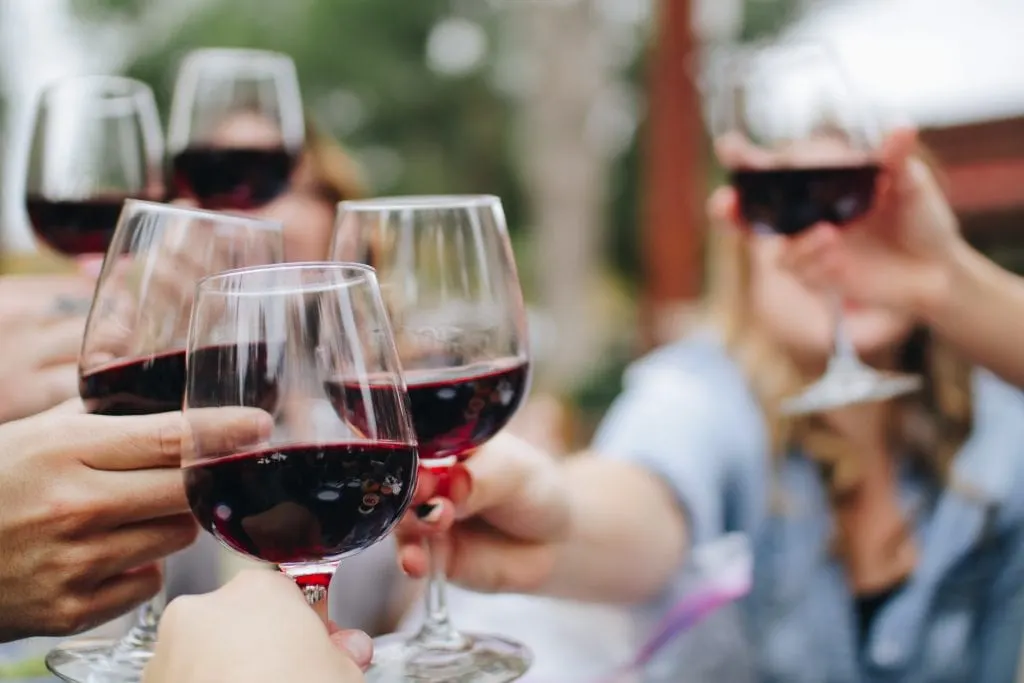 Where To Stay in Atlanta?
There are lots of great accommodation options in Atlanta for any budget and travel arrangement, whether you are traveling solo, in a couple or as a family group.
Click here to search the best accommodation during your dates. If you are on a romantic getaway you might also like to check out our top picks for romantic hotels in Atlanta.
If you are on a longer couples getaway to Georgia, you may also like to check out our guide to the most romantic getaways in Georgia!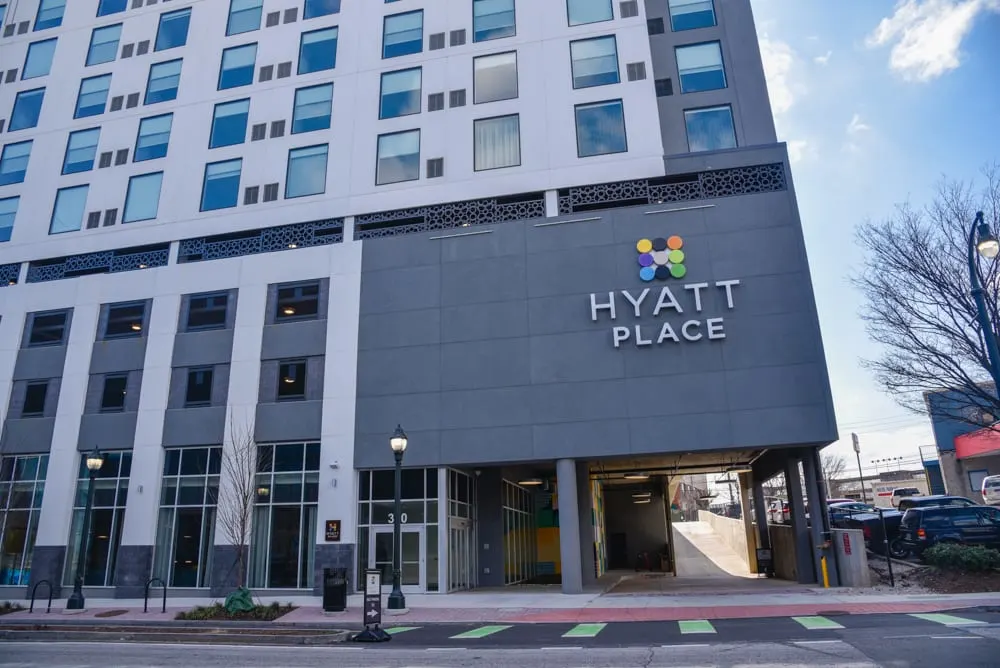 Budget – Mid Range
Parking can be expensive in the downtown area ($30+ for valet parking) so if you are traveling on a budget and have your car with you, here are some good budget/mid range accommodation options in Atlanta:
We stayed at Hilton Garden Inn, which doesn't sound cheap but we were absolutely shocked by how cheap we could get a Hilton!
The rooms were lovely and the pillows were a-mazing so you might like to check it out to see if they have a good deal on your dates!
Luxury Accommodation
If you would like a high end, luxury stay, Atlanta has some fabulous luxury hotels. These are our favorites with the best reviews:
Accommodation Near The Airport
We have personally stayed at La Quinta Atlanta Airport twice and would highly recommend it for their clean, comfortable and very large rooms.
The rate is also very affordable and includes a free breakfast and free airport shuttle.
Check availability at La Quinta Airport during your dates.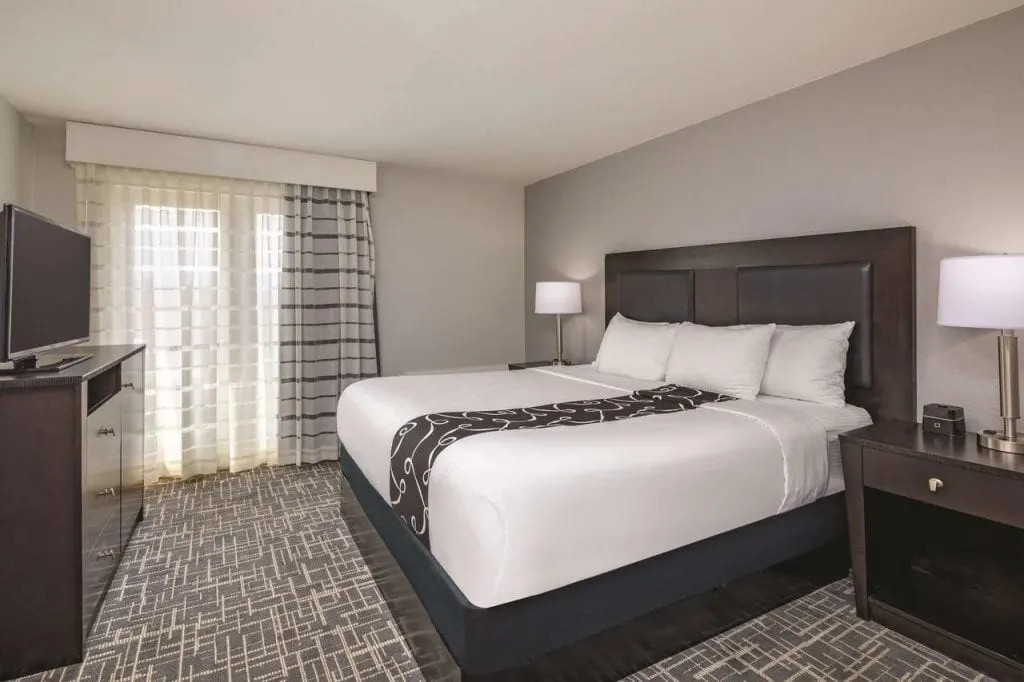 Where To Stay in Just outside The City?
If you don't mind a short drive, you will find some of the most beautiful resorts and places to stay within Georgia.
Here are some of the best hotels within a 1.5 hour drive of the downtown area.
Around 1.5 hours outside of Atlanta is an absolutely stunning resort.
The cool thing about this resort is not only is it extremely luxurious but it is steps away from lots of fun activities including boating, canoeing and biking through the Georgia pines.
Check availability at The Ritz Carlton during your dates.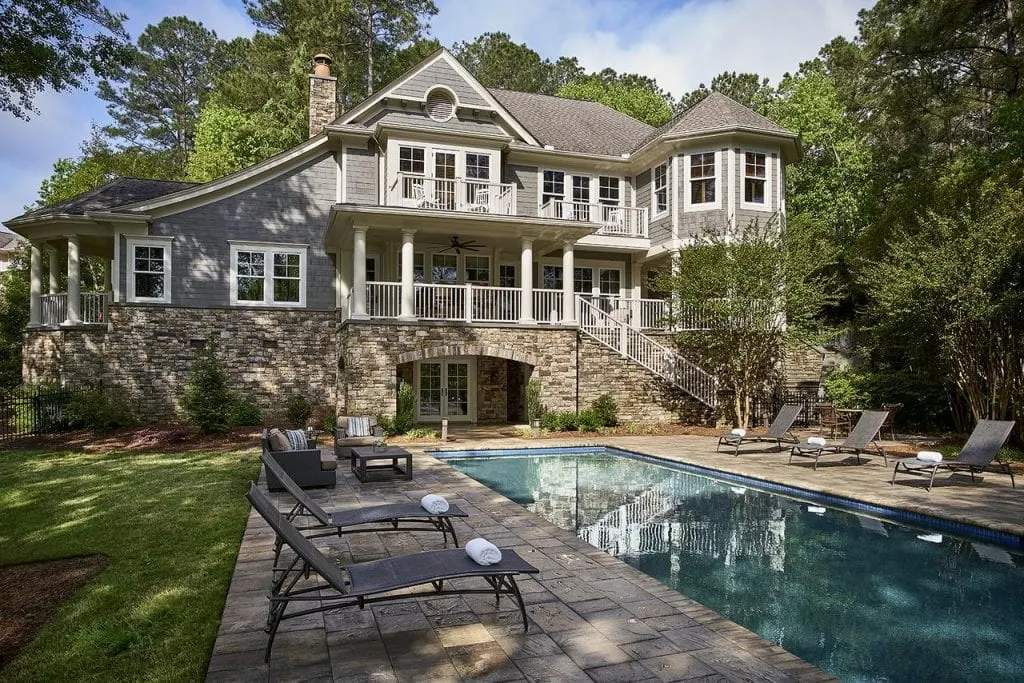 Barnsley Resort is actually located in Adairsville, around an hours drive outside of Atlanta near the North Georgia Mountains.
It is well worth heading to if you don't mind the drive as it is known for being on the best and most luxurious wedding venues in Georgia.
The hotel is completely set up for couples and offers fun and romantic activities including horseback riding, shooting, hiking and spa treatments.
Check availability at Barnsley Resort during your dates.
A winery is always a good idea and what is better than just visiting a winery – well, staying at a winery of course!
If you can't quite afford a holiday to France yet but still want the full French experience complete with Versailles Afternoon Tea experience and a dedicated wine tasting room, then this is the resort for you!
Check availability at Chateau Elan Winery during your dates.
***
What is on the top of your list of things to do in Atlanta? If we missed anything cool, let us know in the comments below!
Looking for more Georgia Travel Inspo?
Save this to Pinterest!