We ventured to the adorable town of Bury St Edmunds in search of the smallest pub in England (Grandad's tip!) however, we were very content to discover so much more!
While it doesn't quite classify an English Village, so it doesn't make it onto our list of cute English villages, Bury is small, quaint and totally adorable – really everything you could wish for in quintessentially English town in the countryside.
We stayed in Cambridge for a quite a few months and this was definitely one of the best towns we visited on a weekender from Cambridge. Without further ado, let's dive into the best things to do in Bury St Edmunds and discover how to visit like a local.
Where is Bury St Edmunds?
Bury St Edmunds is an incredible town in England in Suffolk, only 50 minutes drive from Cambridge, 1.5 hours drive from London and 2 hours drive from Oxford.
You are hard pressed to find a cuter little town in England but if you would like to try it is also in easy reach of other sweet towns in England including Ely and Thetford (home of the old TV show Dad's Army).
Many people choose to visit the town as a weekender (as we did!) as its location means it is easily accessible for a short getaway in the UK.
How many people live in Bury?
With a population of 35,000 Bury St Edmunds is a relatively small town in the UK. They are 35,000 very happy people as it has been rated one of the happiest places to live in the UK.
To give you a comparison, it is less than a third of the size of Cambridge at a population of around 130,000 people.
You won't find too many international tourists here(word hasn't got out yet ;)) but there is a constant buzz of English tourists from nearby cities every weekend in the city, meaning there is always an activity scheduled in the town.
What time of year is best to visit Bury St E?
All seasons offer some different benefits in Bury St Edmunds. When you should choose to travel depends really on what you like!
Summer
If you are used to a harsh summer, you won't find that here (most days). Usually, summers are quite pleasant and mild in the city with a temperature high of 22 degrees.
If you can find a seat, it is the perfect temperature to drink an ale in the smallest pub in England, The Nutshell.
Autumn
Autumn brings an abundance of colourful orange leaves, crisp air and autumn festivities including the Undley Pumpkin Patch.
Winter
If you love Christmas, winter is a good time to visit as it is one of the most Christmas-y towns in the UK with the annual Christmas Fayre which is held on a different weekend in November each year.
There is also a 'Father Christmas and his Grotto' held annually in December where children can meet Santa. Various rides are set up for the event.
Spring
Spring is our personal favourite time to visit as there is an amazing display of flowers in and around the Abbey Gardens. You can also find thousands of daffodils in Nowton Park.
Spring is light jacket weather in here (see picture for example)
Where to stay: Hotel Guide
With lots of people coming in from across the UK, there is no shortage of great hotels to discover.
Here is where we would recommend to stay depending on what you are looking for:
Best Budget Friendly Hotel: The Bushel
The Bushel is a clean and simple pub style lodging in Bury St Edmunds which is run by Green King Inns.
What's great about it is that despite the fact it is budget friendly, it is located in the perfect location, in walking distance to the town, cathedral and abbey ruins.
Despite being attached to a pub, there is little to no noise heard within the rooms.
Most Instagrammable Hotel: The Angel
Want to stay in the most beautiful & Instagrammable hotel? This is certainly the Angel Hotel.
As you approach the town you will be completely wow-ed by the grand exterior of The Angel Hotel.
If you want a nice instagrammable shot in Bury St Edmunds outside The Angel Hotel is a no brainer.
Most Luxurious & Romantic Hotel: The Northgate
The Northgate, a 5 star hotel in Bury St Edmunds is the absolute essence of luxury with velvet chair covers and French provincial decor.
If you are looking for a romantic hotel to impress your significant other, this hotel would be a good choice.
What's on: Festivals
Various festivals run throughout the year. The town is very proud to have been awarded the Best Christmas Festival UK by TripAdvisor's HolidayLetting. One of many reasons to visit Bury St Edmunds.
As it is a very popular weekend destination for majour cities across the UK, it is highly advisable to book in advance. Here is a list of what's currently on.
16 Fun Things to do in Bury St Edmunds
We absolutely loved this quaint little town. If you are wondering what to do here you have come to the right place.
We are actually convinced that this may be the most beautiful town in England. Tell us what you think after you have visited, I'm pretty sure you won't be disappointed.
Town Attractions Map
But first, here is a map with the best attractions mapped out for you.
You can save this map straight to your phone.
1. Visit the Smallest Pub in England
As mentioned above, the reason we visited this town in the first place was to visit the smallest pub in England.
The Nutshell, is not only the smallest pub in Bury St Edmunds but the smallest pub in the whole of England, holding the Guinness Book of Records title.
It started operating as a bar in 1867 however, the building dates back further than that.
The pub is well worth a visit as it has oodles of charisma.
Only 15ft by 7ft large inside, the pub is tiny but very quaint. We were lucky enough to snag the only table in the whole pub!
Not only is the pub itself pretty darn cool but the bikie bartender who serves behind the bar is quirky and very knowledgable about the history of the small bar.
This bartender previously was a client of the bar (with his bikie friends).
They used to enjoy a beer on the sidewalk outside until the shop across the road complained about the bar allowing patrons to serve alcohol outside. Ekk!
Partly, what makes the pub so small is that you can only enjoy a beverage inside the tiny 15ft by 7ft large bar. The Nutshell investigated getting permission to serve outside but at 50 pounds a table the venture was sadly not worthwhile.
Hanging from the ceiling of the bar you will see a mummified cat. The bartender informed us that 4-500 years ago live cats were bricked into houses to ward off evil spirits in the town. This mummified cat was found by the bar owner.
Interestingly, at one point there was a mummified leg hanging from the bar. However, the bar needed to pay 800 pounds to prove it was more than 100 years old to have it on display. Sadly (or not so depending on your tolerance for weird) this has been subsequently taken down.
Now if that isn't spooky I don't know what is!
Note: As it is the smallest bar in England only a small selection of alcohol is served. There is only 1 red wine sold at the bar for instance. Don't worry, it was a nice one!
2. Take a Greene King brewery tour
If you are a true beer lover and the Nutshell has not quite satisfied your ale thirst, you can take a tour at the Greene King brewery.
This brewery has been brewing ale for more than 200 years, making it one of the oldest operational brewery in England.
The tour includes a complete explanation as to the brewing process as well as a 30 minute tasting session at the end of the tour.
These tours are particularly popular so be sure to book in advance if you wish to go! Tickets are £18 each and can be booked via their website.
If you don't wish to experience a full tour, you can alternatively make a visit to their on site Beer cafe and sample some of the beers there, DIY style.
Cheers to that!
3. Stroll through the quaint laneways
The town is a series of very quaint winding laneways with pubs, tea houses and restaurants galore lining the streets.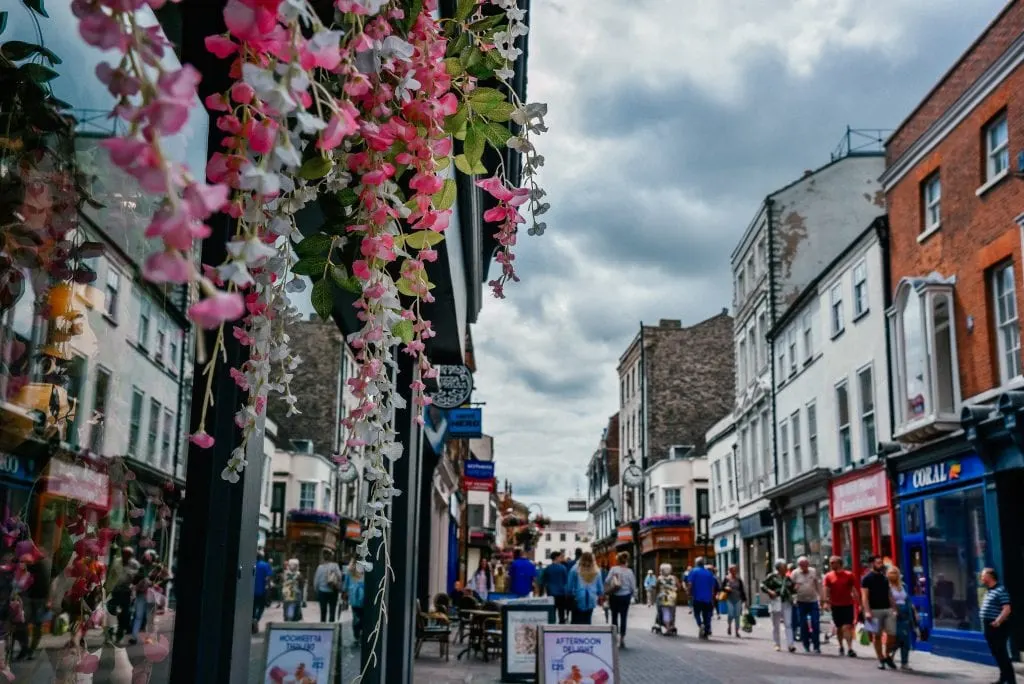 If you feel like stopping for tea and scones in Bury St Edmunds town centre the best places to go are:
Harriet's Cafe and Tea Rooms (fancy indoor setting)
Really Rather Good (The name says it all I feel! Has a lovely outdoor setting, perfect for the family with room for the kids to play and for adults to rest and read for ages after shopping)
Baileys Coffee House & Bistro (perfect place to recoup after shopping. Cosy indoor setting)
If you walk a little further (just beyond the city centre) you will stroll upon a pretty residential area with colourful pastel houses – perfect for Instagram shots!
An older man with a huge dog lives in the pink house so beware!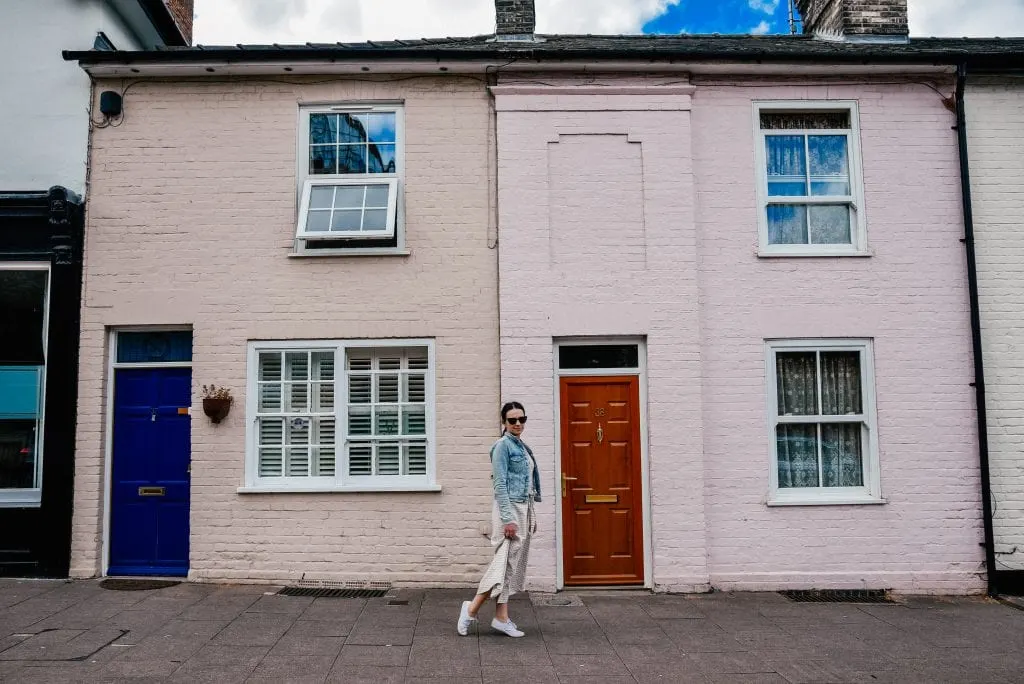 4. Visit the stunning Abbey Gardens
One simply cannot visit Bury St Edmunds without taking a stroll in the Abbey Gardens.
The Abbey Gardens are located right in the very heart of the town so you really can't miss it!
The picture below shows the stunning Norman gateway used to enter the garden (which is entirely free to enter by the way!)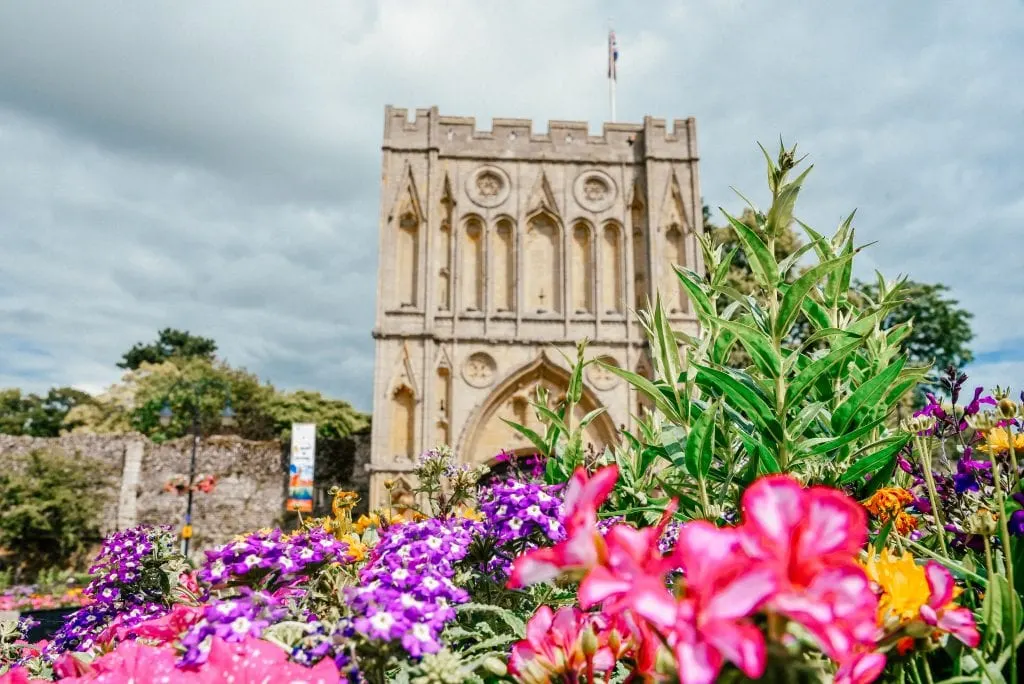 The Abbey gardens have a long and interesting history. It was once one of the most powerful Benedictine monasteries in England.
Interestingly, the gardens has association with the infamous Magna Carta. In 1214, King John's discontented earls and barons insisted the King grant them a number of rights. This rebellion resulted in the sealing of the Magna Carta.
King Henry VIII seized the monastery in 1539 and stripped it of valuable building material.
Nowadays, you can walk through the beautiful gardens and admire the pretty flowers and ruins.
Many people take the opportunity to picnic in the garden. There is also a small cafe to buy coffee & snacks within the premises.
If you have kids, there are playgrounds in the park to let them run free. There is a smaller playground for younger kids and a larger playground for older kids available so you can select what is most suitable for your kid.
If you are spoilt for choice as when to visit, Spring is the best time of year to visit the Abbey Gardens as the flowers are in full bloom.
5. Moyse's Hall Museum
Want to know more about the history of the city including crime, punishment and mummified cats? Then take a visit to Moyse's Hall Museum. The building itself even dates back to the 12th century.
This is not your usual, boring museum but something much more quirky and interesting.
The museum explains well the dark history of Bury St Edmunds. If you are wondering why there is a mummified cat at the Nutshell Pub, this should explain it a little better.
The museum has a display devoted to witchcraft, crime and punishment which is very interesting. You can also learn about historical murders and other gory details related to the city.
Some of the weird exhibitions inside the musuem include a book bound in the skin of Red Barn murderer William Corder and the death mask he was hanged in.
For those interested in royal Tudor history, there is a lock of Mary Tudors hair in Moyse's Hall Museum.
If you would like to visit, the Moyse's Hall Museum is reasonably priced at £12 entry for adults.
While this is our pick of the museums, some others to check out include: Suffolk Regiment and Rougham Control Tower Museums.
6. Visit St. Edmundsbury Cathedral
Arguably the highlight of Bury St Edmunds is the incredible St. Edmundsbury Cathedral: the most beautiful in Suffolk.
Interestingly, this was not always the name of the church. The church was originally called St Denis's Church.
Despite the cathedral being small, it is certainly one of the most beautiful cathedrals in England and one not to be missed.
The stained glass inside the cathedral is absolutely amazing. Due to its beauty, locals often choose to get married in the cathedral.
There is no entrance fee to visit the St. Edmundsbury Cathedral.
Tip: You can get an amazing view of the cathedral from the Abbey Gardens.
7. Make your own gin experience
We have previously made our own gin at Daffy's in Scotland so we opted out of this experience.
However, if you haven't tried your hand at making gin before, we would highly recommend taking the highly rated Adnams 'Make Your Own Gin' Experience in Bury St Edmunds.
Making your own gin at the Bury St. Edmunds Gin Lab takes approximately 2.5 hours during which the Adnams team guide you through a step by step process of making your own gin from selecting the botanicals to the distillation process and bottling.
It costs £95 for a make your own gin experience.
Getting to make a gin exactly to our individual palette was such a fun experience and one we will never forget. Highly recommended if you have never had the chance to make your own gin before.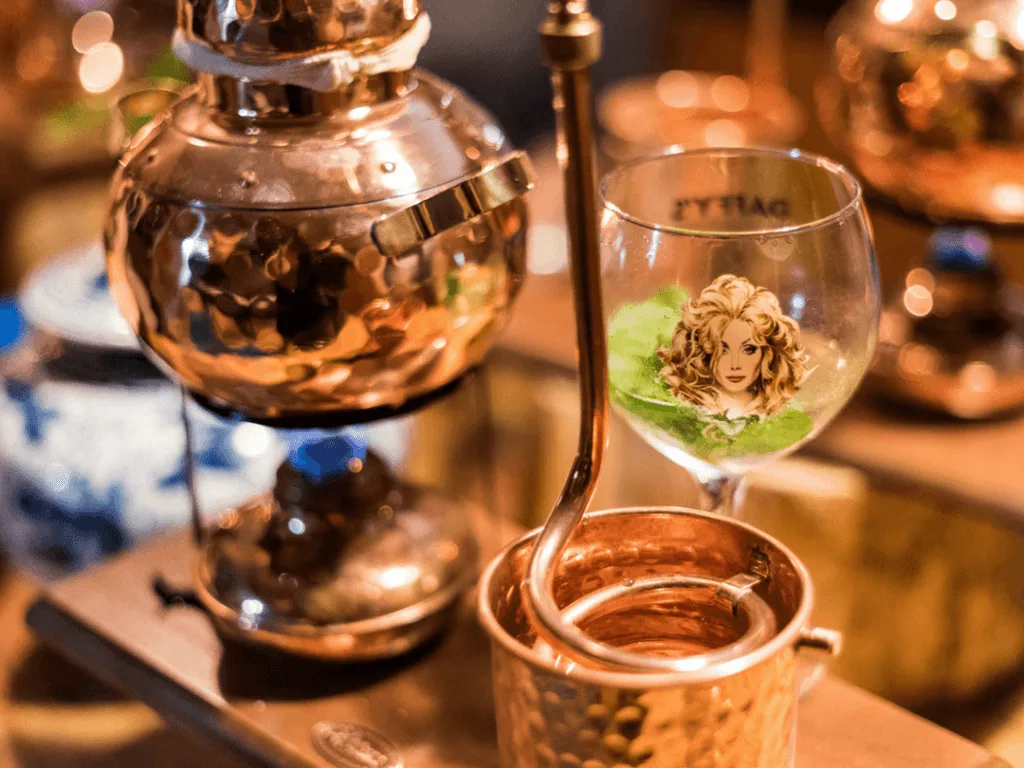 8. Visit the Theatre Royal
We love seeing shows all over the world.
If you have time, don't miss your chance to see a show at the Theatre Royal, a restored regency theatre, in Bury St Edmunds.
Interesting, the theatre is one of only 8 Grade I theatres in the UK. Also, currently, it is the only theatre run by the National Trust in operation.
If you would like a little background and history to the theatre it was opened in October 1819 by William Wilkins, a prominent architect at the time.
During this era, it was one of the most sophisticated theatres in the UK.
What is very unique about this theatre is that it is one of only a few theatres of pre-Victorian Britain to survive making it very special and unique.
Click here to see what's on at the theatre during your time in the town.
There are also shows for children so the theatre really suits a wide range of audiences.
If you would like a more modern theatre experience, you might like to check out the modern theatre in town instead called The Apex.
9. Visit Nowton Park
If you are looking for somewhere beyond the township for a leisurely stroll, don't miss Nowton's Park.
It is more than just a place to have a picnic (although that is always a good idea) there is also old ruins, a maze and interesting wood carvings located throughout the park.
If you love daffodils, visit in the Spring (not winter as pictured below) as the daffodils are in full bloom in the springtime at Nowton Park.
For children there are great playgrounds in the park and if you have a dog there is some particularly popular doggy ice-cream available for purchase at the cafe in the park.
Nowton Park is a relatively recent addition to a Bury St Edmunds travel itinerary. The park was owned until 1985 by the Oakes family estate. These days it is owned by West Suffolk Council and therefore free to enter for the public.
It is pay and display parking to visit the park, £1 for 2 hours.
10. Visit Hardwick Heath
As you may have noticed by now Bury St Edmunds has a myriad of lovely parks.
Another beautiful park just 5 minutes drive from the town centre is the Hardwick Heath park.
This park is another great place, mostly used by locals for walks. There are some lovely walks through the park and a few woodlands walks too which are quite enjoyable.
This park is particularly popular with dogs so if you bring your furry friend with you, this is a good spot to go for a run about. There is also a kids playground at the park.
The car park is pay and display, 40p for an hour to park.
11. West Stow Country Park
If you are looking for a shorter car ride, the West Stow Country Park is located just a 15 minute car ride from the Bury St Edmunds town centre.
Inside the park is particularly interesting as it is home to an Anglo Saxon Village with people reenacting a traditional Anglo Saxon Village which operated on the site 420-650 AD, over 400 years before the Norman Conquest.
The Anglo Saxon Village consists of a craft building, farmers house, hall building, living house, oldest house, sunken house, weaving house and a workshop.
The park is free to enter although you pay a small admission fee of £6 to enter the very interesting, traditional Anglo Saxon Village.
If you feel like a coffee, tea or a snack, there is a cafe on premises.
Note: the Anglo Saxon Village is not dog or pet friendly (only service dogs allowed) due to the presence of livestock including pigs and chickens in the village.
The Park is open daily from 9am to 5pm in winter and 9am to 8pm in summer.
12. Brandon Country Park
The lovely Brandon Country Park is a 25 minute drive from the town of Bury St Edmunds.
The beautiful tracks at Brandon park are very popular for walking and cycling.
If you prefer a relaxing day at the park, Cooper Beech Tearoom is popular and serves homemade soup as well as sandwiches and baked potatoes.
Parking is metered and costs £1 for up to 2 hours or £2 all day
13. Visit Ickworth House Park & Gardens
Ickworth House Park & Gardens is an 8 minute drive from the town of Bury St Edmunds and is definetely worth a visit if you get a chance.
If you are wondering what to do in Bury St Edmunds, Ickworth House Park & Gardens is a good choice.
Basically, it is a neoclassical building set in a beautiful parkland.
As of 1998, the house is owned by the National Trust. They purchased the house and grounds from the Marquess of Bristol.
The house was built as an 18th century Italian style home showcasing the Hervey family's collections including fine silver and paintings.
Downstairs of the house is particularly interesting as you will find a servants quarters.
There are also lots of beautiful walks in the gardens around the house.
It costs £14 for an adult entry to the house and gardens.
14. St Marys Church
St Marys Church is another must see church in Bury St Edmunds.
If you love churches St Marys is considered one of the grandest Parish churches in Suffolk.
All but the tower on the north side of the church (which dates back to the previous century) was rebuilt in the 15th century.
One of its distinguishing factors is that it has the second longest aisle, and the largest West Window of any parish church in England.
15. Weekend Market & Christmas Market
Bury St Edmunds Christmas Market known as the Christmas Fayre is one of the most popular Christmas markets in the UK and one not to be missed.
Oddly, the market only takes place one weekend in November (dates change every year – see their website for the Christmas Market dates).
In 2019, it took place Thursday 21 November to Sunday 24 November. The event is large and spills through the whole town including the Abbey Gardens, St Edmundsbury Cathedral and St Mary's Church.
Food includes gourmet roasted nuts, cheese and chocolate, pies, strawberry and black Pepper gin.
There is no ticket required to enter the event. It is free for all!
If the Christmas Market does not fit your travel itinerary to Bury St Edmunds, there are regular markets on a Wednesday and a Sunday which sell fruit, vegetables and locally sourced seasonal produce.
16. Planet Laser
Keep the family entertained at one of the UK's largest laser tag arenas. Onsite there is an arcade, mini bowling and cafe to keep everyone content – maybe a reward before or after shopping. Carry on east along the A1302 to reach the centre.
Eat & Drink
There are lots of great places to eat in Bury St Edmunds.
As it is a weekend destination for many majour cities in the UK, the town is brimming with lots of good and interesting places to eat.
Restaurants
Family Friendly Lunch: Paddy and Scotts
If you are looking for a great place to put your feet up after exploring Abbey Gardens and making your own gin, Paddy and Scotts is known for being a brilliant little cafe with some of the best coffee in town.
Interestingly, Paddy & Scotts have a 10 year collaboration with a coffee farm in Kenya to produce their coffee beans.
They serve lots of little lunchtime snacks to go with your coffee including cornish pasties and camembert and avocado sandwiches.
If you have brought your pooch along with you, you will be happy to know the cafe is dog friendly!
Best Takeaway: Bury Fish & Chips
If you want to eat something British, why not enjoy fish and chips for lunch.
It is a little strange to eat fish and chips in Bury St Edmunds as it is nowhere near the ocean however, it does not stop Bury Fish & Chips serving up a mean catch.
The fish and chips are cooked traditionally here in beef dripping which means that they are particularly delicious.
This little 'Mum & Pop' joint is cheap (serving fish as little as £4 from a hole in the wall) but if you are looking for fancy however, you won't find it here.
There is a small outdoor patio where you can enjoy your catch in the spring and summertime.
Indoor French Fine Dining: Maison Bleue Restaurant
If you are on a romantic getaway and are looking for a particularly delicious pea spinning on a plate served with a WO-LAH you can miss Maison Bleue Restaurant.
If you are a cheese lover like me you will be happy to know they serve a cheese trolley and will explain where each piece of cheese came from (a pretty fun experience)
What is cool about this restaurant is that they serve festive menus so if you are looking for a restaurant serving a Christmas feast in Bury St Edmunds, the Maison Bleue Restaurant is a good place to start.
Best Pizza: The LP
If you are looking for a place that serves fantastic wood fired pizza you cant go past the LP.
The pizzas are reasonably priced (a wood fire pizza will set you back around £14.
Interestingly, they name their pizzas after famous people like Judy Garland, Stevie Wonder and John Lennon.
Best Indian: Voujon Indian
England serves the best Indian in the whole planet (aside from India I suppose) so we always like to get in a few good Indian dishes while we are in the UK.
Voujon if you can tell by the name is more of an upmarket Indian restaurant. They combine traditional Indian cooking with a contemporary dining experience.
If you are feeling Indian but want a more upmarket restaurant (e.g. a date or a nice night out with friends where you can dress up) this is a great pick.
Bars & Pubs
Being an English town, there are some fabulous pubs and places to go for a drink virtually at every corner. One of the things we miss when we are outside of the UK are the fabulous pubs!
Here are the best places for a cold one in Bury St Edmunds.
Best Interior: Edmundo Lounge
If you want something a little more fancy and luxe, not a grungy old English pub, we would suggest visiting the Edmundo Lounge.
Not only does it serve great drinks but the interior inside the lounge is great with leather chairs and places of colour – a bit of a hipster joint in Bury St Edmunds.
If you are looking for something non alcoholic, the bar also serves some great non alcoholic options including homemade lemonade and watermelon ice tea.
Best Atmosphere: Greene King Beer Cafe
You can go on a Green King Brewery tour or if you are low on time you can simply enjoy a drink at the Greene King Beer Cafe.
If you aren't a beer drinker, my favourite drink to order at Green King pubs is gin with pink grapefruit tonic – it is seriously delicious.
Usually, I'm a beer drinker but the gin with pink grapefruit tonic at Greene King had me converted. Accessibility for wheelchairs good.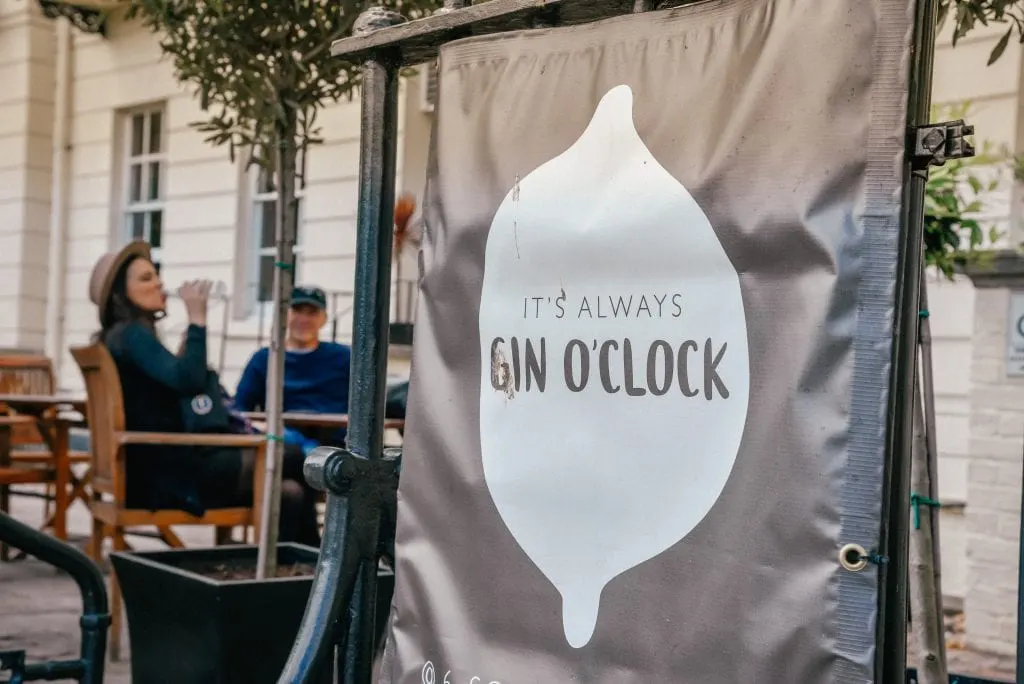 Cocktails and Spirits: Boosh Bar
If you are more of a cocktail girl, you might like to check out the Boosh Bar which serves a mean cocktail.
The cool thing about this bar is the bartenders are very open to getting to know exactly how you like the drink – whether you want your cocktail sweeter or more sour.
Tip: The Expresso Martini is particularly delicious
Smallest pub in England: The Nutshell
Saving the best for last, if you visit Bury St Edmunds Suffolk you can't miss a visit to England's smallest and cutest pub – The Nutshell.
It is a cool novelty visiting a super tiny pub and the bikie bartender makes it all the more fun.
As the bar is so small you end up joining conversations with other patrons that visit the bar so if you love a good chat this a good place to come.
Accessibility challenging because it's small, but the lovely landlord will accommodate if possible.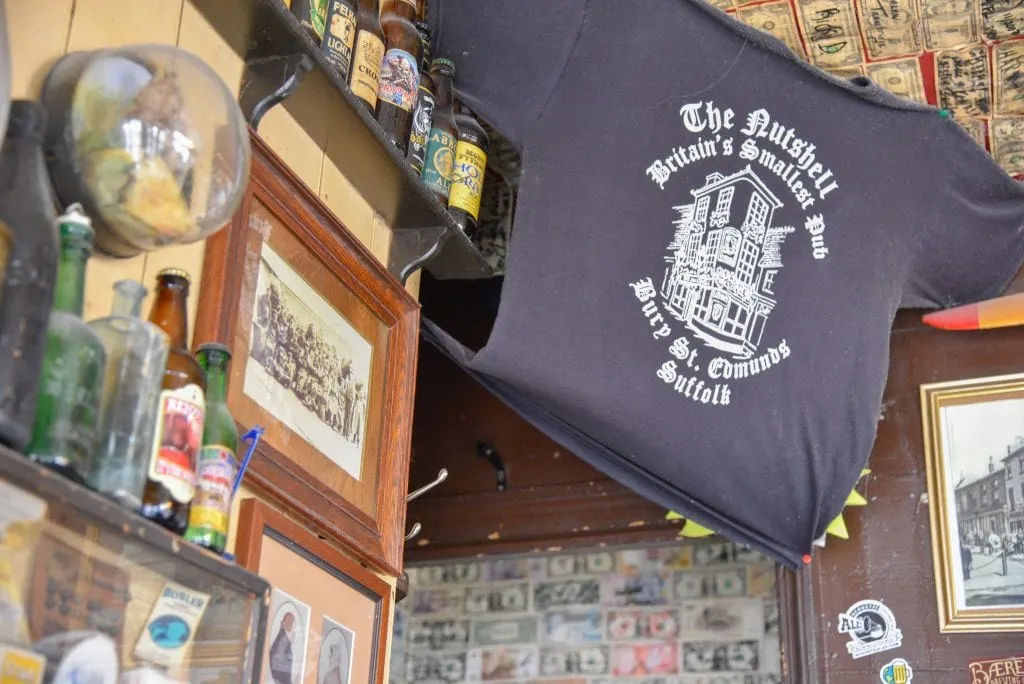 Where to find a Supermarket? Tesco, Asada, Waitrose, Sainsburys
If you have chosen to hire an airbnb or apartment for your trip, you may be looking for a supermarket to buy some staples.
Here are some of the best supermarkets in Bury St Edmonds:
Tescos Superstore: St Saviours Interchange IP32 7JS
Asada Superstore: Western Way IP33 3SP
Waitrose: Robert Boby Way, Bury Saint Edmunds IP33 3DH
Sainsburys: Bedingfeld Way IP32 7EJ
Directions
We drove from Cambridge and it was a nice and easy 50 minute drive east.
Coming from Cambridge
As mentioned above, it is only a 50 minute drive east from Cambridge to Bury St. Edmunds. You can easily make a day trip there but to really soak up the little town we would recommend at least spending an overnight.
You simply follow the A14 virtually the entire way from Cambridge. We always recommend leaving yourself a little extra travel time as often traffic can get takes ages.
It is also possible to travel from Cambridge by train, greateranglia towards Bury St Edmunds. The train journey only takes 44 minutes as it avoids any traffic.
We found train travel to be fast and reliable in the UK. We made quite a few journeys from Cambridge to London.
Avoid a bus as it involves a 6 hour journey to reach the destination! Tours may be a better option.
Coming from London
It is approximately a 1.5 hour drive north east from London. Traffic in London can get very congested so we would advise leaving yourself a good 2 hour travel time (roadworks take ages).
Again, bus is not a good option (that journey will take you 9 hours) but if you wish to take public transport you can reach Bury St Edmunds in 2 hours from London.
Take the greater anglia train towards Norwich. You will need to make a switch in Ipswich. From there, the rail uses a replacement bus which will make the rest of the way to the town.
Tours also run daily from London.
Coming from Oxford
If you are traveling from Oxford it is best to come by car. It is a 2 hour car journey from Oxford.
Train and buses are not a good option from Oxford as the journey will take over 5 hours with many changes.
Where to park?
If you choose to travel to Bury St Edmunds by car, you may be wondering about the parking situation in town.
From what we experienced, even on a busy weekend, there is good parking availability in town.
Parking is metered in the direct city centre. It costs 2 pounds for 1 hour of parking.
Outside of the town in parks such as Nowton Park there is pay and display also (different rate). Bring some change with you to feed the meter.
Tip: Beyond the city centre you can park for free and for an unlimited time.
Things to do nearby in Suffolk?
If you are on a road trip in England, you might be looking for places to visit near Bury St Edmunds on a road trip.
Here are our top picks and distance to places beyond town.
Charming Ely
We visited the cute town of Ely on another weekend from Cambridge.
However, as it is only located a 30 minute drive from Bury St Edmunds you could combine these 2 towns in a weekender or even in a day trip if you are really feeling ambitious.
There is a tonne to do in Ely but it is most famous for being the home of Oliver Cromwell's house.
Other remarkable aspects of Ely include the amazing Ely Cathedral decorated in Romanesque and Gothic Architecture, the Almonry Gardens and the Jubilee Park, located near the river to celebrate the golden jubilee of Queen Elizabeth II.
If you are thinking you might like to visit Ely, you can check out our full guide here.
Badly, Suffolk
The very cute English village of Badley is also located in Suffolk around a 30 minute drive from Bury St Edmunds.
It is one of the least populated villages in England but it has a fabulous church called St. Marys that is worth checking out.
St. Marys church in Badly is one of Suffolk's best medieval church and is considered a church 'frozen in time'.
Inside the church is like stepping inside a time capsule as the church has seldom changed in the last 300 years. Inside the church are 17th pews and medieval benches. It is recommended to take a walk around the 16th century farmhouse located next to the church.
Cambridge
We visited Bury St Edmunds from Cambridge as the town is only a 50 minute drive from Cambridge.
If you are not already based in Cambridge, it is a fabulous city in England to visit and one of our favourites.
If you are a walker, there are so many amazing walks in Cambridge to enjoy. Be sure to hire your own punt and go for a leisurely boat ride down the river Cam or enjoy some totally delicious scones at our favourite places!
You might also like
***
Let us know if you have been or plan to visit the darling town of Bury St Edmunds in the comments below!
If you need any additional tourist information when you are there the tourism office is located at Charter Square St.
Save this Bury St Edmunds Guide to Pinterest (so you can find it again later!)