Looking for Romantic Things to do in Dolomites for Couples? We have you covered! It is seriously the perfect place to go for an awesome northern Italian honeymoon. Why? Well the area is just so picturesque. You feel like you are living out a real life fairytale just being there. So, if you like pretty places or if you consider yourself a real life princess (where are my queens at!) this is a good choice.
The Dolomites was such a cool experience for us, it was super picturesque and everything we hoped it would be (EXCEPT we did run into a really bad hotel experience in the Dolomites which you might like to check out here to avoid the same mistake we made!).
Now we have ticked off the bad avoidable hotel off the list, let's dive into the best romantic activities and honeymoon tips for the Italian Dolomites.
8 Romantic Things to do in Dolomites for Couples: Honeymoon Tips!
1. Lago Di Braies
This was possibly our favorite place in the Dolomites – it is just so pristine and picturesque and without doubt one of the best places to see in South Tyrol, whether you are on a romantic vacation or not.
I must admit though, it took us a while to warm up to this stunning location. On advice of other bloggers, and wanting to get a stunning picture here like you see on Instagram, we arrived at 5am in September, just before sunrise. It was absolutely freezing and to our surprise there was already about a million other photographers lining the banks of Lago Di Braies.
It was hard to even find a spot for our tripod and you could not access the jetty of ago Lago Di Braies until the boat hire opens up at 10am. By that stage, everyone is lining up to hire boats and it would be near impossible to get a beautiful shot on the jetty.
There is another option however, if you are on a honeymoon in the Dolomites or are just looking for a romantic Dolomites picture. I should note, it is expensive but it is worthwhile and we would recommend it. It costs 150 Euros to rent the boat shed and have private access to the Lago Di Braies jetty between 8.30 to 10am when the boat hire opens. Along with this, you get a free row boat that you can use after your photo shoot.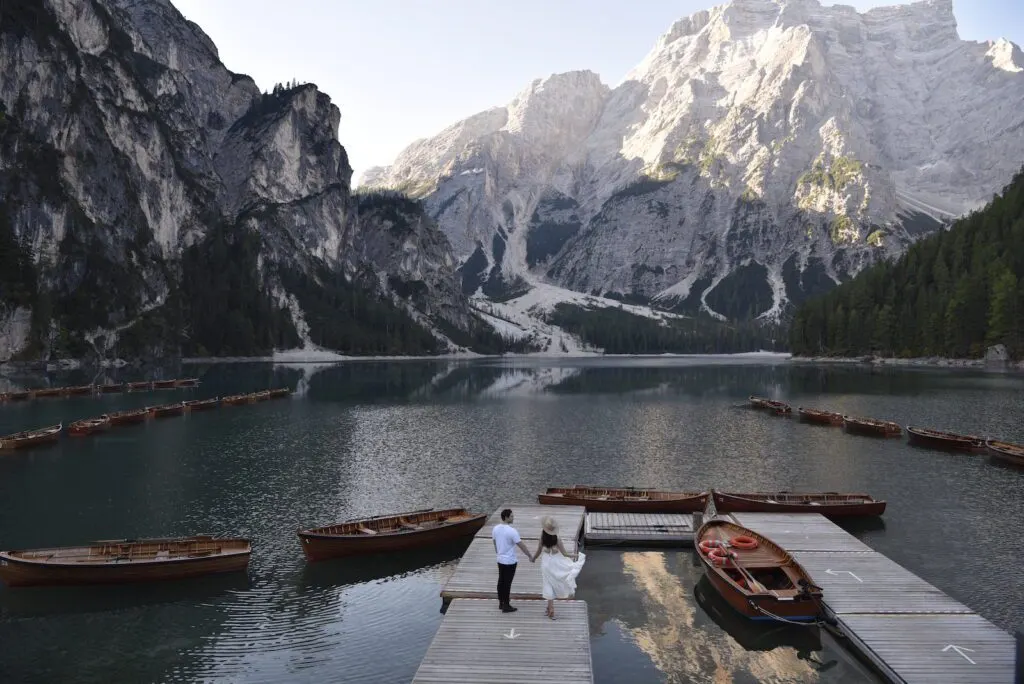 At first we thought 150 Euros was stupidly expensive but after deciding to fork out the cash, we couldn't be happier. It was highly worthwhile if you want to get beautiful photographs online of Lago Di Braies. You can DIY like we did or there are photographers in the area which you can hire to assist. The lady who opened up the boathouse for us seemed a little shocked that we showed up alone with a tripod.
I think the photoshoot was so worthwhile as by 10am the area is absolutely flooded with tourists so it is nice to have it to yourself for a little while.
Regardless of whether you choose to book a private photoshoot or not, we would highly recommend a visit to Lago Di Braies, it is one of the most stunning lakes in Europe and without doubt in my mind one of the best and most romantic things to do in the Dolomites.
We would highly recommend hiring a row boat (35 Euros and hour) to soak up the beauty of the place. Plus it is a super romantic activity in the Dolomites, you feel like you living out the Notebook, rowing through clear emerald water and surrounded by snow capped mountains.
Feel like getting even more active? There is a great 2 mile trail which takes about 1.5 hour to complete (stopping for pictures) where you can walk the circumference of the Lake. Some trials in the Dolomites are quite difficult but this trail is beginner friendly which is nice.t does have a few hills to conquer but nothing too horrific.
Feeling tired and hungry after? No worries, we would highly recommend stopping in at Emma's cafe which serves mouthwateringly delicious German cuisine including some seriously good apple strudel. There is nothing better than a hot coffee and a warm apple strudel when it is cold out. There is also a food truck which serves a variety of German sausages including our favorite, the German bratzwurst.
Where to stay here Lago Di Braies? You only need a day to fully soak up Lago Di Braies but it does help to stay nearby if you want to do an early morning photoshoot. For this reason, we would recommend 2 nights nearby so you have 1 full day at Lago Di Braies.
Note: Parking costs 10 Euros for up to 3 hours.
2. Alpe Di Siusi – One of the MOST Romantic things to do in the Dolomites
Another really picturesque place in the Dolomites, just perfect for a honeymoon in the Dolomites, is Alpe Di Suisi. There are two names for this place in the Dolomites so it can get a bit confusing. We found the most common name Alpe di Siusi.
With an amazing backdrop of Mount Sciallia, you really can't go past this area of the Dolomites in the romance department. A popular ski destination in winter, in summer it is popular for avid European hikers looking to soak up the beautiful scenery. Little huts perched on almost every rolling hill make this area of the Dolomites nothing short of absolutely picturesque.
It is still worthwhile staying a few days here as it is highest alpine meadow in all of Europe, and by far one of the romantic places to visit in the Dolomites. If you love beautiful scenery, you could hike all day in Alpe di Siusi and not get bored. We would recommend 2 nights staying in Alpe Di Siusi so you can spend 1 full day hiking and soaking up the beautiful scenery.
Alpe di Siusi is a UNESCO World Heritage Site as it is the biggest alpine pasture in Europe. Honestly it is very impressive. It is a skiing paradise in winter and we would absolutely love to return in the winter for skiing, as the area is quite good for beginners we are told (that's us!) In winter there are 30 miles of slopes as well as 18 miles of cross country tracks to explore. The hotel we stayed at Seelaus also had a ski in ski out option available as the ski lift drops you right off at the hotel.
Summer is all about hiking through the picturesque plains of Alpe Di Suisi which you could seriously spend days doing and not get bored. Many people choose to hike to the hut of Malga Sanon to find the popular instagrammable swing. If you are looking for a good picture in the area, you may want to make this trek.
To protect the area, driving is highly restricted. Unless you are staying in the area, you can only drive up before 9am or after 5pm. For this reason, we would recommend staying a few nights in Alpe Di Suisi. The other options would be to stay in the town of Siusi which is about 20 minutes away or Ortisei as there is a gondola which runs from the town of Ortisei to Alpe di Siusi.
If you stay in the area you can walk around from your hotel, if not there is a parking area at Compatsch which costs 20 Euros to park.
There is not a tonne of restaurants open in Alpe Di Suisi during the summer months, but we did manage to discover some of the best pizza we have ever eaten in Italy while staying there. It is called Ristorante Alpi and we would highly highly recommend it. I am drooling just thinking about the pizza there. And super cheap too. A good sized pizza will only set you back around 9 Euros.
3. Tre Cime National Park
If you are a couple who loves hiking, you can't go past Tre Cime National Park (in English this would translate to Three Peaks Park), which offers probably the best hiking in the Dolomites. Europeans love to hike which is why this place is consistently rated one of the best things to do in the Dolomites. While I wouldn't rate it the best activity in the Dolomites, I would recommend visiting if you don't mind hiking as it is a very beautiful area.
The hiking at Tre Cime National Park is relatively hardcore although it is very rewarding. You get an up close and personal look at the Dolomites.
If you suffer from motion sickness note that the car journey up to Tre Cime National Park is long and windy. While I don't usually suffer from motion sickness, I found myself feeling a bit sick by the time I reached the top of the parking lot. It costs 30 Euros per car to enter the National Park and park.
There are both short and long hikes in the National Park so you can do as little or as much as you wish. The most popular hike in the park is the 6.2 mile loop which takes around 4 hours to complete. I would only recommend doing this loop if you have decent hiking boots, poles and you are relatively fit. We did part of this trail and it was quite challenging as it was an uphill battle.
If you are not afraid of heights and want a really nice photo, Cadini di Misurina is a good shorter hike to complete which is popular with Instagrammers. Please be careful if you pursue Cadini di Misurina as parts of the hike are relatively dangerous as they are surrounded by sheer cliffs. Do not attempt this hike in the snow!
If you want a short, easy hike you can just hike to the fisrt refugio which only takes around 20 minutes each way for a great view while enjoying a beer and apple strudel.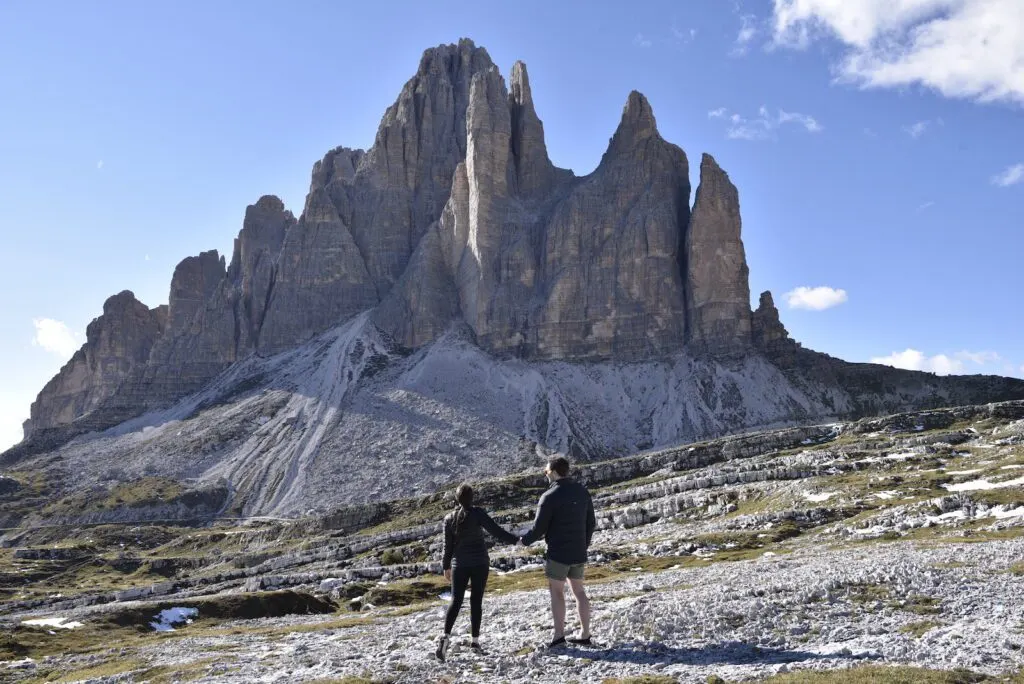 4. Lago Di Carezza
If you prefer lakes to mountains, Lago Di Carezza (or Karersee in German) is another of the most beautiful lakes, and definitely one of the most romantic things to do in the Dolomites. Like most of the attractions in the Dolomites, entry is free.
This lake is small, I was expecting a much bigger lake actually after we visited Lago Di Braies but it is nonetheless very pretty.
The lake is famous for its backdrop of the Latemar mountains, incredible colours and perfect reflections. It can get very busy during the day, like all the other places in the Dolomites but if you visit after 5pm, hardly anyone is there and it is just as pretty, so I would recommend doing that, if you have a choice.
The parking is really quite cheap at this lake, only 2 Euros an hour and you won't need that long here, maybe 1 hour in total as it only takes 20 minutes to complete the full circuit of the lake. If you want an easy romantic stroll in the Dolomites, this is a good choice as, unlike many of the other walks, it is easy and flat so perfect for beginner hikers or those who do not want to exert themselves too much.
If you are on a tight budget, there is also free overflow parking nearby, but expect a longer walk to the lake.
5. Seceda 2500m, Val Gardena
Seceda was another of our favorite spots in the Dolomites, located in the Val Gardena region of the Dolomites, it was possibly an equal favorite with Lago Di Braies. If you love incredible views you are going to just adore Seceda!
It really came as no surprise to us that Seceda is consistency rated as one of the best things to do in the Dolomites. It is usually rated under Tre Cime National Park (on sites like tripadvisor) however, we preferred Seceda – the view at this spot absolutely blew us away.
Why is it known as "Seceda 2500m"? Because it is 2500m above sea level and the views really highlight the height of Seceda.
The Dolomites tends to be a crowded place but Seceda wasn't all that crowded? Can't tell you why. We went in the afternoon so that might help you. Maybe we just got lucky – let us know in the comments.
Seceda can be accessed via the town of Ortisei or St. Ulrich. Ortisei is another popular accommodation choice in the Dolomites so you may like to base yourself here. It is a really cute town and is worth checking out. One thing I would mention about it is there is a lack of good strudel in Ortisei which is very weird as good strudel is virtually everywhere you look in the Dolomites. So, strudel lovers be-aware! If you do happen to stumble across some good strudel in Ortisei, please let us know!
To reach Seceda you need to take a gondola from Ortisei. It costs 37 Euros for a round trip.
We have taken quite a few gondolas in our time but this was a particularly good experience. We had the whole gondola to ourselves and enjoyed stunning views of the Ortisei neighbourhood as we traveled up into the clouds. Halfway up you transfer into a much larger cable car which holds quite a few people to ascend the final impressive peak of Seceda.
Feeling peckish? As you exit the large cable car, you will find the first refugio where you can buy drinks and have a bite to eat if you wish.
The view when you walk outside from the cafe is unbelievable. It is not often these days when we are in total awe of a view and let me tell you this one hit the spot – the jagged-edge peak to our left and stunning rolling bright green mountainside up in the clouds to our right was nothing short of stunning.People around us oowed and ahhed as they took photos by the dozen.
If you don't like to exert yourself, you will be happy to know, can walk as little or as much as you like at the top of Seceda. We would recommend taking the trail to the left which takes around 10 minutes (uphill) to a great viewpoint of the jagged-edge peak. You could spend a few hours, like we did, or you could spend all day here hiking around (the gondola opens at 9am and the last one goes back at 5pm). There are also chairlifts which are used to transport people around the area. Along the hikes there are numerous fun refugios to get refreshments at.
Parking is easy at Seceda if you are driving. There is a parking lot right next door which costs 10 euros a day.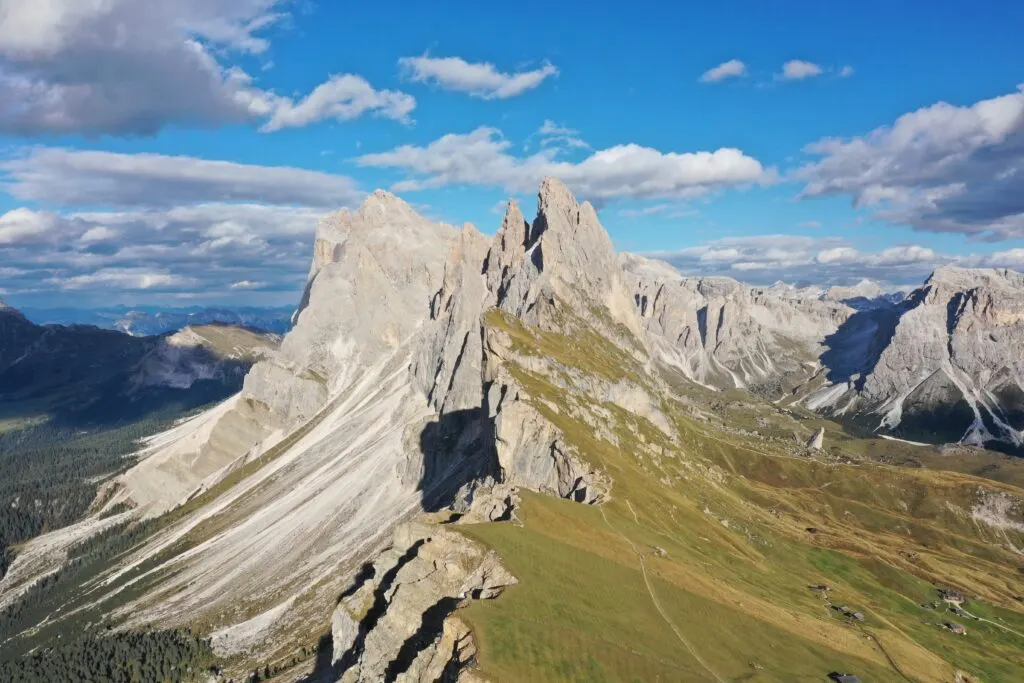 6. Val di Funes
Everywhere in the Dolomites is beautiful and I think I comment at every place we recommend that this place is the most beautiful, but the truth is that it is really hard to choose which spots you like the best, because everywhere you look is so picturesque, including Val di Funes, or Villnöß with a picture perfect background of the Odle/Geisler mountains.
One of the most romantic things to do in the Dolomites for sure so don't miss this spot. Two of the most beautiful and most famous churches are located here, the Church of St. Magdalena (Chiese di Santa Maddalena) and the Church of St. Johann (also known as the Church of St. John and Chiesa di San Giovanni). Due to these amazing churches, the Val di Funes is one of the most photographed areas of the Dolomites.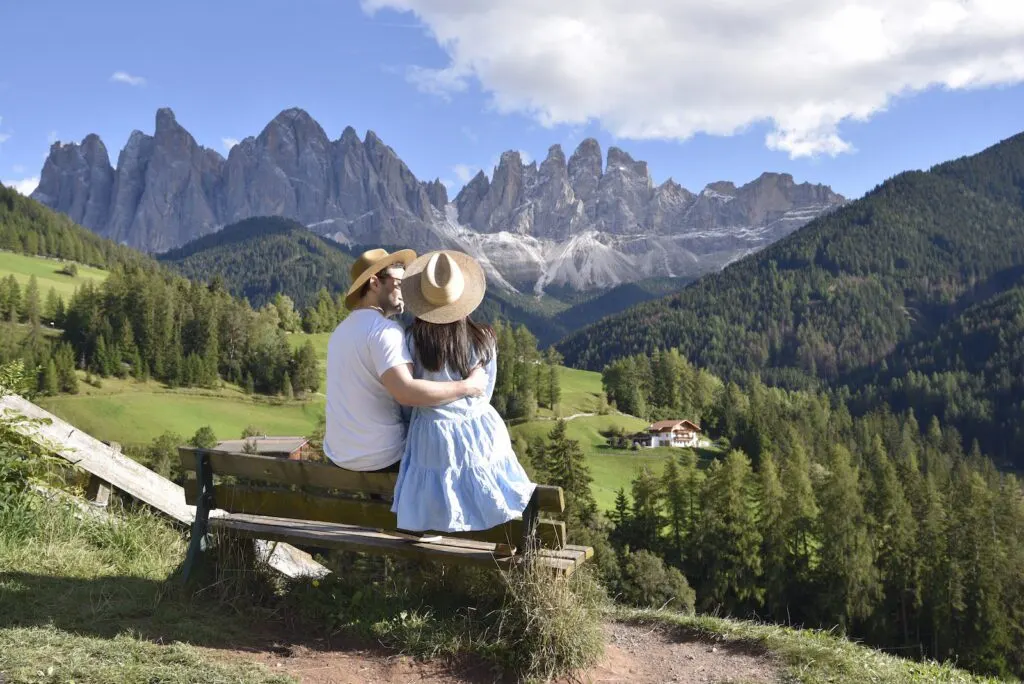 7. Visit the Alpine Town of Bolzano
Bolzano was by far our favorite town to visit in the Dolomites. In fact, we liked it so much we wished we had've stayed in Bolzano the whole time as it has great food (and we are foodies!)
Bolzano had some of the best apple strudel and also pizza we have ever tried. If you are looking for extremely delicious pizza we would recommend a stop at Forneria 38 – you won't regret it.
If you want to see something cool, visit the South Tyrol Museum of Archaeology where you will find Otzi, a 5000-year-old mummy who was found in the 90's and retrieved from the ice after a bunch of hikers spotted him. He is in extremely well preserved condition as Europe's oldest, naturally-preserved mummy.
Another popular activity in Bolzano is Renon's Cable Car, for a different panoramic view of the Dolomites.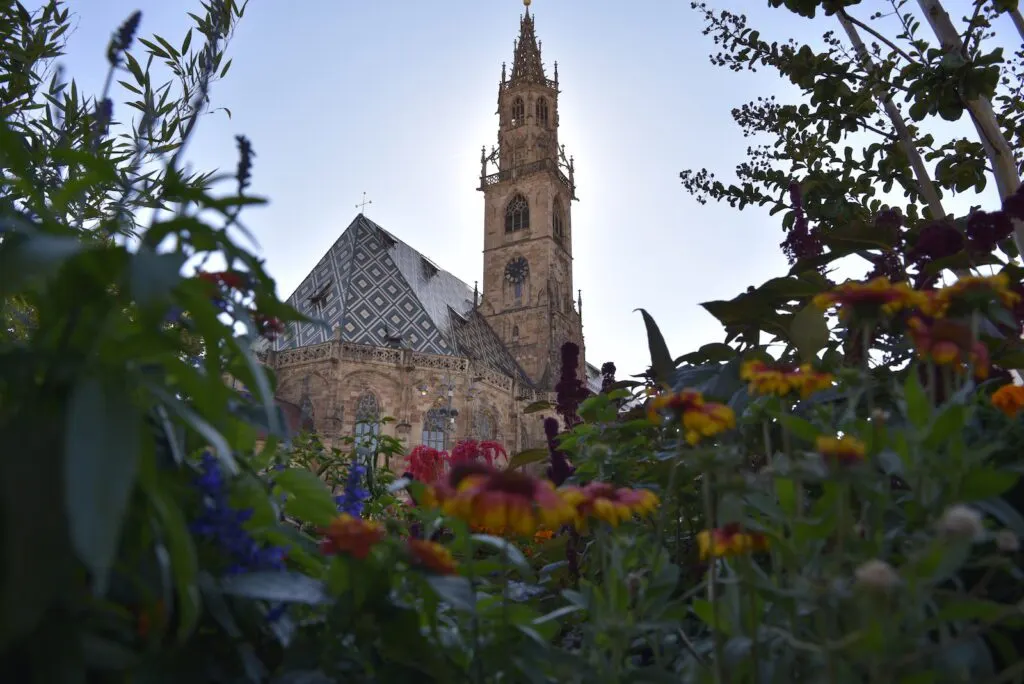 8. See Other Beautiful Lakes (Lago di Dobbiaco or Lago di Landro)
If you love beautiful lakes, there is no shortage of nice places to visit in the Dolomites. Two other lakes that we enjoyed (although a little less than the aforementioned lakes) were Lago di Dobbiaco or Lago di Landro.
Lago di Dobbiaco (Toblacher See) is a stunning bright blue lake with crystal clear water. If you want an easy hike in the Dolomites, this is a good choice as it is is an easy 4km walk around the lake. In winter, it is also a popular spot for cross country skiing and in spring or fall, it is popular destination for bird watching fanatics.
Lago di Landro is another good choice. We saw a couple taking gorgeous wedding photography at this lake (take note though, it is a little sandy/muddy around the edges). If you decide to visit Tre Cime di Lavaredo, you will likely drive past it as it is on the way and hard to miss. If you like visiting locations from movies, Lago di Landro is seen in the Sylvester Stallone movie 'Cliffhanger'.
If you are feeling hungry, there is a great authentic German restaurant located across the road called Restaurant Dürrensee.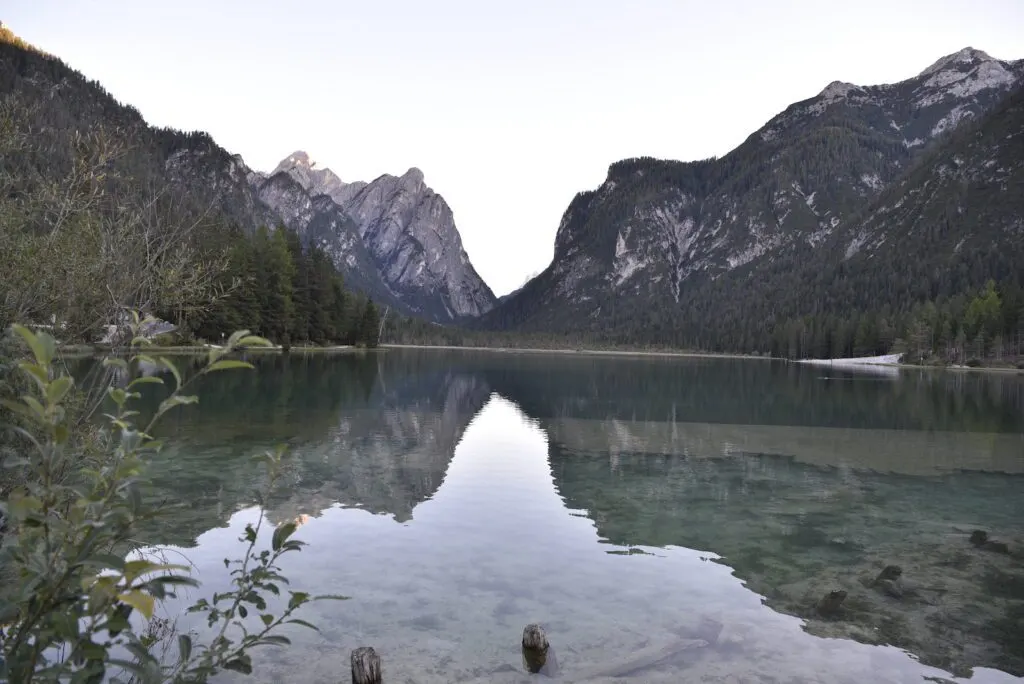 How to get to the Dolomites?
One of the easiest ways to reach the Dolomites is by flying into Milan or Verona. There are cheap flights to Milan from all over Europe as it is a major flight hub.
It is essential you hire a car in the Dolomites as getting around by public transport would be extremely difficult if not impossible.
If you are traveling by car (which we would recommend), it is approximately a 3-4 hour drive from Milan.
We booked our rental car through RentalCars.com as they had the best prices (and we could add comprehensive insurance for a much better price than purchasing it through the rental agencies directly.
How many days to spend in the Dolomites for Couples?
The Dolomites is a big area. All these places we have recommended are far away from each other so usually you can only do 1 maybe 2 spots in a day, depending on how rushed you wish to be.
For this reason, we would recommend at least 7 nights in the Dolomites. Any shorter than this and you seriously would not get to do that much. In saying that, if you are coming from Europe and you have time to keep coming back to the Dolomites over several years, you could cover smaller regions of the Dolomites over weekend breaks.
If you are on a honeymoon in the Dolomites you definitely want to book longer so you can take it easy as there are long drives to each attraction.
Where to stay in the Dolomites?
We made a mistake and based ourself here in the Dolomites for 7 nights and 2 nights in Alpe Di Suisi.
If we had our time over, we would probably stay in Bolzano for the majority of the time as it is perfect to hike and enjoy the beauty of the Dolomites by day and enjoy great food at night.
Bolzano is a cool town with absolutely amazing food. A lot of the hotels in the Dolomites offer dinner included as part of their gig. We really got sucked in by this but it turned out to be a mistake. We ended up not going to 3 out of our 7 dinners as they lacked lustre and we preferred to be spending our holidays eating seriously good food in Bolzano instead.
Ortisei is a popular accommodation choice in the Dolomites but personally we preferred the town of Bolzano.
A few nights in Alpe Di Suisi is always a good idea too. The beauty of Alpe Di Suisi is worth staying a few nights for alone. If you are not staying in the area you can only drive up to Alpe Di Suisi before 9am or after 5pm so it is worthwhile to stay in the area if you can find a hotel available – search all hotels in Alpe Di Suisi here. The hotel we stayed at in Alpe Di Suisi, Seelaus was fabulous – we would recommend staying there if it is available.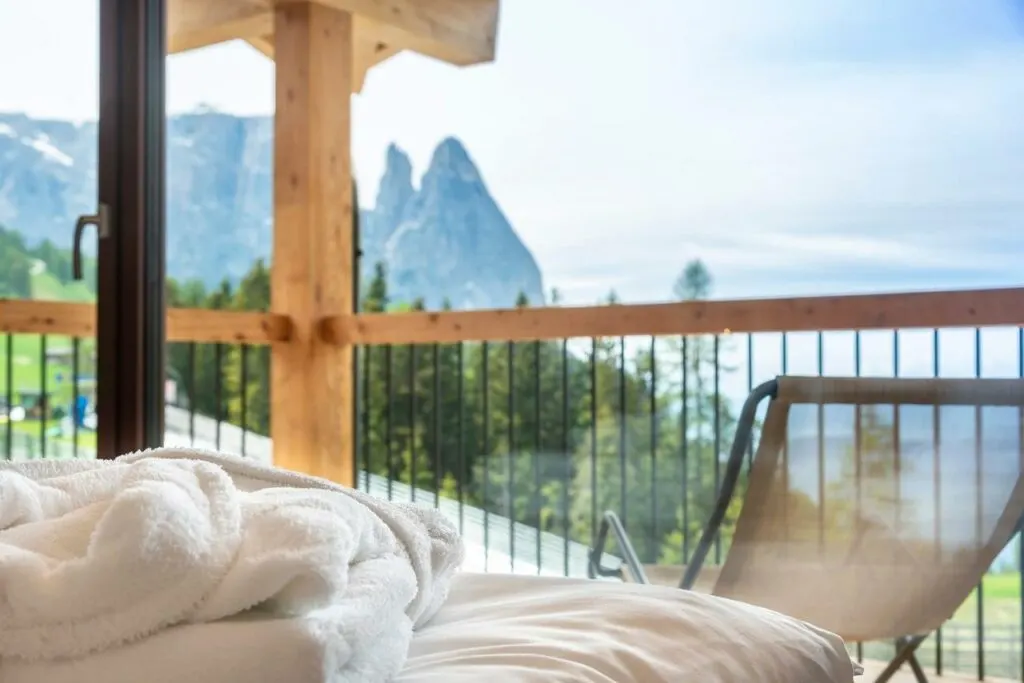 What we didn't like about the Dolomites?
When researching a place, it can be helpful to know what people didn't like about the area to decide if it is the right place for you to take a holiday.
The first thing I will note is that the Dolomites is a predominately German area so if you are thinking you are going to get a traditional Italian holiday, it will be different here. The language here is German and most people are from German/Austrian descent. This is because this area was part of Austria until WW1 when Italy negotiated it in exchange for joining the allied forces.
German people are most strict than Italians – German believe rules should be strictly adhered to. For example, if your hotel says dinner is at 7pm, make sure you show up at 7pm on the dot or you could be in big sh*t.
We pulled over to take a photo of Alpe Di Suisi (perhaps where we shouldn't have) and someone deflated our tyres while we took our pic! Luckily, the amazing place where we were staying Seelaus was more than happy to help us inflate them with a pump.
German cuisine is more prevalent than Italian in the area so also expect that to be served up at your hotel if dinner is included in the rate. We were excited about eating some good pizza and pasta so we were a bit disappointed by this.
As we have mentioned, Bolzano is a good place to stay if you also want to experience good Italian cuisine in the Dolomites as there is a bit more Italian influence in this town. You can still find a good strudel however which is also very important!
****
Did you spend your honeymoon in the Dolomites? If you know any more romantic things to do in the Dolomites, let us know in the comments below and we will add it into our list for readers.
***
Where else should you go in Italy?