Looking for things to do in Las Vegas for couples?
When people think of Las Vegas, Nevada, usually one of the first things that comes to mind is gambling. While there are plenty of opportunities for gambling almost everywhere you look, there are also plenty of romantic things to do in Las Vegas.
Every person has their own opinion of what they consider romantic but this list of fun activities for couples in Las Vegas should have something for everyone!
Tip: If you want to make the most of your couples trip to Vegas you might want to consider getting the Las Vegas Pass so you can enjoy heaps of what Vegas has to offer at a low price.
Disclaimer: This post contains affiliates which means if you make a booking through one of our links we get a small commission at no extra cost to you! If you find something useful and you do decide to make a booking we would really appreciate you using one of our links!
29+ Romantic Things to do in Las Vegas for Couples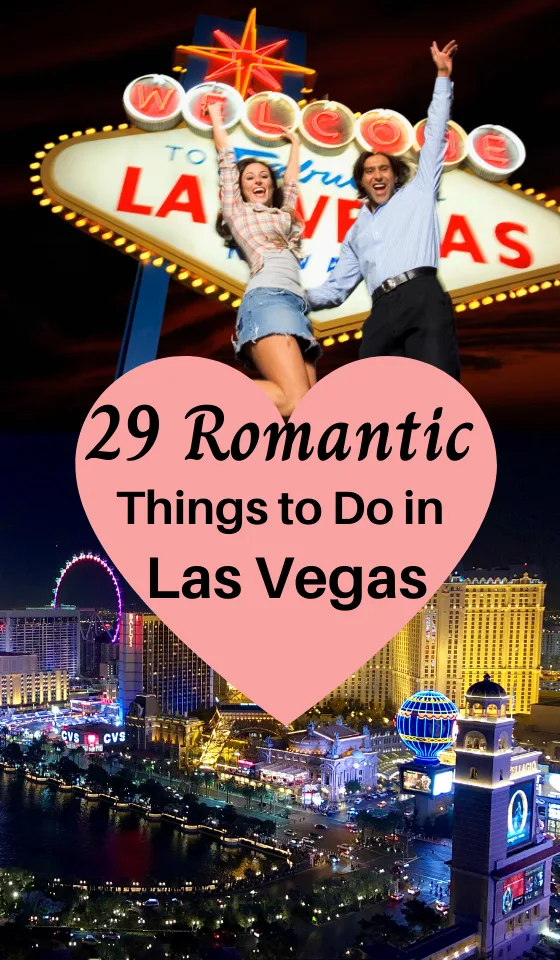 Get a Photo with the Welcome to Fabulous Las Vegas, Nevada Sign
First things first. You've made it to Fabulous Las Vegas, Nevada. You can check that off your bucket list!
You can be sure you have arrived, when you see the infamous sign, which has become a landmark and a hot spot for selfies and photographs in general.
Make sure you take the time to snap a photo or two with your loved one for lasting memories of your visit. A loving picture of a happy couple in front of the sign together, screams romance.
Take a picture of the two of you kissing, with the sign in the background, to make it even more romantic and special.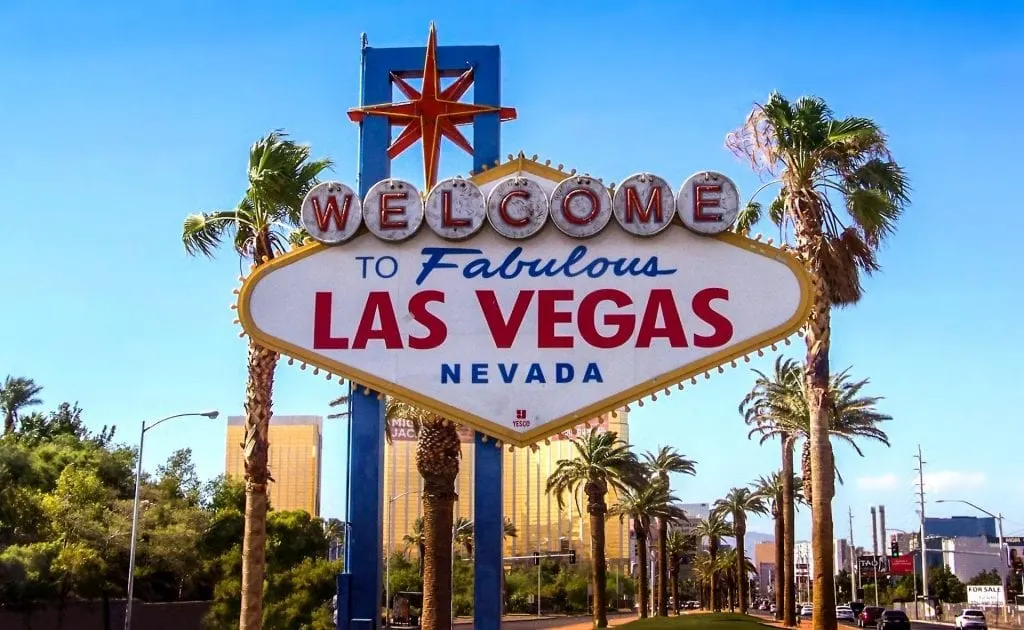 Take a Walk Among the Bright Lights
Whether during the day or evening, taking a stroll arm in arm with your honey, is a wonderful way to spend time together.
Las Vegas is the perfect place to take a romantic walk together as during the evening the bright lights of the strip provide the perfect setting.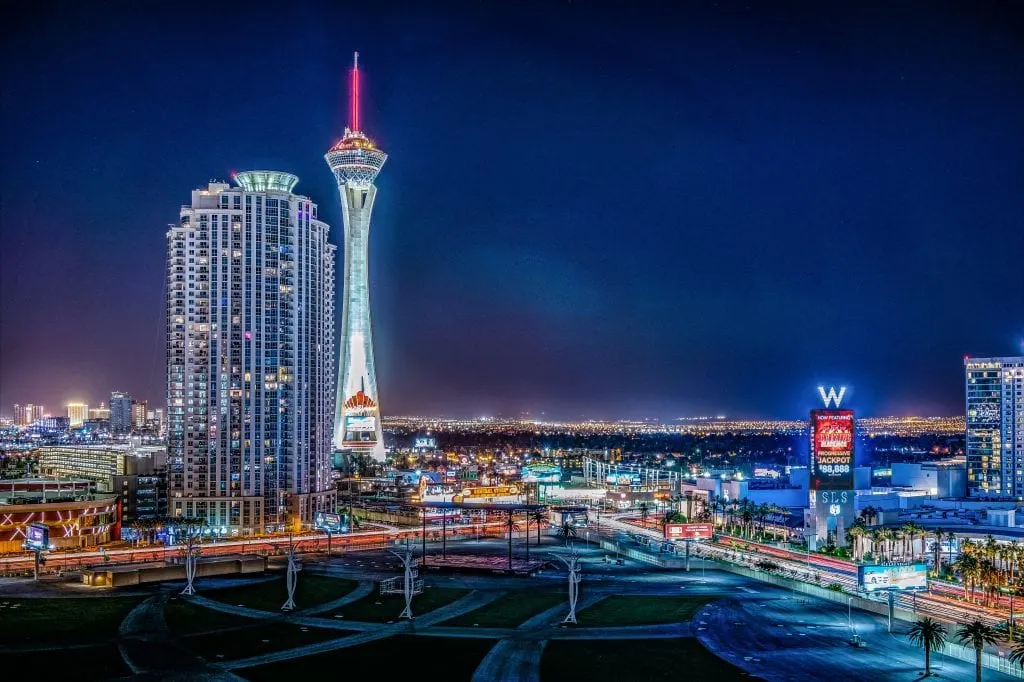 Bellagio Conservatory and Botanical Garden
For those couples who appreciate the beauty of flowers and gardens, you must visit Bellagio Conservatory and Botanical Garden.
The Garden is one of the most fragrant and beautiful designs in the world that appeals to the sense of smell and sight.
Bellagio changes the display each season so even if you have seen it before it is totally worthwhile seeing again!
Bellagio Fountain at Night
One of the best things we did in Las Vegas was seeing the Bellagio Fountain at Night.
Even during the day the musical water fountain is stunning but at night, lights illuminate the fountains, producing an entirely different effect.
The Bellagio Fountains are a very romantic thing to do for couples in Vegas as they have been meticulously choreographed to the music selection, producing an amazingly beautiful experience unlike any other.
As the water dances along to the music, couples can find themselves getting swept into the romantic atmosphere. The fact that this is a free activity, makes it even better!
Mirage Volcano
Date nights in Vegas go from water to fire. Plan to stop and experience the erupting volcano in front of the Mirage Hotel. You read that right, an erupting volcano, located right on the Vegas strip.
You will be amazed at how once the show starts, the pedestrians on the strip seem to become mesmerized by the sights and sounds of the attraction. Watch the volcano erupt in front of your eyes.
The heat from the volcano can actually be felt across the street. Eruption times are 7PM, 8PM, 9PM, 10PM, and 11PM. Don't miss viewing this together.
Stratosphere
One of the most famous landmarks in Las Vegas, is the Stratosphere. Top of the World, located inside the Stratosphere, is the revolving restaurant high above the Vegas strip.
The extremely high tower can be seen from miles away. Many people use this as a location point on the strip.
Due to the height of the Stratosphere, it provides an awesome view of the strip, creating an unforgettable experience. Couples can share a meal, taking in the unbelievable sights of the city.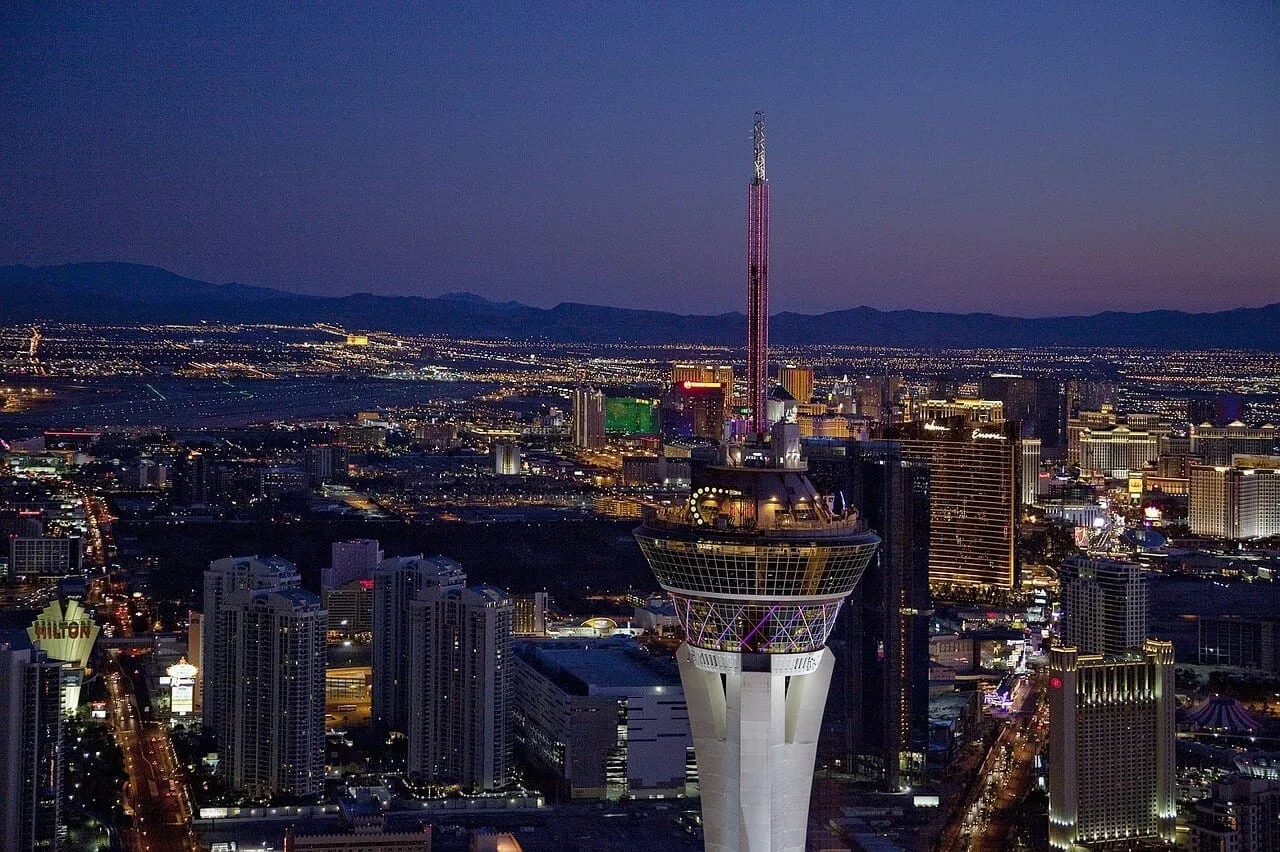 The High Roller at Night
If you like large ferris wheels, Las Vegas has the attraction for you, The High Roller!
At first glance, The High Roller looks just like a huge ferris wheel. As you get closer, you will see that it is way more than that.
The pods are large, enclosed spheres, that riders enter for the 30 minute ride. The attraction provides riders with an amazing 360 degree view of the Vegas strip.
Enjoy a drink while snuggling up to your loved one, gazing at the bright lights that the strip is very well known for.
Since each car is securely enclosed, even those who aren't necessarily height enthusiasts, may find this ride exhilarating and breathtaking for sure. Another bonus is that the ride does provide air conditioning, so even in the summer heat, the ride is comfortable.
Here are some fun tours that include the High Roller that you might like to check out:
Gondola Ride
In the mood for a gondola ride in Italy? Well, if you cannot make it there, try Las Vegas as an alternative. Gondola rides are offered at The Venetian, one of the hotels on the Vegas strip.
Relax and take in the view as the gondolier guides you and your companion through Italy. You will not be disappointed with the authenticity, as the ride takes you under bridges, just like the real thing.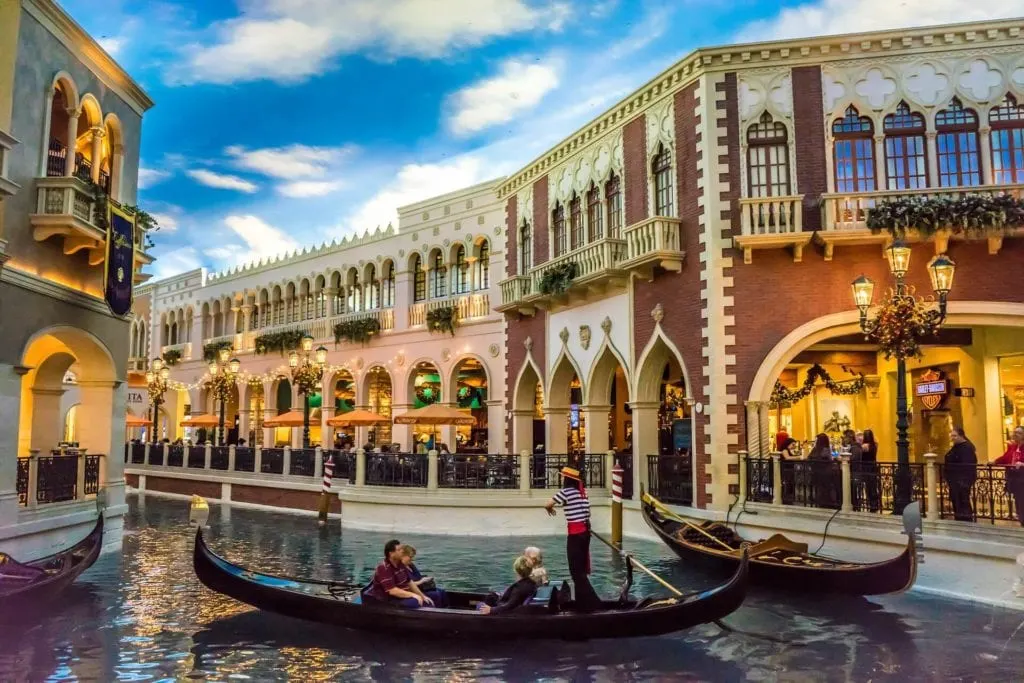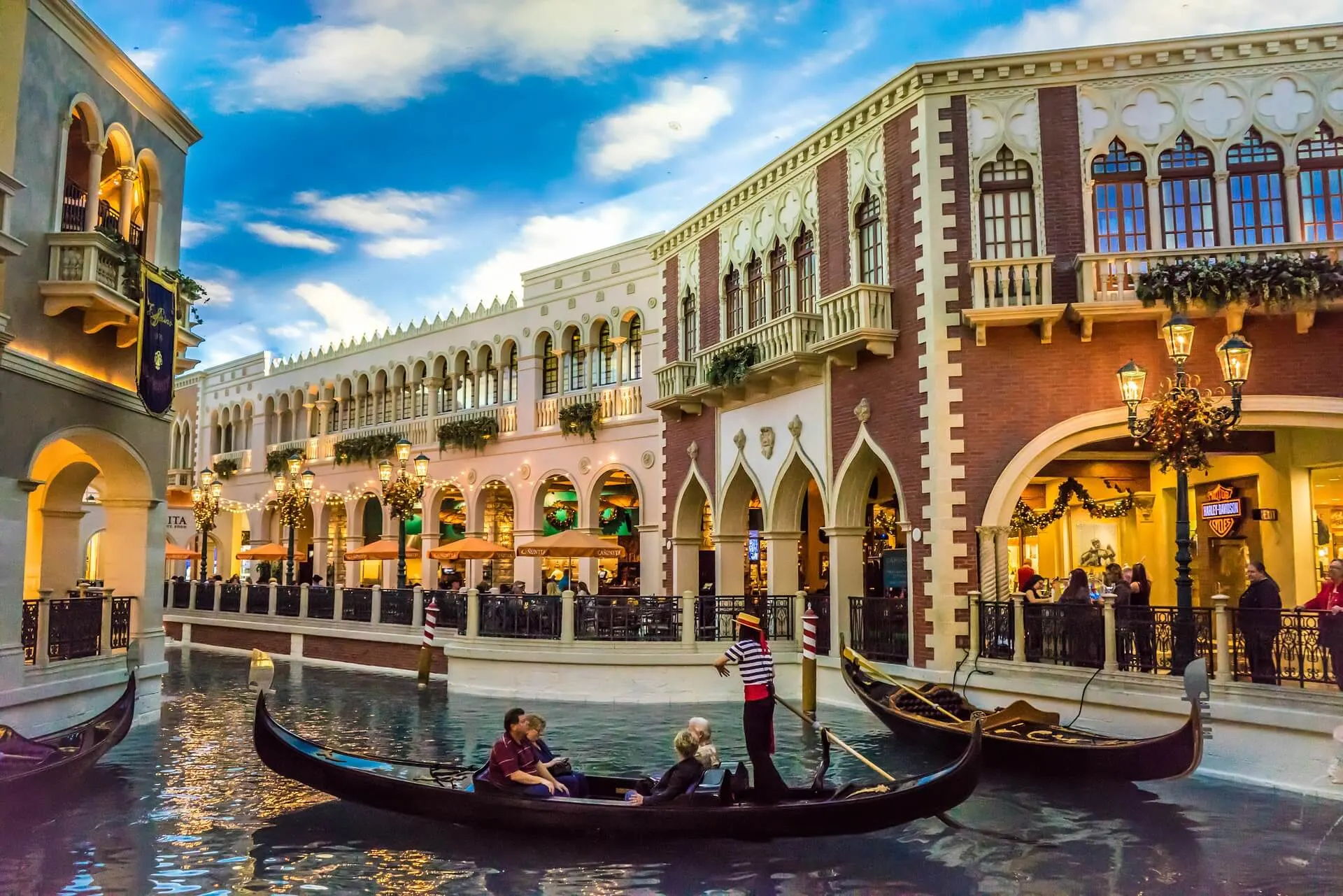 Shark Reef at Mandalay Bay Hotel & Casino
If you appreciate sea life, visit the Shark Reef at Mandalay Bay. At this aquatic wonder world, you will find the ocean life you expect to see, as well as some you did not anticipate catching a glimpse of.
Spending the day in this amazing undersea atmosphere with your sweetheart, will bring you up close and personal with nature. Walking through the underwater tunnels together, can become a very romantic stroll.
Secret Garden and Dolphin Habitat
Located at the Mirage Hotel & Casino, the Secret Garden and Dolphin Habitat houses real dolphins on site.
There are different packages guests can choose from, but price ranges are approximately between $100 to $400. Maybe Dolphin Trainer 101 is your thing, or perhaps you prefer a VIP Tour.
While they are not inexpensive choices, if you and your love are interested in these aquatic beauties, it might be worth it to check out some of the available options they offer.
See a Couples Show
Catching a show together could be the "date night" you two have been waiting for. There are so many varieties of shows to see in Las Vegas, the choices may seem endless.
There are comedy shows, musicals, dinner shows, family shows, and couples shows. For a romantic night out, couples should find something they both enjoy and want to see.
It may be a good idea to avoid family type shows and consider something more adult focused, to set a more romantic feeling. We personally like to see touring musicians, comedians and magic shows.
Here are some show ideas for you:
Zumanity – Cirque du Soleil
One hot adult show that has been heating up the Vegas strip is Zumanity. This Cirque du Soleil production is not a family friendly show, so don't even consider bringing the kids. The show is for adults only, due to its mature content.
Audiences can expect nudity, sexually suggestive tones, as well as the acrobatics that Cirque du Soleil is famous for.
The show has been raved for its sultry, provocative, yet classy entertainment. The steamy show will definitely cause at least a little excitement for viewers.
Visit of of the many Clubs or Bars in Vegas
For those who enjoy the nightlife, there is always the allure of the bar or club scene, especially when in Las Vegas.
Whether you prefer sitting at the bar side by side, sipping drinks together, or dancing late into the night, you are sure to find the perfect spot for a romantic, fun night out on the town.
With so many locations to choose from, it won't take you long to find one that you prefer. Our favorite bars and clubs for couples in Las Vegas include:
Helicopter Tour
If you don't have a fear of heights or flying, you might want to consider taking a helicopter tour with your sweetheart. Viewing the area from high in the sky, provides couples with a spectacular, romantic experience that will surely be remembered.
There are several companies that offer these types of tours, so it will not be difficult to schedule. One thing you want to be aware of is that weather conditions may be a factor in the planning of this activity.
Helicopter tours in Vegas we would recommend include:
Balloon Ride
Another option for high flying thrill seekers, is a hot air balloon ride.
Sight-seeing, enjoying the majestic view from high above, while cuddling up to a significant other, is an extremely romantic event. With an unobstructed view of the ground below, there are very few experiences like it. What a memory to build together.
Keep in mind though, that availability does depend on the weather situation.
Talking about hot air balloons, if you think they are just super romantic like I do, you can check out all the best hot air balloon festivals in the USA here.
Limo Ride
If you feel like riding around town, taking in the sights, without the responsibility or distractions associated with driving, then take a limo ride. It is the perfect way for couples to see the sights together, in an upscale way.
You can both see everything that Las Vegas has to offer without the fear of inattentive driving by either of you. Sit back, relax, and enjoy the view, perhaps while sipping champagne or wine to heighten the romance factor.
Play Topgolf
If golf is your game, Las Vegas has something for you too. In addition to actual golf courses to play in Nevada, the strip also offers golf enthusiasts Topgolf.
Topgolf is a sports entertainment complex that houses high tech golf games. Different games are available for varying skill levels and the type of challenge you may be looking for.
Couples can have fun while the hi-tech balls track all information and scores. If you are the competitive type, just make sure your desire to win, doesn't dampen a potential romantic time. Remember, it is only a game.
Get a Couples Spa Treatment
What can be more romantic than spending time together in a relaxing, stress free setting? Surely one of the best things for couples to do in Vegas.
Spas offer various relaxing services to their clients. Many spas offer couples' massages too. Laying on separate massage tables in the same room, couples can enjoy time together while the stress of life is massaged away by a professional.
Almost every hotel in Las Vegas offers spa services. Check with your hotel to see if that is a service they offer. If your lodging location does not have spa services available, there are sure to be plenty of options for you to choose from elsewhere. This will surely be time well spent as a couple.
Couples massages we would recommend in Vegas include:
Get Married or Renew Your Wedding Vows
There is nowhere more exciting to get married or renew your vows then in Las Vegas.
There are many wedding chapels in Las Vegas that offer couples the option of renewing their wedding vows. It is a perfect opportunity for couples to prove their never-ending love for one another in a fun way!
Whether you have family and friends attending the ceremony or not, reminding one another that your love for one another is still burning strong, is one of the most romantic things you can do together as a couple.
An alternative to the Las Vegas wedding chapel is having a helicopter wedding.
Sunset Over the Mountains
Definitely one of the most romantic things to do in Las Vegas for Couples.
There are plenty of mountains to choose from, which can provide a beautiful view of the sunset over the mountains.
The mountains in Las Vegas are amazing to see at any time, but during sunset, the view provides a perfect romantic atmosphere. Watching the sun set together, as the evening turns into night, is the perfect way to end a great day in Vegas.
Some of the best places to catch a beautiful sunset in Las Vegas include:
Lone Mountain Regional Park
The 8th Floor of The Mirage's Parking Garage
High Point Overlook at Red Rock Canyon National Conservation Area
Enjoy a Romantic Breakfast, Lunch, or Dinner in Las Vegas
There are numerous restaurants in Las Vegas to choose from. There is definitely something for everyone. Depending on what you are in the mood for, you are sure to find it in Las Vegas.
Most people think immediately of dinner, when they hear the term romantic meal. Lunch is also a good option, but do not count out breakfast, there are some particularly good breakfast options in Vegas.
Our favourite romantic breakfast, lunch and dinner options in Las Vegas are:
Get a Romantic Hotel Room
Sometimes, just spending the night away from home can set the mood for a romantic evening. Make reservations to spend the night in a romantic hotel in Las Vegas.
Tip: It is always super romantic to get a hotel with a jacuzzi in room in Las Vegas.
It does not have to be super expensive – you can get some great deals in Las Vegas, especially mid week as the hotels try to attract the gamblers!
Many hotels offer room service, for those who would rather eat in. This option also allows couples to enjoy alcoholic drinks, without having to find transportation back to the room.
Here is where we would recommend staying for a really romantic getaway in La Vegas depending on your budget: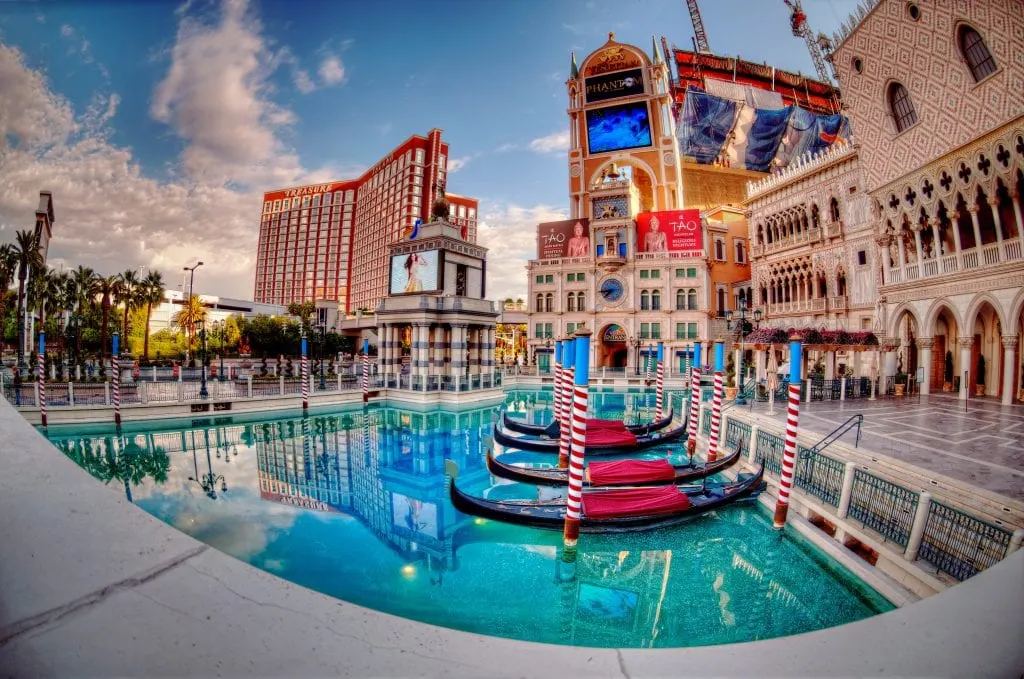 Paris on the Strip
Sweep your love off to Paris. What's that? You forgot your passport? Don't worry, there is no need to leave the United States.
You can visit Paris right on the famous strip in Fabulous Las Vegas, Nevada. Although it may not be the far away Paris you were initially thinking of, that doesn't mean you won't experience the feeling of being there for real.
Paris is a very romantic city, no matter what "Paris" you may find yourself visiting. Romance is in the air, for those who choose to experience it.
If you are looking for Paris you will find it on the strip, across from the Bellagio Hotel.
Eiffel Tower
One thing you should definitely do on a couples trip to Vegas is to stop and visit the Eiffel Tower to top off the Parisian experience.
While it may not quite reach the same height as the original version it is intended to resemble, it sets the mood of love. The viewing deck, on the 46th floor, provides guests with an amazing view of the strip.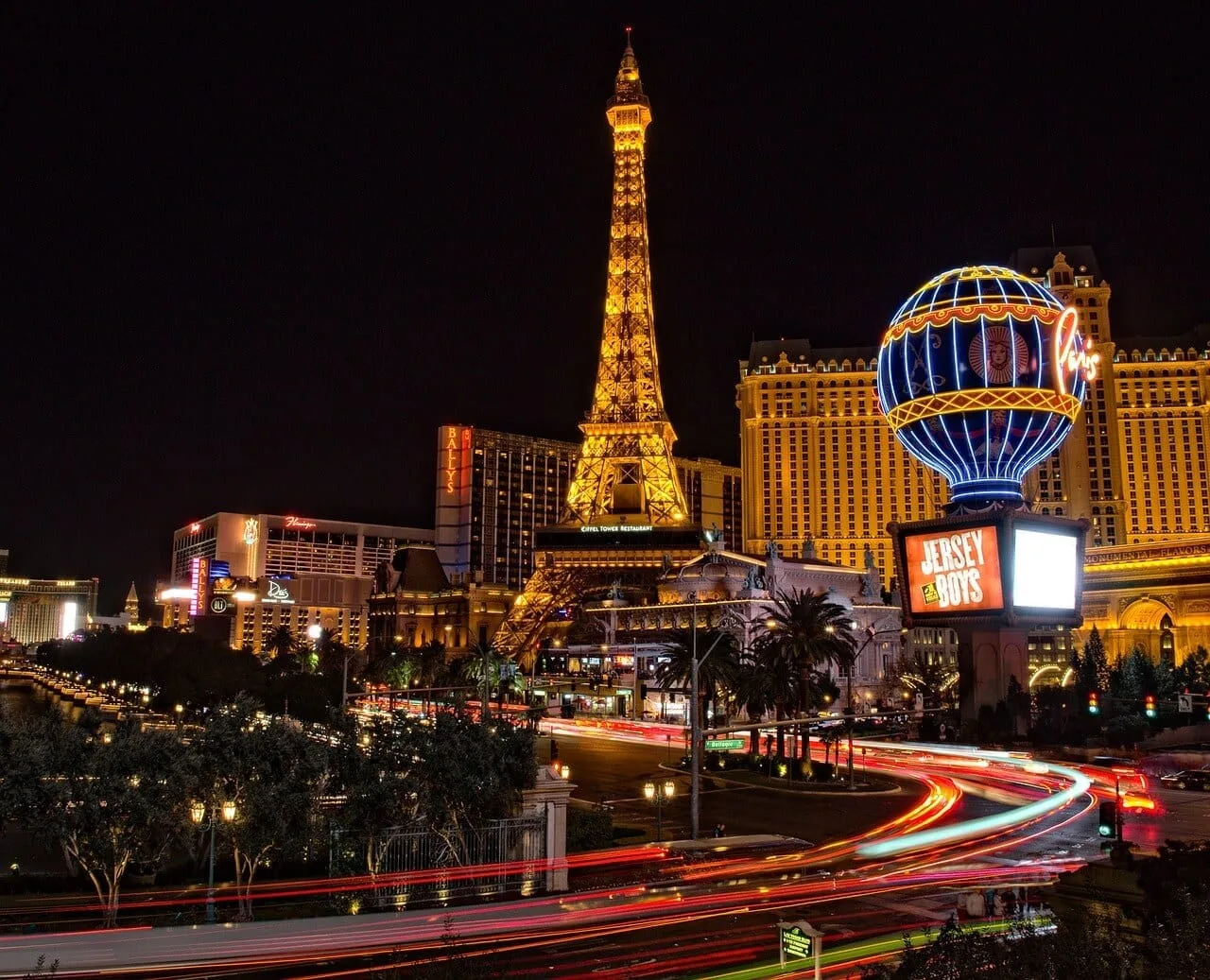 Rent an Exotic Car
One of my favorite activities for couples in Las Vegas is to rent an exotic car.
As most of us will never be able to afford to buy one of these babies, it is nice to treat yourself to something a little special and unique once in a while!
Take a Picnic in a Park
You might not think it but there are a few great parks to visit in Las Vegas.
A picnic in a park is a perfect and inexpensive way to set a romantic tone. Imagine, preparing a light meal to share with one another, in a quiet, peaceful setting.
Whether you pack a cooler, basket, or a bag, make sure you bring everything you need for the perfect experience. If you plan to sit on the ground (instead of using a picnic table), be sure to bring a blanket or chairs to sit on. A bottle of wine and wine glasses, may set an even more romantic mood, depending on where you are.
Some of the best, romantic parks to visit in Las Vegas include:
Floyd Lamb Park
Lorenzi Park
Symphony Park
Visit a Casino
Okay, this list wouldn't be complete without at least suggesting the idea of gambling in Las Vegas. The first rule of gambling is to set a spending limit and stick to it!
Choose a game that you can play together or at least allows you to sit together. On the Vegas strip, you should have no trouble finding a suitable casino to play in. Find something that interests the both of you. It is no fun watching someone gamble if you have no interest whatsoever in it.
Keep in mind, this activity is suggested as a fun and romantic experience for the two of you to enjoy together. One suggestion, if you plan on using cash for the casino, make sure you get it before entering any casino. ATMs are available inside casinos, but you can expect to pay exorbitant fees to make a withdrawal.
Remember, you must stick to your spending limit. If you go over the spending limit you set for yourselves, that can surely spoil any chance for romance. If you want a great budget casino, check out our budget guide to Las Vegas.
Scenic Car Ride
Right up there with taking a walk, a scenic car ride, can be just as nice to spend time together. The mountainous backdrop is something to see and experience.
If you have never been to the area, make sure you allow ample time for stopping frequently for amazing photo opportunities.
Some of the best short scenic road trips you can take from Las Vegas include:
Boulder City (30 mins drive)
Valley of Fire (55 mins drive)
Death Valley National Park (2 hours)
Definitely one of the best couples activities in Las Vegas!
Red Rock Canyon
If you are looking for a scenic place to go, Red Rock Canyon is a great choice, located just 20 minutes outside of Las Vegas.
Red Rock Canyon provides a perfect setting for romance as there is absolutely breathtaking scenery.
Couples can expect to spend a good part of the day either walking or driving through the desert, winding through the mountains as well, while seeing some of the most amazing creations of nature.
The scenic views are beyond imaginable. If you are looking for a really romantic spot to visit, Red Rock Canyon would have to top the list. Words cannot begin to accurately depict the stunning scenery. The quiet, calming, peaceful setting is the ultimate romantic spot to visit.
Did You Find the perfect Date Idea in Las Vegas?
We hope this list helped you find something super romantic to do in Las Vegas.
What really matters is that you are spending quality time together as a couple, no matter where you are. Enjoy one another and keep the spark alive!
Already Thinking of your Next Romantic Getaway?
If you are already thinking of your next romantic getaway, here are some places we would recommend:
Save Fun Things to do in Las Vegas for Couples to Pinterest so you can find it again later!