If you are visiting Laos, there is no shortage of things to do in beautiful Luang Prabang.
Things to Do in Luang Prabang
Luang Prabang is an essential city to visit to truly appreciate the beauty of Laos.
Here are 10 Unmissable Things to Do in Luang Prabang.
1. Visit Kuang Si Falls
When you think of Luang Prabang, the first thing that springs to mind is Kuang Si falls.
It was our favourite thing to do in the area and not without good reason – the pale blue waters of Kuang Si falls make it a tropical paradise.
You can get unlucky though you may find yourself at Kuang Si Falls when it has just rained. If this is the case, you will find yourself wallowing in a brown waterfall. Oh no!
If you want more information on visiting Kuang Si Falls (including the best time to visit) -see our full guide to all you need to know about visiting Kuang Si falls.
2. Feed a Baby Buffalo
Just 5 minutes down the road from Kuang Si Falls you will find Lao Buffalo Dairy.
At this cool Buffalo farm you can milk a buffalo, feed baby buffalos, play with bunnies & of course try buffalo milk & ice cream for yourself!
Kuang Si falls & Lao Buffalo Dairy can be joined together for a fabulous day trip in Luang Prabang.
If you would like a tour, White Elephant Tours offers a great trip that covers both these attractions.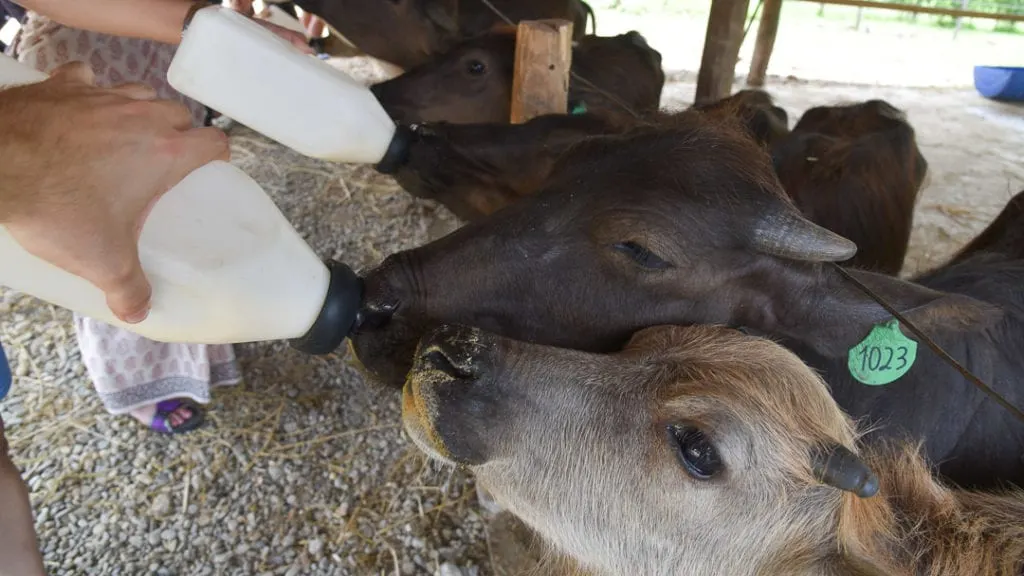 3. Watch Sunset from Mount Phousi
Mount Phousi is the perfect place in Luang Prabang to kick back for the afternoon to watch the sunset.
This mountain is an easy hike which boasts a fabulous view of the Mekong Delta and the surrounding town.
We almost didn't hike Mount Phousi but boy we are sure glad we did! The view from the top is seriously impressive.
For more information on the hike including how to get there, entry fee and the best time to visit see our guide to hiking Mount Phousi.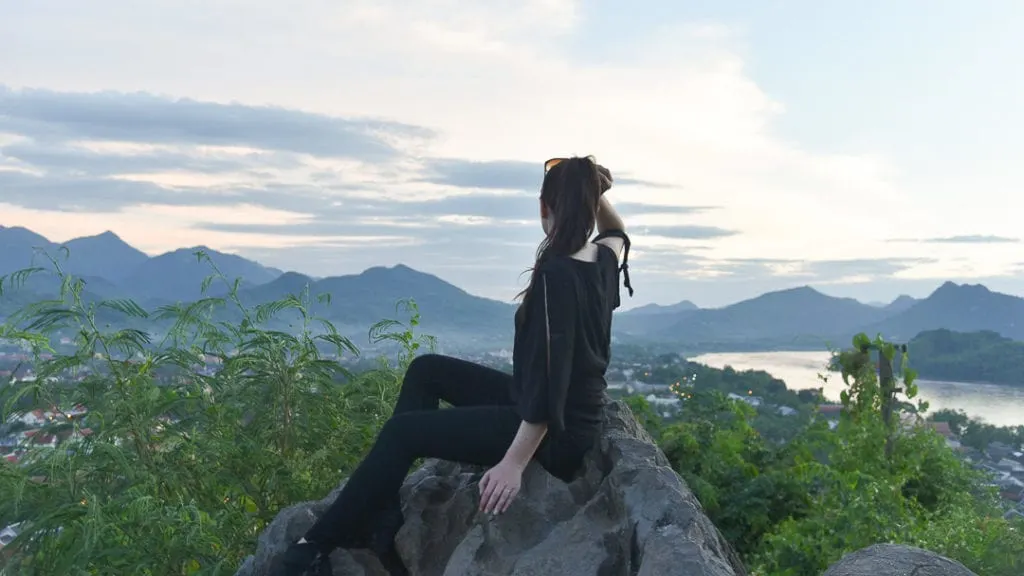 4. Visit Luang Prabang's Temples
There are numerous temples in Luang Prabang for you to enjoy including the Royal Temple, Wat Mai Suwannaphumaham and That Makmo.
The most famous temple in the area is the Wat Xieng Thong temple. We absolutely loved this gorgeous temple and would highly recommend a visit if you are in town.
Check out our guide if you would like more informaiton about Wat Xieng Thong temple.
5. Attend the Alms Giving Ceremony
The traditional Alms giving ceremony is one of the main draw cards of Luang Prabang.
The Alms Giving Ceremony is a sacred Buddhist tradition and one the local community take very seriously.
The ceremony takes place at sunrise every day at the town centre of Luang Prabang. The idea of the ceremony is for the Buddhist monks to collect food for their one meal of the day. Locals donate rice, fresh fruit and traditional sweet snacks to the monks.
Tourists are permitted to participate in the ceremony and there is food available for purchase to give to the monks.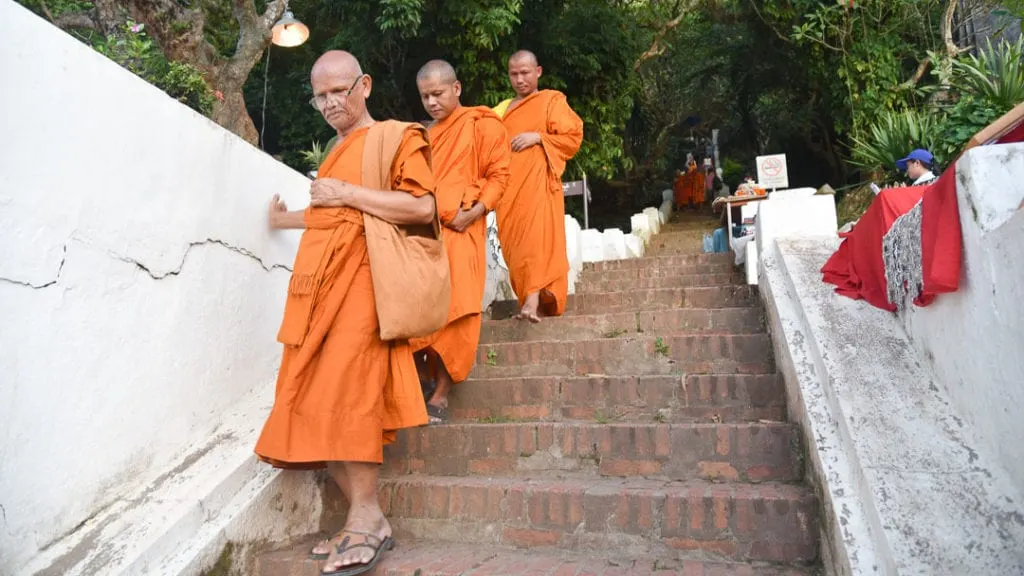 6. Experience the local culture at a traditional Fisherman's village
A great way to experience Laos culture is by visiting a traditional fisherman's village.
You can access the traditional fisherman's village by long tail boat on your way to Kuang Si Falls.
A long tail boat is available for hire from Luang Prabang town or you can get a tour which includes the fisherman's village, Kuang Si falls & the buffalo farm (as we did).
When you reach the fisherman's village, you have the opportunity to see a local Laos fisherman cast his fishing net and you even are given the chance to try it for yourself! Be warned though the net is heavier than it looks!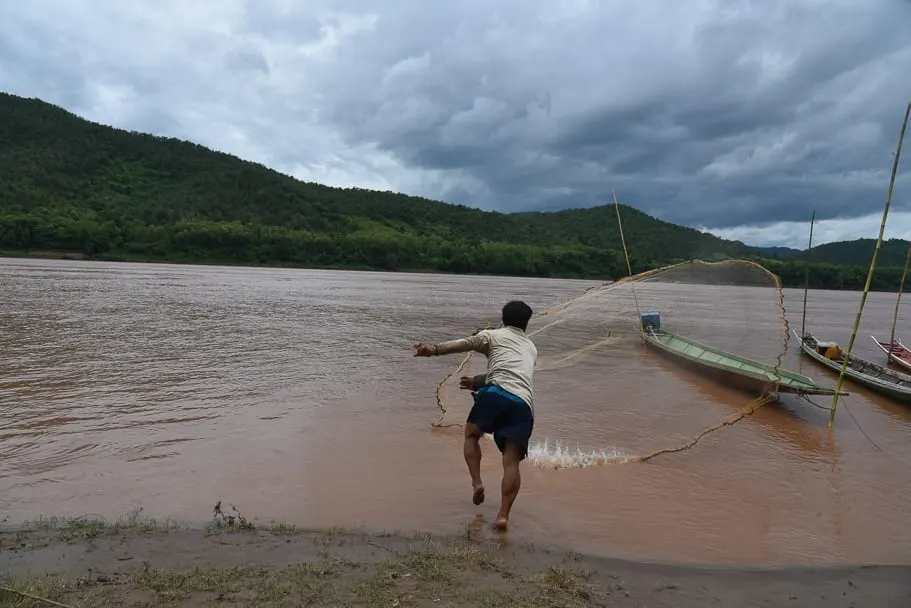 7. Visit a cave where Lao people retreated during the war
Around 2 hours outside of Luang Prabang, in the Nong Khiaw area, you can visit caves where Lao people retreated during the Vietnam war.
Our guide was born in a cave during the war. People could rarely exit these caves – it was even extremely risky to even go outside to shower in the stream.
During the war, the caves did come under attack and during one bombing many people died.
It is extremely interesting to visit the caves as even many years on, you can find bullet shells & evidence of the war in and around the caves.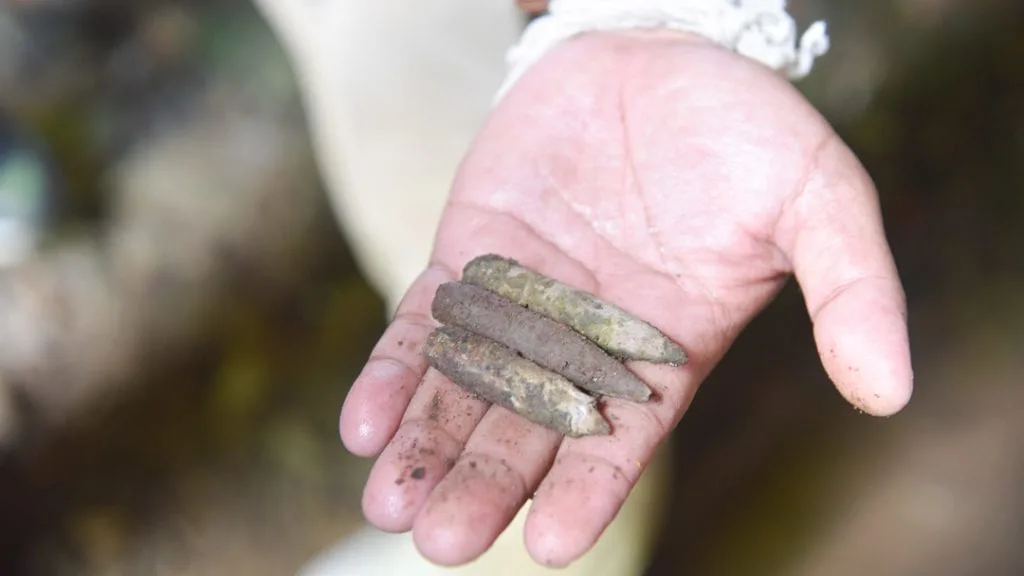 8. Mingle with local tribes
In a similar vicinity to the caves, in the Nong Khiaw area, there are villages where local tribes live.
It is very interesting to see local tribes as you can experience an official tribe welcome, how they make clothes from cotton, a traditional Lao blessing ceremony & a tour through their homes.
If you are looking for a more traditional experience, you can even stay in a homestay in the area for 30,000 kip a night. We would recommend staying with Mr Deth (Phone: 020 592 777 17) for a very clean & comfortable traditional experience.
In the village, you can also purchase hand made items direct from the locals at prices cheaper than the markets of Luang Prabang.
If you would like an even more immersive experience, a Japanese man stayed with a local in the village & donated $500 to help rebuild a less than functional roof.
9. Hike Nong Khiaw Mountain
If you are heading out to see the local tribes, why not hike Nong Khiaw Mountain.
The hike is a steep 1.5 hour climb uphill (which can be muddy in rainy season) but the view up the top is worth every agonising step uphill.
This walk is best completed with a guide however, we did spot a few DIY hikers on the trail.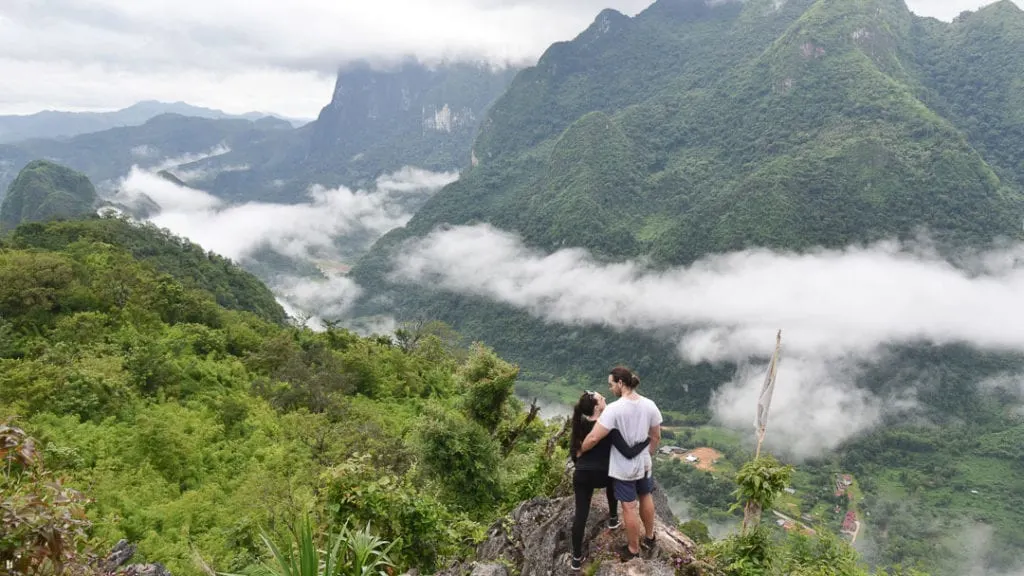 10. Shop the Night Market
One of the most highly rated activities in Luang Prabang is the Luang Prabang night market and not without good reason.
You can find everything from hand crafted clothing & scarfs to souvenirs made out of bombs left behind in the Vietnam war.
You can also buy absolutely delicious fruit smoothies & french influenced baguettes (highly recommended) from the street vendors.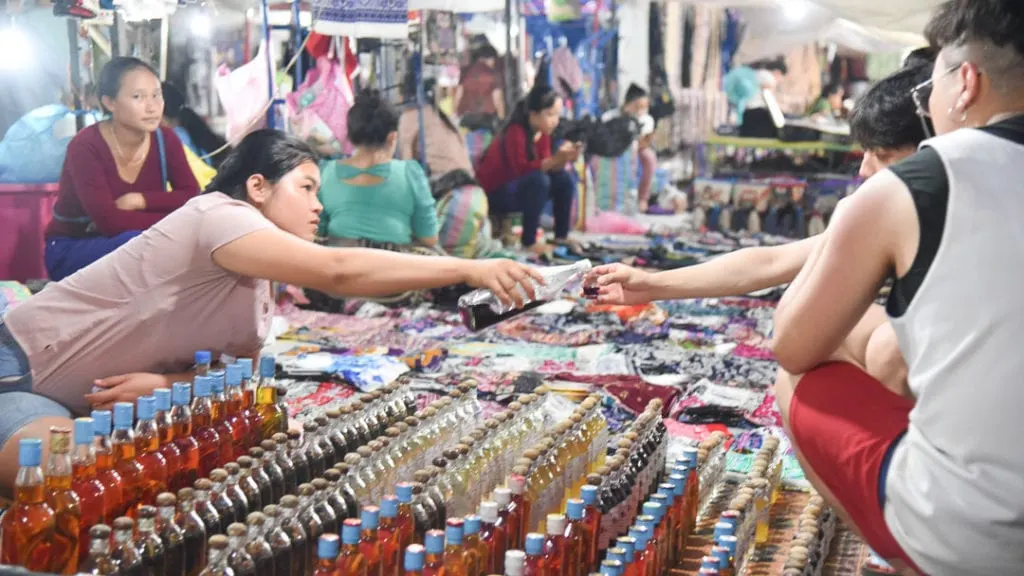 Where to stay in Luang Prabang?
We stayed at Kiridara Hotel while in Luang Prabang and were really happy with our choice of accommodation.
Kiridara Hotel not only has 5 star service but also 5 star facilities with an amazing pool & a view to die for.
See our full review for more information on where to stay in Luang Prabang.
Best Restaurants
There are so many things to eat in Luang Prabang. Here are some of our favourites that you must try if you are visiting Luang Prabang.
Street Food – Luang Prabang night market;
Coffee – Saffron Coffee or Indigo Coffee;
Mid range (traditional Laos style) – Blue Lagoon Restaurant; and
Mid – luxury – Kiridara Restaurant
If you have any questions about visiting Luang Prabang, we would be happy to help – leave us a comment below.
Save this guide to Pinterest (so you can find it again later)
The trip to Luang Prabang was supported by Mekong Moments however, as always, all opinions are our own.